Copywriting is a misleading word. If you've ever sat down to write an email, it's likely you wrote what looked right or "felt" creative.
But it's foolish to rely on feeling alone.
You see, good copywriters understand compelling copy isn't written; it's assembled.
Not from words of preference, but from words of persuasion.
"Copyassembling," in that case, involves adding certain words to your copy to get readers to take action.
These are "words that sell."
And today, I want to show you how nine companies are using them to move more buyers to action. You'll also learn how you can include them in your marketing and achieve similar results.
Use These 9 Words That Sell In Your Campaign Copy
1. You
In his classic book, How to Win Friends and Influence People, Dale Carnegie writes, "A person's name is to that person the sweetest and most important sound in any language."
This is as true today as it was when Carnegie first wrote it in 1936.
It's why Starbucks, for instance, asks for your name when ordering. It makes you feel special, right?
But it's not only a person's name that's flattering…
Take a look at this onsite campaign from In-Italia, particularly the copy: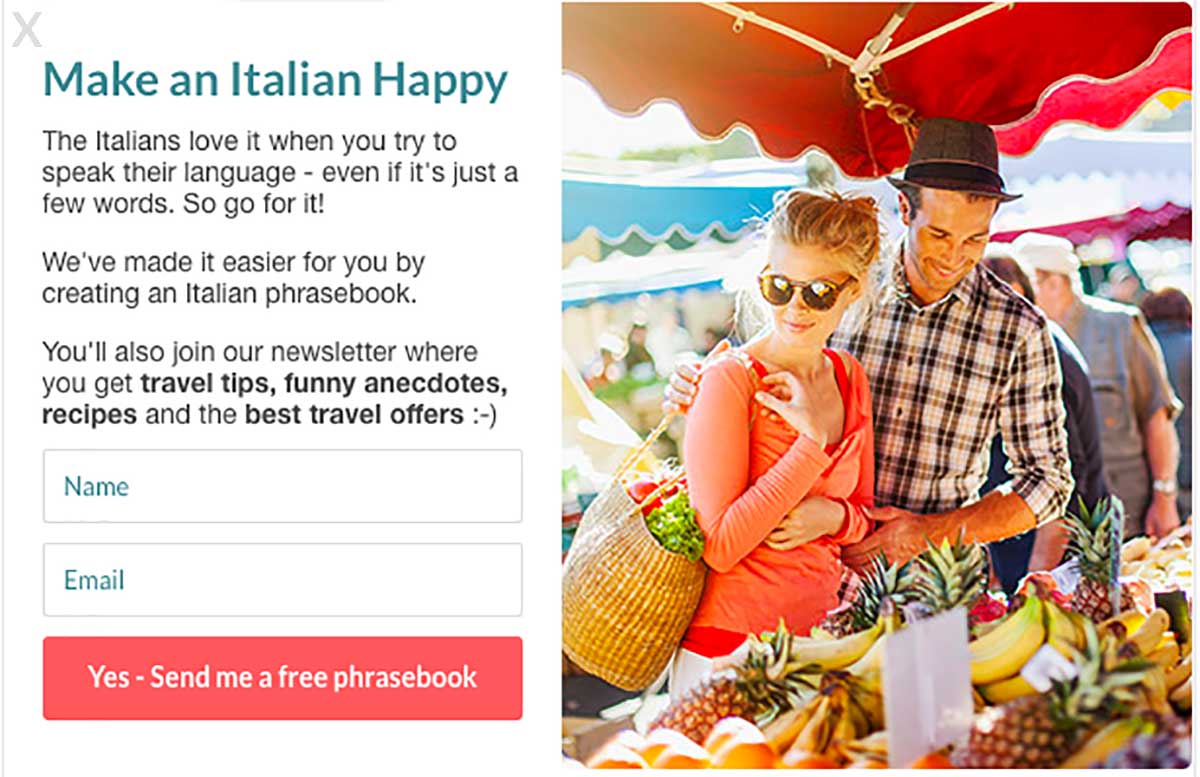 They include the word "you" five times in the copy and end with "me" in the call-to-action button.
Like any good copywriter, In-Italia knows the persuasive power of the word "you". Whether you're addressing a customer pain point or overcoming an objection, using the word "you" assures readers they matter.
It shifts the focus from the sender to the person reading the message making the campaign, personalizing it further.
Remember, your customers do NOT care about you. Nor do they care about your product/service, or how amazing it is. But if they feel listened to, and they feel like your offer is for them, they will pay attention.
Takeaway. No matter what type of onsite campaign you create, you need to focus on the reader. It seems simple, but adding the word "you" to your campaign copy makes your campaign more personal. Go back and look at your existing onsite campaigns and count how many times the word "you" appears in your copy. Add a few more instances. You can't overdo it.
2. Free
In his book, Predictably Irrational, Dan Ariely recounts an interesting study he and his team ran.
Ariely and his colleagues offered students a Lindt Truffle for 26 cents and a Hershey's Kiss for 1 cent.
And in doing so, they observed that 73 percent went with the truffle while 27 percent went with the Kiss.
So far, so good.
But here's where it gets interesting…
When they dropped the price of both chocolates by 1 cent, Ariely found that 69 percent of subjects opted for the free Kiss. Yes, even though the relative price between the two was the same.
The takeaway is obvious, albeit unsurprising: if it's free, we want it (even if we don't need it).
Marketers online and off know this. They've leveraged freebies to get a foot-in-the-door for years. It's why lead magnets work. And why thank you pages convert new visitors into customers.
Take a look at this onsite campaign from Real Coffee: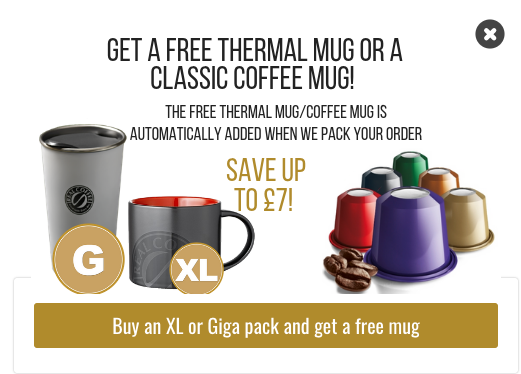 The word "free" is used in three out of four sentences in this campaign to convince visitors to buy a product. Visitors are more likely to buy a product if they're offered a free bonus along with their purchase.
Does the word "free" have to relate to a product/service?
Not at all.
Oftentimes, it's a case of reminding customers of an existing free offering. For example, you might offer free shipping on orders over a certain amount. Or, include new customers in a free loyalty program.
You can add a campaign like this on your thank you page for new customers using Drip's onsite campaign builder: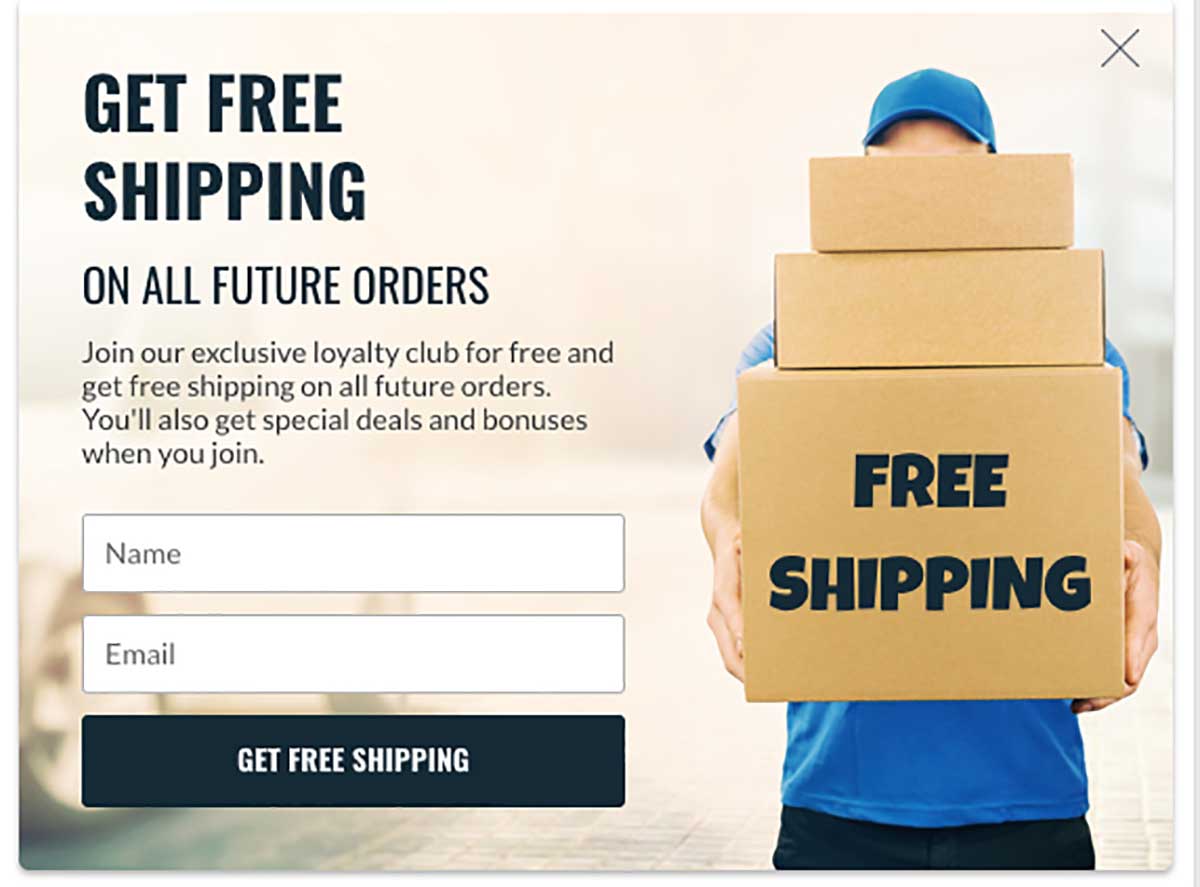 Takeaway. People love freebies, so offer them to customers often. If you can't, take what you already offer, like free shipping, and remind buyers of the added value they're getting.
3. Win
Is there anything more exciting than joining a competition?
It's a chance to get something for free (and, as we've already established, people love free stuff).
That's why competitions are a great incentive to use when collecting leads on your site.
When you include the word "win" in your copy, it immediately captures visitors' attention. And an email address is a small price to pay for the chance to win something.
Eva Solo uses a competition to promote their newest collection of lifestyle items while also collecting email addresses: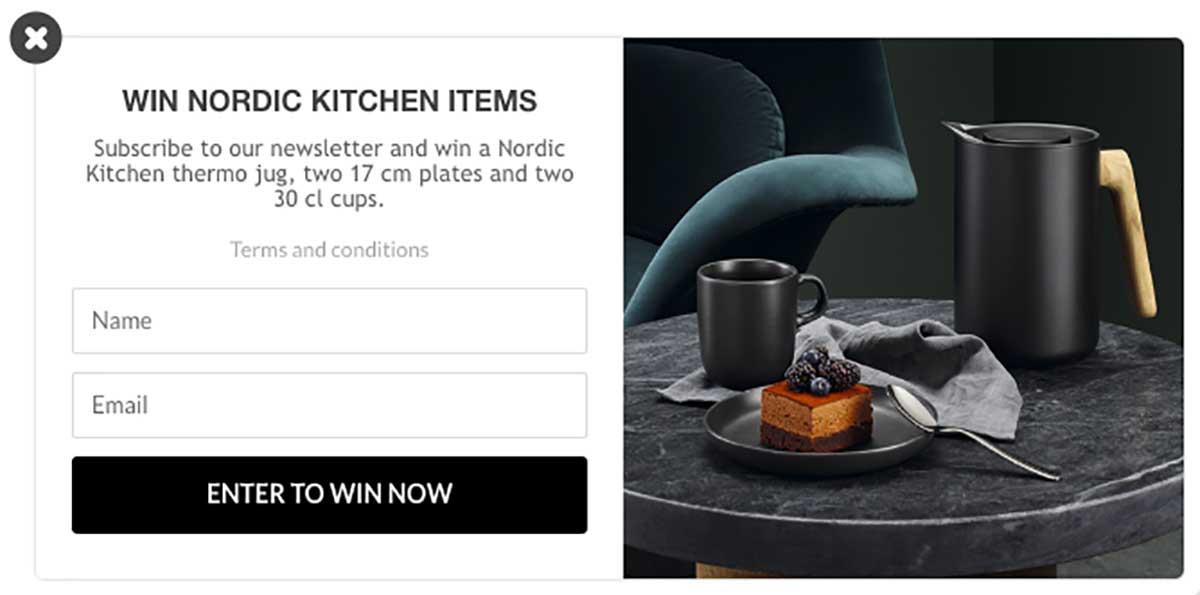 Offering new collection items as prizes creates awareness. And if subscribers don't win, they're more likely to shop for the collection anyway.
Why?
Because they already imagined owning these items when they entered the competition.
Takeaway. Only offer prizes that are relevant to your product. You can kill two birds with one stone if your prize is items from a new product line. Include the word "win" as much as you can, and especially in the CTA button copy.
4. New
Let's face it:
We LOVE anything new.
When a product/service is new, it introduces novelty into our lives. And we have to have it.
Apple knows this better than anyone.
Each year, Apple launch a new iPhone. And each year, even though few new features are added, countless Apple aficionados flock to their nearest retailer to buy it.
Apple isn't the only brand to leverage "novelty related decision-making", as it's known. Eva Solo often highlights new products on their website with a simple onsite campaign: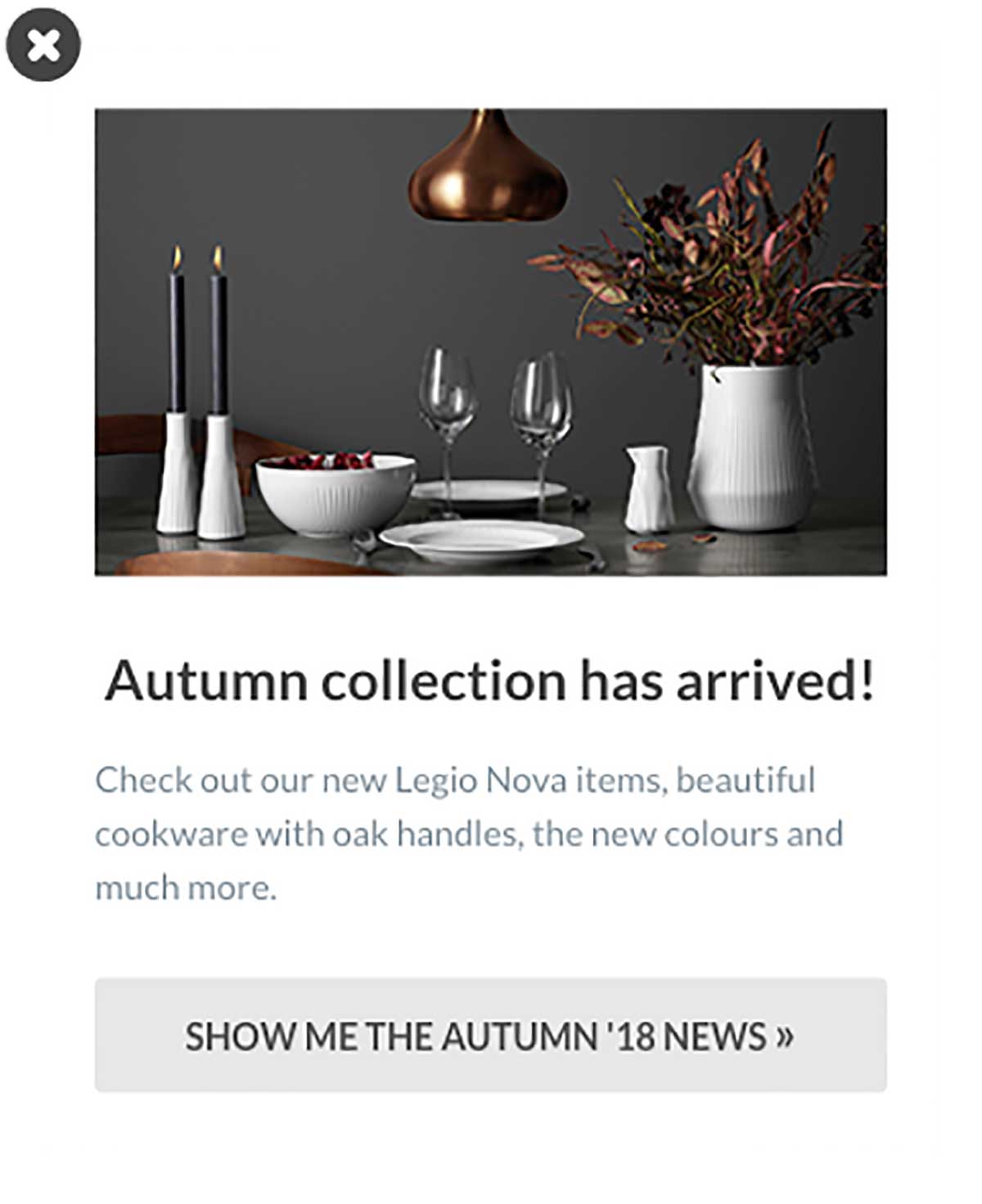 You might not always have new products/services. And that's okay. But what you can do is introduce new ways to position your offer. For example, if you're running an apparel brand, you don't have to promote new items; you can announce a "new" clearance sale.
Here's an example of a campaign I made using our onsite campaign builder: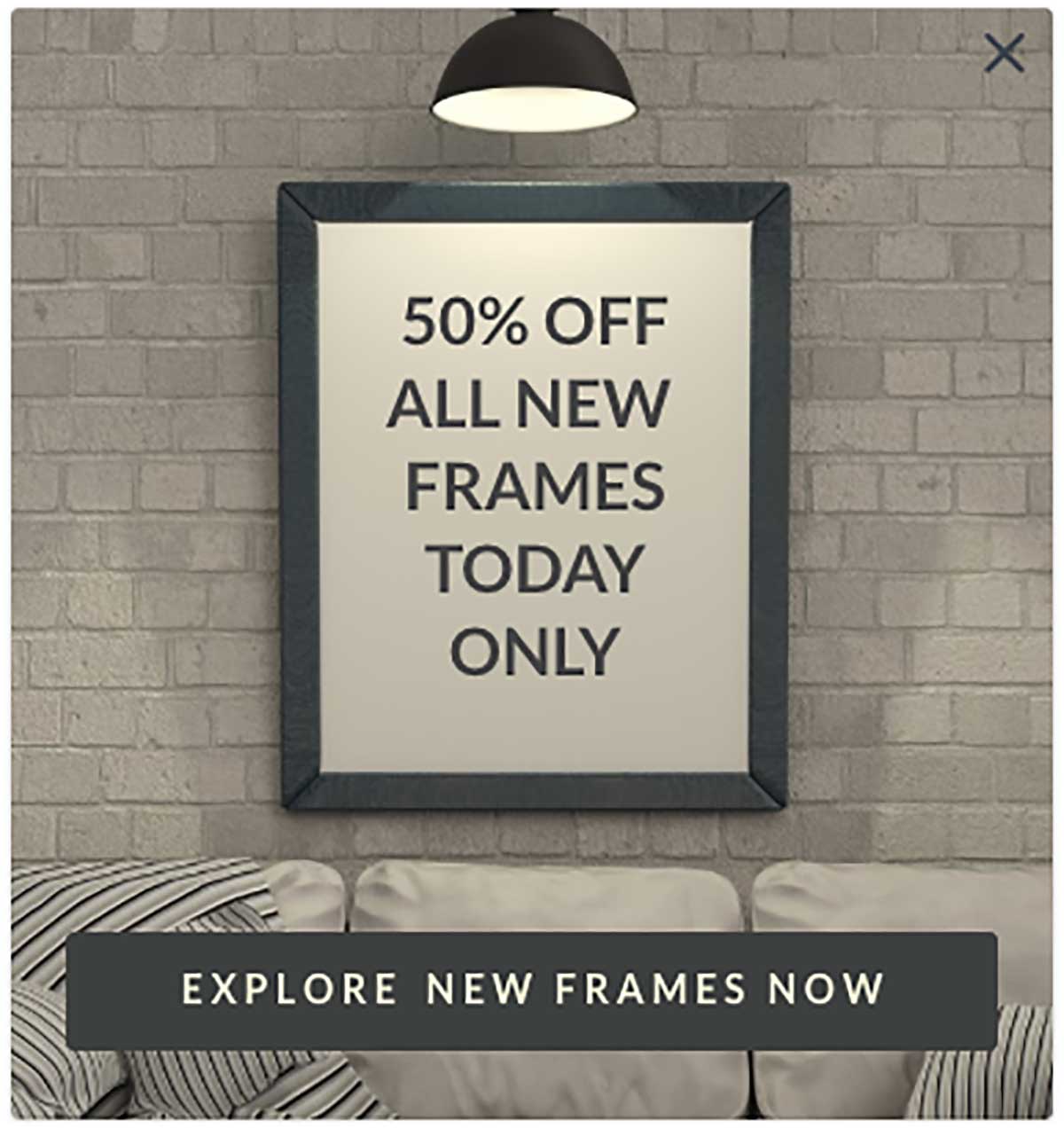 Don't forget: if it's new, tell your customers. They might not know otherwise.
Takeaway. Use the word "new" to prevent churn and invite return purchases from existing customers.
5. Now
A quick refresher:
You know the importance of adding a call-to-action (CTA) to each email.
What you might not know, is it's not enough to tell readers what to do. You need to tell them when to do it.
And there's no better time than the present.
When Rosemunde wants to sell more, they add one word that nudges visitors to take action:
NOW.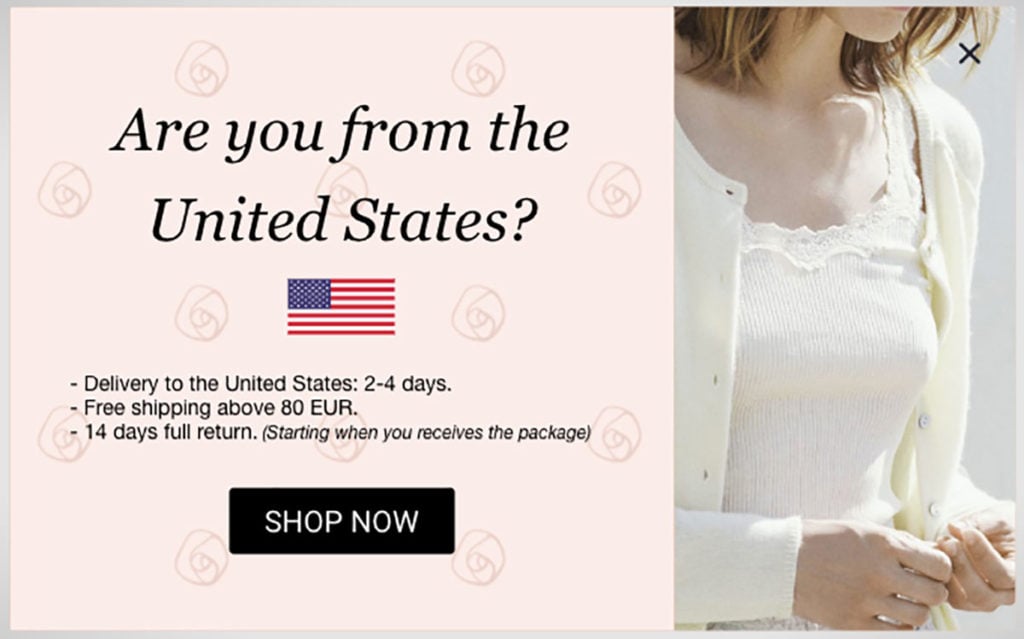 Not "tomorrow." Not "today." NOW.
Notice how they also target visitors based on geographic location to make their campaign relevant to the individual visitor.
Editor's Note
Here's how you can create a geo-specific campaign using Drip:
Takeaway. Add urgency to your CTA copy by adding the word "now" (when applicable). Remember, people want to be told what to do. And when and how to do it. Leave as little to interpretation by making directives super simple for recipients. When you do, it will show on your bottom line.
6. Popular
Showing prospects your most popular items can really boost your sales.
We want what everyone else has. It's what we call social proof. And it works because we tend to follow the crowd and rely on other people's opinions when making decisions.
In his bestselling book, Influence: The Psychology of Persuasion, psychologist Robert Cialdini writes,
"Whether the question is what to do with an empty popcorn box in a movie theater, how fast to drive on a certain stretch of highway, or how to eat the chicken at a dinner party, the actions of those around us will be important in defining the answer."
We use social proof as a shortcut to making decisions about how to act in almost any situation.
And you can leverage that with one simple word in your campaigns:
Popular.
The word "popular" indicates that other people like an item, making it more attractive.
I created this campaign to illustrate how you can incorporate "popular" into your campaign copy: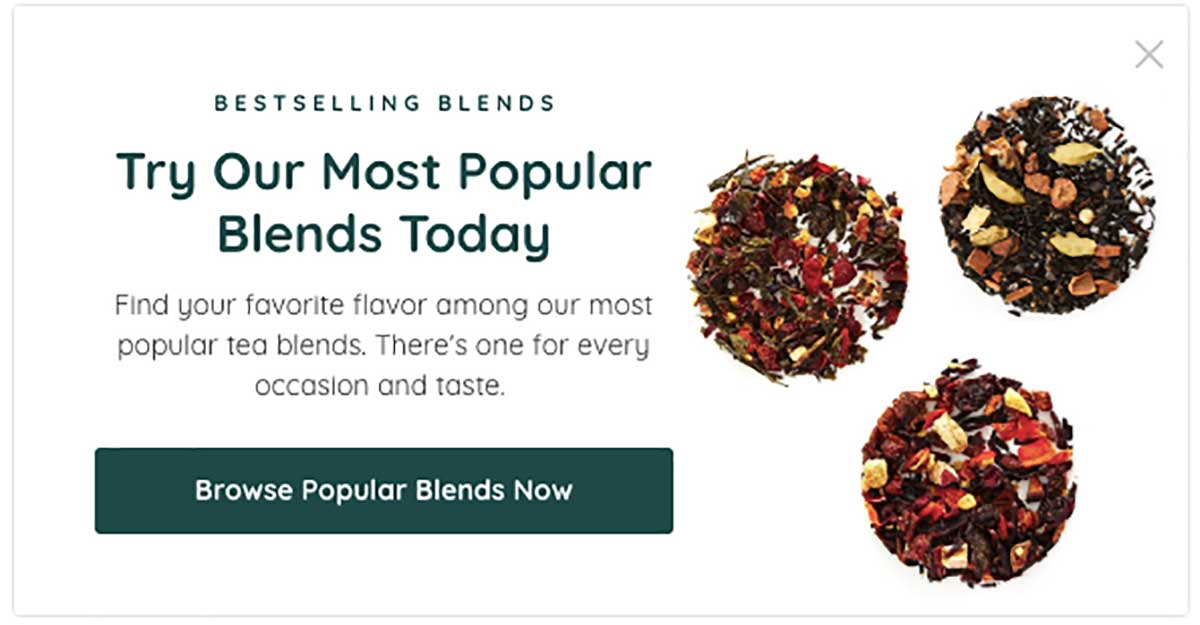 You can also use words such as "bestselling", "favorite" and so on for variety as these words have the same connotation as the word "popular".
Takeaway. Take your most popular items and create a dedicated page on your site for these items. Then promote your popular products with an onsite campaign to drive traffic to these products and sell more. And remember to include the word "Popular" as many times as you can.
7. Guarantee
A quick question…
Would you rather gain $5 or not lose $5?
Think about it for a moment.
If you're like most people, you chose the latter?
Why?
Because we're loss averse. Or, put another way, we prefer avoiding losses to acquiring equivalent gains.
We've all experienced this phenomenon.
You want to invest in a product or service, but you're not sure if it's a good fit for you. What if it doesn't deliver and you squander your hard-earned money over nothing?
Marketers offer guarantees to help consumers bypass this fear. Why? Because guarantees convey a sense of confidence in the offer. This, in turn, puts prospects at ease and increases the likelihood they will part with their money.
Take this example from Poo Pourri: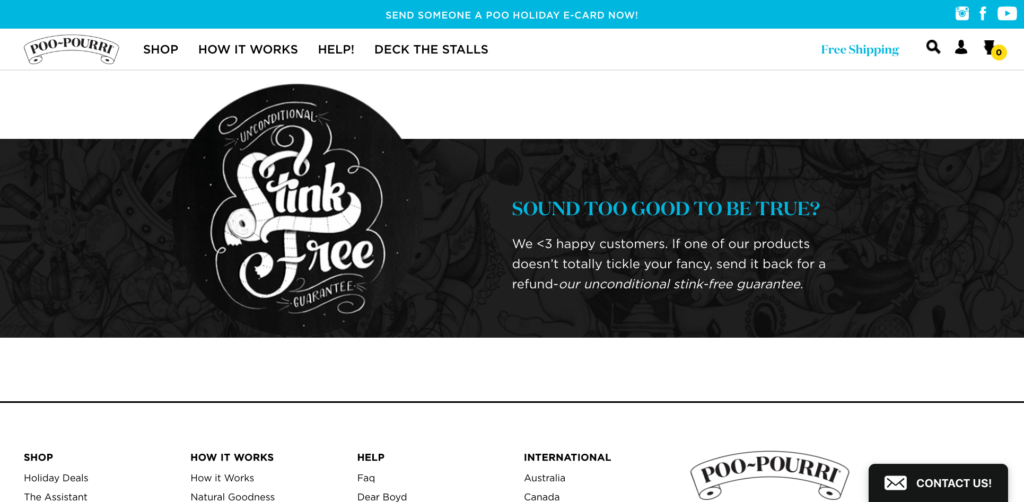 They offer a "stink-free" guarantee on all their products (toilet sprays). This is an effective sales strategy, but Poo Pourri could make their guarantee more visible to prospects by promoting it in a campaign on their product pages as well.
Here's an example I created to illustrate what a campaign like that could look like:

I know what you're thinking:
"Won't people buy and then return items after they use them?"
No. In fact, they result in fewer returns.
According to Drew Eric Whitman,
Studies show that short-term guarantees (30, 60, or 90 days) keep customers poised to make the return and force them to be more conscious of the return deadline.


Longer guarantees (six months, one, five, 10 years, lifetime) give prospects confidence in the product and avoid the "beat the clock" mindset of using the product and sending it back within the short allotted time.
So, if you're not offering a guarantee already—start. And if you are? Make it longer.
Takeaway. Offer the longest, strongest guarantee in your industry. Your competitors will hate you for it. But your customers will feel like royalty. And don't forget to promote your guarantee on your product pages.
8. Thank You
We've already established the persuasive power of the word "you".
But when you combine it with the word "thank," you have a gesture of gratitude that resonates with every customer it's directed toward.
It's easy to forget to thank people when they do something nice for you.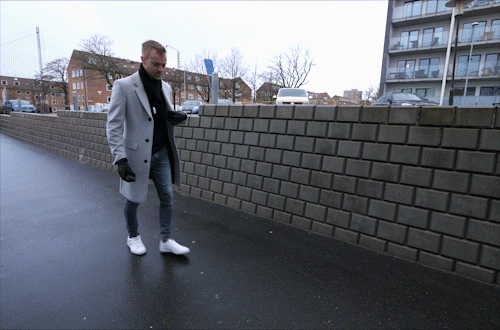 When your visitors take action on your site, you should thank them. This could be if they buy something, join your loyalty club, or opt in for a discount.
Here's how Kapten&Son gets more email signups: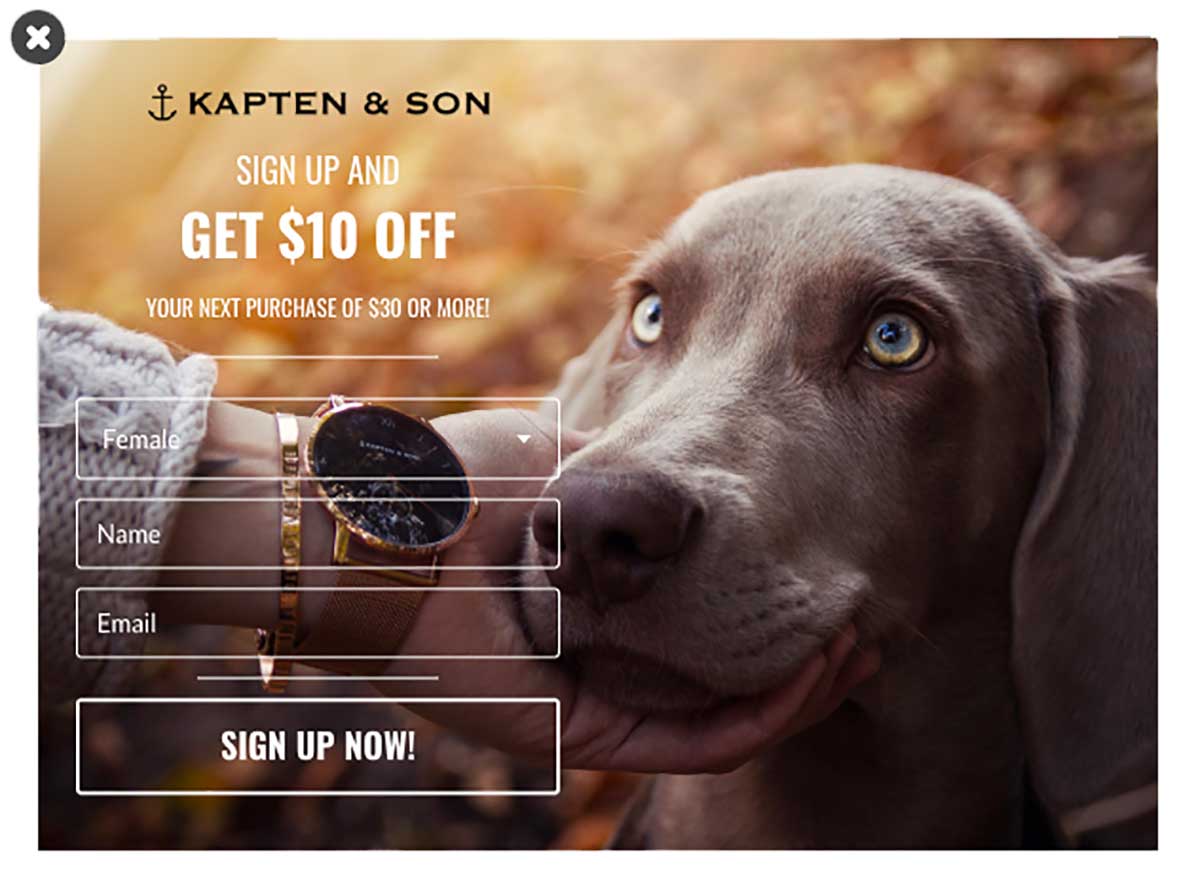 And this is the message you get when you click the call-to-action button: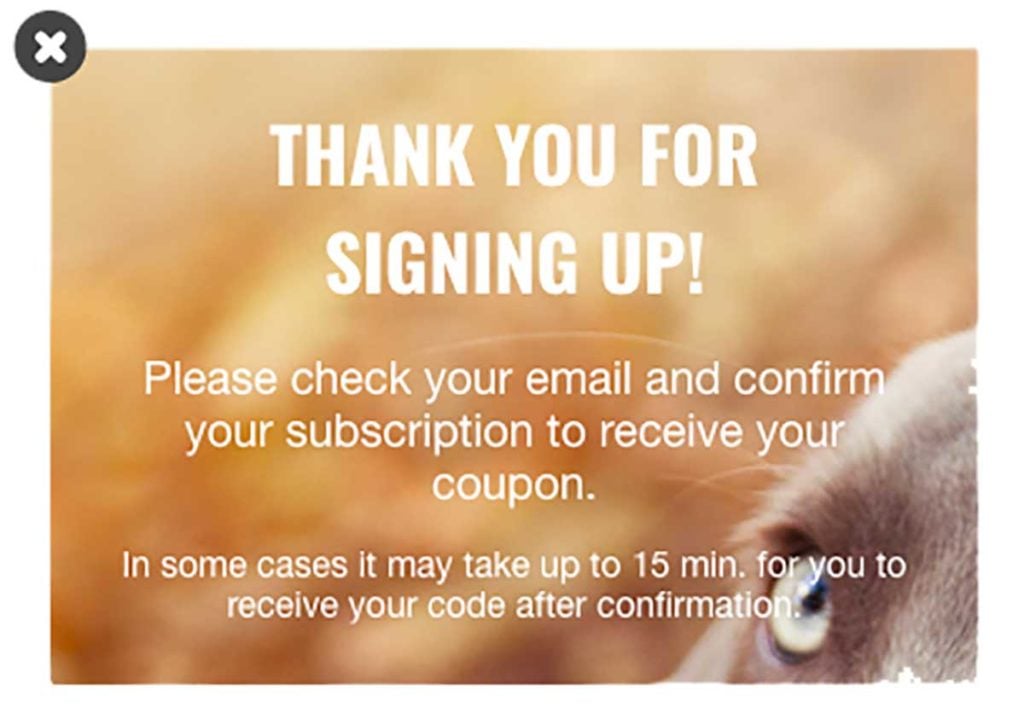 Make your visitors feel good, and they will return the favor.
Takeaway. Say "thank you" more often. Yes, even when it isn't warranted. Gratitude goes a long way.
9. Limited
We've written before about scarcity.
And for good reason:
Scarcity works. Has always worked. And will continue to work for generations to come.
Using a word like "limited" reminds on-the-fence visitors they can't afford to wait around to make a decision. There are only so many units. Once a product's gone—it's gone.
If you have a product that you only produce in limited quantities, use that scarcity to sell more.
It's not that people are afraid they won't get the product. They're also afraid they won't have the choice to buy the product.
Here's an example of how you can promote limited edition products on your site: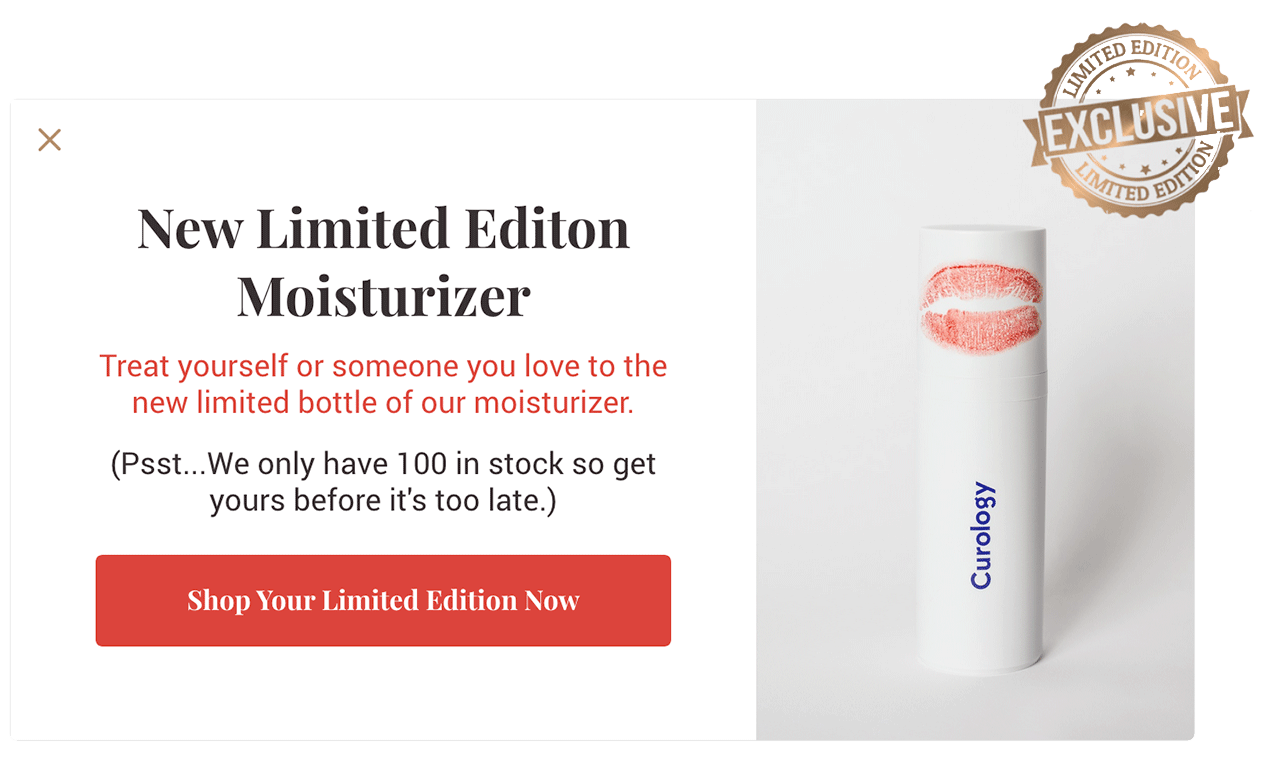 Takeaway. Use the word "limited" to remind users of the scarcity of the products you're selling. But, as always, authenticity comes first. People can detect fake scarcity a mile off.
Over to You
So, there we have it.
I've outlined 9 deceptively powerful words that will help you engage your website visitors and move them to action.
Use them in isolation. Or, combine them to supercharge your next onsite campaign.
Whichever you choose, have fun and experiment with which work best for your audience.