In a world where AI tools can spit out an essay on any subject in mere seconds, it's easy to overlook the value of individual words.
Yet the fact remains: power words sell.
With the right messaging, you can compel your audience to open an email, fill out a form, or buy something on a whim. They can inspire curiosity, present your product as the solution to a major pain point, and close the deal.
That's why we've rounded up 29 of our favorite power words that sell and explained how to use them in your campaigns (including real-world examples of them in action).
Use These 29 Power Words That Sell in Your Campaign Copy:
8 Emotional Power Words That Sell
1. Power Word: You
Why It's Effective
In his classic book, How to Win Friends and Influence People, Dale Carnegie writes, "A person's name is to that person the sweetest and most important sound in any language."
This is as true today as it was when Carnegie first wrote it in 1936.
It's why Starbucks, for instance, asks for your name when ordering. It makes you feel special, right?
But it's not only a person's name that's flattering…
Whether you're addressing a customer pain point or overcoming an objection, using the word "you" assures readers they matter.
Remember, your customers do NOT care about you. Nor do they care about your product/service, or how amazing it is. But if they feel listened to, and they feel like your offer is for them, they will pay attention.
How to Use It
No matter what type of onsite campaign you create, you need to focus on the reader.
It seems simple, but adding the word "you" to your campaign copy makes your campaign more personal.
Go back and look at your existing onsite campaigns and count how many times the word "you" appears in your copy. Add a few more instances. You can't overdo it.
Real-World Example
Take a look at this onsite campaign from In-Italia, particularly the copy: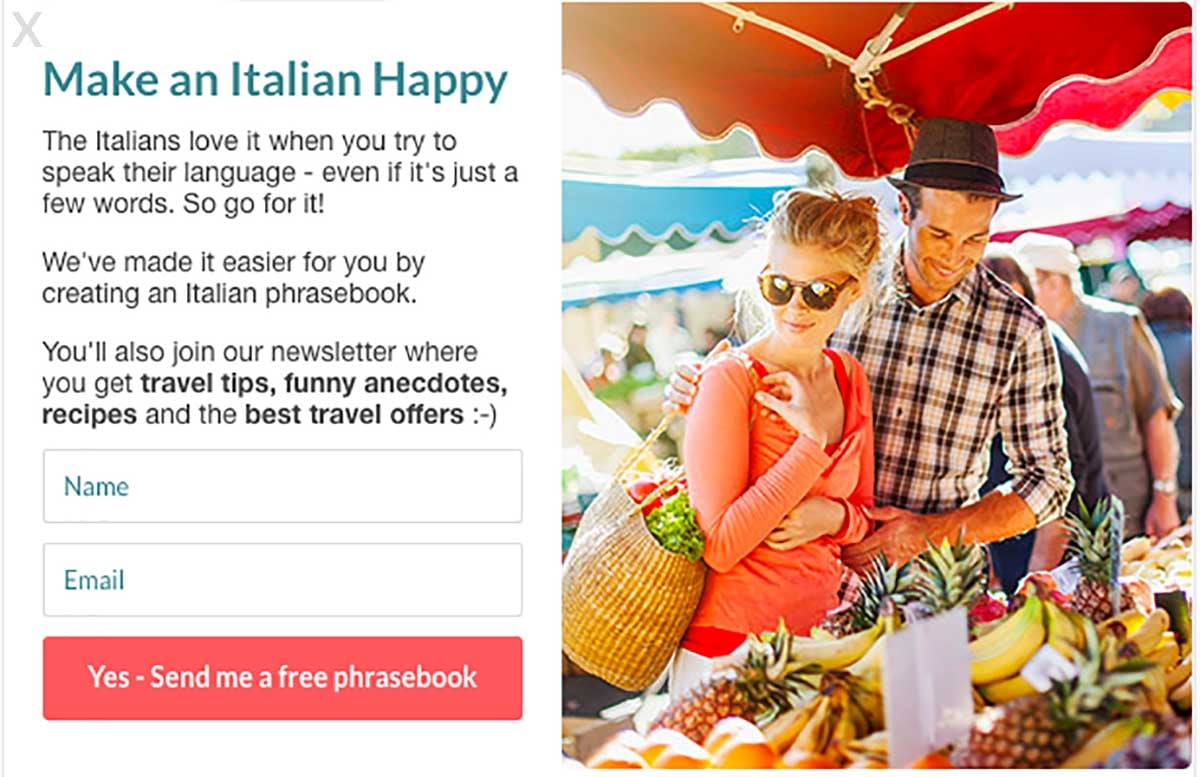 They include the word "you" five times in the copy and end with "me" in the call-to-action button.
Like any good copywriter, In-Italia knows the persuasive power of the word "you". It shifts the focus from the sender to the person reading the message making the campaign, personalizing it further.
2. Power Word: Win
Why It's Effective
Is there anything more exciting than joining a competition?
It's a chance to get something for free (and, as we've already established, people love free stuff).
That's why giveaways are a great incentive to use when collecting leads on your site.
When you include the word "win" in your copy, it immediately captures visitors' attention. And an email address is a small price to pay for the chance to win something.
How to Use It
Only offer prizes that are relevant to your product. You can kill two birds with one stone if your prize is items from a new product line. Include the word "win" as much as you can, and especially in the CTA button copy.
Real-World Example
Eva Solo uses a competition to promote their newest collection of lifestyle items while also collecting email addresses: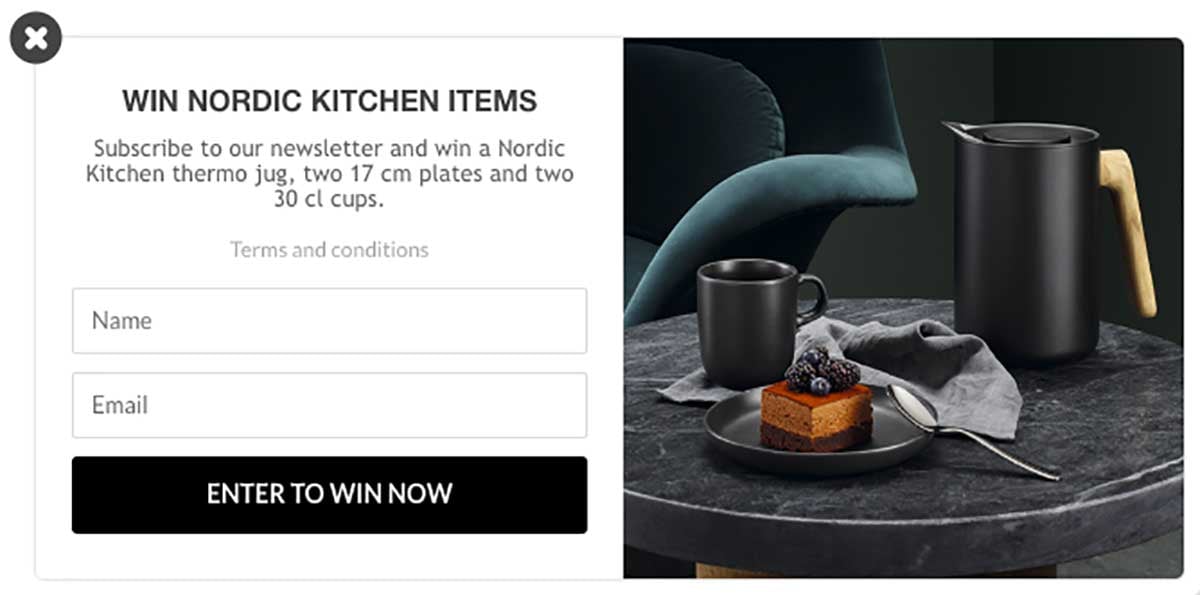 Offering new collection items as prizes creates awareness. And if subscribers don't win, they're more likely to shop for the collection anyway.
Why?
Because they already imagined owning these items when they entered the competition.
3. Power Word: New
Why It's Effective
Let's face it:
We LOVE anything new.
When a product/service is new, it introduces novelty into our lives. And we have to have it.
How to Use It
Use the word "new" to prevent churn and invite return purchases from existing customers.
Real-World Example
Apple knows the power of "new" better than anyone.
Each year, Apple launches a new iPhone. And each year, even though few new features are added, countless Apple aficionados flock to their nearest retailer to buy it.
Apple isn't the only brand to leverage "novelty related decision-making", as it's known. Eva Solo often highlights new products on their website with a simple onsite campaign: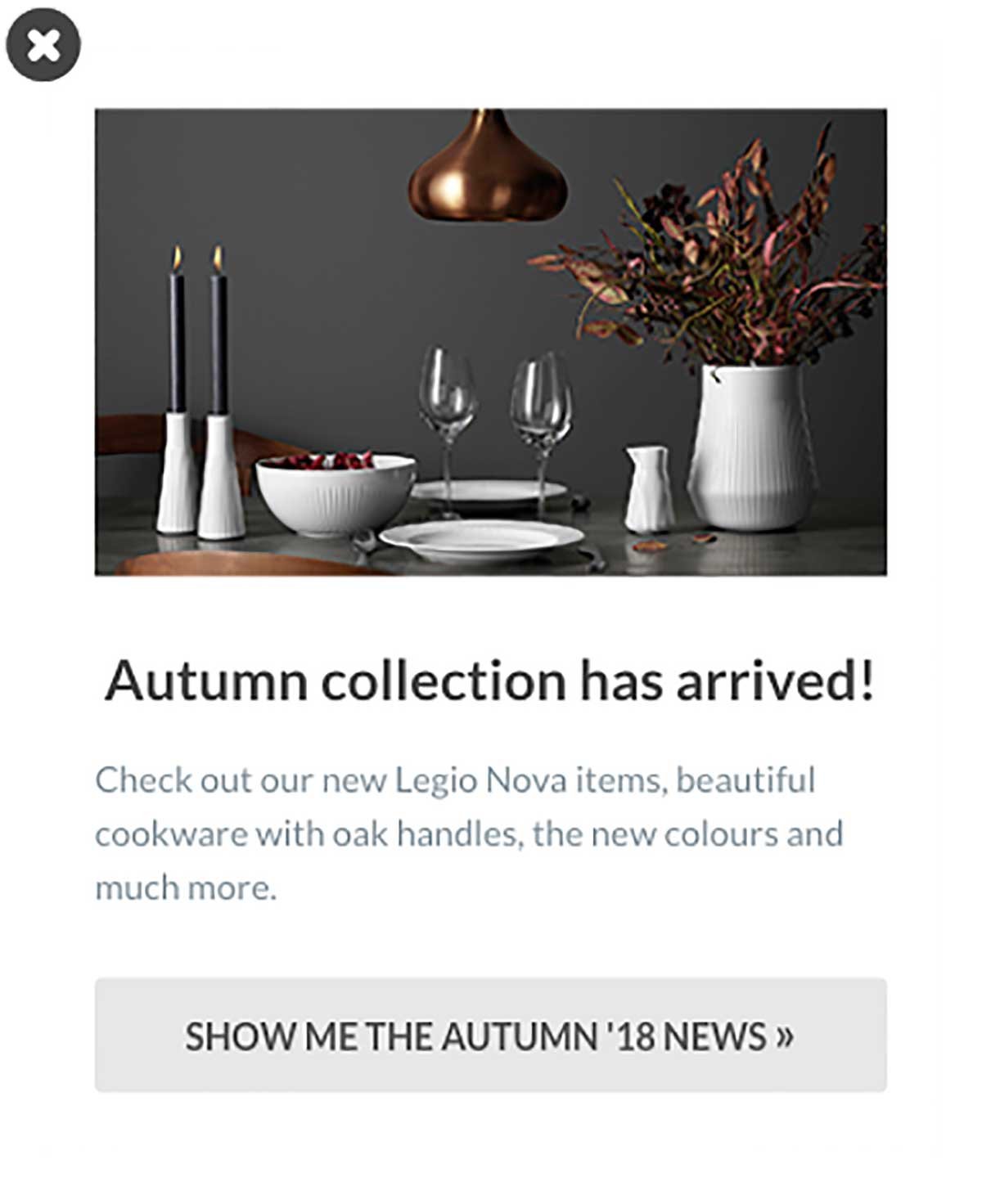 You might not always have new products/services. And that's okay. But what you can do is introduce new ways to position your offer. For example, if you're running an apparel brand, you don't have to promote new items; you can announce a "new" clearance sale.
Here's an example of a campaign I made using our onsite campaign builder: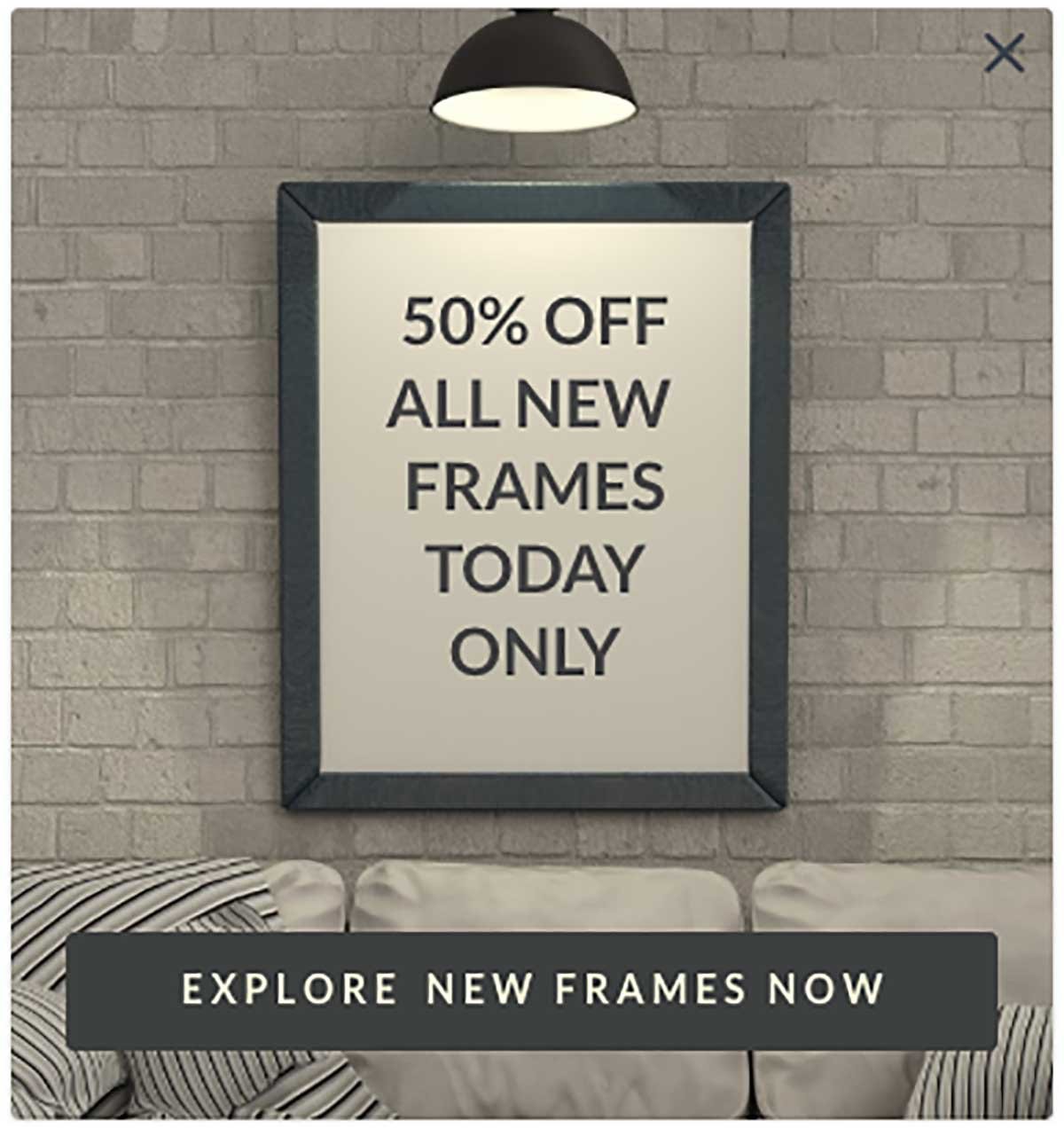 Don't forget: if it's new, tell your customers. They might not know otherwise.
4. Power Word: Popular
Why It's Effective
Showing prospects your most popular items can really boost your sales.
We want what everyone else has. It's what we call social proof. And it works because we tend to follow the crowd and rely on other people's opinions when making decisions.
In his bestselling book, Influence: The Psychology of Persuasion, psychologist Robert Cialdini writes,
"Whether the question is what to do with an empty popcorn box in a movie theater, how fast to drive on a certain stretch of highway, or how to eat the chicken at a dinner party, the actions of those around us will be important in defining the answer."
We use social proof as a shortcut to making decisions about how to act in almost any situation.
And you can leverage that with one simple word in your campaigns:
Popular.
The word "popular" indicates that other people like an item, making it more attractive.
How to Use It
Take your most popular items and create a dedicated page on your site for these items. Then promote your popular products with an onsite campaign to drive traffic to these products and sell more. And remember to include the word "Popular" as many times as you can.
Real-World Example
I created this campaign to illustrate how you can incorporate "popular" into your campaign copy: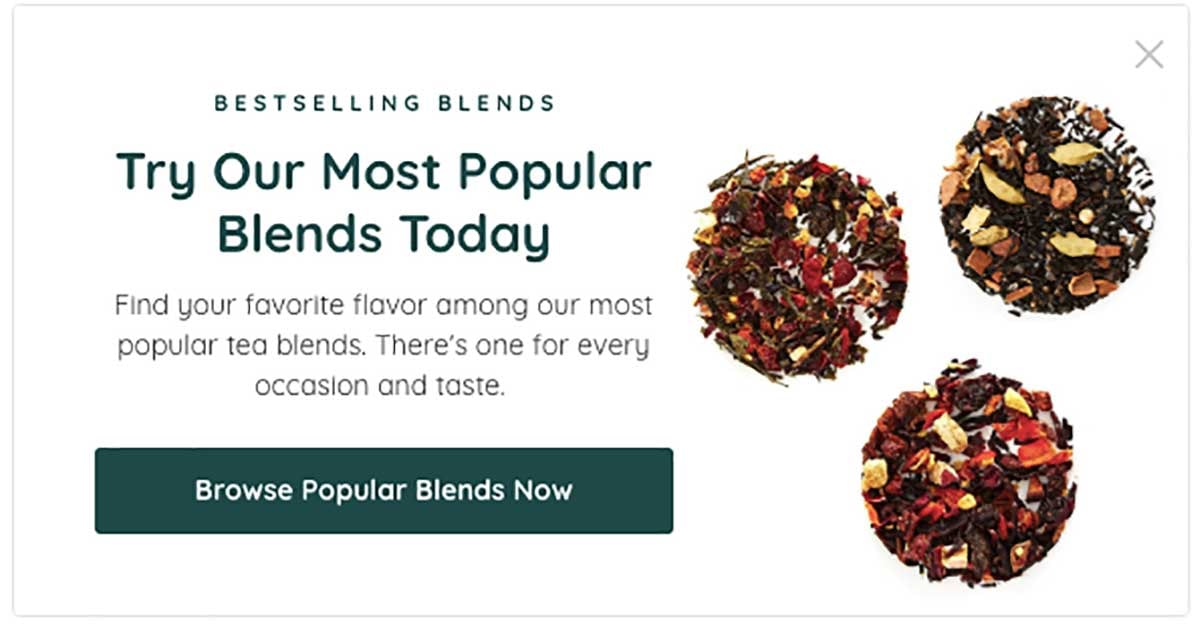 You can also use words such as "bestselling", "favorite" and so on for variety as these words have the same connotation as the word "popular".
5. Power Word: Secret
Why It's Effective
If you can spark curiosity in your customers, there's a strong chance they'll pay attention to your messaging—whether it's on your website or in your email newsletter.
And who doesn't love hearing a secret?
This feeds into our natural craving to know stuff other people don't. Make them feel like you've got some juicy information for them and they're sure to click.
How to Use It
"Secret" is one of those curiosity-invoking words that works wonders for your email open rate. Use it in subject lines to suggest that recipients will learn something interesting or valuable if they click through.
Real-World Example
In this example, PROVEN Skincare combined the word "secret" with a common audience pain point—the desire to have more radiant-looking skin:

"The secret to [pain point]" is a smart formula to follow, and it works across any niche or audience.
6. Power Word: Thank You
Why It's Effective
We've already established the persuasive power of the word "you".
But when you combine it with the word "thank," you have a gesture of gratitude that resonates with every customer it's directed toward.
It's easy to forget to thank people when they do something nice for you.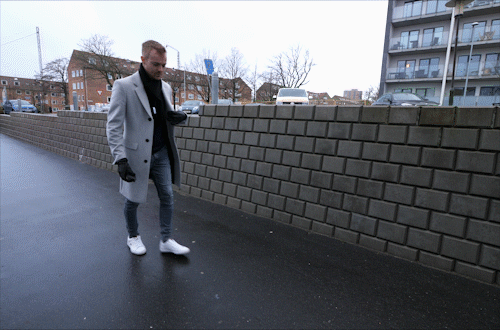 When your visitors take action on your site, you should thank them. This could be if they buy something, join your loyalty club, or opt in for a discount.
How to Use It
Say "thank you" more often. Yes, even when it isn't warranted. Gratitude goes a long way.
Real-World Example
Here's how Kapten&Son gets more email signups: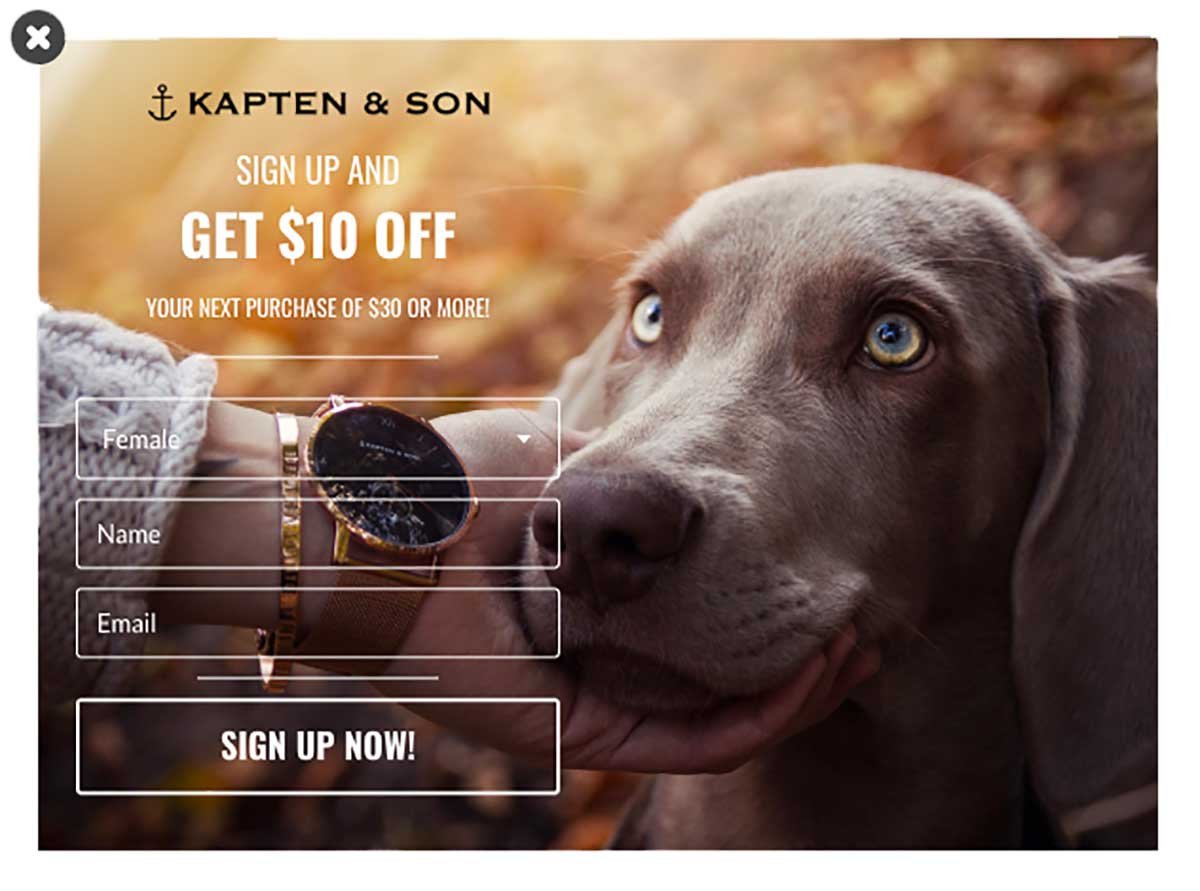 And this is the message you get when you click the call-to-action button: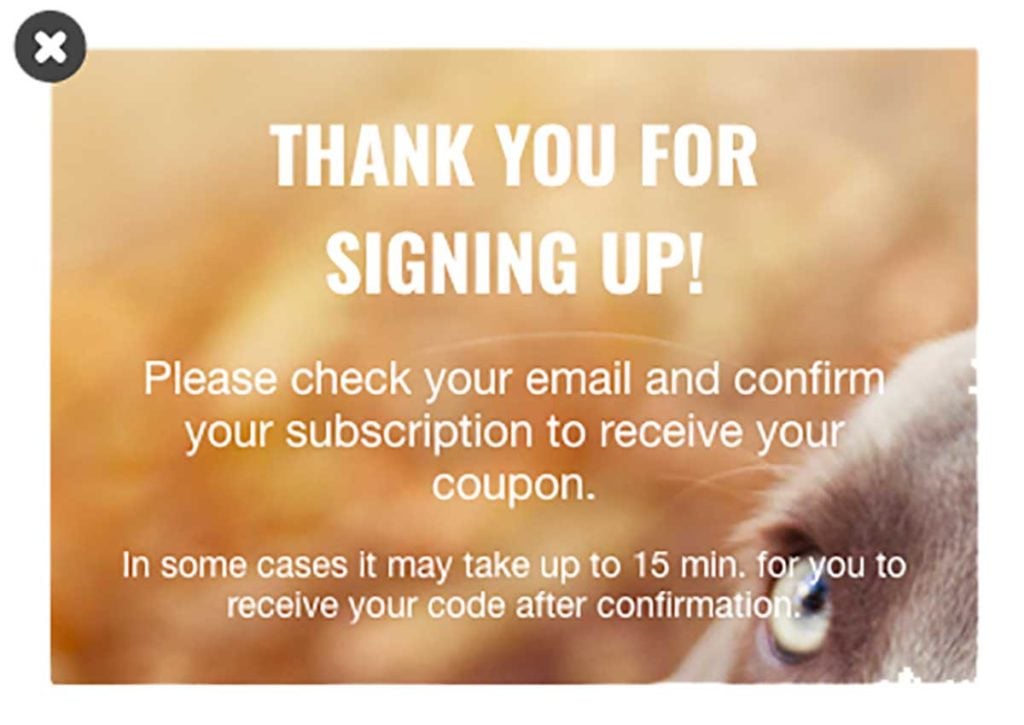 Make your visitors feel good, and they will return the favor.
7. Power Word: Exclusive
Why It's Effective
Everyone wants to feel special.
Because we all want to be the protagonist, not the NPC.
So it pays to tell people that you're offering them something exclusive; something not every customer gets. It could be a discount, an event invitation, or a sneak peek at a new product.
How to Use It
There's nothing to stop you adding the word "promotion" to any old offer.
But those folks on your marketing list aren't stupid.
If they've never bought from you before, they're going to wonder what they've done to earn an "exclusive" reward.
For that reason, it makes more sense to reserve this type of messaging for your VIP customers: those who spend the most money, purchase frequently, and stick with you through thick and thin.
Real-World Example
In this email subject line, L'Occitane used the word "exclusive" to build excitement around a gift-with-purchase offer:

Rather than revealing the gift in the subject line, L'Occitane forced recipients to click through to find out more about the promotion, increasing the brand's email engagement.
8. Power Word: Favorite
Why It's Effective
Words like "favorite" help to highlight your most popular products.
It's another example of what we call social proof—or how we use other people's actions to inform our own decisions.
If we see a product labeled as a "customer favorite", we know it must be popular, so it naturally seems more attractive. Because all those people can't be wrong, right?
How to Use It
As you can probably imagine, we encounter a lot of ecommerce marketing copy here at Drip, and we typically see the word "favorite" used in one of two ways:
As a trust factor, to imply lots of customers love a particular product (e.g. "This T-shirt is a fan favorite").
To persuade customers to imagine themselves owning a product (e.g. "Your new favorite lipstick").
Real-World Example
Denim brand AYR chose option #2 in this email subject line, which used "favorite" to make customers feel like they've already purchased the product in question:

This approach is kind of presumptive.
We'd recommend reserving it for personalized product recommendations, when you're confident the customer will love whatever you're showing them.
Because if they loathe their supposed "new favorite", they're going to question whether you really understand their preferences. Maybe you're not the brand for them after all.
6 Urgency Power Words that Sell
1. Power Word: Hurry
Why It's Effective
"Hurry" is another word that adds a sense of urgency to your messaging—perfect for encouraging customers to act now, not later.
How to Use It
It makes most sense to use words like "hurry" alongside other urgency-inducing messaging, such as a limited-edition product or limited-time promotion.
This can be a highly effective way to drive sales from people who weren't initially planning to buy. Indeed, research published in the journal Decision Support Systems revealed that limited-time offers "significantly affect impulse purchase behavior".
Real-World Example
This example from Vinomofo demonstrates the impact of combining urgent language with limited-time promotions: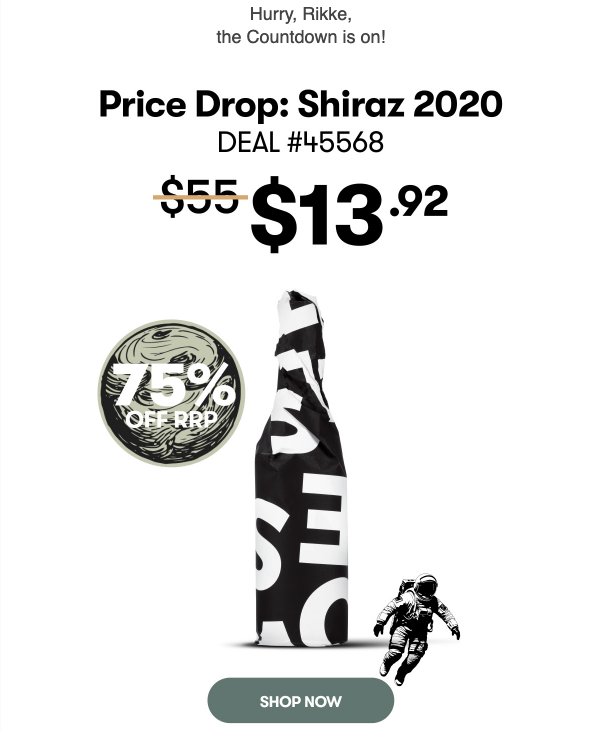 This campaign could have been even more effective with the addition of a countdown timer to visualize the passage of time, making it crystal-clear that the offer won't be around for long.
2. Power Word: Urgent
Why It's Effective
"Urgent" is a step up from "hurry". It tells your audience they absolutely must listen to what you're saying—and they need to do it now.
How to Use It
Sparingly.
If every other email you send or popup you build claims to be "urgent", people are going to tune out—fast. It's kind of like the boy who cried wolf.
So reserve it for those messages that absolutely need to cut through and require an immediate response.
Note: Outside of your marketing campaigns, consider using words like "urgent" to notify customers about changes to their account and to communicate other important information.
Real-World Example
Plus-size fashion brand Torrid included the word "urgent"—in all caps, no less—in this email subject line warning customers that its latest promotion was ending soon:

It's definitely impactful.
But you definitely don't want to overuse this tactic. Because if everything's urgent, nothing is urgent.
3. Power Word: Now
Why It's Effective
A quick refresher:
You know the importance of adding a call-to-action (CTA) to each email.
What you might not know is: it's not enough to tell readers what to do.
You need to tell them when to do it.
And there's no better time than the present.
How to Use It
Bring urgency to your CTA copy by adding the word "now" (when applicable).
Remember, people want to be told what to do. And when and how to do it. Leave as little to interpretation by making directives super simple for recipients.
When you do, it will show on your bottom line.
Real-World Example
When Rosemunde wants to sell more, they add one word that nudges visitors to take action:
NOW.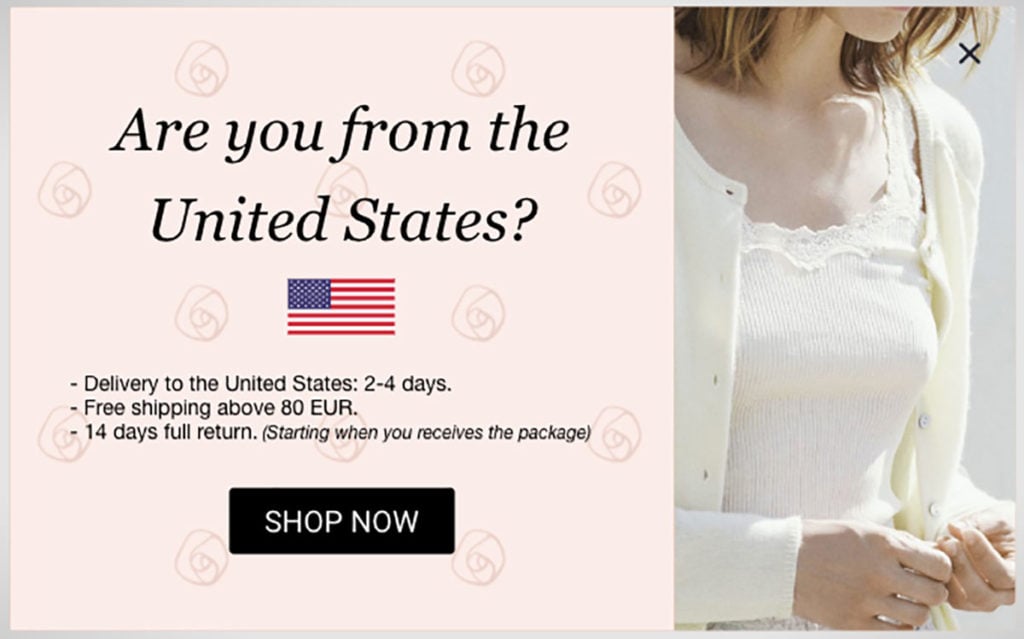 Not "tomorrow." Not "today." NOW.
Notice how they also target visitors based on geographic location to make their campaign relevant to the individual visitor.
Editor's Note: Here's how you can create a geo-specific campaign using Drip…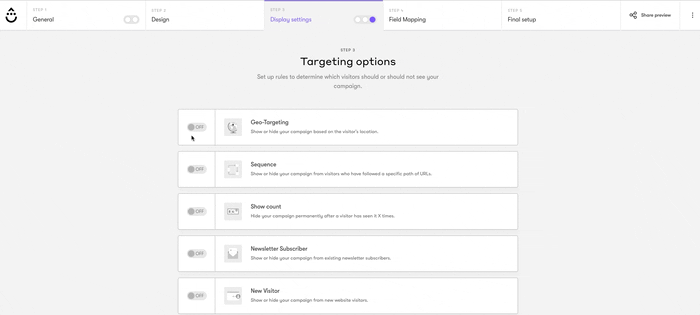 4. Power Word: Final
Why It's Effective
Sorry for stringing so many urgency-inducing words together; promise we're not trying to give you a panic attack.
"Final" tells customers in no uncertain terms that they'd better act fast if they want to buy your limited-edition product or take advantage of your latest offer.
As such, it's an excellent word to use when you're trying to increase your ecommerce conversion rate.
How to Use It
Words like "limited" and "hurry" are useful for warning customers that a product is in short supply or a deal is only available for a short time.
"Final" is one step further along.
Use it in the… umm… final message of your urgency- and scarcity-driving email campaigns to make it clear that you're not playing: if you don't buy this product or act on this promotion right now, you'll miss out.
Real-World Example
Here, Charlotte Tilbury did exactly what we suggest above—using "final" in the last step of an email sequence built around a limited-time gift-with-purchase promotion:

While the subject line doesn't explicitly tell the reader how long they have to purchase the offer, it's certainly clear that the clock's ticking.
5. Power Word: Limited
Why It's Effective
We've written before about scarcity.
And for good reason:
Scarcity works. Has always worked. And will continue to work for generations to come.
Using a word like "limited" reminds on-the-fence visitors they can't afford to wait around to make a decision. There are only so many units. Once a product's gone—it's gone.
If you have a product that you only produce in limited quantities, use that scarcity to sell more.
It's not that people are afraid they won't get the product. They're also afraid they won't have the choice to buy the product.
How to Use It
Use the word "limited" to remind users of the scarcity of the products you're selling.
But, as always, authenticity comes first. People can detect fake scarcity a mile off.
Real-World Example
Here's an example of how you can promote limited edition products on your site: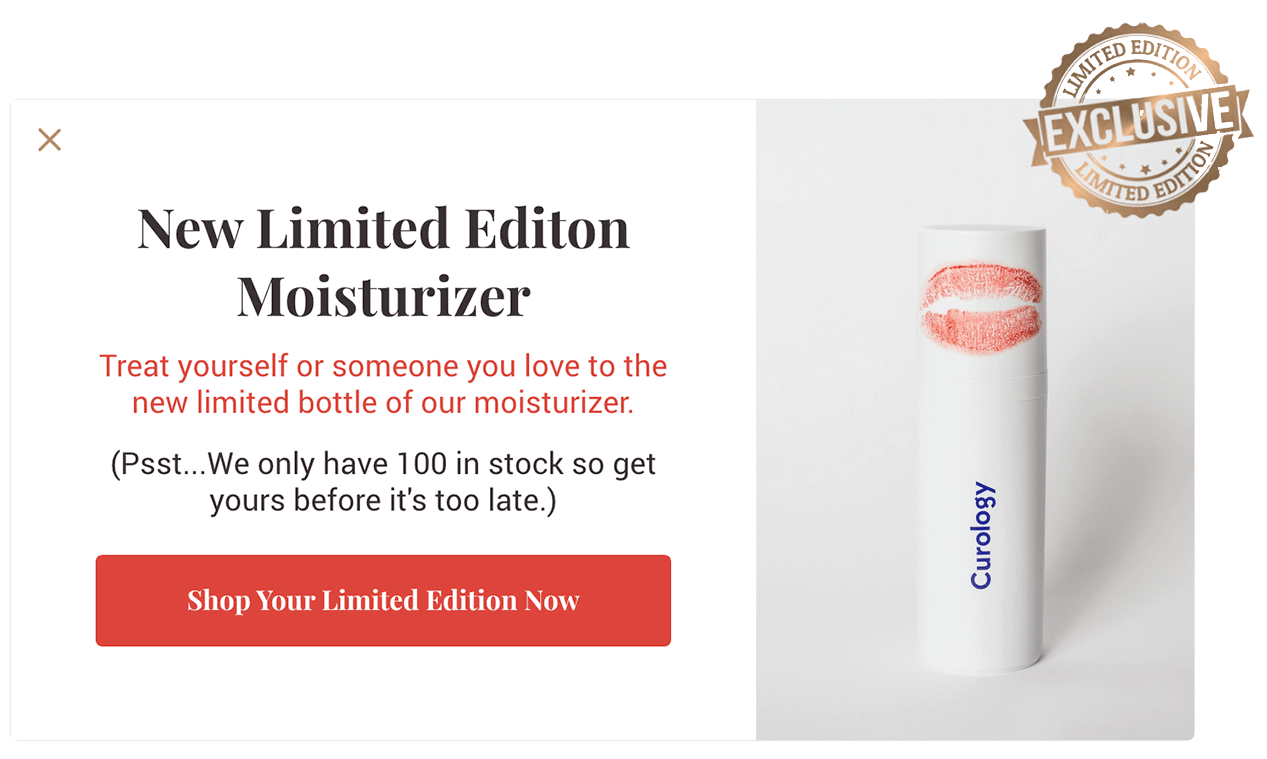 6. Power Word: See
Why It's Effective
"See" is another actionable word that's often used in email subject lines and CTAs.
It works well because it doesn't sound salesy. After all, looking at a product doesn't mean you have to buy it. So it's an excellent way to drive email opens and click-throughs to your website.
How to Use It
Without wishing to state the obvious, we see with our eyes. When we read the word "see" in a shopping-related context, we naturally think about browsing a bunch of products. Use it when encouraging customers to check out your latest product or collection launch.
Real-World Example
Furniture retailer West Elm clearly understands the impact of using "see" in product-related emails.
It starts with a teasing subject line that compels recipients to check out the latest products in a specific category…

…then offers a bunch more options for customers to browse: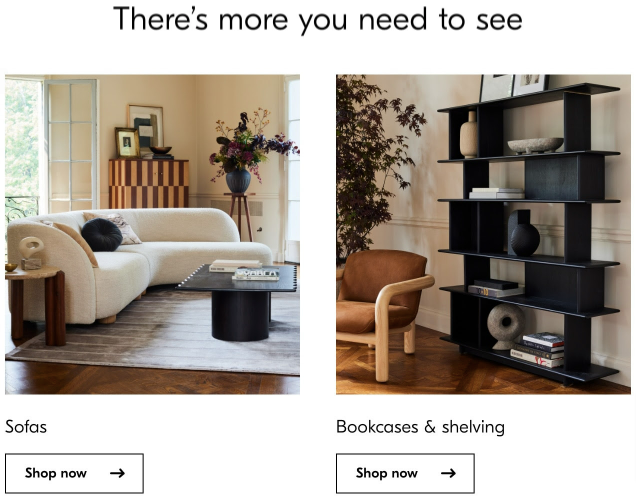 It evokes the relaxed browsing experience of wandering around a brick-and-mortar store and waiting to see what catches your eye.
8 Positive Power Words That Sell
1. Power Word: Guarantee
Why It's Effective
A quick question…
Would you rather gain $5 or not lose $5?
Think about it for a moment.
If you're like most people, you chose the latter.
Why?
Because we're loss-averse. Or, put another way, we prefer avoiding losses to acquiring equivalent gains.
We've all experienced this phenomenon.
You want to invest in a product or service, but you're not sure if it's a good fit for you. What if it doesn't deliver and you squander your hard-earned money over nothing?
Marketers offer guarantees to help consumers bypass this fear. Why? Because guarantees convey a sense of confidence in the offer. This, in turn, puts prospects at ease and increases the likelihood they will part with their money.
How to Use It
Offer the longest, strongest guarantee in your industry. Your competitors will hate you for it. But your customers will feel like royalty. And don't forget to promote your guarantee on your product pages.
Real-World Example
Take this example from Poo Pourri: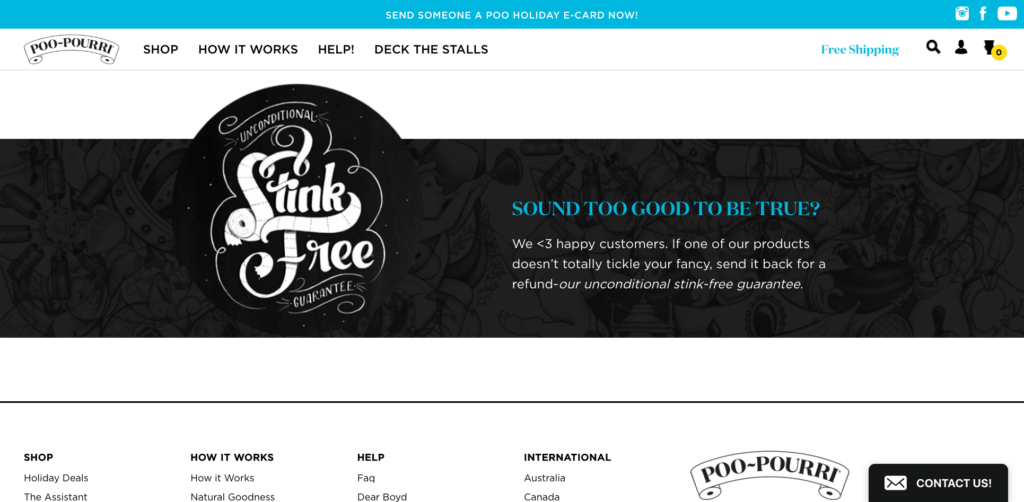 They offer a "stink-free" guarantee on all their products (toilet sprays).
This is an effective sales strategy, but Poo Pourri could make their guarantee more visible to prospects by promoting it in a campaign on their product pages as well.
Here's an example I created to illustrate what a campaign like that could look like:

I know what you're thinking:
"Won't people buy and then return items after they use them?"
No. In fact, they result in fewer returns.
According to Drew Eric Whitman,
"Studies show that short-term guarantees (30, 60, or 90 days) keep customers poised to make the return and force them to be more conscious of the return deadline.
"Longer guarantees (six months, one, five, 10 years, lifetime) give prospects confidence in the product and avoid the "beat the clock" mindset of using the product and sending it back within the short allotted time."
So, if you're not offering a guarantee already—start. And if you are? Make it longer.
2.Power Word: Imagine
Why It's Effective
Simply put: if you can make your audience imagine themselves with your product or service, they're more likely to actually purchase it.
How to Use It
Use the word "imagine" as a call to action instructing readers to picture the thing you're about to describe. Then flex your copywriting muscles to discuss all the wonderful ways your product makes their life better.
Real-World Example
Warby Parker caught our attention with this email subject line:

It's almost like a challenge to readers, encouraging them to discover what they're meant to be imagining.
Customers who click through are greeted with some superb creative copy that describes the brand's latest collection in distinctly summery language: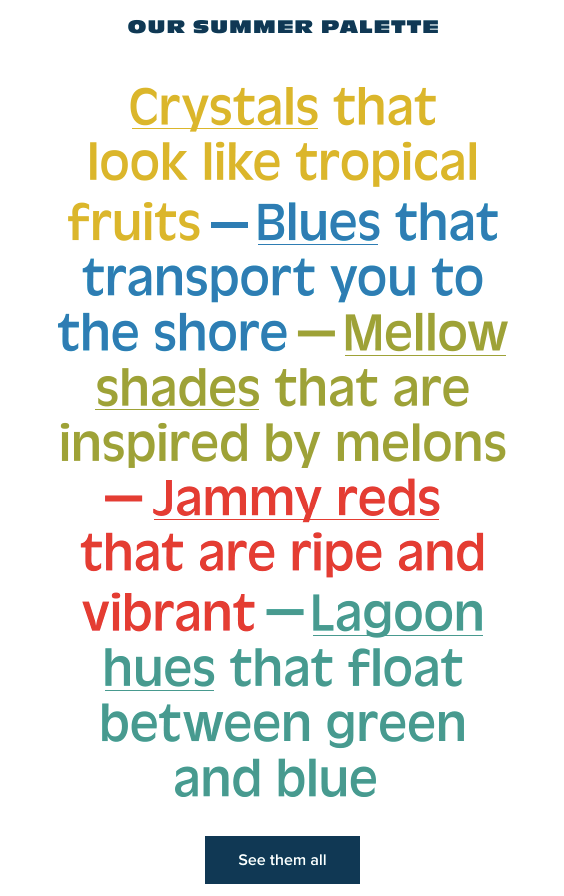 It's hard not to imagine what they're describing—especially because the color palette complements the copywriting.
3. Power Word: Discover
Why It's Effective
Discovery is exciting. It's often unexpected. It smacks of adventure.
In short, it's an emotive word with positive ramifications, making the reader feel like they've finally found what they've been searching for.
How to Use It
Most brands use "discover" as an elevated substitute for words like "browse" and "shop". It's just as actionable, but it feels less mundane.
Real-World Example
Cosmetics brand Origins used the word "discover" to encourage customers to check out its latest skincare collection: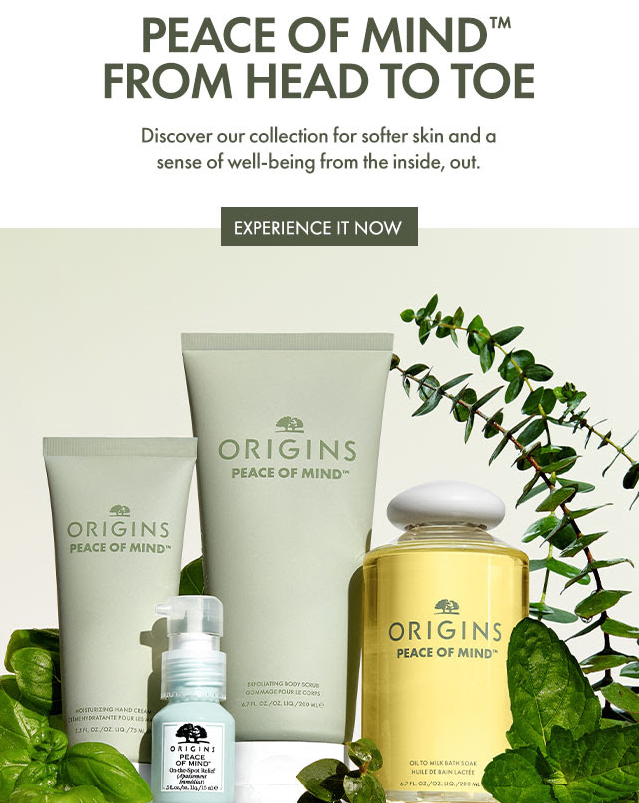 It pairs perfectly with the CTA copy: readers are prompted to discover the collection, then experience it for themselves.
4. Power Word: Essential
Why It's Effective
Similar to "premium", the word "essential" speaks to the innate value of your product. But whereas a premium product can easily be dismissed as a luxury item, an essential one sounds like something you can't do without.
How to Use It
Marketers often use the word "essential" (or "essentials") in seasonal campaigns. The idea being that the products included in a campaign are must-have purchases for summer, or Valentine's Day, or the holiday season.
Real-World Example
Cosmetics retailer Glossier used "essentials" in this back-to-school email campaign: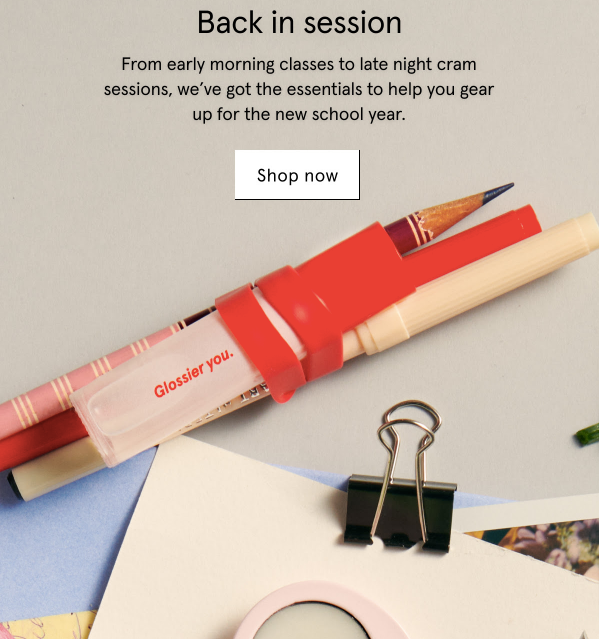 It's kind of a tongue-in-cheek email; most customers wouldn't call makeup an "essential" purchase for the start of the new school year. This allows Glossier to elbow in on a conversation it wouldn't otherwise be part of.
5. Power Word: Best
Why It's Effective
While you might love every one of your products equally, fact is, customers probably don't feel the same. More likely, you have a small selection of bestsellers and a whole bunch of stuff that doesn't sell nearly so well.
If you want to increase sales, it makes sense to steer shoppers toward your highest-converting inventory by highlighting your "best" products.
How to Use It
One common method is to round up products across multiple categories and promote them through a "best of…" list, such as:
Our best makeup products for 2023
Our best-rated products, according to customer reviews
Our best-selling summer products
This list-driven approach works well in email newsletters, but you can also use it to inform your social media posts and blog content.
Real-World Example
Take a look at how Violet Grey uses the word "best" in an email campaign to showcase its most popular summer products: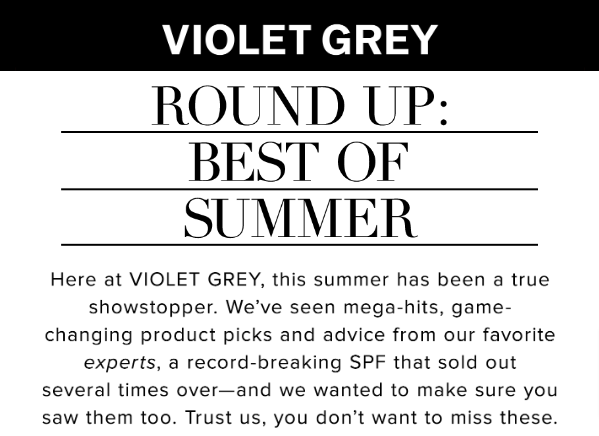 That engaging copy is followed by a collection of the brand's top-selling, highest-rated summer beauty products…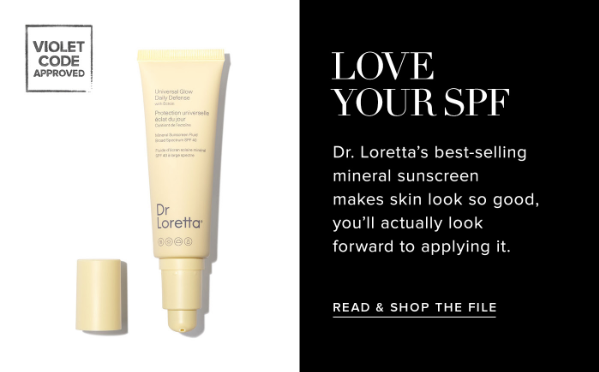 …each of which is accompanied by persuasive sales copy and a call to action prompting shoppers to find out more and make a purchase.
6. Power Word: Easy
Why It's Effective
Customers don't like friction.
So much so that 18 percent of shopping cart abandoners ditch their carts because the checkout process is too long or complicated, according to the Baymard Institute.
Using words like "easy" helps reassure consumers that buying from you is a simple, pain-free experience.
How to Use It
Most ecommerce businesses shouldn't have to reassure customers about the ease of their checkout process—it should be a given.
But if you've got a more complex business model, it's worth spelling out that the path to purchase is friction-free.
Real-World Example
Subscription-box companies are an example of an ecommerce business type that requires a little explanation to get customers onboard.
It's not just a one-off purchase, so it naturally feels more complicated.
NuLeaf Naturals did a great job with this graphic, which played a starring role in one of the brand's email newsletters: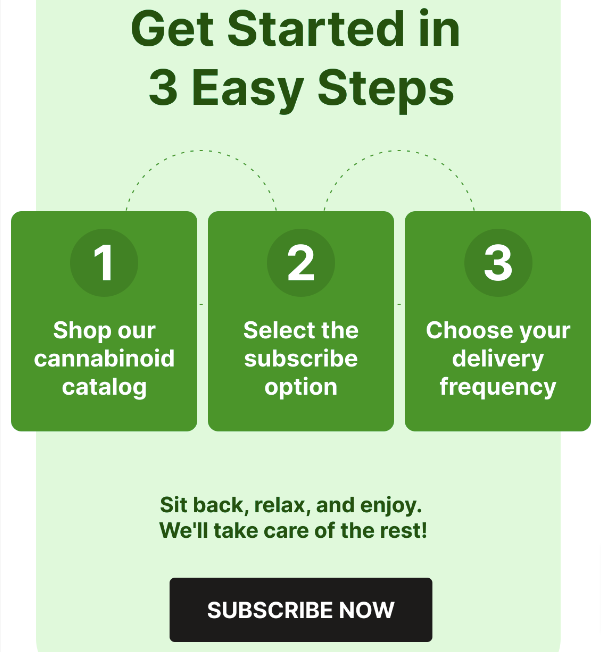 Splitting the path to purchase into three "easy" steps makes the whole process feel less scary. This feeling is reinforced with other anxiety-reducing words like "relax" and "enjoy".
7. Power Word: Beat
Why It's Effective
Every product solves some sort of customer problem.
Shoppers might buy a new outfit to impress at a job interview or show off on a night out. They might search for a beauty product to relax their frizzy hair or give them smoother-looking skin. Or maybe they need to replace an old, outdated gadget or appliance they've used for years.
Either way, you can demonstrate that your product solves their problem using words like "beat".
How to Use It
Outline the pain point or challenge you're helping customers overcome, then tell them how your product "beats" that problem.
In this way, you can position the same product in multiple ways for different occasions and target audiences. For instance, a new pair of sunglasses might…
Provide UV protection
Help you look cool at a summer wedding
Shield your eyes on a long road trip
Real-World Example
Kids subscription box brand Rockets of Awesome used the word "beat" in this email subject line targeting a common parenting pain point:

You don't need to have children to know that getting them to sleep can be a real challenge (just think how you used to protest whenever bedtime arrived).
No doubt plenty of parents who received that email clicked through wanting to discover the solution!
8. Power Word: Because
Why It's Effective
Ever heard of Ellen Langer's famous "Copy Machine" study?
Back in 1978, researchers at Harvard and the City University of New York approached people waiting in line for a copy machine, with the goal of cutting in front of them.
Each time, they made one of three requests:
Version #1 (request only): "Excuse me, I have 5 pages. May I use the Xerox machine?"
Version #2 (request with a real reason): "Excuse me, I have 5 pages. May I use the Xerox machine, because I'm in a rush?"
Version #3 (request with a fake reason): "Excuse me, I have 5 pages. May I use the Xerox machine, because I have to make copies?"
As you can see, version #3 gives a stupid reason to cut in: everyone in line was waiting to make copies, so why should they get to go first?
Yet it turns out version #3 worked almost as well as version #2 (93 percent vs. 94 percent), while version #1 (60 percent) was far less effective.
Why did this happen?
It's all about the word "because".
How to Use It
"Because" helps you reinforce a point or give context to an action. You might use it to explain why you've launched a new product, added a new feature, or introduced a flash sale. Alternatively, give your customers a reason to treat themselves, as in L'Oréal's classic slogan "Because you're worth it".
Real-World Example
This email copywriting example from The White Company is all about setting a scene in which customers can picture themselves: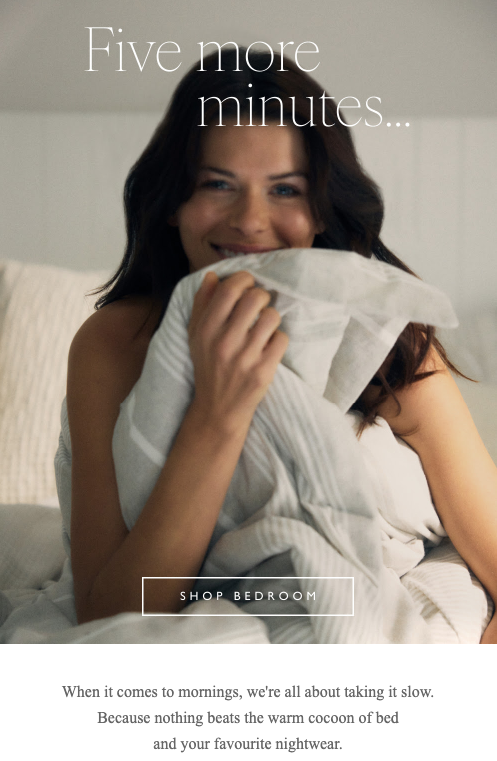 It's easy to read this and instantly imagine yourself luxuriating on soft, crisp sheets beneath a plump duvet. Which, in turn, inspires you to click the Shop Bedroom CTA (provided you can keep your eyes open long enough).
7 Value-Based Power Words That Sell
1. Power Word: Free
Why It's Effective
In his book, Predictably Irrational, Dan Ariely recounts an interesting study he and his team ran.
Ariely and his colleagues offered students a Lindt Truffle for 26 cents and a Hershey's Kiss for 1 cent.
And in doing so, they observed that 73 percent went with the truffle while 27 percent went with the Kiss.
So far, so good.
But here's where it gets interesting…
When they dropped the price of both chocolates by 1 cent, Ariely found that 69 percent of subjects opted for the free Kiss. Yes, even though the relative price between the two was the same.
The takeaway is obvious, albeit unsurprising: if it's free, we want it (even if we don't need it).
How to Use It
People love freebies, so offer them to customers often. If you can't, take what you already offer, like free shipping, and remind buyers of the added value they're getting.
Real-World Example
Marketers online and off know this. They've leveraged freebies to get a foot-in-the-door for years. It's why lead magnets work. And why thank you pages convert new visitors into customers.
Take a look at this onsite campaign from Real Coffee: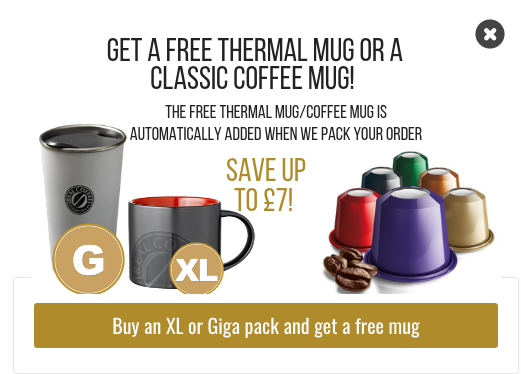 The word "free" is used in three out of four sentences in this campaign to convince visitors to buy a product. Visitors are more likely to buy a product if they're offered a free bonus along with their purchase.
Does the word "free" have to relate to a product/service?
Not at all.
Oftentimes, it's a case of reminding customers of an existing free offering. For example, you might offer free shipping on orders over a certain amount. Or, include new customers in a free loyalty program.
You can add a campaign like this on your thank you page for new customers using Drip's onsite campaign builder: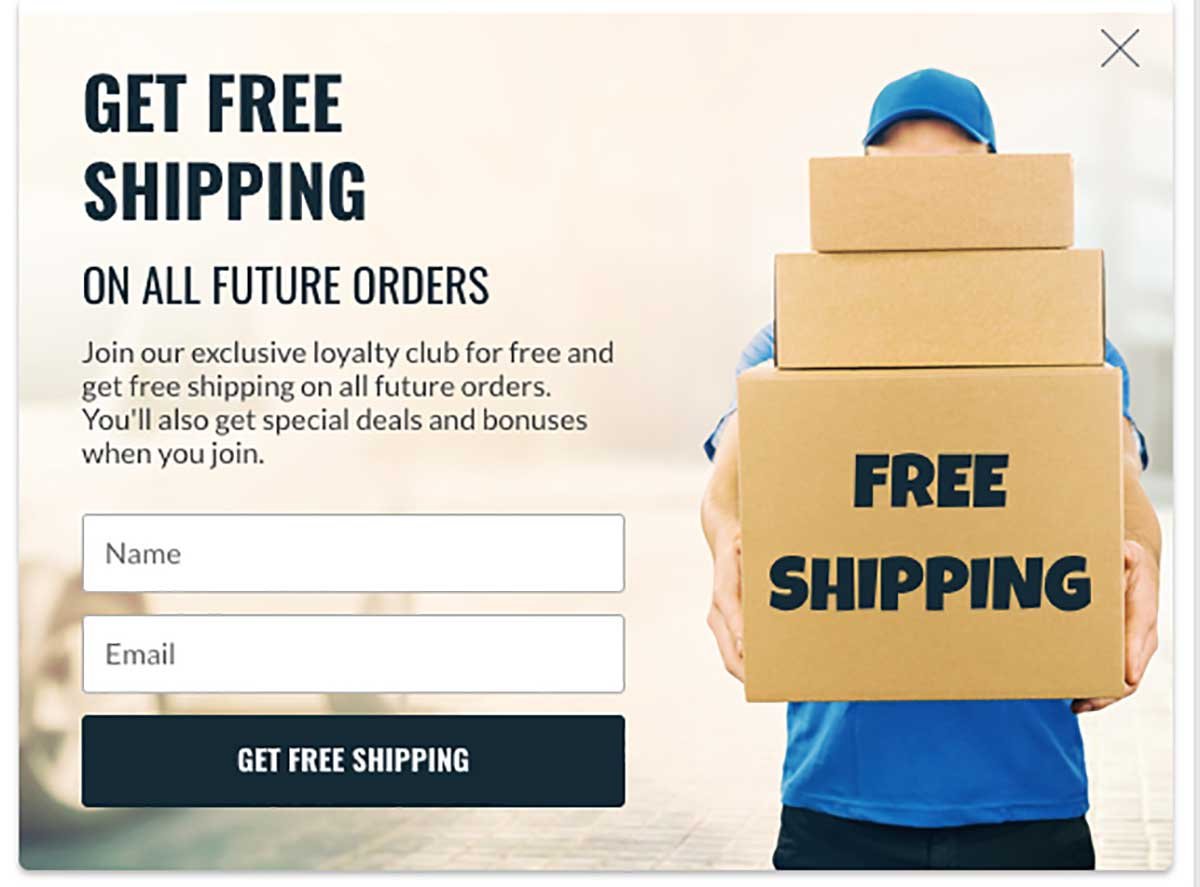 2. Power Word: Value
Why It's Effective
Trust us:
Customers don't really care about features and benefits.
What matters above all else is the value your product provides and whether it meets the needs of prospective buyers.
Don't make shoppers guess about this; spell it out by discussing the value you're offering.
How to Use It
The word "value" can be used in a few different contexts, such as:
Demonstrating the cash value of a free gift
Showing the full cash value of a product bundle
Discussing non-financial benefits, such as the value of saving time
Either way, it's about demonstrating how buying a certain product will make the customer's life better.
Real-World Example
We've already pointed out that people love a freebie. But sometimes even a free gift might not be enough to persuade customers to take action.
For that reason, Italic made sure to mention the cash value of its free gift in this email subject line:

By adding context to the gift's value, Italic makes this offer sound far more attractive.
3. Power Word: Gift
Why It's Effective
We've mentioned gifts several times when discussing other words that sell, so it makes sense to focus on the word itself.
Gift-based promotions can boost your conversion rate without diminishing the perceived value of your brand or products through discounting. And while there isn't a whole heap of research on the effectiveness of gifting, a decade-old study from Harris Interactive—now a subsidiary of Nielsen—discovered that:
Nine in 10 free gift recipients are at least somewhat likely to buy more frequently after receiving a gift.
65 percent of free gift recipients are at least somewhat likely to tell other people about their experience online.
Both of which are definitely good things.
How to Use It
Most brands use gifts to promote a specific product or service. While the gift itself needs to be attractive enough to act as an incentive, it needn't be your most popular or recent product; it's fine to use stock that's nearing the end of its life (and would otherwise be eating up space in your warehouse).
Real-World Example
Free gift promotions don't have to be an online-only affair.
In this example, MAC Cosmetics used a gift to incentivize purchases of in-store makeup services: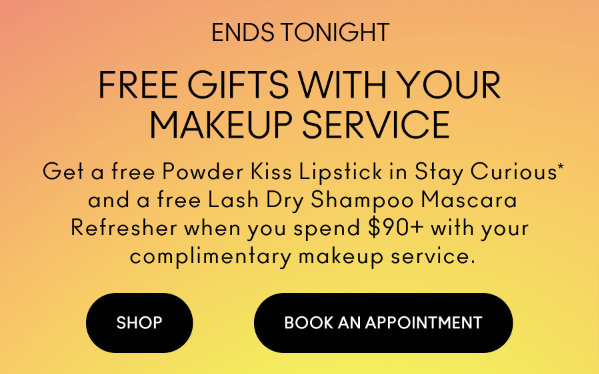 This goes to show how words that sell can play an important role in your omnichannel marketing strategy.
4. Power Word: Premium
Why It's Effective
Even if customers are hunting for a bargain, they want to find the best possible product their money can buy. Describing your product as "premium" speaks to its quality, potentially making it more attractive.
How to Use It
If you're going to position your product as "premium", you need to back up your words with meaningful features and benefits that prove it's a cut above the rest. Is it made from higher-quality materials? Does it have advanced features that aren't available on cheaper models? Was it created in collaboration with a high-profile designer?
Real-World Example
In reality, simply telling customers that your product is "premium" isn't going to drive many sales.
A more impactful approach is to use the word alongside a discount or promotion, just like sunglasses brand Sunski did in this email subject line:

That way, customers feel like they're getting an amazing deal on your best products, not that you're trying to offload a bunch of old stock.
5. Power Word: Sale
Why It's Effective
We've spoken a lot about suggestive, soft-touch language that compels audiences to learn more by making them feel like they're not being sold to.
Our next word—"sale"—is the exact opposite. You'd only ever use it when trying to close the deal.
In the retail world, "sale" is synonymous with "discount", so it's an excellent way to attract bargain hunters and impulse buyers. Indeed, two-thirds of shoppers have made an unplanned purchase solely based on finding a coupon or discount.
How to Use It
This one's pretty obvious: use it when you're running any sort of price-based promotion, whether it's a sitewide flash sale or a limited-time discount on a specific product or category.
Real-World Example
Here, ThirdLove used "sale" to hype up its limited-time Labor Day promotion: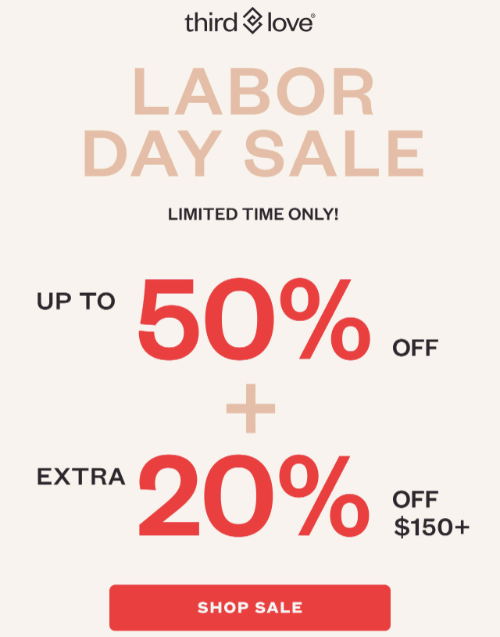 There's nothing subtle about this messaging. It's all bold fonts, big numbers, and the promise of huge savings if you act fast.
As such, these campaigns are highly effective for driving short-term sales, but your customers will soon get bored if you run aggressive sales all the time.
6. Power Word: Save
Why It's Effective
Like "sale", the word "save" piques the interest of customers looking for a bargain.
If the discount is attractive enough, it might even prompt them to make a spur-of-the-moment purchase of an item they wouldn't otherwise have bought—and might never have even considered buying.
How to Use It
Because "save" is an actionable word, it works well in CTAs, subject lines, and ad copy. Use it to draw attention to your latest discount or multibuy promotion.
Real-World Example
For a solid example of how to use the word "save" in your CTA copy, look no further than this email newsletter from Joybird: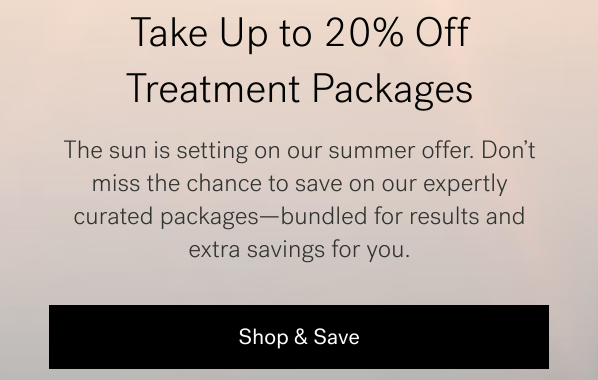 This CTA is doubly persuasive because it contains two action words.
7. Power Word: Deal
Why It's Effective
Whereas sales are often open to all customers, a "deal" sounds like something that's only available to savvy shoppers. It's the type of promotion that might require a little effort on the customer's behalf, but rewards them with substantial savings.
How to Use It
Sure, you could describe your sitewide sale as a "deal".
But it works best when used alongside less accessible promotions, such as product bundles and buy X, get Y offers.
Those types of deals are most likely to resonate with shoppers who are prepared to jump through a hoop or two to unlock a big discount.
Real-World Example
Less is definitely more in this example from Crate & Barrel:

The brand told shoppers they could take advantage of its "best" furniture deal, but didn't provide any detail about what the deal actually entailed.
It's yet another example of how to write an email subject line that teases customers into clicking through.
Words That Sell Need Dynamic Segmentation
In the right context, any of these words that sell could convince your audience to buy.
So could lots of other words.
But if your campaigns don't reach the right people (at the right time), it's not going to work.
That's why you need to combine your power-word-infused messaging with dynamic segmentation, helping you deliver ultra-personalized emails and popups that keep people engaged with your brand.
Drip's powerful segmentation brings together your store, visitor, and marketing data to create behavior and engagement-based segments that update in real time.
So if a customer has just made their first purchase, or hit a certain spending threshold, or browsed a product page without adding to cart, you can reach out to them with exactly the right CTA or promotion.
See how it all works by signing up for your 14-day free trial!