You've reached a new customer with the perfect product ad. They saw it at exactly the right time when they were already looking to buy a product that's just like yours.
Having done their due diligence, they've seen that your product review scores are excellent, so they've started the checkout process.
But then disaster strikes.
They hit the payment page, noticed the shipping costs, and vanished—most likely in the direction of your biggest competitor.
It's an all-too-common story.
Indeed, according to the Baymard Institute, extra costs—such as shipping, taxes, and fees—are the leading cause of cart abandonment.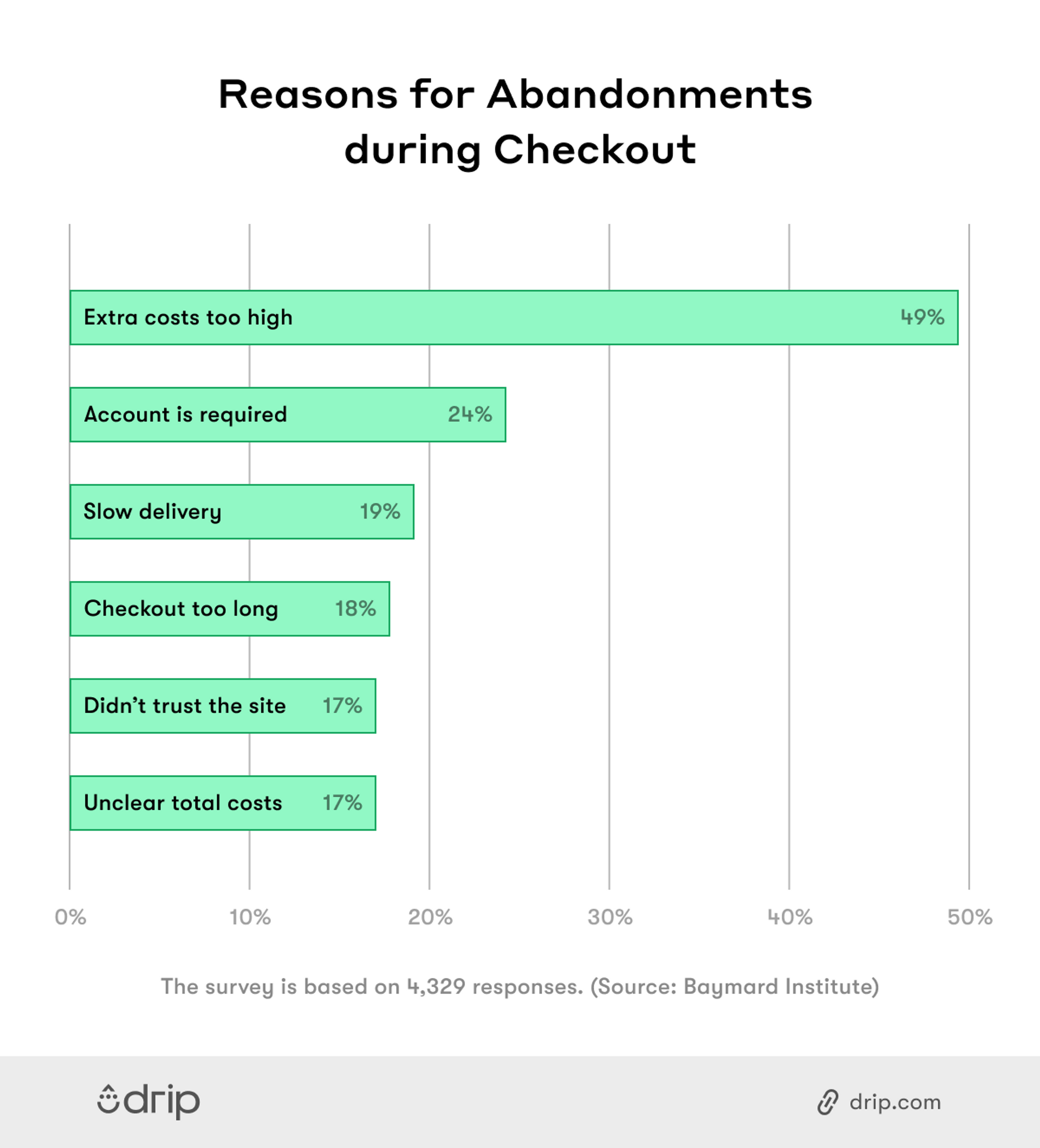 As online shoppers, we've come to take free shipping for granted—so much so that we feel a compulsion to avoid paying anything at all for shipping, in any scenario.
Let's dig into just how much of a chokehold free shipping has on consumer behavior.
Four-fifths of people say free shipping would make them more likely to shop online.
That same proportion expects to receive free shipping when ordering a certain dollar amount of items, while two-thirds expect free shipping on every single order, according to research from Jungle Scout.
Not only that, but 68 percent frequently spend more than they initially planned to unlock a free shipping offer, with the average consumer spending over $21 more as a result.
Or, to put it another way, free shipping is a pretty big deal to your customers.
So it's definitely something to promote in your email marketing.
This is why I've rounded up these seven highly persuasive free shipping email examples.
Example #1: Offer Free Shipping As a One-Off Incentive
Free shipping is a challenge for some retailers.
Fact is, your margins might not be high enough to justify it—especially if you have a comparatively low average order value.
And especially if you also have a bulky product that can't be easily packaged and dispatched for a low cost.
Unfortunately, customers are an unforgiving bunch.
They don't care about your bottom line; they want free shipping and they want it now.
So rather than launching a sitewide sale, why not offer free shipping as a limited-time promotion?
That's what L'Occitane en Provence does here: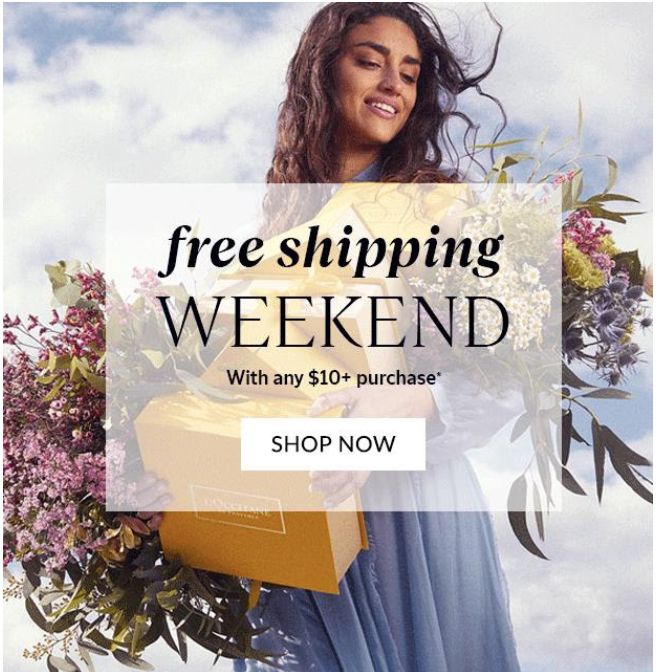 This approach has the benefit of sparking urgency in your email recipients.
And as we all know, FOMO is a highly effective tool for compelling customers to take action.
Example #2: Promote Free Shipping In the Subject Line
The subject line is arguably the most important piece of real estate in a customer's inbox.
Almost half of the respondents decide to open an email based on the subject line alone, while two-thirds report email as spam based solely on the subject line, according to one study.
Writing the perfect ecommerce subject line is difficult.
You only get a limited number of characters to play with (research shows that subject lines with between 36 and 50 characters get the best response rates), so you need to think long and hard about your messaging.
Given that we already know how much consumers love free shipping, wouldn't it make sense to reference it in your subject lines?
Here's an example of how this could look, courtesy of Benefit Cosmetics:

As an aside, I like the use of emoji here. While they're not for every brand, emojis can help your subject line stand out in a busy inbox. Indeed, one study found that brands using emoji in their subject lines see a 56 percent upturn in unique open rates.
Another thing that works well in this free shipping email example is the use of a promo code for people to claim their free shipping: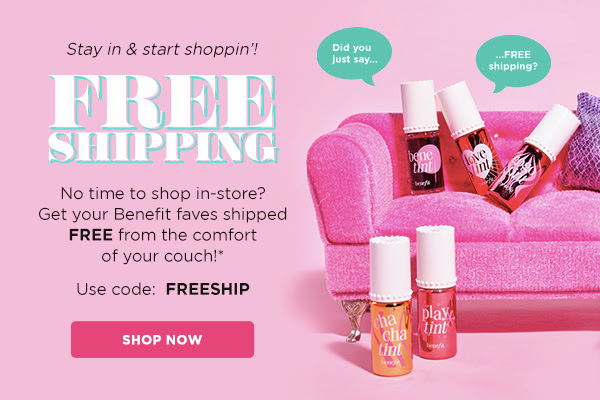 That's smart, with a survey from Blippr discovering that online shoppers who use coupon codes spend 24 percent more than shoppers who don't use them.
A final point here: it turns out that promo codes and email marketing are natural bedfellows.
According to Blippr's research, 88 percent of consumers prefer to receive coupons via email, so it definitely makes sense to combine the two.
Throw in a free shipping offer and you've got all the ingredients for email marketing success.
Example #3: Spell Out How Your Free Shipping Offer Works
Customers don't want to feel misled.
If you promise them free shipping, they're going to hold you to it.
And if the reality doesn't match their expectations, there's a good chance they'll bounce.
(Remember, unexpected costs are comfortably the biggest cause of cart abandonment—in fact, they lead to twice as many abandonments as the second-biggest cause.)
So it makes sense to spell out exactly how your free shipping proposition works.
That way, no one's going to be confused or disappointed.
However, it's worth noting that consumers have short attention spans.
On average, people spent just 10 seconds reading the average brand email in 2021, down from 13.4 seconds per email in 2018.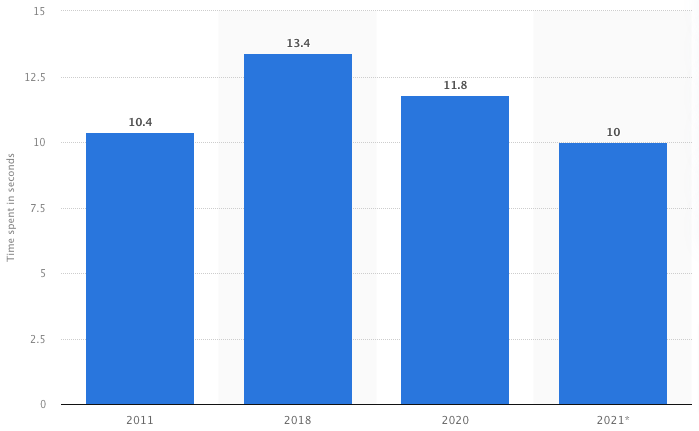 That means you want your most important messaging to appear as high up the email as possible.
Most often, that's going to involve discussing the product you're launching or the discount you're offering, rather than the terms and conditions of your shipping policy.
Urban Outfitters gets around this by using the email footer to explain its free shipping proposition:

This works well because as consumers, we're trained to search out this kind of dull-but-important information in the footer section.
So you get to communicate all the important, technical stuff without eating up valuable space at the top of your email.
Example #4: Mention Free Shipping Above the Fold
What if you simply can't incorporate any free shipping messaging in your email subject line?
The next best thing is to reference it in a prominent position within the email itself—preferably above the fold.
As we discussed in the previous section, attention spans are short, so don't count on people making it several scrolls deep into your email newsletters. If that's where your free shipping offer is lurking, only a small proportion of your audience is going to see it.
Ideally, you'll mention free shipping at the very top of your email, like Too Faced Cosmetics does here: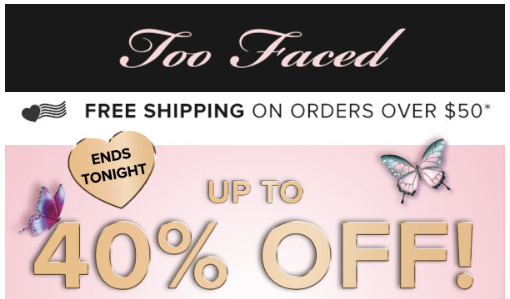 Obviously, there are terms and conditions attached (which are spelled out in full in the footer, a la Urban Outfitters).
But the top-of-page messaging is super clear.
Free shipping, combined with a sizable discount on purchases, makes for an attractive offer.
Example #5: Use Free Shipping to Drive Customer Registrations
The more you know about your customers, the easier it becomes to reach them with highly targeted, personalized offers.
With 71 percent of consumers expecting companies to deliver personalized interactions—and 76 percent getting frustrated when this doesn't happen—it's easy to see why brands are so eager to get hold of as much customer data as possible.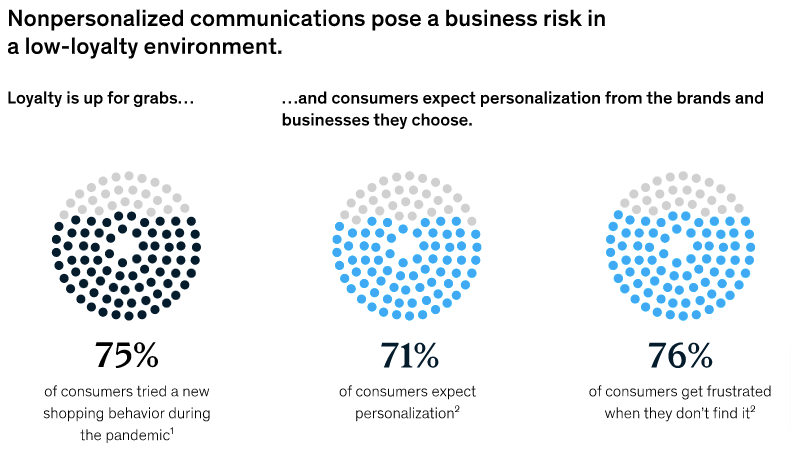 So much so that estimates from the European Commission claimed the value of personalized data would reach €1 trillion in 2020.
But what does all this have to do with free shipping?
Well, in this email, NYX Professional Makeup demonstrates how free shipping can be used as a tool to persuade more customers to register their details when making a purchase:

This is a smart tactic, especially if you sell a product with decent margins that's comparatively easy to package up and ship at a low cost.
Think about it: offering a customer free shipping might cost you $5.
But in return, you'll get a bunch more highly valuable data from them.
This means more impactful email marketing and, hopefully, a higher lifetime value from each customer who takes advantage of your promotion.
Example #6: Promote Free Shipping As a Secondary Incentive
Free shipping is one of the most powerful incentives for driving sales.
Indeed, research from Retention Science found that online shoppers are twice as likely to respond to free shipping offers than price discounts.
Analyzing 100 million online transactions, it found that:
Free shipping offers convert at a rate of 0.22 percent – 1.9 percent
Percentage-discount incentives convert at a rate of 0.1 percent – 0.8 percent
But why does it have to be one or the other?
Think how many more conversions you could drive by combining free shipping with some other kind of discount or promotion.
That's precisely what EyeBuyDirect does in this free shipping email example: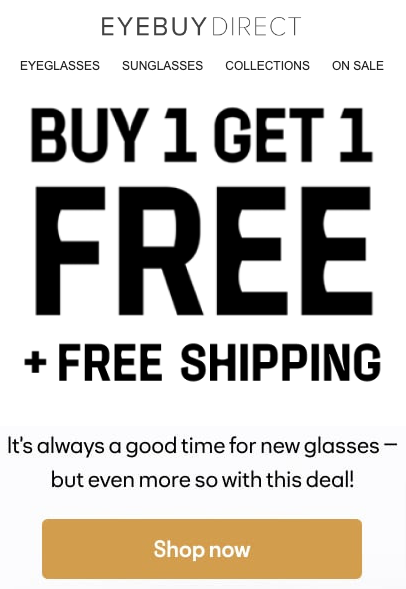 This approach works especially well on a buy-one-get-one-free offer because the last thing customers want is to pay twice the expected shipping costs by purchasing two products rather than one.
Example #7: Target Free Shipping To New Customers
The longer a customer sticks with your business, the higher their lifetime value becomes.
On the flip side, they're worth nothing if they never feel compelled to take the leap and make that all-important first purchase.
That's why a lot of brands target promotions specifically at new customers—people who are interested enough to sign up for their newsletter but are still yet to convert.
One way to do that is by offering free shipping specifically for new customers like Green Chef does here: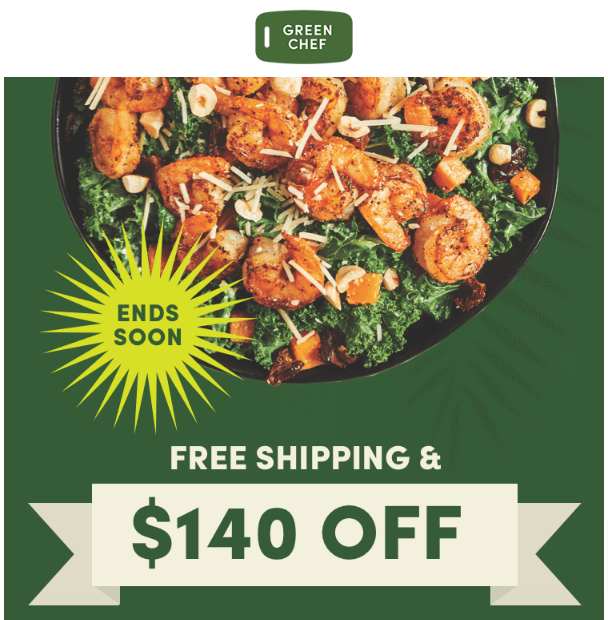 This strategy is especially useful for subscription-based companies like Green Chef, for whom the initial purchase could result in months—or even years—of repeat business.
It's all about looking at the big picture here.
Sure, offering free shipping to newbies might cut into your average order value in the short term.
But in the long run, you can potentially land a bunch of loyal customers.
That's definitely a good thing, with KPMG research revealing that:
86 percent of loyal customers will recommend a company to friends and family
66 percent will write a positive online review after a good experience
46 percent will remain loyal even after a

bad

experience
Conclusion
Free shipping emails can be an extremely effective strategy for driving sales.
But spending a bunch of time "doing emails" is no guarantee of success.
What you need is a way to build longer-lasting, higher-value customer relationships—and Drip can help you do it.
Our powerful segmentation and personalization tools make it easy to engage your audience with dynamic email content that hits the mark each and every time, whether you're planning a free shipping promotion, sending an abandoned cart reminder, or crafting personalized product recommendations.
(Or sending any other type of email communications, for that matter.)
Those tools helped The Spice House replicate its in-store experience online, resulting in:
A 90 percent year-on-year increase in sales
A 183X return on investment
A 40 percent increase in email list size
Ready to turbocharge your email marketing?
Try Drip totally free of charge for 14 days—we won't even ask for your credit card details.