Way back in 2006, Amazon attributed 35 percent of its revenue to cross-selling.
That was a surprisingly candid insight from the e-commerce behemoth, and unsurprisingly, it hasn't provided an update since.
But given the company's obsessive focus on personalization and conversion optimization, it's a fair bet that number is even higher today.
Imagine that: earning one-third (or more) of your revenues just from the things your customers buy on top of their original purchase. No wonder Amazon reported global revenues of more than $469 billion in 2021.
But you don't need to have annual earnings that give the GDP of Belgium a run for its money to unlock the power of upselling and cross-selling.
It's perfectly achievable for any e-commerce business—you just need to give customers a compelling reason to buy more than one item at a time.
One of the best ways to achieve that is through product bundling, so let's take a look at its best examples.
9 Killer Product Bundling Examples
What Is Product Bundling?
Product bundling involves grouping several products together and selling them as a combined package, often for a cheaper price than if they were sold individually.
Product bundling helps online stores increase their average order value. Plus, it can also be an effective way to offload less attractive or end-of-line products by bundling them in with your bestsellers.
As we'll see throughout this article, product bundling isn't one single strategy. Bundles come in multiple flavors, including:
Pure bundling. The products in a pure bundle can't be bought separately; they only exist within the bundle. For an everyday example from beyond the e-commerce realm, switch on your TV and take a look at the electronic program guide. For the most part, those channels can't be bought individually—they're either available as a bundle, or not at all.
Mixed bundling. As the opposite of pure bundling, mixed bundling involves a package of products that can be bought separately. Often, the customer will be able to build their own mix-and-match bundle, helping them feel like they're in control of the transaction.
Cross-sell bundling. This is about bundling in a complementary product, often with a higher-priced item, such as when you buy a new smartphone and the retailer chucks in a case or a pair of headphones.
"Buy one, get one" bundling. With this bundling tactic, consumers are encouraged to buy one full-priced product to get another product at a significant discount (or even for free). It's especially popular with big-ticket and one-off purchases.
That's all the theory out the way.
Now, let's take a look at nine product bundling examples you can "borrow" for your own e-commerce site.
1. Harry's
Although it's best-known as a subscription service, Harry's also has an e-commerce store, and product bundling is a key part of its offering.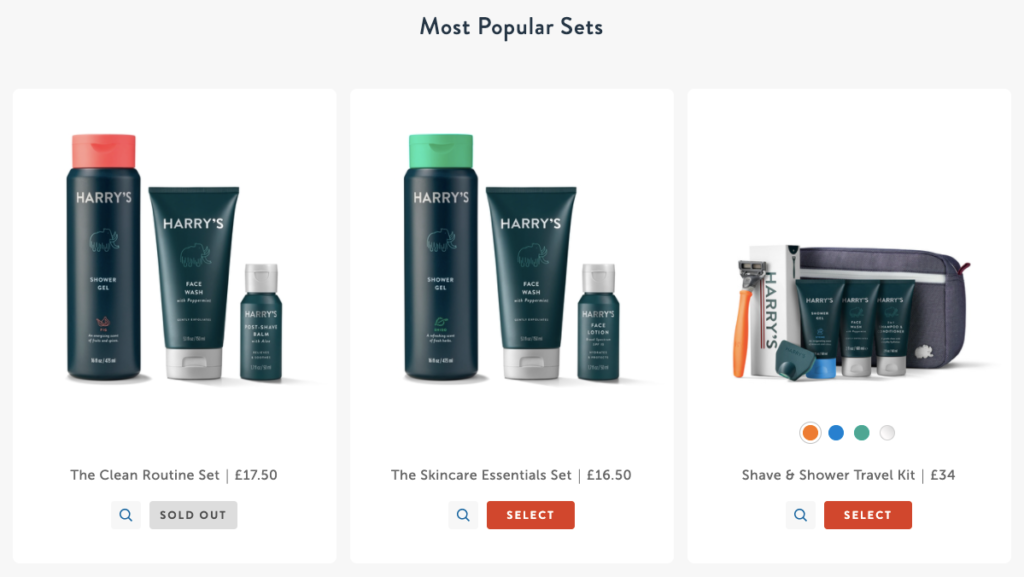 Regular readers of the Drip blog will know we're big fans of Harry's and its marketing strategy. So it's no surprise that it does product bundling so effectively.
The key here is in demonstrating how the products in your bundle complement one another. Just because you sell egg whisks and suspender belts, that doesn't mean they make sense as a product bundle.
Here, Harry's describes its Skincare Essentials Set as a single product that includes "three must-haves", rather than a random bundle of three constituent products.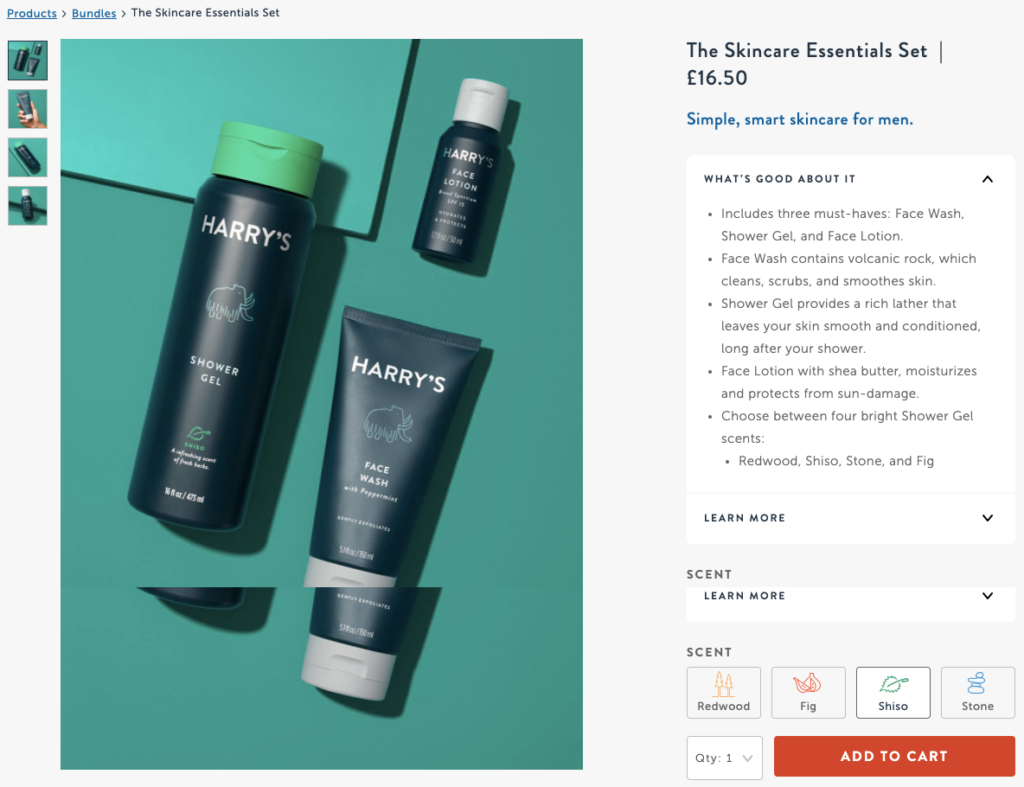 It's messaging makes it sound like you simply can't afford to buy one without the other two (even though Harry's also sells each item separately).
2. Bloom & Wild
I researched this article in early February, so inevitably I was being bombarded with social media ads for Valentine's Day gifts—which brings me to my next product bundling example from flower delivery service Bloom & Wild.
It encourages customers to add a box of fancy chocolates to their flower purchase to create a more "thoughtful" V-Day gift.
This example demonstrates the value of a seasonal bundle; something that ties in with a key date, event, or trend.
Bear in mind that for the majority of consumers, gift-giving is a high-pressure transaction. Indeed, 79 percent describe finding and purchasing the right gifts as the most stressful thing about the holiday season.
So if you can make the process easier—and less stressful—by offering gift bundles, your customers will thank you for it.
3. Anastasia Beverly Hills
There are plenty of smart tactics you can use to really "sell" the value of your bundles.
Cosmetics brand Anastasia Beverly Hills uses several of them to promote its Flawlessly Ever After bundle, launched ahead of Valentine's Day.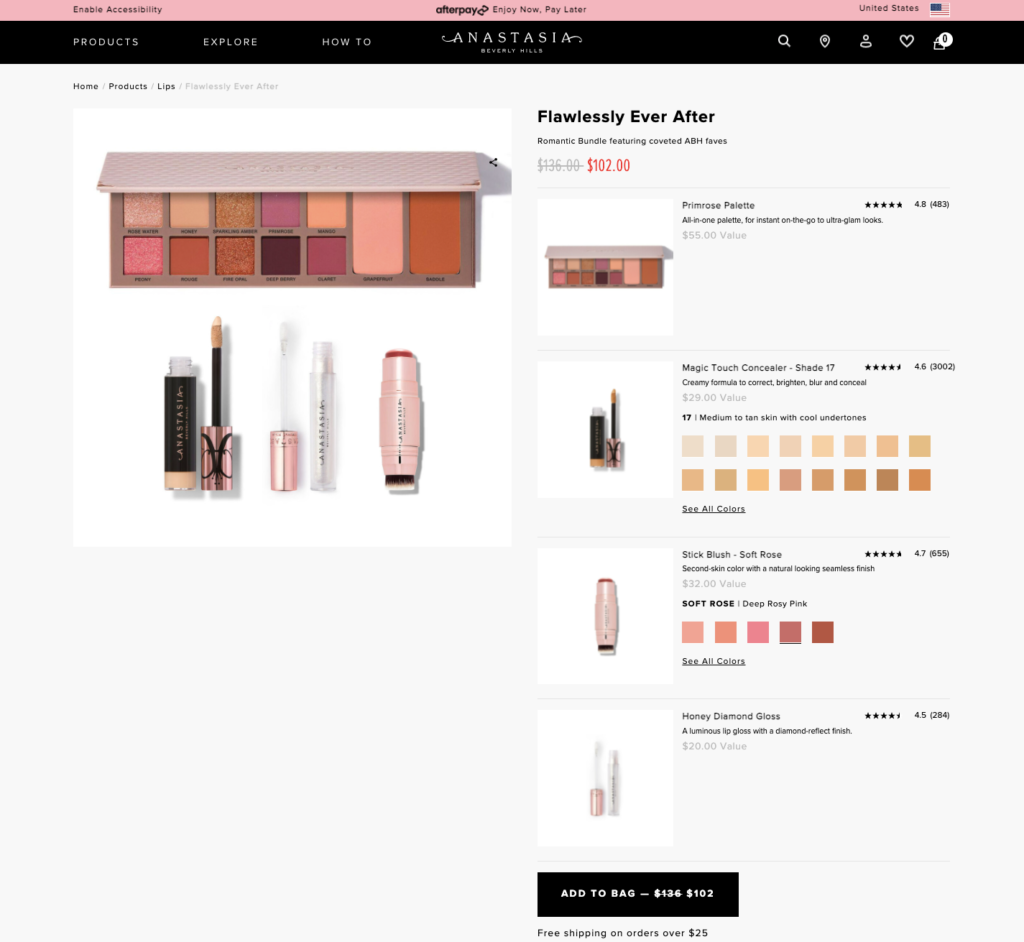 Let's take a closer look at what's going on here.
First, Anastasia breaks down the bundle into its constituent parts to make it completely clear what you're getting: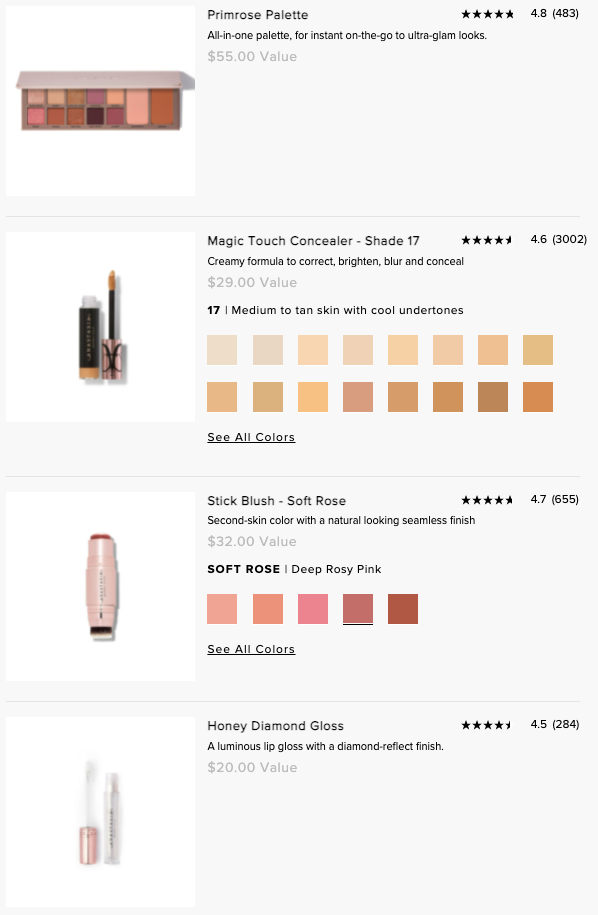 As you can see, each product is accompanied by its own review score and price, which helps create the impression that everything is highly desirable in its own right:

In other words: there are no weak links here.
And there's another smart touch at the top of the page, just below the product name and description, where Anastasia lists the price of the bundle alongside the "full price" (i.e. the combined price of all the individual products).
Again, this makes it clear that you're getting a great deal here, rather than buying a bunch of products that Anastasia is desperate to clear out of its warehouse.
4. ASOS
The previous examples in this article have focused on mixed bundling. But, as we know, there's more than one type of product bundle.
Here, ASOS gives us an example of pure bundling, in which the products can't be bought individually from the same store.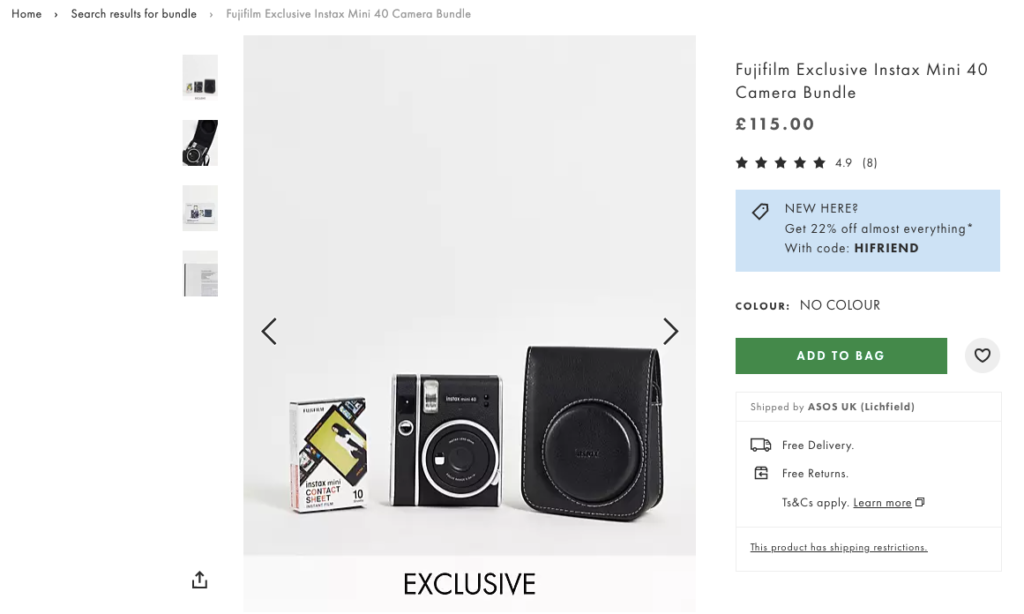 It makes sense for ASOS to sell this camera bundle as a pure bundle. After all, when you think of photography products, you don't automatically think "ASOS". The retailer doesn't want to clog up its vast warehouses with endless camera accessories. So instead, it offers them as a bundle.
Another smart thing about this product bundling example—ASOS makes clear that it's an exclusive bundle: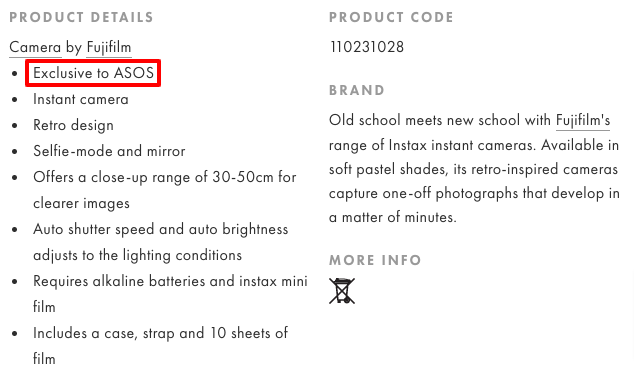 So if you want this selection of products, in a single bundle, at this price point, you won't find it anywhere else.
5. Sweaty Betty
Ever heard the phrase "always be closing"?
It's the type of thing that pumped-up salespeople yell at each other over coffee in their morning stand-ups. But, unlike a lot of things those salespeople will tell you, there's a lot of truth to it.
The point is: it's never too early to start closing the deal. That goes for product bundling, too.
Most retailers treat bundling as something to introduce once a customer has landed on a specific product page, or maybe only after they've added a product to their shopping cart, like "Oh, you like this product? Why not buy it with this other product?"
Yoga brand Sweaty Betty does things a little differently. It has an entire category page dedicated to product bundles:

As you scroll down the various products on that page, you'll see a bunch of additional messaging that explains how the bundling process works…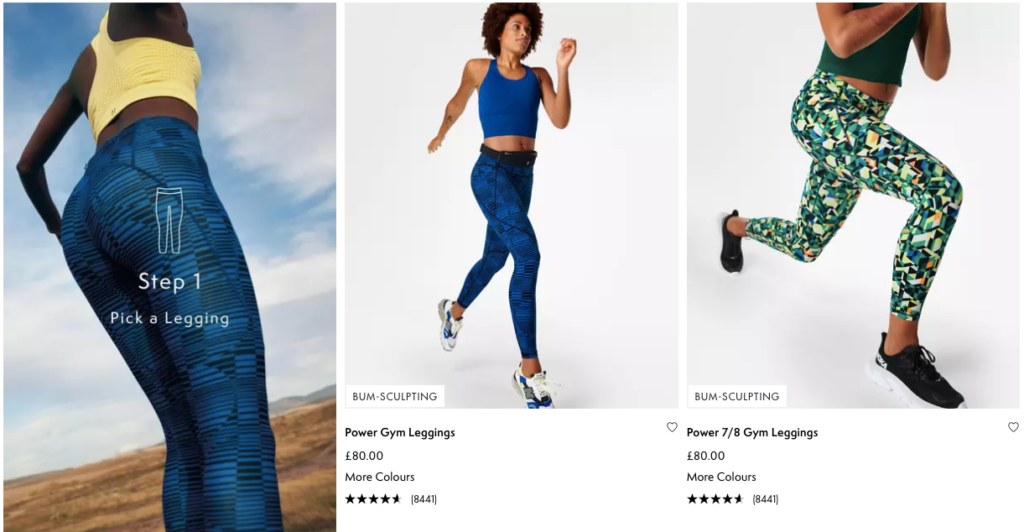 …and highlights the additional value it offers: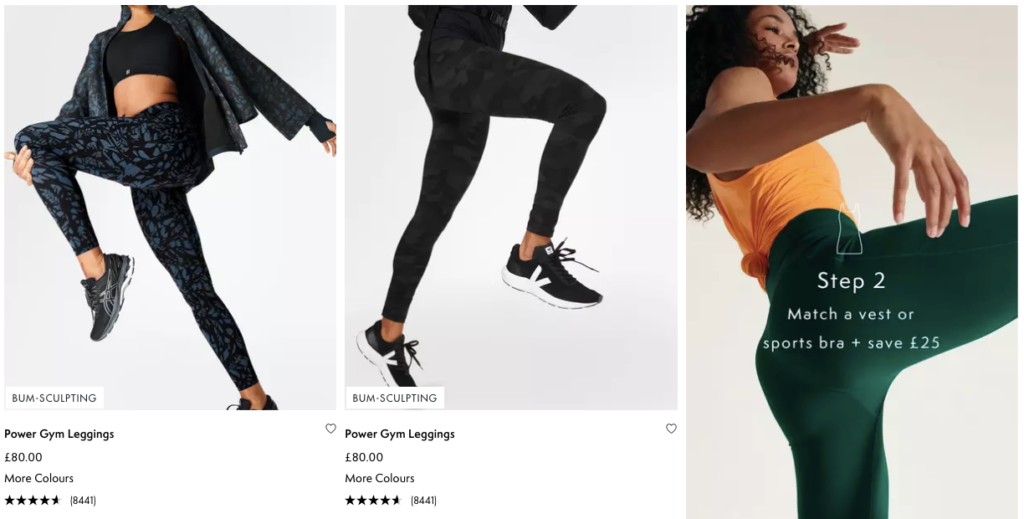 That's a smart approach because by the time the customer has found a product they like the look of, they're already sold on the idea of bundling it in with something else. That means more items per transaction and a higher average order value.
6. H&M
Product bundling seems like common sense—and it is. But there's also a bunch of science behind it.
Research published in the journal Procedia Computer Science shows that bundling leads to both higher profits for the retailer and greater savings for the consumer, so it's a real win-win scenario.
This brings us neatly to my next example, from H&M. Here, the fast-fashion giant bundles together two of its basic relaxed fit sweatshirts into a mixed bundle: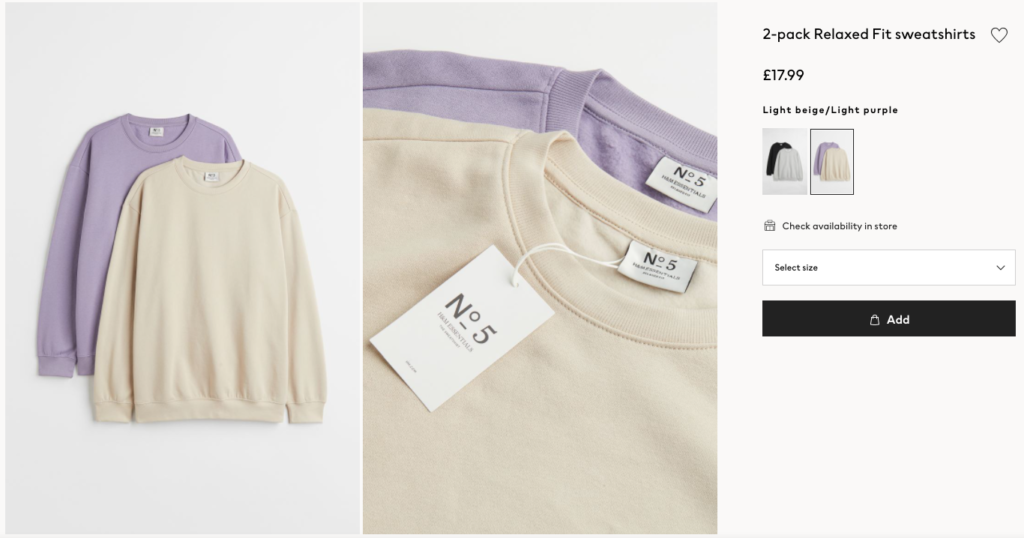 For context, these sweaters retail for £9.99 apiece when sold individually, so we're not looking at premium products here.
What's in it for H&M? Surely it's eating into margins that are already pretty tight by offering such a low-priced product bundle?
Think about it: selling these two items together actually saves the retailer money on shipping costs, while also reducing the quantity of stock in its warehouse.
In reality, the "saving" on this bundle likely costs H&M very little, if anything. It might even work out as a net positive.
7. Murad
Back to the world of skincare, Murad gives us another fantastic example of how to demonstrate the value offered by a product bundle.
It repeatedly references how the price of its 3-Step Glow Bundle is $37 cheaper than the combined price of the individual products: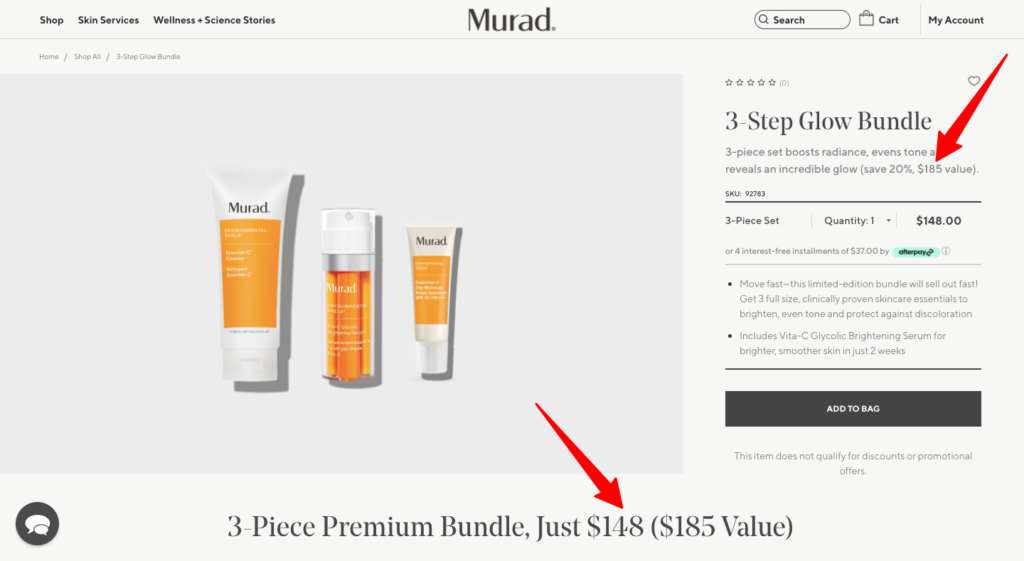 This leaves the customer in no doubt that they're getting a significant discount here.
Not only that, but Murad also takes the time to highlight the three constituent parts of its bundle.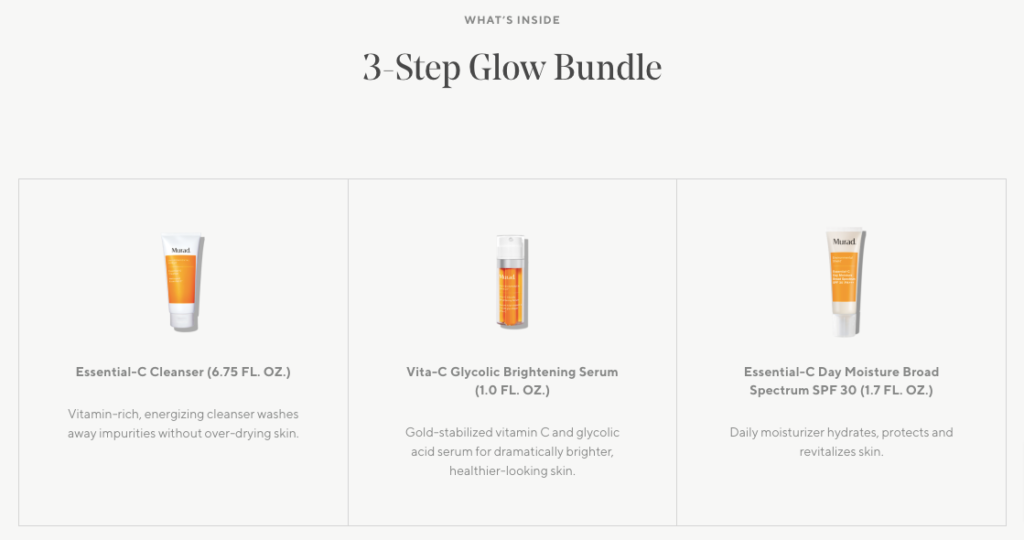 I like how the descriptions make the bundle sound like more than just the sum of its parts.
Sure, you could buy each item individually. But by purchasing them together, you get all the tools to give your skin a bright, healthy glow—plus you're saving a bunch of money at the same time.
It makes this offer sound like a real no-brainer.
8. Paperchase
Here, Paperchase shows us how to use "buy one, get one" bundling to boost your average order value.
As we know, the idea behind this bundling strategy is that when the customer buys one product, they get another complimentary product (or even the same type of product) at a reduced price.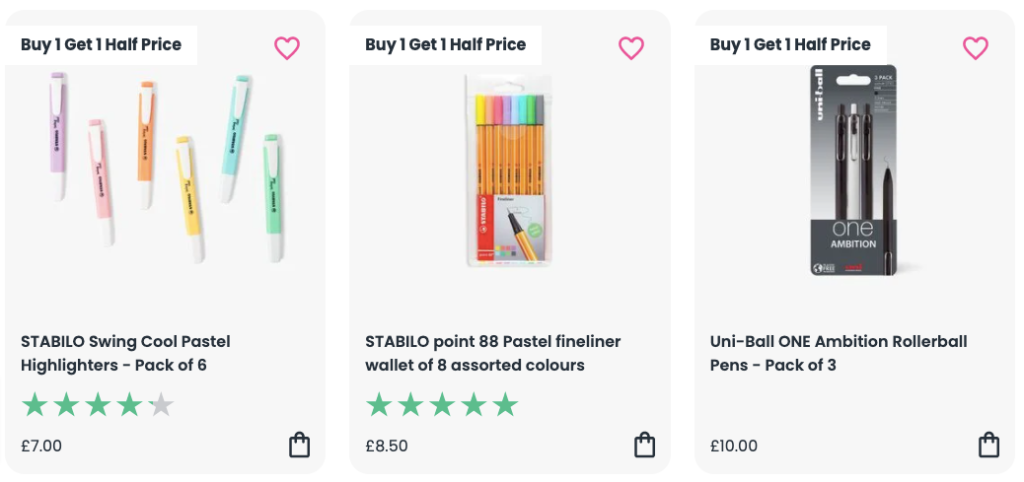 This works well with stationery products. If I buy a pack of pens, I'm not going to buy another pack in a week.
So by offering a 50 percent discount on a second pack, Paperchase is tempting me to make an additional purchase that I probably wouldn't have made for several months (if at all).
There's another smart element to this strategy: it compels the customer to try out different types of products. I might be a diehard fan of rollerball pens, but maybe I've never thought to try out a fineliner.
By broadening my stationery-based horizons, Paperchase is opening up a whole new revenue stream from me. And if I love my fineliner experience, I might buy even more in the future.
9. HelloFresh
Sometimes, product bundling is so smart, you barely even notice it's happening.
This sort of subtle pure bundling is pretty much the whole business model for HelloFresh and the legion of other meal delivery services that have sprung up in recent years.
Take a look at one of its many, many recipe options and you'll see it's just one big bundle: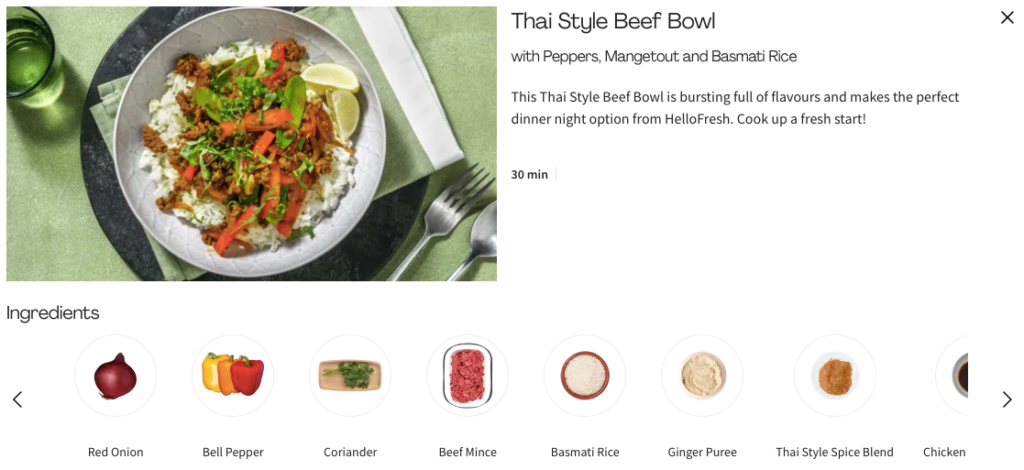 Clearly, HelloFresh isn't interested in selling red onions, bell peppers, and beef mince as standalone products.
The value for a meal delivery service—and its subscribers—stems from bundling all those products together, providing an easy-to-follow recipe, and shipping everything straight to the customer's door.
That's how it justifies charging $50+ a week for its service.
Conclusion
Product bundling is a blanket term for a whole range of upselling and cross-selling strategies.
Whether you're allowing customers to mix and match standalone products, offering bundles of products that you don't sell individually, or bundling together lower-priced accessories with big-ticket items, the results are the same: You sell more products and drive up your average order value.
And your customers enjoy greater value, which gives them even more reason to buy from you again in future.