If you've ever heard of the Pareto principle, you'll know that theoretically, about 80 percent of your sales and revenue come from roughly 20 percent of your customer base.
Whether or not that's exactly true, it's undeniable that your best customers — those who stick with you longest, buy from you most often, and have the highest average order values — are particularly worthy of attention.
You want to engage them, encourage them to review your products and refer their loved ones, and reach out to them with personalized offers based on their previous behaviors and buying decisions.
In this article, I'll explain:
What Are "VIP Customers"?
Ever been to Las Vegas?
If so, you'll know that Sin City's casinos do whatever it takes to keep you happy (and spending money).
For the average person, that might mean free access to the dinner buffet and a couple complimentary drinks.
Those are perfectly attractive perks. But they look like chump change to the highest-rolling VIPs, who might be jetted in first class at the casino's expense, picked up at the airport in a limousine, and given the best suite in the hotel, all on the house.
It's pretty much the same in the retail world, except your customers are buying products rather than playing baccarat or poker.
Because they're so valuable to your business, it's in your interests to retain them for as long as possible.
While VIPs look different from one business to another, they generally tick at least one of these boxes:
Long-standing purchase history
Short timespan between purchase
High average order value
Why Are VIP Customers So Valuable?
On a basic level, VIP customers tend to spend more money than your average shopper.
But their importance to your business goes way further than that.
KPMG research into loyal customers—some of whom will be VIPs—found that:
86 percent will recommend a company to friends and family
66 percent will write a positive online review after a

good

experience
46 percent will remain loyal after a

bad

experience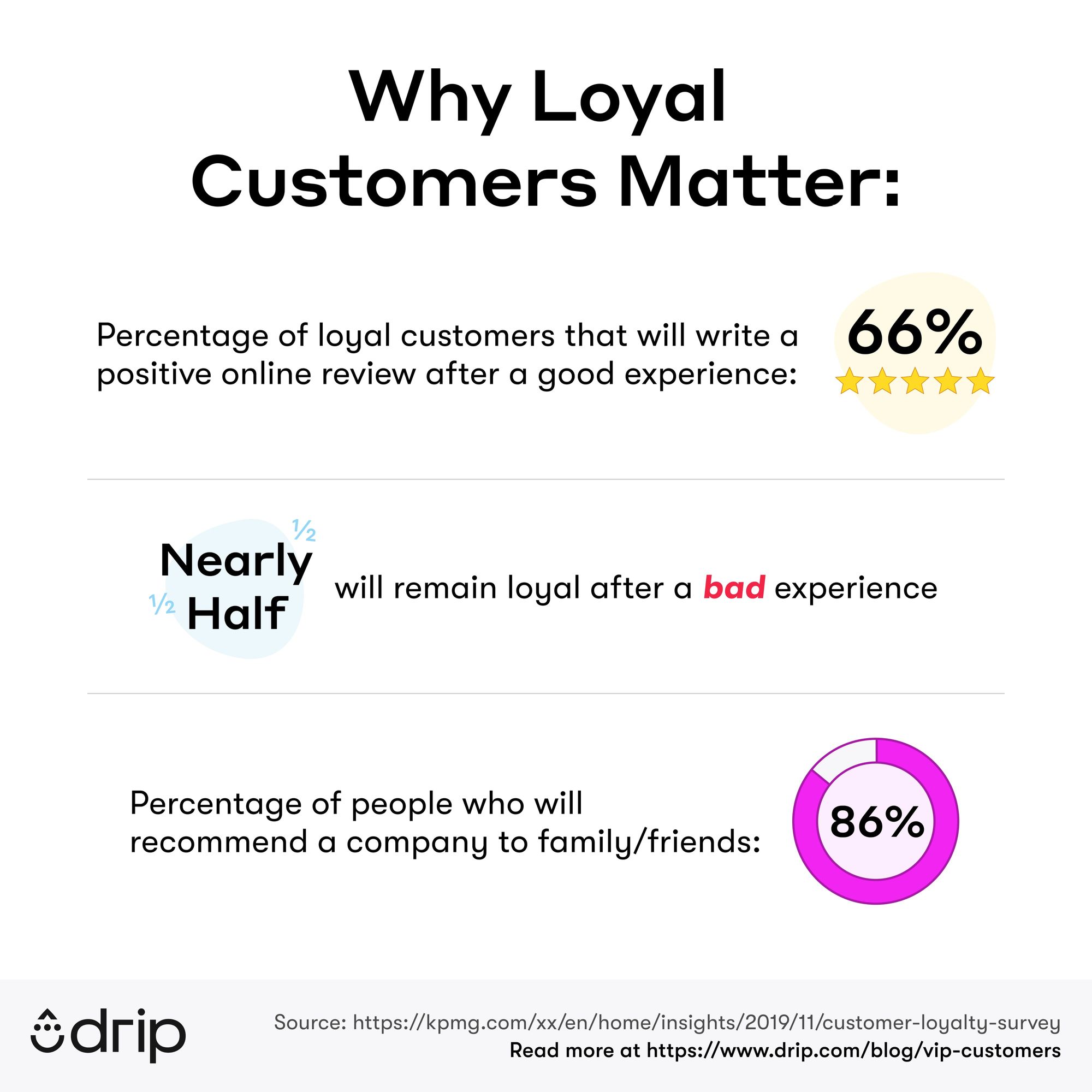 Meanwhile, Zendesk discovered that 52 percent of customers go out of their way to purchase from their favorite brands, while Yotpo revealed that 56 percent of loyal customers will spend more on brands they feel loyal to — even when cheaper alternatives exist.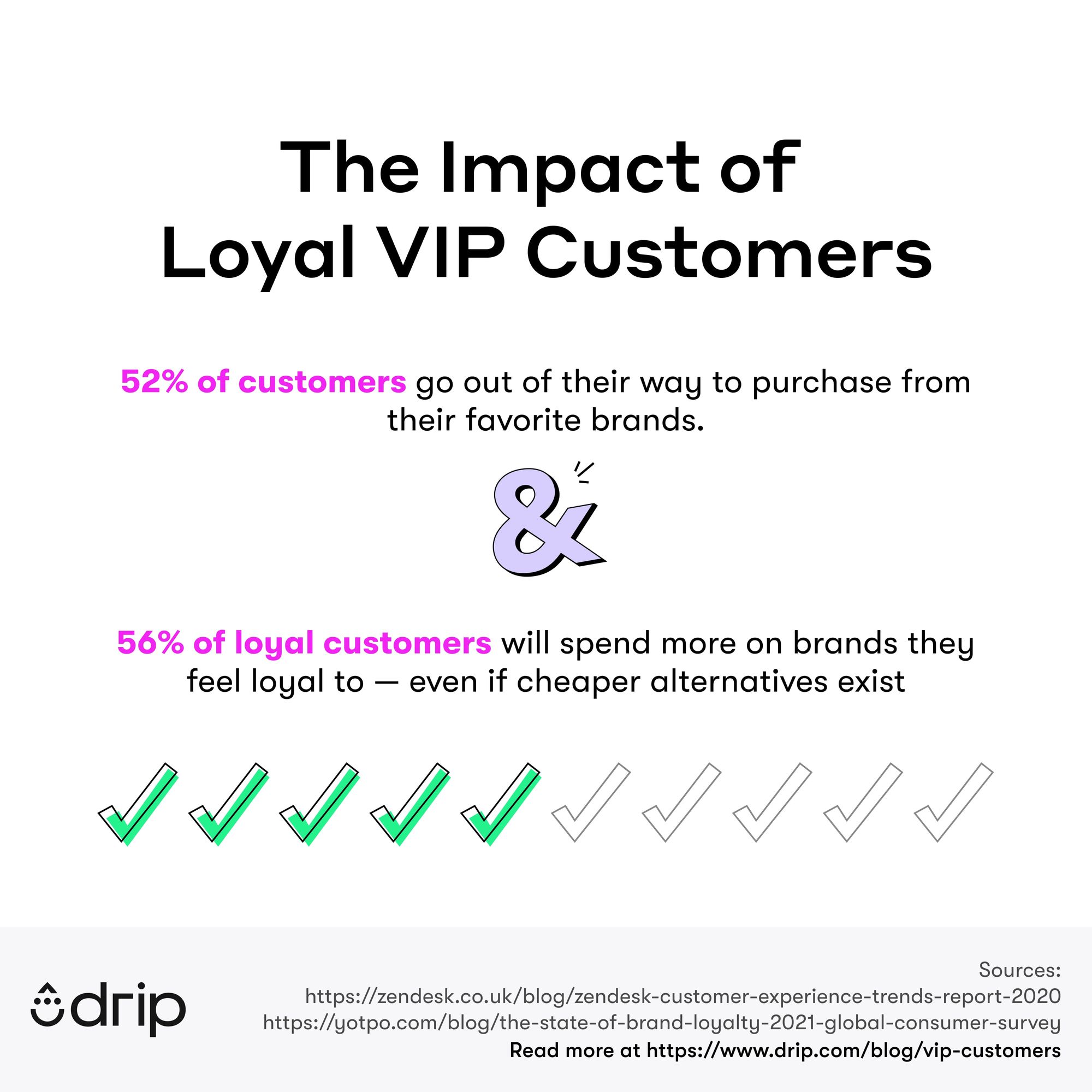 VIP customers also represent a disproportionately high amount of sales, with research from Gorgias demonstrating that repeat buyers represent 44 percent of revenue and 46 percent of orders — despite accounting for just 21 percent of the average ecommerce brand's customer base.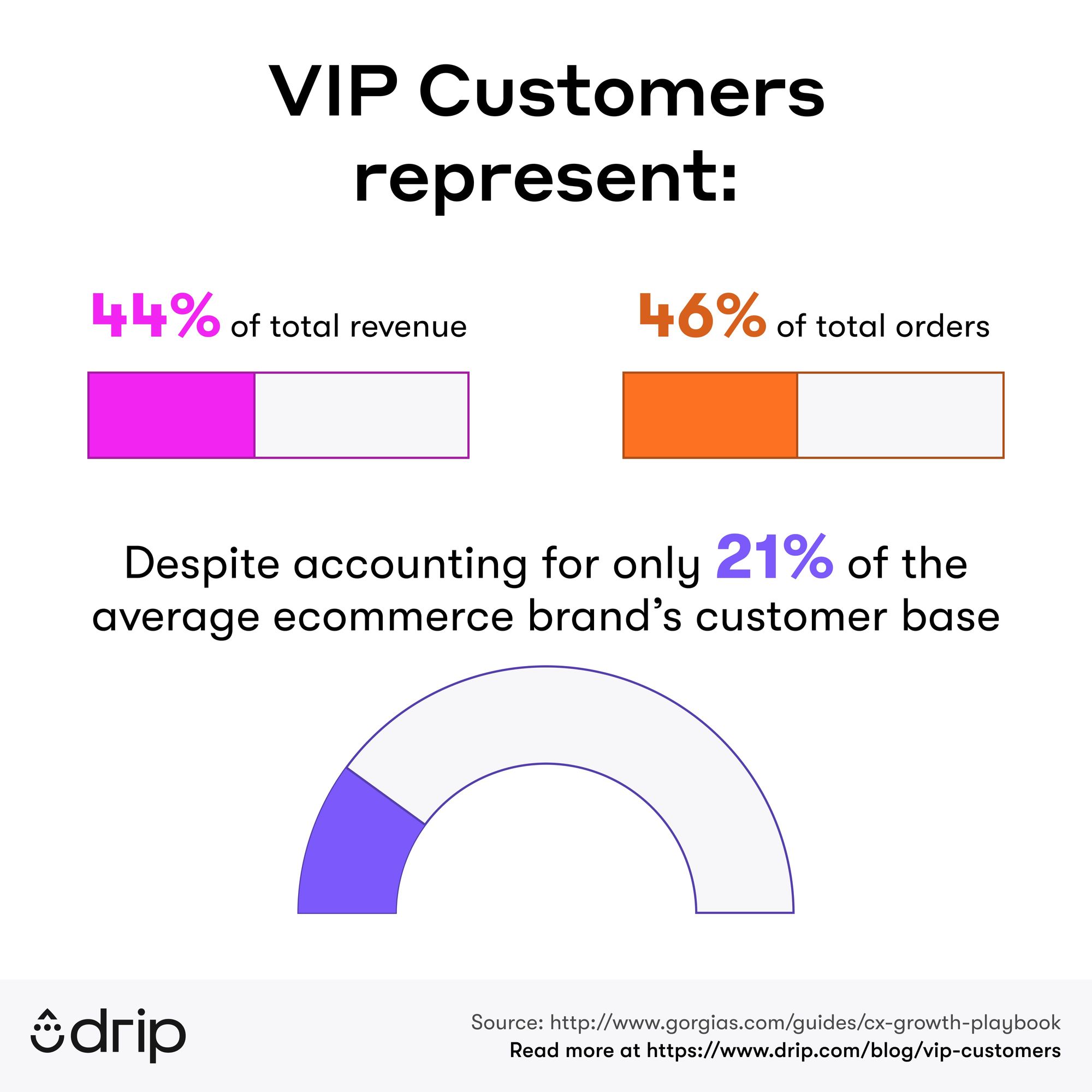 Combined, all those factors mean that VIPs have a massive impact on your bottom line.
Which means it's in your best interests to understand who they are…
How to Identify VIP Customers
As I've already noted, there's no single definition of "VIP customer", because what makes a customer a VIP naturally varies from one ecommerce store to another.
For an apparel brand, VIPs might place an order every month with a minimum value of $75.
But for a store selling high-end household appliances, it might look more like an AOV of $300+ and a purchase frequency of once per quarter.
And you probably don't want to apply a blanket rule. For instance, treating your top-spending 10 percent of customers over the last year as VIPs might work, but at the same time it excludes "new" VIPs who only burst onto the scene a couple months ago.
Confusing, huh?
If you're not sure where to start, use one of these two approaches to identify VIP customers:
1. Run an RFM Analysis
To figure out what a VIP looks like, you first need to understand how their behaviors compare to your average customer.
Do that by performing a recency, frequency, monetary (RFM) analysis. That means crunching the numbers to identify:
How

recently

your customers made a purchase
How

frequently

they buy from you
How much

money

they spend in an average transaction
Having benchmarked your entire customer base, create a segment representing — for example — your top five percent of customers based on average order value.
Then slice and dice that segment to only include the five percent of recent purchasers and frequent buyers.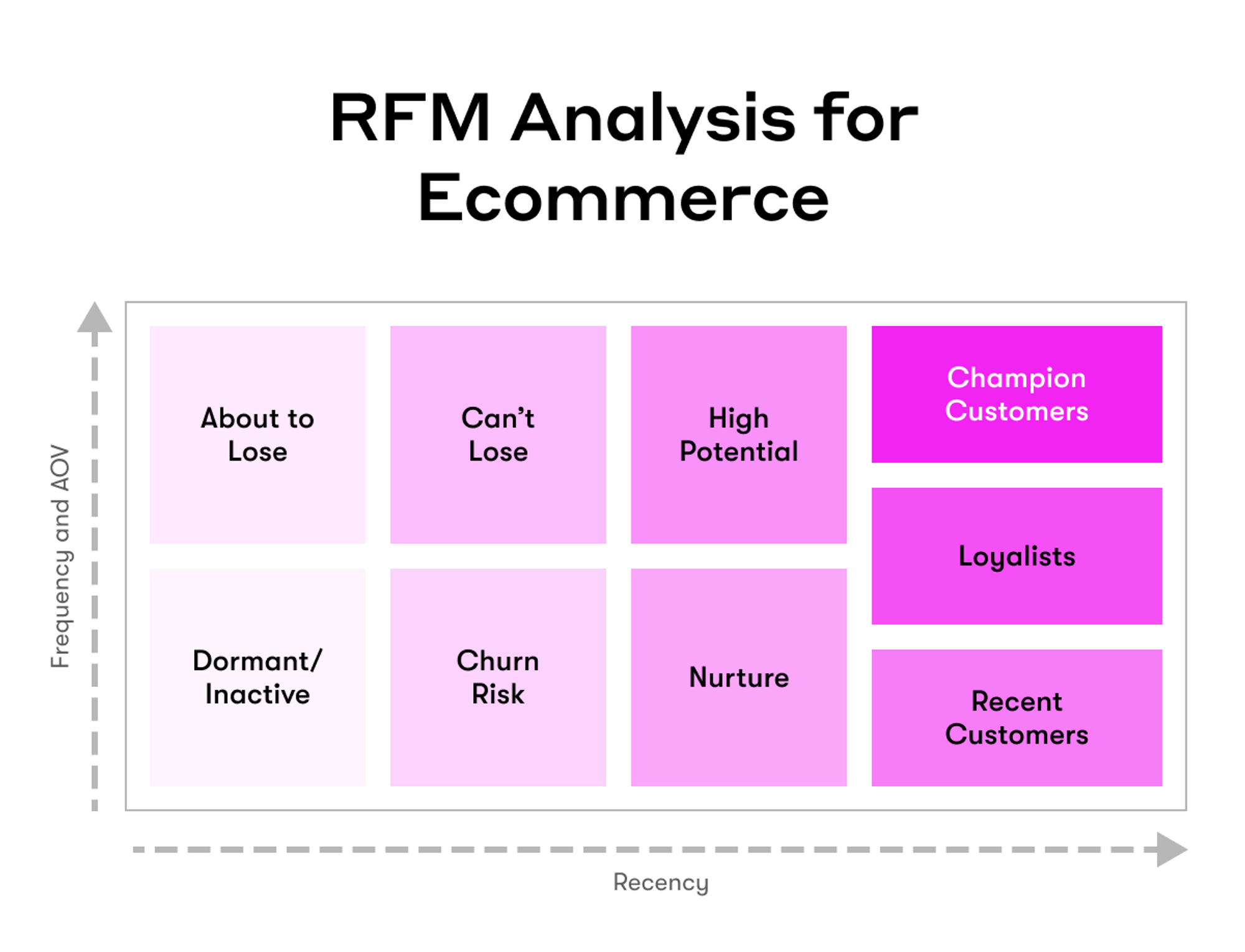 Voilà, you're left with a subset of high-spending, frequently buying, recently active shoppers. In short, your VIP customers.
(N.B. you might also want to build a segment of customers with high AOVs and purchase frequencies who haven't purchased recently so you can target them with a winback campaign).
2. Analyze Customer Purchase History
RFM analysis requires a fair bit of legwork.
For a simpler (albeit less precise) solution, use product purchase history to separate your VIPs from your common-or-garden customers. Specifically, look for those who tend to purchase higher-priced or non-discounted products; these people are your VIPs.
There are some obvious limitations to this approach.
For starters, it only works if you offer products across multiple price points. If you exclusively sell $1,000+ mattresses, everyone (or no one) looks like a VIP.
It also doesn't factor in any of the other elements that might make someone a VIP. Just because a customer purchases a single high-value product, does that make them as much of a VIP as someone with a consistently high average order value who's bought multiple times over an extended period?
In short, you risk wasting a bunch of time, effort, and attractive offers on people who aren't really VIPs at all.
Still, if you have one specific product — or an entire category — that costs a lot more than your average product, this can be a quick and effective way to hone in on your most valuable customers.
How to Reward VIP Customers: 3 Strategies
You know who your VIP customers are; now it's time to figure out how to target them.
Use these three ideas for VIP customers to:
Make them feel highly valued
Point them toward products they'll love
Encourage them to promote your brand
There are many ways to reward your VIP customers so they keep coming back: discounts, freebies, or even exclusive access to a new product line. This is what Yong-Soo Chung from Urban EDC does for her VIP customers. On Mondays, Urban EDC launches a preview teaser for a dropping product line, and on Wednesday that product line drops. On Tuesdays, VIP customers get special early access to their products before the general public does.
1. Build a VIP Post-Purchase Workflow
I've spoken previously about the importance of building an advanced post-purchase workflow to help you transform more first-time buyers into loyal repeat customers.
It's arguably even more important to do this for the people who make the biggest contribution to sales and revenue: your VIPs.
A VIP post-purchase workflow is all about delighting your top spenders, making them feel special, and acknowledging how important they are to your business.
For best results, you need more than just a single email.
With Shopify data revealing that adding an extra channel in your workflow increases revenue by 38 percent, it makes sense to use a range of messaging types when targeting VIPs.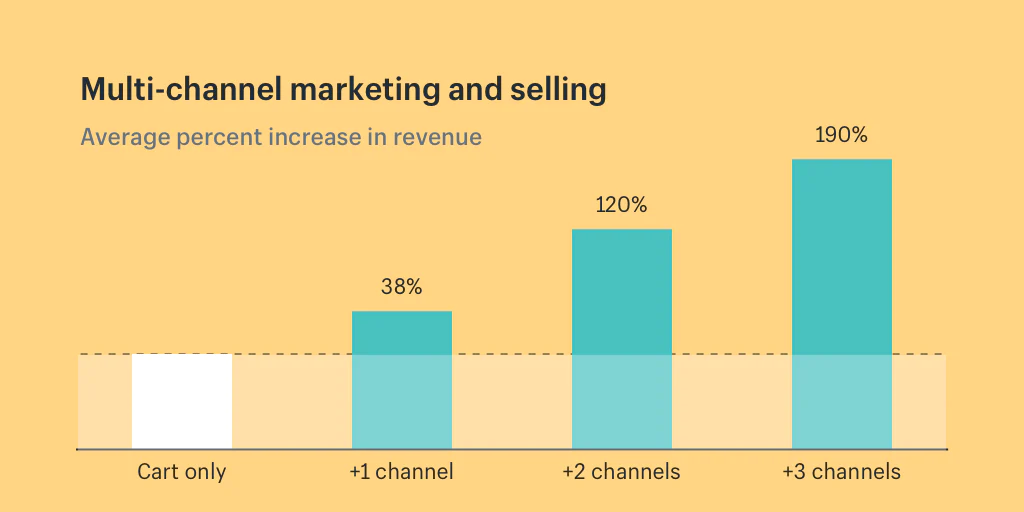 Consider the following post-purchase sequence, which leverages email and onsite marketing to guide VIPs toward their next transaction:
Email #1: Thanks for the Repeat Order
A standard thank you email typically contains:
A brief summary of the customer's purchase
A message thanking them for their order
Some sort of incentive to

purchase again
For instance, Harney & Sons uses its thank you emails to offer first-time buyers a $10 discount on their next order: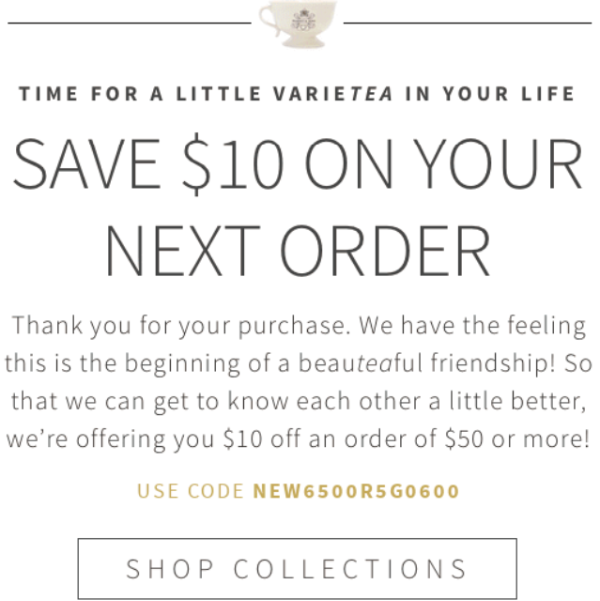 Image source
But remember: we're talking about VIPs here, not just some random newcomer.
That means you need to elevate your messaging to make it clear just how important they are to your business.
For instance, try sharing a personal thank you from your CEO or founder that welcomes the customer to your VIP club. And spell out the benefits of being a top-tier customer, such as:
Exclusive discounts
Early access to sales and promotions
Sneak peeks at new products
Email #2: Here's a VIP Discount
Follow up your initial thank you email with a VIP-only discount.
It should be clear to the recipient that this is something rare and difficult to earn—and that they've only gotten access to it because of their status.
That way, you're encouraging them to keep buying from you to retain their VIP status.
Onsite Messaging: Don't Forget Your VIP Discount
I've already noted that emails alone aren't enough.
The average open rate is 19.66 percent. And while VIPs are more likely to engage with your marketing communications than the average customer, you can't take it for granted that they've opened (or read) your thank you emails.
For that reason, it pays to add an onsite element to your VIP post-purchase campaign, so they'll be greeted with a personalized message next time they land on your site.
A smart play at this stage is to remind (or, if they never saw your email, inform) them of their VIP discount.
And don't forget to welcome them back to your store by name.
2. Share Single Email Campaigns
Email is the most popular form of marketing automation, with 55 percent of marketers using it to streamline their campaigns and generate more revenue.
But that doesn't mean automated workflows should make up every single aspect of your email marketing.
That's especially true when it comes to VIP customers, who deserve a more highly personalized approach—almost like account-based marketing in the B2B world.
Your goal here is to sprinkle single email campaigns throughout your content calendar to keep your most important customers feeling important.
Speak to them like they're part of your inner sanctum; tell them about stuff that's going on behind the scenes; give them access to information (and offers) that the average person on your marketing list won't get to see.
Most importantly, make sure they know that they're only receiving these special emails because of their VIP status.
That way, they're more likely to feel appreciated—and incentivized to stay loyal to your brand.
Luxury furniture and home decor brand One Kings Lane does this by offering VIPs early access to sitewide sales: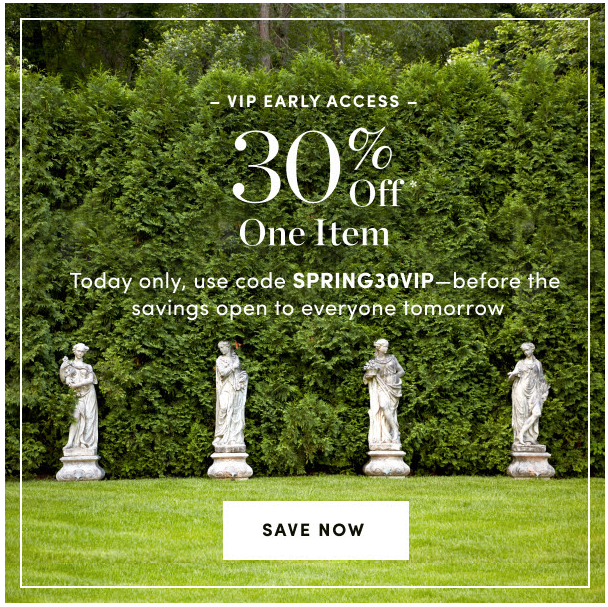 But that's not the only viable approach.
Here are some other tactics for single-email and onsite campaigns designed to convert and delight your VIPs:
| | | |
| --- | --- | --- |
| Goal | Channel | Messaging |
| Convert | Email | VIPs get an extra 5% off |
| Convert | Email | VIPs get first dibs on our new product |
| Convert | Onsite | You're invited to our VIP-only sale |
| Convert | Onsite | Check out our new product first |
| Delight | Email | You're special to us, take an extra 10% off this week |
| Delight | Email | Thank you for always coming back |
| Delight | Onsite | Welcome back, VIP! |
Wondering how to treat VIP customers? Another popular strategy involves sending regular emails asking for various types of feedback, such as:
What they think about a recent purchase
How they found their most recent purchase experience
Whether they'd be prepared to write a review or share a recommendation on social media
Here's a simple example of a feedback email from J.Crew that invites customers to review their latest purchase: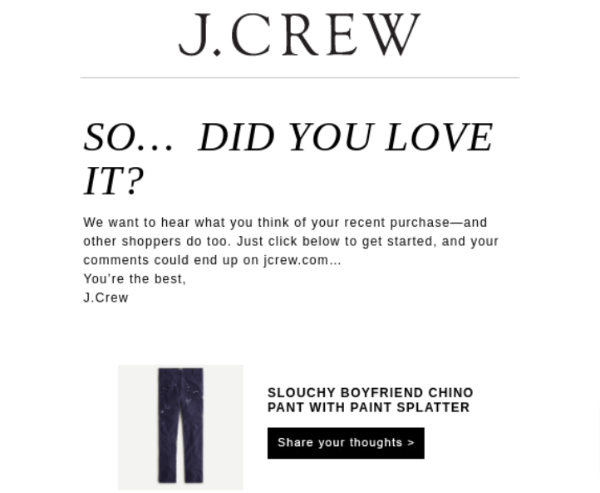 Image source
With over 93 percent of consumers reading reviews before buying online from an unfamiliar company, it's always worth generating more reviews—especially from the customers who love you most.
But your goal here isn't just to gather more reviews, nor to better understand what VIPs think about your brand, products, and customer support. It's also about building a relationship with a loyal customer.
For that reason, we recommend:
Adding as much personalization as possible.

You should know

plenty

about your VIPs, from their name to their latest purchase to their favorite product categories. With

research

showing that emails with personalized subject lines see 50 percent higher open rates, it pays to include as much (relevant) personalization as you can.
Sending from a real person's address.

According to one

study, emails sent from a real person generate 50 percent higher open rates than those sent from brands. While you don't want to apply this learning to

every email you send, it's a good fit for small-scale, 1:1 campaigns (like one-off feedback emails).
Asking for feedback via email reply.

Encouraging the recipient to share their feedback by replying to your email makes them feel they're having a

real conversation, not reading a marketing message. It also streamlines the process because it doesn't force them to visit another platform to give feedback.
Turn More Customers Into VIPs With Drip
Turning repeat customers into loyal VIPs is about combining two things:
Effective segmentation
Personalized messaging
Drip helps you do both, better.
Our segmentation tools combine store, visitor, and marketing data so you can create behavior and engagement-based segments that update dynamically.
And our email marketing platform makes it quick and easy to design highly personalized, on-brand emails with no coding required.
Sounds good? See for yourself by signing up for your 14-day free trial.