Copywriting can make or break a conversion.
There are tons of copywriting formulas out there today, but not all are created equal.
To test the effectiveness of different copywriting formulas, I took a look at top e-commerce websites to check if their content is:
Memorable;
Attention-grabbing;
Succinct; and
Honest.
From here, I eliminated copywriting techniques that either overlap with each other, or that weren't powerful enough in capturing the essence of things.
Here are nine examples that made the cut.
9 Tried-and-True Copywriting Formulas
1. Problem-Agitate-Solve (PAS)
Are you looking to offer a solution to a problem through your product or service? This copywriting formula will work like a charm for you.
First, explain to prospects what the problem is. From there, stir the pot: describe how a situation might worsen without a fix. Finally, present your winning solution.

This is known as the PAS formula, and women's health platform Moom does it well.

The company offers customized supplements via a subscription service, and it's about page tells the brand's story using this copywriting formula.
Let's take a closer look: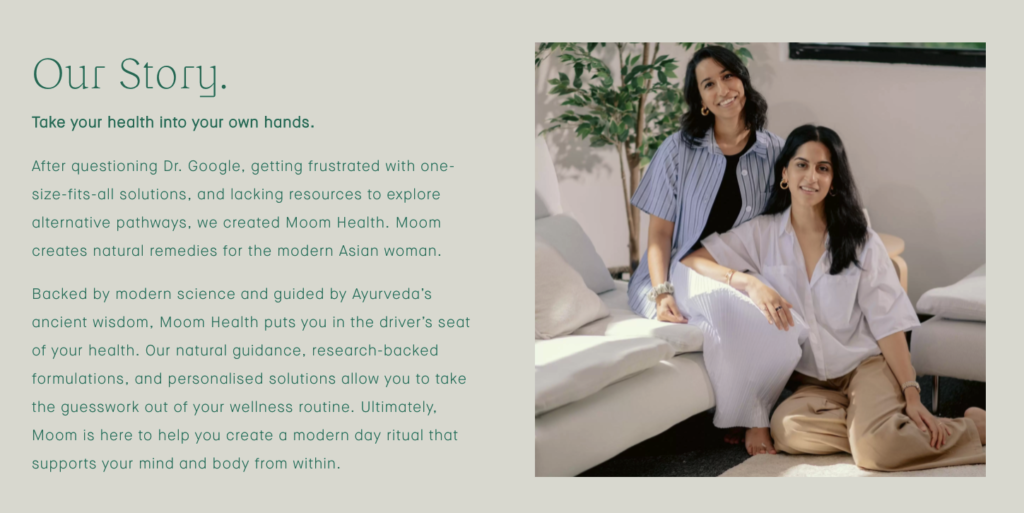 Moom's founding story opens with the problem (one-size-fits-all solutions), agitates it (lack of resources to explore alternatives), and offers a solution by talking about its subscription-based program—which is backed by research, science, and the alternative medicine system of Ayurveda.

I particularly like that this is done in only two paragraphs. Moom wastes no time in helping customers understand what it does, and why it may be worth paying for.

While applying PAS, keep your problem statement short to capture your potential customer's attention. Then dive into why your product or service fills the gaps, and how it does so.
2. Fan Dancer
As its name implies, this method involves dancing around an idea without explicitly stating what it is.
The fan dancer formula can be applied in many contexts, from social ads and product descriptions to email popups.

This formula is best used to capture attention when your question is similar to everyone else's—such as asking for email signups.
Here's a cheesy email opt-in form by Circles.Life that caught my eye: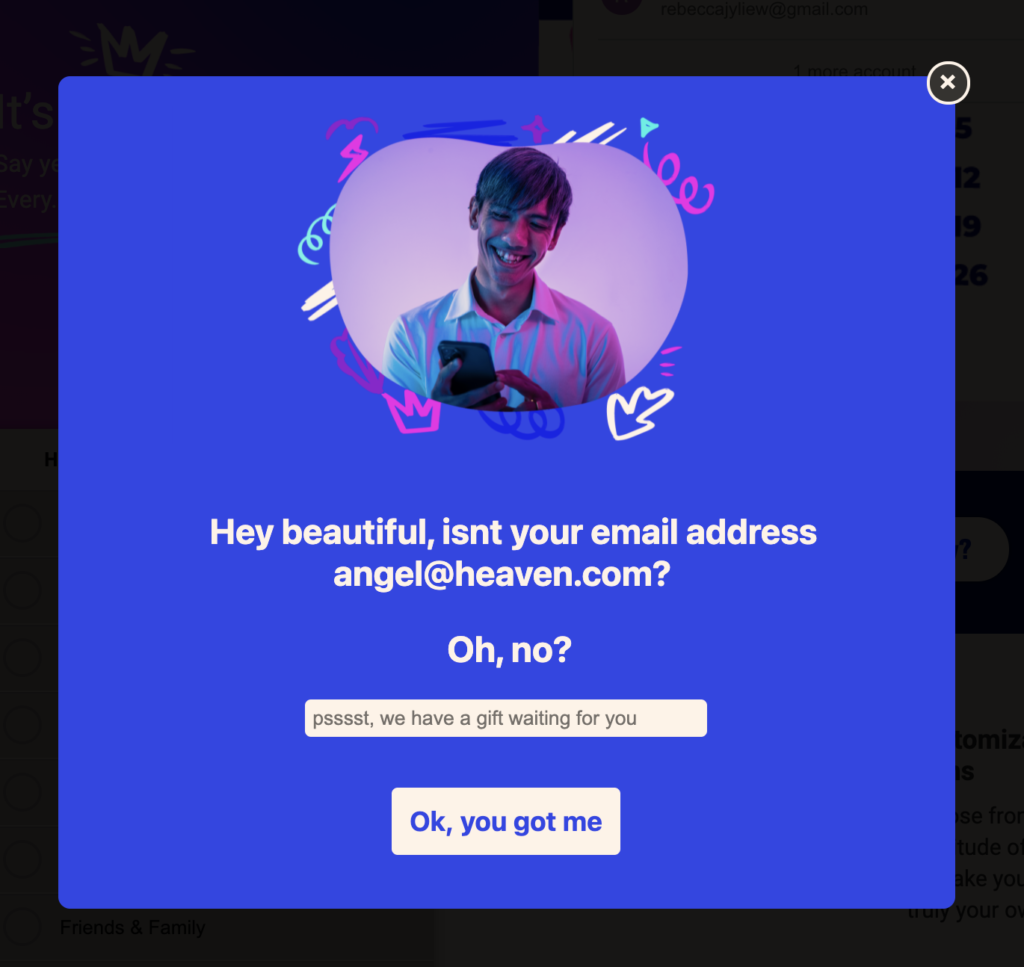 Circles.Life is a popular Singapore-based telecommunications company that disrupted the country's stagnant market in 2016 with its contract-free plans.
Upon landing on its homepage, this popup greets you and catches your eye with its cringe-worthy copy. It also omits commonly used popup words, such as "subscribe", "email address", and "sign up".

Next time you find yourself defaulting to bland or overdone copy, step back and consider using fresh angles to capture your target market's attention.
3. The Four C's
Clear, concise, compelling, credible—these are the four C's of copywriting, and you'd do well remembering them.

This formula is versatile and well-suited for both products and services.
American company KEEN Footwear is most popular for its ugly yet comfortable weaved sandals, which are suitable for all kinds of terrains. The shoe's distinct appearance isn't the only thing that makes KEEN unique; so too is the brand's copy.
Here's one for its classic men's sandal, UNEEK.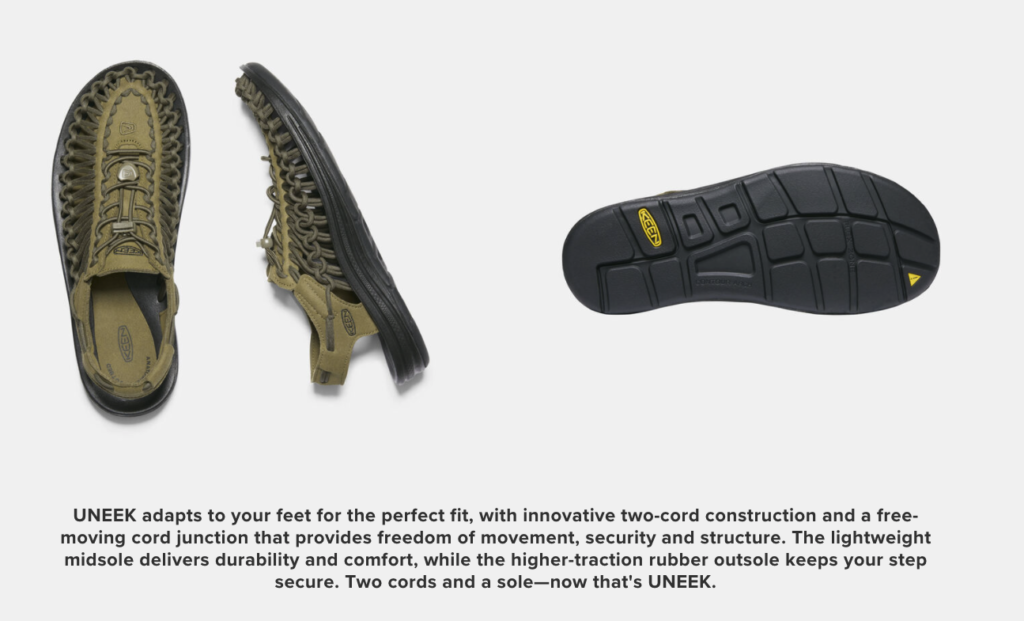 As you can see, KEEN employs the four C's and some wordplay ("now that's UNEEK") in the copy.
It sticks to educating visitors on its sandals while keeping the tone of its copy lighthearted, and avoids promotional words such as "world's best" or "superior quality".

By delivering the hard facts in a compelling manner, KEEN aims to convince potential customers about its products' value.
4. Attention-Interest-Desire-Action (AIDA)
This popular copywriting formula can be applied across many content formats—from YouTube ads and landing pages to email newsletters and social media posts.
The essence of AIDA is straightforward: Go the witty, snarky, or off-kilter route to attract eyeballs.

Having secured a reader's interest, your next goal is converting their curiosity into the desire to know more about your brand, followed by a call to action. I like how Happy Socks does it.

Just like the colorful socks that are stocked online and in stores, the Swedish brand's product descriptions are playfully written and make you want to read on.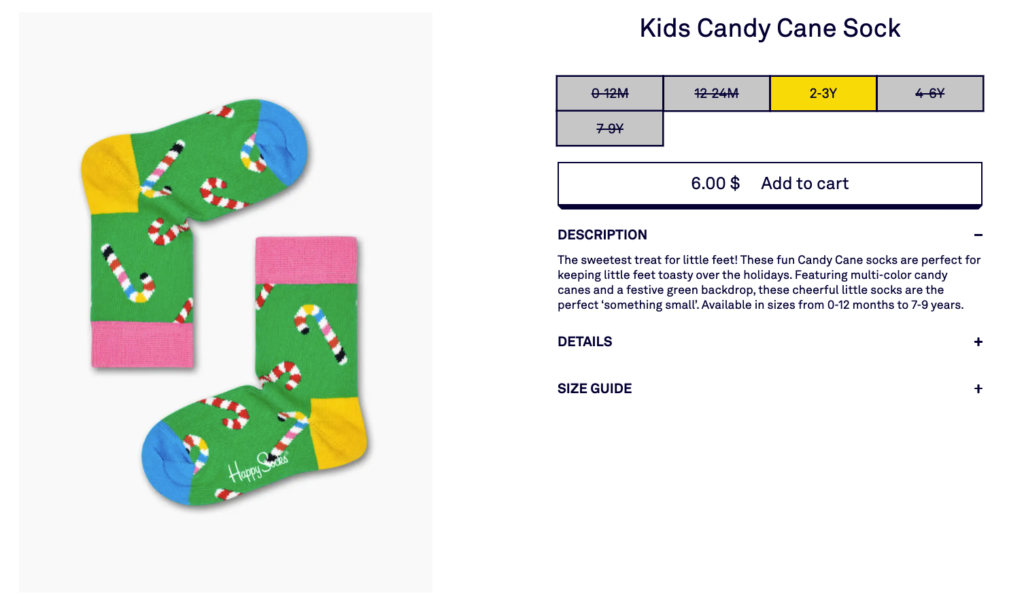 Here's another example of how Happy Socks uses AIDA: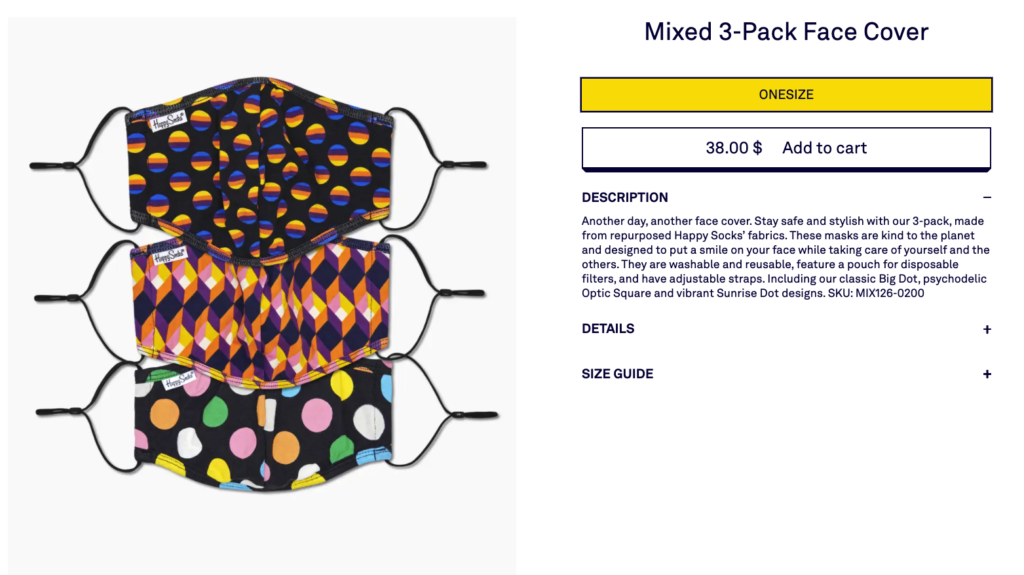 Of course, it helps to have appealing visuals to back you up.

In both examples, the write-ups open with catchy and short one-liners to grab your attention, followed by the product name (e.g. socks or masks), and a description of what the product does to persuade you to make a purchase.
5. The 5 Questions
What are some all-important questions you would ask before buying a new product or engaging in a new service? These might include:
What's in it for me if I listen to your story?
How are you going to do this?
Why should I believe you?
Who have you done this for?
What will it cost me?

earthmade—which produces organic kibble for cats and dogs—knows how saturated the market is, but also that many owners are willing to spend top dollar on their pets.

The brand's educational wording on its dog kibble page aims to convince pet owners of why earthmade pet food is superior to other brands.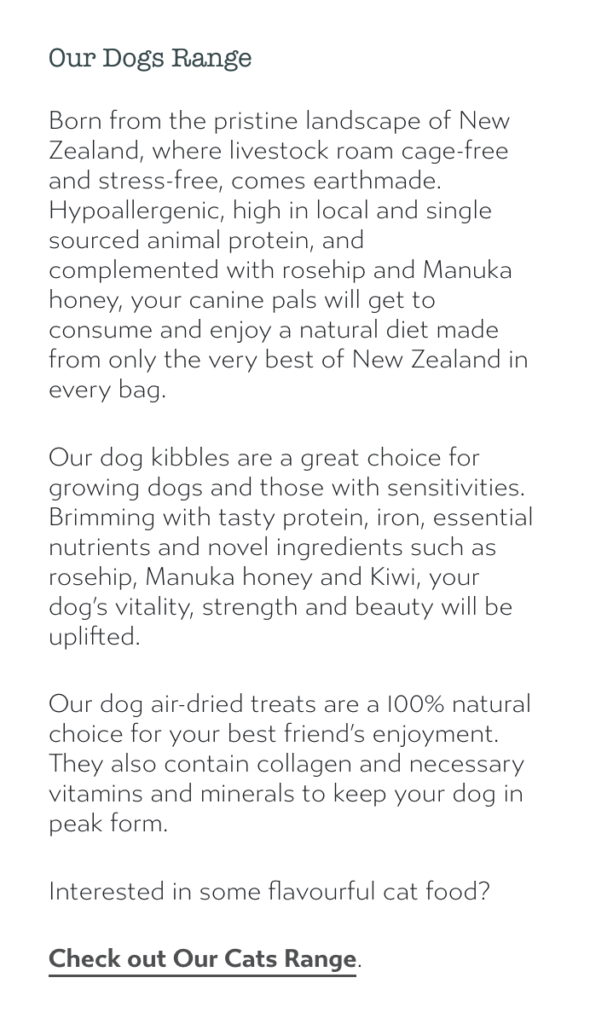 This description educates customers on earthmade's origin story, how the kibble is made, what "organic" means to them, and why these ingredients will benefit all kinds of dogs. Effectively, it checks off the five questions.

The formula is especially useful when you're in a saturated market and need to convince customers of your differentiating factor.
6. Do It Like Apple
Apple needs no introduction—and its marketing copy has had a large part to play in building the tech giant's fanbase.
If there's one recurring theme you can pick from Apple's ads, that would be its use of dichotomies: small vs. giant, mega vs. mini, and so on.
Here are some recent ones worth adding to your swipe file.
The iPad mini: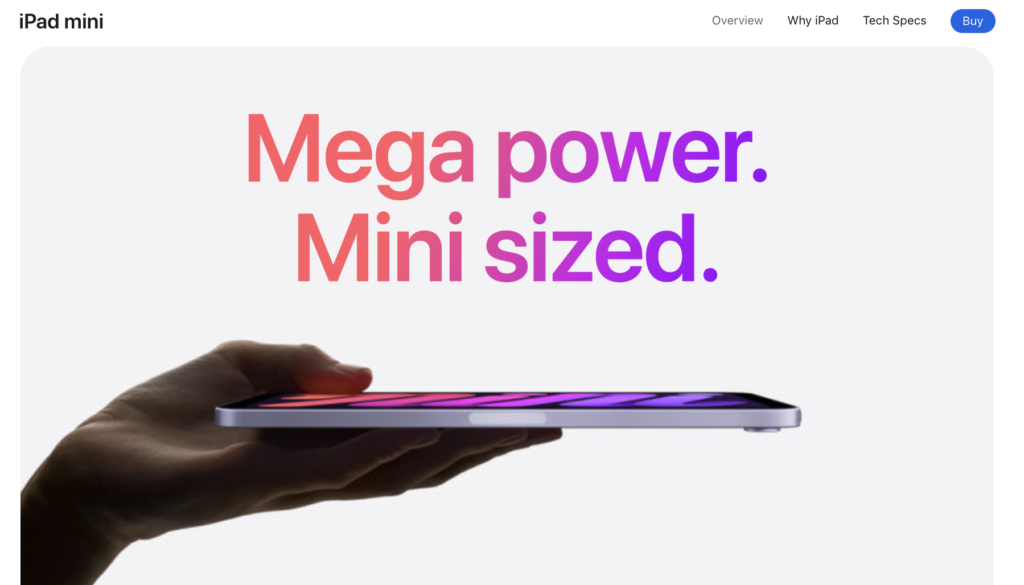 The Mac mini: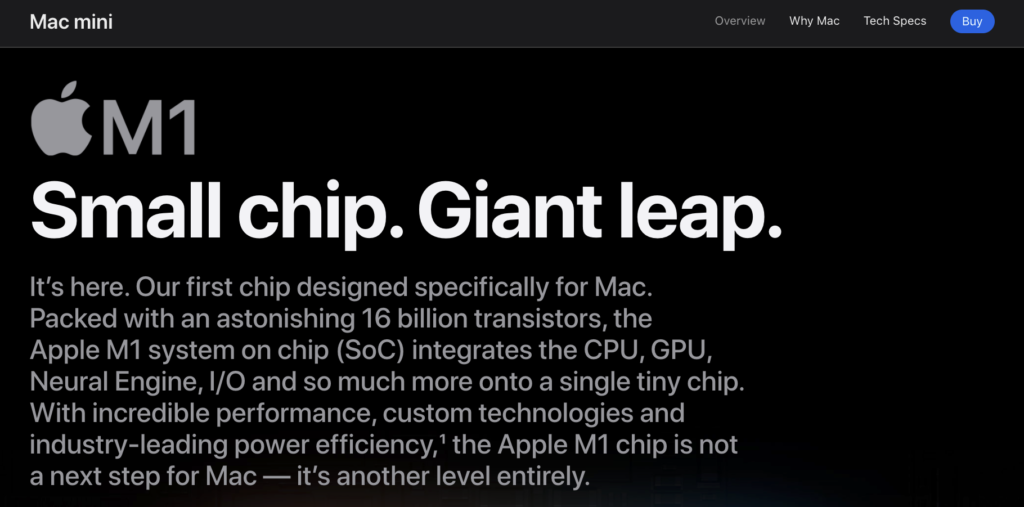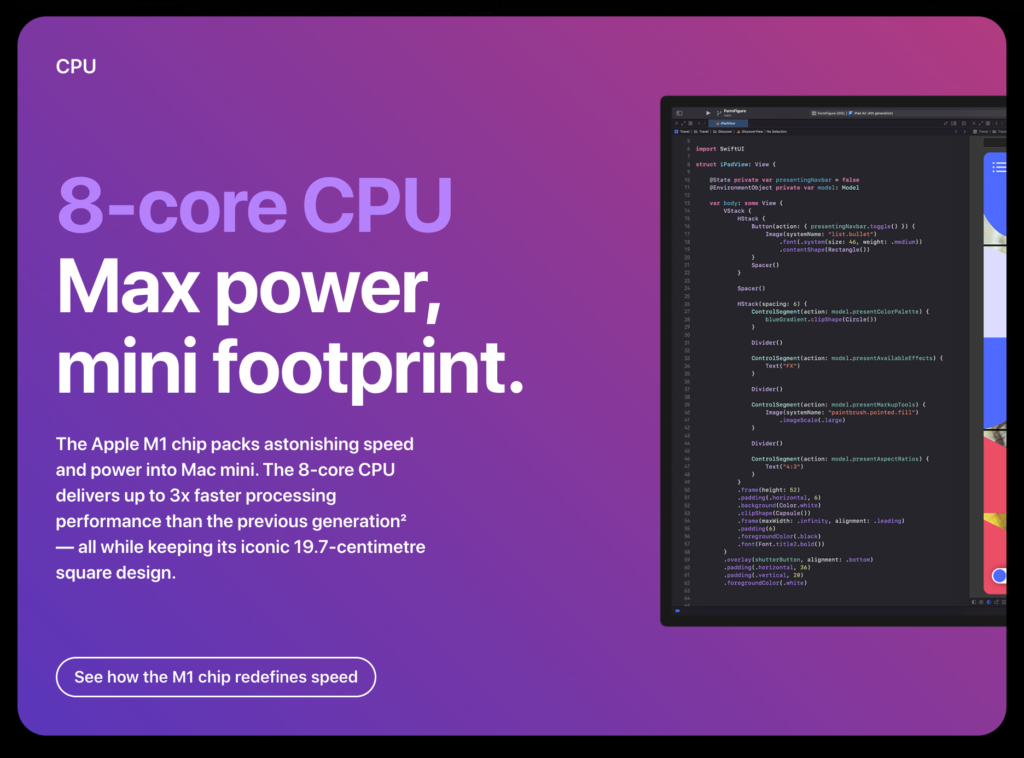 These liners are powerful because of how short and punchy they are—and the fact that they encapsulate one idea at a time.

Using extremities in wordplay also subtly shows off how Apple products are able to cover the full spectrum of their customers' needs.

When applying this formula, consider what kind of impact you hope to leave on your user. More importantly, can you leave a strong enough impression through just four words? Matching your copy with strong, sharp visuals could serve as a good persuasion tool.
7. Keep It Simple, Stupid (KISS)
As author Roald Dahl once wrote, "Eschew all those beastly adjectives."
People are fussy about what they give their attention to, so embrace KISS by getting to the point quickly. You should also do it with a clear message that's easily understood by even the layman.
All that seems easier said than done, but adventure lifestyle brand Peak Design executes this perfectly on its "Our Story" page.
Firstly, it's split into eight clean subsections: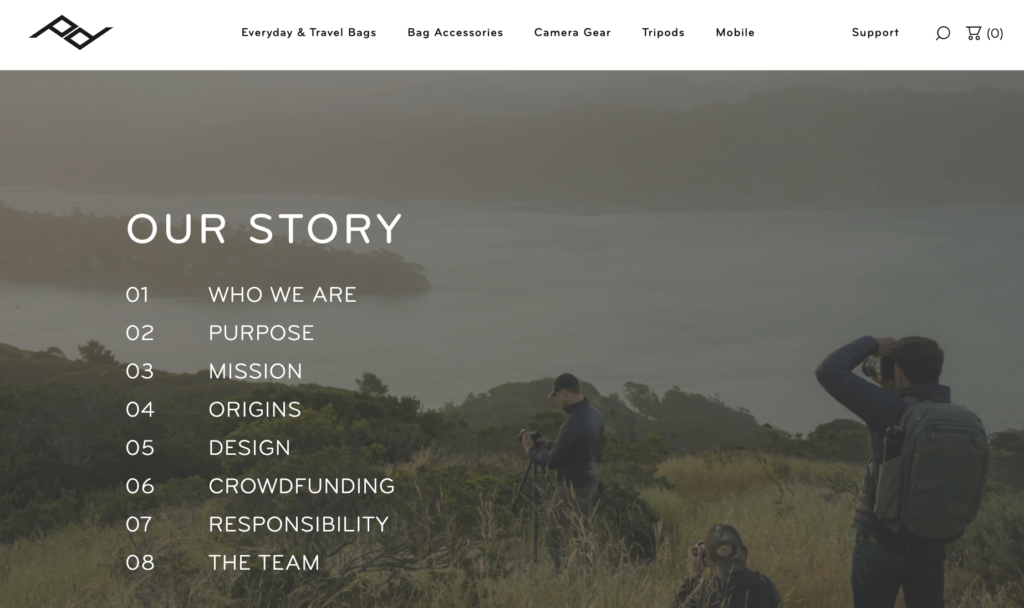 Because Peak Design knows all about customers' short attention spans these days, each description is just one to two paragraphs long.

Here's KISS at work:

In just two sentences, you learn what Peak Design is about. Rather than get fancy with its wording, the brand opts for simplicity—a true reflection of how its products are designed.
8. ACCA
ACCA is short for awareness, comprehension, conviction, and action.

While many copywriting formulas seem to focus on how you can tell a better story, ACCA does a 180 by educating the reader, then offering a diagnosis—which leads to action.

Thinx is one strong example. The period-proof underwear brand one-upped many businesses by finding an answer to a problem that women weren't aware of.

With a myriad of products on the market for menstrual periods—pads, tampons, and cups—Thinx carved its own path by creating:
Awareness: That period-proof underwear now exists.
Comprehension: Educating women on how it works, on both their homepage and Instagram.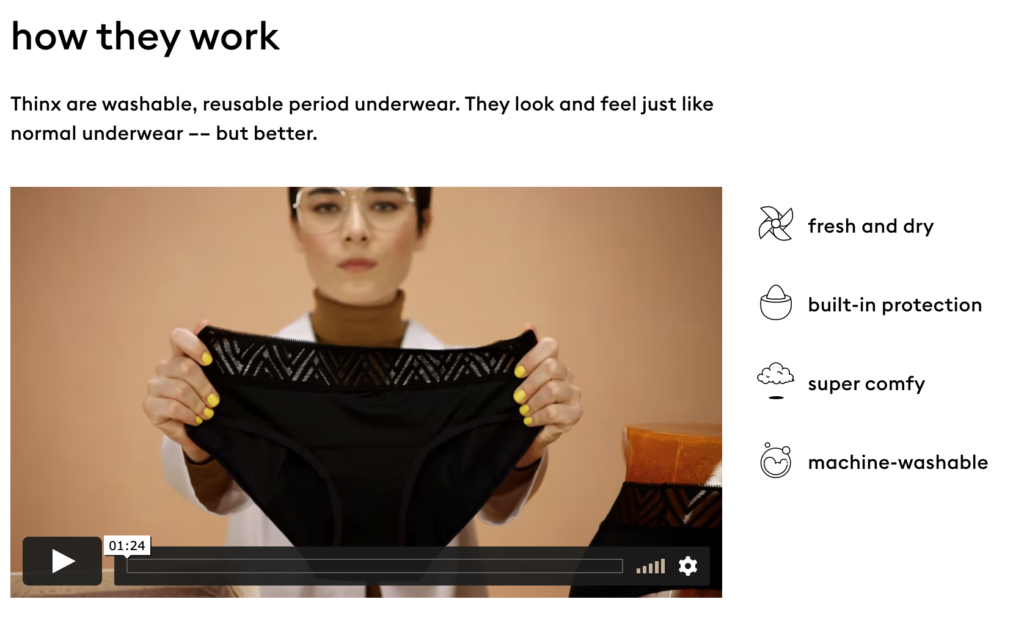 Conviction: Inciting desire in the user to want the solution, and showing diversity in its marketing collateral.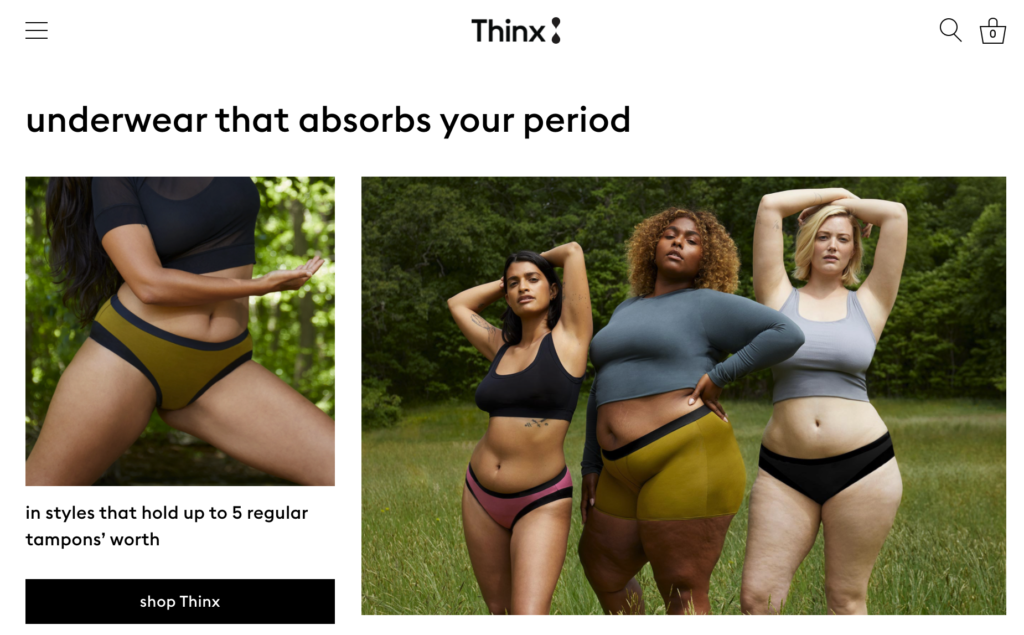 Action: Making a purchase.

Unsure of how to use ACCA? Start with your product's unique selling point, build on it—then strip it back for the layman, Finally, throw in your brand's persona.

All of these factors will determine how you execute this clever formula.
9. Inverted Triangle
The inverted triangle works much like AICPBSAWN, a clunky abbreviation of a writing formula that didn't make the list.

The rule is simple: simply put your important information upfront. The frills can come later.
Market Lane is an excellent example. The Melbourne-based specialty coffee roastery, cafe, and retailer has an online store—and it doesn't just sell coffee beans. It also sells the story behind its beans.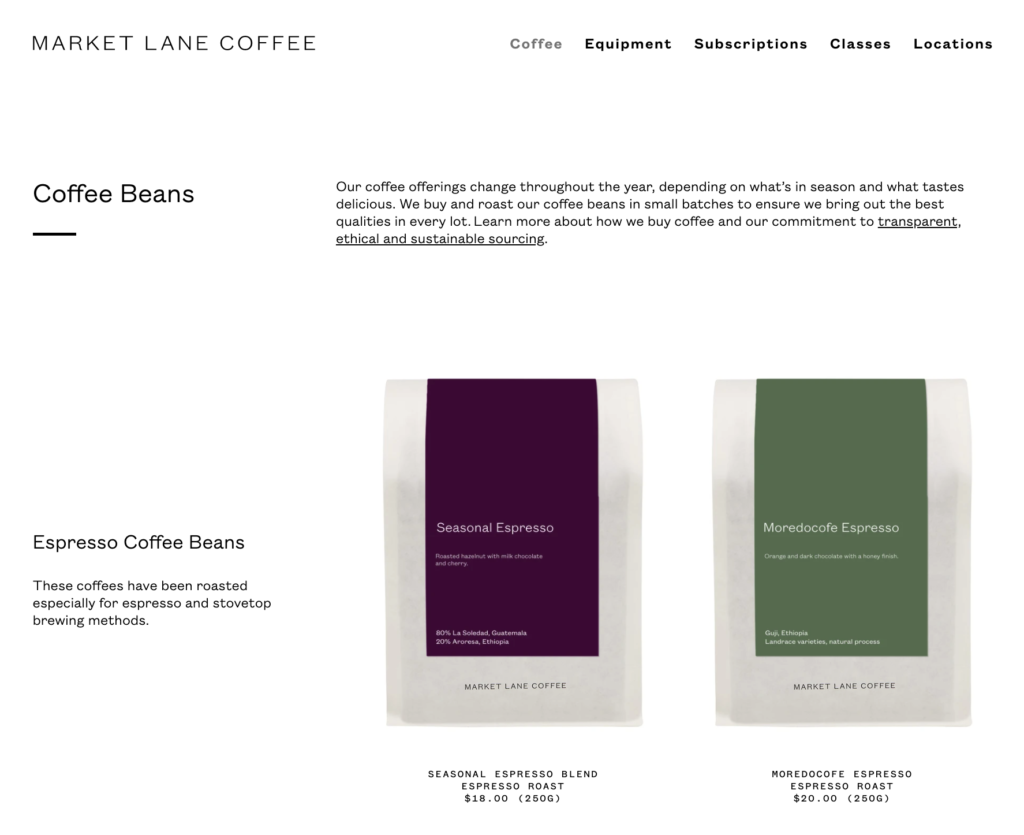 The description first lays some context on how Market Lane sources for and roasts its beans, followed by the actual product listings.

This way, new customers can first understand and digest the important stuff ("What makes Market Lane so special?") before browsing its product range.

The inverted triangle method is commonly used in news articles, but it applies to marketing copy too. It can help you cut through the fluff by choosing the single, most important piece of information to sell.
Conclusion
Now that you've yourself with these nine copywriting formulas, go forth and apply each to different pieces of content—you'll soon find what works best for you.