Did you know that every $1 spent on email marketing delivers an average return of more than $35?
And that 72 percent of consumers would rather receive communications from brands via email than other channels?
In short, email marketing just works.
So no wonder that three-fifths of marketers send email marketing campaigns to their subscribers at least once per week, with one-quarter sending them daily or multiple times per week: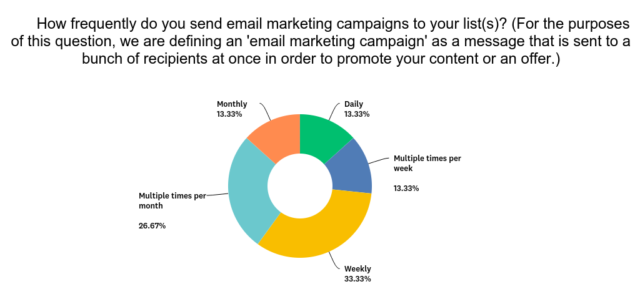 But as impressive as those statistics are, email marketing could be even better.
Because the fact is, the vast majority of emails you send are never even opened.
Just think how incredible your results could be if you achieved even a small uplift in your email open rates.
Depending on the size of your email list, it could translate to hundreds—or even thousands—of extra opens for every email campaign you send.
And every one of those opens represents another opportunity to drive revenue.
Table of Contents
What is the Average Email Open Rate?
Research shows that the average email open rate stands at 19.66 percent.
So for every five emails you send, on average only one of them will be opened.
Obviously there's a ton of variance across industries, from 30.85 percent for non-profits, to just 14.97 percent for businesses in the internet marketing niche.
Open rates vary by country too, from a low of 11.21 percent in Singapore, to an astonishing high of 38.33 percent in France.
And they also fluctuate throughout the year, climbing in the run-up to the holiday season, and dropping in January and during the summer months.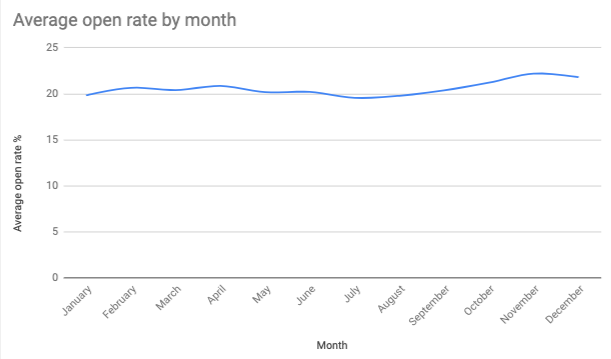 So if you're a French non-profit that only sends emails in November, you're probably absolutely delighted with your open rates.
But for everyone else, there's almost certainly room for improvement.
5 Tactics to Boost Your Email Open Rate
The higher your open rate, the more people will see your marketing messaging, and the more opportunity you have to sell something.
With that in mind, let's take a look at five real-world strategies brands are using the increase their email open rates.
1. Re-Engage Inactive Email Subscribers
A massive email marketing list is only a good thing if your subscribers actually want to hear from you.
Unfortunately, we humans are a fickle bunch.
We might sign up for your email list to claim an offer, open the first couple messages you send, then ghost you forever.
According to Marketo, one-quarter of "average" marketers believe that 26 – 50 percent of their email list is made up of inactive (i.e. disengaged) subscribers.
Surprisingly, top-performing email marketers are even more cynical, with just under one in four saying their inactive rate ranges from 51—75 percent.

Just think about that for a second.
Inactive subscribers are people who literally never open or read your emails, but just haven't bothered unsubscribing from your email list yet.
In short, they've emotionally checked out from everything you have to say.
If three-quarters of your email list is inactive, every active subscriber on your list has to open every single email you send, just to achieve an average open rate of 25 percent.
Clearly, this is a big problem for email marketers.
If you have a ton of disengaged email subscribers who aren't interested in anything you have to say, you're inevitably going to end up with low open rates.
So what can you do about it?
One solution is to run a re-engagement campaign.
The goal here is to encourage people to interact with your emails.
And there could be a secondary goal: persuading people who have no intention of interacting to unsubscribe from your marketing list.
That way, your list might shrink, but more of your remaining subscribers will be engaged—so your open rates will increase.
Plus-size fashion brand Torrid does this by reaching out to inactive subscribers with a targeted offer:

Clearly, Torrid hopes that those inactive subscribers will be tempted to find out what the offer entails—which means opening the email.
Whether or not they take advantage of the promotion, it's a step in the right direction, because they're finally engaging with Torrid's content.
2. Ask Subscribers to Whitelist Your Emails
No brand intends to send spam emails.
Why would they?
Consumers are smart, so even if a spammy email makes it as far as a subscriber's main inbox, they're highly unlikely to open it.
Yet according to Return Path's latest Email Deliverability Benchmark Report, eight percent of all commercial emails in the US end up in the spam folder:

Again, that's a big issue for brands.
If your email lands in spam, no one's going to see it, let alone open it.
So you might as well not have sent it.
There are a whole lot of reasons why emails go to spam.
But the good news is that there are practical steps you can take to stop it from happening.
One of the simplest and most effective tactics is to ask subscribers to "whitelist" your email address.
Whitelisting means adding an email address to an approved list of senders, so that any emails you receive from that address will never be sent to the spam folder.
The Kewl Shop understands the value of whitelisting.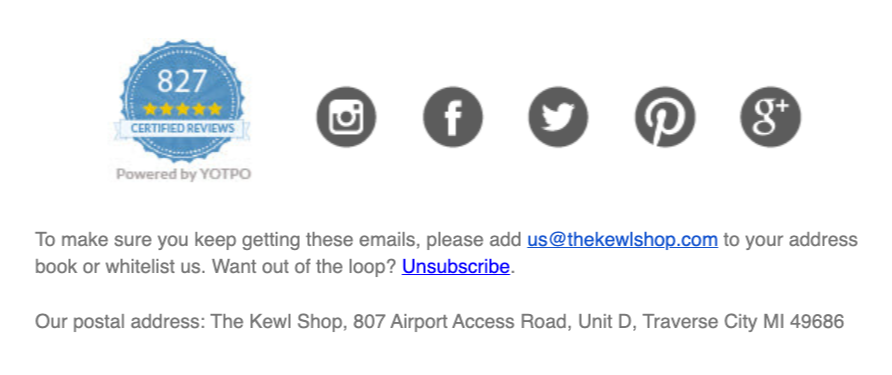 In its email footer section, it urges subscribers to add its address to their address books or whitelists.
Another smart move is to use this tactic in your welcome emails.
That way, you're encouraging people to whitelist your address from the first moment you reach out to them, ensuring they never miss a message from you.
3. Perfect Your Subject Lines
By this point, I've discussed the importance of re-engaging inactive subscribers from your marketing list and improving email deliverability through whitelisting.
Those steps should position you to reach as many active subscribers as possible.
But that still doesn't mean you're guaranteed to enjoy sky-high open rates.
Even active subscribers will be turned off by emails that don't attract their attention and compel them to click.
Once your messages hit the main inbox, the email subject line is your best tool for driving open rates.
Research shows that almost half of respondents decide to open an email based on the subject line alone, while two-thirds report email as spam based solely on the subject line.
Okay, so subject lines are important.
But you already knew that, right?
So what does an engaging email subject line look like?
Well, Yesware has carried out various (huge) studies on the components of a perfect subject line.
Among other things, it found that:
Subject lines that include numbers get a 45 percent higher open rate than the average open rate.
The most successful emails based on open and reply rates had subject lines of between 1 – 5 words.
Subject lines phrased as questions see open rates that are about 10 percent higher than non-question subject lines.
Personalization is another key factor.
Consumers open emails with personalized subject lines at a 50 percent higher rate than emails without personalized subject lines.
Yet bafflingly, only two percent of emails use subject line personalization.
Personalization needn't be too complex.
It could simply involve mentioning your subscribers by name, like AllSaints does here:

Or, to get a little more sophisticated, you can follow Bellroy's lead by making it clear that your email contains personalized product recommendations:

This is a smart tactic, with Accenture research revealing that 91 percent of consumers are more likely to shop with brands who recognize them, remember them, and provide them with relevant offers and recommendations.
4. Segment Your Marketing List
So personalization is one of the most important factors in crafting must-click email subject lines.
But you can't "do" personalization without effective email segmentation—that is, cutting and slicing your email list to build segments made up of people with shared characteristics, preferences, and/or behaviors.
Segmentation is extremely effective at boosting open rates.
According to one study, segmented email campaigns see 14 percent higher open rates than non-segmented campaigns.
Not only that, but they achieve 11 percent more unique opens and 101 percent more clicks.
There are any number of ways to segment your marketing list, such as:
By demographics, such as age, gender, and location
By the source or channel from which they subscribed to your email list
By which pages they visit on your website
By whether they've recently

abandoned their shopping carts
By purchase history
By purchase amount and

average order value
By the types of products they've viewed or "favorited"
Apparel brand Kina and Tam uses the last of those techniques to reach out to customers who've previously shown interest with products in its "day polo" category:

It's not hard to figure out why this is effective.
If I've been browsing a bunch of day polos and a brand reaches out to me with a selection of similar products, there's a good chance I'm going to open that email.
5. Get Your Email Timings Right
Unsurprisingly, timing is another key factor in boosting email open rates.
If, for some unfathomable reason, you decide to schedule your next campaign to send at 3am local time, don't expect a lot of opens.
By the time the majority of your subscribers have woken up, your early bird email will be well and truly lost in the depths of their inboxes.
That's an extremely simple example; I'd like to think most marketers already understand that it's best practice to send emails at a time when recipients are likely to be awake.
But there's a whole lot of data (and disagreement) on the best time and day to send marketing emails.
For what it's worth, our own data shows that we see vastly more email traffic to our website on Thursdays than any other day: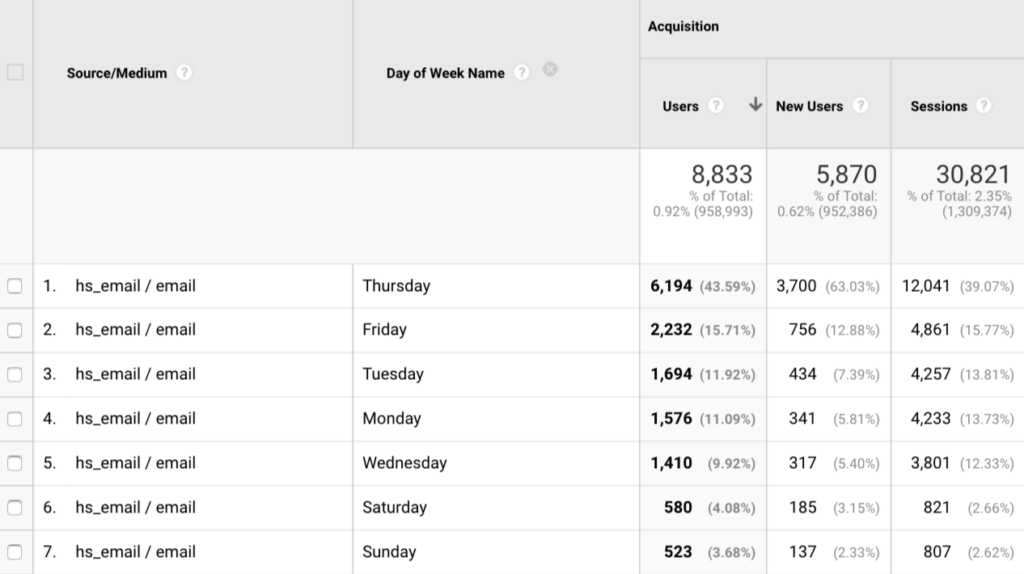 Meanwhile, Sendinblue's data found that the best time slot for sending ecommerce marketing emails is at 10am on Tuesdays and Thursdays.
Realistically, you can only learn so much by relying on other people's data.
Fact is, no other brand has an audience that's identical to yours, so what works for one company might not work for you.
For that reason, the only way to definitively find the best time to send marketing emails is to test, test, and test some more.
Try splitting your email list in half and sending the same email to both segments at different times.
With enough testing, you should be able to identify the specific day and time when subscribers are most likely to engage with your emails.
Improve Your Email Open Rate With Drip
In part, improving your email open rate is about maximizing email deliverability.
The more emails you send that reach the main inbox, the higher your open rate will be.
Once you've nailed the technical part, it's all about doing everything in your power to stand out amid a crowded inbox.
Drip gives you the tools to make that happen.
Our powerful email segmentation and personalization tools help you boost open rates, drive engagement, increase conversions, and keep customers coming back for more.
Best of all, our smart software does all the complicated stuff for you.
That makes it simple to create dynamically personalized campaigns that cut through the noise, whether that means sending targeted offers on subscribers' birthdays, or offering personalized product recommendations based on their browsing and buying history.
See for yourself by signing up for a free 14-day trial.
You'll get full access to our email tools—and we won't even ask for your credit card details.