Jim Rohn once said, "Interested people want to know if it works. Fascinated people want to learn how it works.".
Copywriting is no exception.
You can easily become a better copywriter by collecting good copywriting examples; that's enough for many aspiring wordsmiths, and it might be for you, too.
But if you want to master the craft and turn contacts into customers without objection, you need to become fascinated. You need to rip your favorite examples apart and examine them, line by line, word by word.
Today, I'll show you how to do that.
Below are 10 of my favorite e-commerce copywriting examples. I've focused on brands with a flair for creativity, originality, and above all, persuasion.
I'll also share why they convert, the science behind their persuasive power, and finally, how you can model them so you can adapt them to your business.
10 Copywriting Examples You Need to See
1. BarkBox's Audience Understanding
We've featured BarkBox on our blog several times over the years (namely, here and here). And after browsing their website for a few minutes, it's not hard to see why. I mean, cute images of puppies and charming wordplay, need I say more?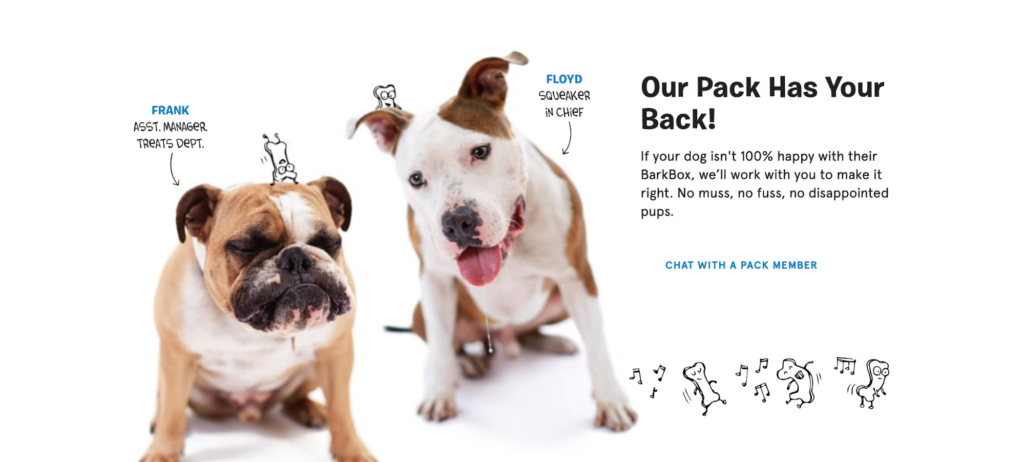 Joking aside, BarkBox is a brand that gets its audience through and through. From using their target buyer's language to selling directly to the buyer's dog(s), BarkBox is a brand that is often imitated but rarely duplicated.

Notice how, in Step 2, BarkBox sells not to the buyer herself but the buyer's pet. Dogs can't verbalize their dissatisfaction (or anything for that matter, sadly) so it's a clever marketing ploy on BarkBox's part.
It doesn't matter what industry you're in or whether you're selling affordable dog toys or something more extravagant, people want to feel understood by the brands they invest in. That might be how they feel about themselves or the person they're aspiring to become.
If you demonstrate that, both in your copy and other brand marketing materials, and articulate their goals, desires, hopes, and fears better than they can, your products will fly off their digital shelves faster than you can restock them.
2. Bellroy's Corporate Copy
Leather goods maker Bellroy burst onto the e-commerce marketplace in 2009 and quickly cemented their place as an online powerhouse.
While consumers know them for their sleek, stylish wallets, marketers know them for something far more interesting: their corporate copy.
Corporate gifting is big business.
Now a $125 billion market, one study found 40% of businesses that received a gift reported increased loyalty and a desire to work with the vendor longer.
It's no surprise, then, that more and more e-tailers are now offering corporate gifting to appeal to affluent companies, both as upsells to existing products and corporate-exclusive offers.
On Bellroy's corporate gifting page, they communicate their buyer's understanding and offer a bespoke solution based on what they're looking for.
From there, they talk about thanking colleagues and delighting clients and organizing work—values that are important to most, if not all, corporate business people.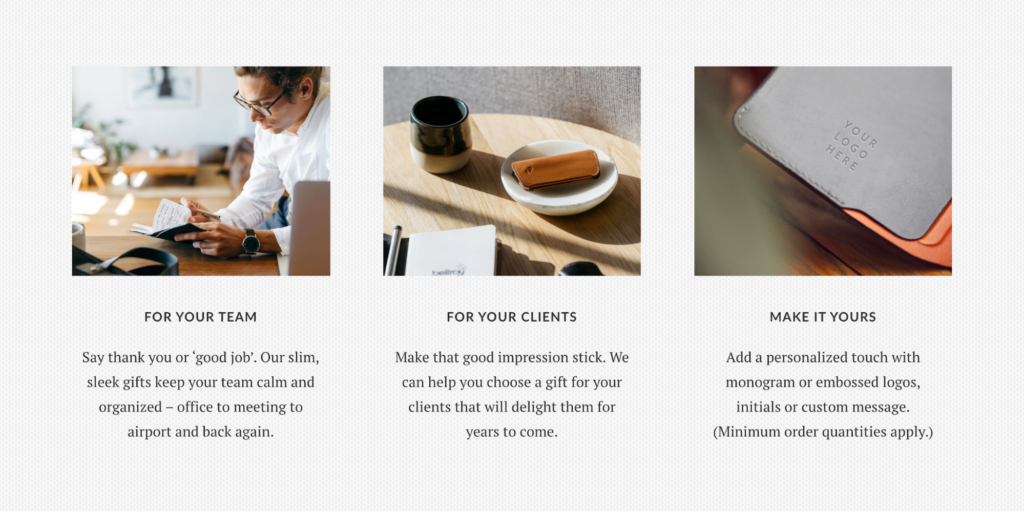 Building on the previous section, it takes time—sometimes years, even—to understand your ideal buyer. But if Bellroy's growth is anything to go by, it's time well invested.
3. Bombas' Catchy Copy
"Beanz Meanz Heinz" is one of the most memorable and lucrative marketing slogans of all time.
Running for more than three decades, Heinz's catchy jingle was so impactful that, at the time the ads were shown in the United Kingdom, a significant majority of the general public could recall it if approached and asked on the street.
Their ads' popularity was due, in part, to their fluency. "Ads that rhyme is more likable, memorable, and easily repeatable to others," writes the co-authors of the book Yes! "But on a deeper level, rhyming phrases have a greater processing fluency, meaning that they're processed more easily."
Rhyming isn't limited to ad copy, of course.
Bombas, for instance, use rhyming in their homepage value proposition to capture new visitors' attention.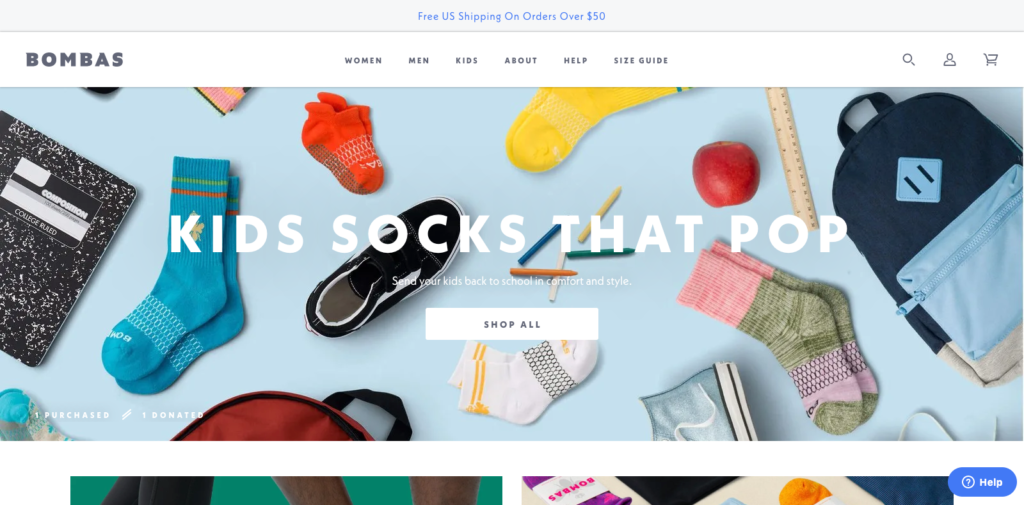 "Kids Socks That Pop" not only rolls off the tongue but also manages to include Bombas' core offer (which is socks, in case it wasn't obvious).
But it doesn't stop there.
From subject lines like "Stock Up. Sock Up.," to even products like their "Hex Tec" range, the brand continually pushes the envelope when it comes to creating catchy marketing copy.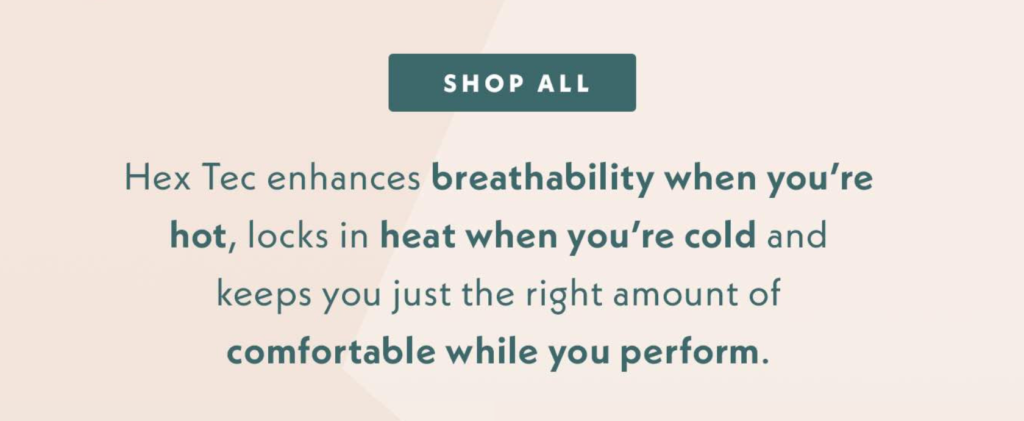 You might not have the intention to ask randomers on the street to complete your homepage value proposition (or any marketing copy, for that matter), but rhyming with reason might be up your alley if you're looking to make your marketing messages stick.
4. Brooklinen's Wordplay
A few years ago, bedding company Brooklinen made the marketing rounds when Mark, one of their marketing interns, mistakenly sent a Black Friday marketing email to his colleagues for approval.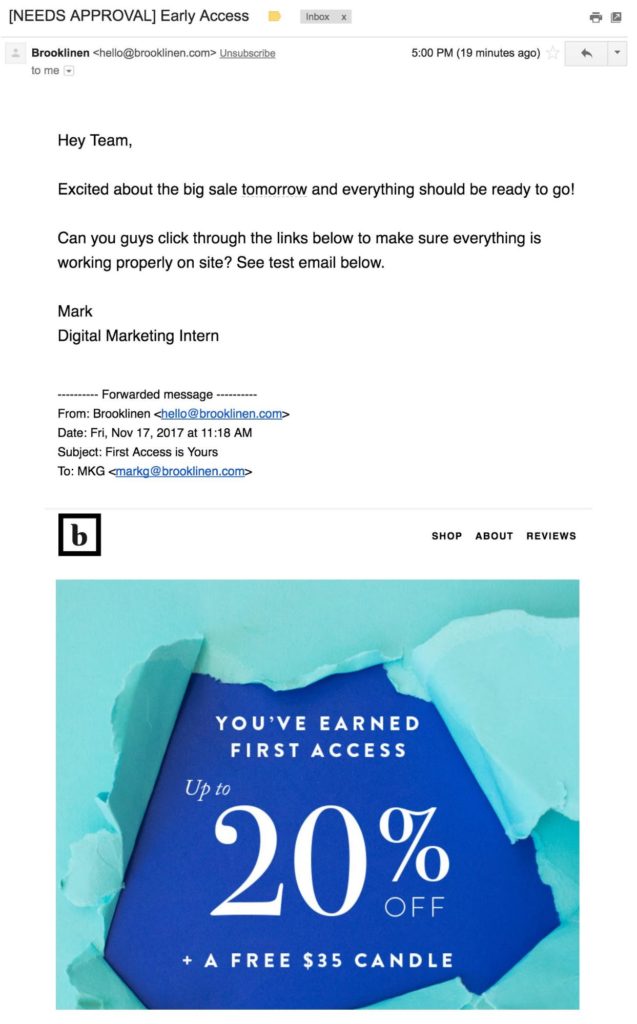 (Source: Ben Kessler.)
The email went viral.
Marketers gushed with enthusiasm, customers flocked to capitalize on the mistake, and Brooklinen profited from one of the busiest days of the year—a week early.
But as later confirmed by Brooklinen themselves, Mark's gaffe wasn't unintentional—it was a genius marketing strategy employed by Brooklinen to get a head start on the competition.
"We wanted to surprise our customers (and the people who have supported us over the years) by making Black Friday accessible for a full week!" a representative later confirmed. "We also wanted to pay homage to the Mark in all of us for all the accidental emails we've sent over the years!"
Email copywriting aside, Brooklinen has turned a boring marketplace—bedsheets—into a brand worth schmoozing about.
With provocative wordplay-based subject lines like "zero bull sheet" and "holy sheet," Brooklinen manages to strike a delicate balance between offending new prospects and humoring loyal advocates.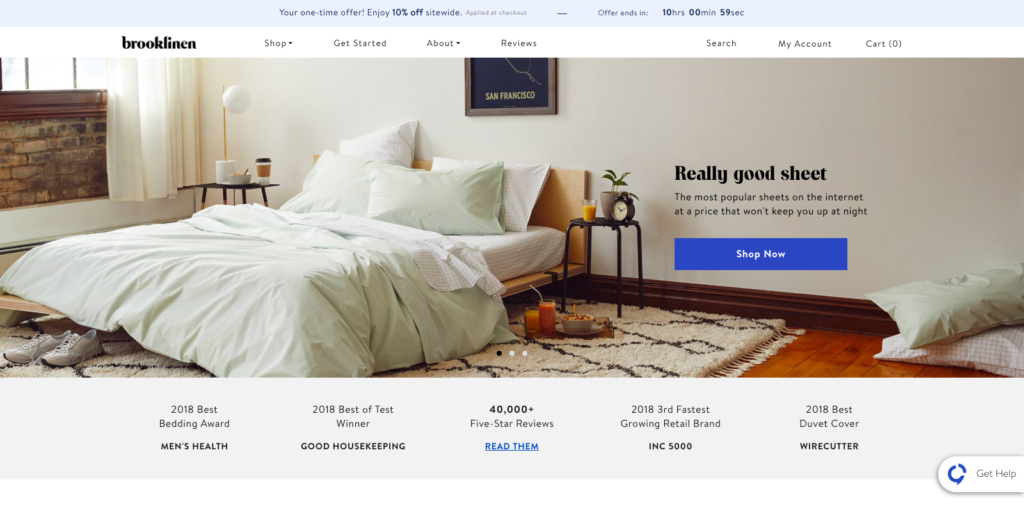 Brooklinen's homepage headline continues to play on, ahem, a word few people want synonymous with bedding.
If you're the Brooklinen of your industry—that is, a brand in what many would consider a boring market—it might be worth employing a little wordplay. Buyers will get a kick out of it, and who knows, maybe the Mark in you will be on everybody's lips.
5. Chubbies' Sense of Humor
If there was ever a contest for funniest marketing, Chubbies would no doubt be in the running as a top contender.
From joke-telling and meme-sharing in their emails to writing outrageous, yet persuasive, product page copy, Chubbies have carved a name for itself as a brand to be reckoned with.
While I could write an entire article about Chubbies marketing, what I want to focus on here is their approach to email copywriting.

An example of a recent product launch campaign with multiple references to Star Wars.
After reading one or more emails, one observation is apparent: Chubbies aren't afraid to question best practices.
Whether it's capitalizing subject lines, challenging readers to take action, or, in many cases, including multiple calls-to-action, the brand has become an exception to the many rules we marketers are encouraged to follow.
Chubbies once included a list of things you can make with bananas—to sell a pair of banana-themed shorts.
How are they able to get away with so much?
Aside from understanding their buyer persona better than most brands, their emails reflect who they are—fun, bro-branded frat brothers—and more importantly, who they're writing for.
"I think when you read an email from us, the tone of that email, the way it's written, it's as if [Chief Marketing Officer] Tom [Montgomery] had written that email to a friend," told Chubbies Co-founder Rainer Castillo to Yotpo CEO Tomer Tagrin. "And I think it still is consistent today, it is very much that style."
Humor isn't for everyone. And if you're writing for a certain audience—say, affluent wine connoisseurs—you might want to put your big books of jokes back in the desk drawer. But if you're writing for Generation Y, like Chubbies, it might be worth following Dan Kennedy's advice: "Make 'em laugh and take their money."
6. Death Wish Coffee's Process Description
In the 1900s, copywriter Claude Hopkins brought Schlitz, a failing brewery, back from the brink of bankruptcy by approaching their advertising from a fresh, new angle.
At the time, breweries were spending millions of their ad dollars emphasizing the "pureness" of their beer, believing that owning that word would give them a competitive advantage.
Hopkins, on the other hand, distinguished Schlitz not by competing on the pureness of their beer but rather by emphasizing the lengths to which the brewery went to brew their beer.
He wrote about how the beer was cooled in a plate glass room in filtered air; how it was sterilized after being bottled and sealed; how bottles were washed four times by machinery.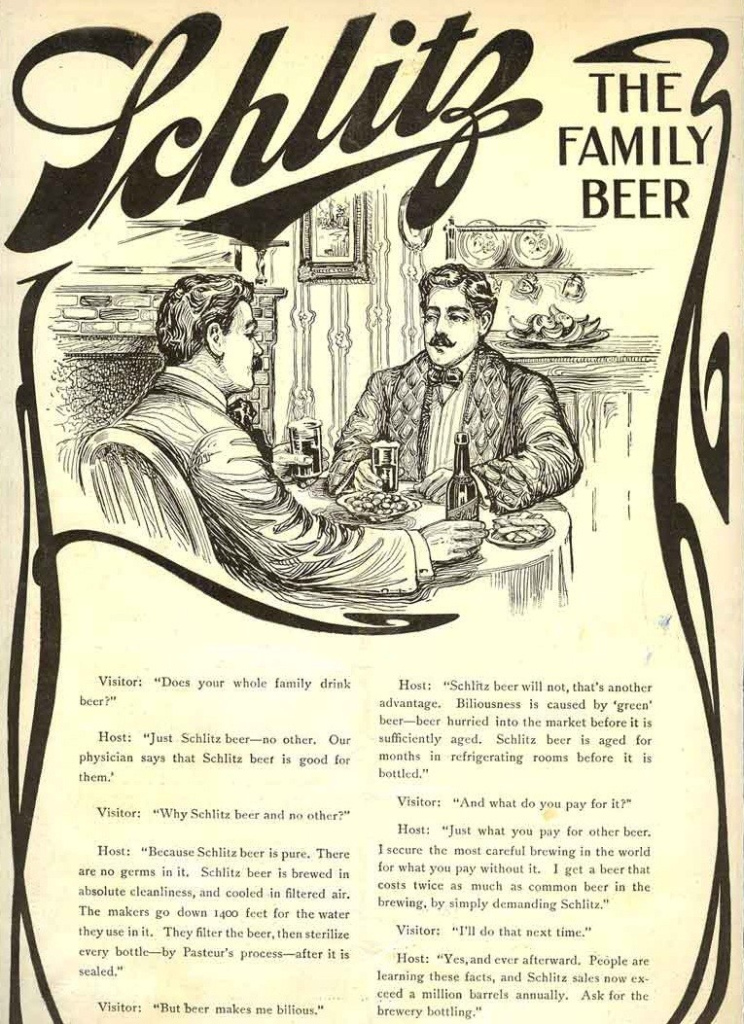 One of the many ads Hopkins wrote during the campaign. Source: Swiped.co
Hopkins' ads struck a chord with the public and to the surprise of many, perhaps including Schlitz, the brewery rose from eighth place in the marketplace to first.
Lessons like the above reveal an important yet overlooked copywriting principle: process sometimes becomes a benefit in and of itself.
Brands like Death Wish Coffee have known that for years.
Here's an excerpt from one of their product descriptions: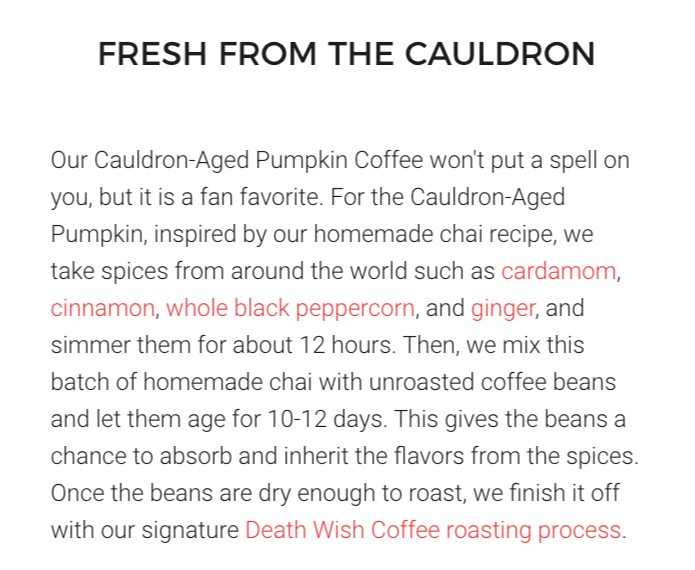 There's something captivating about adding specificity to a product's process—the process' originality, the inclusion of descriptive adjectives, and the journey from initial idea to finished product.
"No one wants to hear how the sausage is made," warns an old idiom. But as we've seen, that's not entirely true. If your buyers are aficionados and need to hear something new, dazzle them with a process (if it's unique to you, of course).
7. Tuft & Needle's Landing Page Copy
With the meteoric rise of online retailer Casper, many direct-to-consumer copycats have shown up, hoping to get their share of the market. And with that, it's become harder for established brands, like Casper and their competitors, to distinguish themselves.
Tuft & Needle are arguably one of Casper's biggest competitors. And with copy like what I'm about to share, it's not hard to see why.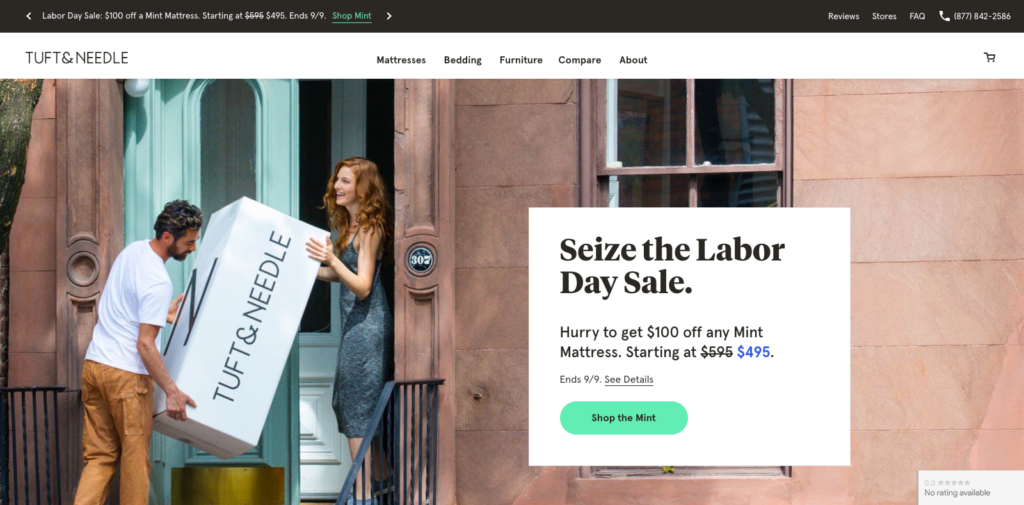 At first glance, Tuft & Needle's homepage is nothing to marvel at. But when you see their landing page…
While researching my growth guide on Casper's marketing, I found their rival, Tuft & Needle, and visited their site.
When I arrived, they greeted me with an email popup that redirected me to a landing page titled "The 12 Reasons You've Haven't Bought from Us … Yet."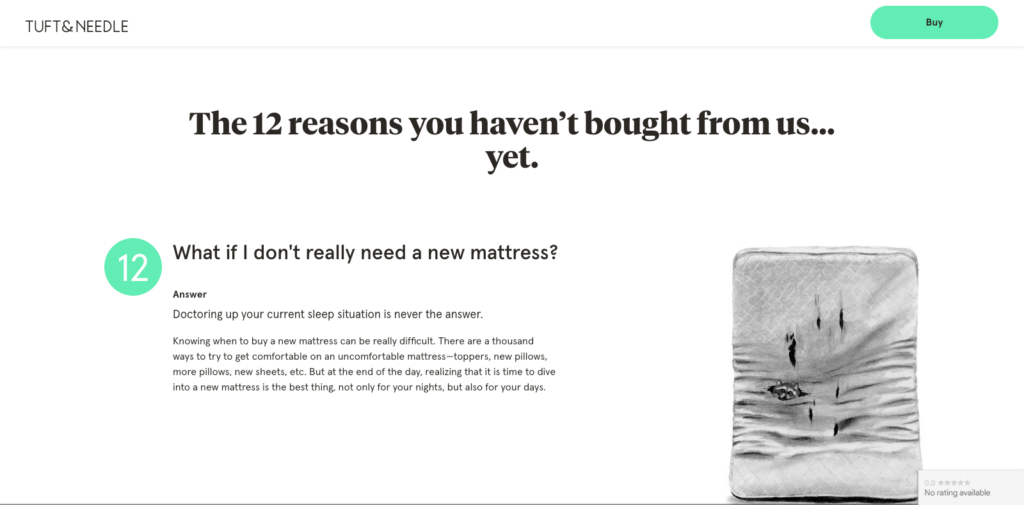 On it, were twelve objections masquerading as questions. Here's an example of one, found at the top of the page: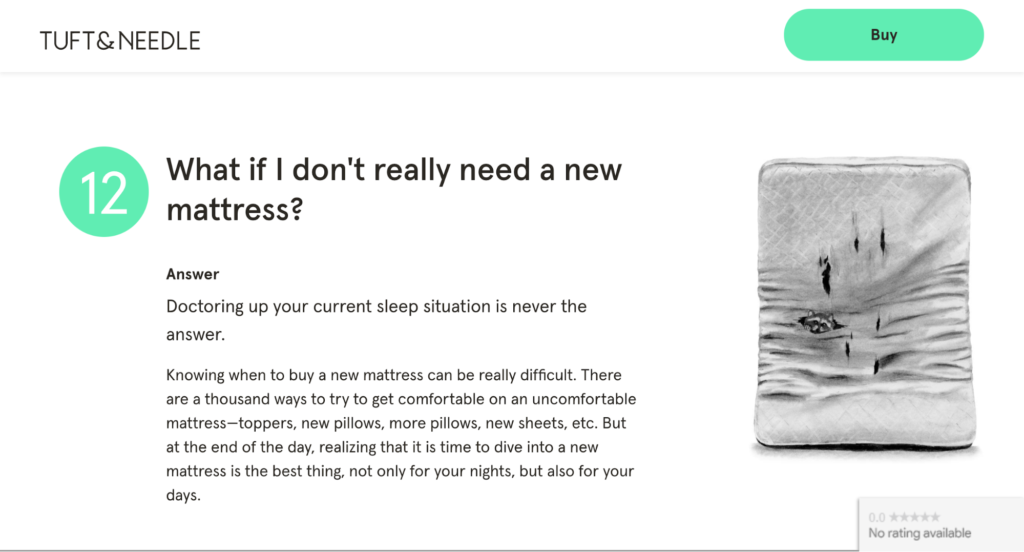 Beneath each question was a rebuttal—a well-placed risk-reversal and/or customer review—designed to put the buyer's mind at ease.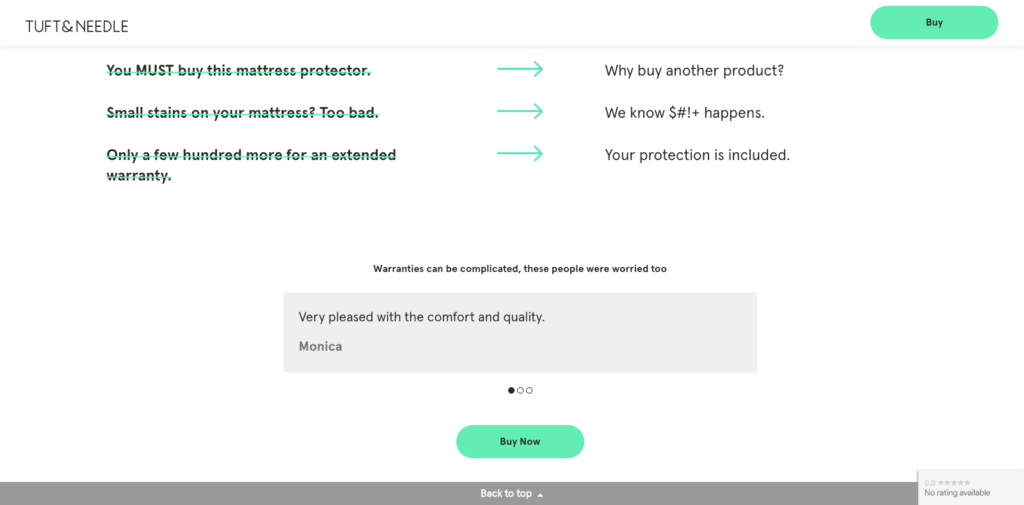 In sum, if you're selling expensive products in a competitive industry and you know prospects are likely to have questions—don't be afraid to create dedicated landing pages to overcome objections.
8. Huckberry's Storytelling
Promotional emails are a dime a dozen.
Without checking, I'm willing to bet you have endless unopened promotional emails in your inbox, collecting digital dust, starving for attention, likely to remain unopened and unread.
While one way to "blast" yourself into the buyer's mind, as author Al Ries would say, is to write subject lines that intrigue, motivate and inspire recipients, another, more realistic, long-term approach, is to become memorable. Moreover, to become unmistakable to the point that the reader doesn't even read the subject line—they see your name, open and click through.
One retailer that has had that impact on me is Huckberry. Not because I'm a fan of their brand, per se. Rather, because their promotional emails are some of the best in the business.
Below is a typical example. The email begins with a story, before transitioning into a benefit-driven presentation of a new or returning product, and ending with a clear, no-nonsense call-to-action.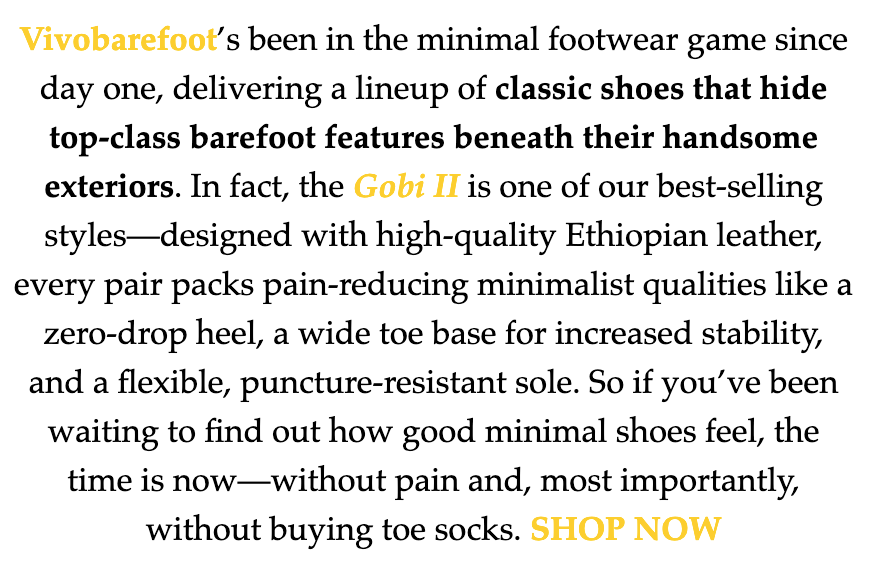 Telling stories, be it about yourself, customers, or your products and services, go beyond inviting readers to learn more; they draw you in and remind you that behind the brand are people—just like you.
9. Harry's About Page
We've discussed a lot of good copywriting examples in this post—above-the-fold content, email marketing campaigns, product pages.
But there's one page that's often overlooked, and that's a site's about page. As I mentioned before, we tend to feel an affinity with brands we share values with. And oftentimes, a site's about page is the perfect place for a brand to communicate what's important to them.
Harry's acknowledges a problem many of their buyers identify with on their about page: overpriced razors.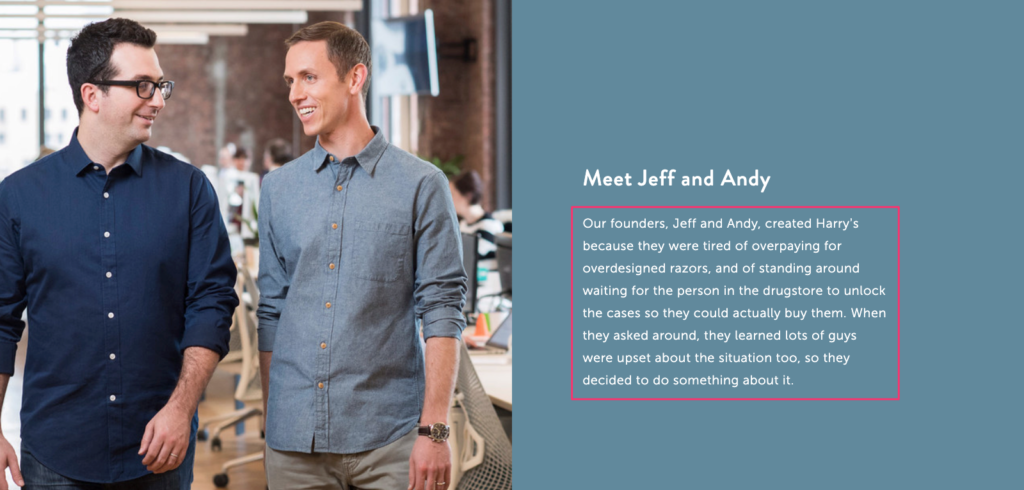 As I wrote in my growth guide on the $1.37 billion retailer, "Good marketing comes from confirming and reinforcing what your ideal buyer already believes."
Communicate, on your about page, what's important to you, and equally, what's NOT important to you and you're not willing to tolerate, and buyers will flock to you in droves.
10. Poo~Pourri's Frequently Asked Questions (FAQ) Page
I don't think Rikke would forgive me if I overlooked one of her favorite brands, so I want to give them an honorable mention here.
While I could wax lyrical about their pun-tific copy and outrageous sense of humor, I want to focus on their frequently asked questions (FAQ) page.
And for a few reasons.
If there's anything we can learn from Tuft & Needle's landing page, it's that answering frequently asked questions is a clever way to overcome objections.
Poo~Pourri take their FAQ page to a whole new level, namely by using their signature brand of toilet humor. From naming the page itself to "Frequently Asked Q's About Poo," reiterating their satisfaction guarantee, Poo~Pourri rarely, if ever, miss the mark when it comes to selling through humor.

An example of how Poo~Pourri playfully dissuade buyers from returning their orders.
There's an important takeaway that I want to emphasize here: buying doesn't only happen in email and on product pages. You're constantly selling throughout the buyer's journey, on each page on your site, reminding them why you're the number one brand to choose from.
It's easy to write off something like an FAQ page as boring, albeit necessary. But we've learned, when well-written, pages like the above can elevate a brand far above its rivals.
Conclusion
In this article, I shared 10 of my favorite copywriting examples. But I haven't even scratched the surface. Ultimately, you need to find examples that inspire you.
If you haven't already, I recommend creating—and maintaining—a swipe file of good marketing materials. Not only will it inspire you when you're fresh out of good marketing ideas, but it will remind you that, with enough practice, one day, you might be a reference for someone else.