If there's one thing that marketers and consumers love equally, it's giveaways. Branded competitions, contests, or sweepstakes—no matter which form they take, giveaways carry a certain value both for companies and their customers.
You've likely seen many e-commerce brands hosting giveaways on Facebook or Instagram. If you have, it's for a good reason: Social media giveaways can help create brand awareness and drive engagement.
But why should you build on rented land?
You already own a platform that you have endless options and full control over.
Hosting a giveaway on your e-commerce site can help you collect any type of information, engage your visitors, and lead them in any direction you want.
And the best part is, you can collect highly interested leads that you cannot easily do on social media.
With an onsite giveaway, you can attract leads that want your products, and convert them into customers with targeted email campaigns.
If you want to collect more leads, convert more visitors, and increase your sales with giveaways, here are seven ideas from top e-commerce brands that'll inspire you.
7 of The Best Giveaway Ideas That Work (and How to Execute Them)
1. Collect Emails with Relevant Prizes
If you're planning a giveaway, your prize should be the first thing you decide on.
After all, prizes are the main reason why people participate in giveaways.
Choose a prize too common, and you won't grab much attention. But choose a prize too big, and chances are you'll attract freebie-seekers.
As tempting as it sounds, offering a new iPhone in your giveaway will do little good for you. Why? Because attractive but irrelevant prizes are spam magnets.
You'll most likely end up with an email list full of uninterested leads who are only in for the prize.
Instead, keep your prize relevant to your products and your value proposition.
Before planning your next giveaway, make sure that it serves your conversion goals. If your purpose is to grow your email list, an Instagram contest where users tag their friends won't help you.
Remember, a good giveaway doesn't speak to everyone. Rather, it speaks to your buyer persona.
With a relevant prize that resonates with your buyer persona, you can actually promote your online store, on top of collecting email addresses.
Take this example by J.Crew Factory: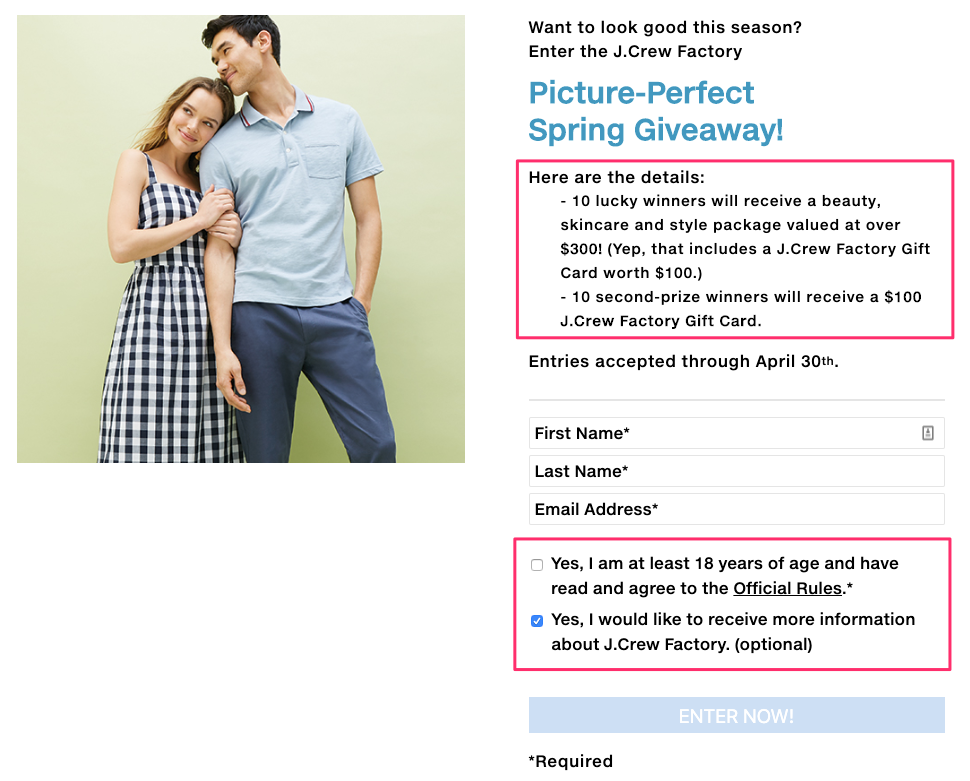 The company hosts a spring giveaway on their site and creates a dedicated landing page for it.
The big prize is a package that includes a gift card winners can spend on J.Crew Factory's online store.
A sample product or a gift card is a relevant and effective prize, but for some visitors, it's not enough of an incentive. If you want to make the prize more desirable, you can combine a gift card with other things, as J.Crew Factory does.
This way, visitors will get the chance to try your products. And it increases their likelihood of becoming return customers.
Notice how J.Crew Factory writes the value of both the gift card (worth $100) and the package (over $300) to make the prizes more attractive.
J.Crew Factory asks if you want to sign up for their email list as the last step and leaves it optional. This way, they capture the visitors' excitement of entering a competition, and they grow their email list with interested leads.
If you're collecting emails that you'll use for marketing purposes, clearly write what users are giving consent to. Give participants the space to decide for themselves, instead of preselecting the newsletter checkbox.
2. Improve Your Giveaway Copy
One major advantage of hosting an onsite giveaway is the ability to customize every part of your contest.
This means that you have the flexibility to make your giveaway as attractive as possible.
With an onsite giveaway campaign, you can decide what actions visitors should take, which information they should submit, and where they should go next.
Writing compelling campaign copy and a benefit-driven call-to-action (CTA) are the two pillars of an effective giveaway campaign. But they're only as good as your offer.
Take a look at this example by Jysk Vin: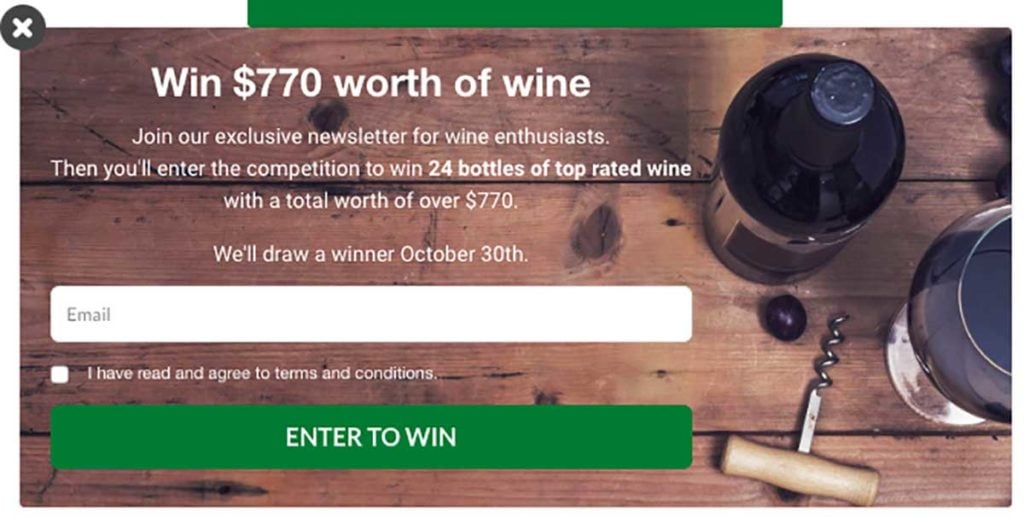 Unlike J.Crew Factory, Jysk Vin uses an onsite campaign to host their giveaway. This way, they can inform all their site visitors about the giveaway without making them go to a new page.
This campaign works great for a few reasons:
Their prize (24 bottles of wine) is highly relevant and attractive to their site visitors.
The headline "Win $770 worth of wine" is attention-grabbing and value-driven.
They give clear information about the draw date.
They openly state what you are subscribing to (an exclusive newsletter for wine enthusiasts).
The campaign has only one input field, which makes it ridiculously easy for their visitors to complete.
They use a benefit-driven CTA, instead of simply writing "Sign Up" or "Enter Now."
With a well-written onsite campaign like the one above, you can easily nudge your visitors to join your giveaway and give them a strong reason to sign up for your newsletter.
What's better is, you can exclude your existing subscribers from these campaigns so that you don't ask them to join your newsletter again.
3. Leverage the Holiday Season
With Black Friday, Christmas, and New Year, the holiday shopping season is the busiest time of the year for e-commerce marketers.
If you're not already leveraging holidays with special campaigns, you're missing out on a lot of revenue.
Adding a little twist to your holiday campaigns can help you stand out among hundreds of other festive giveaways.
Many online stores host giveaways, especially during the holiday season, and they usually offer winners a few big prizes.
But you can make your contests even more attractive by letting your site visitors choose the prize they want themselves.
Here's a great example that you can replicate on your site.
If you were on the Chubbies email list last Christmas, you would have received this email with the subject line "take anything on our site":

At first sight, you don't know if it's a giveaway or not. But it certainly evokes curiosity.
And this is what you see when you open the email: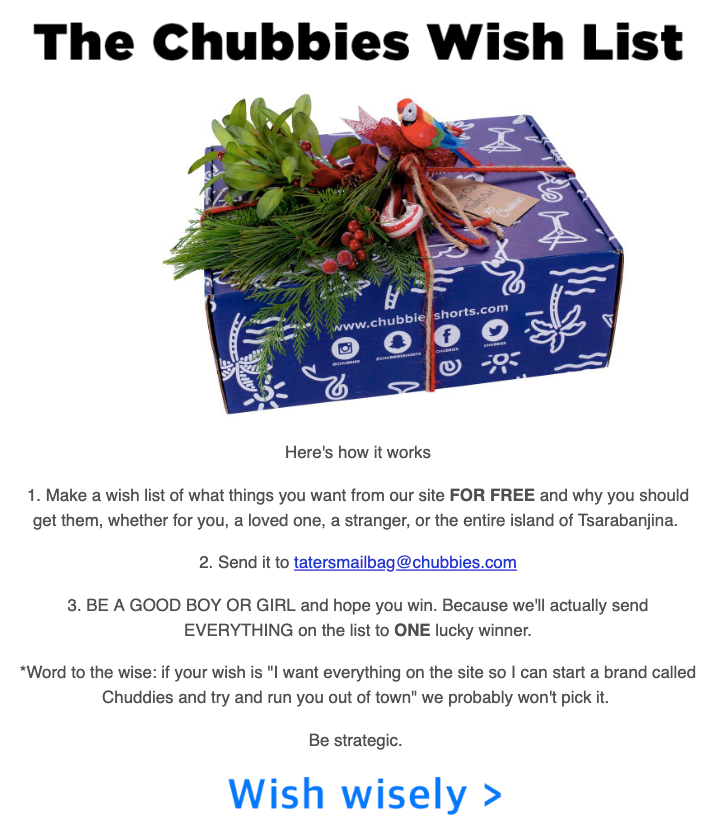 They ask you to make a wishlist with their products, write why you should win, and send the company an email.
And if you're the lucky winner, you get everything on your wishlist.
Chubbies successfully leverage the holiday season with this humorous giveaway email.
But if you want to execute this brilliant idea in a more effective way, try making things easier for your visitors.
Asking for too much effort for a small payoff will reduce your number of entries.
Instead, you can create a simple form with a few input fields and show it only on relevant product pages.
If you want to run the giveaway on a special category, say, "shoes", you can set a condition to show your campaign on specific product pages.
And you can exclude certain pages, such as your about or contact pages if you want to hide the campaign.
You can also use advanced scheduling to set up and deactivate your giveaway campaigns ahead of time.
When the giveaway ends, you can give all participants special discounts for their wishlist items and convert them into customers even if they didn't win.
4. Promote Your Products
With e-commerce giveaways, you can do much more than collect emails and raise brand awareness.
If someone wants to join your contest and win one of your products or a gift related to them, it means that they're interested in your online store.
Once they enter your sales funnel, you have a chance to promote your products and convert them into customers—whether they join your giveaway or not.
But here's the caveat: You should do it subtly.
Check out this example by Oru Kayak: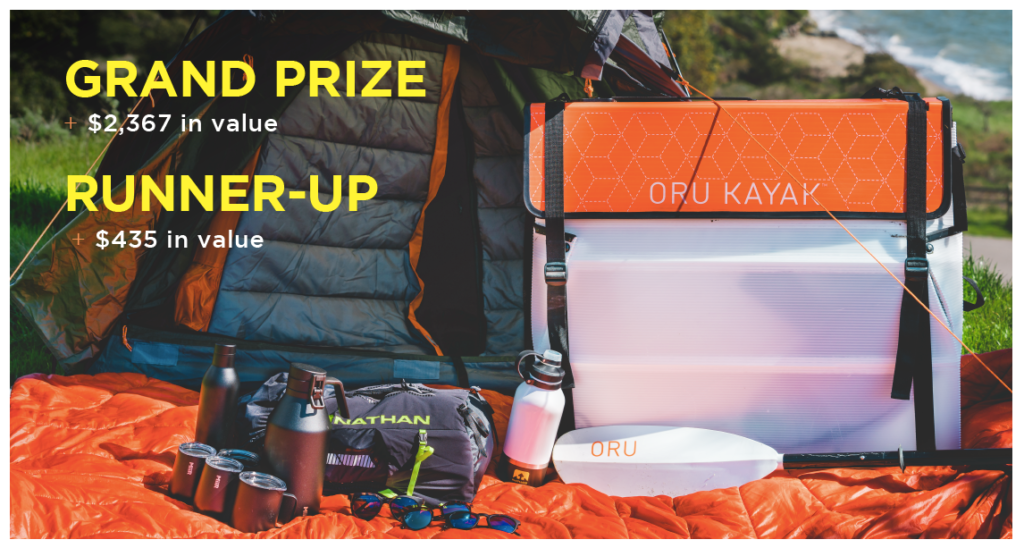 Following common practice, the company partners up with other e-commerce brands, such as Sunski, to offer bigger prizes in their giveaway.
They bring all the prizes you can win together and use the picture on their giveaway landing page. They also include the dollar value of the prizes to increase their perceived value.
But the company doesn't stop there. They list all the products you can win with their individual prices and links to product detail pages: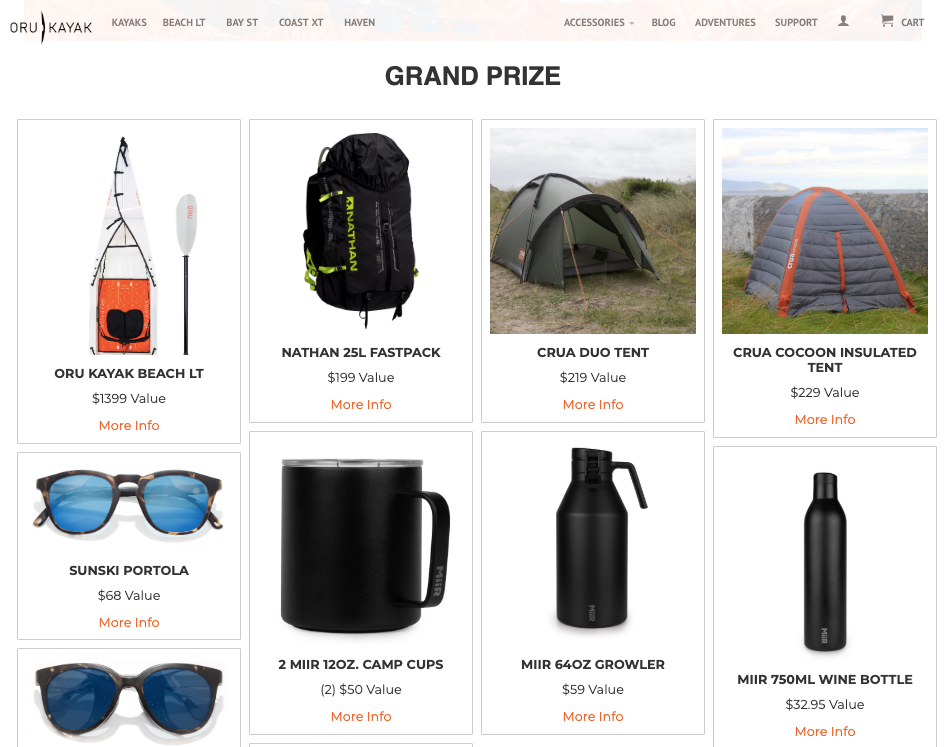 In addition to giving you information about the giveaway, they also introduce you to their products and promote them in a subtle way.
This is a more effective way of introducing your products and creating excitement for them, compared to simply listing the items participants can win.
5. Use Giveaways to Sell More
E-commerce giveaways not only help you gain more prospects but also engage with those prospects in a more persuasive way.
With onsite giveaways, you can directly increase your sales by targeting both your existing and potential customers, who are at a further stage in their buyer's journey.
A timely giveaway can create a gentle nudge that your visitors need in order to become customers. Plus, it can help increase their average order value (AOV).
Take a look at this giveaway idea by Vinomofo: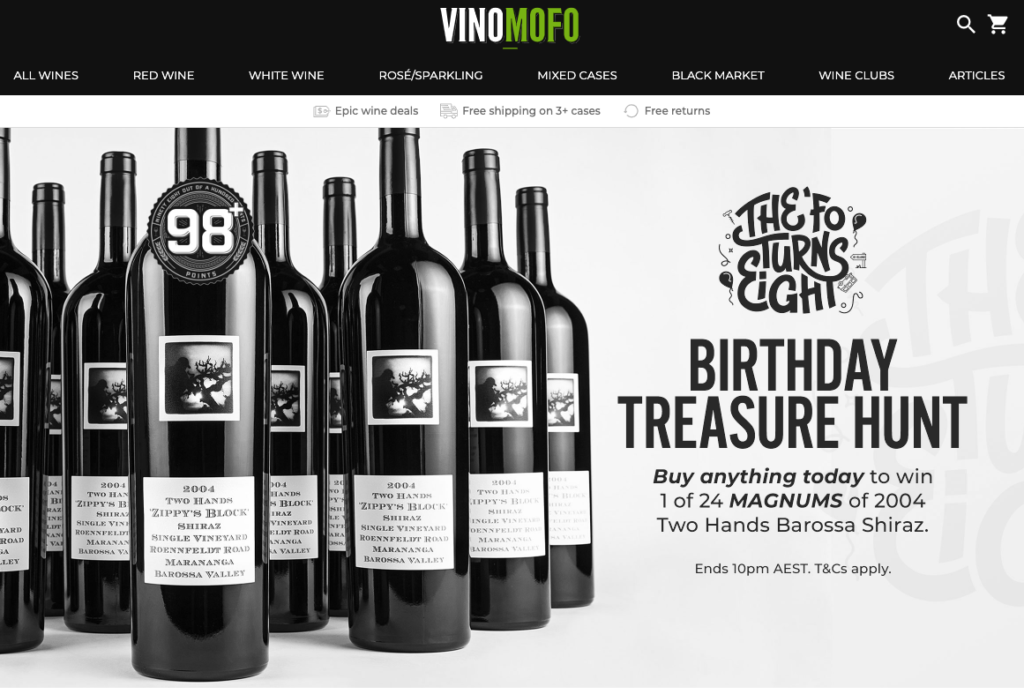 The company celebrates its birthday with a "treasure hunt" type of giveaway.
Milestones like this are a clever excuse to appreciate your customers and host a giveaway to increase your sales.
Vinomofo's rules are simple: "Buy anything today to win."
Even though this is a smart giveaway idea, hosting it on a landing page makes it difficult for site visitors to see it.
If you want to apply Vinomofo's idea to your online store, you can improve it by using an onsite campaign and relevant triggers.
This way, more site visitors will be aware of your giveaway and you'll increase your sales.
Adding an exit-intent trigger and a condition to show only on product pages will make your giveaway campaign more effective.
If you want to create a sense of urgency without being annoying, try adding a countdown timer to your campaign.
If your giveaway requires a minimum shopping limit to enter, you can nudge visitors who are close to the limit based on their basket value.
Here's an example of how such a campaign might look: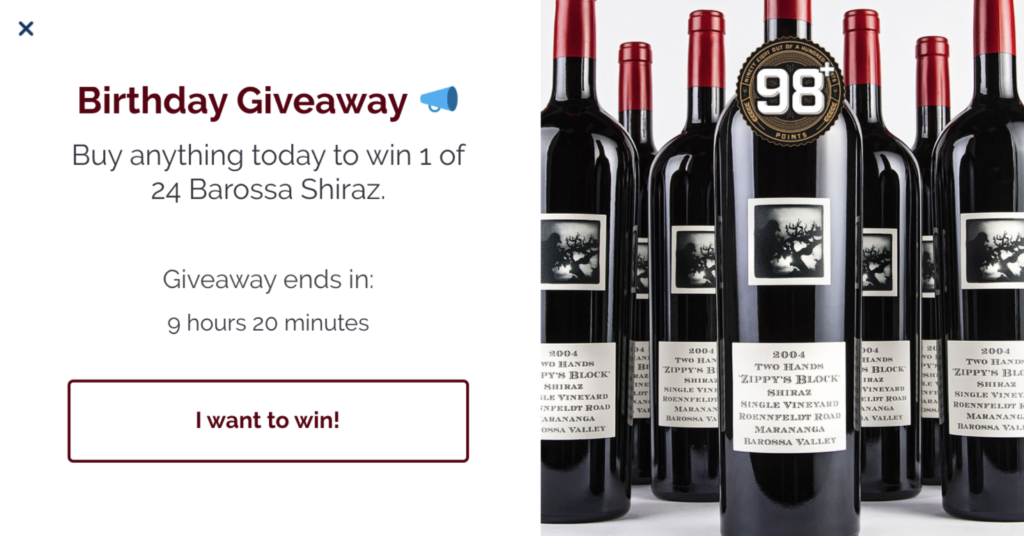 6. Combine Surveys with Giveaways
No matter what business you're in, you're probably trying hard to get some insights from your customers.
You want to find out why your visitors abandon their carts or how you can improve your online store.
You send out survey invitation emails over and over again, but nobody is interested in responding.
Chances are, you're missing an incentive.
Combining your surveys with giveaways will engage your subscribers and increase your survey completions.
Here's a typical survey/giveaway example by Brooklinen: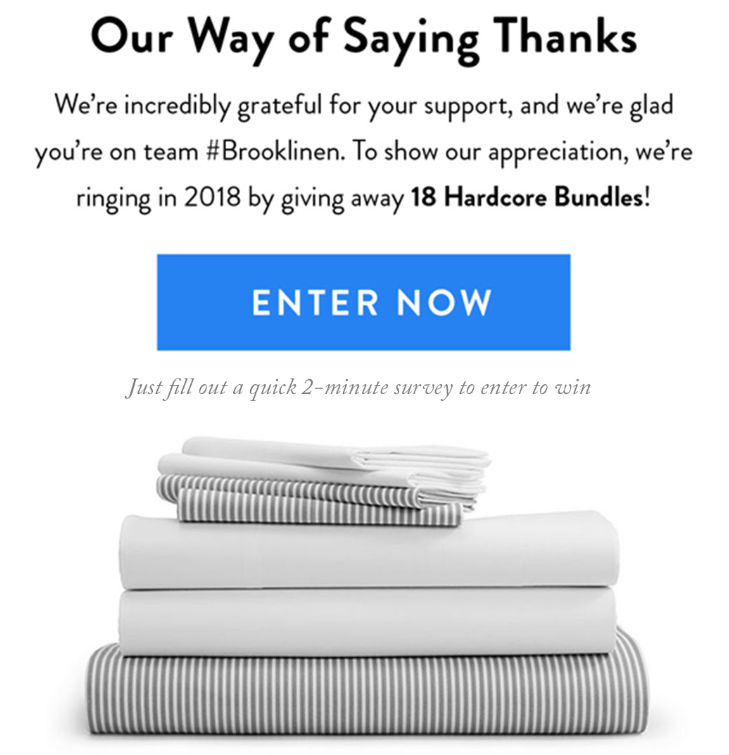 At first, it looks like a customer appreciation email, where you can click through to enter a giveaway and win one of their products.
Because Brooklinen frames the invitation email around the giveaway, instead of the survey. Completing the survey is only a simple condition to join and it takes two minutes.
When you click "Enter Now," you see that it's a Typeform survey: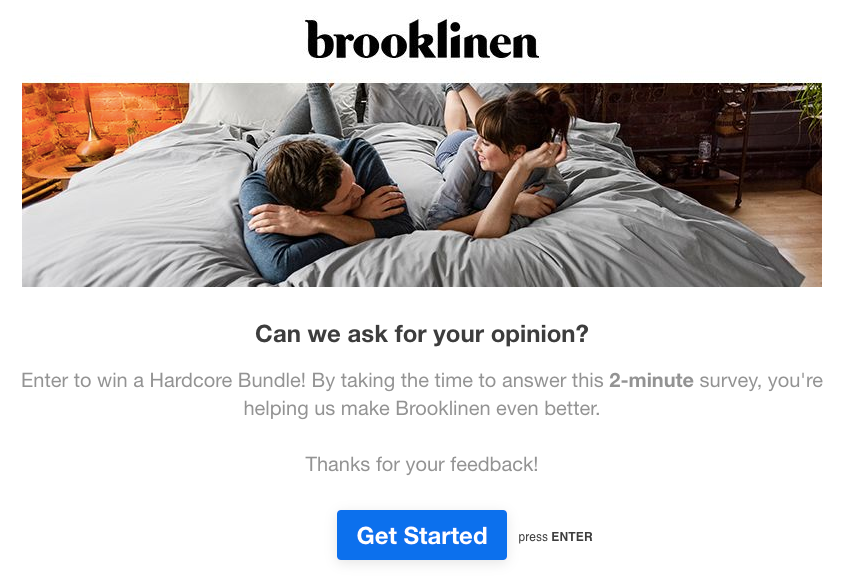 Positioning your surveys around a giveaway can help increase your completions and make your products desirable.
In the end, you'll get valuable feedback and engaged customers.
Following this approach, Brooklinen only reaches out to their email subscribers and asks for their opinion.
If you want to reach a bigger audience and collect more insights, you can create an onsite survey campaign, instead.
You can add a condition to hide your campaign from your first-time visitors and get more accurate feedback. Or you can only show it to visitors who spend an X amount of time on your site.
Livingshop uses a campaign to survey their customers at checkout: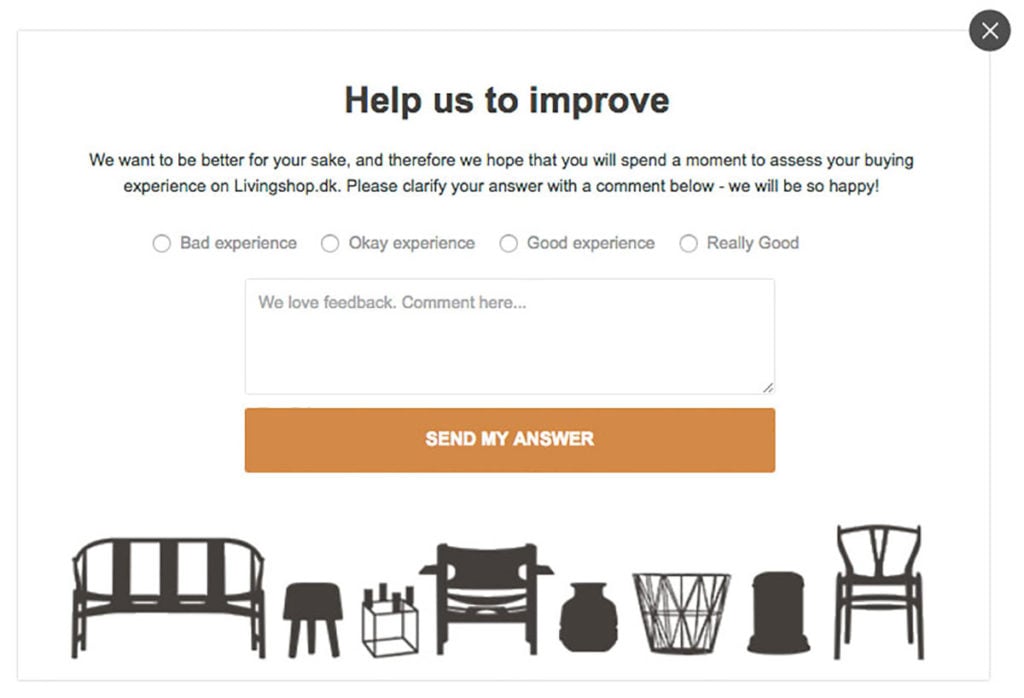 It's easy to recreate this simple campaign and target the right people on the right pages. Plus, you can turn it into a giveaway with a little twist.
7. Collect Emails on Closed Giveaways
Here's a little secret many marketers don't know about: even if your giveaway ends, it still has potential to bring you warm leads.
With a minor addition, you can turn your giveaway page into an automated lead generation machine.
While doing research for this article, I clicked dozens of dead giveaway links that lead to a 404 page.
And in many other cases, companies let me know that their giveaway ended, but they failed to point me to a new direction.
There's a great chance that your prospects will land on an old giveaway page that you shared on social media or they'll find an email in their inboxes a little too late.
Instead of shutting down your giveaway pages, you can turn them into a lead generator until your next campaign.
Here's how Bellroy does that successfully: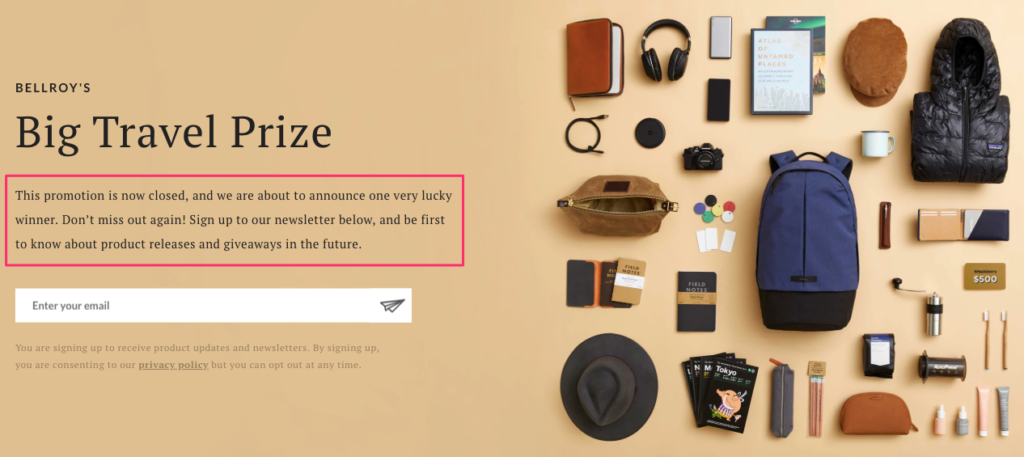 When you visit one of their old giveaway pages, first, they inform you that this campaign is closed.
Then, the company triggers your fear-of-missing-out (FOMO) by saying "Don't miss out again!"
Finally, they invite you to join their newsletter by explaining its benefit for you: "Be the first to know about product releases and giveaways in the future."
Bellroy successfully eases your frustration and gives you a strong reason to sign up for their email list. Because they know that if you're interested in this giveaway, you're a valuable lead for the company.
Conclusion
When used right, e-commerce giveaways can help you create collect email addresses, promote your products, increase sales, and get valuable customer feedback.
Here are the main takeaways from this article to help you optimize your next giveaway:
Pick a giveaway prize that is relevant to both your brand and your target audience.
Focus on the value of the prize throughout your giveaway copy.
Openly state that you're collecting emails for marketing purposes.
End your campaign copy with a benefit-driven CTA.
Host a creative and ambitious giveaway during the holiday season.
List the products you include in your giveaway prize and add links to their product detail pages.
Use milestones, birthdays, and anniversaries as a reason to host exclusive giveaways.
Nudge visitors to complete their order soon in order to enter your giveaway.
Frame your customer satisfaction surveys as a giveaway.
Collect email addresses on your old giveaway pages by triggering FOMO.
Create onsite campaigns for hyper-targeted and well-planned e-commerce giveaways.
On a final note, be mindful about GDPR regulations when you're hosting a giveaway in Europe. Make sure you openly get entrants' consent for data collection and ask if they want to be added to an email list.