Valentine's Day is one of the biggest commercial opportunities for marketers.
With spending expected to reach $22 billion this year in the US alone, you need to leverage this romantic ecommerce holiday for your business.
Not every Valentine's Day marketing idea works in ecommerce, though. Nor do they work for every business.
In this guide, you'll find 11 actionable Valentine's Day marketing strategies that work for ecommerce businesses. No fluff, no assumptions—only proven ideas based on real-life brands you can model, this year and beyond.
Valentine's Day Marketing Ideas:
1. Use Targeted Popups
Whether it's for Black Friday, Christmas, or Valentine's Day, every holiday sale needs a targeted email list, full of interested subscribers.
Regardless of the time of the year, popups are the most effective way to collect high-quality emails on your site without hurting the user experience (provided you're following best practices).
The days leading up to Valentine's Day offers the perfect opportunity to grow your email list with early access, a giveaway, or a discount popup.
If you don't want to promise additional benefits in your email popup—an extra discount code, free shipping, etc.—offering early access to the sale, like the above, works just fine.
When it's time for the big Valentine's Day sale, you can then create a promotion popup, guiding visitors to the product categories where the sale is happening:
A popup like the above is a must-have especially if you have a dedicated landing page for the sale, or discounting only certain products for Valentine's Day.
2. Run a Valentine's Day Sale
With millions of consumers gift shopping online, there's one way to bring your online store to the forefront of the competition: running a sales campaign.
While offering a compelling discount is key to a successful sales campaign, what's more, important is how, when, and where you promote your products.
The best way to achieve that is by combining sales popups with promotional emails.
Check out this subject line Kate Spade uses to announce its Valentine's Day sale:

By calling out its subscribers as "hey valentine," Kate Spade adds a casual and personal touch to its email: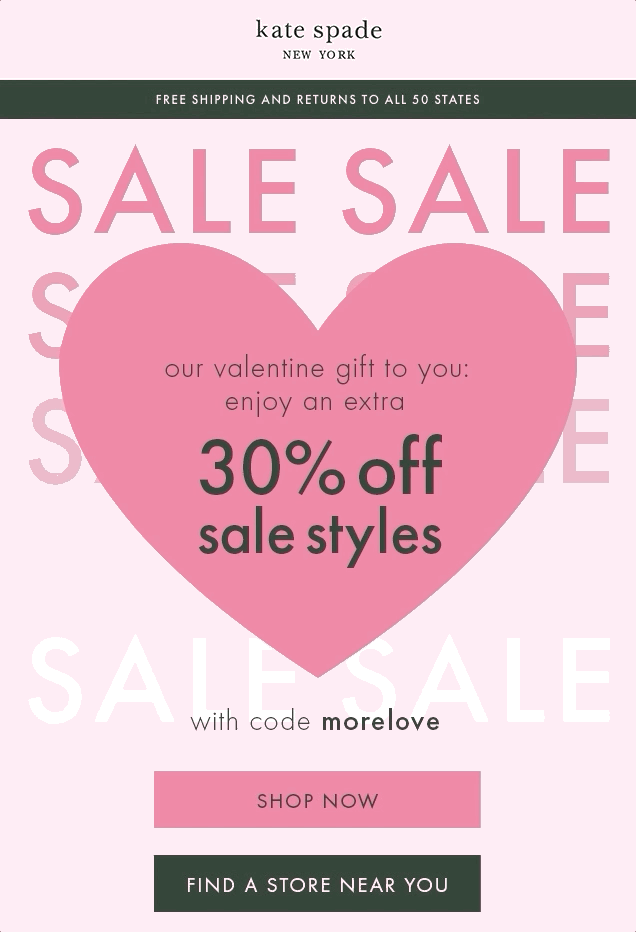 Kate Spade appreciates its customers by giving them an extra 30 percent off its sale styles. An email like this is a smart way to show some love to your email list and engage them when they're about to shop for gifts.
While Kate Spade frames its sale campaign as their gift to you, Misfit takes a different approach:

The company wants you to gift yourself for a simple reason: to cope with Valentine's Day blues. This is what their email looks like: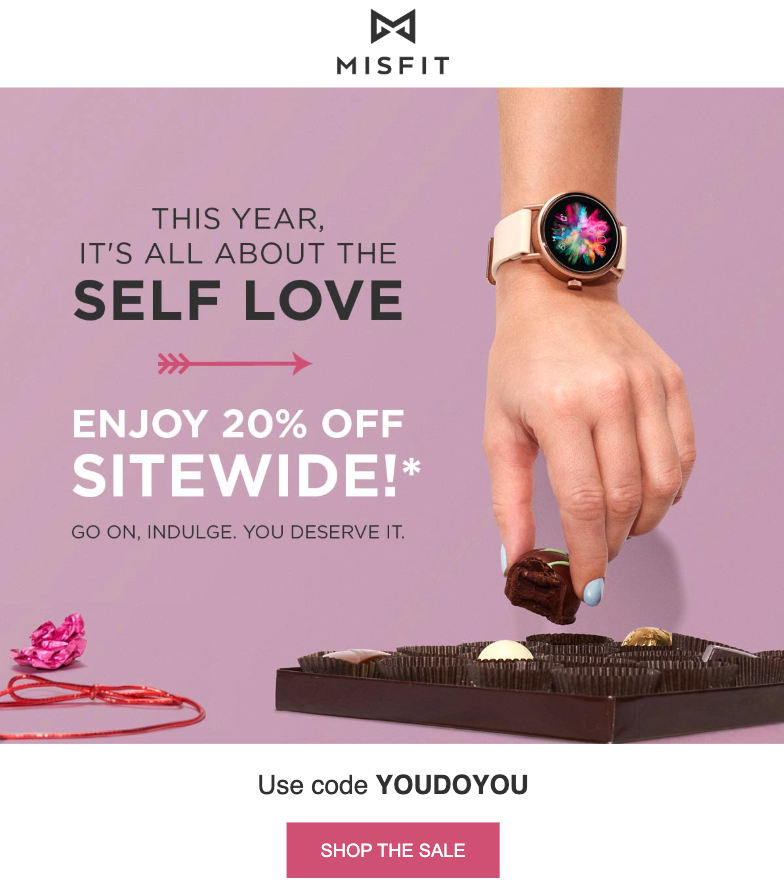 As opposed to most brands that ask you to spoil your Valentine, Misfit cleverly reframes Valentine's Day into a day of self-love.
The company invites you to treat yourself above others and recommends products to help you do that: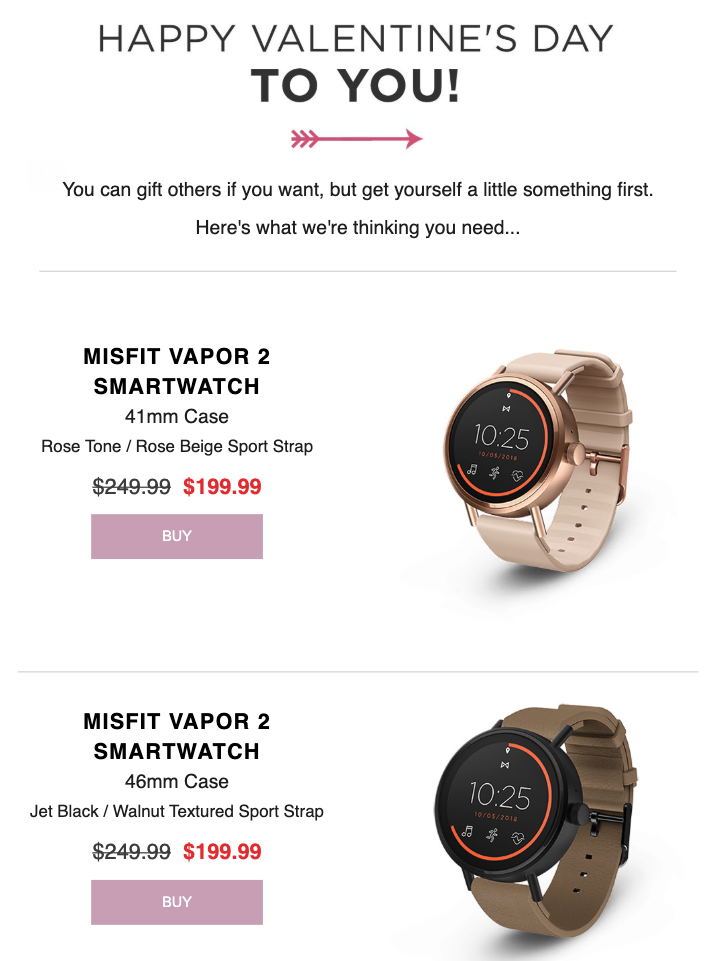 It's a smart take on Valentine's Day marketing, especially if your products aren't necessarily giftable.
3. Offer More Benefits
While almost every brand offers Valentine's Day discounts, other incentives, such as free shipping, can differentiate your store from the competition. After all, free shipping is one of the top factors that influence online consumers' buying decisions.
If you can't afford to offer free shipping all year round, however, consider presenting it as a limited-time offer and adding a sense of urgency, like Madsen Cycles: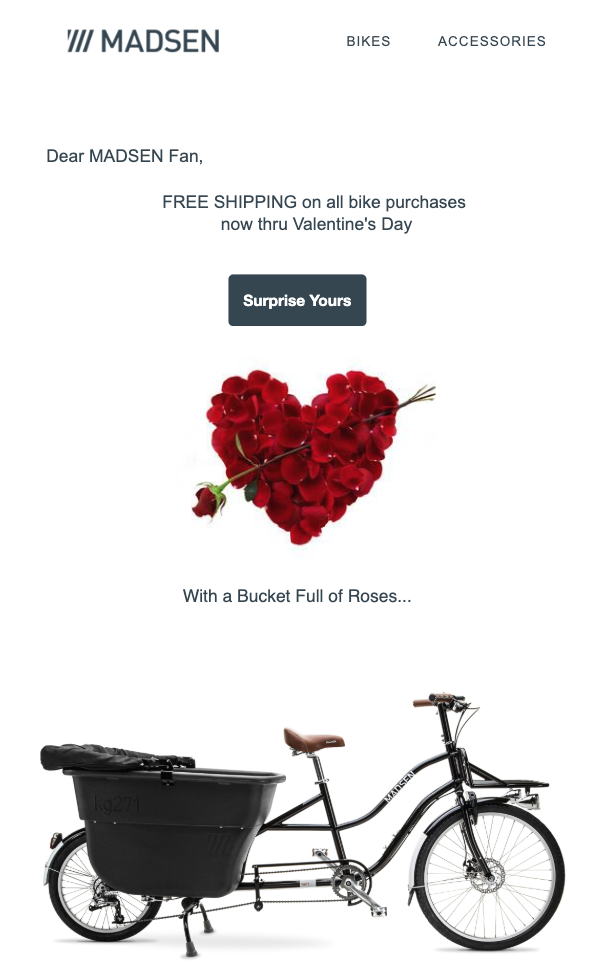 While cargo bikes aren't typical Valentine's Day gifts, Madsen Cycles finds a point that ties its products to this day. In this email, they offer their subscribers free shipping "now thru Valentine's Day."
It's a compelling incentive that can work with any holiday, especially for products with higher delivery costs.
Estee Lauder, on the other hand, uses free shipping to upsell during Valentine's Day: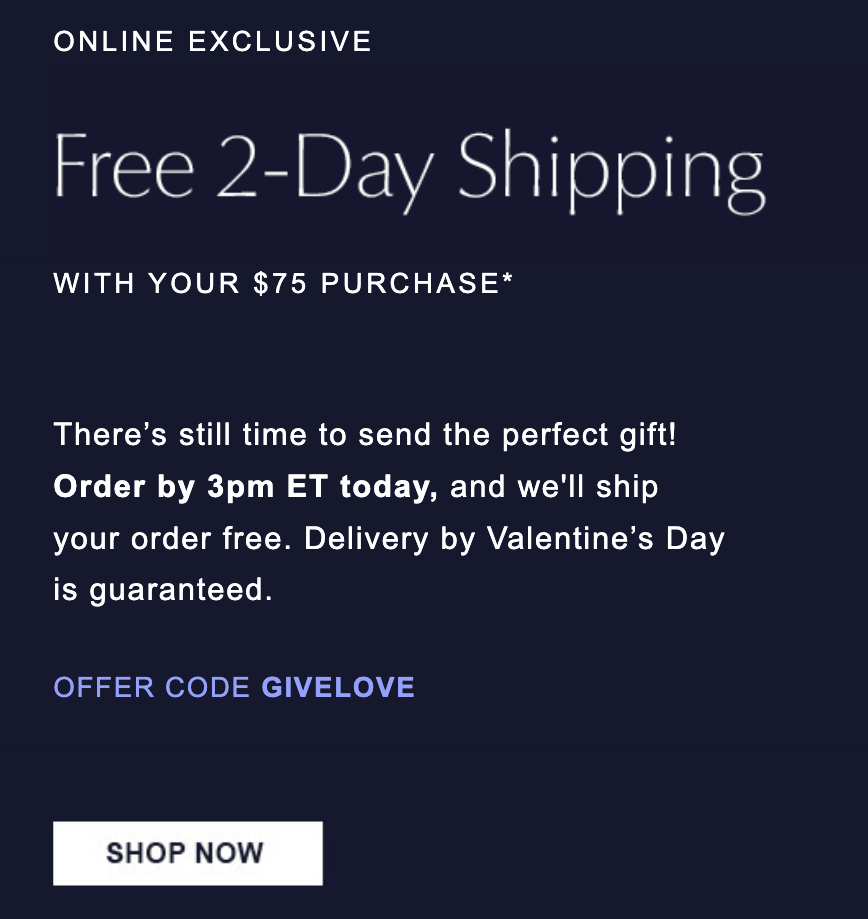 To claim your free 2-day shipping and to get your perfect gift in time, Estee Lauder asks you to spend over $75. This way, the company smartly takes you to a higher price point and increases conversions by guaranteeing delivery by Valentine's Day.
If you want to strengthen your hand further, you can offer free gift-wrapping as an extra benefit to save customers from additional trouble.
4. Make Your Delivery Dates Visible
Regardless of the time of the year, delivery is always a soft spot for online shoppers. However, it becomes an even more sensitive concern during the gift shopping season.
When someone's about to buy a gift for the special person in their life (to be given at a specific date), the first thing they check is delivery times.
If you want to convert Valentine's Day shoppers into customers, make your delivery dates clear and visible across your website, as well as in your popups and emails.
What's more, remember to write the last date customers can place orders for Valentine's Day or when they can expect to get their items delivered.
Take inspiration from Calvin Klein, who does that successfully in its emails: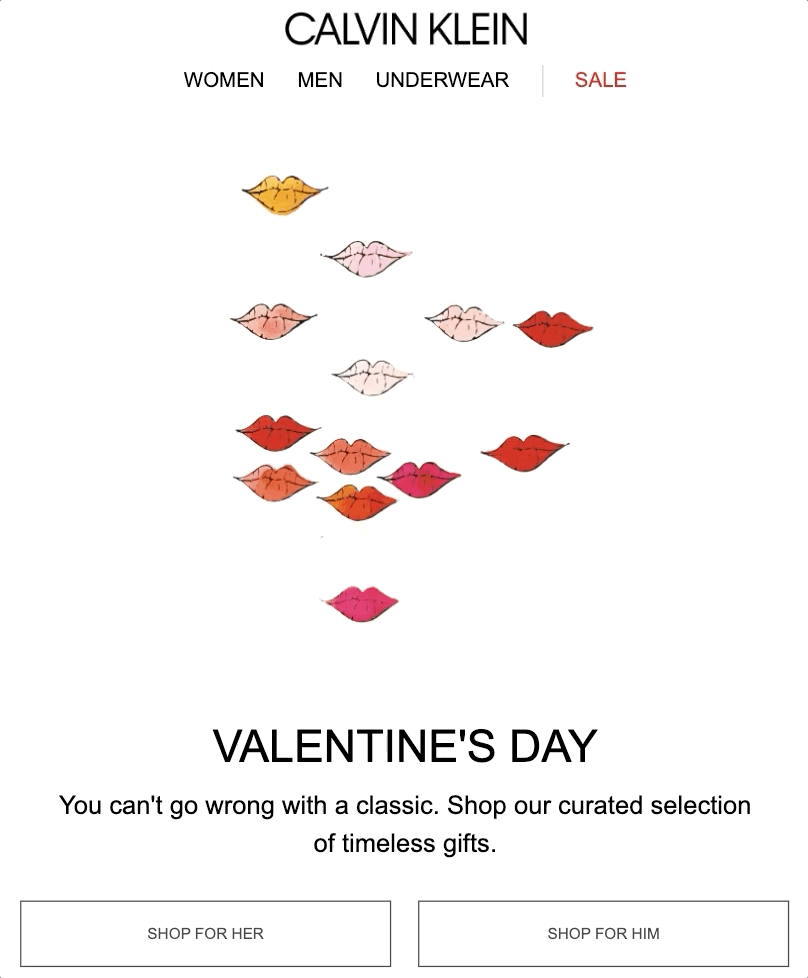 After inviting you to buy a timeless gift for your Valentine and recommending a few products, the company adds a sentence to the bottom of this email: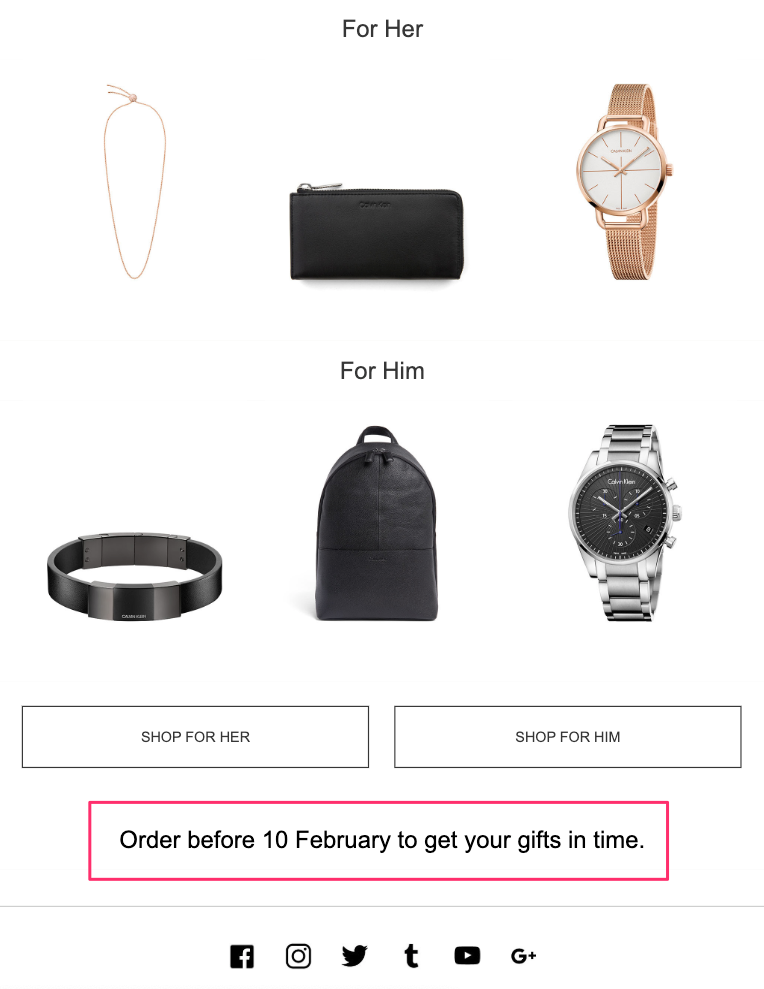 It's a simple addition that makes a difference for prospects who're considering shopping from the company.
If you're offering multiple shipping options, it's also important to let your customers know how they'll work during this season. Check out this example from MeUndies to see how that might look like: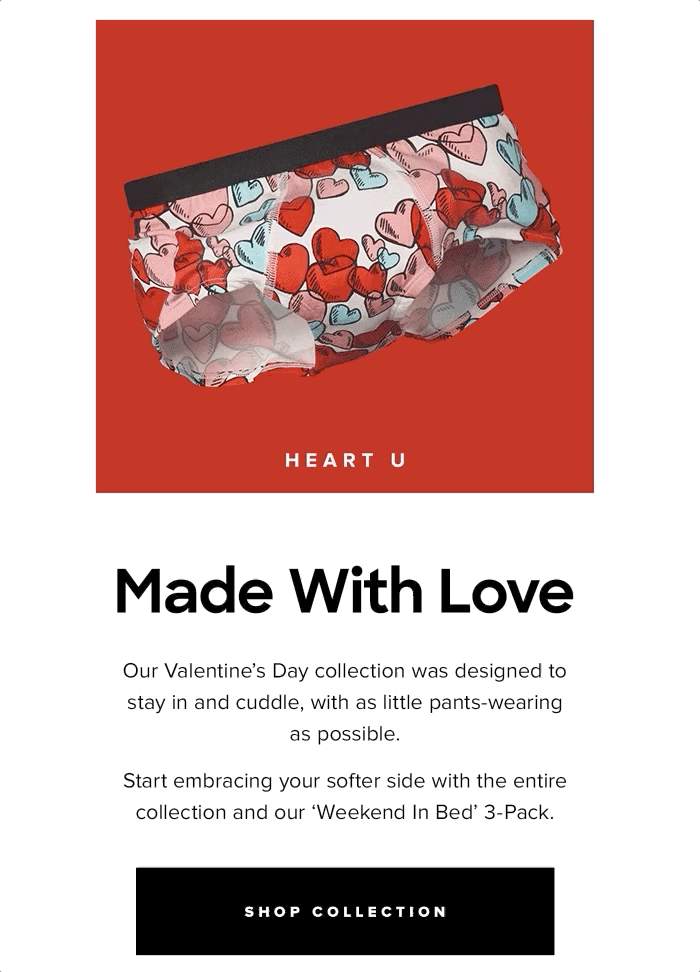 The first part of this Valentine's Day email looks like any other. Yet, when you scroll down the email, you reach this part where MeUndies explains what these different delivery options mean for you: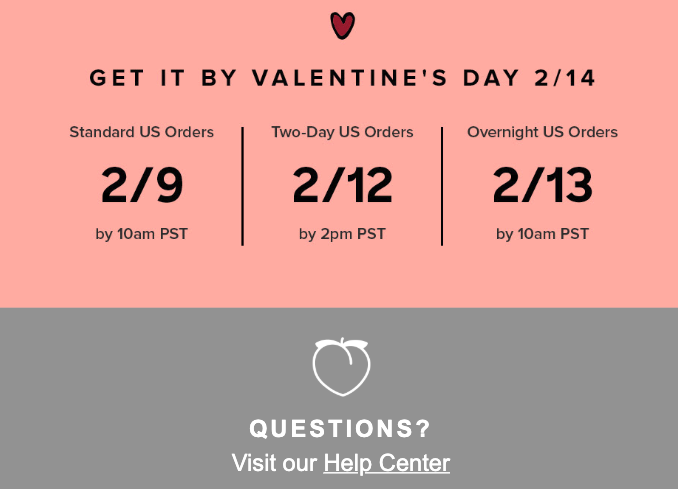 This helps the company make it easier to understand your options and clearly communicate when you should expect to receive your items.
Notice how the company goes into detail and even writes down the last hour you should place your order to get your delivery in time.
If you want to inform your website visitors in a similar way, you can create a popup that only shows on your product pages: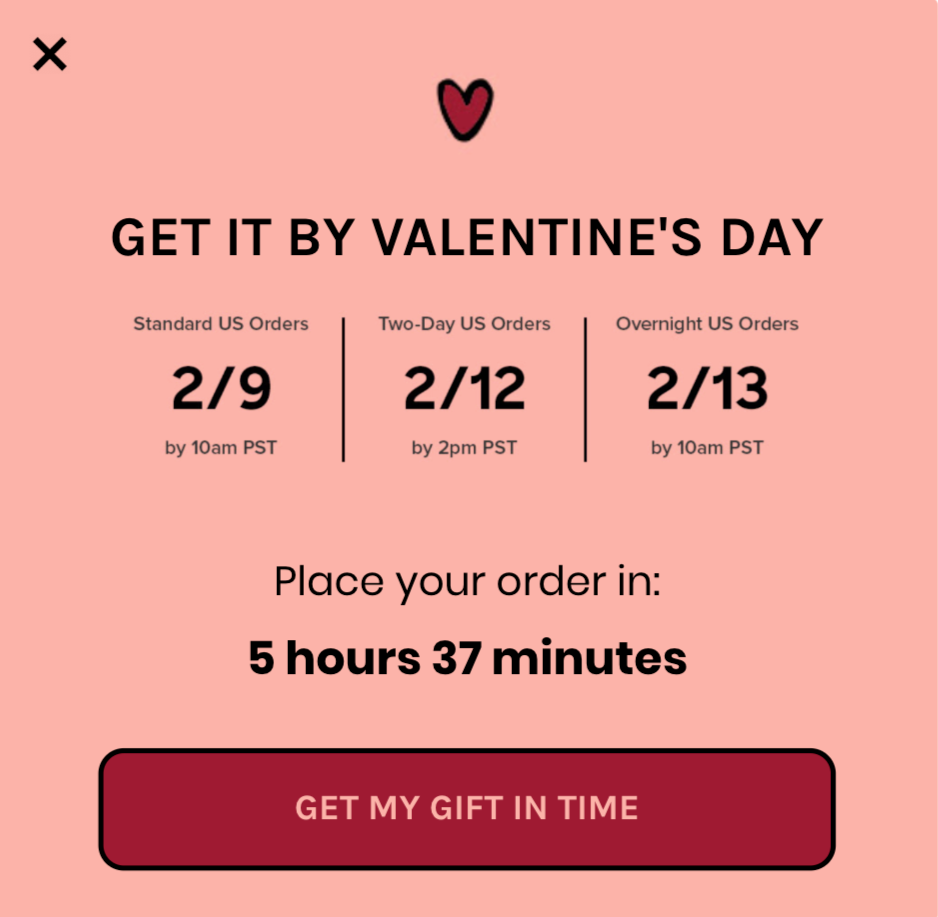 Using a countdown timer in your popup, like the above, can help you create a sense of urgency and increase conversions.
5. Promote Relevant Products
Valentine's Day gifts differ from Christmas or birthday gifts by nature. After all, Valentine's Day is about love, hearts, and glitter—something you wouldn't associate with other holidays.
If you sell products around that theme, Valentine's Day is the perfect time to promote them as ideal gift options. Take a look at this email by Cotton Bureau promoting its heart print t-shirts for this day: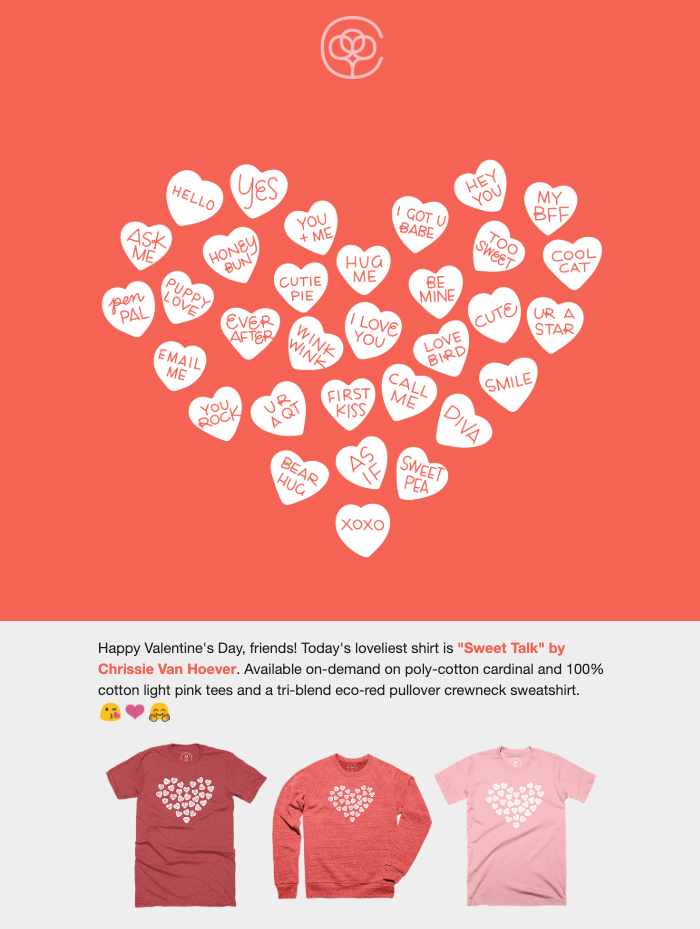 After featuring an exclusive t-shirt design for this day, the company curates its products with a love theme in one email: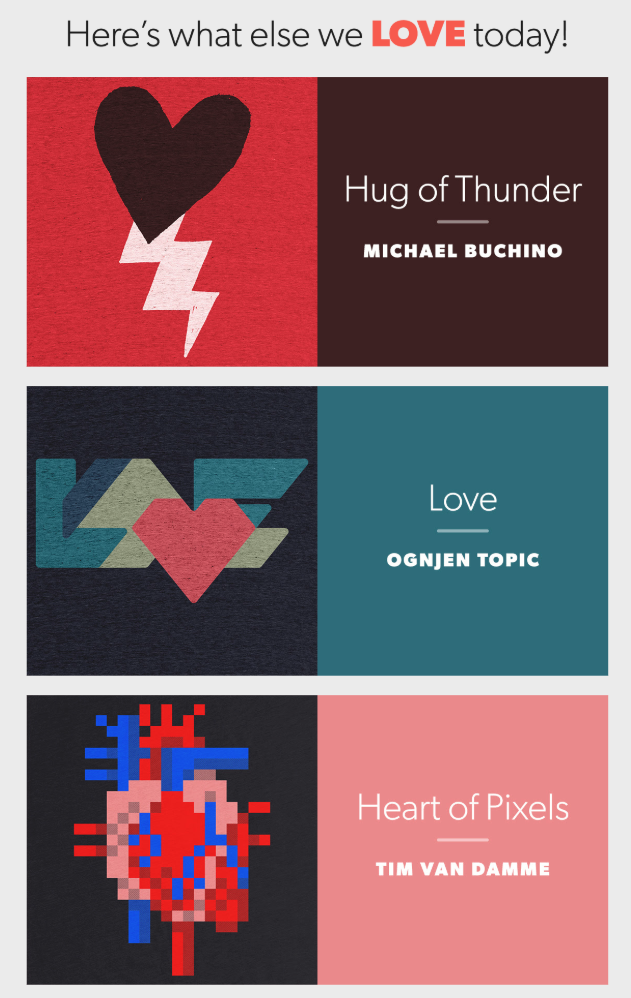 Although their products aren't necessarily Valentine's Day material, Cotton Bureau finds a smart way to link the two.
Even if your products don't associate with this concept, you can still use Valentine's Day as an excuse for product promotion, just like Sunski does: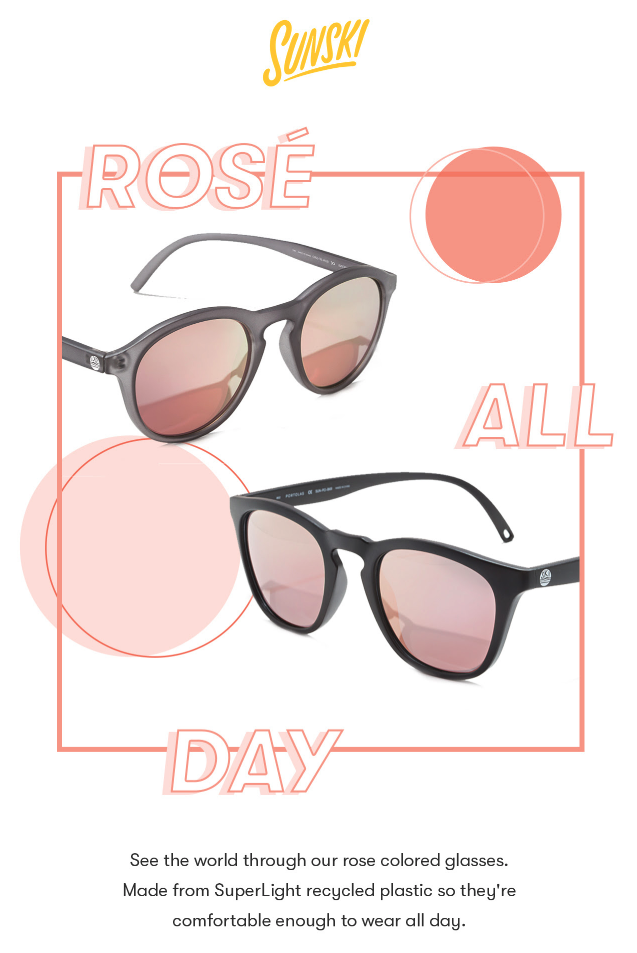 With this email, sent around Valentine's Day, Sunski simply leverages an association, and promote its rose-colored glasses.
If you want to promote your Valentine's-themed or discounted products on your site, you can create a product recommendation popup, where you showcase your bestsellers or top picks from the sale: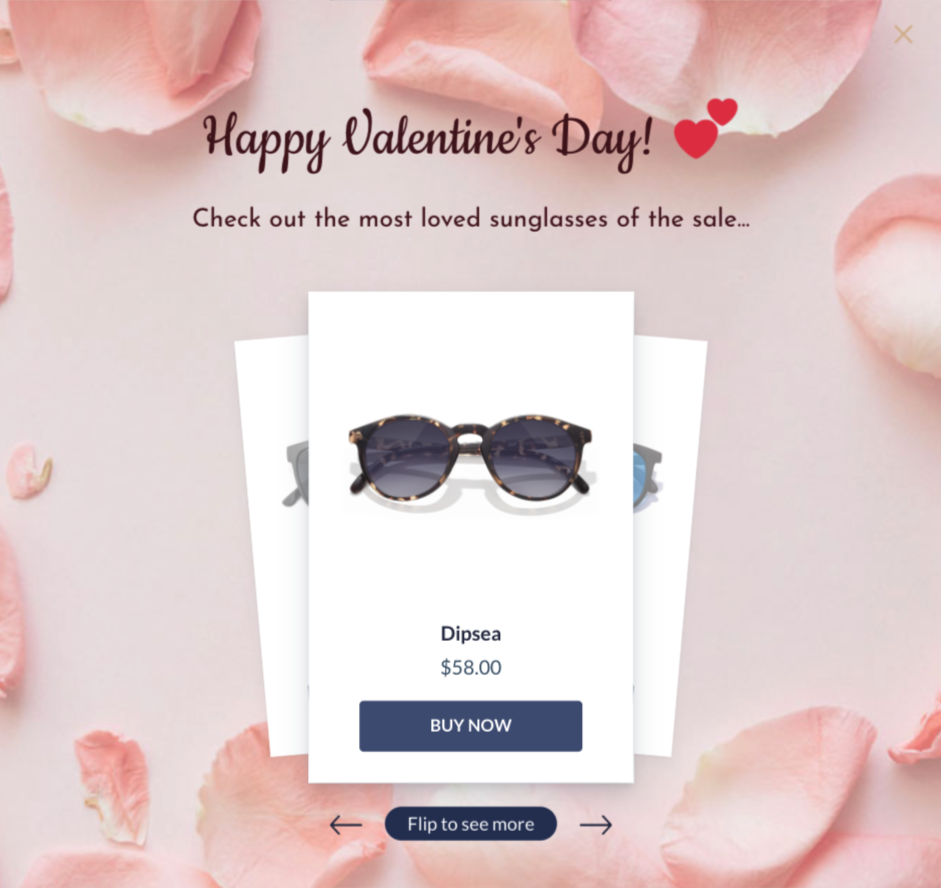 It's an easy strategy to replicate, whether you're running a sale or not.
6. Offer Gift Guides
If there were ever a perfect time to guide prospects with relevant and helpful gift guides, it's in the days leading up to Valentine's Day.
By offering gift guides in the form of emails, popups, or landing pages, you can help your prospects make a better buying decision and position your products as great gift ideas.
You can take the easy road with gender-based categories or go deeper into personality and interests. In this email, Huckberry does both: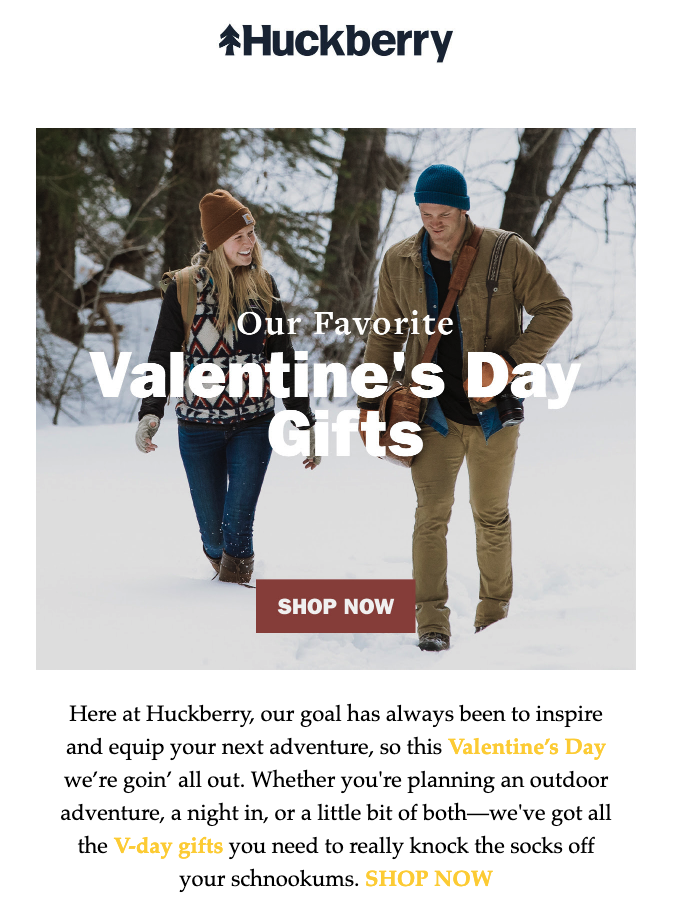 The company sends its gift guides in a long newsletter format, where they organize gifts, first, by category and then, by gender: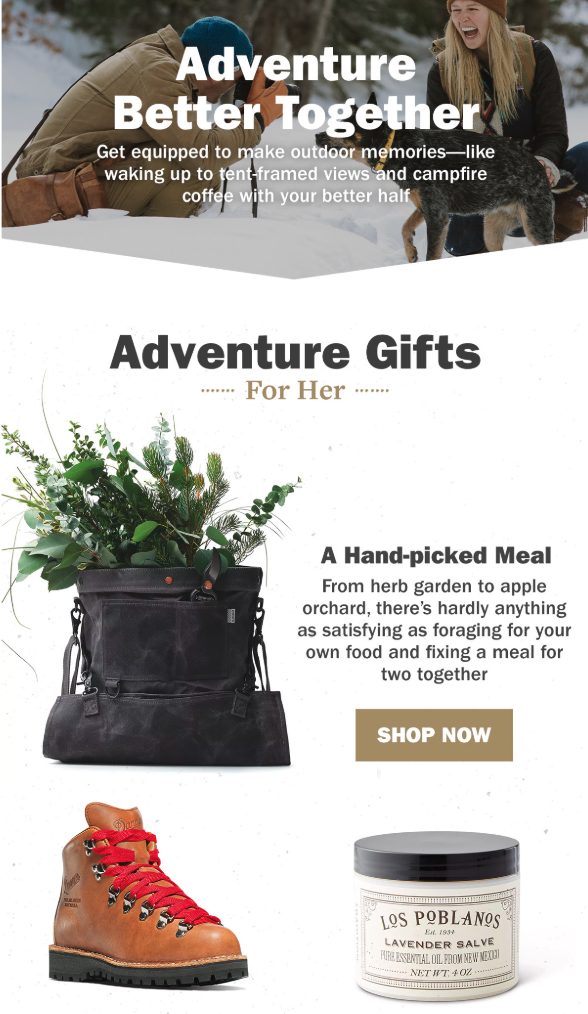 With this approach, the company makes its content easy to skim through. If your Valentine is, say, an adventurer, you can quickly start browsing from this category.
If your products are already targeting a specific hobby or gender, you can expand your gift guides even further, as Man Crates does: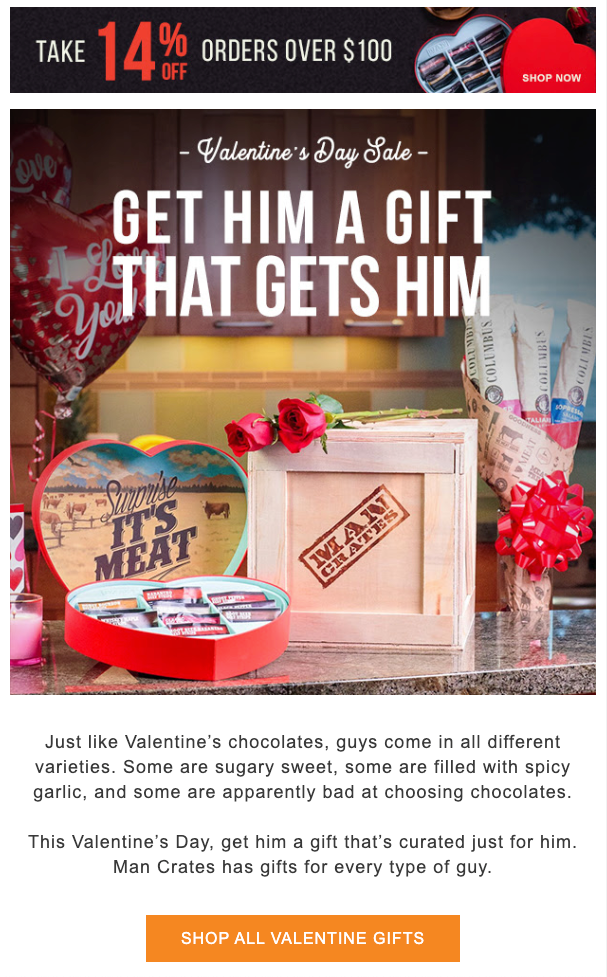 With a benefit-driven headline that reads "Get him a gift that gets him," Man Crates highlights that people are different, and so are their tastes in gifts.
In this gift guide email, Man Crates curates different gift options based on personality types in their signature humorous tone: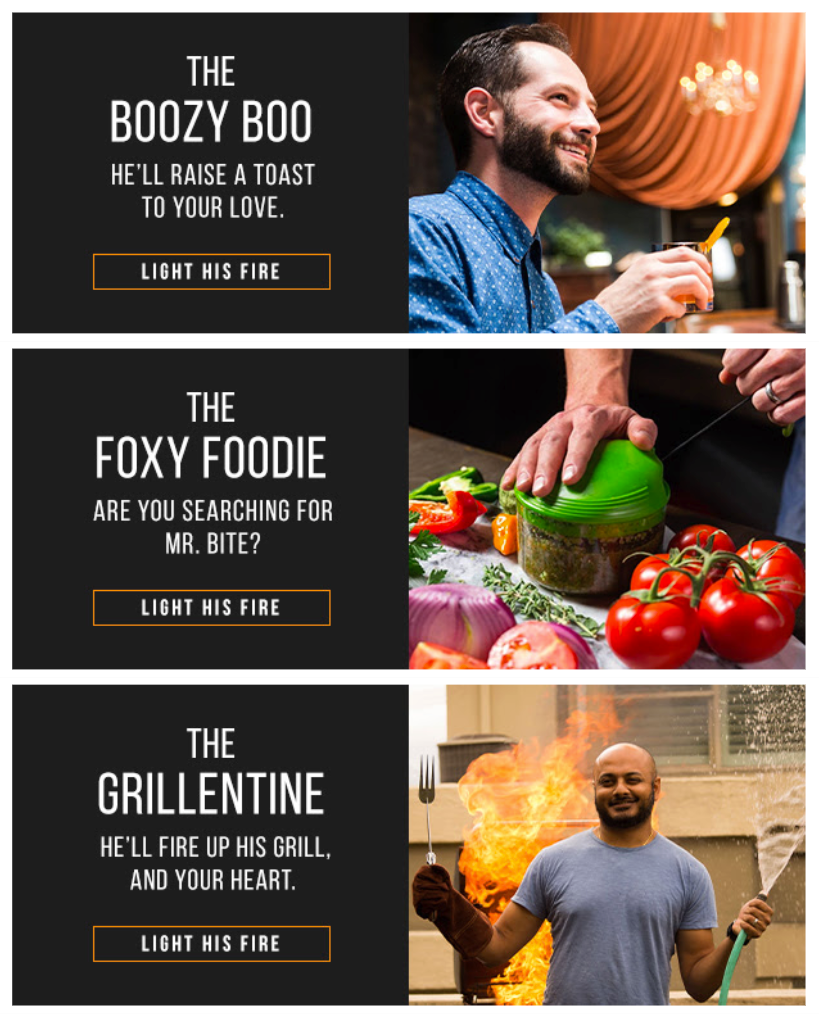 If you're interested in any of these categories, you can click through and learn more about each product type or visit a landing page where you can filter and sort different gift options.
7. Drive Urgency
Combining scarcity-driven copy with a countdown timer is a great way of driving urgency in last-minute buyers.
The key is to do this without making people feel guilty. Check out how Man Crates does that in a fun way: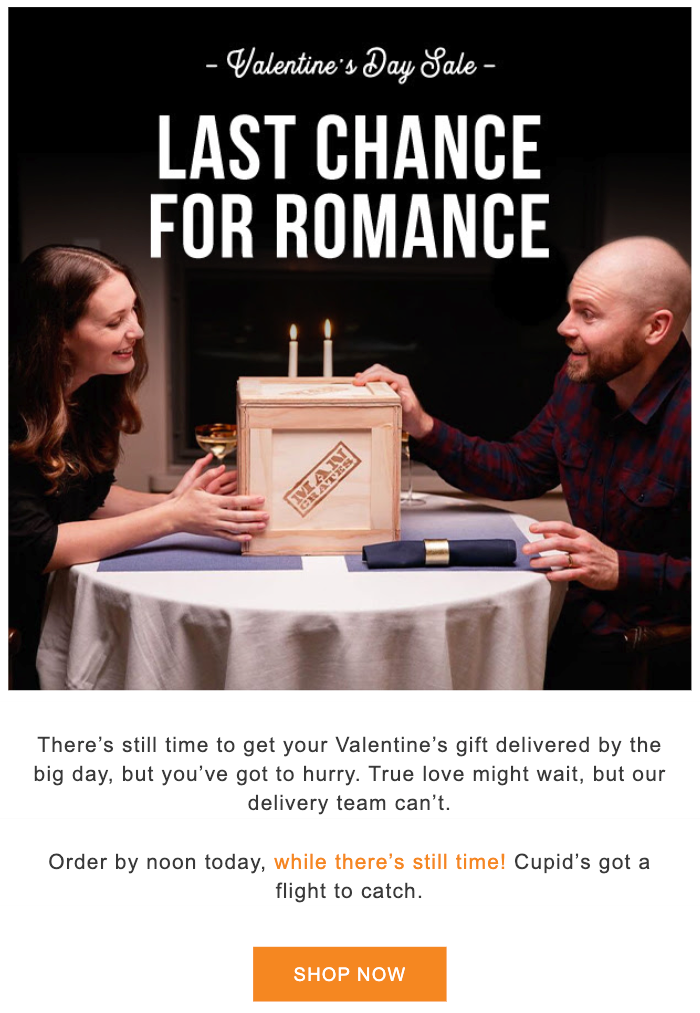 In this email, the brand simply informs you that today is the last day to guarantee your Valentine's Day delivery.
Man Crates cleverly communicates urgency with humor by saying "True love might wait, but our delivery team can't."
Marc Jacobs, on the other hand, chooses another way to imply urgency without stressing prospects out:

In this subject line, the company simply suggests placing your order in good time so that you can get their gifts by Valentine's Day.
When you open the email, this is what you see: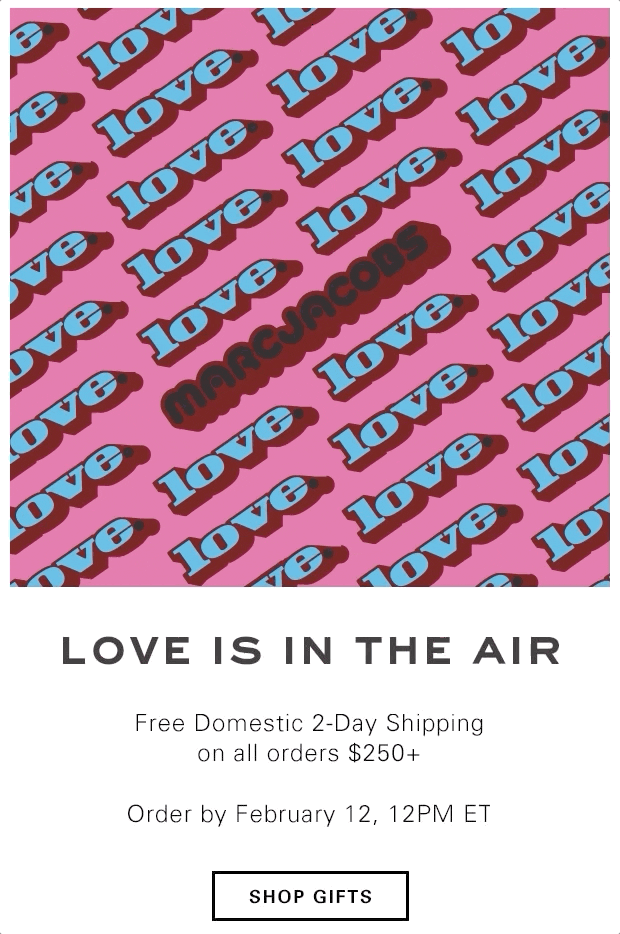 An ordinary promotional email with delivery information. But when you scroll down to the remainder of the email, you see this: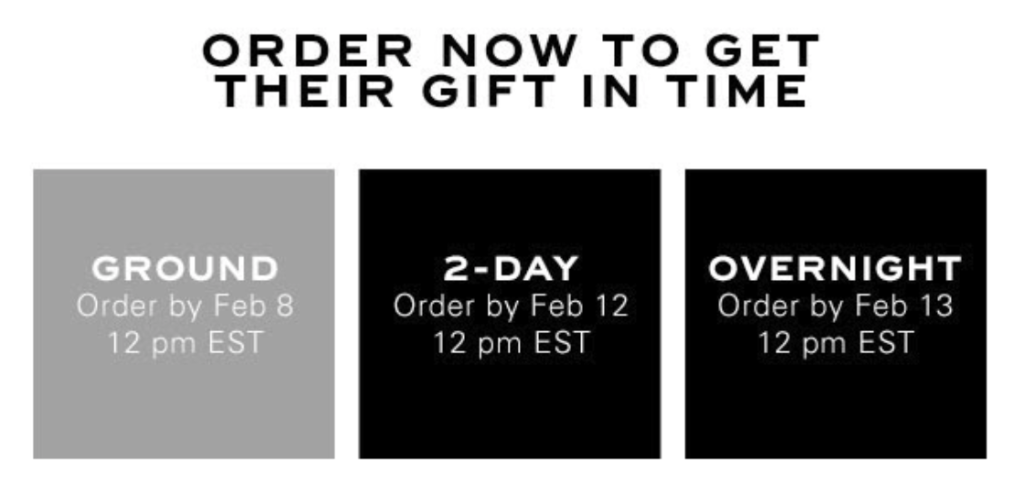 Marc Jacobs repeats their CTA with subtle urgency and supports it by showing different delivery options, following Strategy #4.
Rather than vaguely saying "Get it before Valentine's Day," the company backs up its claims for urgency and scarcity with actual delivery dates.
If you want to create the same feeling among your website visitors, remember to add a similar popup to your product pages with a countdown timer, visible delivery dates, and an urgency-driven CTA.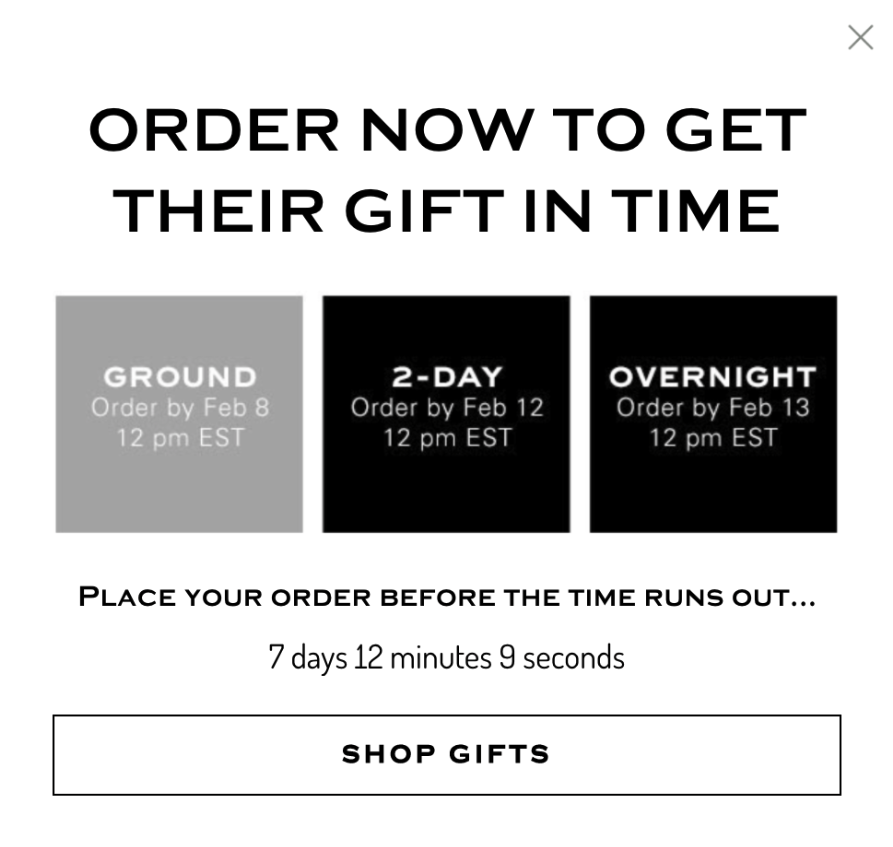 8. Target Last-Minute Shoppers
Some of us are chronic procrastinators, and shopping for last-minute gifts, for many, is no exception.
While many e-tailers chase after last-minute shoppers by triggering a sense of guilt, there's a more effective way to convert procrastinators into customers.
If you can offer fast delivery to last-minute customers, you're ten steps ahead of the competition. Violet Grey is one such brand and uses fast delivery to sell more on Valentine's Day: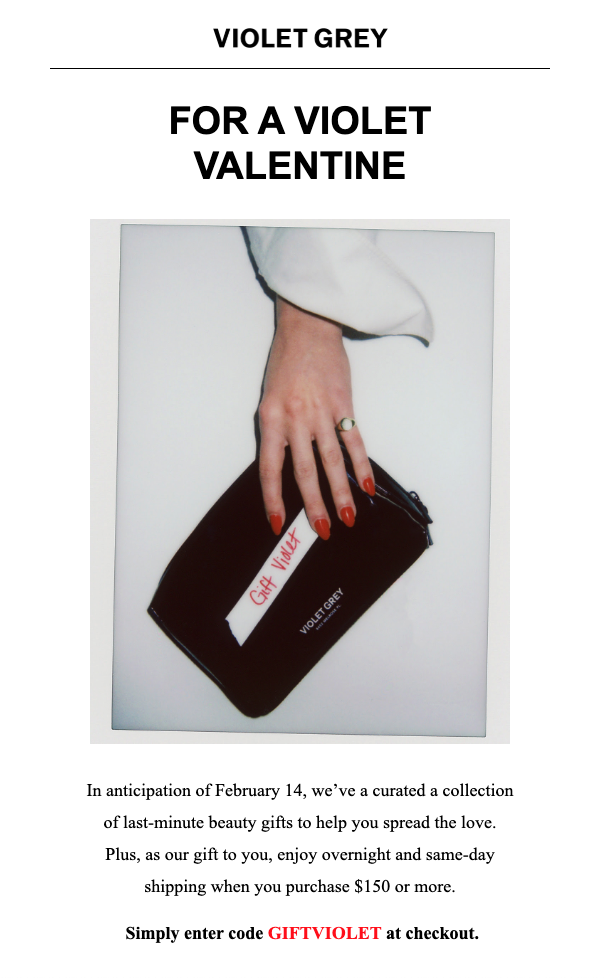 First, the company targets procrastinators with a curated list of "last-minute beauty gifts." What's more, they offer overnight and same-day shipping—but only when you spend over $150.
If you want to get your gifts in time, you end up buying more expensive items. This way, Violet Grey not only captures last-minute shoppers but also upsells them.
Curioos chooses a different way to engage last-minute shoppers without breaking the bank: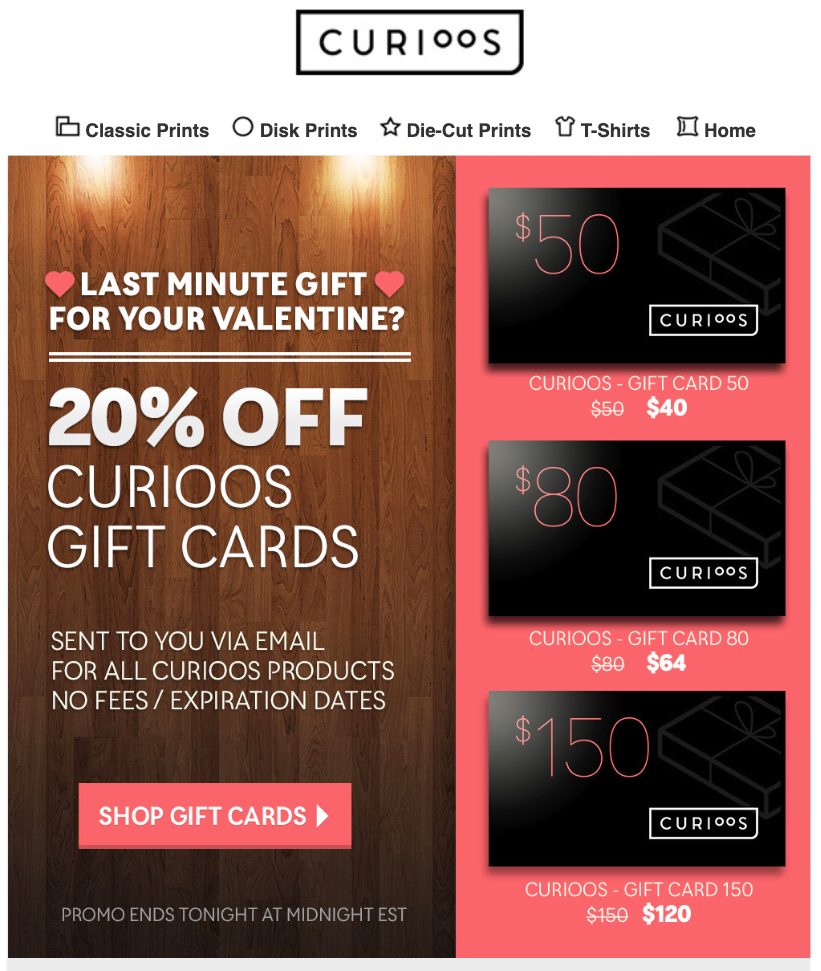 The company recommends its electronic gift cards as a Valentine's Day gift option and makes them more attractive with a discount. What's more, Curioos handles any possible objections by saying "no fees or expiration dates."
If you're offering gift cards on your site, holidays are perfect for targeting late gift shoppers without hurting your profits.
9. Redefine Valentine's Day
Valentine's Day isn't for every brand (or person for that matter). Yet, you can still take advantage of this special day by redefining it for your brand.
Depending on the nature of your products and your value proposition, you can take an anti-Valentine's Day position or support singles on this day with your products. Alternatively, you can celebrate a made-up holiday that fits your brand.
That's what Wool and the Gang does: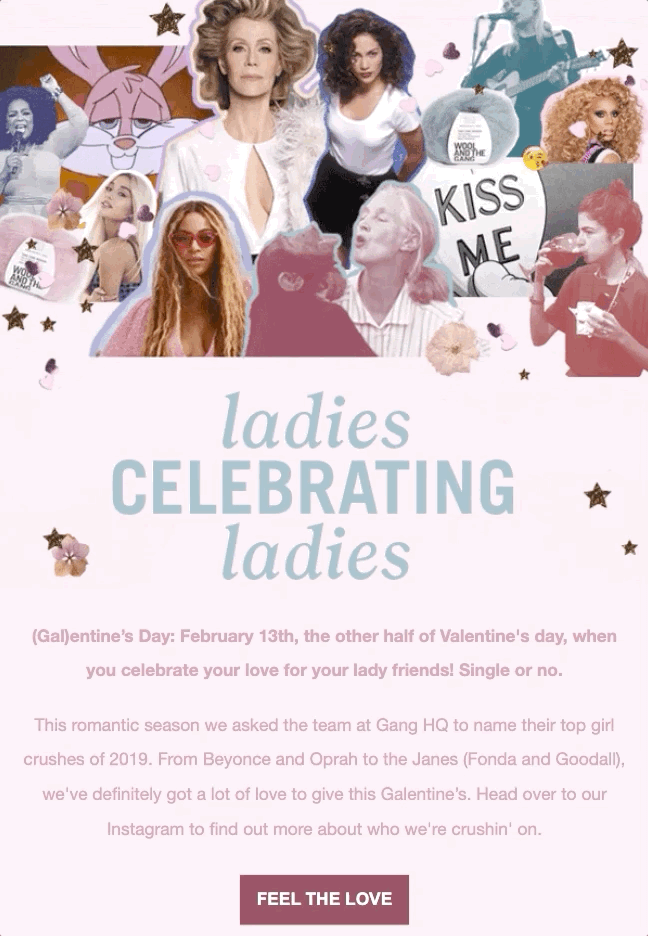 Instead of focusing on Valentine's Day, the company celebrates Galentine's Day on February 13th. In case you're unfamiliar with the concept, Galentine's Day is simply a day where "ladies celebrate ladies" (created by Parks and Recreation's Leslie Knope.)
In this email, Wool and the Gang humanize their brand by inviting you to their Instagram page to learn about the team's girl crushes. Next, they recommend products as part of their Galentine's gift guide and take you to a dedicated landing page: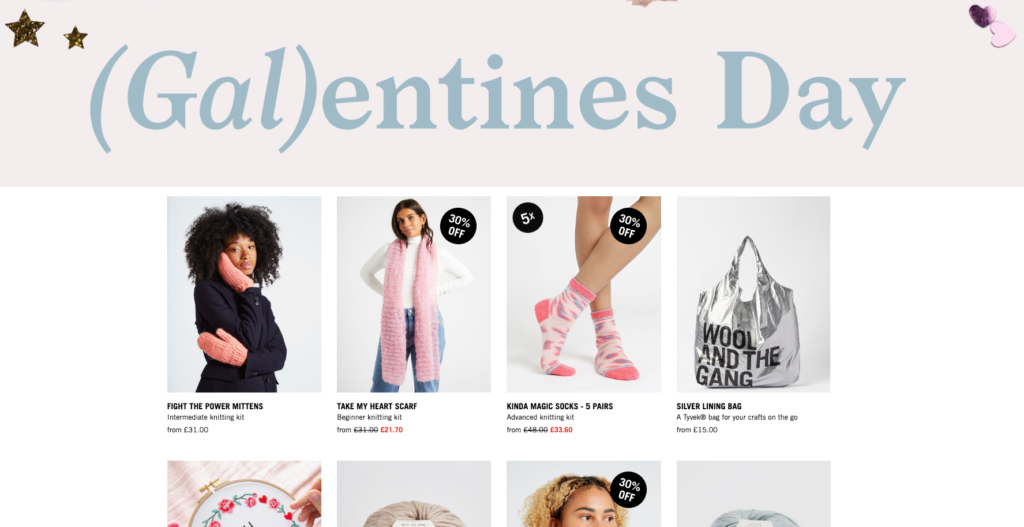 It's a simple tactic that helps Wool and the Gang stand out among thousands of online stores celebrating Valentine's Day, and subtly promote their products.
10. Appreciate Your Subscribers
Regardless of its origins, Valentine's Day is associated with love and romance.
That being the case, Valentine's Day is an excellent opportunity to show some love to your email list. Many online stores already use this day to appreciate their subscribers and subtly promote their products. kikki.K is one of those brands: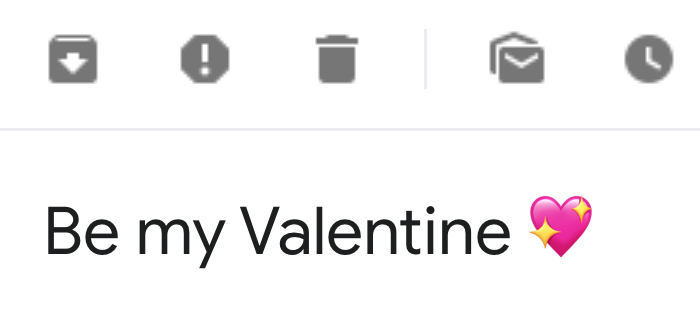 This personal-sounding subject line easily stands out in your inbox full of promotional Valentine's Day emails. Similarly, the email itself resembles a personal Valentine's card (or rather, a collection of Valentine's Day cards):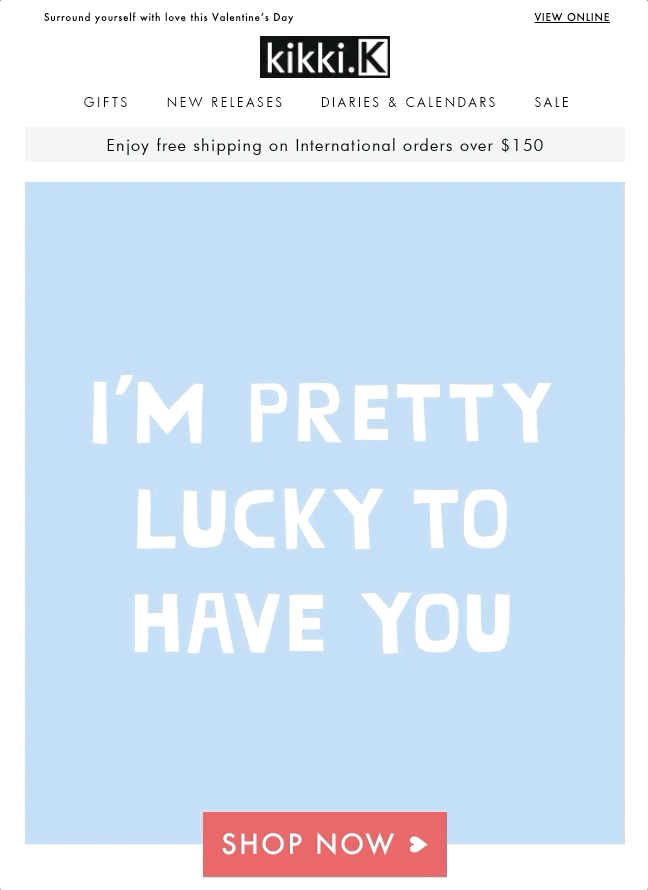 Although kikki.K genuinely celebrates its subscribers, the company actually promotes its new arrivals in this email: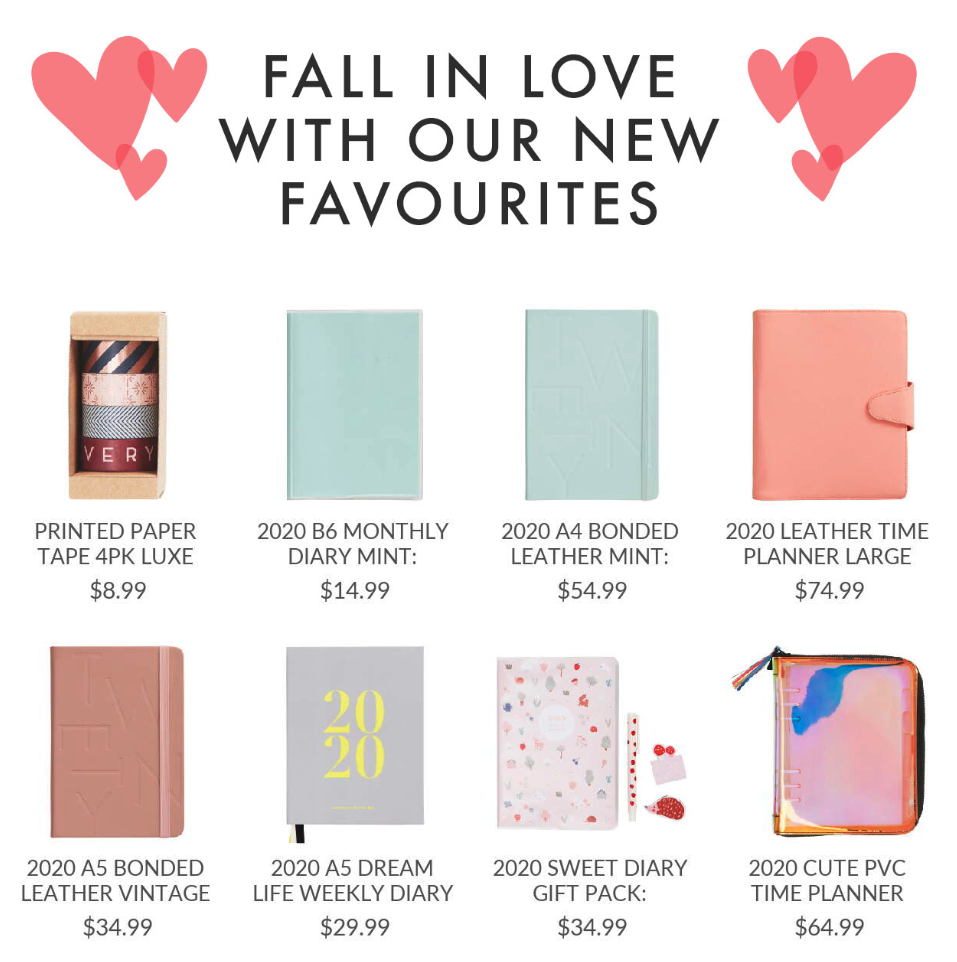 Yet, they cleverly frame it around the love theme.
Valentine's theme isn't only great for promoting your products in disguise. It can also help you keep your subscribers engaged, collect customer feedback, or promote your customer loyalty program.
Tarte chooses the last objective and sends this email with the subject line "An Early Valentine For You 💌":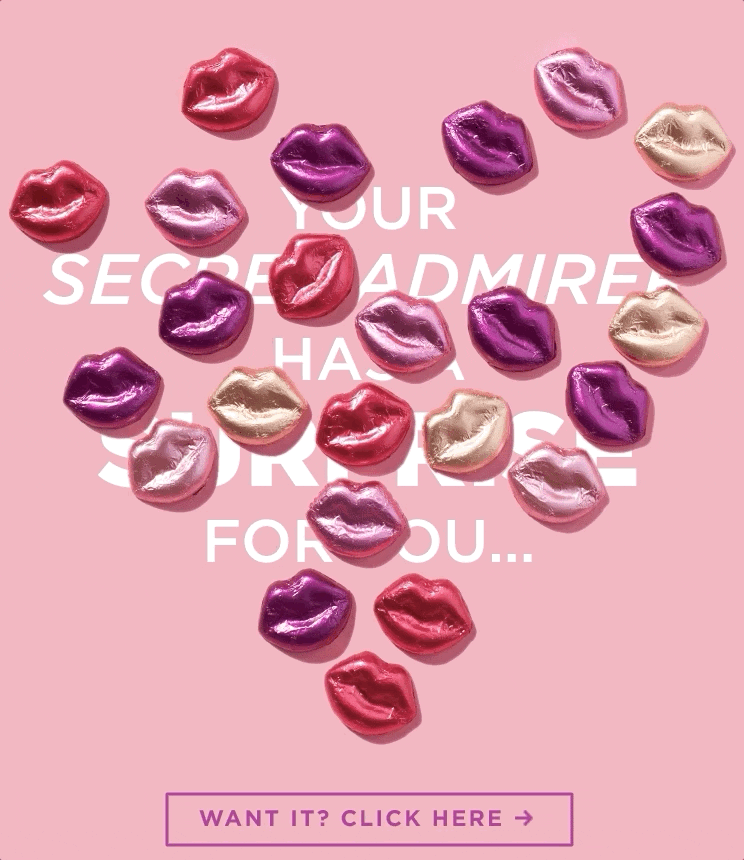 The email successfully evokes curiosity by imitating a mysterious love letter. When you click the CTA button, you find out more about the surprise of your secret admirer: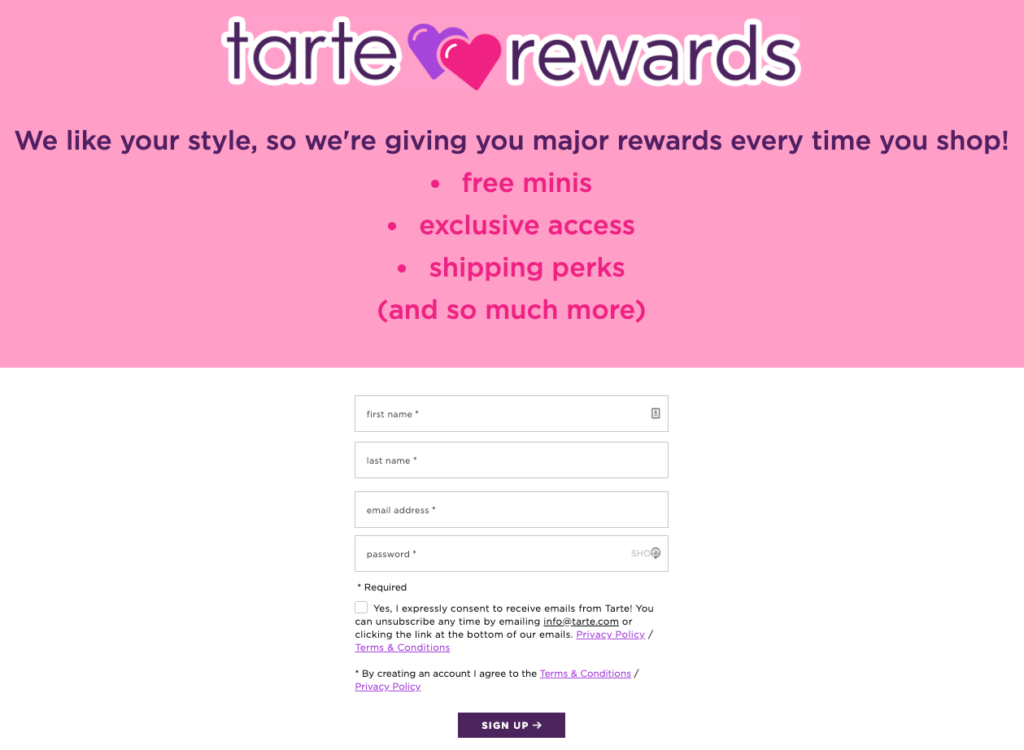 You get to learn that Tarte is, somewhat frustratingly, promoting its rewards program with this mysterious email.
It's hard to draw a line, but be mindful of the expectations you set in these types of emails and try to deliver on your word.
11. Offer a Limited-Edition Product
This strategy isn't for everybody (and it certainly isn't a last-minute project) but if you have the resources to go the extra mile, it's perfect for creating exclusivity and driving scarcity.
Take a look at how BarkBox promotes its limited-edition Valentine's Day product: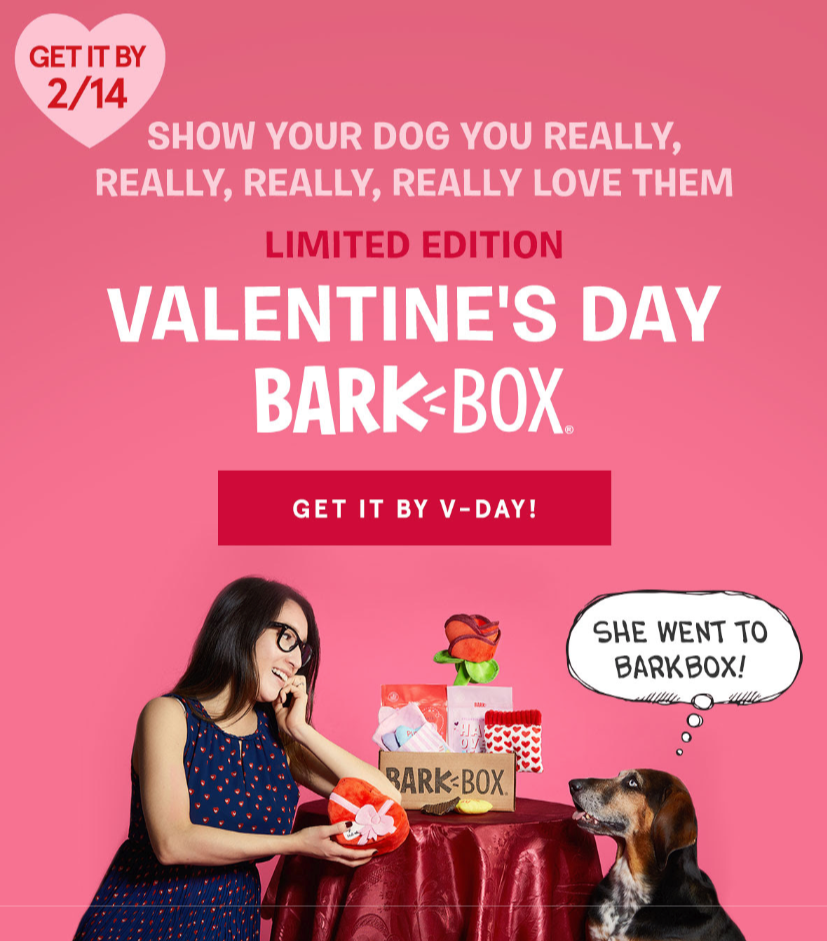 You might think that a company selling subscription boxes with dog toys and treats can't have much to do with Valentine's Day, yet, BarkBox would prove you wrong.
With their limited-edition Valentine's-themed box, the company takes advantage of this day by thinking outside the box (no pun intended.)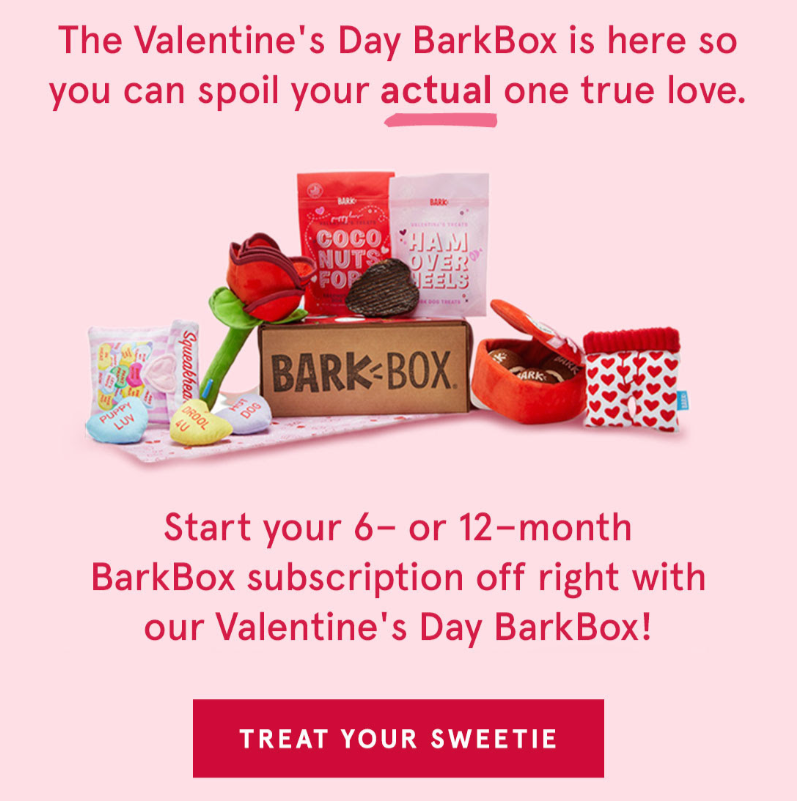 Throughout the email, BarkBox repeats CTAs inviting you to appreciate your dog by saying, "Show your dog you really love them" and "Treat your sweetie" because if you're a dog owner, it's hard not to act on these sentences.
It's a clever (and funny) way to tie Valentine's Day to your products without forcing it. And it's a good excuse to bring back your old inventory and run a last-chance campaign.
Conclusion
Whether you're on the hunt for last-minute Valentine's Day email ideas or looking for a high-commitment, out-of-the-box holiday marketing strategy, give these tactics a chance.
No matter what you're selling, I'm sure you'll find some inspiration for your next Valentine's Day campaign (or any holiday, for that matter.)