Low-in-stock, last chance, almost gone … If you're an avid online shopper, these words probably make your heart pound.
Not wanting to miss out on a good opportunity, we're quick to buy while stock lasts.
Knowing this, many marketers use scarcity to trigger consumers' fear of losing their freedom of choice.
However, most of them think that for scarcity to work, they have to offer a big discount.
Combining scarcity-driven emails with attention-grabbing subject lines can convince subscribers to make faster purchasing decisions—without you needing to discount your products.
If you need some inspiration, here are nine of the best scarcity email examples we've seen.
9 of the Best Scarcity Email Examples
1. Specify with Numbers (Fabletics)
Tell me which of the following sounds more convincing:
This product is popular at the moment; or
250 others are checking out this product right now.
If you're like most readers, you'll pick the second option for at least two reasons:
Numbers help us understand a situation more easily; and
Numbers add credibility to our claims.
To explain this further, check this email subject line by Fabletics:

When I saw my name in my inbox, I felt obliged to open the email without much thought. After all, would you not open a letter addressing you by name?
More importantly, the email alluded to something I would love. And with the scarcity added on top, I couldn't miss it.
Using the number of available items in the subject line, the company makes you believe in the scarcity of the product, urging you to open the email and make a quick decision.
In the email, Fabletics co-founder Kate Hudson promotes their limited-edition product line by focusing on its limited availability: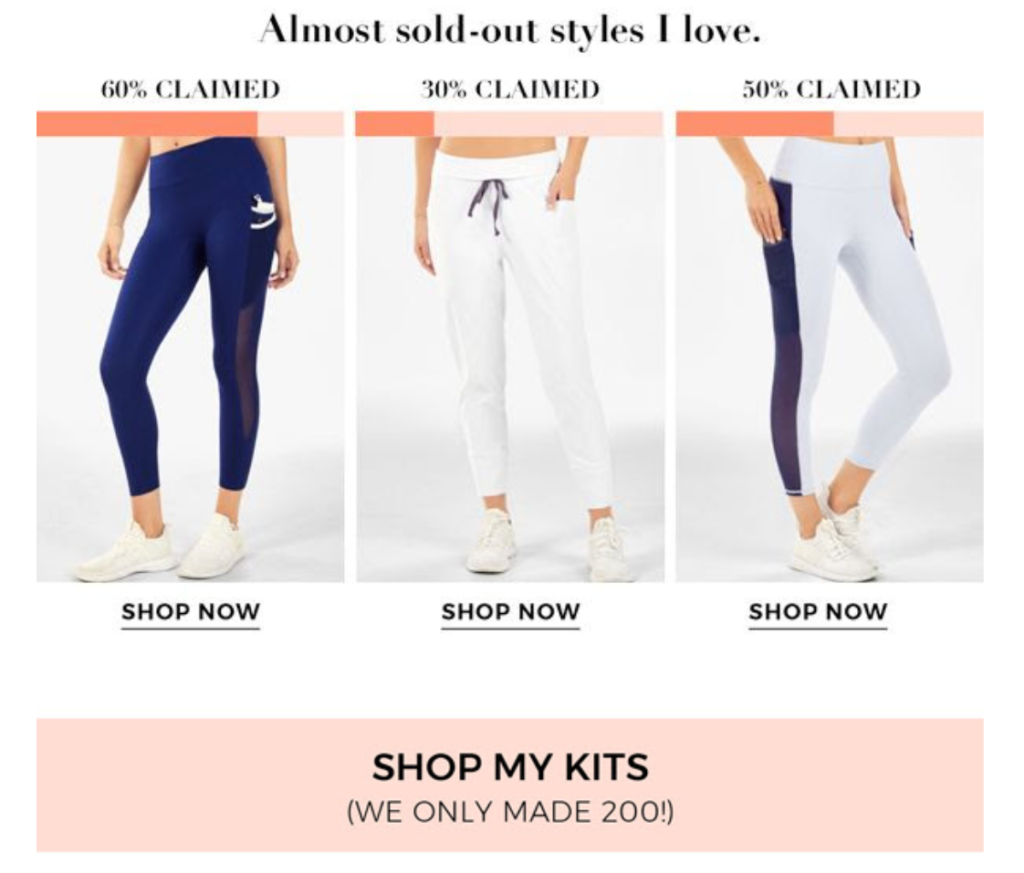 The company shows the percentage of the products left in stock to prove their popularity and scarcity.
Next, they add even more scarcity by reminding subscribers that they're "almost sold-out."
Finally, they stress the total number of products one more time in their call-to-action (CTA) by saying "We only made 200."
This email is a brilliant example of leveraging scarcity by combining it with other psychological triggers:
Fabletics evokes curiosity with an attention-grabbing, personalized subject line;
The brand borrows authority from its celebrity founder and uses it as social proof;
They create exclusivity by calling their product category "ultra-limited edition;" and
They repeat the scarcity of their products several times across the email.
You may not have a famous co-founder but you can easily use the power of numbers to highlight the scarcity of your products.
2. Evoke the Possibility of Selling Out (AYR)
It's not only your inventory that can trigger a sense of scarcity for your prospects.
There are many other product attributes you can include in your emails to drive urgency, but the number of people in your waitlists is among the best ones.
Be it a waiting list for out-of-stock items or soon to be released products, showing the number of people on a waitlist teases the possibility of selling out.
You must have seen those people waiting all night in line to get their hands on a newly-launched product; maybe you thought it was a bit crazy. But sometimes people wait for the more rational reason: buying an item before it sells out.
That's the kind of thinking AYR triggers in their emails:

At first glance, you might find this statement superficial. But when you open the email, you see that AYR proves the scarcity of the product: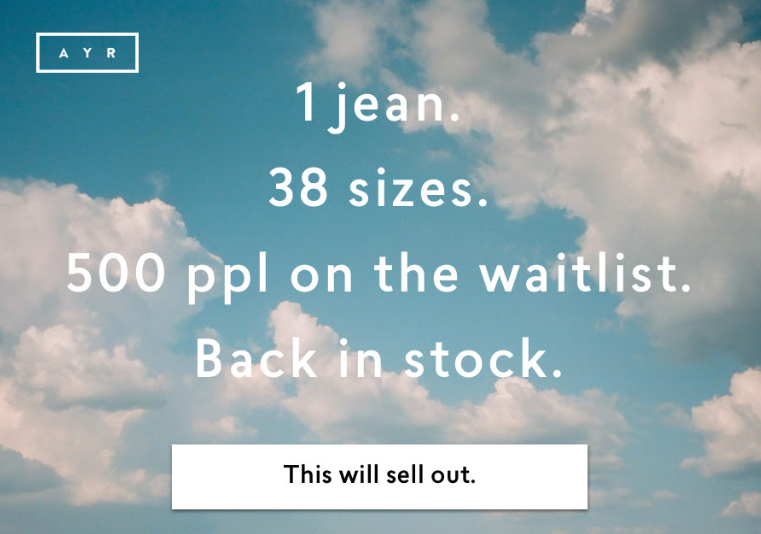 AYR successfully uses scarcity in this simple email by:
Informing subscribers that the product has been out-of-stock before; and
Showing the number of people on the waitlist as proof.
This way, the company evokes the possibility of selling out. After all, if a product sold out before, it's likely to go out-of-stock again.
Sometimes, AYR goes one step further and promotes their low-stock items with an email like this: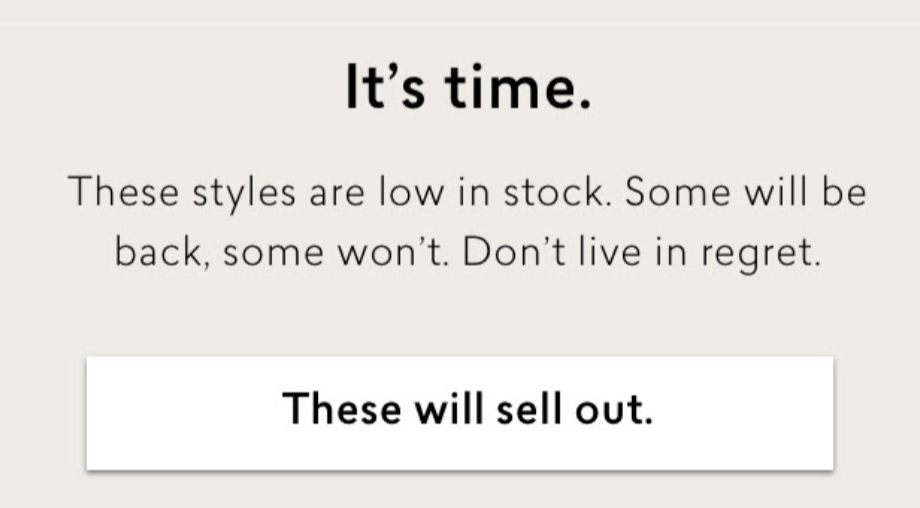 After triggering your fear-of-missing out (FOMO) by saying "Don't live in regret," the company warns you that "these will sell out."
It's a bold move, but it's worth trying.
3. Add an Incentive (Brooklinen)
Although scarcity is an effective trigger, it's not always enough on its own to convert subscribers into customers.
Adding an incentive, such as a discount code, to your scarcity-infused emails can nudge prospects to make faster buying decisions.
Check this email Brooklinen recently sent to me: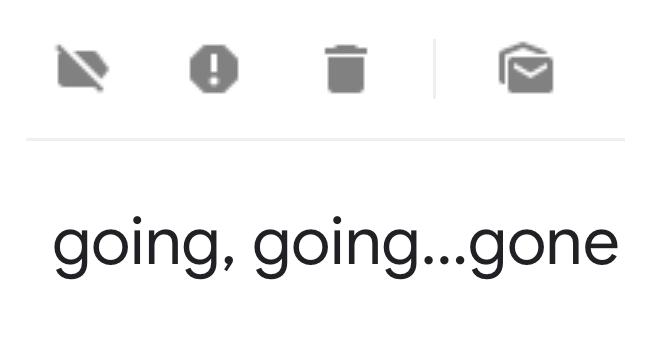 After driving urgency with this mysterious subject line, they promote a product in the email: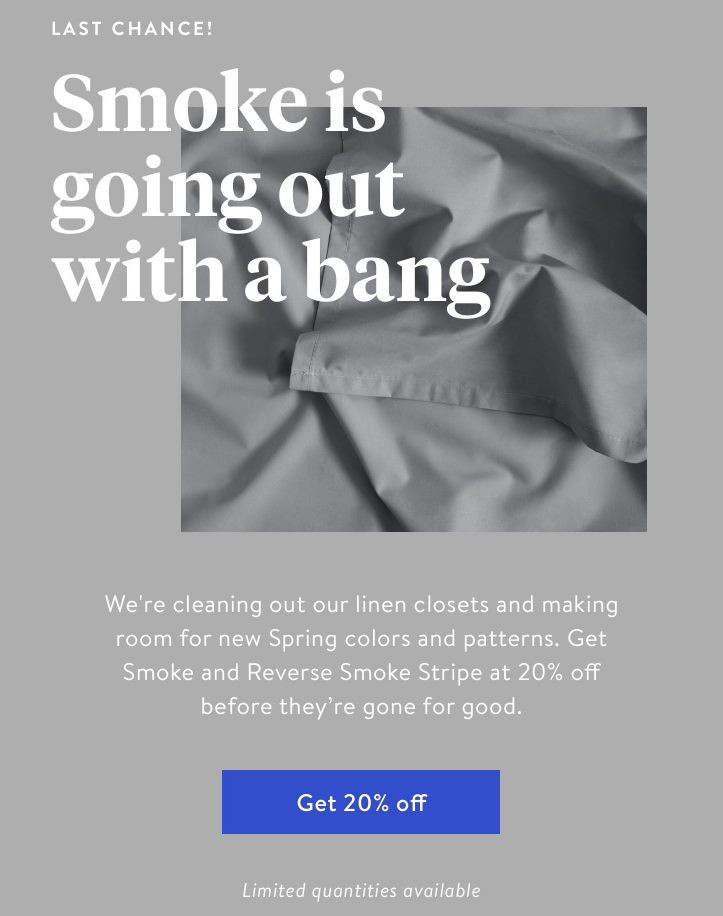 Beginning with a warning that reads "last chance!" Brooklinen's email is framed around the scarcity of availability of a certain product collection.
Knowing that consumers don't always buy the "almost-out-of-stock" trick, Brooklinen gives a reason for why this is your last chance to buy this product. And it's simply because they're cleaning out to make room for the Spring line.
That's why they invite you to purchase these products "before they're gone for good." How awful does that possibility sound?
Finally, after backing up scarcity with a logical reason, Brooklinen offers you a 20% discount.
The discount code will work here for two reasons, one more obvious than the other.
The obvious reason is prospects will more likely buy a product at a reduced price. The less obvious reason is prospects will know that a product on sale will sell out more quickly.
Brooklinen finishes the email with a benefit-driven CTA, which is followed by the scarcity-driven reminder "limited quantities available."
4. Focus on the Exclusivity (Mack Weldon)
Most people associate scarcity with demand or seasonality.
But there's another type of scarcity that brands often overlook and that's exclusivity.
Consumers are tempted by exclusive items and offers. After all, we all want to feel special.
Check out how Mack Weldon focuses on the exclusivity of their All Black Everything Pack: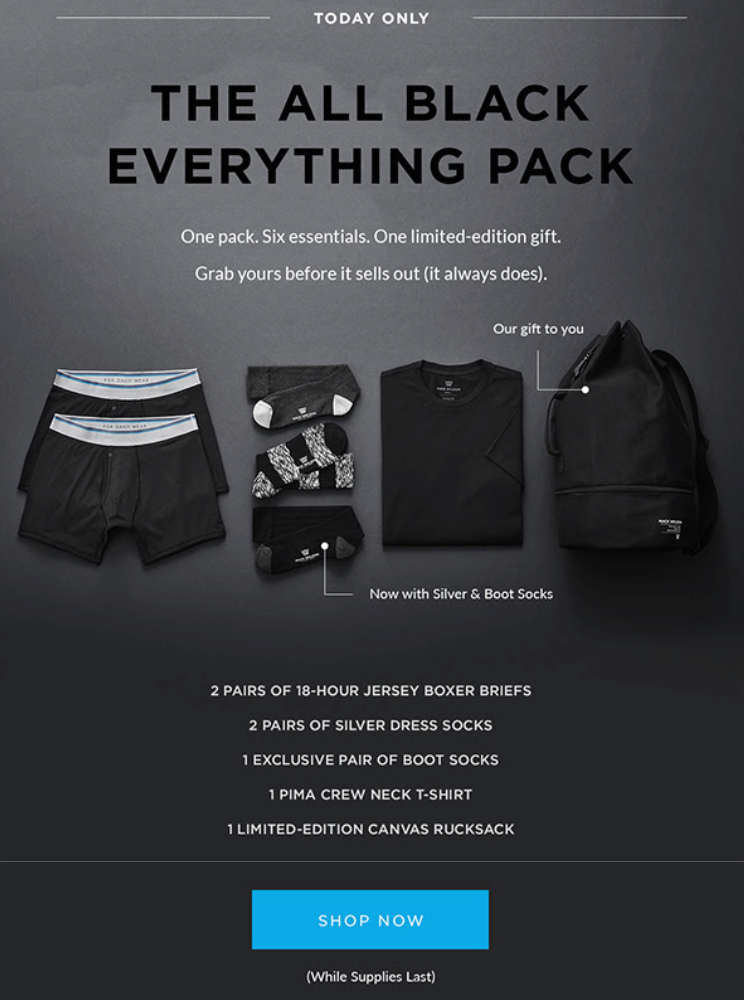 Using a black color scheme that is often associated with sophistication and elegance, Mack Weldon wants you to know that this is not just any other product. That's why they suggest you shop now "while supplies last."
But it gets more interesting.
Notice two products in the pack: "1 exclusive pair of boot socks" and "1 limited-edition canvas rucksack."
Even though the rest of the products can be bought anytime during the year, the company makes the difference by adding those two items into the pack.
Suddenly, it becomes an exclusive product that you must have before it sells out.
Next, the company wants you to act quickly by driving urgency and scarcity. Since it's a today-only offer, you don't have much time to think about it (or else you'll miss out.)
How do they know?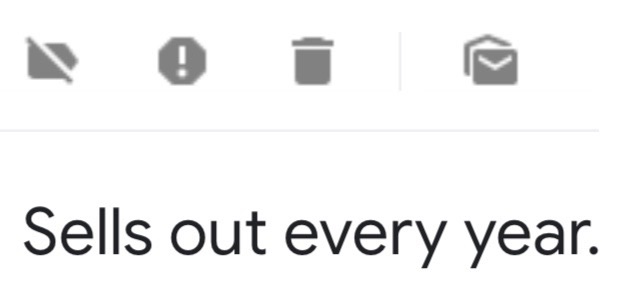 Because it sells out every year.
If you're not convinced by this time-bound, exclusive offer, they give you a valid reason to believe that it will sell out this year, too.
5. Use Power Words (Ban.do)
Scarcity is a powerful marketing tool. But it works even better when you combine it with other psychological triggers such as urgency, FOMO, and best of all, power words.
Here's how Ban.do does that:

This subject line is crafted carefully by using multiple triggers. It drives urgency, implies scarcity, and uses a magic word we all love: free.
Be warned, though: Words that drive urgency such as "hurry" are overused by e-commerce marketers and immunize consumers.
But Ban.do manages to grab your attention because it's the "free stuff" that's about to be gone, and that's too good to miss.
This is what the email looks like:
Here, you learn what they mean by "free stuff": free shipping and a freebie on orders over $50.
Offering free items or services and highlighting their scarcity with power words is a smart tactic when you don't want to discount your products. Plus, it converts your prospects who are blind to discount codes.
Finally, Ban.do ends the email with a benefit-driven CTA button that goes beyond "Shop Now."
6. Leverage the Holidays (BarkBox)
The holiday season is a busy time for everybody. But it's especially laborious for e-commerce marketers.
If you run an online store, you know the importance of timing. You have to email your subscribers in good time so that they can purchase their gifts from you before it's too late.
But there's one particular customer segment that is a goldmine in this season and that's last-minute shoppers.
And best of all, tactics like scarcity and urgency works like a charm on them.
Knowing this, companies like BarkBox send out a scarcity-infused holiday email targeting last-minute shoppers:

As a brand that cleverly uses humor in its email marketing, BarkBox catches procrastinators' attention with a pun.
The company knows that you're already in a panic, so they're not trying to hard-sell to you. Instead, they comfort you by reminding you they have your back.
This is beyond a short-term strategy. BarkBox knows that you'll likely remember and appreciate a brand that helped you when you were in need. And that's how they can turn you into a lifelong customer.
Here's what the (super cute) email looks like: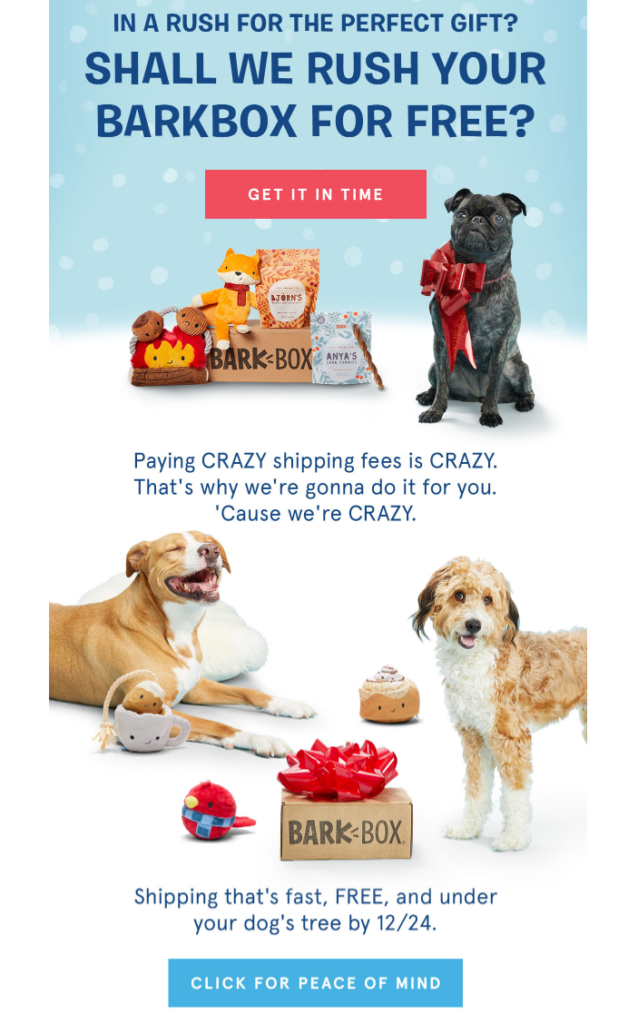 Knowing that you don't have much time, they nudge you to order your gift now and claim free rush shipping. Asking "Shall we rush your Barkbox for free?" almost frames it as a selfless act.
Pay close attention to the CTA buttons BarkBox uses. The first one "Get In Time" implies the obvious benefit of ordering a gift from the company. And it hints that you have to buy it now.
The second CTA "Click for Peace of Mind", on the other hand, focuses on the emotional benefit of having a big relief.
All in all, the company successfully pushes you to take action during an important time by stressing the scarcity of time and availability.
7. Offer Pre-Launch Pricing (Beardbrand)
Nobody enjoys paying more for a product later if they know they can get it at a cheaper price today.
That's why many companies offer early-bird prices to their subscribers, whether for a book launch or a new product collection.
Luckily, offering pre-launch pricing already contains a sense of scarcity and urgency since it's either time-bound or limited in number. All you need to do is to highlight the scarcity in your emails.
Here's a brilliant example by Beardbrand: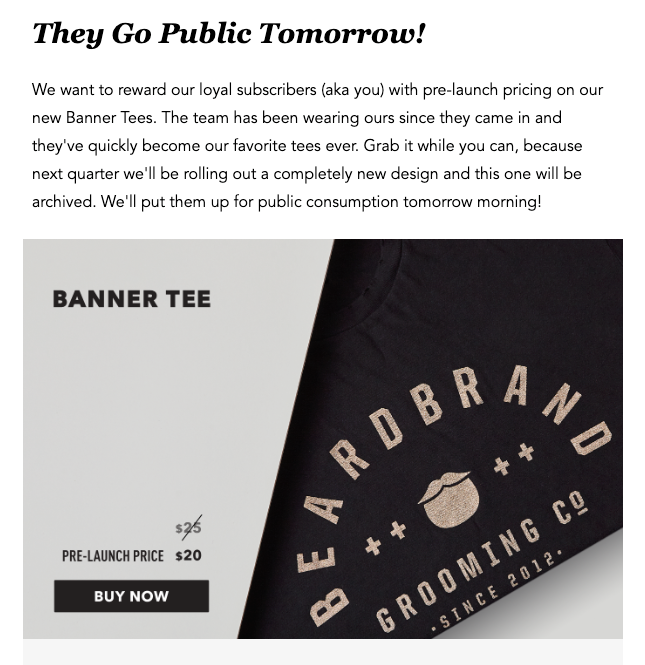 Beardbrand runs a subscriber-only email campaign where they reward their email list with pre-launch pricing.
Similar to Brooklinen, the company gives a reason for both:
Why you won't be able to buy this product soon (because this design will be archived); and
Why it might sell out after today (because they'll be up for public consumption tomorrow).
There's a smart pricing strategy at play here.
If you're considering buying this product, this will probably be the nudge you need. If you buy today, you'll only pay $20. But if you buy it tomorrow, it'll be $25. As a rational consumer, you'll likely buy it now.
Beardbrand chooses a more indirect and less triggering subject line for this email: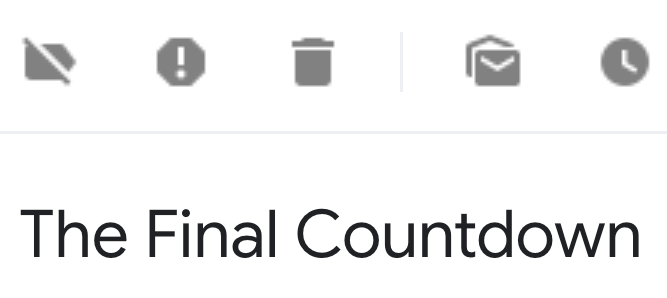 It's a simple yet effective way to promote product launches or upcoming sales to your subscribers without being pushy.
8. Encourage First-Time Purchases (Rifle Paper Co.)
Nudging prospects to move down in your sales funnel is tough.
You're likely using email marketing to convert your prospects from the consideration to the decision stage. And you know that it's a common practice to offer discounts to first-time buyers.
But what if you don't want to discount your products?
Maybe you can't afford it or think discounting will decrease your products' perceived value.
Instead, why not offer something tangible to encourage first-time purchases and use scarcity to enhance it?
Everybody loves freebies. Similar to the Ban.do example above, Rifle Paper Co. uses scarcity to convert their subscribers into first-time buyers: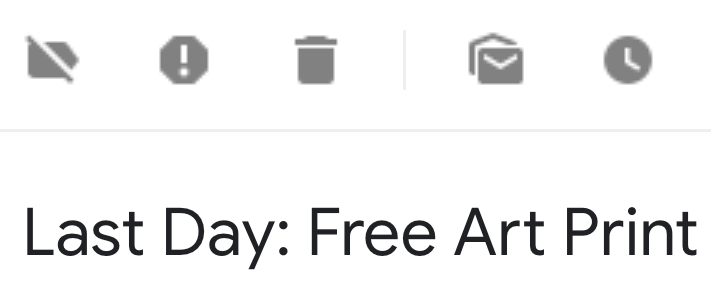 If you're on the company's email list but haven't yet made a purchase, you know that this is a good time to become a customer because this is the last day you can get a freebie.
This is what their email looks like: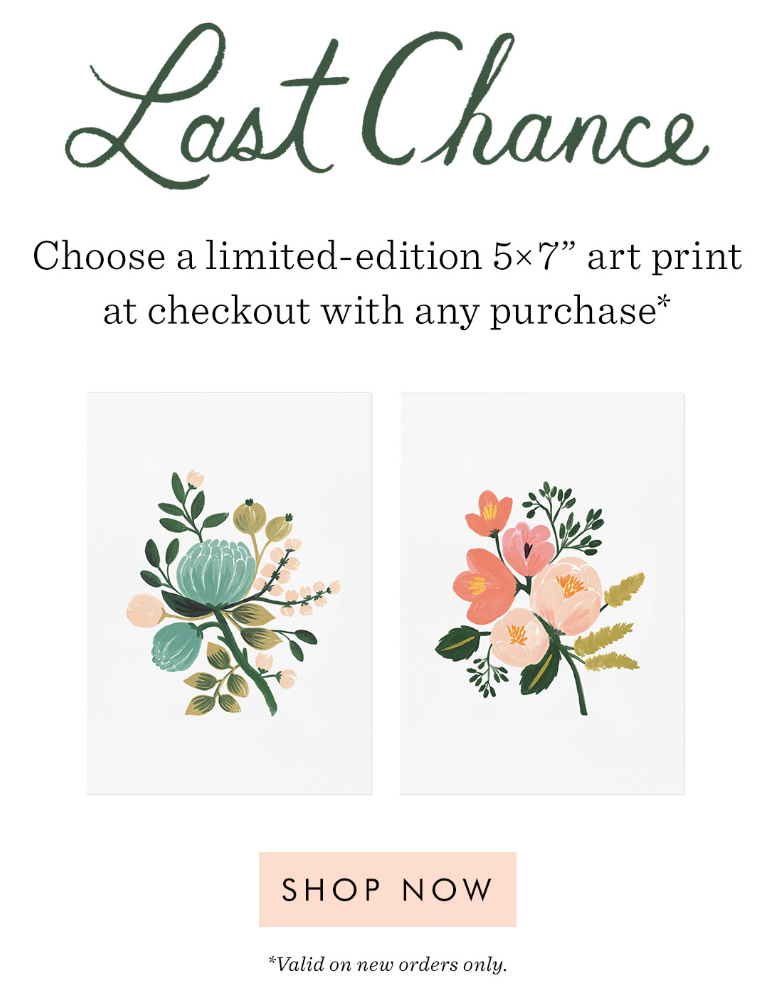 This email works for several reasons:
It drives urgency with a time limit;
It uses the magical word "free"; and
It offers a limited edition freebie at checkout to increase conversions.
9. Offer Time-Sensitive Free Shipping (Chubbies)
Let's agree on something. Scarcity doesn't only mean the number of available products in stock or a discount code that will expire after a certain time.
It also means that a given benefit will become unavailable if you don't act on it, say, within the next five hours or if you're not among the first 500 customers.
Most e-commerce businesses couple scarcity with discounts. Since everybody does it, this is what consumers' inboxes look like:

(This is actually from Rikke's inbox.)
If you're not willing to give away a free product, you can offer your customers a time-bound benefit that is equally valuable.
Check this email I got from Chubbies: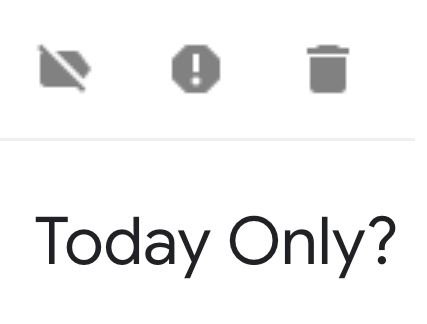 It's different from the emails Rikke received because it evokes curiosity and stands out among the long, salesy subject lines.
This is the content of the email: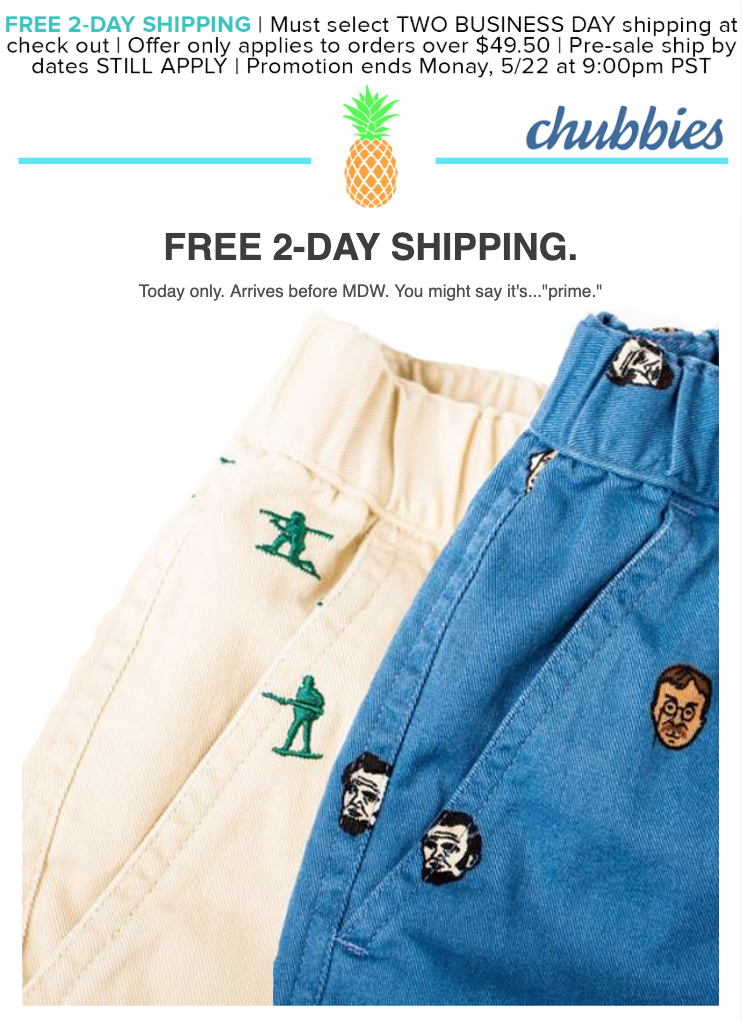 Free shipping is one of the top incentives that help customers to spend more and Chubbies knows this well. That's why they combine it with scarcity and offer their subscribers free shipping that is only valid for orders placed today.
In the remainder of the email, they suggest products to make it easier for you to use this incentive before it's too late.
Known for their long and humorous emails, Chubbies repeats the special offer at the bottom of the email, too.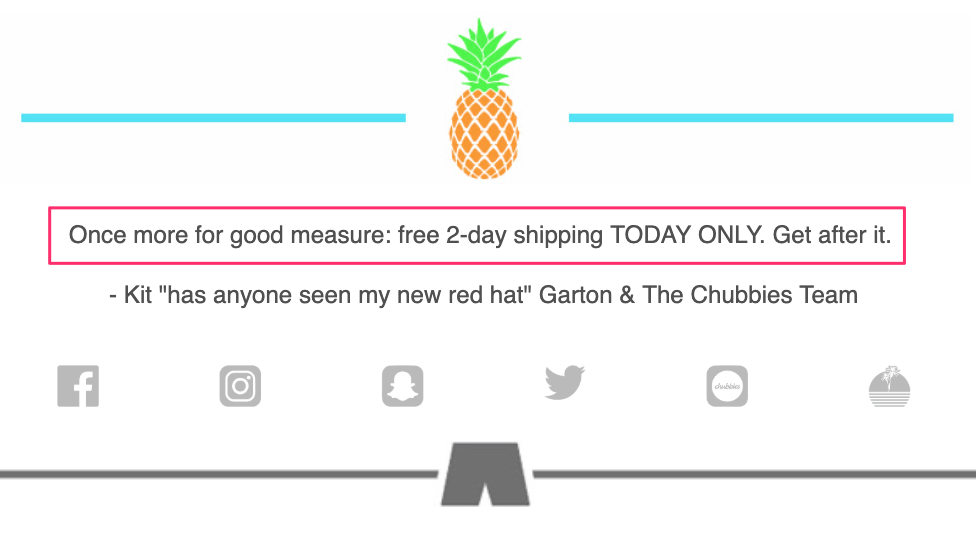 Conclusion
As opposed to the common misconception, there's more to scarcity marketing than discounting.
For the best results, try combining it with other psychological triggers and use it across your email marketing.
Always remind your readers what they might miss out on with benefit-driven copy and get ready for higher conversions.