Stripe
Stripe builds powerful and flexible tools for internet commerce. Whether you have a subscription service, an on-demand marketplace, an ecommerce store, or a crowdfunding platform, Stripe's functionality will ensure the best possible payment experience for your customers. With Drip and Stripe together, you'll be able to trigger your automation steps based on the events you receive from Stripe. Anytime we get data from Stripe, we'll create or update a customer based on the event sent in from Drip. From there, you'll be able to stay engaged with your customers throughout the entire purchase cycle.
Trigger your workflows and other automation rules based on data you receive from Stripe.
Grab Your Demo
Key Features
Create or update a person's data whenever an event happens in Stripe

Automate Drip actions based on events from Stripe

See event data from Stripe on the Drip Customer Timeline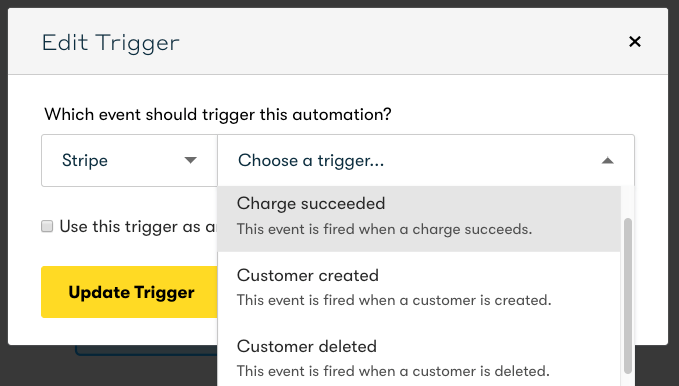 x
Wanna see Drip from a fresh angle?
Craving a more hands-on experience? Take 2 minutes and see what your shoppers see when you use Drip with this interactive experience.
Start my experience