Goodbye, list-based sends. Hello extreme(ly powerful) segmentation.
The verdict is in, better segmentation translates to more sales. And when it comes to Drip vs Mailchimp, we've got better segmentation by a landslide.
In fact, powerful, money-making segmentation is something we're known for. With Drip, you get to hyper-segment your audiences, speak to customers on an individual level, and deliver curated shopping experiences that connect with humans like they're humans. Not robots.

Looking for advanced segmentation with Mailchimp? Their pricey $299/month premium plans are the only way to access anything even remotely close to the kind of dynamic segmentation we offer to everyone.
Whereas Mailchimp is not set up for advanced marketing automation, Drip excels at it.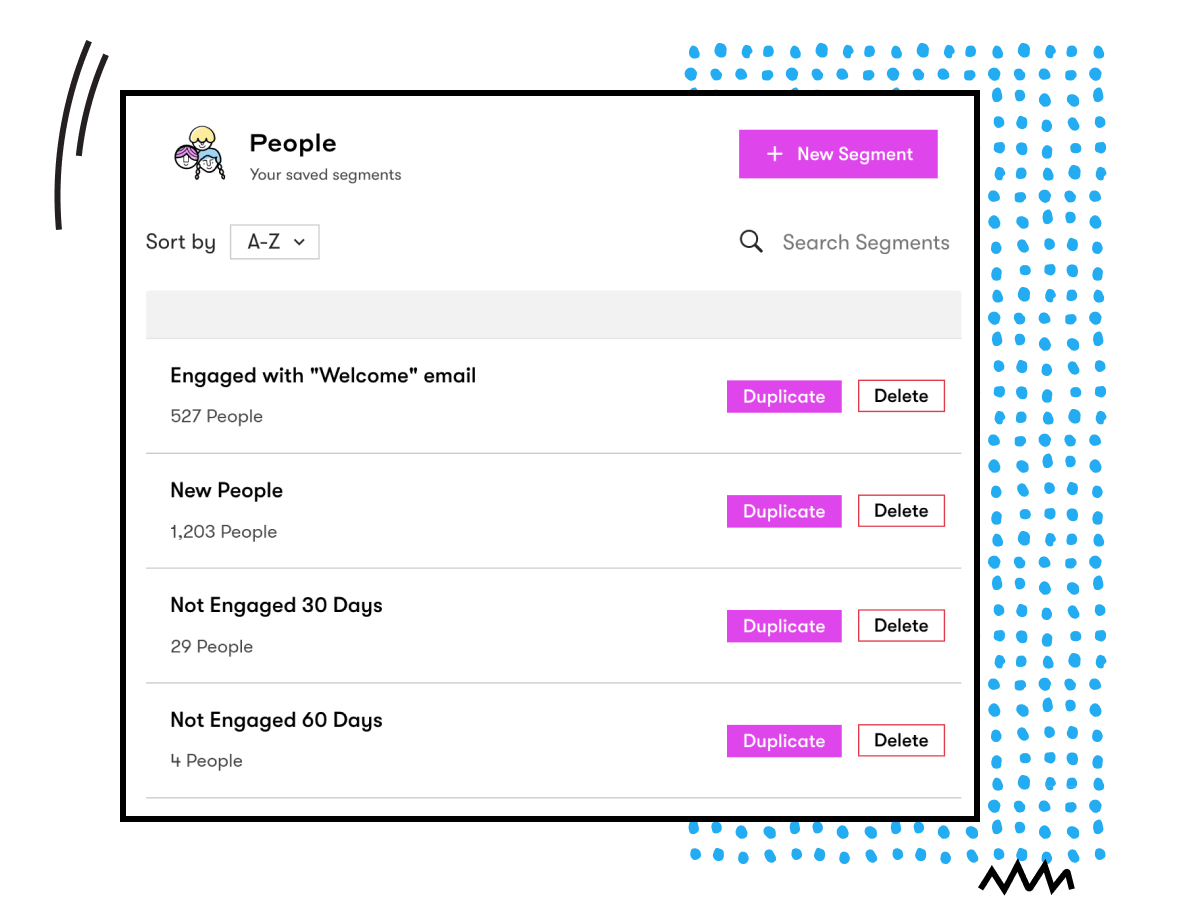 "Drip is the best email marketing software we have ever used, its the perfect cross between MailChimp (the visuals and ease of use) and Hubspot (the CRM and advanced capacities). Visually it's a treat to work with and the team is constantly coming out with updates and improvements, never stagnant. Highly recommend."
Franc, certified B Corp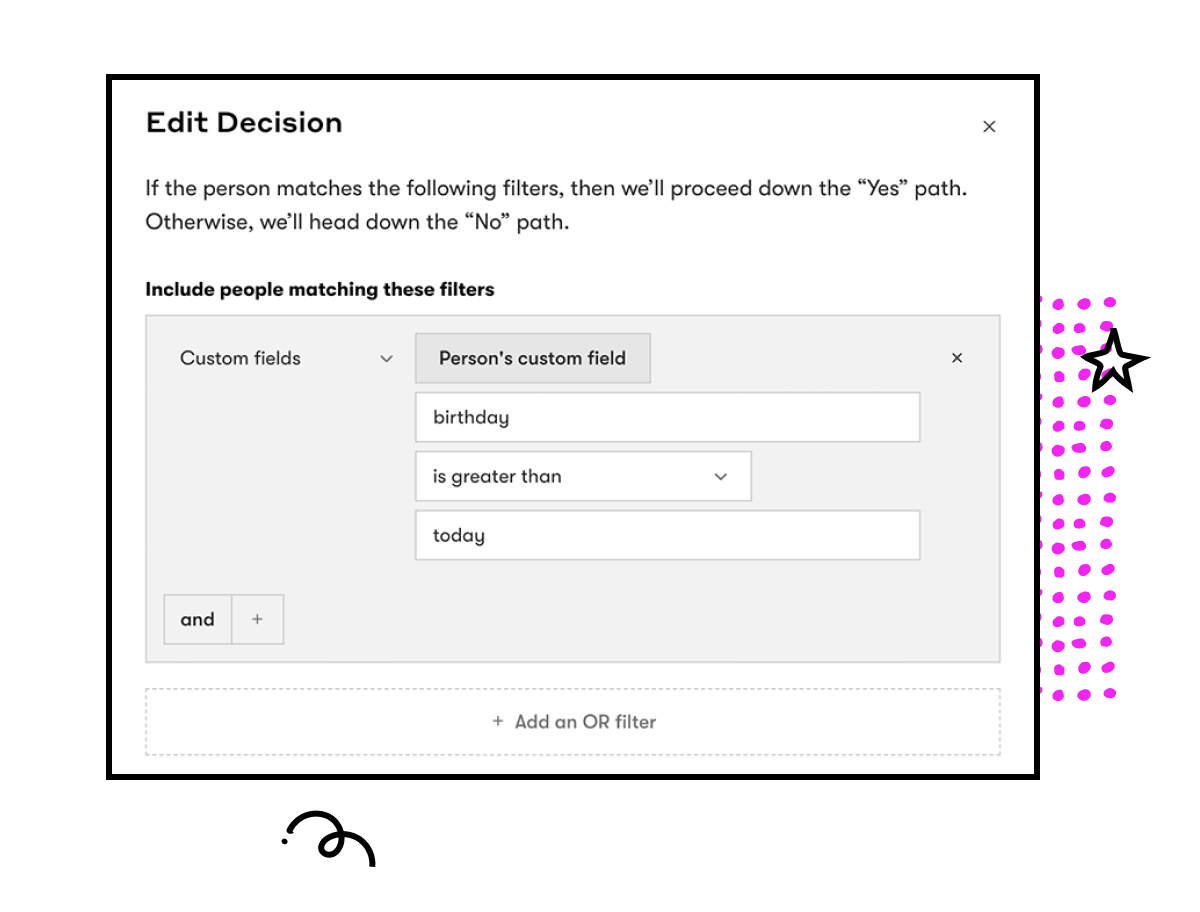 Easy doesn't mean basic. It means more functionality and power, in less time.
When you switch from Mailchimp to Drip, easy, empowering, and modern take on a whole new meaning.
Our intuitive visual builder, saved segments, pre-built automations, campaign templates, and easy-to-use everything come together to deliver an experience that's unlike any other in the industry.
Compared to Mailchimp and other platforms, our superior (oh-so-easy-to-use) visual automation builder knocks it out of the park.
You can tap into it to build high-converting emails, forms, and audience growth campaigns in minutes, all while maintaining brand consistency with ease.
Plus, pruning audiences and improving deliverability with Drip is an absolute breeze. As it should be.
I switched to Drip from Mailchimp and enjoy their automatic retargetting and it's just so much easier to use and design emails and automatations. Love it.
Ixil Collective

Hey, ecommerce brands. We were made for one another.
Drip was built with ecommerce in mind. Every element of our automated marketing platform is designed to make it as piece-of-cake for you as possible to grow your ecomm brand.
With dynamic features like liquid templating, a visual automation builder, and deep integrations (not to mention our dashboards and templates, automations, and workflows), it's all built with you and your online biz in mind.
You're welcome.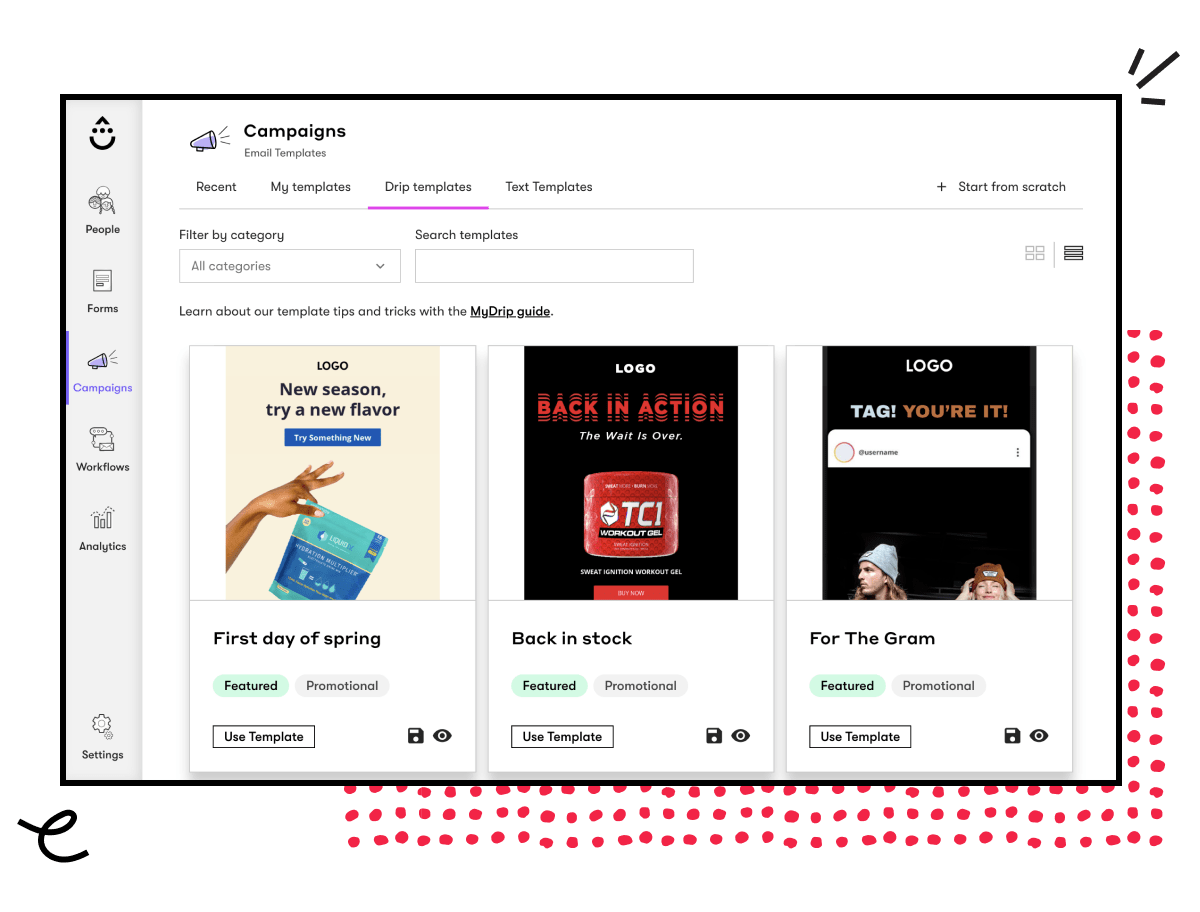 We love Drip's intuitive and user-friendly automations and the ability to automatically retarget specifically those people who didn't open your email. We switched from Mailchimp and don't plan on going back!
Amano Marketplace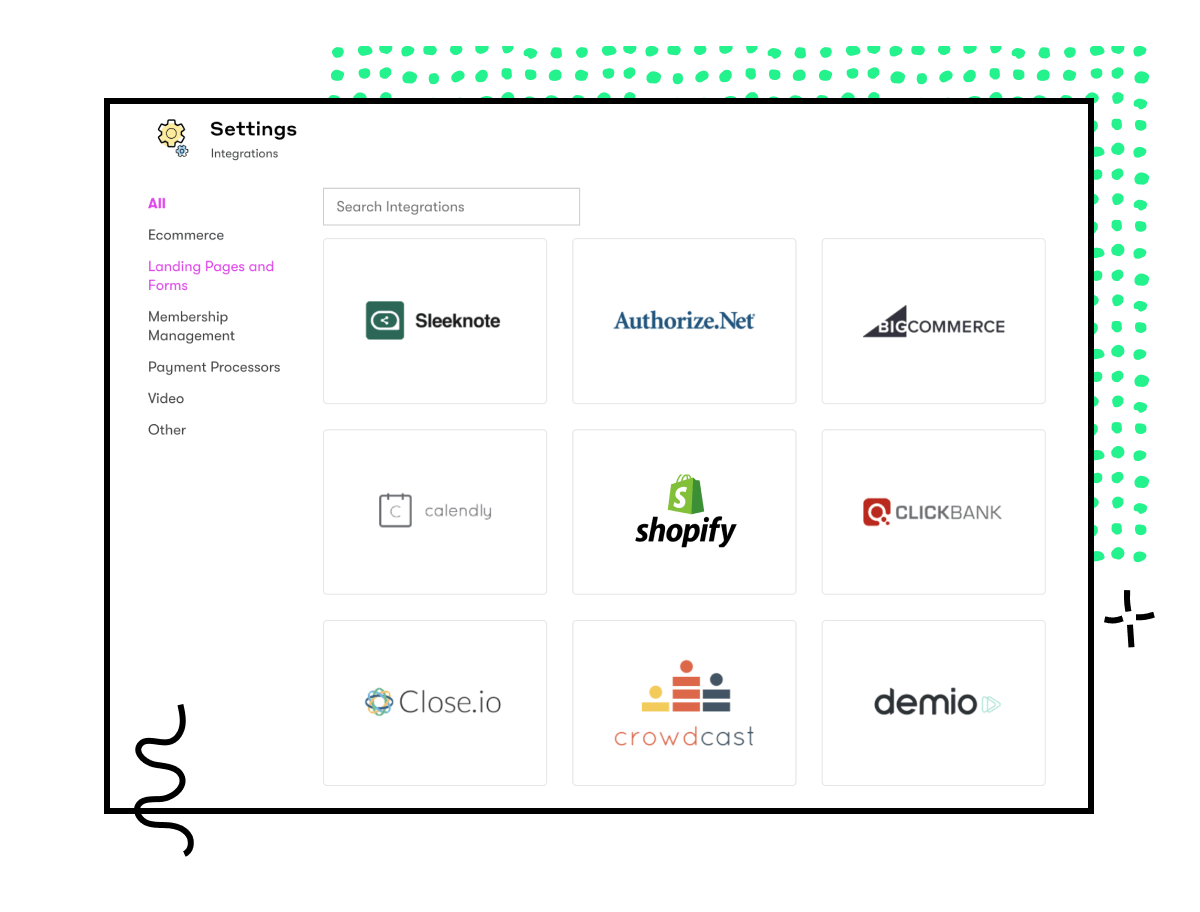 Drip integrates with Shopify without a hitch.
If you're an ecommerce brand, Drip's integrations are honestly hard to beat. Sure, Mailchimp has a ton of integrations. But when it comes to Mailchimp and the holy grail of them all (Shopify), things aren't as smooth as you want them to be—the two integrate, just not well or seamlessly.
And with Drip? From Shopify, WooCommerce, Magento, BigCommerce, and beyond, to our Shopper API that plugs custom stores straight into their data, our ecomm-driven integrations sync up with ease so you can make sure you squeeze the most out of your store.
The Drip platform and Shopify integration is brilliant. We've been using them together for the past 18 months or so and have a number of automations running. Their support is also great. You won't be disappointed.
Beards & Daisies

With Drip, you're never alone.
With a 99.9% customer satisfaction rating, our team of intelligent, kind, attentive humans is like your own personal support posse. All you have to do is start the conversation (through live chat or by booking a one-on-one with a Drip expert) and we'll already be pulling up a chair, ready to help you fill in the blanks and figure out the details.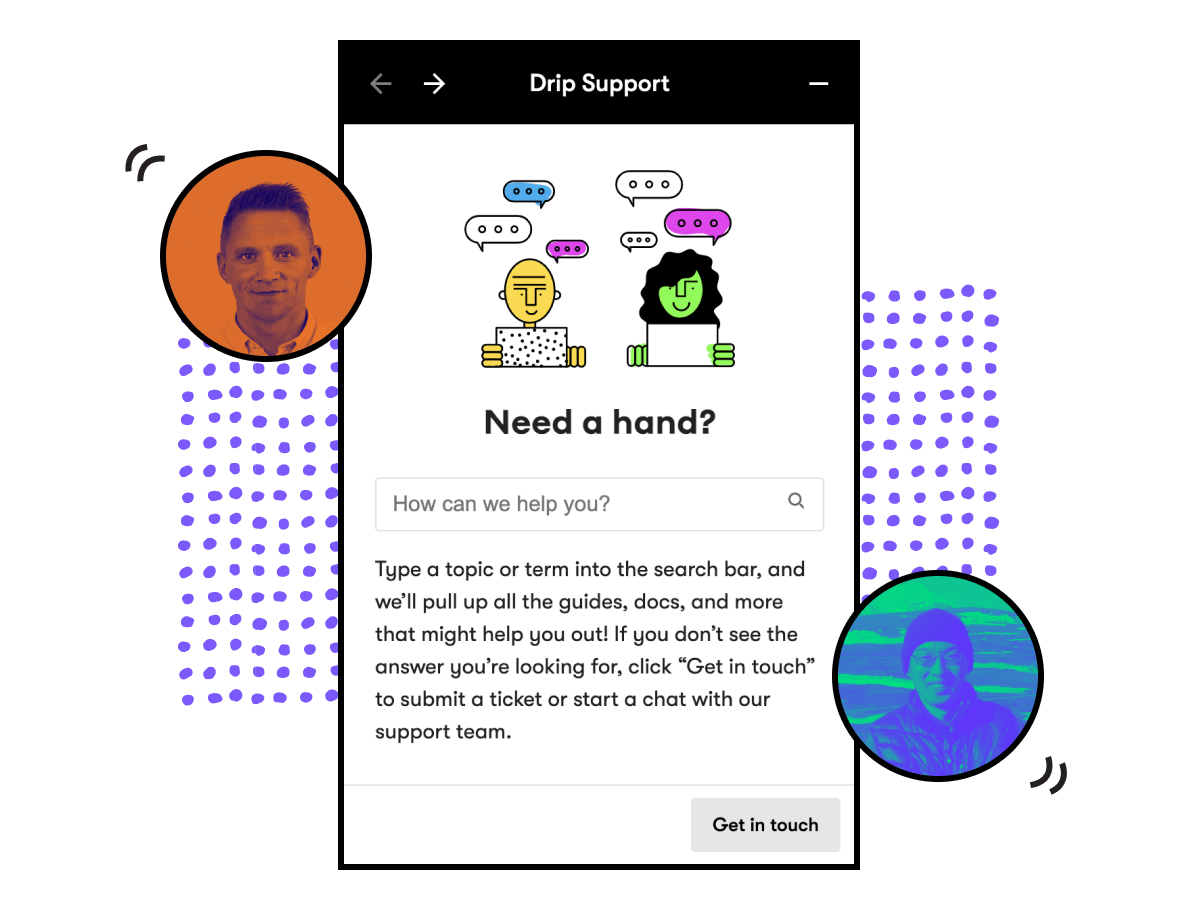 Why Switch from Mailchimp to Drip?
Don't take it from us. Y'all say it best.
"I installed Drip for a client and migrated their Mailchimp list there. The e-commerce integration allowed us to implement browser abandonment, cart abandonment and product-specific follow up emails, quickly and easily."
"We jumped over when Mailchimp got kicked off of Shopify, and it's been a great tool to use as we've tripled out list in that time."
"Really simple UX and can be easily taught to anyone! I started using MailChimp, but decided I need to invest in our email marketing. Drip has been an easy, turn-key solution that has increased ROI."
"The automation rules and visual workflows allow you to have specific segmenting and to send very targeted emails. This is something that MailChimp was not able to achieve."
"We shifted from Mailchimp to Drip because Mailchimp wasn't intuitive enough for us. We're entrepreneurs, not digital emailing experts, so we needed something easy to use. Drip proved to work like a charm, so we're now getting a lot more efficient at sending emails! Also, the ease of using tags automatically when users register on our site is fab and making our life incredibly easy from a workflow point of view."
"I switched from Mailchimp to Drip a few months a go and I'm really impressed with the features that Drip has. You can create amazing workflows using pretty complex logic, and its pretty easy to use too. The guys at Drip have been really helpful getting things set up and moving."
Drive more sales with Drip today.
Start a 14-day free trial of Drip, no credit card required.