If you're looking for good email subject lines to use for your marketing campaigns, you're in the right place.
We've compiled 180+ email subject lines from real brands and organized them by type, industry, and season.
Read the article in full, or jump to a section of interest using the table of contents below.
1: Subject Lines by Type
In Part 1, we'll share our favorite email subject lines by type. Whether you're looking for curiosity subject lines to drive a higher open rate or promotional subject lines to launch new products, we have you covered.
Personal Subject Lines
Adding a person's name in an email's subject was once considered the be-all of personalization.
Today, however, it's no longer enough to address a recipient by name directly in the subject.
Instead, you need to talk to your recipients like you've known them for years.
Chubbies are our favorite example of a brand that beautifully illustrates this principle.
Check out this personal subject line from an email our colleague Rikke received recently:

Using a person's name is one thing, but creating a nickname, one that's unique to each reader, is something else entirely.
In another email, the brand builds on the above personalization by mentioning Rikke's home city, Aarhus, in the preview text.

There is no Lake Aarhus. Nor is there for the majority of cities Chubbies have in their CRM. But it doesn't matter—it felt like the brand had written it for Rikke and Rikke only. After all, how many other brands have given her a nickname?
Subjects like the above are ultra-unique, personalized, and above all, enticing enough to get people to open their campaigns.
Personal Subject Lines
Flat Tummy Co: 😏 Rikke – ready to move a few stubborn LBS?! 😏
Birchbox: Rikke! A Free Birchbox for You When You Gift
Vinomofo: Can't decide, Rikke? Get Shiraz & Co NEW mix!
ColourPop Cosmetics: Rikke, you don't want to miss this…
Fabletics: Hey Seray, we picked these for you!
(Fenty Beauty): Only the best for you, Seray
Fabletics: Seray, this is so you and it's 70% off!
Torrid: Hey Seray, ready for some Disney magic?
Joybird: We'd love your feedback, Seray!
Promotional Subject Lines
If you're trying to sell more with email, then you can't go wrong with using promotional subject lines.
In our experience, promotional subject lines are most effective when they're personalized, unexpected, and timely.
Australian fashion retailer The Iconic Shop knows these best practices better than most.
During a recent Black Friday promotion, the brand avoided mentioning Black Friday altogether. Instead, the retailer wrote the following:

While its competitors hammered its readers with impersonal emails, The Iconic Shop wrote a subject line that was both personal and promotional.
Seray had previously added several items to her wishlist, and now the retailer was informing her those items were on sale. Who wouldn't want to know that what they want is on offer at a discounted rate?
With a gentle nudge, The Iconic Shop took advantage of something subscribers already wanted, and it's a best practice we can all learn from.
Promotional Subject Lines
L'Occitane: Beauty You've Had Your 👀 on, Now with $20 OFF!
United by Blue: This is Not a Sale. It's a Celebration.
Kate Spade: open to see our top picks of sale
Miss Selfridge: Stop EVERYTHING! Up to 50% off ALL Dresses 🚨👗
Aerie: 50% off a bra that feels good. It's REAL.
Dollar Shave Club: Save money. Don't leave the couch.
Hollister: Your favorite jeans are 20% off 🙌
THE ICONIC: The sale's on SALE! 😱
Moo: This sale's too BIG for subject li–
west elm: 💡 THIS SALE IS LIT 💡 20% off all lighting
Funny Subject Lines
It's no secret that people are more willing to buy more when in good humor.
It doesn't matter whether you're selling apparel or coffee—if you can make subscribers feel good when reading your emails, you're golden.
One of our favorite brands that are using humor to its advantage is Brooklinen.

Playing on curse words, the retailer writes funny subject lines to differentiate itself from the many other emails in the reader's inbox.
And it works. Humor might not work for your business, but if it does, don't be afraid to push the envelope. People notice.
Humor goes beyond this post, but you can't go wrong by analyzing and learning from our favorites below.
Funny Subject Lines
Happy Socks: How d'ya like your socks in the morning? 🍳
Sweaty Betty: "Does this come in black?"
Sunski: It's finally (mostly) sunny!
Studio Neat: Great, another email!
Chubbies: Call me Thigh Fieri
Huckberry: "Ahhhhhhh."—Your feet
Beardbrand: [True or False]: Your beard loves to lift, bro.
Bonobos: SAAALE! Extra 40%! Sorry for yelling!
Patpat: Forget Your Troubles, Come On Get Matchy!
AYR: the fresh pants of bel-AYR
Last Chance Subject Lines
No matter whether you're a marketer or a consumer, we all have a fear of missing out. No truer is that than in e-commerce.
Few people will make a buying decision unless they have to, and that's precisely why last chance subject lines are effective.
One brand we like that reminds buyers that a bargain is going away is online retailer L'Occitane.
During a recent promotion, the brand caught our attention by asking how much we wanted off our next purchase.

In addition to telling their subscribers that it's their final notice, L'Occitane frames its notice as a question.
The reader is invested to reflect on not only whether they want to partake but also the amount they want to save.
It's simple framing, but as instances like the above reflect, it works exceptionally well.
Last Chance Subject Lines
Tarte: say goodbye to your exclusive 20% offer
Violet Grey: There's Still Time To Save On These Exclusives
Urban Outfitters: Clock's ticking ⏲ 50% OFF 500+ items
Torrid: BOGO free clearance is over in 5…4…3…
ThinkGeek: Buy One Get One Free OR ELSE
The Spinsterz: It's there and then it's GONE. POOF. 💥
Snowe: URGENT: Need by EOD 😉
Proven: bye, bye, bye
Third Love: Don't miss out on 30% off!
west elm: Ho Ho HURRY. There's 20% off Christmas decorations ⛄
Creative Subject Lines
Earl Nightingale once said, "If you want to be successful and don't have a good model to follow, then take a look at what everyone else is doing and do the opposite."
Nowhere is this perhaps more common than in email marketing. To get noticed in the reader's inbox, you need to go against the grain by going against their expectations.
If they're expecting another boring pitch, address that objection. If they know, based on the subject alone, you're going to offer a discount, add a condition. (See the L'Occitane example above.)
In one recent campaign, we emailed users that started a free Drip trial, thanking them for trying our software… but with a twist. In an attempt to stand out, we wrote an over-the-top story.
Here's an excerpt from the email: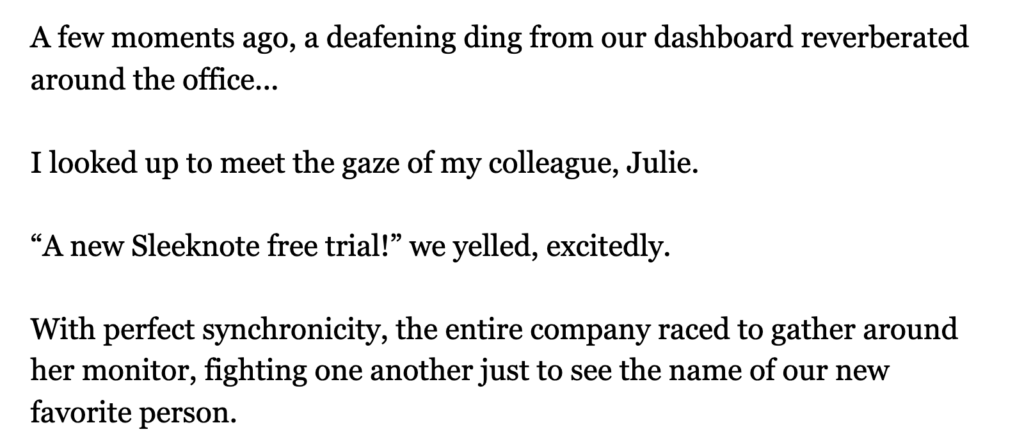 Moreover, playing on the excitement we convey in the email, we wrote the subject line, "Myfingerscantmovefastenough" to entice the reader to open our email.

Emojis. Capitalization. Playing on a subscriber's name and location a la Chubbies in the earlier example. There are many ways to write creative subject lines, but the golden rule is to always defy the reader's expectations.
Creative Subject Lines
Torrid: It's a plaid, plaid world
Sock Fancy: You Doughn't Want to Miss Out on This Pair! 🍪
Lush: Flick here for vegan eyeliners ⚡
Function of Beauty: so long, milk(shea)ke 👋
Death Wish Coffee: Sun's out, mugs out
Chubbies: ereht ih
Shinesty: Rum-pum-pum-pump up the holiday jams
Recess: 10/10 would not wormhole again
Poo~Pourri: Ready. Sit. GO! ✈️🚗🏖️💩
ThinkGeek: A Sale of ❄ and 🔥
Curiosity Subject Lines
"Marley was dead, to begin with…" "It was a bright cold day in April, and the clocks were striking thirteen…" "There was no possibility of taking a walk that day…"
What do the above have in common? (Aside from frequently featuring in "best opening line" articles?) The answer is that they all open information gaps.
When we experience a gap between what we know and what we want to know, our curiosity drives our need to acquire new knowledge to bridge that gap.
You only need to go into your inbox and skim the subject lines to see this playing out in everyday life. Take, for example, the following curiosity subject line from Chairish:

You know that the email isn't really for your eyes only. Yet, despite that insider knowledge, you can't help but open the email to learn what information you're privy to hear.
There's another specific way to evoke the reader's curiosity that's essential when writing good subject lines… But we'll save that for another article. 😉
In the meantime, remember the golden rule of writing curiosity-driven subjects: always deliver in the body of the email. No one, after all, wants to feel duped into opening an email they would have otherwise ignored.
Curiosity Subject Lines
Have You Seen Sheep Dance? (Allbirds)
You're Invited (Birchbox)
THIS is: High-performance ✅ sustainable ✅ already our best seller ✅ (Frank and Oak)
When life gives you cupcakes… (Johnny Cupcakes)
It's Arrived. (Huckberry)
Shhh… Don't tell anyone (ESQIDO)
Is it your lucky day? (Death Wish Coffee)
You can't come in (Glossier)
They did WHAT with a pair of Crocs? (Crocs)
Your hair care routine is missing something… (Function of Beauty)
they said it couldn't be done (Recess)
What you've been waiting for 🌈 (Away)
You've never seen a suit this color… (Shinesty)
Social Proof Subject Lines
Brian Dean of Backlinko has an interesting idea he calls "the social proof paradox." "You need social proof to sell," says Dean. "But you need sales to get social proof."
Here's how Dean explains the problem:
While nice to have, social proof isn't always a necessity. Sometimes, a quote or two, prefaced with an information gap, is enough to get people to open their emails to learn more.
Care/of, for instance, titles one subject line with the mysterious "word on the street."

After, the brand preface three quote testimonials with, "They said it best: Care/of is the easiest way to figure out what vitamins to take."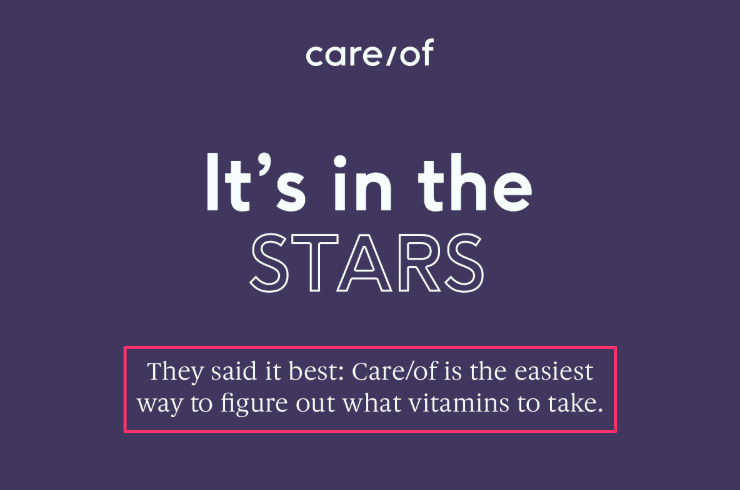 Whether intentional or not, there's something about the phrasing of "they" rather than something specific such as "our customers," that moves you along to learn more. At least, that's how we felt when reading.
IGK, by contrast, uses a GIF to tease how "everybody is talking about Antisocial" before following up with a few customer testimonials for good measure: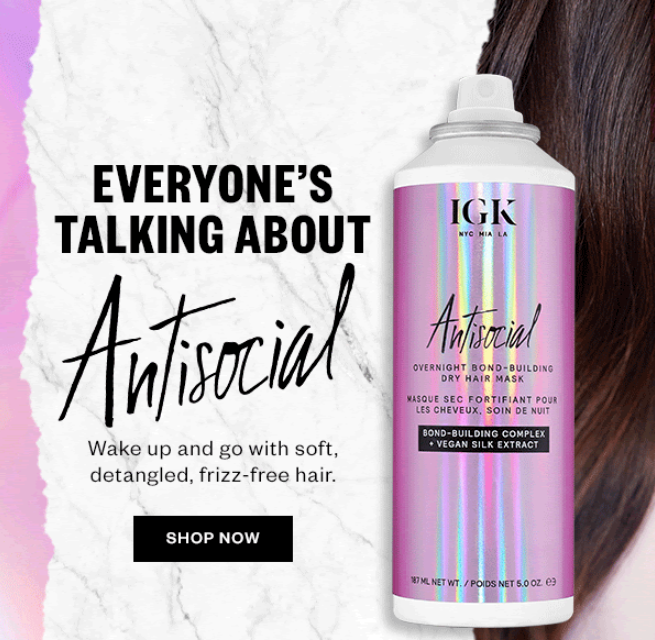 But the subject line that prefaces the email is what's most interesting. With an email like the following, who wouldn't click through?

When it comes to copywriting best practices, adding specificity is a no-brainer. If, however, you're suffering from the social proof paradox, a quote might just be enough to make a good first impression.
Social Proof Subject Lines
MAC Cosmetics: Fans are getting REAL about new Studio Fix Stick 👀
Framebridge: Don't just take our word for it.
Birchbox: We've Heard Some Good Things… 😊
Morphe: Yeah, what they said
Beauty Bay: Guess what Olivia Buckland is wearing? 👀🔥
Aerie: "Crown jewel of sweatshirts."
Origins: Find Out Why This Fave Is Sold Every 10 Secs…
Huckberry: "Want." — everyone
Warby Parker: You might have some questions
IGK: Rumor has it…
Follow-Up Subject Lines
If you're like most people, you think of following up as something one does after a job interview or meeting with a prospective buyer.
But as we've learned after trawling through our inboxes, that's not always the case.
To our surprise, online retailers are just as good, if not better, than B2B companies at following up with potential buyers.
Take cart abandonment, for instance, a problem that plagues online retailers.
With as many as seven out of every ten visitors leaving their cart before checkout, there's enormous potential to clinch an otherwise lost sale.
One of our favorite recent follow-up subject lines comes from health brand Proven.
After Seray abandoned her cart, Proven addressed her in the cart recovery email, informing her of her "place in the queue."

When she opened the email, Proven assured her it had "reserved her spot in the queue."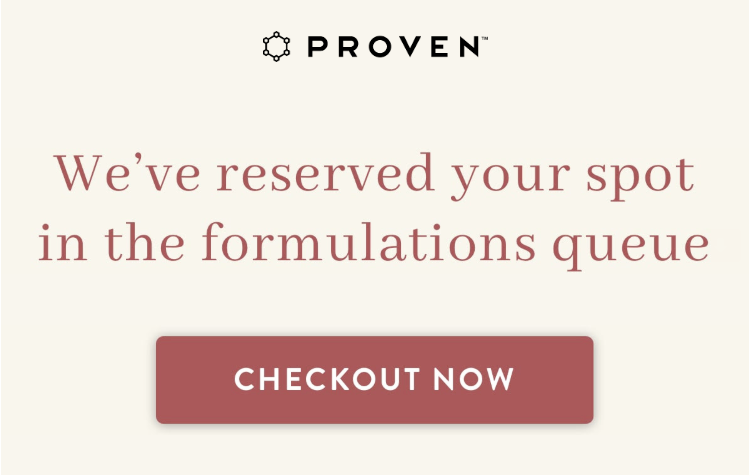 Proven uses reciprocity to invite potential buyers to return to their cart and complete their orders.
And judging by the number of other retailers using similar methods, it's a tactic worth considering (especially when used with urgency).
Follow Up Subject Lines
Proven: Your Place in Line is Going, Going…
Too Faced: All You Have To Do Is Get What You Want
Care/Of: Let's make a plan
Tuft & Needle: You Should Sleep on Big Decisions.
Warby Parker: Whalen felt the connection
Sock Fancy: Still thinking it over? Maybe this will help…
Y'OUR: should you buy expensive skin care
Vinomofo: The 2nd rule of Vinomofo: never leave a wine behind.
The Kewl Shop: More about our Sweety Flared Bandage Dress
Fab: There must have been a mistake, you left this behind
Bath & Body Works: Trust your instincts.
AYR: Just lookin out for you 🙂
Shinesty: You left your stuff at our place…
Cart Abandonment Subject Lines
You might have heard about the famous cookie experiment by Worchel, Lee, and Adewole (1975).
Researchers put ten cookies in one jar and two cookies in the other jar and asked 200 female undergraduates to rate chocolate chip cookies.
All the cookies were the same, but the cookies from the two-cookies jar got a higher rating than the cookies from the 10-cookies jar.
Why was the former more popular than the latter? Because the cookies from the two-cookies jar were more scarce.
If only two remained, they must be good, right? At least, that's what many participants were likely thinking.
The takeaway is that people are more motivated by the prospect of losing something than the prospect of gaining something.
And that's precisely why scarcity works well in marketing, but especially in cart abandonment subject lines.
Take this example from Zalando. The brand mentions Seray's name and then triggers the reader's fear of missing out (FOMO).

Notice how the scarcity also continues in the first sentence of the email's body: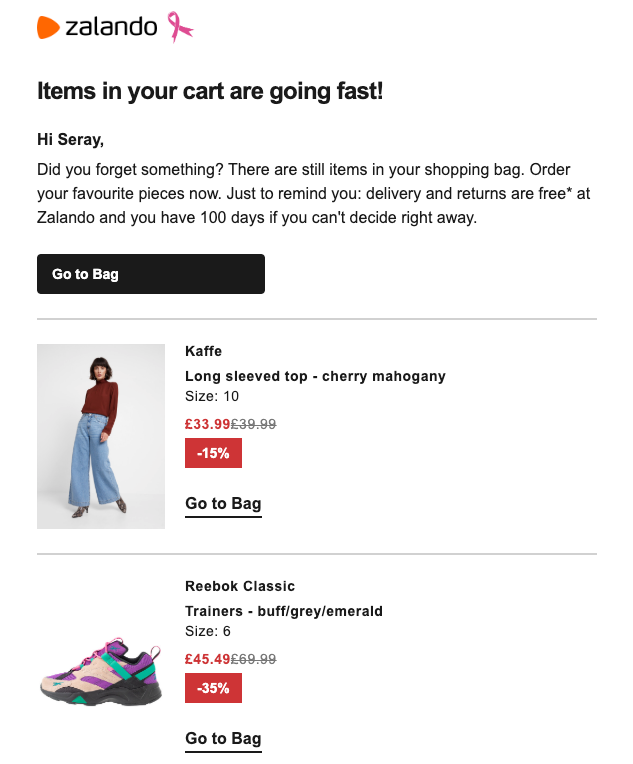 Scarce items have a higher perceived value in the buyer's mind, making them perfect for cart abandonment subject lines.
Cart Abandonment Subject Lines
AllSaints: There's still time!
JRINK: Uh oh, your cart is about to sell out.
Sweaty Betty: Don't miss out!
Crate and Barrel: We've held your cart for a limited time only.
MAC Cosmetics: View Your Cart Now Before It Expires!
Fabletics: [Name], item(s) in your cart are selling fast!
ASICS Tiger: Get it before it's gone…
Huckberry: Just a couple left…
Too Faced: "You're gonna miss me when I'm gone" -Your Basket
Zalando: Lucky you! An item in your shopping cart is now on sale
Want to make a workflow like this?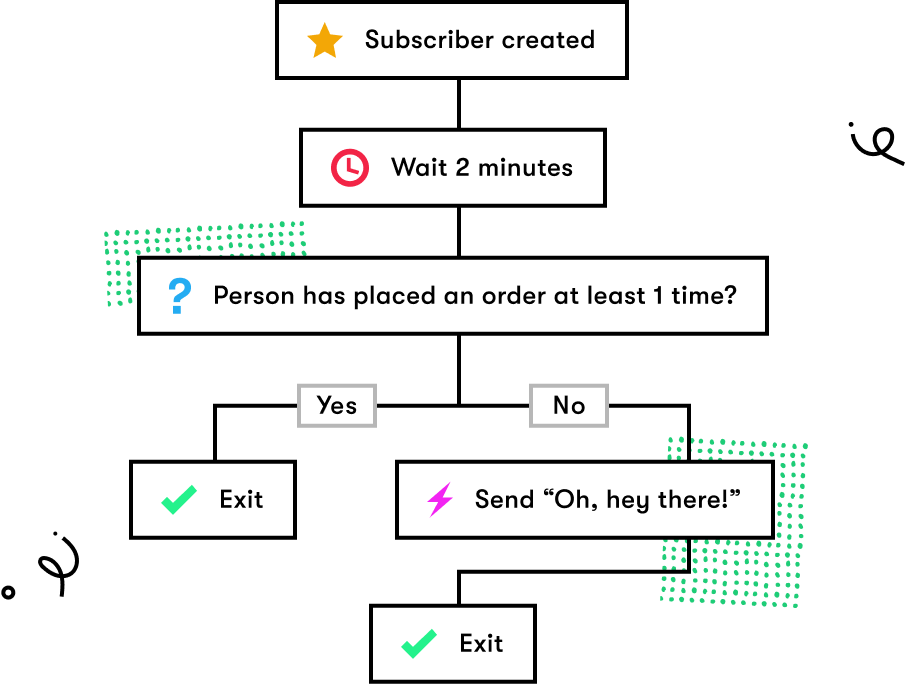 Hit the ground running with our pre-built workflows.
2: Subject Lines by Industry
Each industry has its own audience. And how you talk to that audience is crucial in driving higher open rates.
That's why, in Part 2, we'll share our favorite subject lines by industry, such as travel, fashion, and more.
Travel Agency Subject Lines
With the average person receiving 120 emails in their inbox each day, they're understandably selective about what they choose to open.
You, therefore, need to make sure your travel agency subject lines are unique enough to get readers to check them out.
The first step to grabbing their attention and getting them to open your travel emails is hitting them with a captivating subject line.
Sonder is a travel agency that lets users stay in their favorite neighborhoods around the world.
For this subject line example, the brand has one simple goal: make an announcement that it just opened in three new cities.
"Say hello to our newest cities" succinctly gets the message across, giving readers enough information to continue reading.
Once opened, Sonder serves up the full details where subscribers can read the details.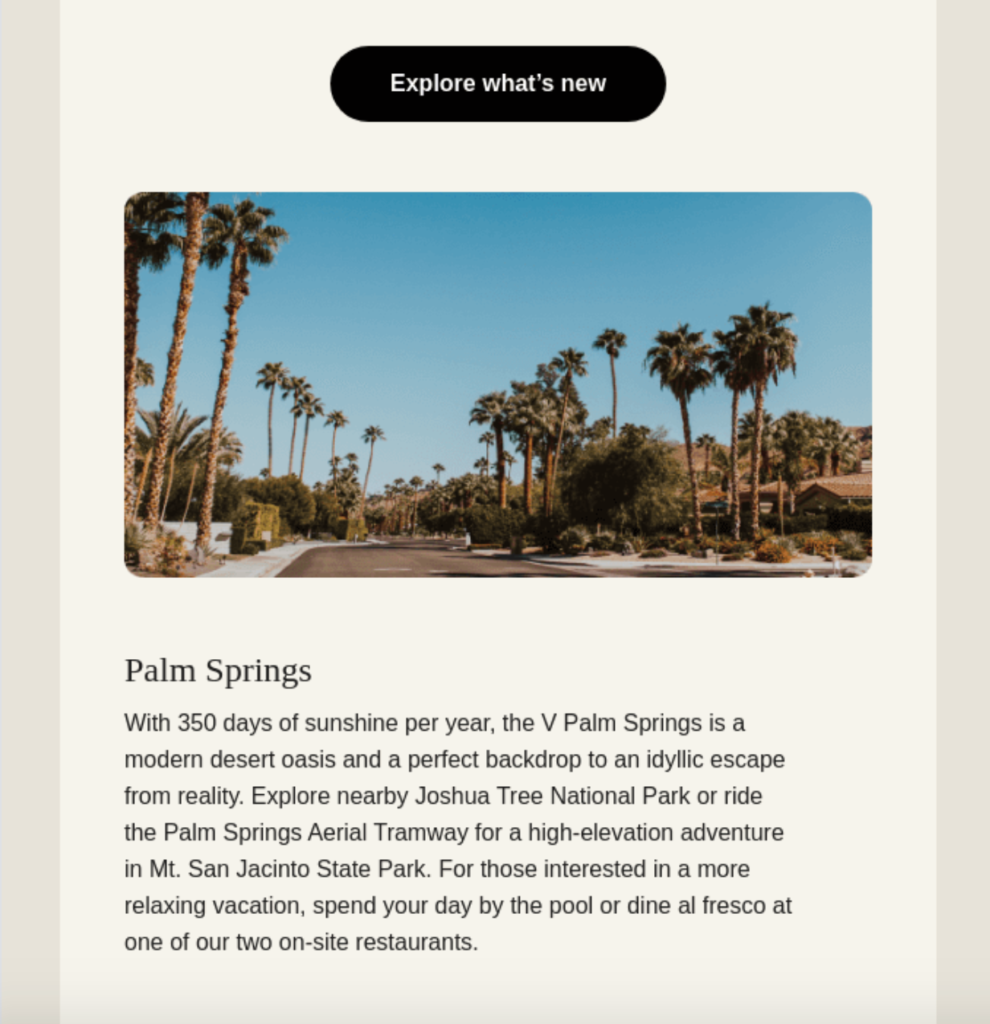 This example is a reminder to boil your subjects down to bare essentials to motivate the highest possible percentage of readers to open your emails. From there, you can offer the full info and drive more traffic to your website.
Travel Agency Subject Lines
Vrbo: Explore trips with flexible cancellation
Broadway Travel: Get booking now for summer 2022!
Hays Travel: Zero Deposit Event | Coming Soon!
Intrepid Travel: Which countries are open for travel now?
Travel Republic: Goodbye Rain. Hello Spain
Barrhead Travel: Amazing worldwide cruise adventures | Book today
Avoya Travel: Your Next Adventure Is Closer Than You Think!
Fodor's Travel: 8 Places in the U.S. Where You Can Actually See the Northern Lights
Titan Travel: We've got a ticket to ride…
Best At Travel: Spotlight On Mykonos 🇬🇷
Fashion Subject Lines
Trying to capitalize on email marketing's 4,400% ROI, fashion brands have long been competing for prospects' attention.
But it's no easy mission. With over 250 billion emails sent and received every day, it's becoming harder for marketers to get their emails opened.
If you're looking for a way to boost your email opens, you need to craft eye-catching subject lines that your subscribers can't help but click.
Promoting new arrivals with an email is one of the most effective ways to engage new subscribers as well as to retain your existing customers.
One way to make your fashion subject lines click-worthy is to add specificity, such as the number of items remaining in stock.
J.Crew Factory knows this well. That's why the brand writes ultra-specific new arrival subject lines:

When you see this email in your inbox, you know what to expect: lots of newly added items (that are already on sale).
The brand also frames this email around your need to buy "new things to wear" rather than the new items it's selling: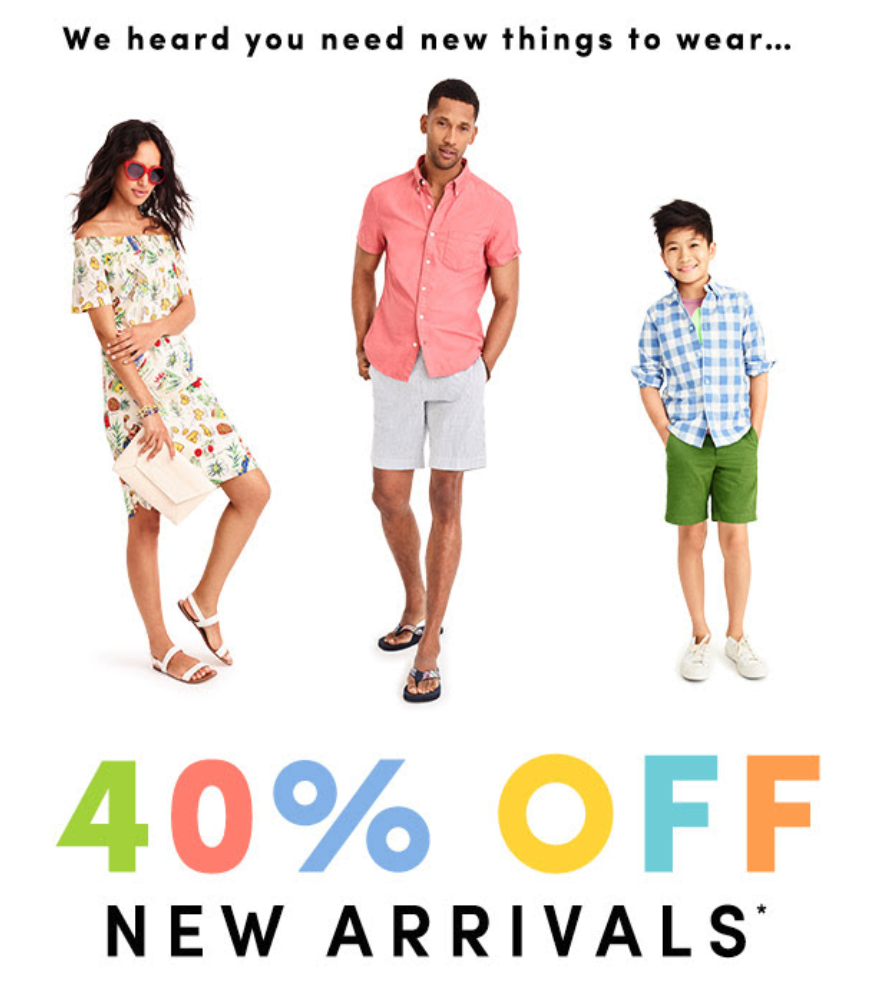 As we mentioned earlier, exclusivity works well in last chance subject lines, and new arrivals are no exception.
Fashion Subject Lines
Kate Spade: let's start this off with a gift: enjoy 10% off your next purchase
Forever 21: A Welcome Gift Just For You…
J.Crew Factory: That was a good move
Levi's: It's official. You're one of us. (Here's 20% off)
Everlane: We're Glad You're Here
Tailgate: Congrats, you made the cut – here's 25% off.
Bonobos: SAAALE! Extra 40%! Sorry for yelling!
American Eagle: A special discount just for you, Seray
Hush Puppies: Save BIG on bestsellers
Levi's: You Won't Regret Opening This Email
Automotive Subject Lines
Nearly half of email readers decide whether or not to open an email based solely on the subject line.
Whether you're beginning initial outreach or promoting a particular vehicle model, your automotive subject lines need to hit their mark.
One brand that did that well was Brother Moto, an Atlanta-based motorcycle shop that specialized in ultra high-quality bikes.
The dealership has since closed their doors, but a few years ago, it sent out an email announcing a "launch party."
Using the subject "Launch it," the company featured some of their top motorcycles and included a giveaway of a Honda CX500.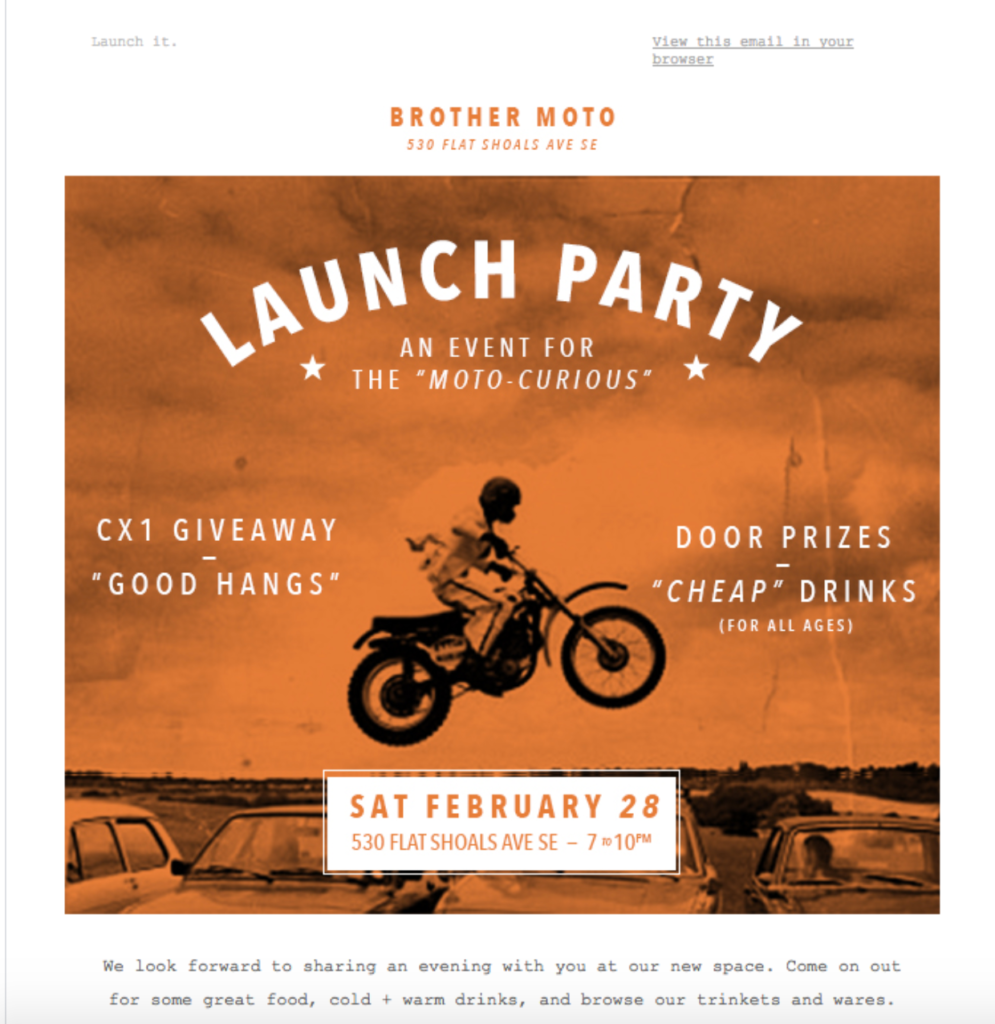 This was a beautiful play on words that was designed to get readers curious enough to open the email.
And once they did, they quickly had an "aha moment" where the pieces all came together, and they saw an Evil Knievel-looking stunt racer.
Automotive Subject Lines
Tesla: Meet Model S
Peugeot: The New 308 is coming. Are you ready?
BMW: Discover excitement at every turn
Chevrolet: Adventure Awaits: Trailblazer and Tahoe Take On the Wilderness
Mercedes-Benz: It's all inside: HGTV® Smart Home, Maybach S-Class & giving back
Kia: We Will Buy Any Car Regardless Of Year Make And Model!
Toyota: Ramona, want to know what the future holds?
Subaru: You're choosing a winner
Lexus: Lexus Drive Event: Last Chance to Register!
Nissan: When your car speaks with both intention and emotion
Nonprofit Subject Lines
Given the limited time you have to make an impression, one of the most crucial things you can do is keep your subject lines short and sweet.
When a subject line aims to get readers to click through, you don't need an essay to get your point across.
What you do need, though, is something that can be read at a passing glance.
According to HubSpot, the ideal length of a subject line is 50 characters or less.
Any more than that, your words will get cut off, and your open rates will too.
In fact, all of the subject lines you'll see in this article are under that limit, including one of our favorite nonprofit subject lines from Water.org:
This subject is a masterclass in brevity. In just three words, it lets you know what their organization is trying to achieve.
What's more, the nonprofit even managed to leave room for curiosity and intrigue.
This way, you know what you're getting into when you click it, but you still want to read more.
Another thing that makes this example so eye-catching is that it's a little unconventional.
The brand could have easily said, "Safe water means opportunity" or something similar.
By using the equals sign, though, the brand makes its email stand apart from the crowd.
If you're trying to cut down the length of your subject lines, try similarly using a sign or symbol.
Nonprofit Subject Lines
4Ocean: 🌎 Happy World Ocean Day!
Alzheimer's Association: Don't miss out on this 2X match opportunity.
Your American Cancer Society: Matched gifts for Giving Day ending soon
Donorbox: Did you know that your nonprofit has superpowers? ⚡️
Human Rights Campaign: Happy Membership Appreciation Day 🌈
International Rescue Committee: You + Sesame Workshop Muppets bring joy to refugee children
Make-A-Wish Foundation: There Are No Words To Explain This Feeling
Neon One: Clean up your monthly giving emails with these templates
Planned Parenthood: Give us another chance?
Save the Children: You must see this
3: Subject Lines by Season
Seasonality can not only inform the type of emails you write but also the subject lines you use to drive opens.
In Part 3, we'll share our favorite subject lines by season to help you make more money from your emails year-round.
Spring Subject Lines
One of the keys to writing high-converting subject lines is to be topical and seasonally relevant to your subscribers. (After all, no one wants to open a Black Friday email once the party is over.)
One way to do that is to use seasonally relevant emojis in your subject lines.
Not only can using emojis in your spring email subject lines can help the reader easily understand what to expect from your emails, but they can also help you stand out in crowded inboxes.
In this great example, Johnny Cupcakes gives you the spring feeling even before you open their email:

With three simple flower emojis and straightforward copy, the company invites you to their clearance sale with the added spring vibe.
Johnny Cupcakes makes sure to carry this feeling into the email itself, too: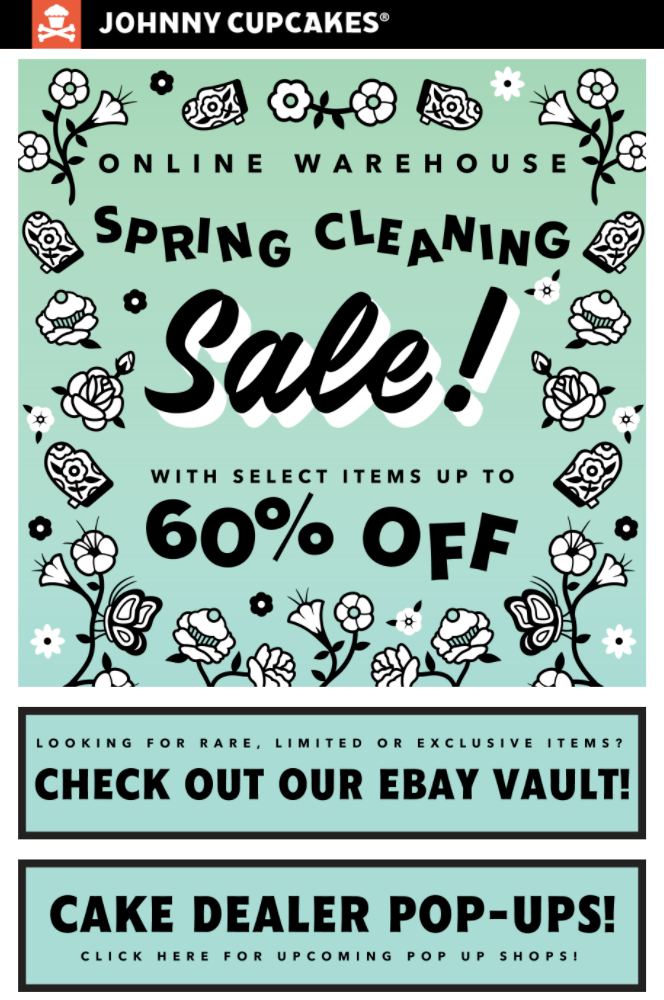 Following the brand's style, Johnny Cupcakes' spring email shows us a simple yet effective execution of how to write seasonally relevant promotional emails.
If your brand tone allows, try adding a few spring emojis to your subject lines, but be careful not to overdo it. Otherwise, you may risk getting stuck in spam filters.
Spring Subject Lines
Cravory Cookies: 🌼🍪 Spring Treats 🍪🌼
Bath & Body Works: 🌷spring—but bring it inside. 🌷
Bath & Body Works: hand soaps. ✔️spring scents. ✔️self-care. ✔️
Pura Vida Bracelets: NEW now: spring florals 🌺💐🌼
Torrid: 🌼🌱💐 Time to spring forward 🌷🌈🍃
Banana Republic: 30 Days Free: Your Spring Rental Wardrobe
Red Rooster Coffee Roaster: ⚡ Ends at midnight! Spring FLASH SALE happening now. ⚡
Birchbox: Spring into this deal…Ready. Set. GLOW!
Too Faced: April Showers Bring: SPRING MAKEUP
Michael Kors: These Are The Most Loved Styles Of Spring
Summer Subject Lines
If there's one thing more difficult than writing engaging summer emails, it's writing click-worthy summer email subject lines.
With all the recent developments happening around the world, it's even tougher to achieve high open rates.
Since there's no secret formula that works for every industry or business type, the angle you take in your summer subject lines depends on your brand, products, and, more importantly, your subscribers.
Just because it's summertime, that doesn't mean that your subscribers' inboxes are deserted.
That being the case, you still need your summer subject lines to stand out among the crowd.
One foolproof way of creating salience in subject lines is to use emojis, and your summer emails are no exception.
Check out this brilliant example from one of our favorite online retailers, ASOS:

In this subject line, emojis not only make the email stand out but they also convey the company's message without many words.
You can already tell that ASOS has an idea about this summer (and it's a fun one).
ASOS's emoji choice isn't random, though—they represent outdoor activities you could do in an ordinary summer.
In addition to the emojis, ASOS smartly uses the power word "you" to invite the reader to the discussion.
All things considered, ASOS makes you open the email without much thinking.
Inside, you get to read a bit more about how the company disagrees with the "Summer is canceled" angle: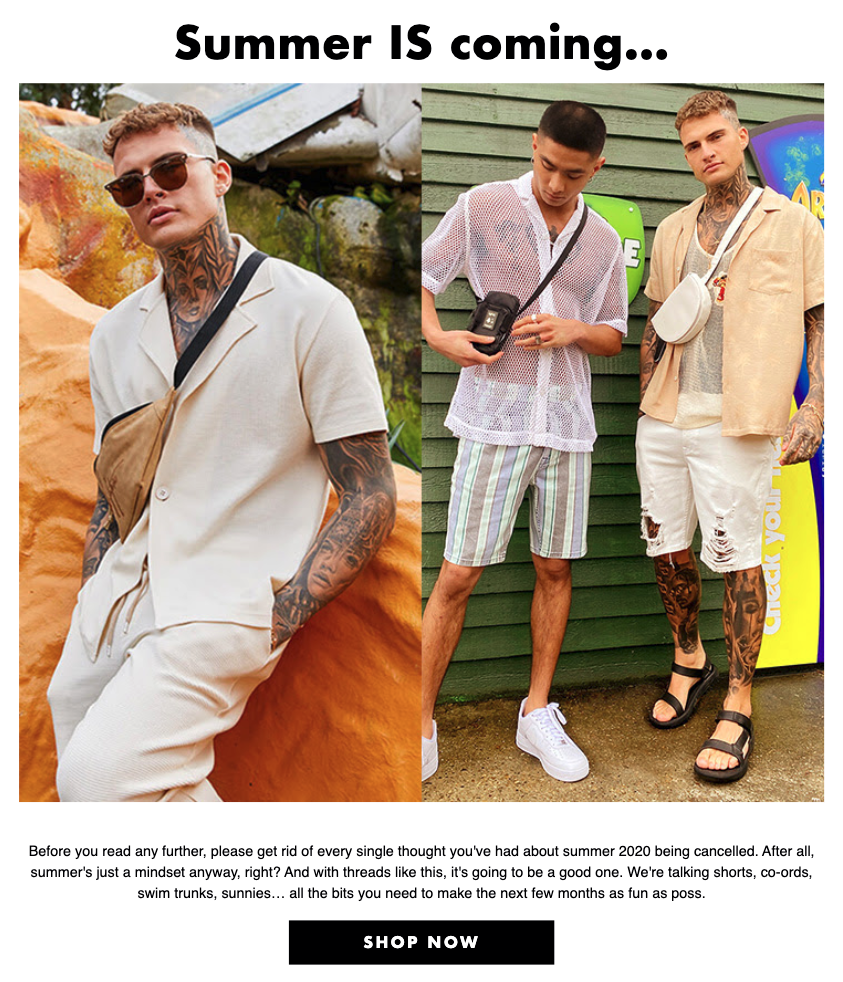 If you want to follow ASOS's approach, minus the emojis, you can experiment with unusually short or long subject lines in your summer emails or, better, combine both methods to create salience.
Summer Subject Lines
Pull&Bear: 🕶 + 👟 + ☀️ = Summer!
Crocs: Florals are in for SUMMER 🌸
ASOS: Summer, say 👋 to prints
Philosophy: Dear diary, this Summer… I'll be a little style hunter! 👗
Pura Vida Bracelets: What's hot this summer 🔥☀️🔥
Bath & Body Works: on the calendar: summer & sale. 🗓
Ulta Beauty: Oh, hey summer 😎
Bath & Body Works: 🐥summer. semi-annual sale. it's back. 🐥
Pull&Bear: Shorts + Tops + Sandals = Summer vibes 🖤
Estee Lauder: Escape to Summer ☀️🌊
Fall Subject Lines
Fall is full of exciting holidays, and Halloween is easily one of our favorites.
In fact, it's the perfect time to get creative and have fun with your fall email subject lines.
While most e-commerce emails take a spooky spin during Halloween, some brands try to help their subscribers with costume ideas.
For makeup brands or apparel companies, this type of Halloween email is a piece of cake. But what if your products don't fall into any Halloween-friendly categories?
One way is to do as Birchbox does and take a new approach to trick-and-treating.

Birchbox's value proposition is to help you discover new beauty products.
Similar to other beauty subscription services, Birchbox operates in the self-care niche.
That's why the company cleverly turns the concept of trick and treating around and makes it all about you.
When you read the subject line, you wonder how Birchbox is treating you and immediately open the email.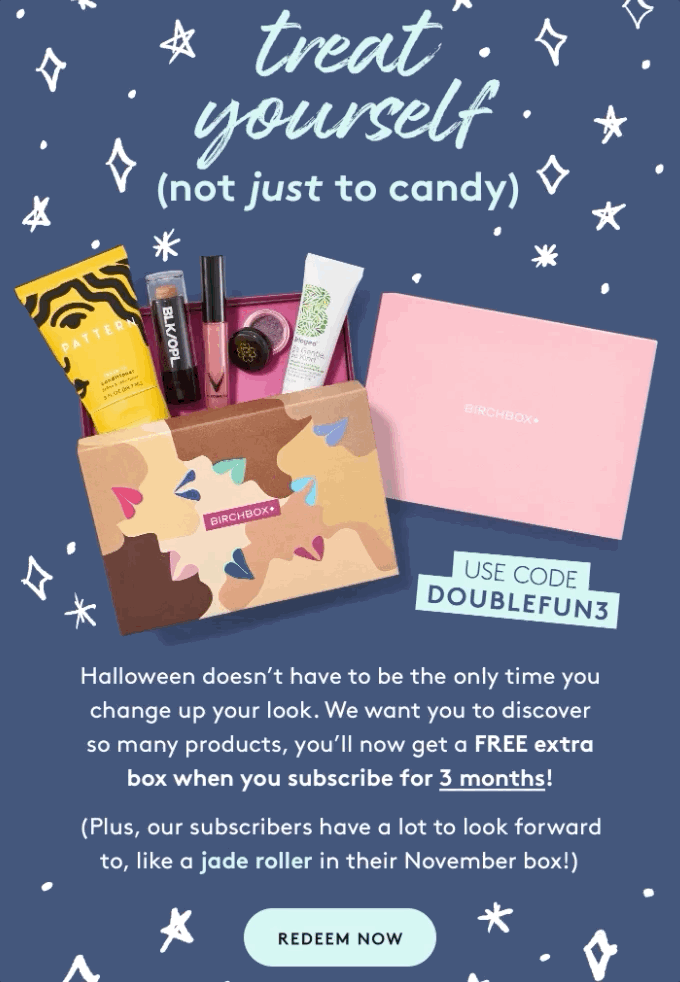 In case you're wondering, Birchbox's treat is an extra gift when you sign up for their boxes.
You can easily replicate Birchbox's angle this fall, be it with a discount code, free shipping, or exclusive content.
Fall Subject Lines:
HEMA: something spooky's going on | mystery discount | at least 10% off
KiwiCo: Spooky Mystery Savings Have Arrived
Cravory Cookies: 🍪Get Ready for Halloween – 20%OFF ENTIRE ORDER🍪
PatPat: Trick or Treat? Collect Candies and get $500 Cash Reward now😈
MAC Cosmetics: What's better than Halloween candy? FREE Glitter!
Bobbi Brown: Halloween Inspiration: 70s Glam
Miss Selfridge: The Devil Wears Miss Selfridge 😈🎃👻
IGK Hair: No Tricks, Just Treats
MAC Cosmetics: 👻 Halloween faves look good on you, boo!
Greetabl: What do ghosts eat for breakfast? 👻
Winter Subject Lines
When it comes to crafting memorable winter email subject lines to capture the attention of subscribers during this frigid time of year, J. Crew, one of America's top style and fashion brands, has one of our favorite examples.
Clocking in at just four words, it's about as simple as it gets, and we think J. Crew does an excellent job of grabbing a subscriber's attention. "This is Snowww Joke" is creative, playful, and uses a clever play on words that we're sure many people can appreciate.
Whenever a subscriber clicks, they see this email with a stunning image of a gnome in a snow globe.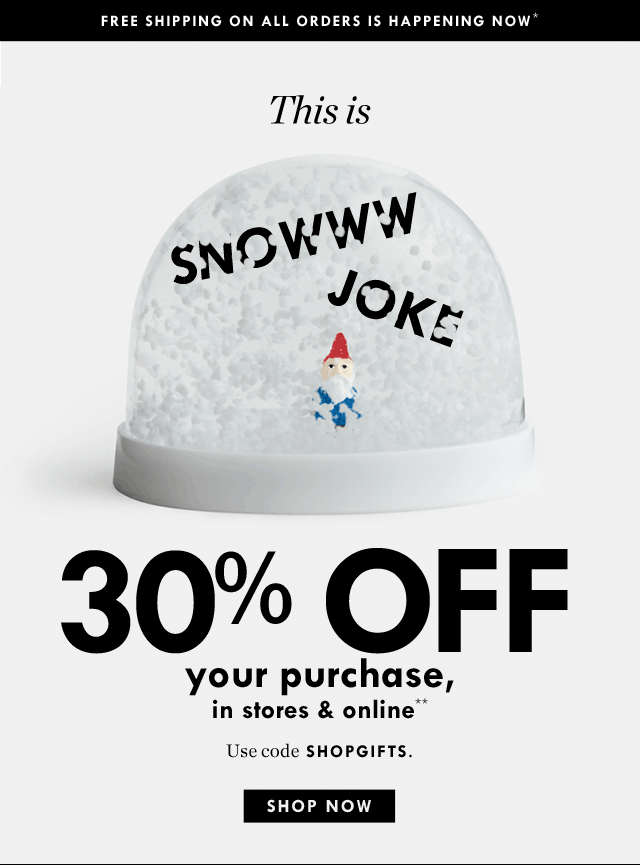 It's super sharp and crisp. And like the email from J. Crew, it's clean with a white background that wonderfully captures the feel of winter.
Winter Email Subject Lines
L'Oreal Paris: Must-Have Products to Help Your Hair this Winter.
Origins. Bye Winter-Weary Skin! Treat Overnight With AHAs
Too Faced: Winter-Proof Your Skincare Routine 👇
Huckberry: The Annual Winter Sale
Prose: Escape winter with Oasis
Patagonia: Winter sale ends tomorrow
KiwiCo: Winter savings on all lines
Vrbo: Winter isn't over just yet…
American Apparel: Winter Bottoms and Tops to Match.
Anthropologie: let's pretend it's not winter…
Black Friday Subject Lines
Black Friday is a busy time, not only for us marketers but also for consumers, having to sift through the many promotional emails in their inboxes.
In this immense virtual competition, especially this year more than ever, you need compelling Black Friday subject lines that'll get your emails opened.
If you've built a special email list for Black Friday or promised an exclusive deal to your new signups, you'll likely deliver on your word by emailing your subscribers when the time comes.
While doing that, remember to focus on the exclusivity of the offer in your email and subject line, too. Check out how Bellroy does that:

With this direct subject line, Bellroy invites you to grab its Black Friday exclusive and nudges you to open the email (if nothing else, out of curiosity.)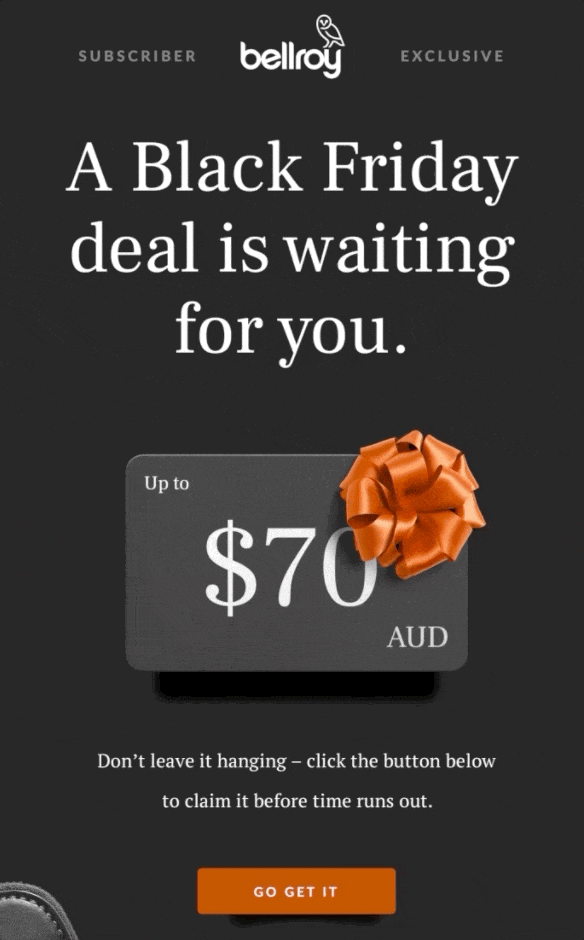 From top to bottom, Bellroy's email is built on exclusivity. (Bellroy even uses the words "Subscriber Exclusive" in the pre-title.)
While Bellroy indulges its subscribers with an offer, it uses a dollar value discount rather than a percentage. Bellroy also writes its exclusive offer in different currencies to make it easily understandable for customers in different target markets.
So, if you're looking to drive higher open rates on the busiest shopping day of the year, you can't go wrong with following Bellroy's approach.
Black Friday Subject Lines:
Levi's: Early access to Black Friday deals unlocked.
Paperchase: You're on the nice list – 25% off for you
Miss Selfridge: Been waiting for Black Friday? TODAY'S THE DAY🤩
Cloth & Paper: Black Friday's Starting Early! 🙈
Greetabl: Early Access: Up to 30% Off Gifts 💃
Ralph Lauren: Black Friday Priority Access: Up to 30% Off
Torrid: 🦃 🦃 🦃 Black Friday's here early 🦃 🦃 🦃
Fenty Beauty: Black Friday's early to the party this year
Estee Lauder: Rikke, 25% Off for E-Listers Only 🦃 We're Thankful for You!
Hollister:❗ Seray, get 25 to 40% off BEFORE. EVERYONE. ELSE.
A/B Testing: How to Write Better Subject Lines
Testing subjects against one another affords fresh insights into what resonates with your audience.
Say I'm writing a single email campaign. I can write a subject and then test up to four variants depending on the campaign's importance.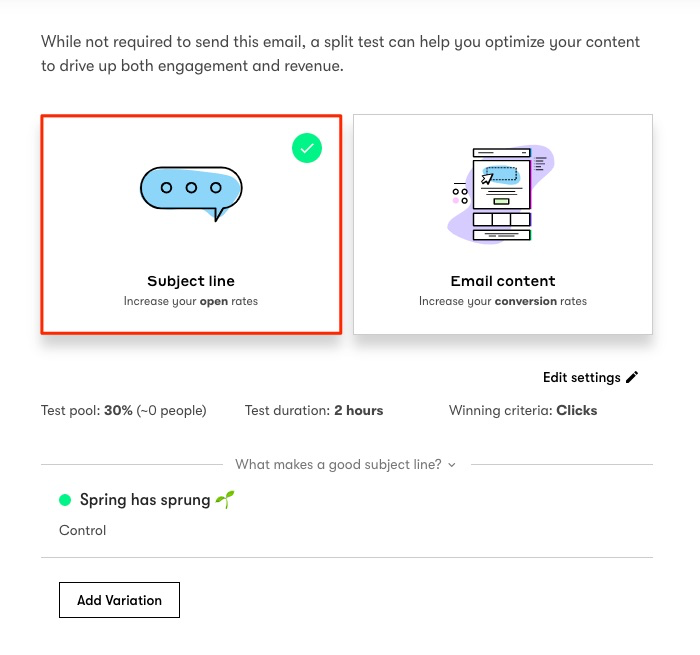 I can also decide my test pool size, test duration, and winning criteria (open or click-through rate) if I want to be more specific.
I can manually declare a winner if the results are obvious before the duration of your test ends, or, Drip will declare a winner once the test runs for its full duration.
Conclusion
Writing good email subject lines, week in, week out, is challenging for any marketer.
By modeling other brands, however, you can reverse engineer what they're doing and write winning subject lines for your brand.
There are more than 180 good email subject lines in this post. But, ultimately, the best comes from you.
Get writing.