Drip is 100% built for ecommerce brands. No ifs, ands, or doubt its.
While ActiveCampaign was made with B2B, B2C, and ecommerce in mind (and spreads itself across all three industries fairly well), Drip is 100% built and designed with ecommerce at the center of its heart. From integrations and automations, to dashboards, workflows, and literally everything in between, we've built it all to make it as easy as possible for you to grow your beautiful ecomm brand. You're welcome.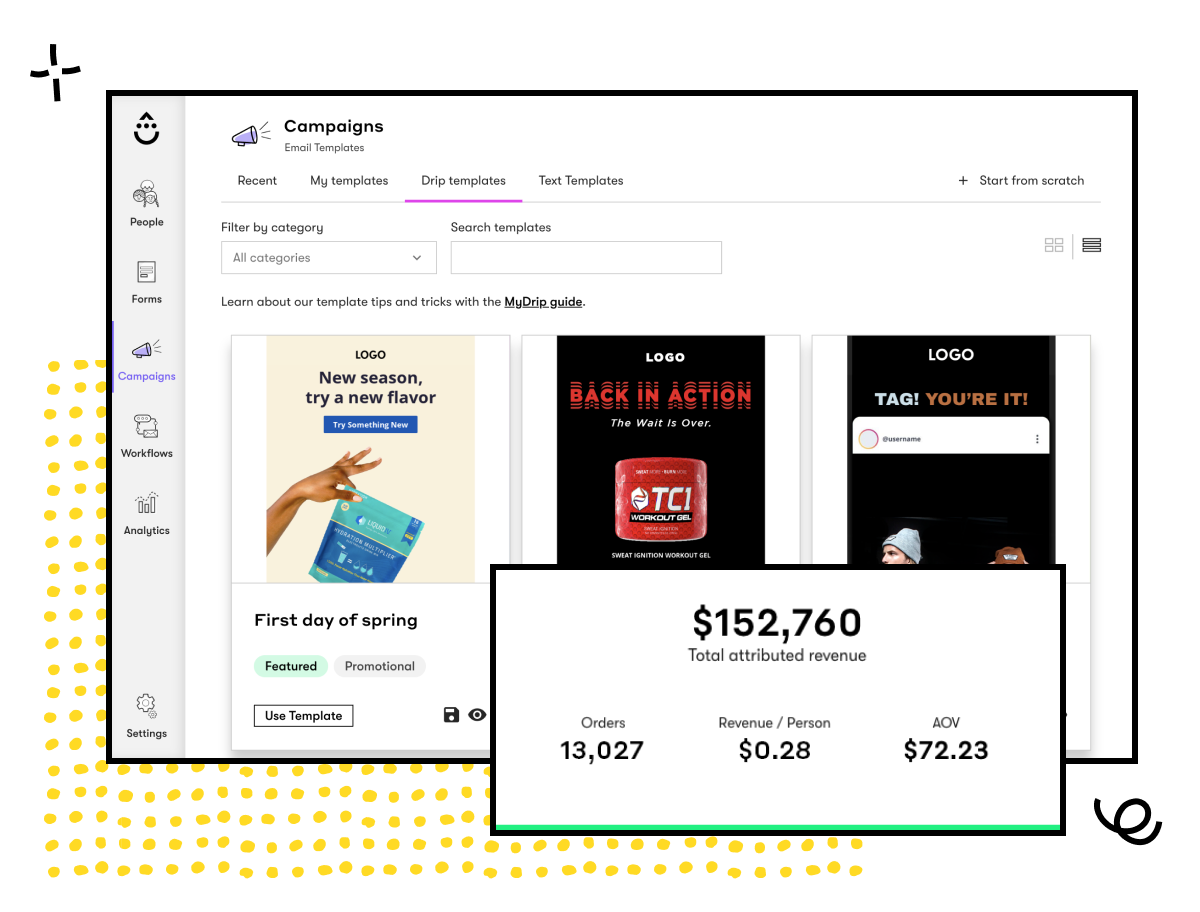 Both Drip and ActiveCampaign do a fabulous job of marketing automation. Drip is perhaps the easier of the two to master, and is excellent for ecommerce automations… [it's] been purpose-built for ecommerce.
Inka Wibowo, Email Tool Tester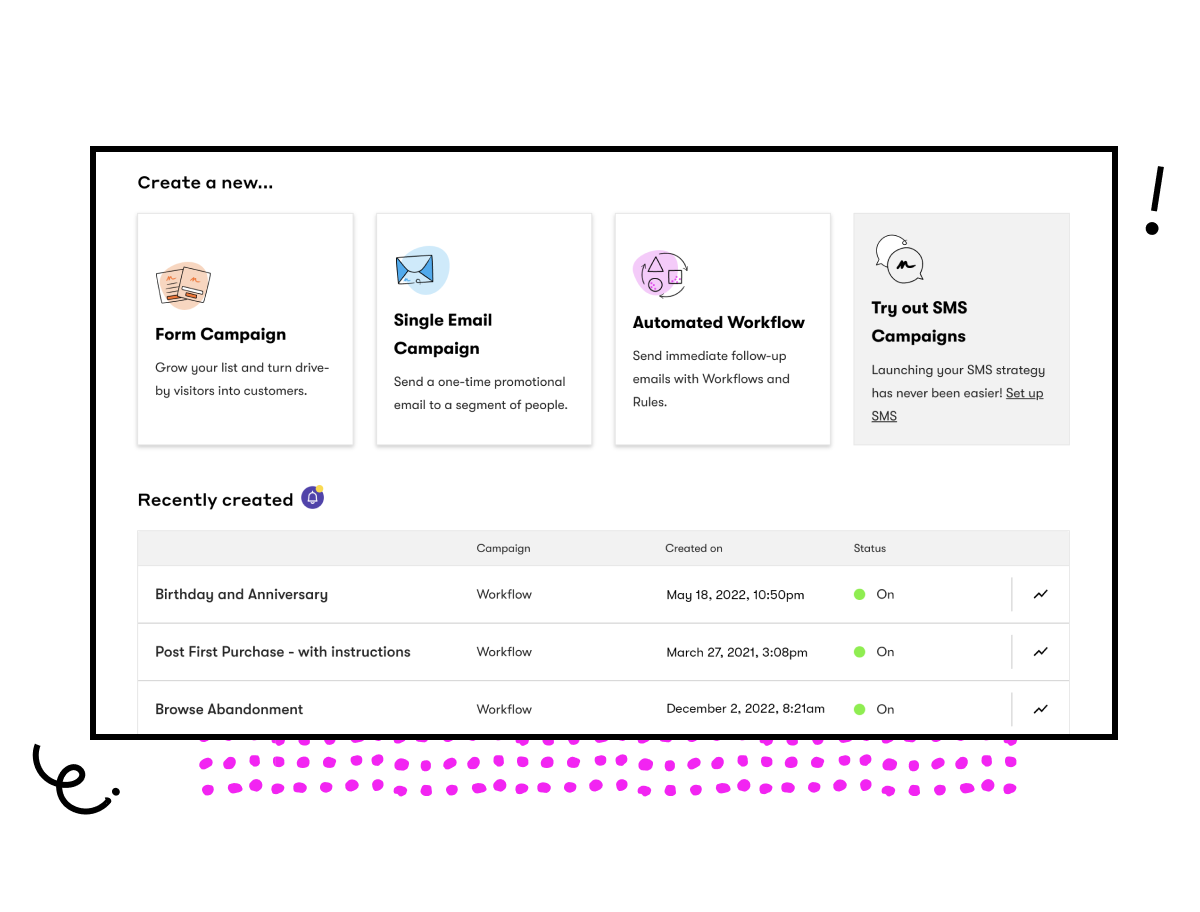 All the tech, without being too techy.
Compared to ActiveCampaign—which isn't as seamless and intuitive as you want it to be, and whose automations can be tricky to set up—Drip's user experience is clutter-free, smooth, and easy to understand from the second you start. Our clean dashboard, intuitive visual builder, pre-built automations, and easy-to-use everything come together to make email and SMS marketing something you can navigate and nail on your own.
Packed with all the right technology and capabilities to help your online business grow (yet a far cry from "way too techy" to grasp), Drip is the easiest, most enjoyable automated marketing platform you'll ever use.
I've used LOTS of email platforms in my work with clients - MailChimp, ActiveCampaign, HubSpot, Constant Contact, Mad Mimi, Infusionsoft, the list goes on. When I decided to take my email marketing to the next level, I chose Drip. It's smart, easy to use, FUN to use and has the best that email marketing systems have to offer these days. The price is good for the depth of functionality. They have a great knowledge base and it's always easy to implement my ideas - with a quick search I find what I need to do!
Justine P.

The customer service co-pilot you've always wanted.
With a 99.9% customer satisfaction rating, you can think of Drip's whip-smart team of kind humans like your own personal support crew (that's forever there for you). While ActiveCampaign has only two ways to get in contact—email and in-app messaging—Drip is down to connect over live chat, email, or a scheduled one-on-one with a Drip expert. All you have to do is start the conversation and someone from our squad will already be pulling up a chair, listening, and taking action.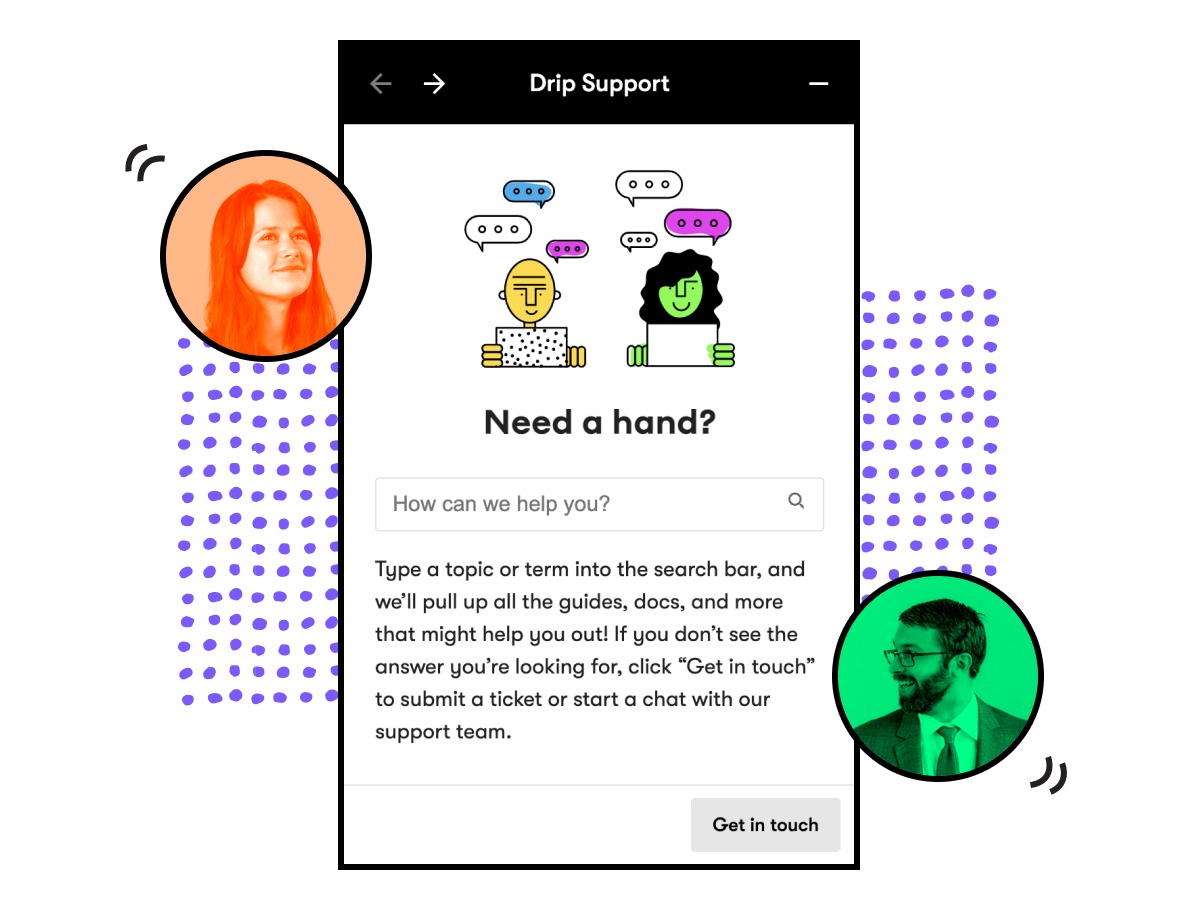 Drip makes everything so much easier and the customer support is wonderful! I highly recommend using Drip." -
SubarzSweets, Shopify Review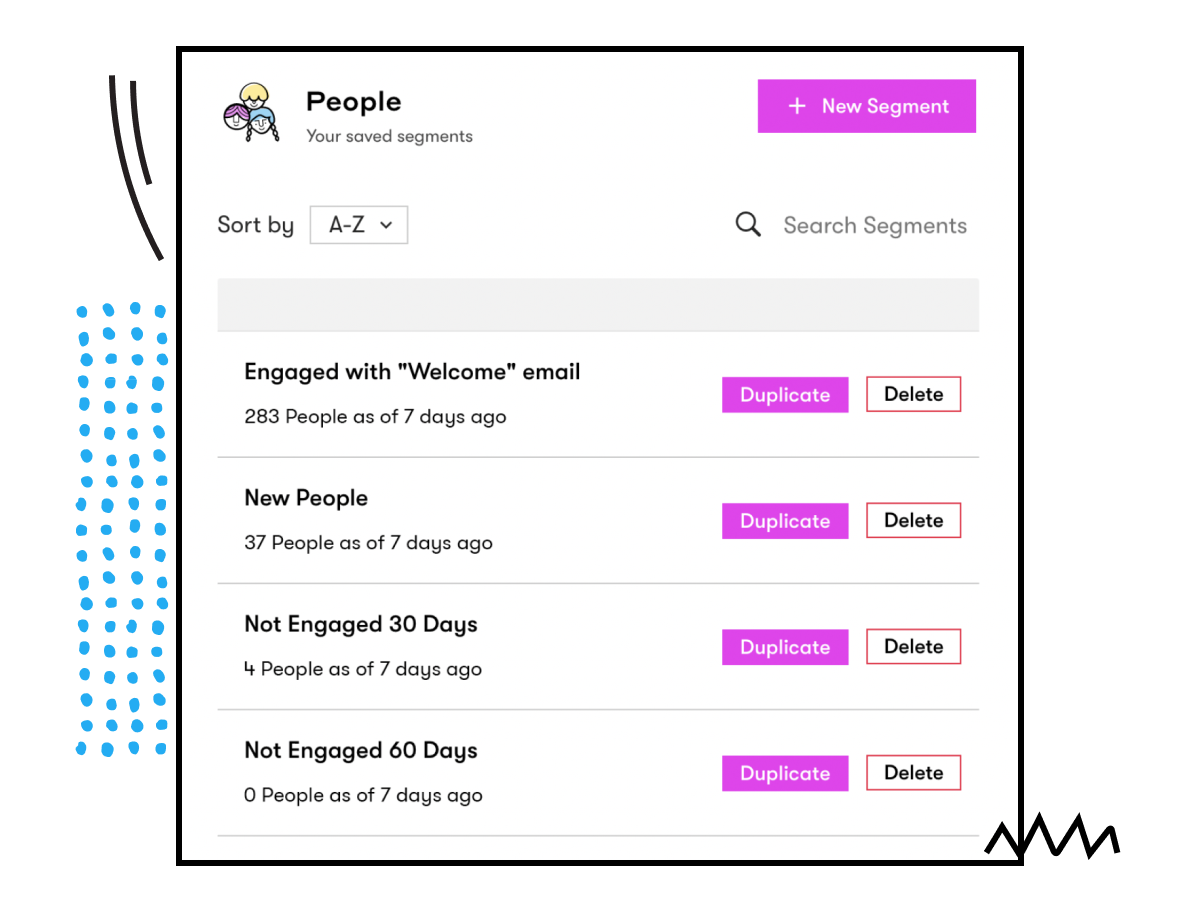 Impressive segmentation, even more impressive results.
Ask any smart email marketer and they'll tell you: better segmentation means better customer connection and retention. When it comes to segmentation at Drip, we're a powerhouse (yeah, we know what sets us apart from the email platform pack and we're not afraid to say it). Which means with Drip on your team, you also become a connection-making, segmentation-slaying powerhouse who makes sales pop.
Unlike any other email marketing platform, including ActiveCampaign, Drip enables you to hyper-segment your audiences, speak to your customers like you know them (because you do), and deliver curated shopping experiences that hit on a human level.
I have to say, Drip's list management and segmentation features are impressive… [and while] both ActiveCampaign and Drip are equally powerful when it comes to list management, Drip nudges ahead on ease of use – their simplified interface definitely has the one-up here over ActiveCampaign's slightly more cluttered set-up.
Inka Wibowo, Email Tool Tester

Why Switch from ActiveCampaign to Drip?
Don't take it from us. Take it from this charcuterie board of facts.
While revenue at The Spice House has grown at the same pace as their email list, online sales in February 2019 were up 90% compared with February 2018—all in less than a year of using Drip.
By sending an automated email that welcomes people who sign up for their newsletter with a 10%-off coupon, The Spice House saw 20,000 conversions in just 7 months.
Haute Hijab implemented Drip's abandoned cart playbook and, with some of their own testing and experimentation, saw over $200K in total revenue from the strategy.
Since they started using Drip, Haute Hijab was able to significantly increase revenue from email and SMS marketing month over month, while decreasing the number of emails they send.
After starting with Drip (in the beginning of a pandemic, no less), St. Jane Beauty saw a 33% increase in orders from email, an average order value of $118, and 39% of revenue attributed from Drip.
Drive more sales with Drip today.
Start a 14-day free trial of Drip, no credit card required.