Thankfully, as an adult, it comes much more naturally, but I still always appreciate it when I hear those words from other people too. As a brand, saying thank you to your customers is an integral part of building a personal and prosperous relationship.
Customers that feel valued and appreciated are much more likely to buy from you again, in the knowledge that you care about their experience with your brand and their satisfaction with your products.
In brick-and-mortar stores, cashiers will thank customers as they pay or walk out the door, but if you're running an e-commerce business, then you have to get a little more creative.
Thank you emails are a perfect alternative to these kinds of interactions and can be changed and adapted to suit whatever needs you need to fulfill.
In this article, I've hunted down seven thank you email examples from top brands and analyzed what makes them great. Use them to inspire your email marketing to write thank you emails that keep customers coming back for more.
7 E-Commerce Email Examples You Need to See
1. Huckberry
Sending an appreciative welcome email to a new subscriber is an ideal way to both confirm their subscription and thank them.
When someone subscribes to your email list, they're making a big commitment to your brand. If you don't acknowledge that, you risk them feeling ignored, and maybe even a little resentful.
There are many brands with great welcome emails, and though it was hard to choose, one of my personal favorites is the outdoors brand Huckberry.
Their subject line looks like this:

Immediately it creates a sense of community, which continues in the body of the email: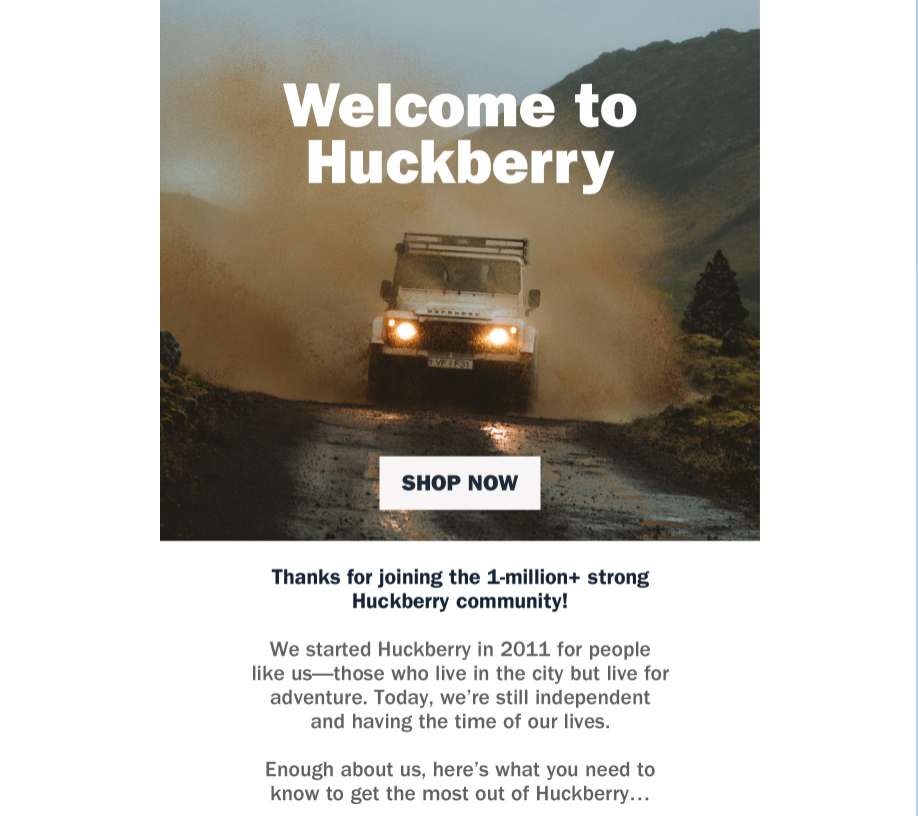 By showing their appreciation for new subscribers joining their community, Huckberry makes you feel welcomed and much more willing to invest in their brand and products.
They go on to introduce themselves in a concise but catchy way, with minimum sales-y talk. This is the perfect tone to strike in a welcome email: appreciative, informative, and authentic.
2. Flying Tiger Copenhagen
The Danish variety store Flying Tiger is one of my personal favorite places to shop, so I was over the moon when they announced that they were finally opening a webshop.
While this turned out to be less-than-ideal for my bank account, it was a great opportunity for marketing knowledge, because their order confirmation emails are one of the best examples out there.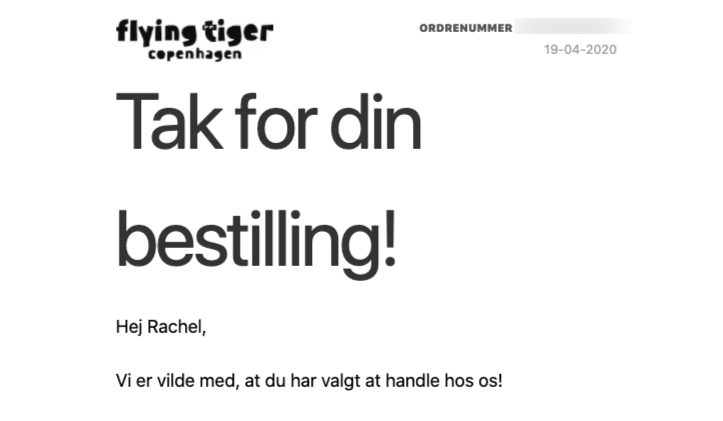 It starts off with a huge thank you for your order ("Tak for din bestilling!"), followed by an appreciative note for choosing to shop with them. If I wasn't sure before if they were grateful that I placed an order, then I certainly was after seeing that.
Flying Tiger also gives you a sense of reassurance and peace-of-mind by including all the practical information about the order that you might need. Up in the top corner is my order number, and if I scroll down…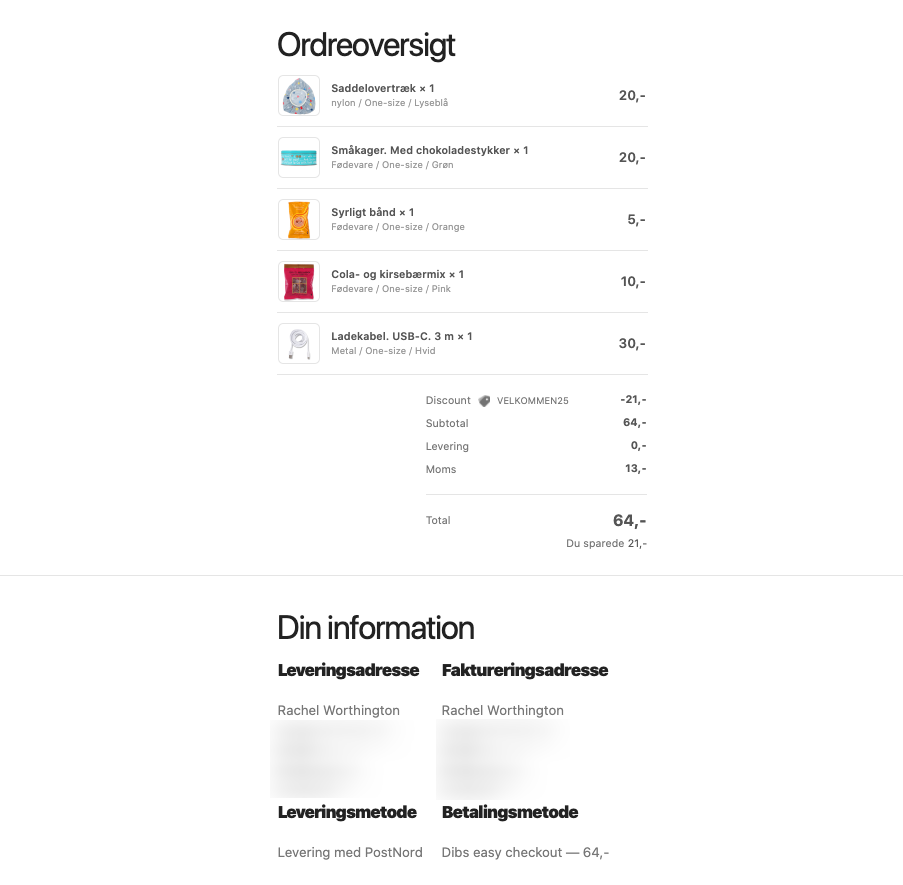 …I see an overview of everything I ordered, the price calculation, and my billing and shipping addresses, all collected conveniently in one place.
Shortly after placing this order, I realized that I ordered the wrong type of cable. Luckily for me, they provide links to contact their customer service team and to their refunds and returns policy at the bottom of the email, so I could quickly and easily get the problem solved.

Providing this information is a clear signal to your customers that you care about their satisfaction with your products, creating trust between brand and customer that goes a long way to founding loyal customer relationships.
3. Massdrop
Once your customer has received their order, you might think that's the end of the story. But you would be mistaken.
If you're able to track the shipment of your products, you can send a follow-up email to see how your customers are getting along. Not only is this another opportunity to say thank you, it's a way to both give and receive more information from your customers.
Massdrop takes advantage of the follow-up email to ask their customers to rate their products: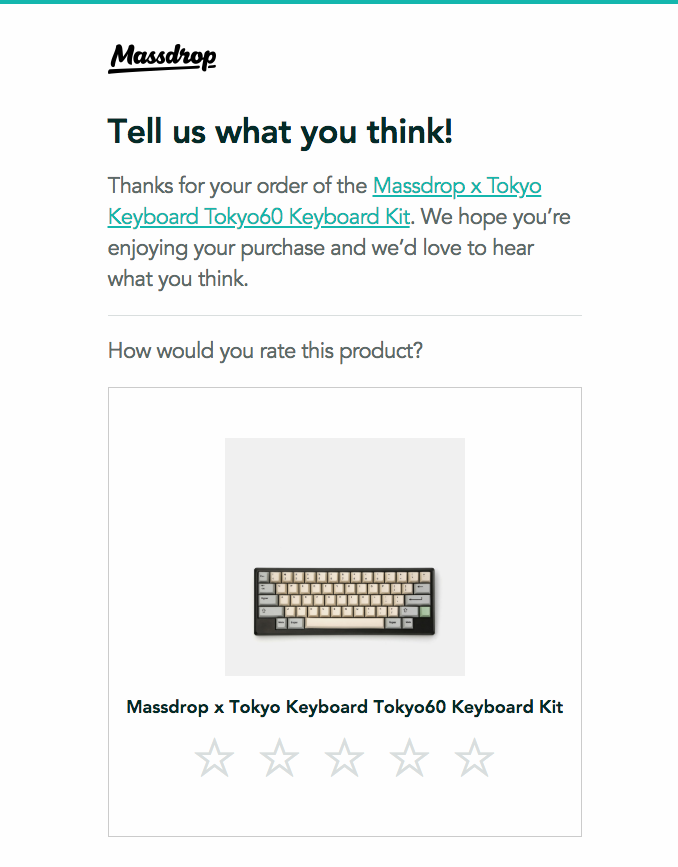 Source: Really Good Emails
This is a great way to show their appreciation and get honest feedback from their customers at the same time. You could also use this strategy by giving customers additional product information or support. Or, providing your customer support details for them to contact.
Follow-up emails can also be an ideal place for cross-selling products that complement their original purchase. This way, you continue to be helpful rather than pushy, making sure that your customer is getting the most value out of their products as possible.
4. Johnny Cupcakes
It's always nice to say thank you when you have something to celebrate. Whether it's your birthday, an anniversary, or a special achievement, take a moment to show your appreciation for the people who helped you get there.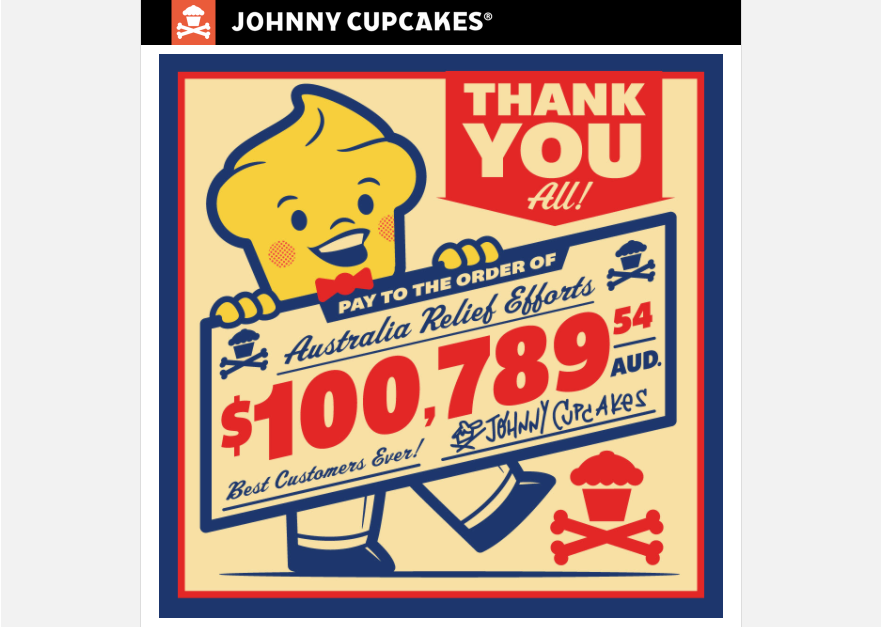 This short and sweet email from Johnny Cupcakes is a creative way to say thanks to your customers' for their support. During the terrible Australian wildfires earlier this year, Johnny Cupcakes created a special edition t-shirt, with the proceeds going towards several relief charities. This meant that they were able to raise an extraordinary amount of money, and they recognized the efforts of their customers with this email.
Milestones emails like this show your subscribers that there are real people behind your brand and that they are part of your team too. This is your opportunity to be personal and authentic in your copy, letting your subscribers see your true colors.
5. L'Occitane
Another essential type of milestone email is those that celebrate your customers' milestones. After all, nothing says you appreciate someone like a personal message on their special day.
There are a few ways you can go about this. You could send a quick thank you note to commemorate shopping milestones like spending a certain amount or purchasing a certain number of items.
If they've created a user account with you, you could also send them an appreciative email on their membership anniversary, or on their birthday like the skincare brand L'Occitane does.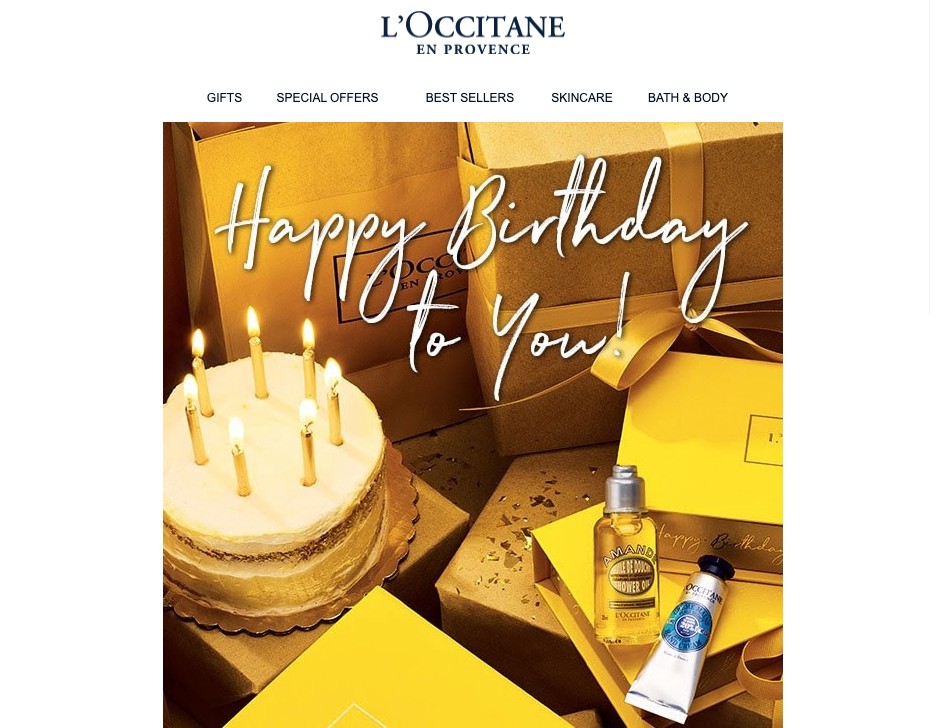 As well as being a thoughtful gesture that builds a personal connection with their customers, L'Occitane takes this email a step further by using it as an opportunity to engage them with their brand. When you scroll down, you see this: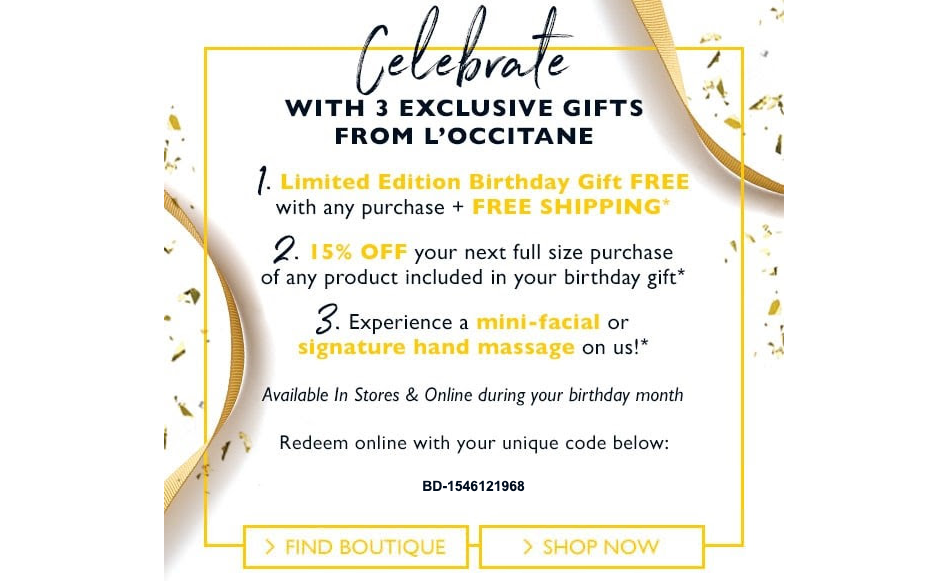 By offering not one, but three incentives to their subscribers on their birthdays, they make sure that they keep themselves at the forefront of their subscribers' minds. When your customers are already in the mood to treat themselves, providing generous offers like this can tempt them into making a purchase.
6. Athleta
If you're not currently making use of referral marketing in your marketing strategy, then you're missing out. Satisfied customers can be honest and trustworthy ambassadors of your brand, and when they recommend you to their friends and family, they're doing you a huge favor.
One way to incentivize people into making these recommendations is to set up a referral program, like the Athleta's. They offer 20% off a selected item to customers who refer a friend to their service as a way of thanking you for their effort.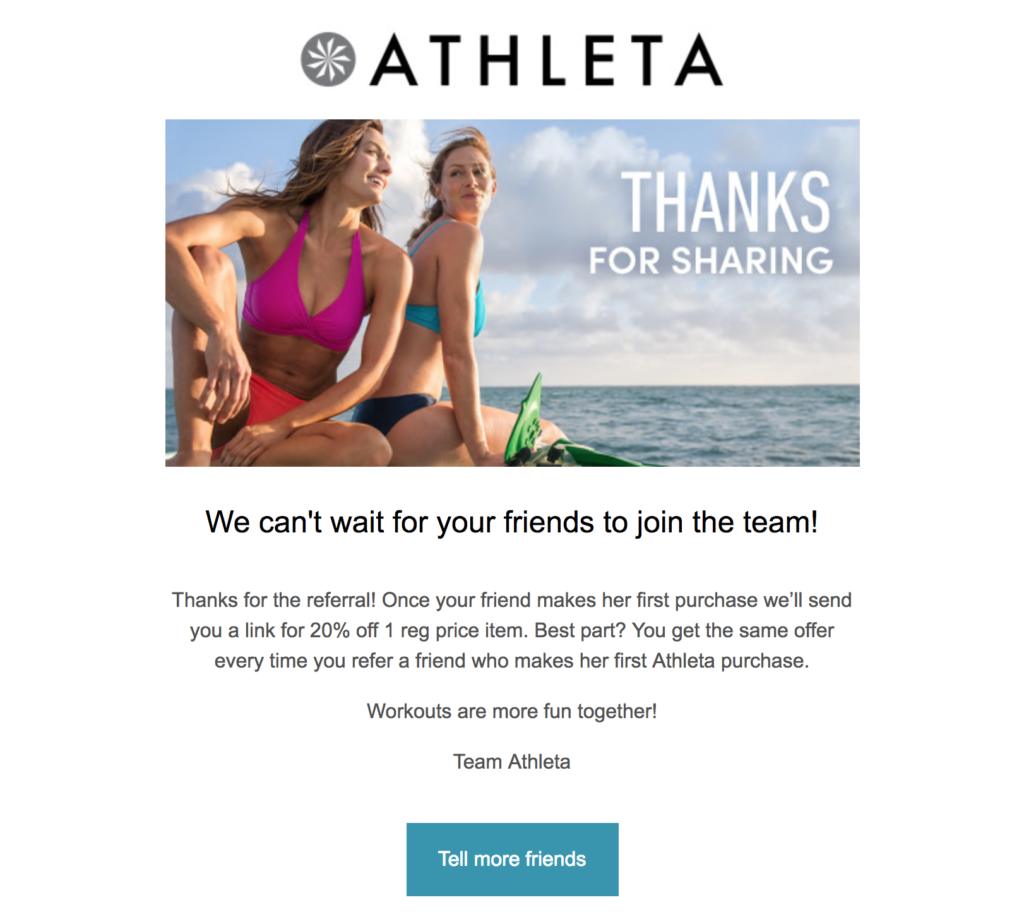 Source: Extole
This is a pretty short email that gets straight to the point, good when your customers just want to receive their reward without masses of reading and scrolling.
As a way to keep the ball rolling, Athleta adds a call-to-action to refer someone else and keep earning rewards. This incentive keeps up engagement levels and your customers' motivation to keep promoting your brand.
7. Glossier
Sometimes, the best reason to say thank you is "just because." Think of it like a surprise dinner cooked for you after a long day at work, or a nice bunch of flowers bought for you, unprompted.
Glossier takes that last one literally with this thank you email: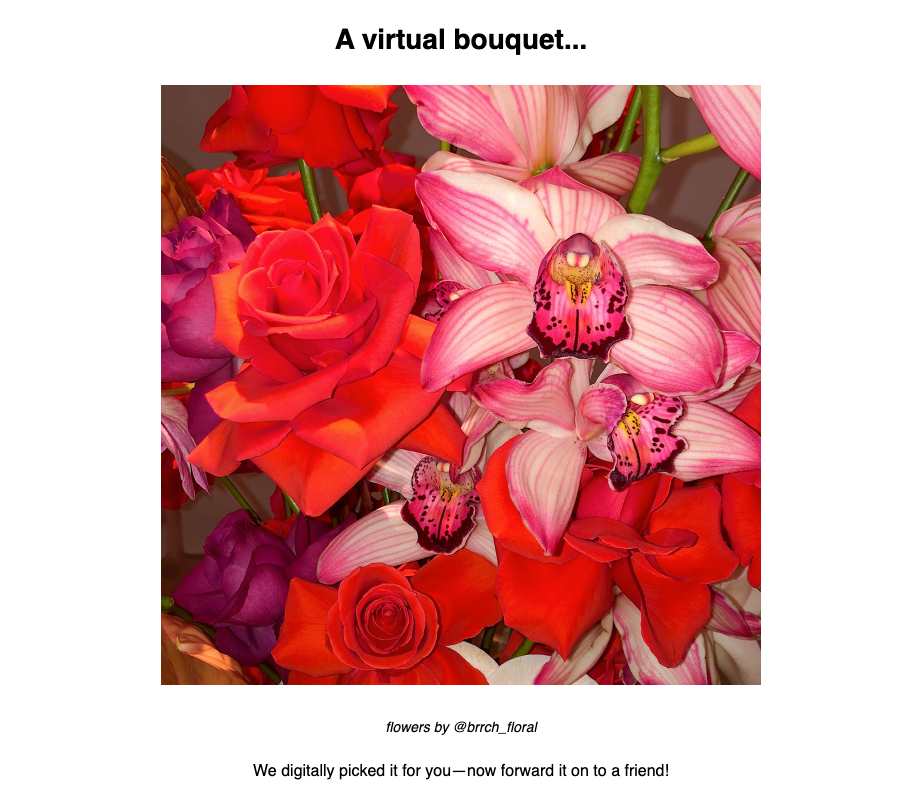 If you've read any of my other articles, you might not be surprised to learn that this is one of my favorite examples. I have a soft spot for the short and sweet emails, and this is no exception.
Receiving this email was like a breath of fresh air in my crowded inbox— no sales pitch, no call-to-action, no product recommendations, no ulterior motive at all. Just a small gesture to say that I'm appreciated by a top brand that could easily take their subscribers for granted.
That being said, getting an email like this too often could easily feel fake and even annoying. If you want to send quick thank you notes like this to your subscribers, make them few and far between, so they know that you really mean it.
Conclusion
One of the key things to get right in sending thank you emails is timing. Send out too few, and your subscribers may feel like you've forgotten about them, but too many that are too close together will feel smothering and disingenuous.
Try to vary up your thank you email strategy, taking ideas from the examples above (as well as any other good ones you see) to create your own unique and effective emails that demonstrate your appreciation to your customers.
Get it right and you'll create a customer base that is engaged and loyal to your brand, perhaps even enough to recommend you to their friends and family.
Which example was your favorite? Do you have any other thank you email strategies to share?