Getting new customers through the (virtual) door of your online store is tough and costly.
Once you get the chance, you need to make the most out of your existing customers and keep them coming back for more.
Studies show that your previous customers are nine times more likely to buy from you compared to a new customer. What's more, your existing customers spend 31 percent more on average than new ones.
A well-functioning rewards system is a must-have to guarantee customer loyalty and increase revenue through repeat purchases. But based on my research, and as you'll see below, there's more than one correct way to create an effective customer loyalty program.
In this post, I'll cover the seven best customer loyalty programs I've seen, explain what makes them unique, and talk about how you can apply their key features to your loyalty programs.
Table of Contents
What Are Customer Loyalty Programs?
A customer loyalty program is an e-commerce marketing strategy that rewards loyal customers who frequently engage with a brand.
Customer loyalty programs are designed to incentivize repeat purchases by providing its members' discounts, unique offers, VIP events, and more.
Loyalty programs come in many forms, ranging from simple stamp cards to sophisticated, point-based reward systems, but all are geared toward bringing customers back to engage with a brand.
A well-thought-out loyalty program can:
Attract new customers;
Retain existing customers;
Reactivate dormant customers; and
Nudge them to spend more.
Let's see how to do that.
1. Sephora's Beauty Insider
No blog post on loyalty programs is complete without Sephora—and with good reason.
The company's Beauty Insider is one of the best examples of tiered, point-based loyalty programs.
Members can earn one point for every dollar they spend in the store and climb the ladder from "insider" to "VIB" and to "rouge."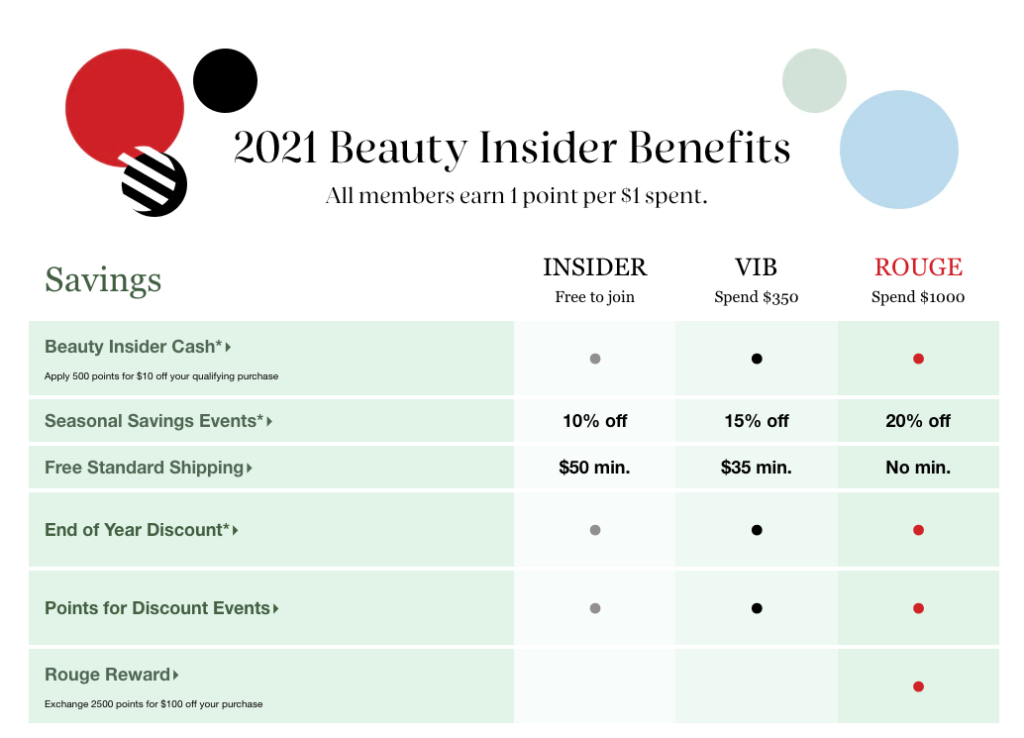 Even if members don't spend anything in Sephora, they still get to enjoy some of the perks by being an insider—in other words, by joining Sephora's loyalty program with their email. Sephora can target them later with "member-exclusive" deals and special offers.
Sephora's rewards program goes beyond earning discounts by spending money. The company's benefits include birthday gifts, exclusive events, giveaways, and product launches: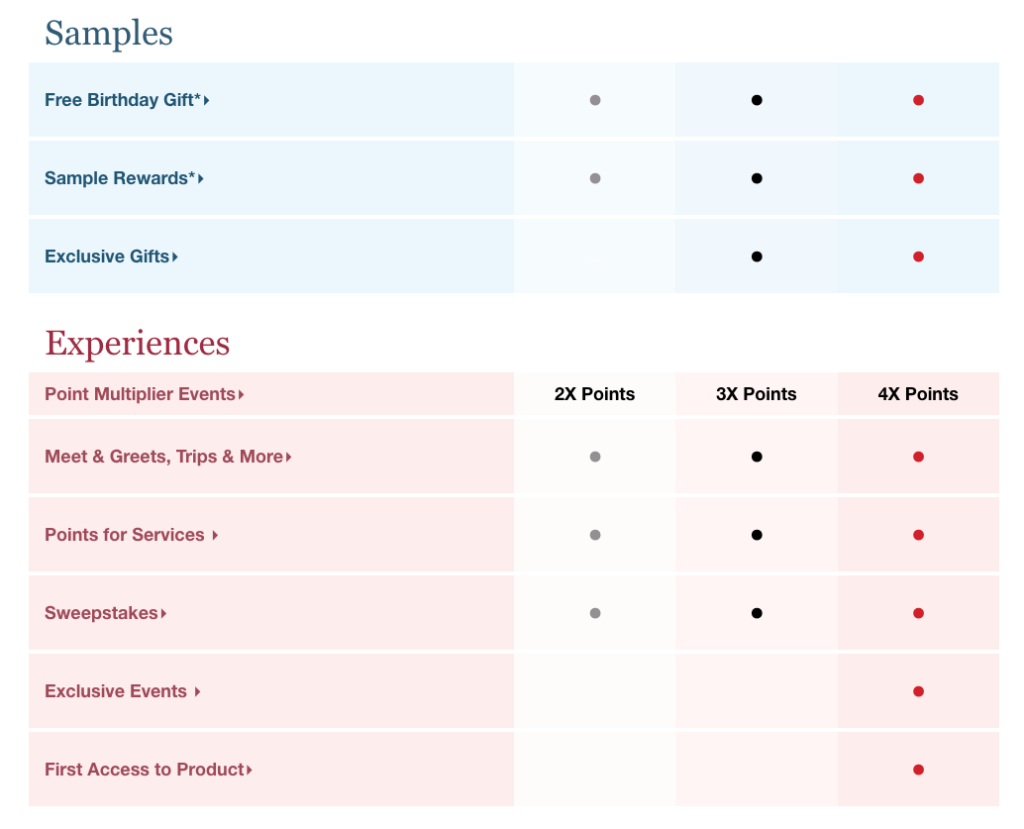 Sephora's loyalty members can redeem their points as discounts, store credit, as well as giveaway entries.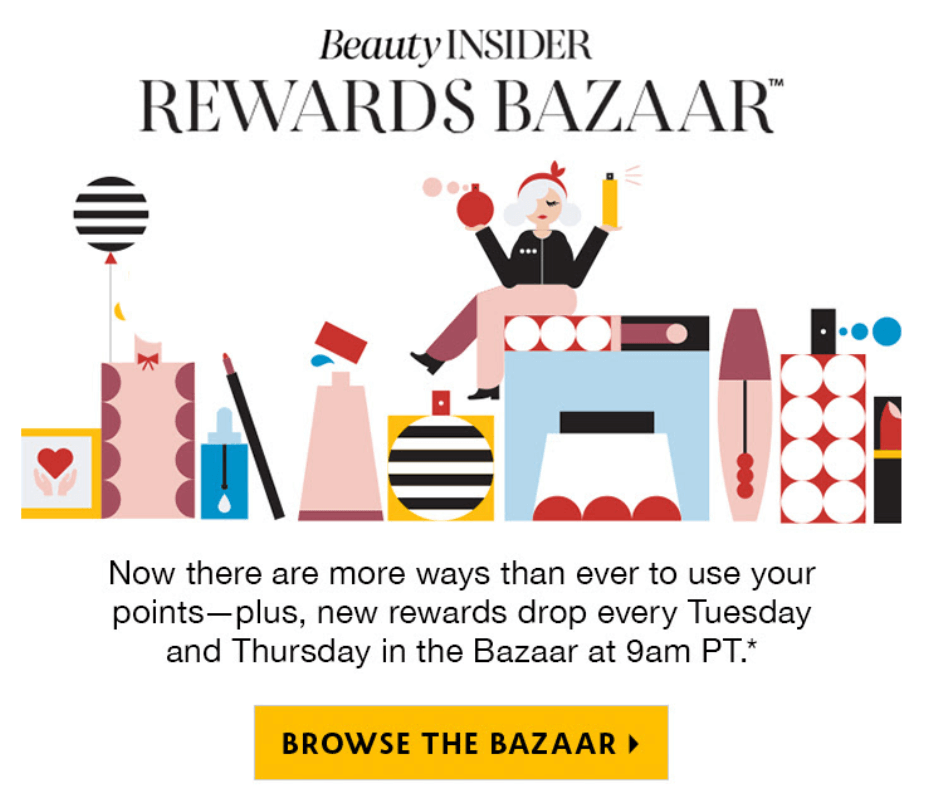 On a platform they call "Rewards Bazaar," Sephora invites you to shop for your favorite products by using your points. In this announcement email, they also feature some of the items you can buy: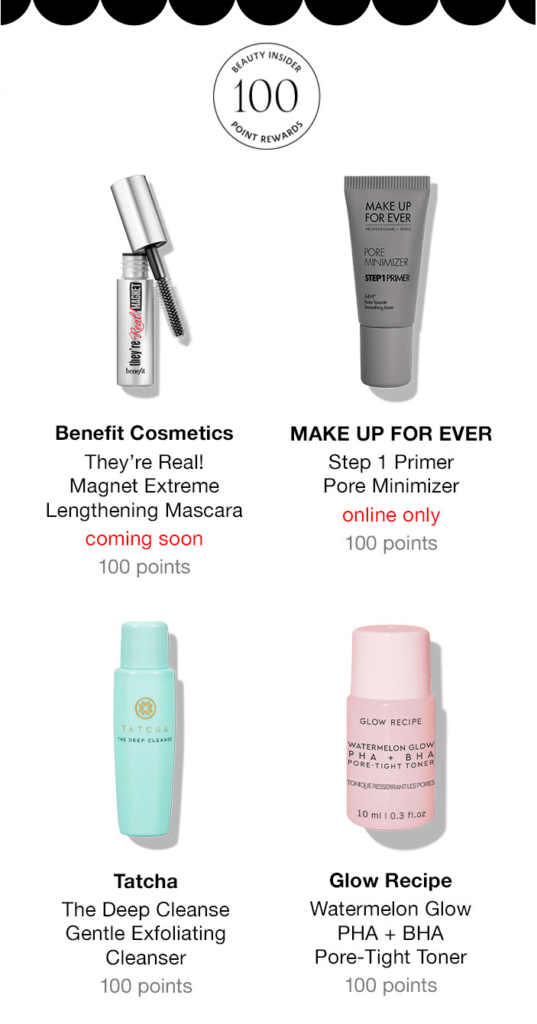 But that's not your only option. You can even use your points to enter a giveaway and get a chance to win up to $50,000.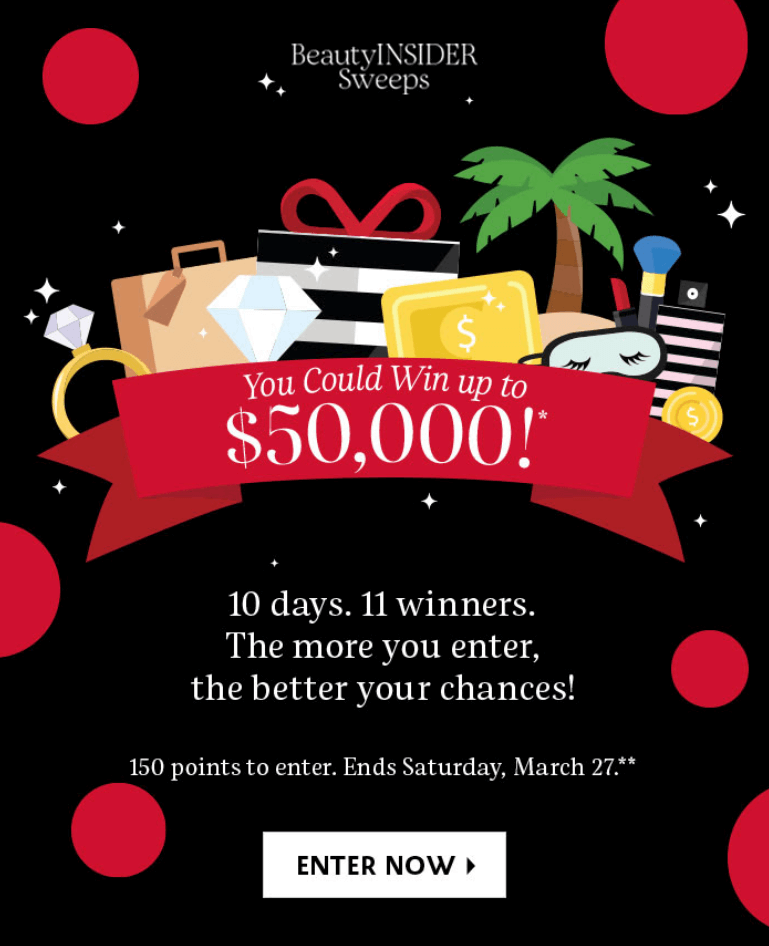 By giving you multiple options to redeem your loyalty points, Sephora keeps you engaged and it's brand top-of-mind—whether you buy from the company at this moment or not.
If there's one thing you should take away from Sephora's loyalty program, it's the variety of options available for members—both in terms of earning and redeeming rewards.
2. Anthropologie's AnthroPerks
If you're thinking of starting a customer loyalty program for your brand, a good landing page should never be an afterthought.
Although there's no one-size-fits-all formula for an effective rewards program page, it should:
Excite potential members by creating an exclusive feeling;
Clearly explain the benefits of joining the program; and
Answer questions in customers' minds before they occur.
Anthropologie's loyalty program, AnthroPerks, checks all of the above.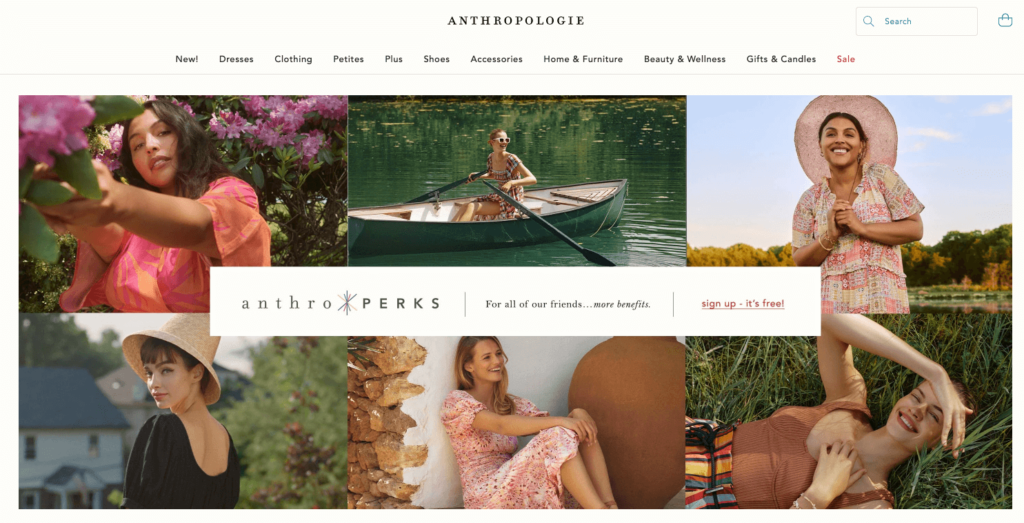 When you visit the AnthroPerks landing page, the company welcomes you with the call to action "Sign up—it's free" above the fold to address the buyer's price concerns.
After making it clear that AnthroPerks is not a paid loyalty club, the company explains the benefits of joining the program one by one: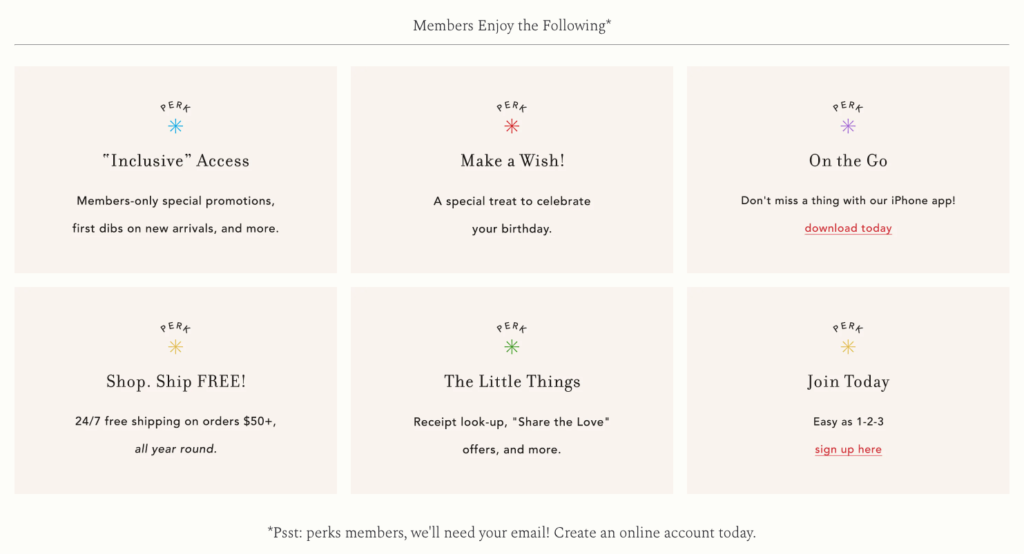 Each box represents a perk that members enjoy, ranging from "inclusive" access to promotions and new products to compelling incentives such as annual free shipping.
While many e-tailers promise similar benefits in their rewards programs, the last box is something I haven't seen before. Anthropologie lists easiness-to-join as a perk. Although it may not sound like a benefit, it's an important one because it signals that you won't have to fill out long forms with multiple steps to join AnthroPerks.
There's also a frequently asked questions section:

Here, the company explains once again that AnthroPerks is an easy-to-join and free program—just to clarify any questions you might have.
As promised in perk #2, Anthropologie sends a birthday discount to your inbox when the special day arrives: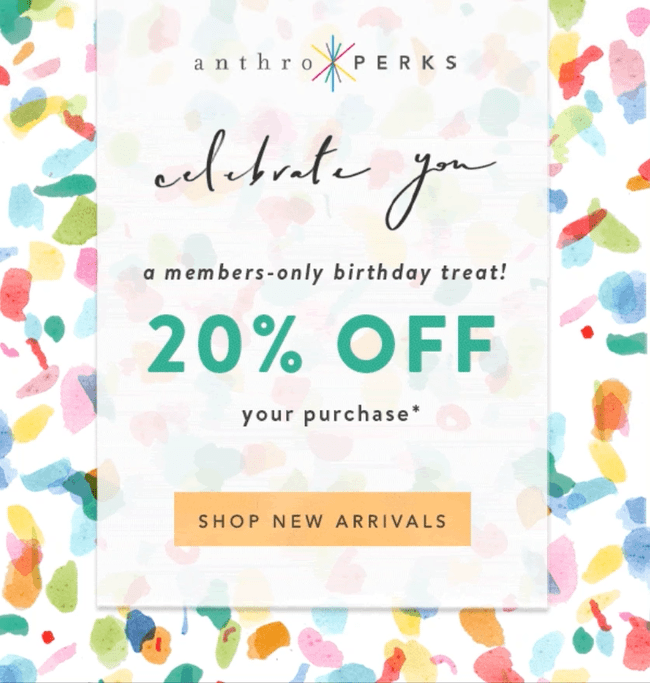 Sent with the subject line "​​It's YOUR day! 🎉", the company invites you to celebrate you and emphasizes that this is a "members-only birthday treat." This cleverly reaffirms the value of being on Anthropologie's loyalty program (and gives you a good excuse to shop from the company.)
As a member, you also get dibs on special sales via email in a similar fashion: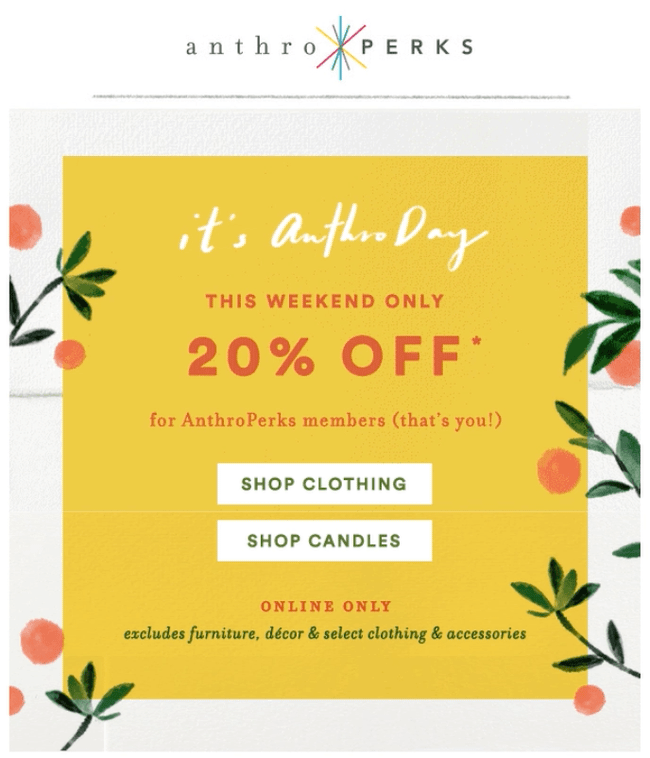 With emails like the above, the company reminds you that being an AnthroPerks member (that's you) pays off.
The key to Anthropologie's loyalty program is how it delivers on its promise with emails including special discounts and birthday offers.
If you run a customer loyalty program, don't just focus on getting new members, but also think about how you can engage and retain existing members with attractive offers.
3. Tarte's Point-Based Rewards
While Sephora diversifies how you can redeem your points, Tarte has a different approach to how you can collect points in its loyalty program.
The company's loyalty club, teamtarte, consists of three simple steps: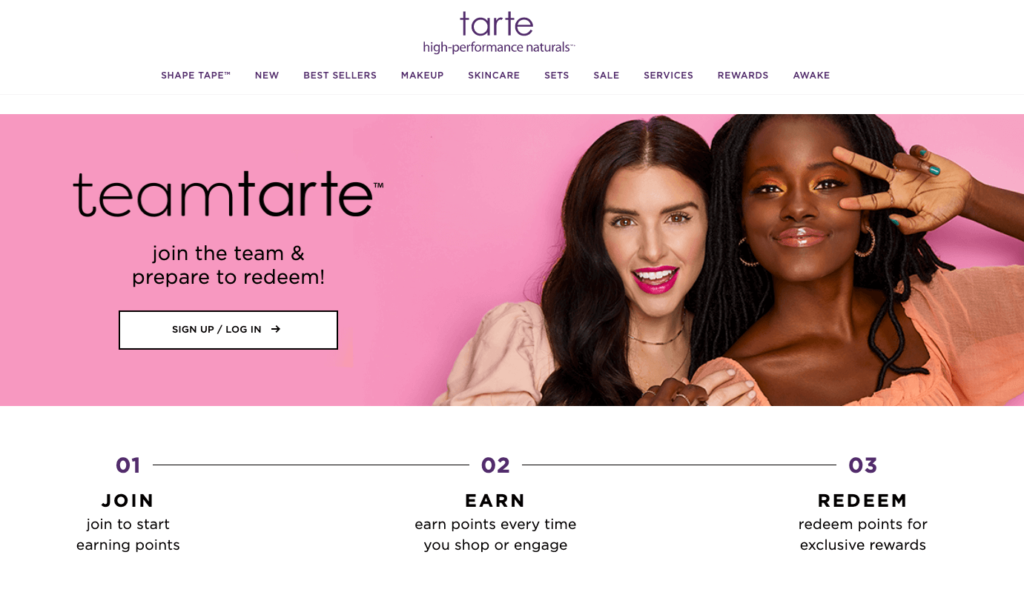 Join, start earning points, and redeem. As easy as that.
More interestingly, you get different points for the actions you take. Buying a sample size, for instance, awards you a different number of points compared to a full-size product. Sounds fair.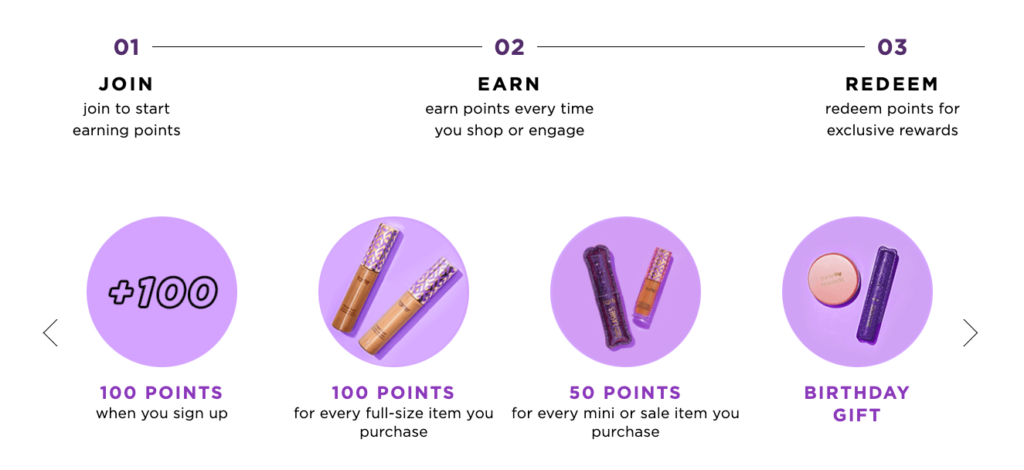 Best of all, you earn your first 100 points simply by signing up which gives you a sense of accomplishment and gets the ball rolling.
Points are important because that's what Tarte's loyalty program is based on. The more points you earn, the more perks you unlock: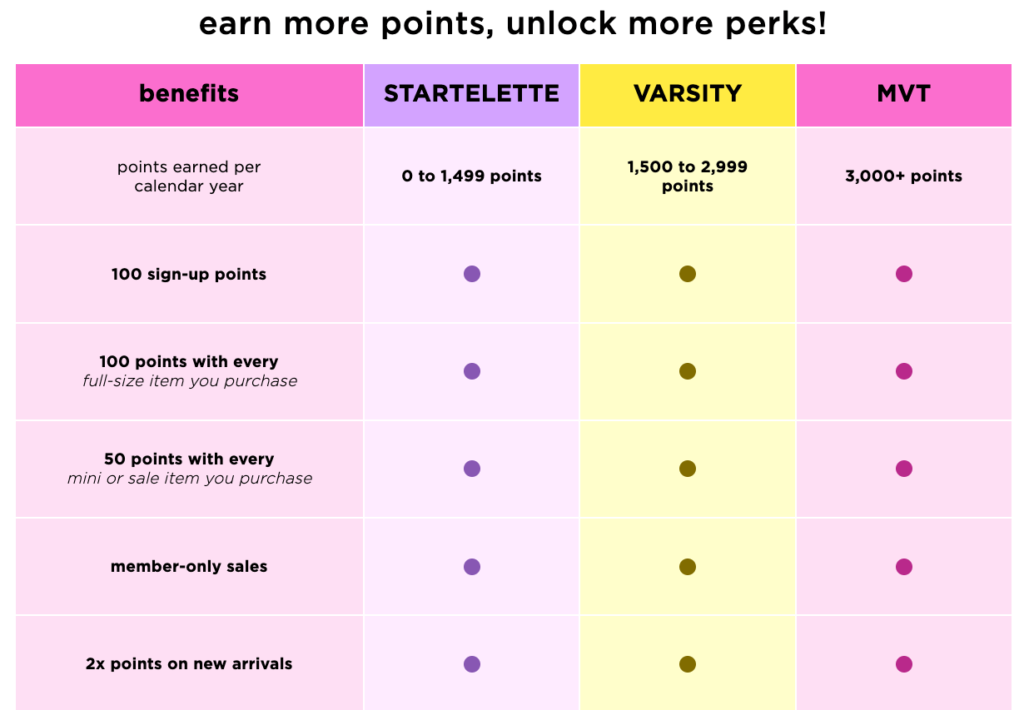 Delivering on its promise, Tarte gives club members early access to sales and nudges you to shop before others with the help of a countdown timer: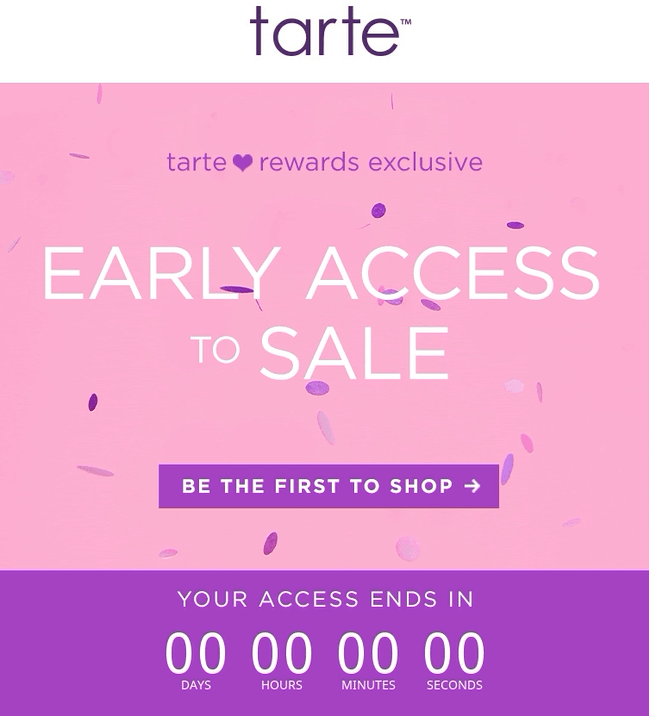 But the company doesn't only send out promotional emails as part of its loyalty program. Each month, they recap your loyalty status and how far you are from the next tier: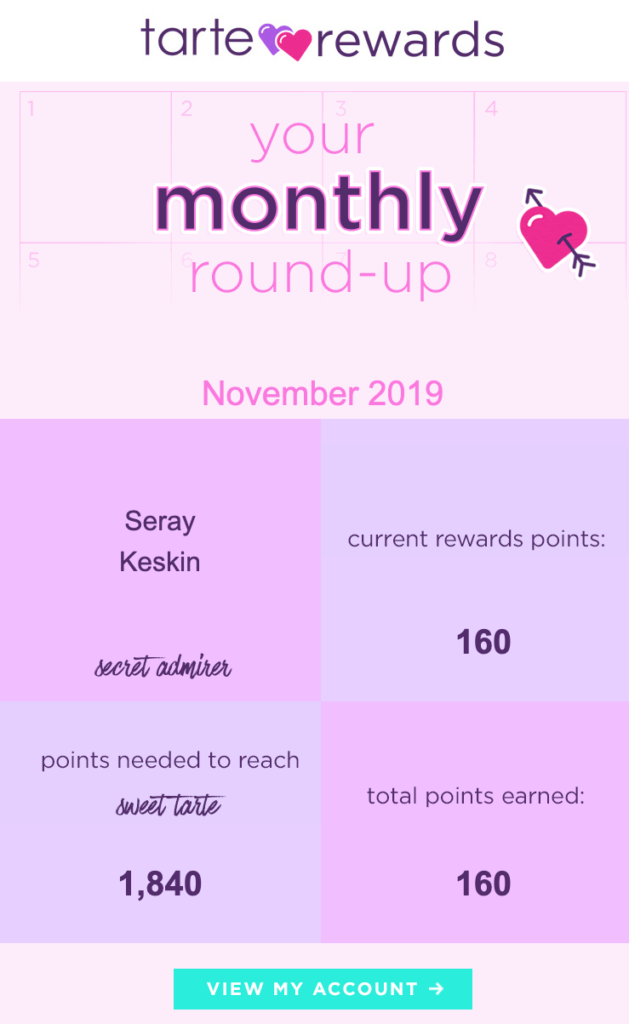 Including my full name, rewards status, and points left to reach the next tier, this email feels personalized and relevant. It's also a gentle reminder to shop more if I want to unlock more benefits in the next level.
Since I didn't want to pay customs for shipping to Europe, I haven't purchased anything from the company and, naturally, haven't earned any more points. (Sorry, Tarte.)
But I recently got this email from Tarte, with the subject line "Don't let your rewards points expire!":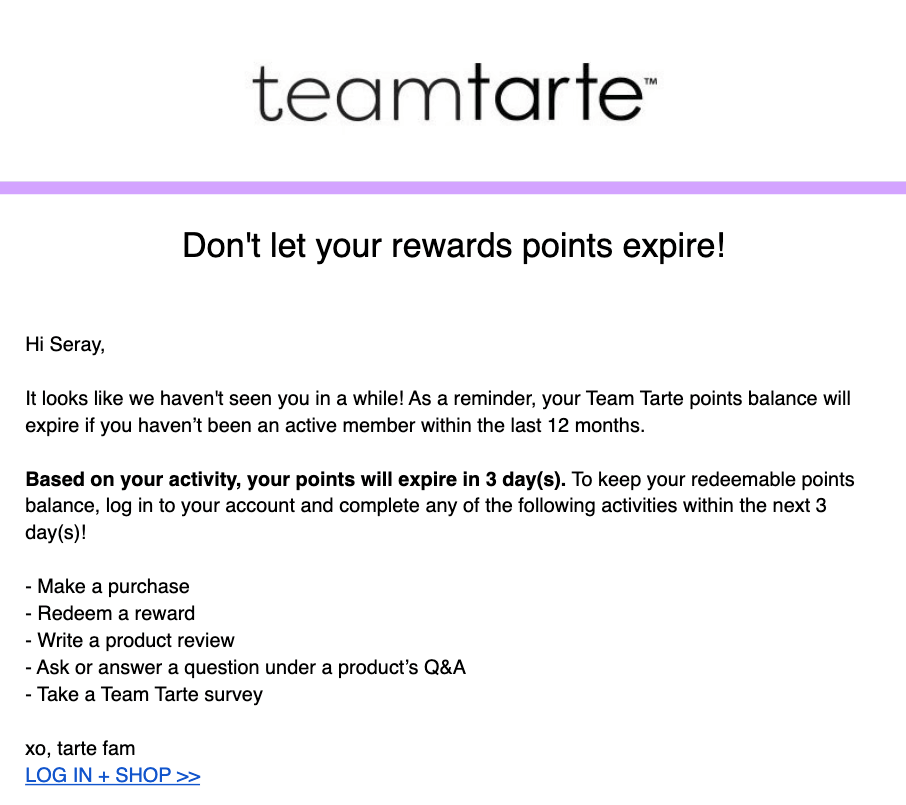 In it, the company tries to win me back by explaining that my current points will expire soon unless I take action. It's a brilliant reactivation email Tarte sends 14 days (and once more in three days) until the expiration deadline.
The company also recommends a few next actions I can take to keep my loyalty status other than buying a product, such as asking a product question, taking a survey, or writing a review.
Tarte shows us the importance of treating your loyalty program as one of your most valuable marketing channels. From welcome messages to win-back emails, Tarte has the entire flow covered.
4. Abercrombie & Fitch's myAbercrombie
If your goal is to build an attractive loyalty program, persuasive copywriting techniques should be your best friend.
After all, rewards programs come down to the feelings of inclusion and exclusivity. Whether it's paid or free, it's a membership-based, closed-access club providing special perks to its members.
Of course, that's only true if you position your loyalty program to be that.
Abercrombie & Fitch is one of the brands that got this right. In its loyalty program, myAbercrombie, the company uses powerful copy, highlighting exclusivity: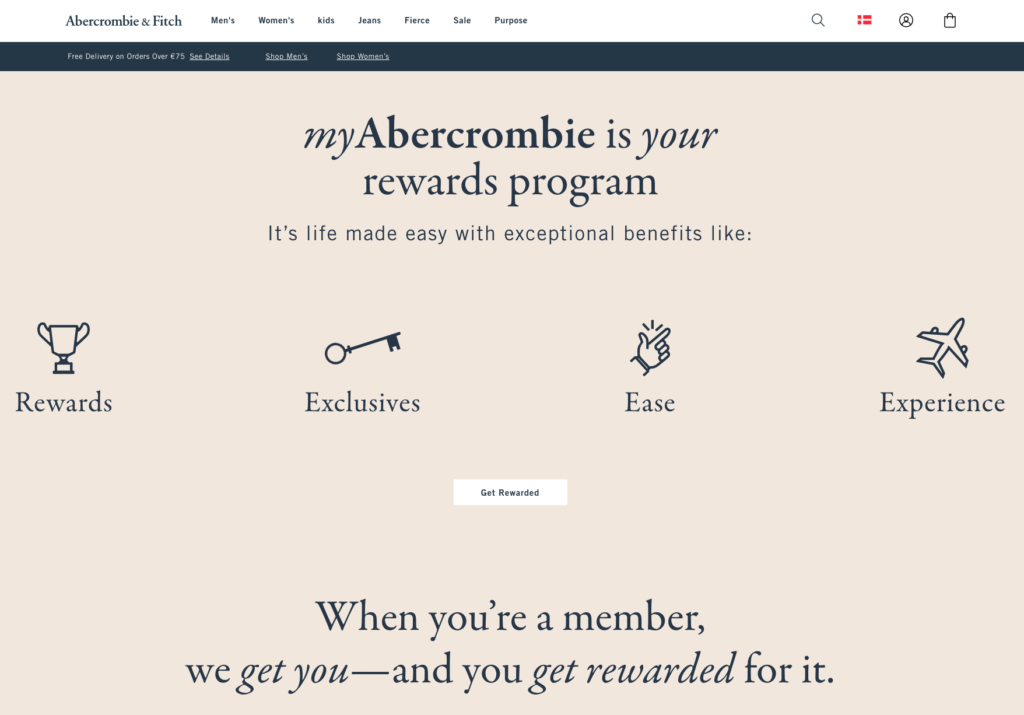 Its promise is to be a rewards program making your life easy with "exceptional benefits," "exclusives," and more. And when you're a member, you "get rewarded" as such. (Notice how A&F uses repetition to focus on the benefit of joining myAbercombie.)
As you read more about the company's loyalty program, it gets even more "exclusive." In addition to the regular perks, A&F also has a VIP section designed in the color gold and emphasized with powerful copy.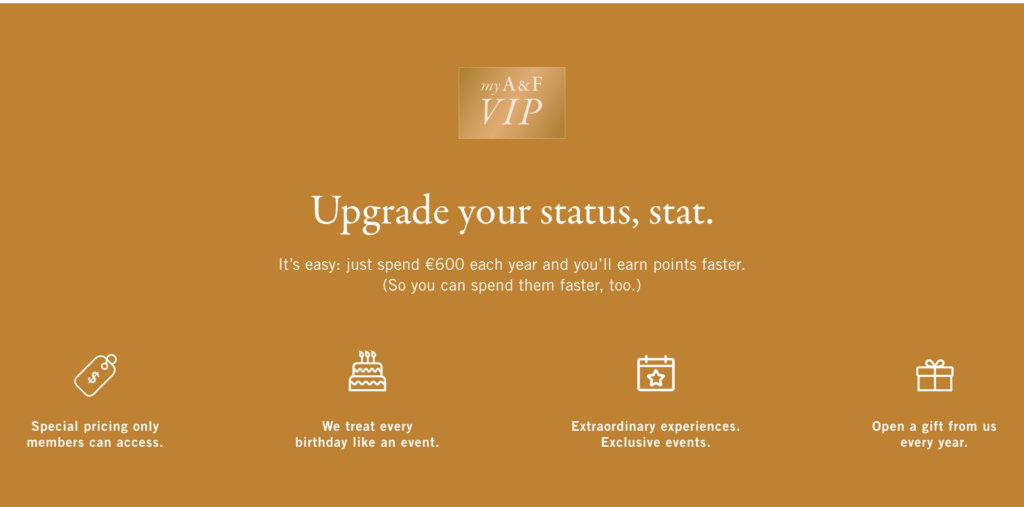 When you're a VIP, you get even more special prices, extraordinary experiences, and exclusive events. A&F even promises to make a big deal out of your birthday.
All you need to do is spend €600 each year to upgrade your status. Unlike many other examples in this post, A&F's loyalty program consists of only two tiers: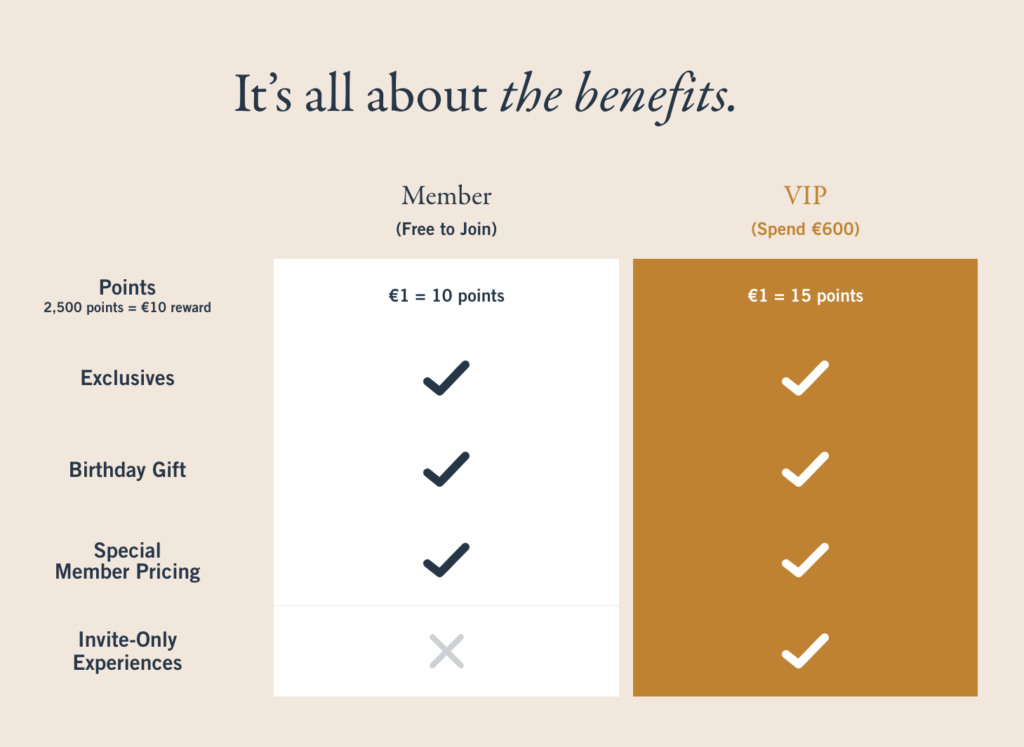 The free and VIP categories make the program much simpler. It also becomes easier to create a contrast between the two, encouraging you to spend €600 and reach the gold status.
Similar to Tarte, A&F sends you an account summary every month by visualizing your progress: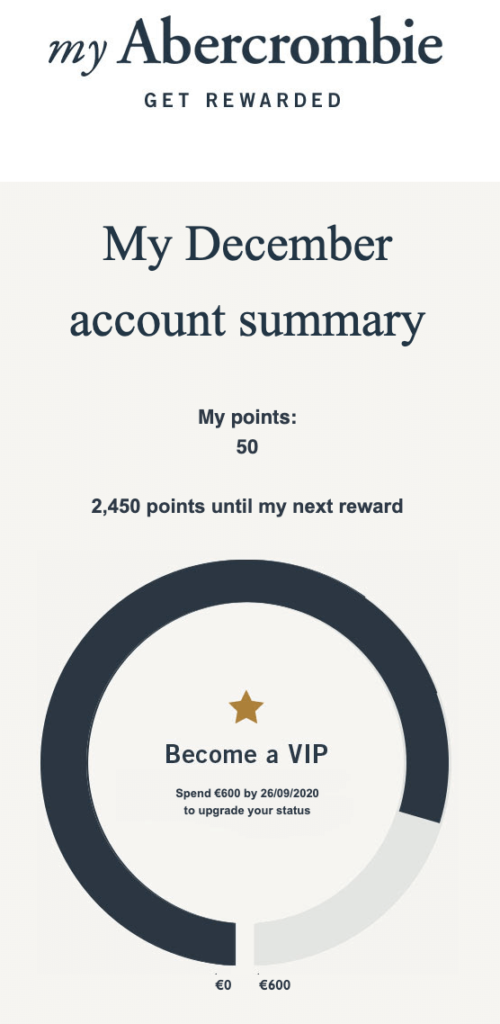 It's hard to not want to close open loops like the above. The clever use of a progress bar makes A&F's email irresistible.
What's more, the company includes your membership status and current points on top of every email: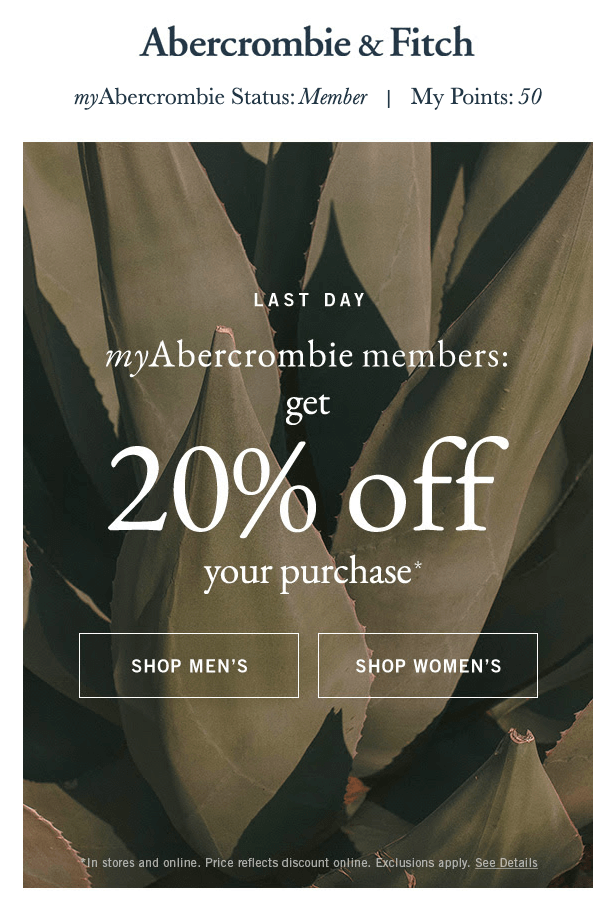 Abercrombie & Fitch surely knows how to appreciate its loyalty club members. You get yet another special discount on your membership anniversary: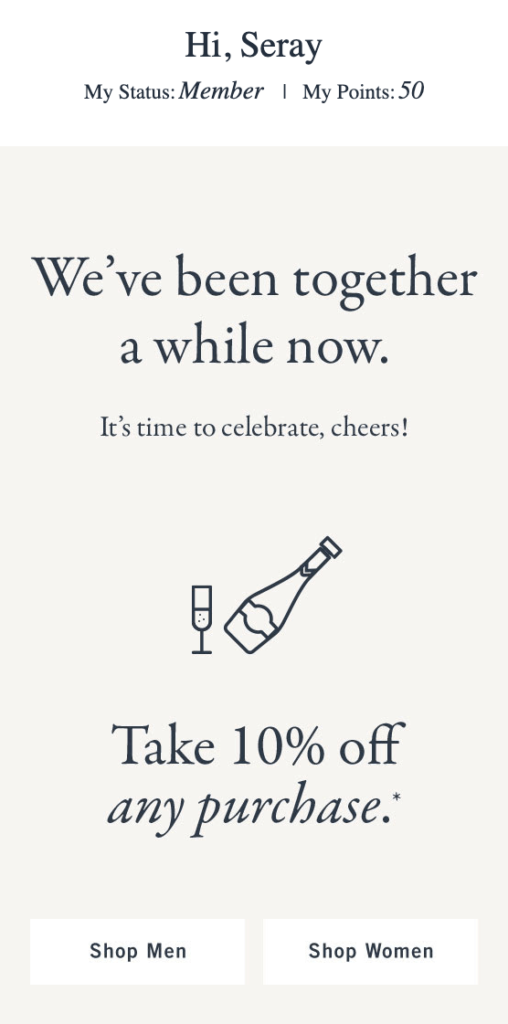 It's a simple email you can replicate to appreciate your customers even if you're not running a loyalty program.
5. The Sill's Green Rewards
Loyalty programs are popular among fashion and beauty e-tailers but they're not exclusive to those industries.
The Sill, an e-commerce site selling houseplants, has one of the most elegant and engaging rewards systems I've seen.
Let's break it down into its elements to understand why it works.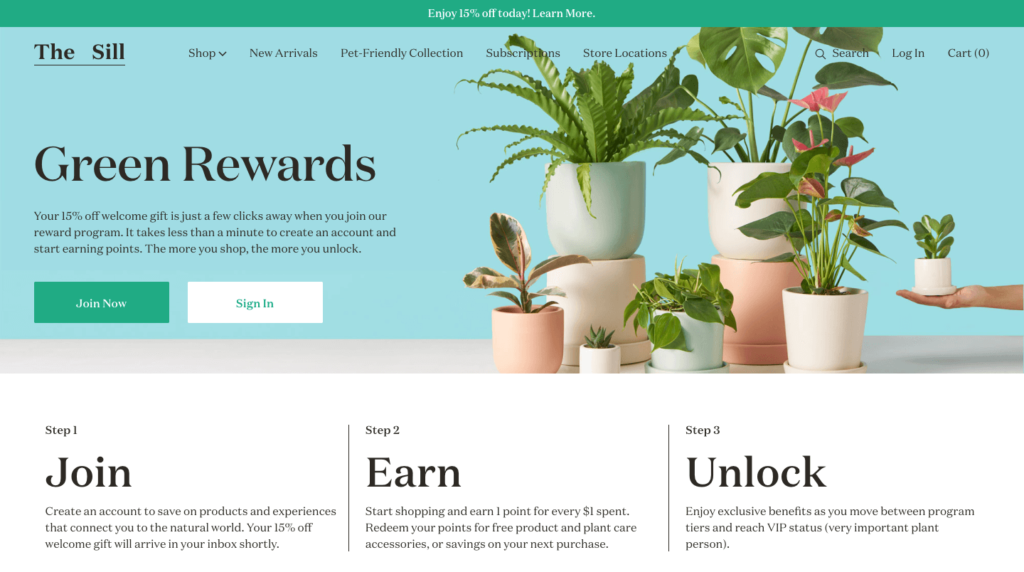 First of all, The Sill's loyalty program carries the name Green Rewards. It's a branded and unique term.
The opening sentence above the fold starts with a 15 percent discount, incentivizing your membership right off the bat. The welcome discount, commonly used in e-commerce, is part of The Sill's loyalty program.
Following a tiered program approach, you join, earn points, and unlock new levels as you spend more.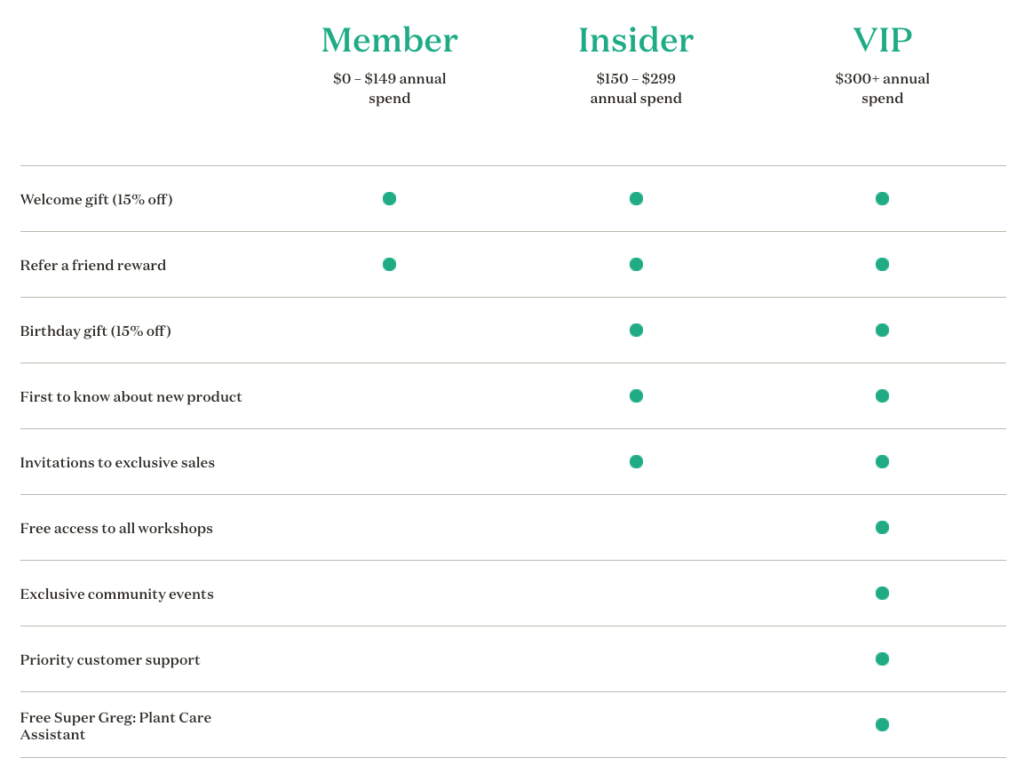 Tiers in Green Rewards are determined by your annual spend on the shop and can go up to the VIP status, which they call Very Important Plant Person.
In addition to welcome discounts and birthday gifts, The Sill offers priority customer support to its VIP loyalty members. This isn't something I've seen in e-commerce loyalty programs before.
The Sill's program also differs from other e-tailers' in the way it lets you earn points. It's not only shopping that adds points to your balance but also submitting your birthday, following the company on social media, signing up for the newsletter, and more: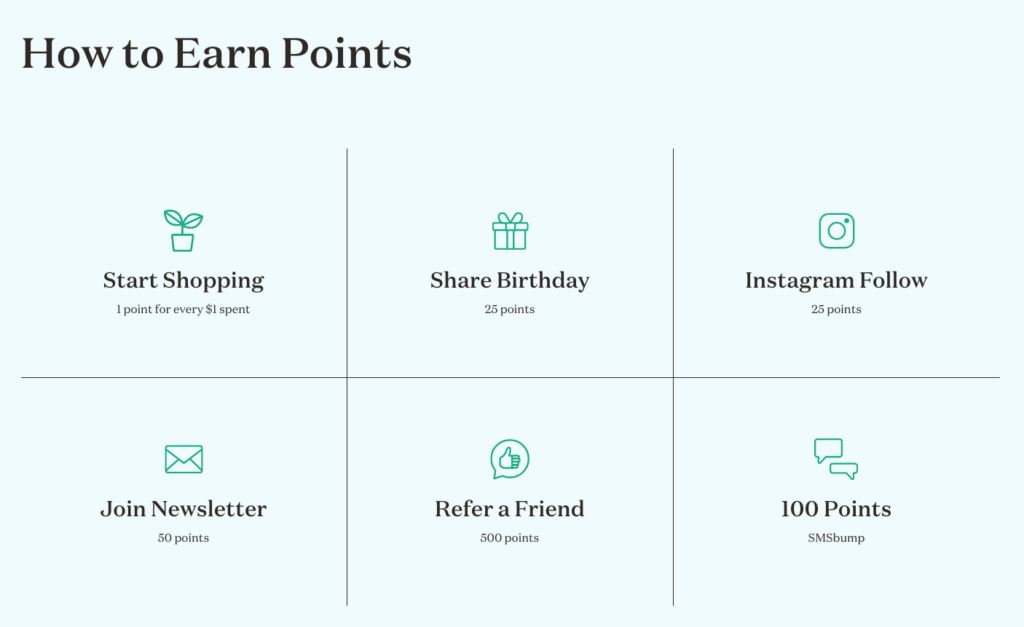 Notice how friend referrals can get you 500 points out of all the above. This is a smart way to combine your referral program with your loyalty club. You not only ensure that your existing customers are loyal to your store but also help them bring in new customers.
Last but not least, The Sill gives you two options to redeem your points: (1) get free products or (2) take dollars off your next purchase.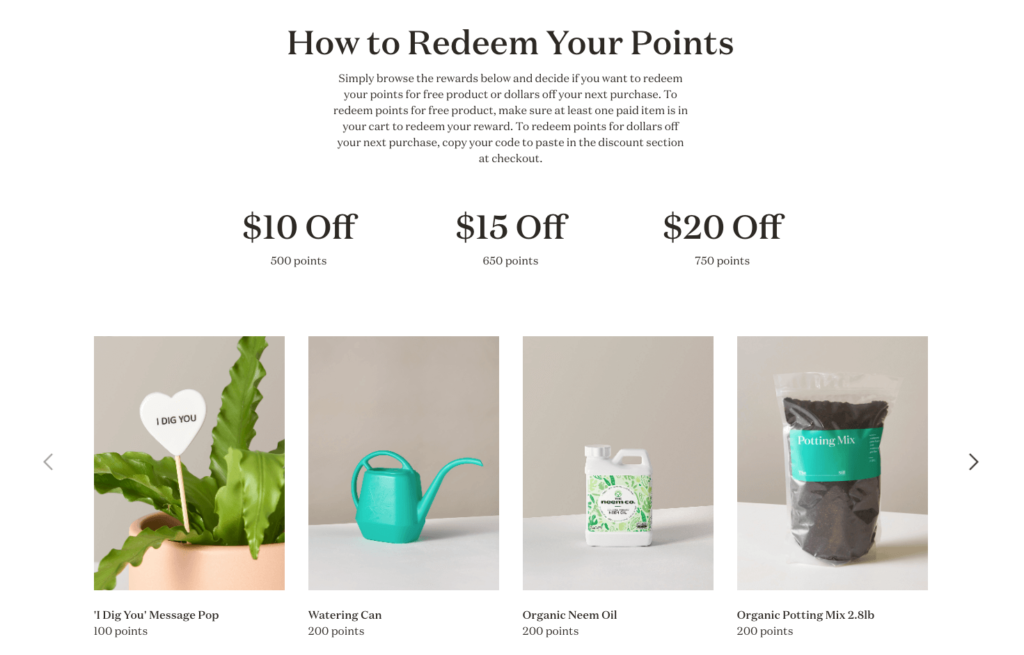 However, if you want to get a free product with your points, you need to buy at least one other item, which gives the company plenty of opportunities to upsell and cross-sell.
The Sill's emails are also worth studying. Especially this one, where they introduce the loyalty program and invite their subscribers to join: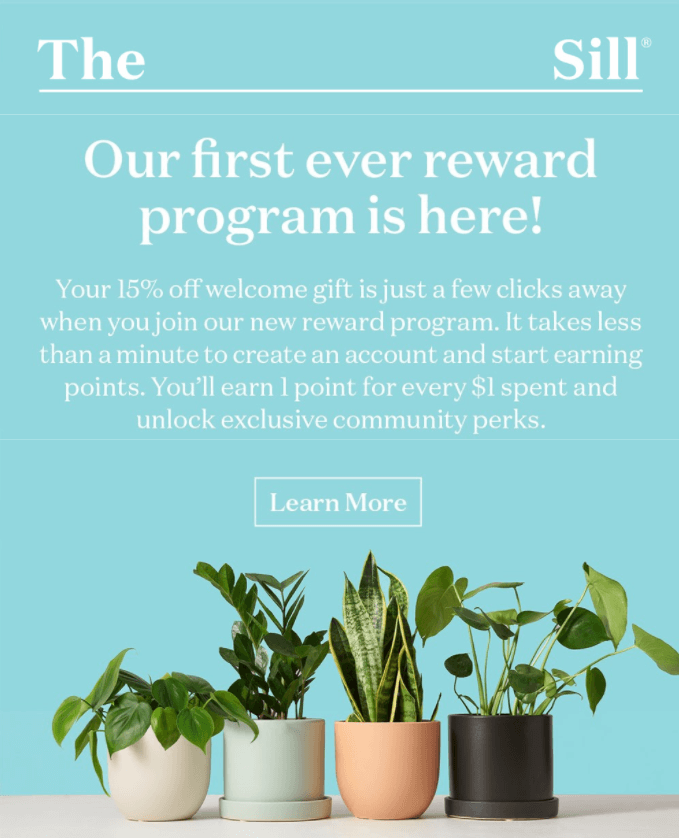 Sent with the subject line "Join our Reward Program (with a gift!)," the primary focus of the email is on the welcome discount. Once they catch their subscribers' attention with the gift, they explain how easy it is to join, and how you can unlock exclusive perks with every dollar you spend.
It's a straightforward but effective way to turn email subscribers into loyalty members. And it's a perfect example to copy if you're about to start a new loyalty program.
6. The Body Shop's Love Your Body Club
Known for its commitment to corporate social responsibility, The Body Shop is a brand that takes its loyalty program in a different direction.
Although it operates on a shop-more-to-earn-more basis, Love Your Body Club acts almost like a community, rather than a point program.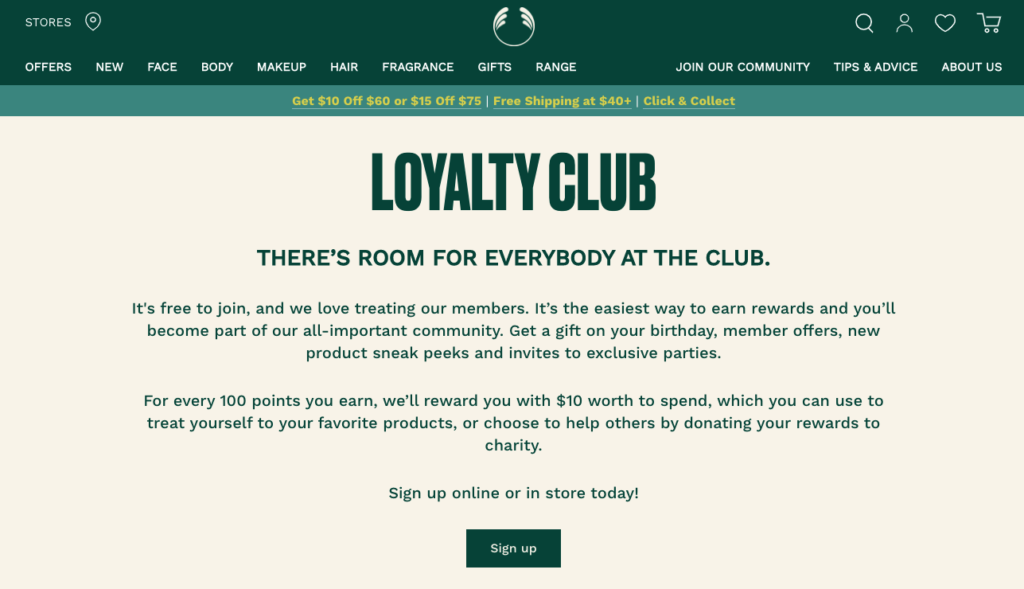 The Body Shop's loyalty program starts with a mission statement focusing on inclusivity, which isn't typical among other e-commerce brands.
The program isn't only a way to earn rewards but it's also about The Body Shop's "all-important community."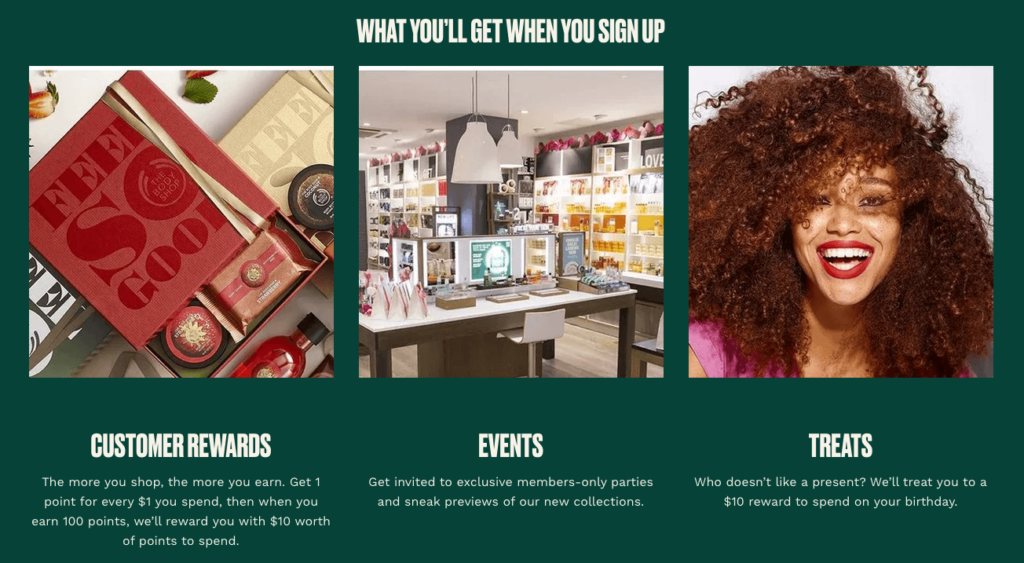 You get rewarded for each dollar you spend on the store, get invited to membership events, such as parties, and be gifted a nice $10 coupon on your birthday.
To create a better omnichannel experience, The Body Shop invites you to either visit a physical store or simply sign up online for its rewards club: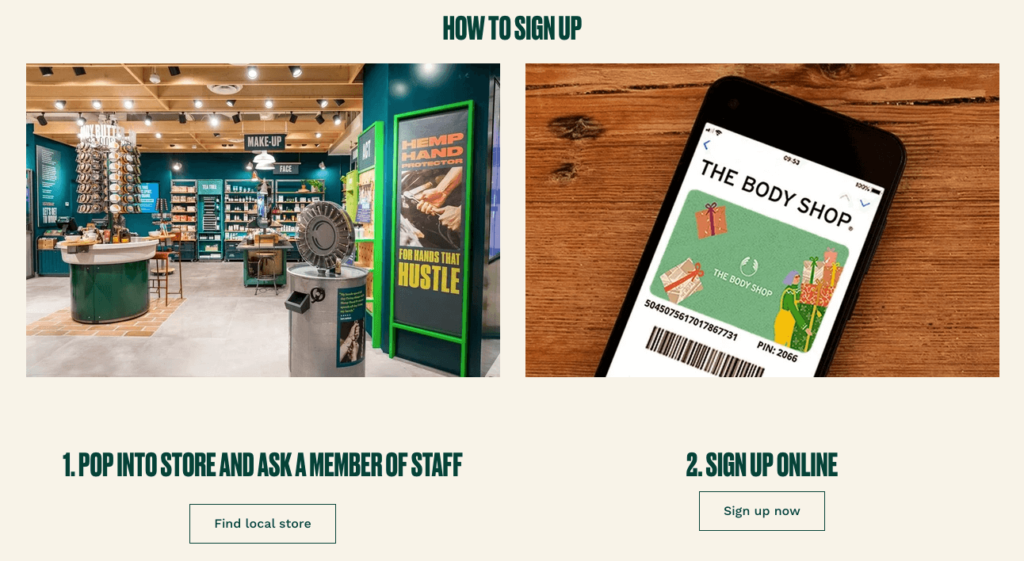 The best part of all is The Body Shop allows you to use your points as discounts, as well as donations to a charity of your choice.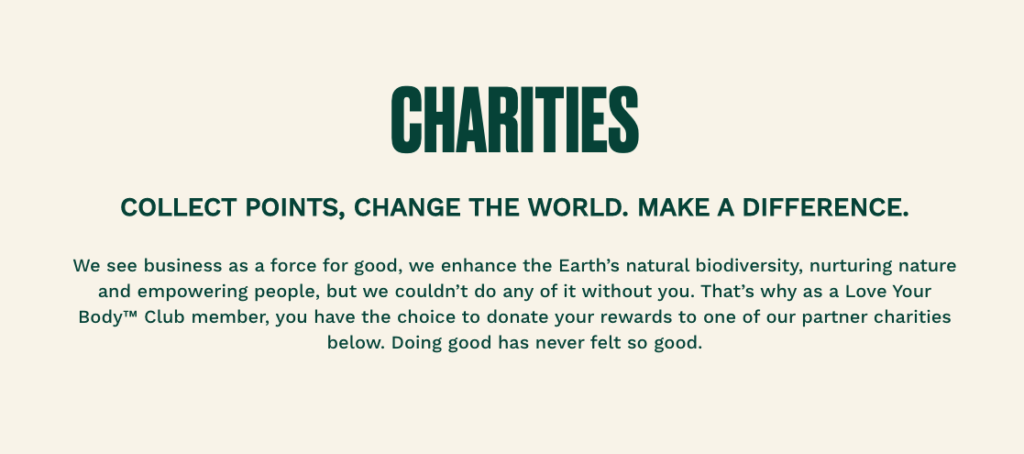 Purchasing the company's products to change the world is a bold statement. But it can make you feel better about spending money on the store by doing good at the same time.
If your brand is passionate about social and environmental causes, the option to donate points to a charity should be a must-have in your loyalty program too.
7. Torrid's Top-Funnel Nurturing Program
Almost all the loyalty programs I've seen while researching for this post focus solely on getting the sales done—for good reason.
After all, the whole point in having a loyalty program is to bring in more revenue. However, the buyer's journey isn't always a flat line.
Knowing this well, Torrid not only aims at bottom-funnel conversions in its loyalty program but also focuses on engaging its top-funnel prospects.
This is what Torrid's loyalty program, Torrid Rewards, looks like in a nutshell: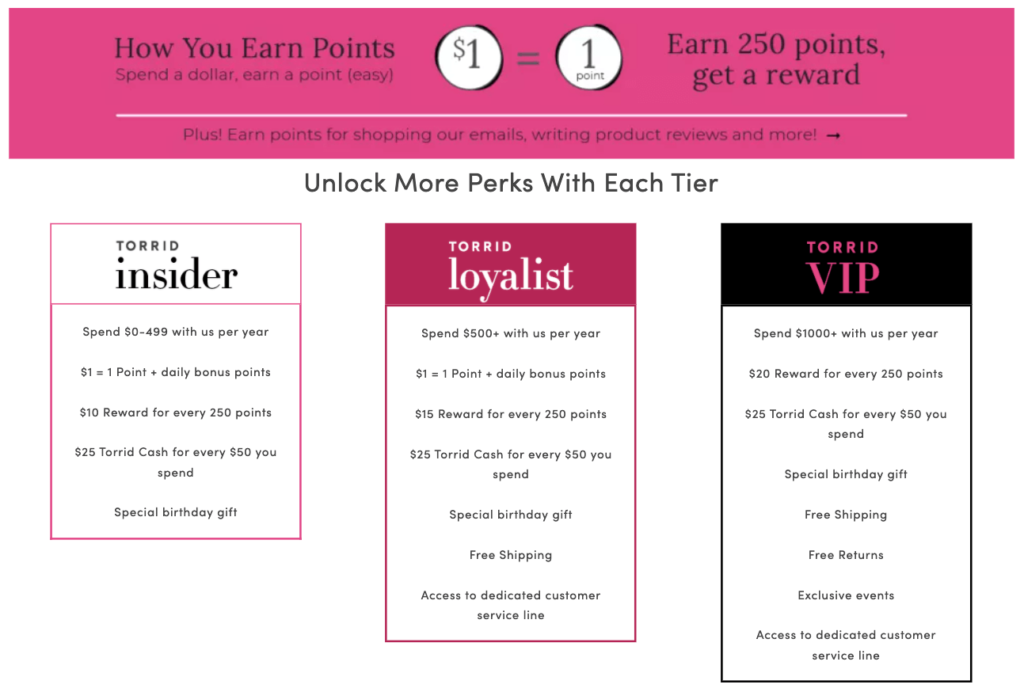 A tiered, spending-based program. Nothing new here—until you take a more careful look at it.
One dollar spent on the store equals one point, but that's not the only way to earn points in Torrid's program: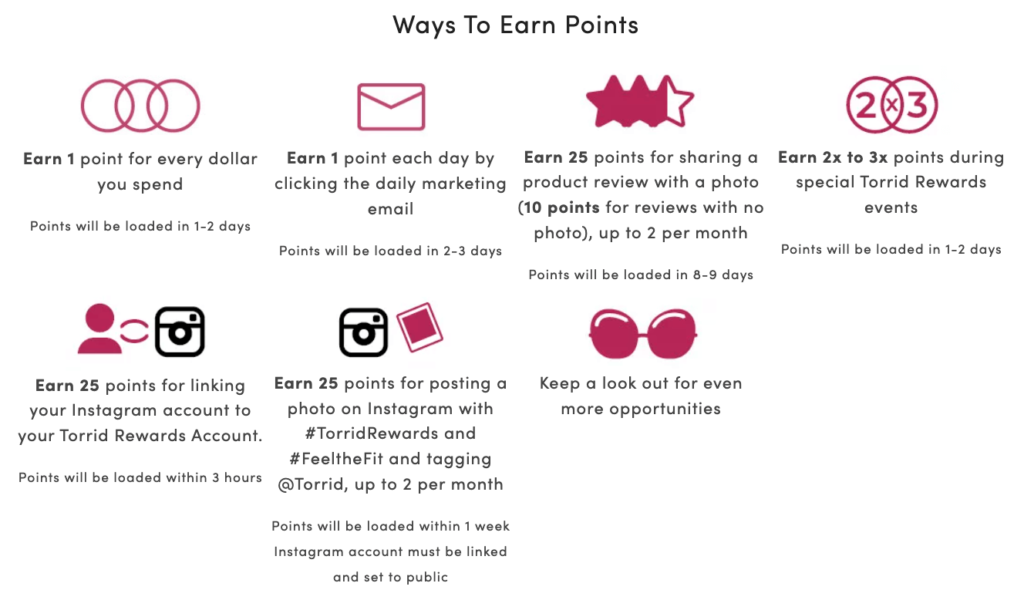 Whenever you engage with the brand—be it in the form of email clicks or product reviews—you earn points for each action. High-effort actions, such as sharing a photo on Instagram with the brand's hashtag, earn you more points while writing a product review with a photo is worth more than a regular one.
By gamifying its loyalty program, Torrid allows members to keep earning points even if they're not ready to re-purchase from the brand at the moment.
To get the most out of this generous offer, Torrid includes it at the bottom of every marketing email it sends: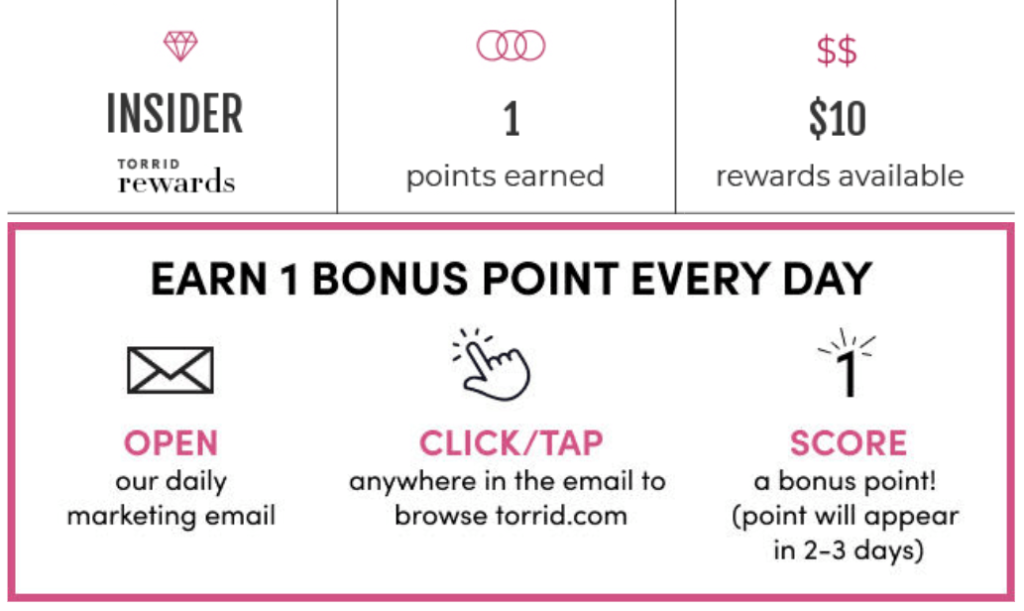 A simple action like opening an email and clicking through it already gets you one point every day.
This is a genius way to make sure that people open your emails day after day—until, eventually, a product catches their attention.
Conclusion
Whether you go with a point-based, tiered, or paid membership structure, customer loyalty programs that constantly offer value to its members are the best way to ensure repeat purchases.
For your rewards program to work, you need to keep your customers engaged and interested, with status emails, special offers, birthday gifts, and more.
Take inspiration from these seven e-commerce brands that do that just right and build your loyalty program with a strong focus on its perks.