If you were to choose between two similar products, which one would you go for? The item that nobody's showing interest in, or the one that regularly sells out and gets positive feedback?
Assuming you're a rational buyer like most of us, I can guess your answer.
Why? Because we're more inclined to do something when we see that others have done it before.
Popularized by Robert Cialdini in his book Influence, social proof is often used by e-commerce marketers as a way to increase sales. In simple terms, social proof refers to our belief that the actions of others are the correct behavior in a given situation.
The use of social proof in e-commerce takes different forms, including customer testimonials and celebrity endorsements. Getting an influencer to talk about your online store is great but not all of us have the resources (or desire) to do that.
The good news is that there are several highly effective types of social proof you can start using on your e-commerce site today—without spending a fortune.
In this post, I'll share seven tried-and-trusted strategies you can use to build social proof and drive more sales. Plus, action items to help you implement each strategy right away.
Table of Contents
1. Written Reviews: Social Proof by Customers
One of the most common uses of social proof in e-commerce is by using customer reviews.
Marketers love and praise customer reviews because they work like a charm.
And it's not only marketers who care deeply about reviews. In fact, 91% of consumers trust reviews as much as recommendations from personal contacts.
You can display customer reviews on your landing pages to strengthen your brand, add them to product pages to convert visitors into buyers, or incorporate them into your email marketing to promote your popular products.
But today, we'll talk about two different ways of using written reviews as social proof.
i. On-Site Customer Reviews
Written reviews are the simplest form of social proof: they're easy-to-collect and easy-to-display.
And the best place you can showcase those reviews is, of course, on your website.
Displaying customer testimonials on your homepage adds credibility to your online store. It also helps website visitors relate to your existing customers.
If you want to revamp how written reviews look on your homepage, take inspiration from Birchbox: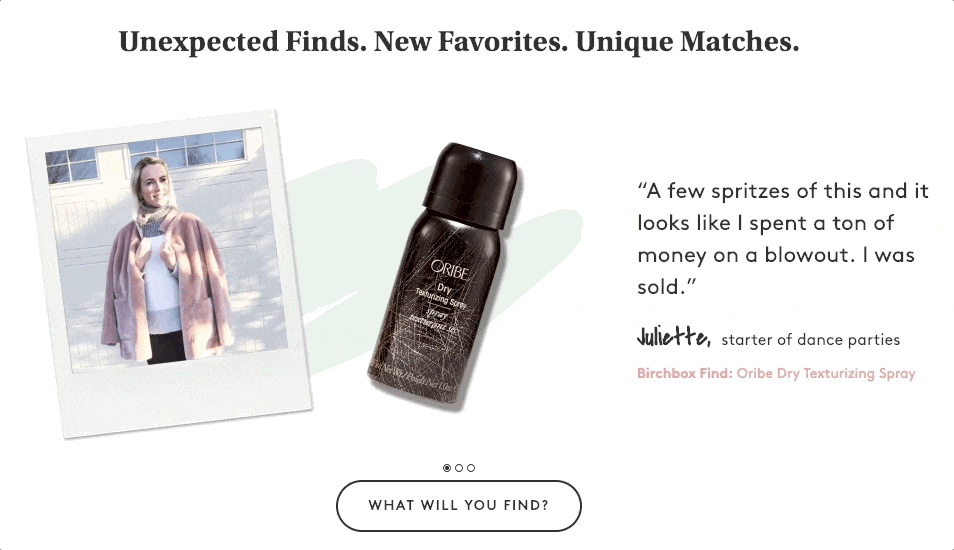 To reaffirm the reliability of the testimonials, the company uses pictures of previous customers.
(Notice how they also include the product image in the review.)
Another way you can leverage social proof to increase sales is to add specific reviews to product pages.
Take a look at this product reviews section by Glossier: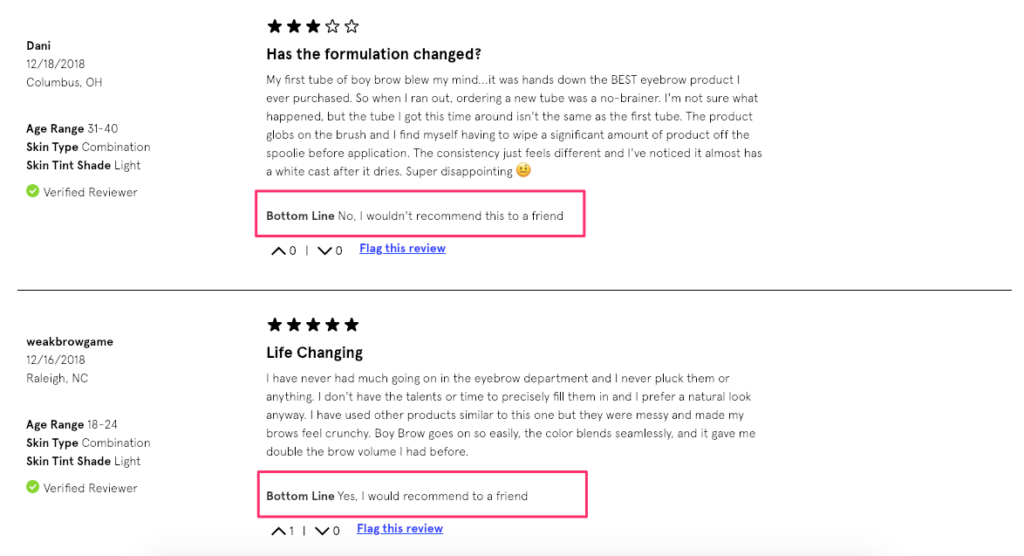 They display product-specific reviews in a way that is both easy to read and sort. (They also use a "Bottom Line" to save readers time and help them quickly decide if the product's for them.)
Showing the reviewer's personal details is crucial for social proof because we tend to attribute greater value to the actions of those who are similar to us.
Glossier includes the reviewer's age range, skin type, and location to further amplify this feeling.
When you read a review written by someone similar to you, the proof gets stronger because the reviewer's feedback becomes more valid and important for you.
Make sure to include customer details in your testimonials to help visitors relate to your customers.
ii. Off-Site Customer Reviews
While many online stores focus on posting reviews on their sites, one thing goes unnoticed: off-site reviews. These include sites like Trustpilot and Google Customer Reviews, among others.
Since you don't own these platforms (unlike your site), you may easily turn a blind eye to off-site customer reviews. But they're as important as your on-site testimonials.
And if you're not using them to your advantage, you're missing out on a lot of free praise.
Bean Box uses Google ratings on their webshop to proudly display their best reviews: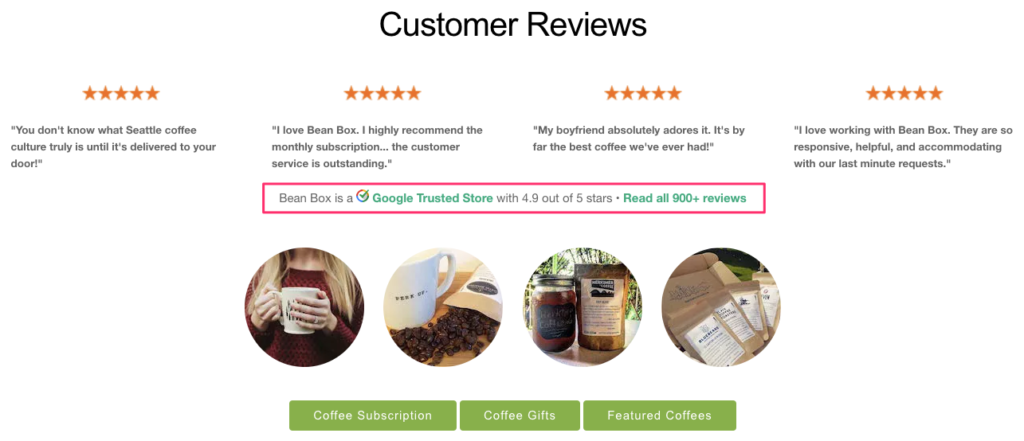 They highlight some of their best feedback together with their total rating and a Google Trusted Store badge. The badge adds another layer of proof to their online store: an approval by Google.
If Google's review service is not available in your region, Trustpilot is a great alternative.
Here's how Sugru displays their Trustpilot reviews on the homepage:

With a strong headline that reads "Don't listen to us—listen to them!", the company positions its customers as brand advocates.
Using off-site reviews through sites like Google or Trustpilot act as social proof—both from your customers and high-authority websites.
Action Items
Email customers 10 days after they purchase and invite them to leave a review on your site.
Display customer reviews on your homepage and/or product pages, and relevant for the reader and easy-to-read.
Sign up for Trustpilot or Google Reviews. Then, encourage customers to leave feedback. Finally, add trust badges to your site (once you have enough testimonials).
2. User-Generated Content: Social Proof by Real People
Imagine coming across hundreds of positive online reviews about a new restaurant in town.
And the next day, you actually see that the place is packed with people. Everybody's eating happily inside.
Which of the two experiences gives you a more favorable opinion about the restaurant? And which one can convince you to give the place a chance?
Written reviews are an effective form of social proof, but if you can get real people to use and display your products visually, that is priceless.
User-generated content is a dynamic way of creating social proof around your brand. Here are three ways to make the most of it.
i. Encourage the Unboxing Experience
Unboxing videos are popular among online shoppers and with good reason.
A quick search for the term "unboxing" will bring you millions of results on YouTube. In fact, there are YouTube channels dedicated only to unboxing videos and some have over 13 million subscribers.
Crazy, isn't it?
Apart from seeing the product in action, the whole unboxing experience has an element of social proof.
It captures and displays the customer's excitement and satisfaction with the purchase.
And the best part is, this type of content comes from real people, instead of the brand.
Man Crates is one brand that benefits from using unboxing videos as social proof: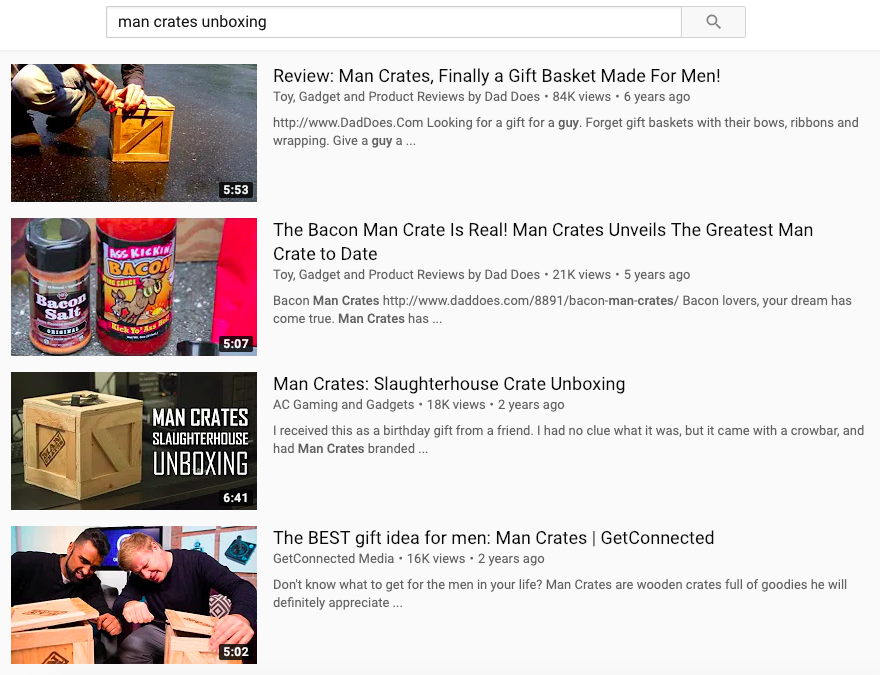 There are numerous unboxing videos created by Man Crates customers and influencers, confirming the brand's popularity.
The key to getting customers to record their unboxing experience is to set a strong expectation. Add a strong call-to-action or an incentive to nudge customers to create content for you. Ask them to share it on social media using a hashtag, and repurpose the best unboxing videos on your homepage, product pages, or social media channels.
Further Reading
Read our article on Man Crates's marketing to learn more about how to create unforgettable unboxing experiences.
ii. Show Products in Action
Another way of creating social proof through user-generated content is by showing products in action with real-life images.
By adding customers' product images and videos to your online store, you can:
Create social proof;
Make the products easier to visualize; and
Put a human face to your brand.
Check this example by Wool and the Gang:

Using a third-party tool called Olapic, the company curates customer pictures on product pages.
Granted, not all customers are willing to share their product experiences on personal social media accounts. Keeping this in mind, Wool and the Gang gives you the option to upload your photos directly on their site: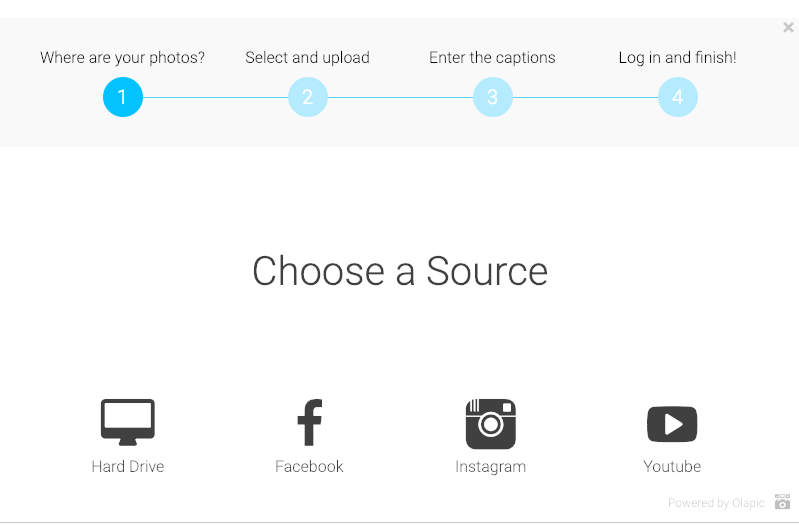 Collecting user-generated content in the form of personal pictures and videos is more difficult than getting written reviews. So, if you can, offer an incentive to make it simple for customers to submit their content.
iii. Curate Social Media Content
No matter what business you're in, I'm sure you're keeping an eye on what people are saying about your brand on social media. And if you are, chances are you're getting nice mentions every now and then.
The question is, how much use are you making of your customers' social media content?
If you're not repurposing social reviews on your site, you're missing out on the opportunity to display social proof.
Here's a brilliant example by Casper: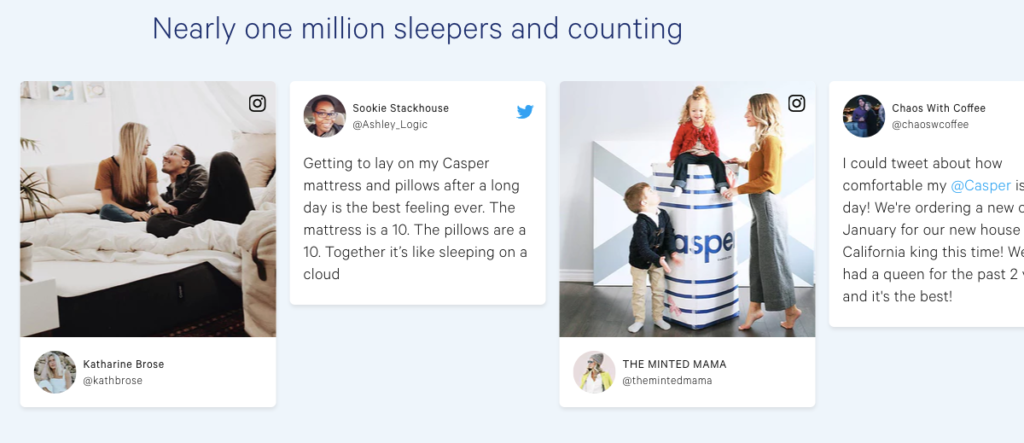 Embedding tweets and Instagram posts on their homepage, Casper curates some of the best social media reviews shared by their customers.
(Notice how they use their number of customers as another layer of social proof.)
This tactic is easy to implement, and it's an effective way to display the positive feedback your brand and products.
Action Items
Ask customers to record their unboxing experiences and post them online.
Invite customers to share their product pictures by offering an incentive such as featuring them on your site or giving a special discount code.
Select the best reviews you got on Twitter and Instagram and embed them on your homepage.
3. Real-Time Activity: Social Proof by Fellow Visitors
Trending, best-selling, most popular products…
However you name it, almost every e-commerce site has a category or a filter for their top products. We tend to believe what most people are doing is the right action. After all, if many people are buying a product, then it must be good.
Social proof is a strong trigger by itself. But it gets stronger when you combine it with other psychological triggers, such as urgency and scarcity.
Be careful, though—there's a thin line between triggering visitors' Fear of Missing Out (FOMO) and being intrusive.
Missguided uses social proof well and without hurting the user experience: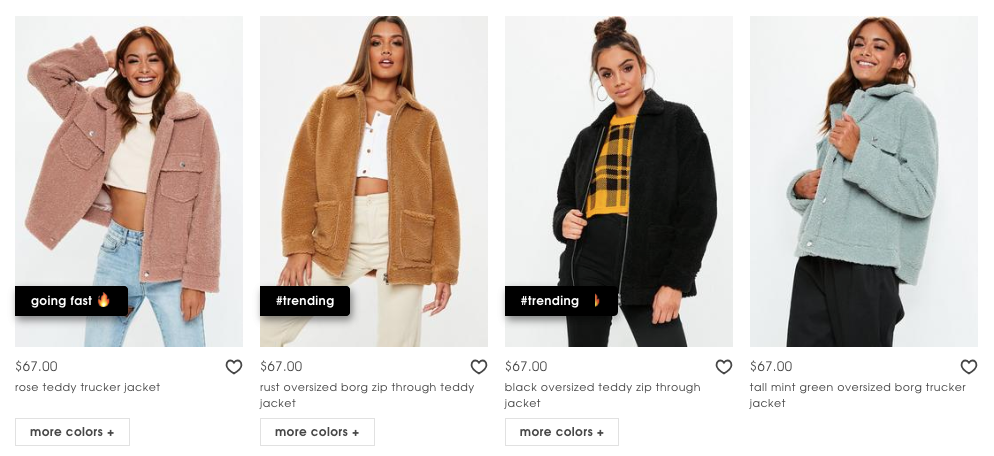 The company adds the tags "going fast" and "trending" to hot products on listing pages and displays real-time customer activity.
These tags differentiate popular products from others and trigger FOMO without annoying visitors.
Missguided also uses live text on product pages as social proof: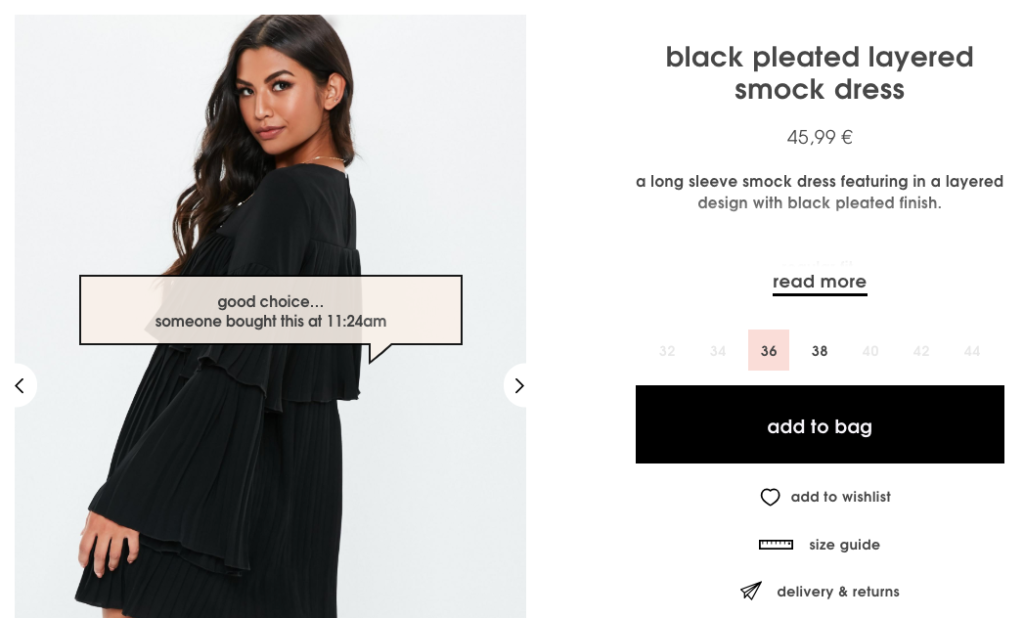 Different types of text overlay the image for a few seconds to give you information about the product.
In the above example, the company endorses me for my "good choice" and gives specific proof of someone buying that item.
The time of purchase strengthens that social proof by making it more credible, and it further evokes my interest in the product.
Another way of nudging visitors with social proof is by using real-time activity notifications.
Here's an example by David's Clothing, an online store based in Georgia, US: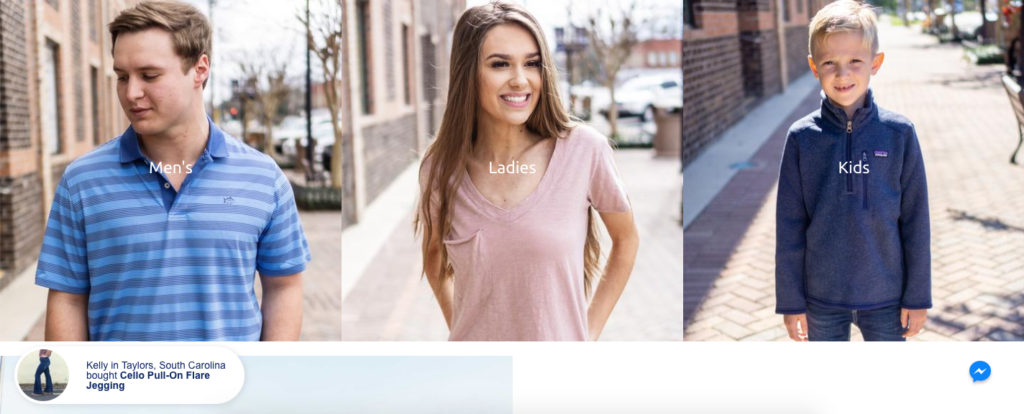 This type of social proof works well because it's honest. Showing the buyer's name and location next to the product makes social proof more reliable.
4. Ask Us Anything: Social Proof by Experts
We trust toothpaste brands recommended by dentists because they're approved by experts in that field.
And we trust those experts because we believe that they have more knowledge in the area than us. So we think that their recommendations point to the correct behavior.
Getting approval from experts in your industry will strengthen your brand. But what's better is positioning yourself as the industry expert.
How can you encourage people to believe that you have enough knowledge in the field?
Share your expertise with them.
Helping existing customers with their problems and complaints is one thing, being useful to visitors with valuable information is another.
Harvey Nichols does this well: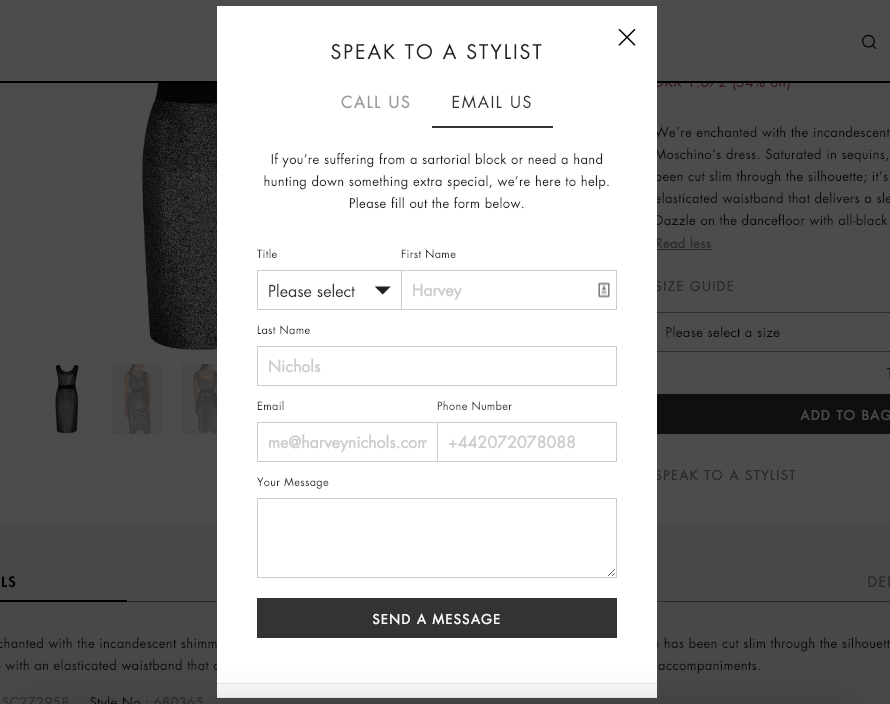 Since the company sells high-end products, they know that visitors might need more information and time to think before making a purchase.
That's why they add a "Speak to a Stylist" option on their product pages. When you click it, a form pops up offering the option to call or email. Here you can get help from the brand which positions itself as an expert. (And if you choose the email option, it's a warm lead for the company.)
You don't have to be in fashion to use expert social proof. Whatever you're specializing in can be your expertise.
Check out this example by Brooklinen: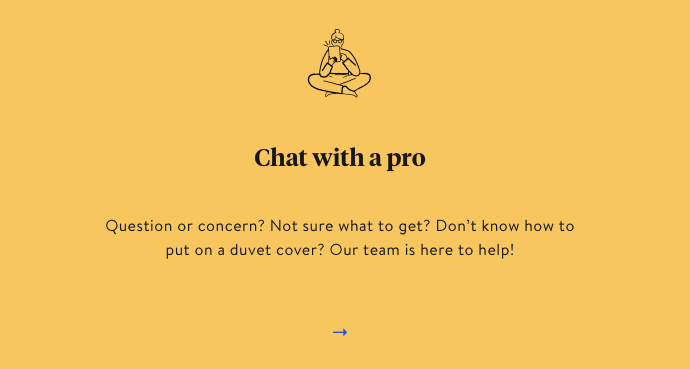 The company wants you to ask them anything including the most basic doubts you might have. They're committed to helping you and they have all the answers.
With an "ask us anything" approach, you can position your brand as the expert and create social proof without the need for outside approval.
At the same time, you can guide visitors for better buying decisions and improve the shopping experience.
Action Items:
Add "Help," "Contact," or "Ask" buttons to your product pages.
Optimize your copy to position yourself as an authority: Use strong words such as pro, expert, specialist, or professional for added social proof.
5. Questions & Answers: Social Proof by Community
In Strategy #4, we mentioned the importance of addressing the questions and doubts your potential customers have in mind.
After all, who else can answer those questions better than you?
Your existing customers.
Having bought and used the product, your customers have valuable insights that they can share with the others.
Adding a "Questions and Answers" section to your product pages is an effective strategy because it creates a community around your brand. And a brand community acts as strong social proof. It can turn visitors into customers, and customers into brand evangelists.
Here's an example by Beauty Bay: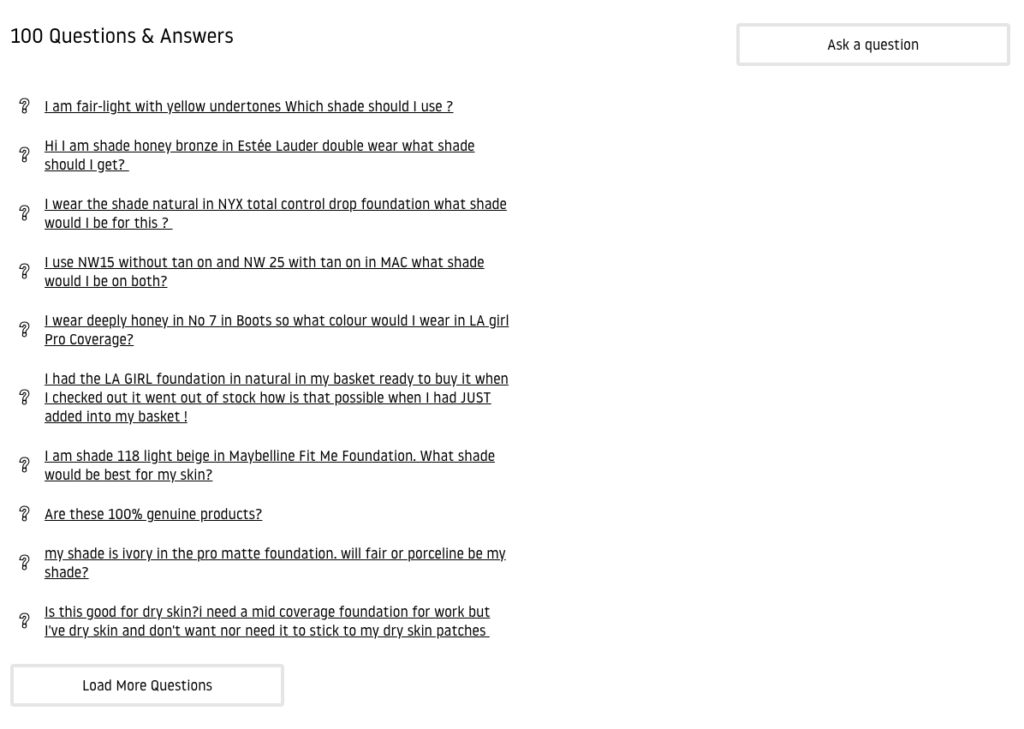 Beauty Bay creates a space for visitor questions above customer reviews. Visitors can then ask their questions about the product, and either team members or users can answer them: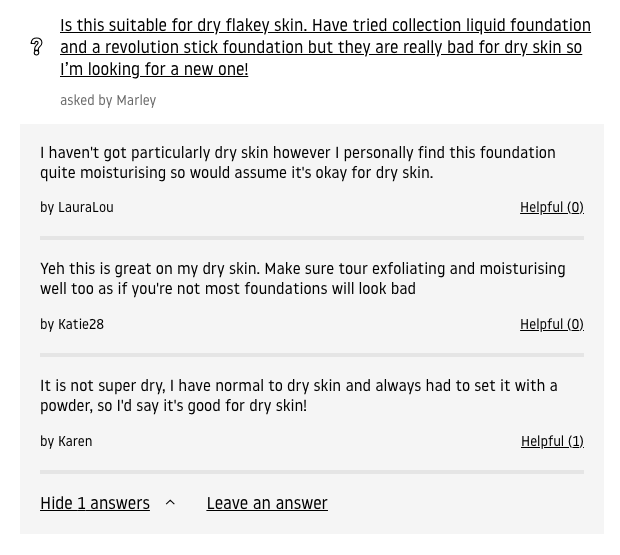 Visitors can use different users' opinions to influence whether they make a purchase. But they also see that there's a community around the brand and that Beauty Bay's customers are willing to speak on behalf of the company. It's the best kind of social proof you can imagine. The company also makes it easy to ask questions:
Placeholders suggest questions you can ask and help you fill out the form easily.
(Notice how they also collect emails which they can use for marketing purposes.)
If you already have a community around your online store or if you're in an industry where people like to exchange information, such as beauty, fishing, arts, or gourmet food, you can even go one step further.
ArtSnacks does this well by creating a special space for their community: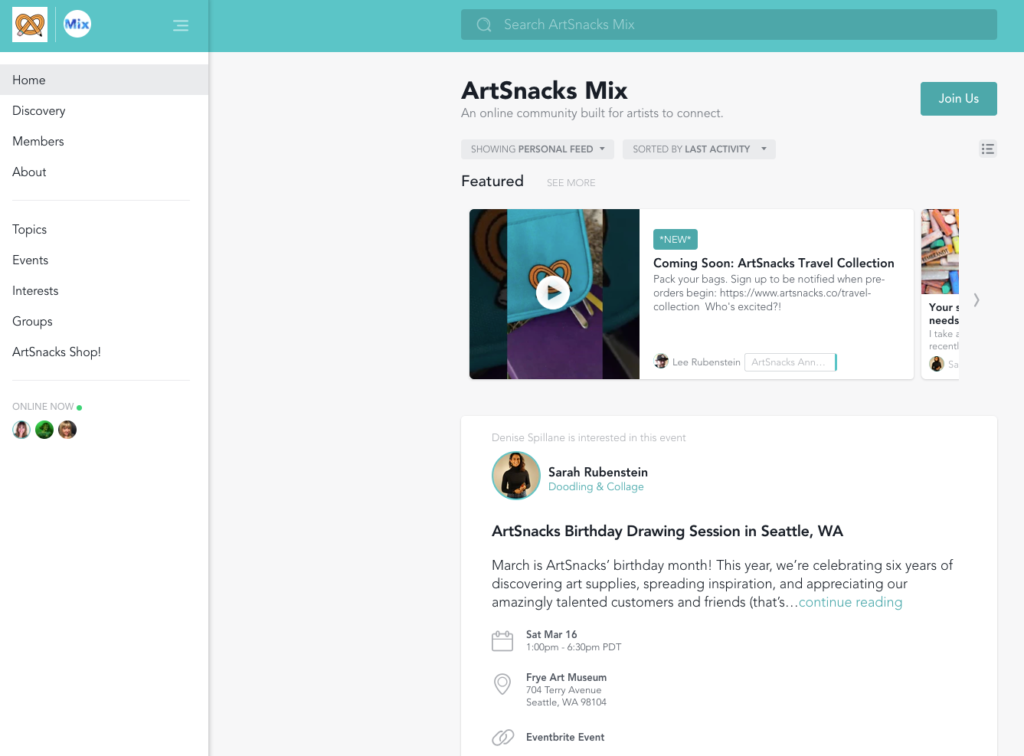 Here customers gather around the brand and connect with each other. They ask for feedback on their latest creations (which is highly relevant to the brand)…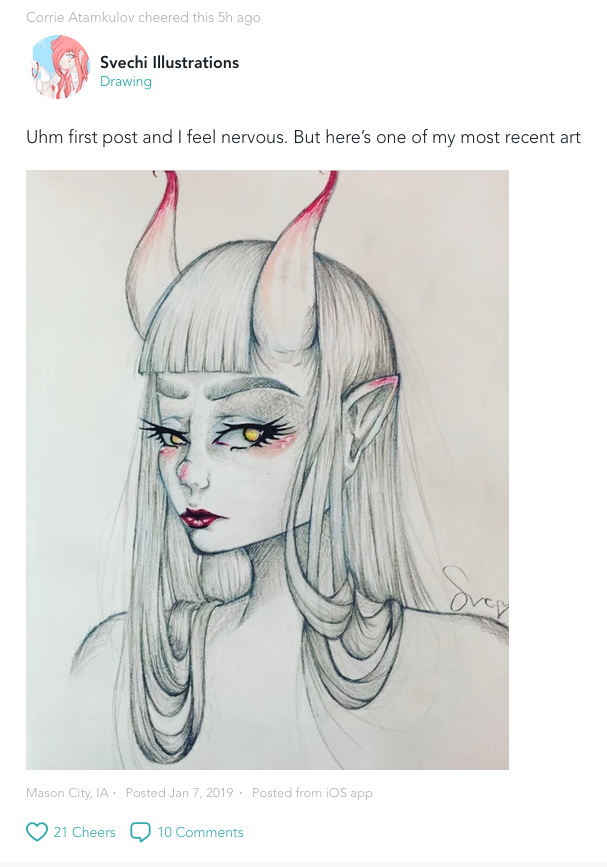 …and they exchange information on a wider range of topics: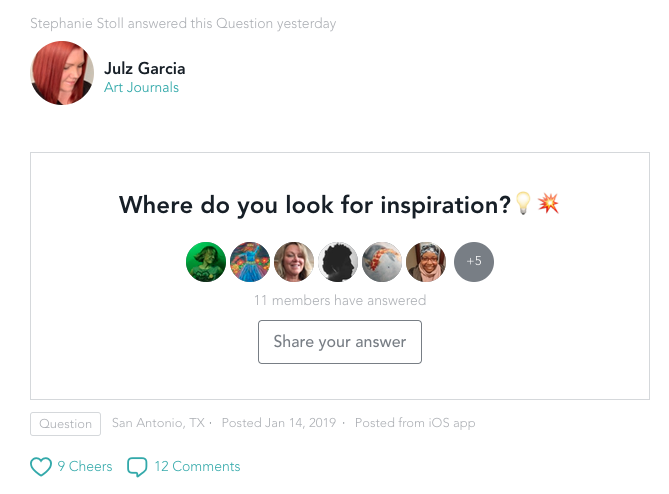 This is a more advanced strategy but it's a great way of providing social proof and improving customer loyalty.
Action Items
Add a "Questions & Answers" section to your product pages.
Make the question form easy-to-fill using placeholder text.
Follow up with users who ask and answer questions via email. Send them a thank you note or a special discount they can use on that product.
6. Trust Badges: Social Proof by Organizations
There are many ways of validating your brand. Getting a thumbs-up from your customers, team members, or industry experts are only a few of them.
Getting approval by an organization that your audience recognizes and appreciates, on the other hand, is powerful social proof. And the most common visual representation of approval is trust badges. Whether online or offline—badges distinguish you from the others and assign you authority.
There are three effective ways of using badges as social proof for your e-commerce site.
i. Media Mentions
Media has been and is a powerful influence among consumers. And online shoppers are no exception. When done correctly, getting media coverage—both online and off—can position your brand as a marketplace authority.
Here's how Allbirds uses media mentions on their site:

They display media badges on their homepage and include one line about the content of the article. When you click the quote, you can read that article about the company.
The best part of this strategy is you don't have to be featured in large publications. If a local paper or a blog in your niche mentioned you, use it to your advantage. And if you don't have any media mentions yet, this is a good time to start building relations.
Try reaching out to online publications to be featured in relevant articles. You can also send them a sample of your products and ask them to review it. It's a great way of building links and expanding your reach—in addition to creating major social proof.
ii. Awards
Awards act as a stamp of approval for brands. They increase the credibility of your online store and make you stand out among your competitors. If you've received any kind of awards, small or big, display them on your homepage.
Take this example by Vinomofo:

They proudly showcase the awards they got on their homepage, using a strong headline full of customer appreciation. Even if none of these categories are directly related to the wine industry, they know that the trophy badges create social proof.
You can keep an eye on local organizations and industry forums, and apply to categories that will create a positive effect on your customers.
iii. Certifications
Another way you can get a badge for your e-commerce site is through certifications. The type and nature of certifications depend heavily on the area you're working in and what your target audience defines as important. Cruelty-free in makeup, organic in fashion, or fair trade in coffee are just a few examples of industry-specific certifications.
Take Covergirl, for example, a cruelty-free makeup brand:

As a Leaping Bunny certified company, they use certification badges on all the product images and appeal to their target audience.
Patagonia, on the other hand, uses a trust seal from Fair Trade USA: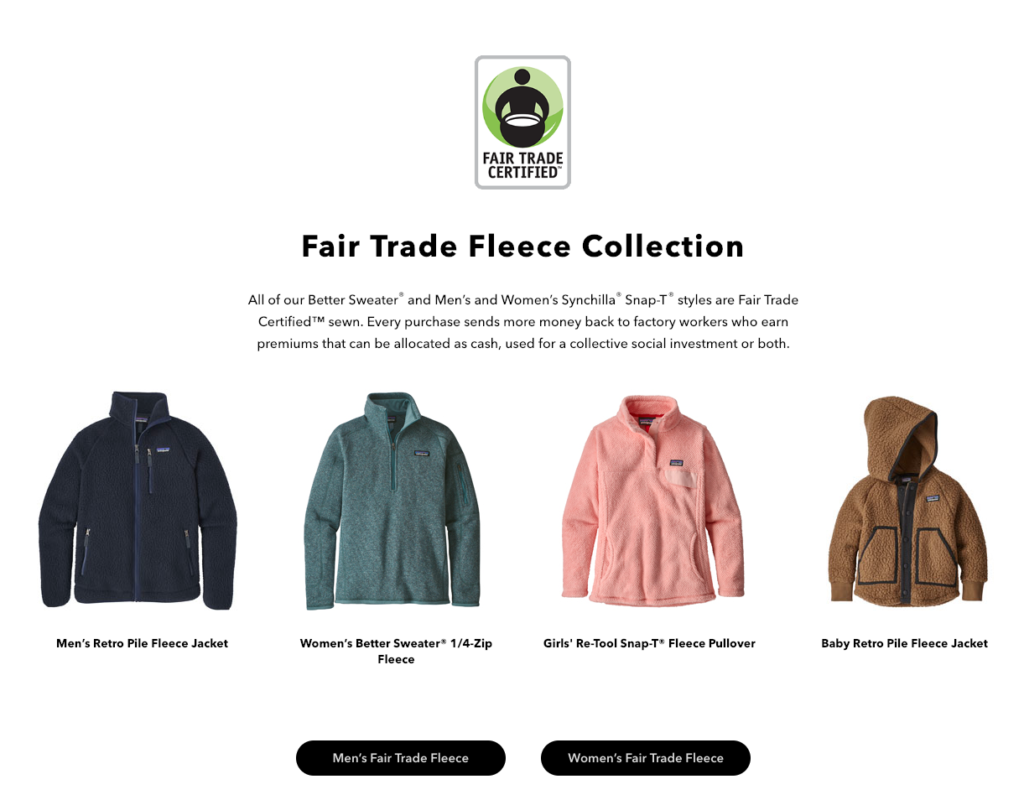 These badges not only help them build a connection with the customers but also show that their activities are approved by impartial, third-party organizations.
Action Items
Create a Google Alert to follow your brand mentions and keep an eye on your social media mentions, too.
Reach out to bloggers and media outlets in your industry and ask to be featured in their content.
Identify three awards in your industry or region and pitch your business to them.
Go through your existing certifications and add their badges to your site. Identify three potential certifications you can apply for.
7. Brand Collaborations: Social Proof by Authority
Positioning your brand as an authority drives more sales. Not only will it make your brand stronger and more credible, but it will also make people obey your authority.
One effective way to establish authority is through partnerships. Brand partnerships, or collaborations, work well because they let you borrow authority from stronger brands. Collaborations also help you expand to a new customer base and reach a wider audience. And collaborations are quite popular among consumers.
Think of H&M's designer partnerships and how they sell out in minutes. Or how YouTubers partner with makeup brands to create their own collections: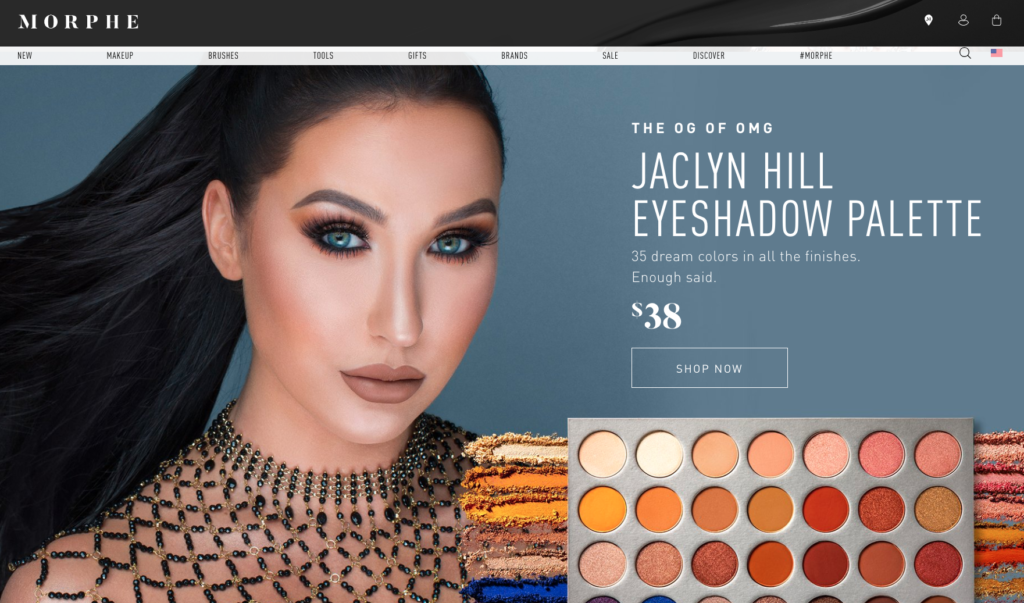 Both sides of the partnership use each other's names—and authorities to create social proof for themselves. Influencer collaborations are only one way to go.
You can team up with e-commerce sites that share your vision and have a similar customer base.
Here's a recent collaboration example "Tattly X Rifle Paper Co.":

Two online stores with a passion for great design partner up to use each other's authority (and customers). Tattly makes temporary tattoos, and Rifle Paper Co. is a stationery and lifestyle brand. It's a perfect match. Co-created products are sold on both sites and promoted with email marketing by both brands: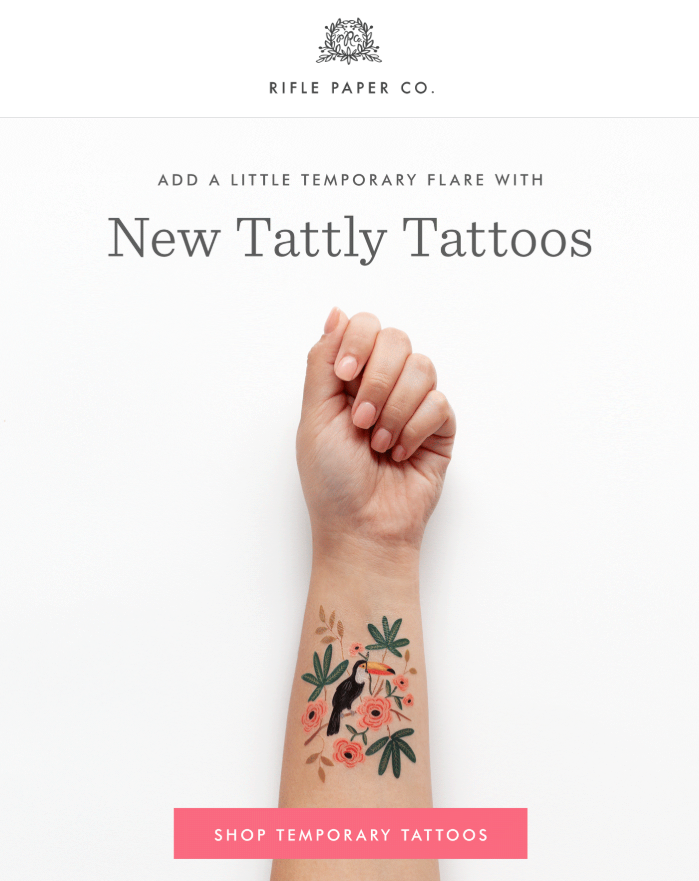 You don't have to team up with industry giants for a successful collaboration. And you don't need to create a whole new product line with them.
If there's a brand in your area that has been inspiring you, simply reach out to them. It's an effective way to build social proof and drive more sales.
Action Items
List five dream companies you'd like to do business with and reach out to them.
Explore your area to find local businesses that can be a good match for your brand.
Brainstorm how you can create co-branded products or campaigns and pitch your ideas to them.
Create dedicated landing pages and email campaigns for both partners to make the most of the partnership.
Conclusion
Marketers know that social proof works well to increase product sales.
But not all tactics you read on marketing blogs apply to online stores. That's why I wanted to share the best practices of social proof that are especially suitable for e-commerce.
If you want to go beyond customer testimonials and create more social proof around your online store, give these strategies a chance.