Built for ecomm brands. Period.
Because Drip was made with ecommerce in mind, every element of our automated marketing platform is designed to make it as easy as possible for you to grow your ecomm brand. From dashboards and templates, to automations, workflows, and beyond, we've built it all according to ecomm. You're welcome.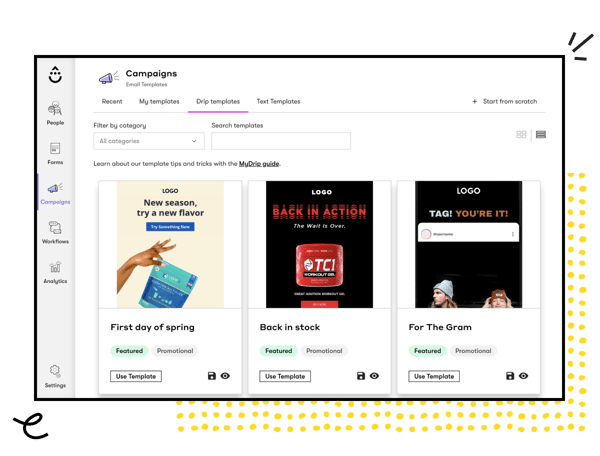 After trying out Klaviyo and having the worst customer service ever, we found Drip. It's as powerful as Klaviyo, tracking pretty much everything a user does on your website, but with fair customer service and much better UX… We now have a much more consistent communication with our customers and better understanding of their behavior.
Luz Planilhas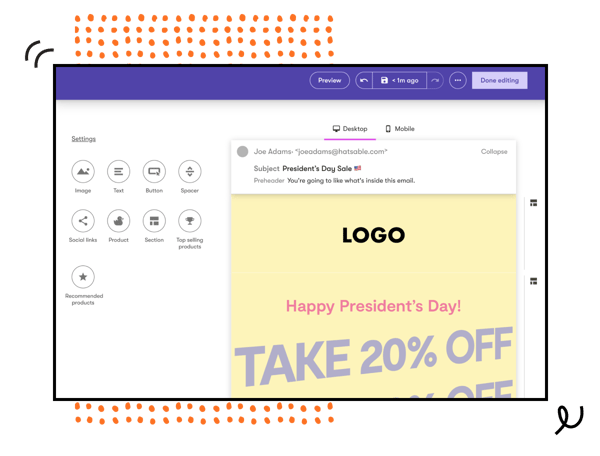 Easy and empowering from every angle.
At Drip, we champion choice. Which means we don't believe you should have to hire an agency in order to make the most of your automated marketing platform. Thanks to our intuitive visual builder, saved segments, pre-built automations, campaign templates, and easy-to-use everything, we make email and SMS marketing something you can navigate and nail on your own.

From building high-converting emails, forms, and audience growth campaigns, to getting off the ground (and remaining compliant) with SMS, our platform makes it easy for you to stay independent, autonomous, and well within budget.

Outside of a few narrow features, Drip is in every way soooo much more capable and easy to use [than Klaviyo]. The visual builder is at least one generation better, things like tags and custom events, and bulk operations and liquid just don't exist in Klaviyo. Even things that do exist, like workflows, are so much more limited in terms of triggering. Also many of the Klaviyo integrations are very clunky.
Rob Anderson, Conversion Engine NZ

Migration and pricing that remind you how simple things can be.
Part mentor, part friend, we're here to speak the truth about making the switch from Klaviyo to Drip. It's one of those instances where, once you start the simple process of migration, you'll wonder why you didn't start sooner. Migration happens in minutes, and we're going to hold hands and never look back.

As for pricing (which we base on two things and two things only: the number of email contacts you have and SMS you send), we keep things simple, flexible, and feature-filled at every level. No surprises, no add-ons, no restrictions. Just simple math that matches your growth and your budget with clarity.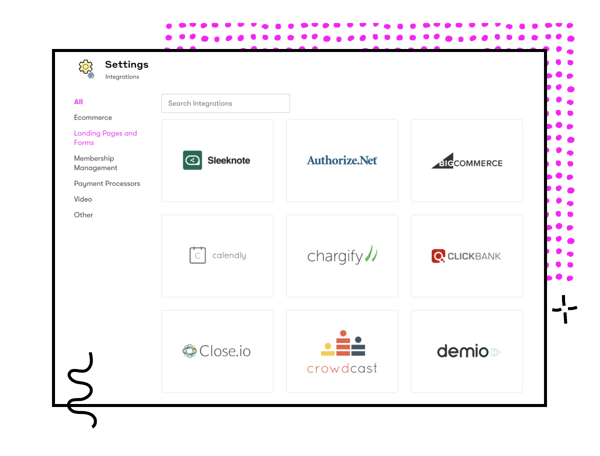 Easy to manage, understand, and set up. This solution has everything you need to implement complex automation strategies.
Bontasana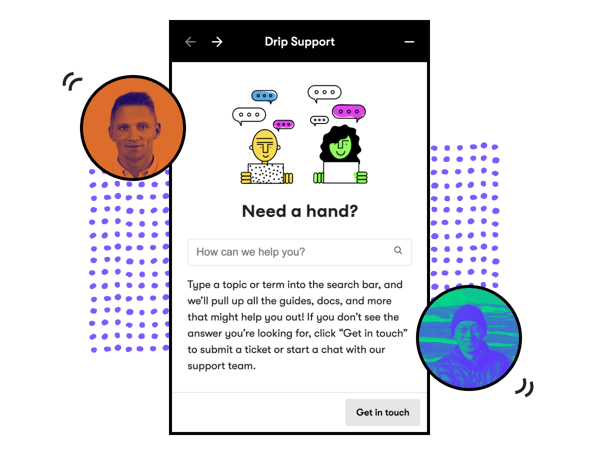 With Drip, you're never alone.
When we say we're here for you, we are here for you (really, you could call us the ride or die for ecommerce brands everywhere). With a 99.9% customer satisfaction rating, our team of intelligent, kind, hard-listening humans is like your own personal support squad. All you have to do is start the conversation (via live chat or by scheduling a one-on-one with a Drip expert) and we'll already be pulling up a chair, all ears and ready for action.
Drip freaking rules. Beautiful integration. Absolutely no issues at all with getting Shopify and Drip to work perfectly together. Drip also has the best customer service of literally any company I've ever experienced.
The Joseph Daniel

Segment with Drip. Email your customers like the rainbow of humans they are.
At the end of the day, better segmentation means more sales. And we've got better segmentation by a landslide (yeah, we're confident in our segmentation - it's one of several things that sets us apart from the email platform pack). Which means that with Drip you get more sales (by a landslide).
Rooted in dynamic segmentation, Drip enables you to hyper-segment your audiences, speak to customers as individuals, and deliver personalized shopping experiences that connect on a human level.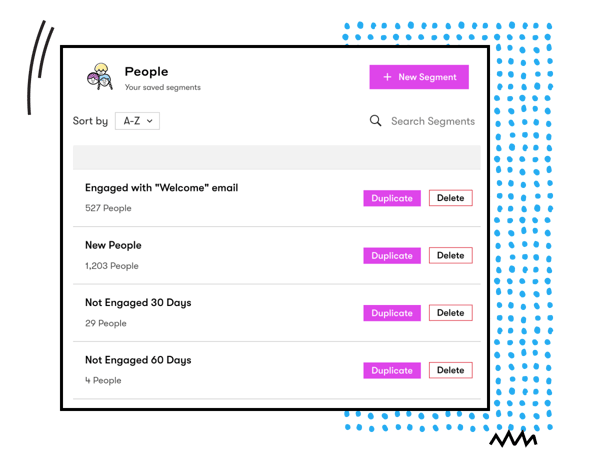 Drip is a powerful toolset that lets you access customer segments for targeted email comms. I have a 90k mailing list and the brilliance of Drip is that I can segment that list down with a handful of logic statements to a tiny focused group that I know are on the cusp of a purchase and only require the lightest of nudges to pull the trigger. I drive about $30k of monthly revenue from it.
Evolution Power Tools

Here's the (real) scoop on Drip.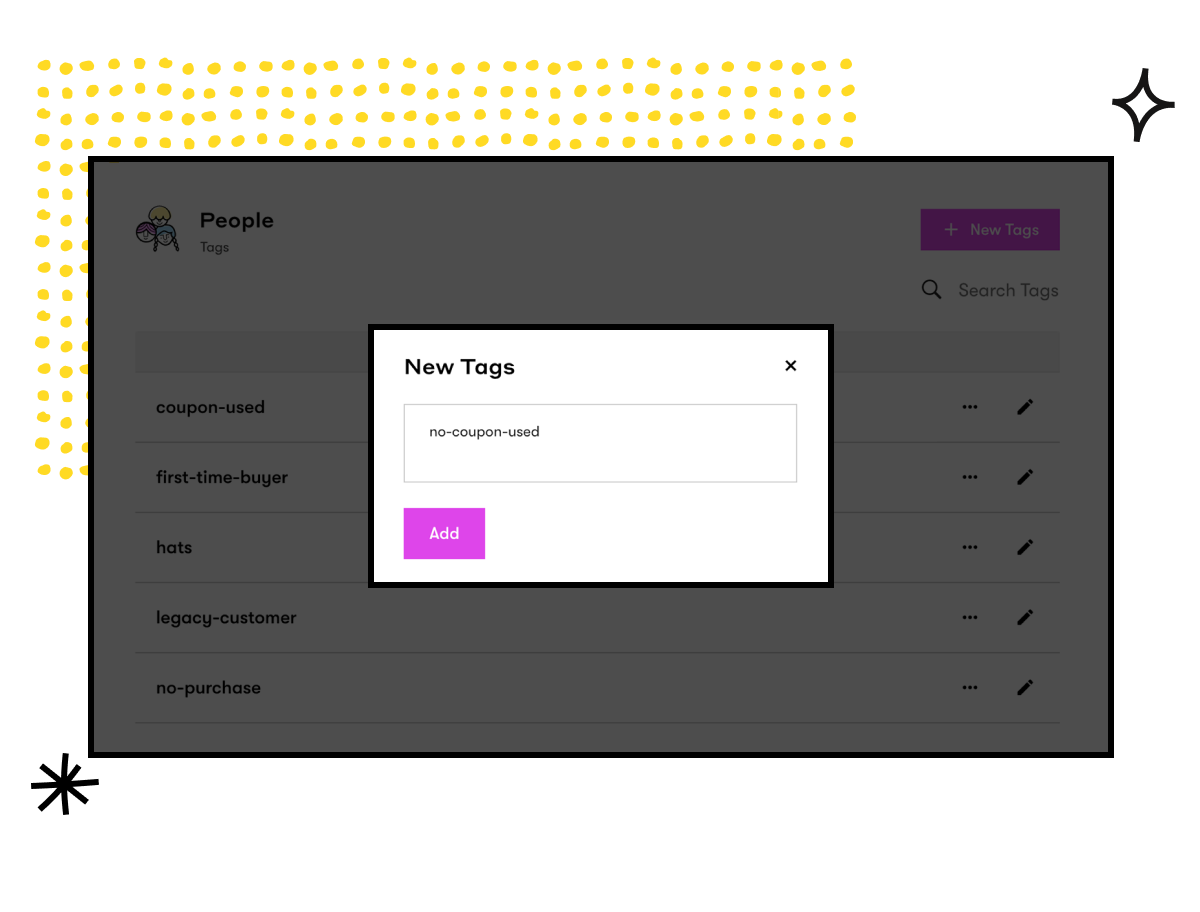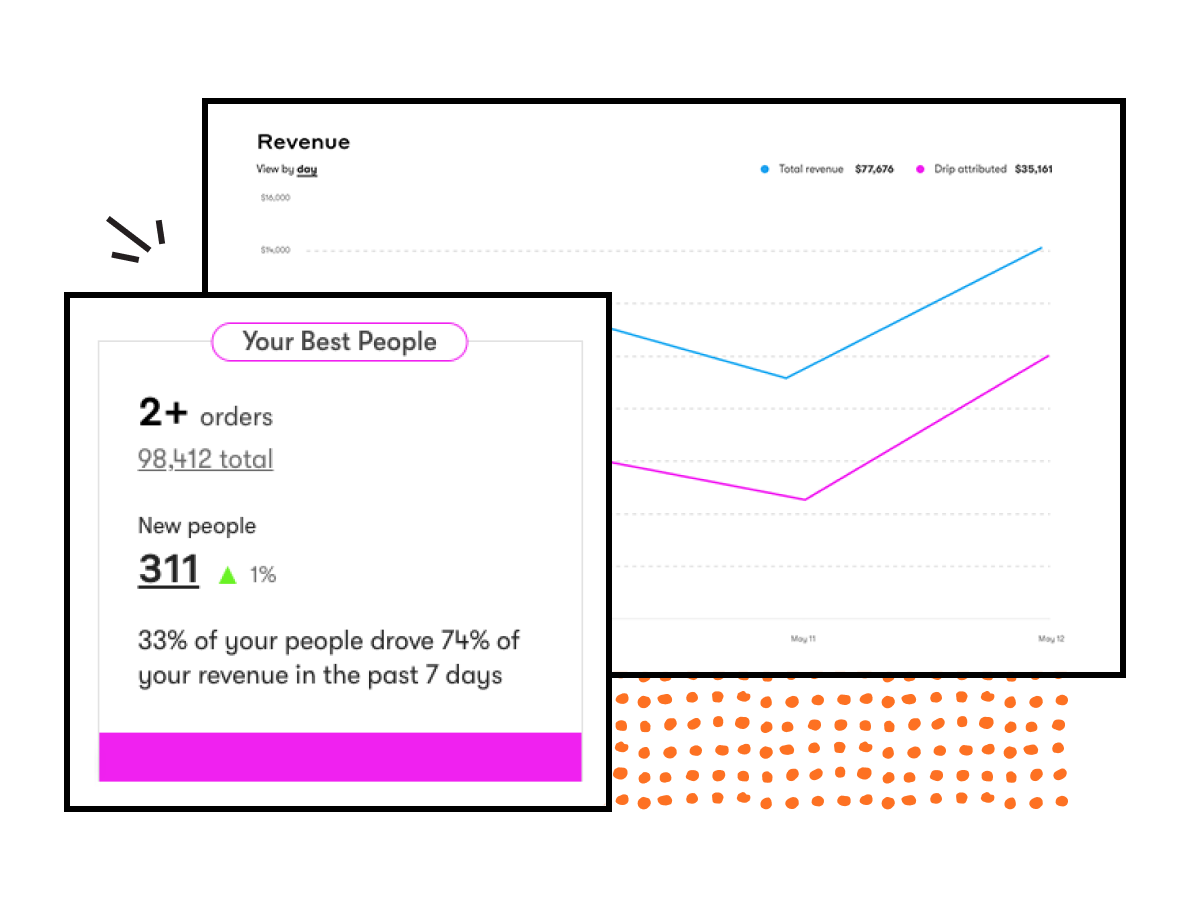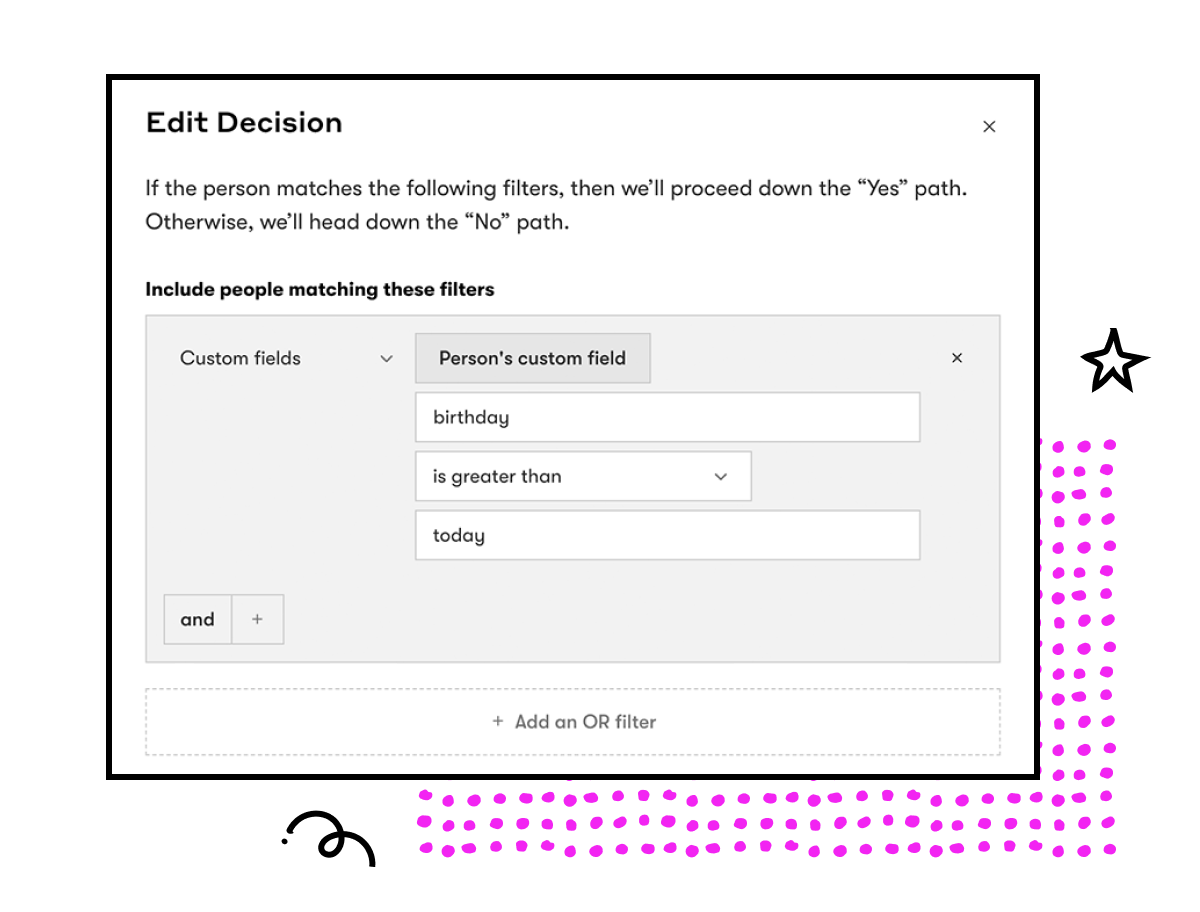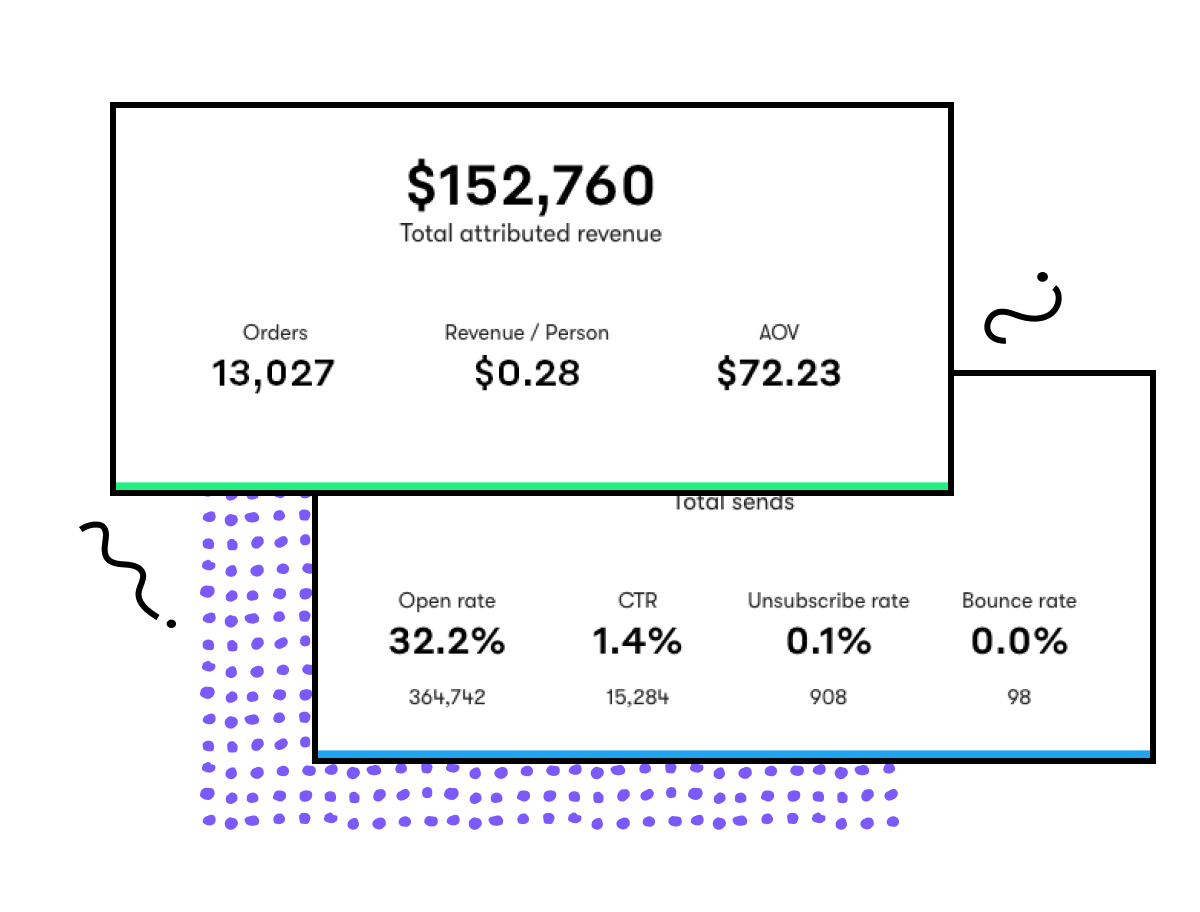 I must say, you guys have made some big improvements since we last tried Drip. I'm not sure why anyone would use Klaviyo anymore, it's just an overpriced version of Drip. Well done, I'm all in.
Jeff, XFactor Tackle

Drive more sales with Drip today.
Start a 14-day free trial of Drip, no credit card required.