When we first started with email automation a little over a year ago, we had no idea what we were doing.
And this was the look on our faces when we saw the results of our first email onboarding workflow: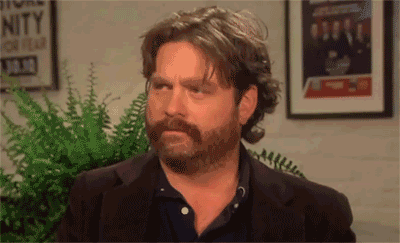 Truth be told, our open rates were above the average 20.95% for SaaS, but our click-through rates were hovering around 1%.
It was heartbreaking. Our emails were getting opened, but once people read them—nothing.
With our list growing exponentially and only a fragment of our subscribers converting into customers, we knew we needed to improve. And we needed to do it—fast.
Translation: we were missing out on TONS of potential revenue (maybe you can relate?)
We went through two optimization processes (the first one not generating the results we were hoping for), before finding a way to increase our email engagement (while still delivering value to our subscribers).
Here are the results:
Our open rates went from 26.6% to an average of 40.54%…
…and our click-through rates went from 1.2% to an average of 15.76—with one onboarding email sequence having an open rate of 87.5% and a click-through rate of 29.27%
That's a 52.41% increase in open rates and 1213.3% increase in click-throughs.
Today, I'll reveal the exact strategy we used, including the exact emails we're sending, and how you can do the same.
But first:
Before showing you how we increased our email engagement, I want to share the results we got by rethinking our entire email strategy.
First, I want to show you how our first automated email onboarding workflow performed (it definitely wasn't where it needed to be.)

We quickly realized we needed to do something to improve, but we didn't know what to improve, so we went with what seemed most natural and revised the copy.
That meant writing new copy where we tried to relate to our readers' problems and offer them actionable strategies to improve.
Here's what that did to our open and click rates:

It was an improvement, but we still weren't satisfied.
After this new series of onboarding emails had run for four months, we realized that it wasn't enough to optimize small things like email copy. We needed to revise our entire strategy and find a way to give value to our audience while still selling our product.
The problem wasn't our emails on their own, but rather who we were sending them to and why.
Our emails were engaging a small segment of our audience, but not our entire list of subscribers.
Why?
Because not all email subscribers are created equal.
The most important part of our new strategy was using email segmentation (I'll expand on this later), and we ended up with four different automated email onboarding workflows for four different subscriber segments:
Subscribers in the e-commerce industry
Subscribers in the SaaS industry
Subscribers who are beginners to online marketing
Subscribers who work for an agency
We found these segments by researching our audience and existing customers to get an overview of not only who we wanted to target with our emails, but also who were signing up and why.
Here's how each of those four onboarding email sequences perform today.
E-commerce segment:

SaaS segment:

Beginner segment:

Agency segment:

There's still room for improvement (as there always is), but the results speak for themselves: We're now moving in the right direction and driving MUCH higher engagement through our emails.
So today, I want to take you from…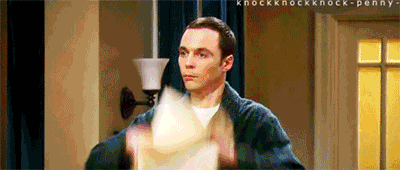 …to…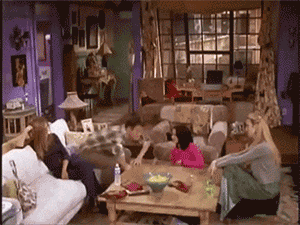 Sounds good, right?
So, keep reading because now I'll pull back the curtain and tell you what the biggest problem with onboarding emails today, and what we did to drive more engagement with our emails (and how you can, too).
Let's get started.
What Marketers are Doing Wrong with Onboarding Emails Today
If your onboarding emails aren't converting, it's likely due to the following:
They don't consider the buyer's journey
They're too generic
They overly focus on features (rather than benefits)
They Lack personalization
Let's take a look at each one, and what to do instead.
1. No Consideration of The Buyer's Journey
Many businesses don't consider where their prospects are in the buyer's journey when sending promotional emails.
For instance, a beginner to online marketing might not be ready to buy a subscription for a complicated SEO tool just because they signed up for the newsletter. Most likely, they signed up to learn more about online marketing, and are unlikely to respond to promotional emails.
On the other hand, if a prospect opted in for a best practice guide for your product, they're likely much further along their journey and might be considering a purchase.
Always consider where your subscribers sign up, and where that puts them in their customer journey.
You can also score prospects based on their level of engagement (lead scoring), so prospects with high scores are, in theory, more likely to buy than those with low scores.
2. Too Much Generic Content
Generic emails are typically emails that are sent to a large audience with little or no segmentation.
Marketers tend to use generic content because it requires less work, and appeals to a larger audience. But in doing so, their conversion rates decrease because only a fraction of the audience will find the emails highly relevant.
Consumers today want personalization, and generic emails don't give them that.
As expert Brennan Dunn says:
"If you're speaking to everyone, you're speaking to no one."
3. A Large Focus on Features
One thing I keep seeing in onboarding emails is a large focus on features.
Emails containing a lot of information about all the features a product has, how to use them, and how great they are.
What's missing is,"What's in it for me?"
What's the value that your features will provide? How will they make your prospect's life easier?
Here's an example from Sprout Social:

They tell their audience what the benefits of their tools are and how to use them.
But even though they include "what's in it for me", in their email it still has a very high focus on features.
Instead of focusing so much on the features of your product, you should focus on providing value to your audience and establish yourself as an authority within your area of expertise.
If your prospects view you as an authority, they'll automatically be more inclined to purchase any products you pitch to them regardless of how many features it has.
iv. Lack of Personalization
Seventy-five percent of consumers are more likely to buy from a retailer that recognizes them by name, recommends options based on past purchases, and knows their purchase history.
If you want your marketing efforts to pay off, personalization is key (especially with onboarding).
However, few marketers understand the concept of personalization and how it's done right.
Many think it's enough to include the recipient's name in the email or the subject line.
Wrong.
Personalization is about sending the right emails, at the right time, to the right person.
This means you have to segment your audience and send trigger based emails depending on what, how, and when prospects have engaged with your content, product, or emails.
For instance, I booked a trip to Costa Rica with G Adventures, and a week before my trip, they sent this email: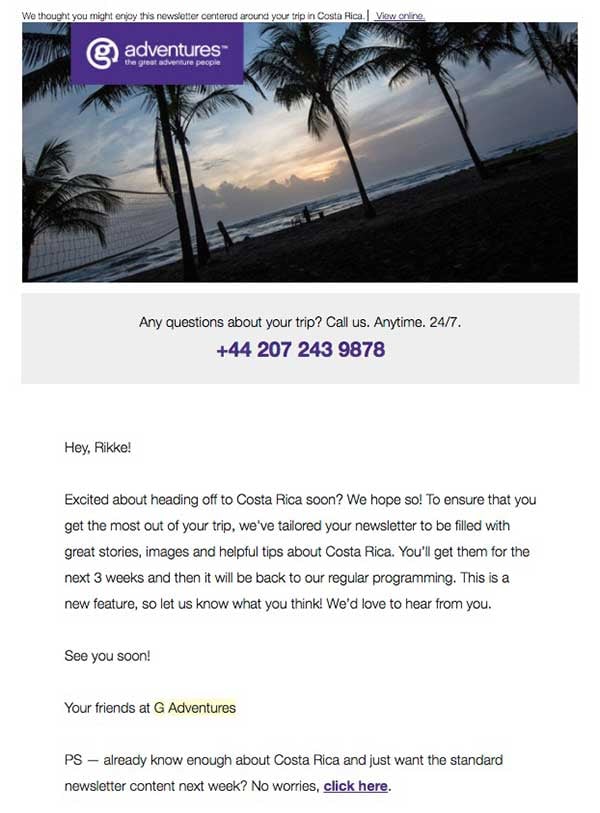 Even though this email is automated it feels personal because it's relevant and was sent at just the right time to the right person.
How We Drove More Engagement with Our Emails (and How You Can Too)
Now that you know what not to do when onboarding new subscribers, we can dive into the actual process of creating an email flow that encourages engagement.
Below, I'll take you through the exact process we went through to optimize our onboarding here at Sleeknote, and how you can do the same.
Follow these three steps to increase your email engagement.
Step 1: Define Your Audience Segments
Before you can create relevant emails, you need to define your audience segments—also known as your buyer personas.
These will have a massive influence on your onboarding approach.
After researching our audience and our customers, we found four overall buyer personas which were: e-commerce businesses, SaaS businesses, Beginners to online marketing, and Agencies.
The purpose of segmenting your target audience is to get an understanding of the different types of potential customers you have, so you can create an onboarding sequence specifically tailored to the individual.
Step 2: Get Your Subscribers to Segment Themselves
After defining our buyer personas, we needed a way to get our subscribers to segment themselves into our new segments.
If people don't segment themselves, we have no way of knowing what type of emails to send them.
So how do you get people to do that?
You simply ask nicely.
At Sleeknote, we have two ways of asking our subscribers to segment themselves:
i. In our welcome email workflow
ii. At the point of signup
Here's how we do that with each one.
i. Welcome email workflow
Here's what our welcome flow looks like: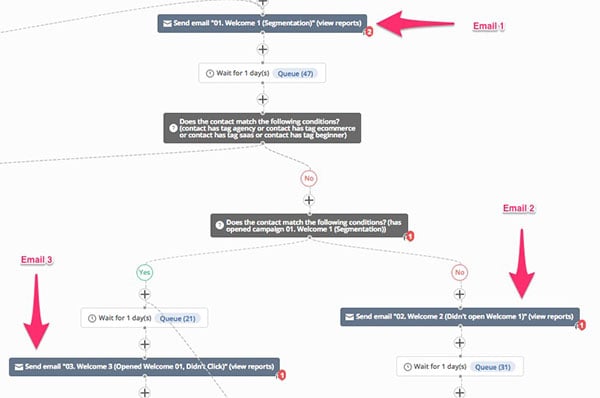 Now, this might look confusing, but it's pretty simple.
Let me explain…
We send the same welcome email (Email 1) to everyone who signs up through our blog, and it looks like this: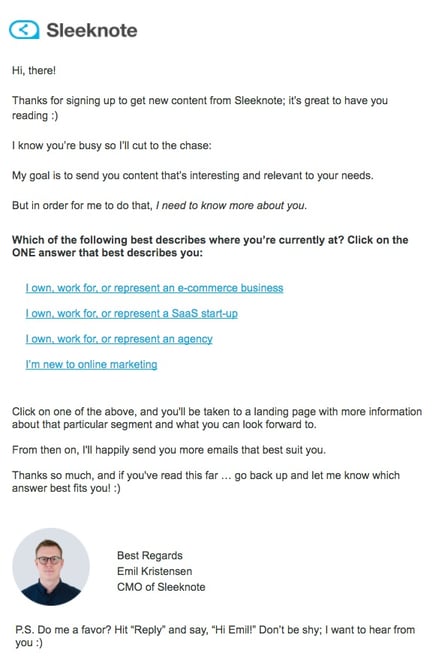 If a reader clicks any of the links, they are sent to a different onboarding flow with emails specifically created for that segment (more on that later, so keep reading).
If the reader doesn't click the link, we then segment based on whether they opened the email but didn't click, or if they didn't open the email at all.
If they didn't open Email 1, we send the same email again, but with a different subject line to get them to open the email.
If they opened Email 1 but didn't click, we send a new email but with the same objective: segmentation. In this email, we emphasize how important it is for the reader to segment themselves so they will only receive emails that are relevant to them.
When a reader clicks on one of the segments, they are taken to a thank you page where we offer them a free resource as a gift for joining.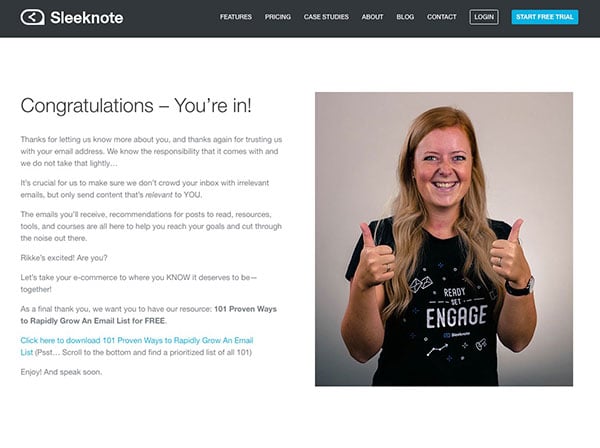 (Look how happy I am when people join! Why don't you try it?)
Each page is specifically created for the individual segment with information relevant to this segment only.
If subscribers haven't segmented themselves after receiving either Email 2 or Email 3, we add them to our "No tag onboarding flow", where the content appeals to a broader audience and instead triggers on the actions readers take during the onboarding process.
For instance, if they click through to a blog post on email marketing, we know they're interested in email marketing and the content they receive after that will mainly be about email marketing.
ii. At the point of signup
Another way to have your audience segment themselves is at the point of signup.
For instance, we have a landing page for each of our lead magnets where readers can segment themselves to get access to the lead magnet.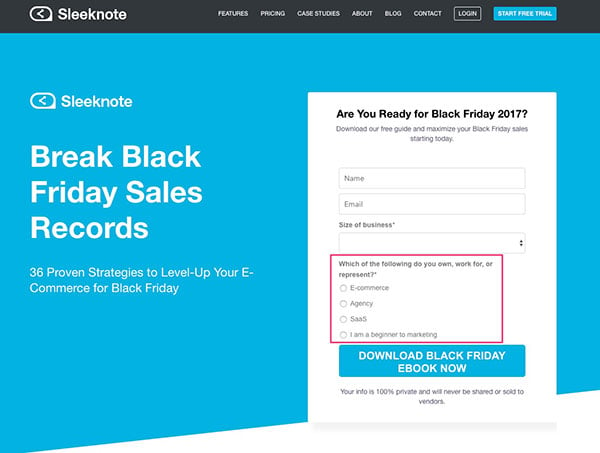 There are advantages and disadvantages for segmenting at the point of signup.
The advantage is that you get ALL subscribers segmented and no one is left in "no man's land."
However, asking for this information when people sign up, will also decrease your conversion rate because it takes longer to fill in, and there's also the question of privacy and how much information people are willing to share with you at this point.
There's a fine balance, and we've found that what works best for us, is to only ask for a segmentation at the point of signup on the landing pages where we offer a lead magnet like the above.
We know that the conversion rate for this page is lower than on the pages where we don't ask readers to segment themselves, but the leads we get from our lead magnet landing pages are in much warmer than those who "just" sign up for our newsletter.
We've tested many different versions of this (with or without segmentation, CTA buttons, copy, design, and much more), and I recommend you do the same to figure out what works best for you and your audience.
Step 3: Create Relevant Emails and Convert Subscribers Into Customers
Now it's finally time to start sending the right emails, to the right people, at the right time—and trust me, it will do wonders for your email engagement.
First, we developed a strategy for how we would onboard each of these segments and make the transition from a subscriber to a customer as natural as possible.
We know that getting subscribers to buy our product is much harder than getting them started on a free trial.
We already know the value of our product, but our subscribers may not, which is why we want them to start a free trial so they can see if Sleeknote is the right tool for them.
We know that Sleeknote isn't for everyone, but you won't know until you try, right?
Now, we can't just send an email every week asking subscribers to start a free trial because we then wouldn't be keeping our promise of only sending them relevant emails.
You should always deliver on your promises, and we promise our subscribers that they'll only get relevant emails that are packed with value.
To illustrate, I'll go through our e-commerce onboarding workflow to show you what we've done and why.
Here's what our e-commerce onboarding workflow looks like: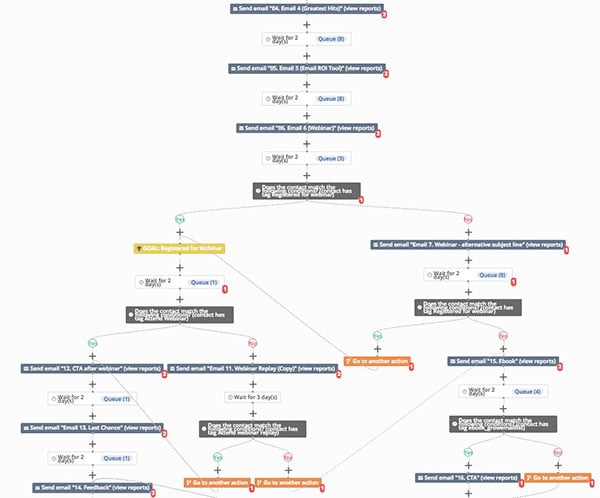 Once again, this doesn't say much (mostly because you're probably not able to read the details on your screen), so I'll walk you through each email.
This is just to illustrate what the flow itself looks like and how the different emails (the dark blue ones) are connected to each other.
It's also important to mention that if any subscribers sign up for a free trial during this onboarding process, they will exit the email workflow, and of course join another flow specifically for free trial users.
i. Email 1
The first email we send after readers have been segmented in the welcome emails is one we call our "Greatest Hits". This is an email that includes the best blog posts we've written for e-commerce (based on our analytics).
We do this because we know this segment is e-commerce and they signed up through our blog suggesting they like the content we offer.
The CTA in this email is simply to go back to the blog and read some of our "Greatest Hits" to get more strategies for how they can grow their e-commerce business.
The CTA in this email is simply to go back to the blog and read some of our "Greatest Hits" to get more strategies for how they can grow their e-commerce business.
ii. Email 2
Here, we include an ROI tool for e-commerce businesses where they can calculate the ROI of their email marketing: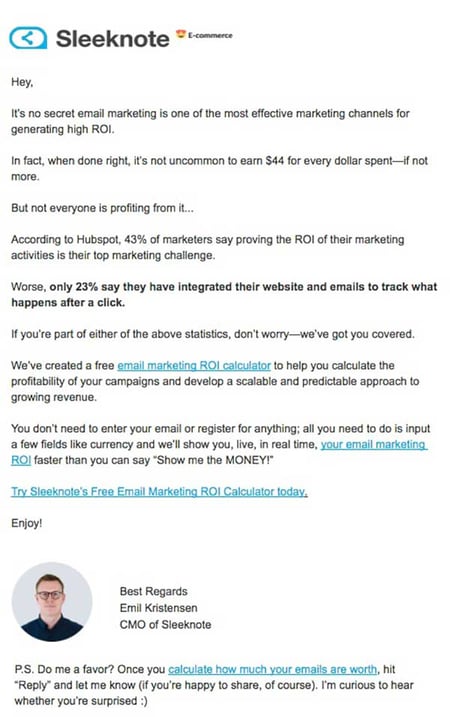 We don't mention our product until later in the onboarding flow when readers have shown a higher level of engagement and interest in email marketing, specifically, and our product.
iii. Email 3
In this email, we try to get our audience to engage on a higher level, by offering them content specifically created for this segment.
We have different types of emails for Email 3 that change depending on the content, but we're currently offering our e-commerce subscribers a spot in a live training session on e-commerce lead generation.
I've divided this email into two images because it's quite long (which is something we're still experimenting with):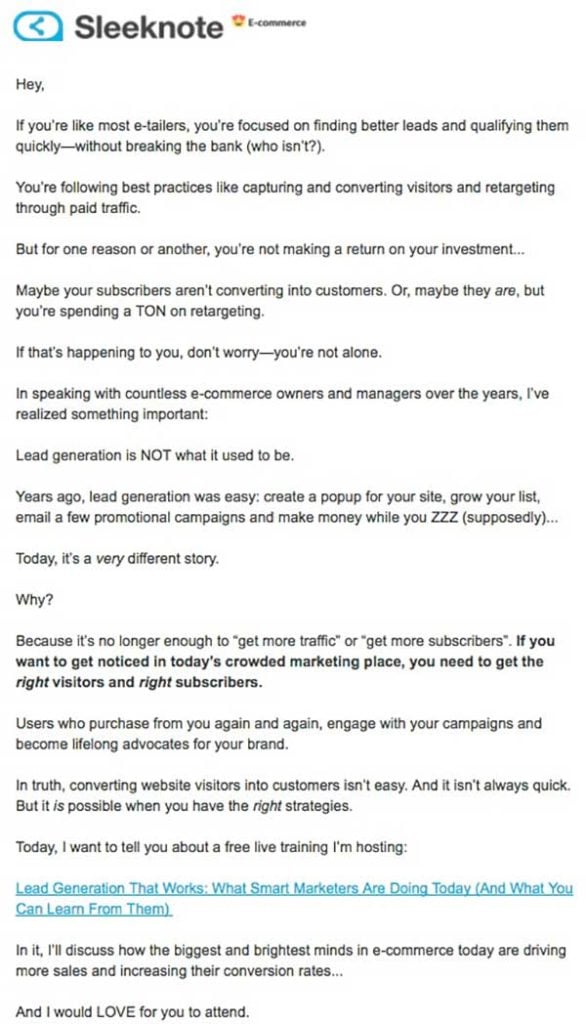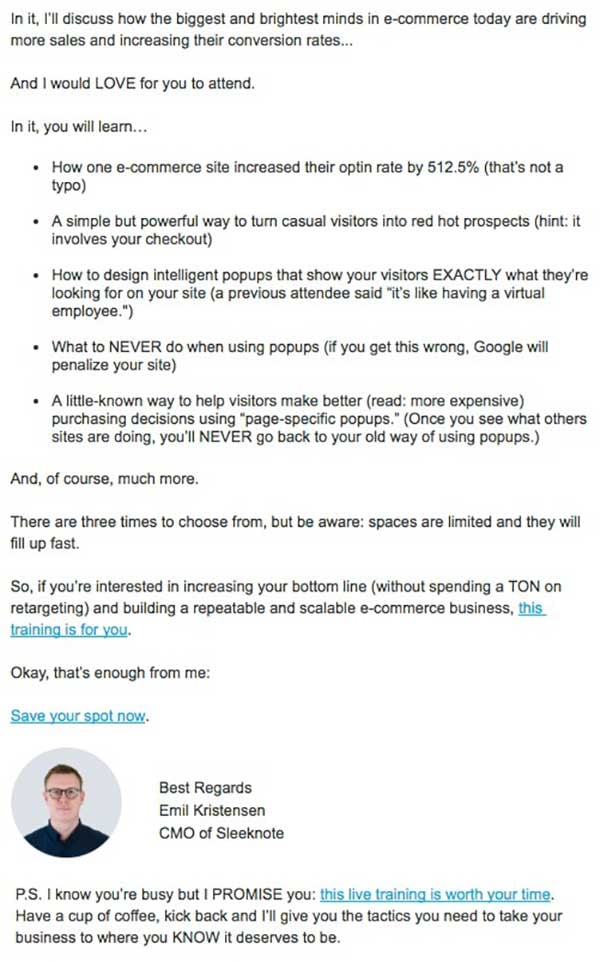 The training session isn't centered around Sleeknote, but it goes without saying that you can use Sleeknote for any of the tactics we mention in the live training.
The reason we try to get subscribers to engage on a higher level is to do another segmentation based on their interest and where they are in the buyer's journey.
Therefore, the two next emails we send are based on whether or not they signed up for our live training.
If they sign up for the live training, they'll get an email reminding them two hours before the training, and one when the training session is live.
If they don't sign up for the live training, they get…
iv. Email 4
This email is sent a few days after Email 3, reminding subscribers that they still have a chance to join the live training.
We know that emails get lost in receivers' inboxes, so we want to make sure all subscribers get a chance to join the live training.
If they don't sign up for the live training in this email, we don't want to send them more emails about the live training in case it's irrelevant to their needs.
Those who don't sign up will go on to receive Email 9, which is explained later, but for now, let's follow the current flow for those who have signed up for the live training.
v. Email 5 and Email 6
Email 5 and 6 are segmented based on whether subscribers attended the live training or not.
In other cases where we offer content that's not live in Email 3, we segment Email 5 and 6 based on whether the content was downloaded or not.
We're big fans of rewarding good behavior (imagine me saying this in the least condescending way possible).
That means we send an email after the live training, with an exclusive offer just for attendees. This is, of course, an exclusive offer on our product, but I won't reveal what, you'll have to subscribe to see.
Those who didn't attend will get Email 6 with a replay of the live training.
If they watch the replay, they'll get Email 5 with the exclusive offer, and if not … then there's no offer. Instead, they will receive Email 9.
vi. Email 7
Email 7 is for those who received Email 5, with a final chance to claim the exclusive offer.
I want to be honest with you. This is a standard sales email, where we tell people how awesome our product is and how it will help them overcome the challenges they're facing as an e-commerce marketer.
We use urgency to emphasize that this is an exclusive offer based on the actions they've taken and it will expire soon.
vii. Email 8
Email 8 is sent to all those who received Email 7 but didn't claim the offer.
In this email, all we want to know is why the reader decided not to go with Sleeknote.
(And yes…that's my sad face.)
The sole purpose of this email is to gather insight on why people choose not to sign up for a free trial and how we can improve our onboarding workflow for future recipients.
ix. Email 9
For all those who didn't sign up for the live training (or any of the other offers we send in Email 3), we send another email focusing on providing value for this specific e-commerce segment.
It's an eBook on e-commerce lead generation, and it's packed with actionable strategies that are easy to implement with or without Sleeknote.
It provides value, while still having relevance to our product.
x. Email 10
The last email in this workflow is an email we send to those who received Email 9, and it's an email focused on how we can help them get more leads and customers.
It has a call-to-action to start a free trial, and if they don't sign up, they will receive Email 8 asking for their feedback.
If subscribers don't start a free trial at the end of this onboarding workflow, they will enter a longer flow where the emails are less frequent (I'll do another post on that in the future when we have more data, so stay tuned).
Each of your emails should always provide value to the receiver, but at the same time have a direct or indirect relevance to your product, so you and your brand stay top of mind.
Any business can say they're not trying to sell through their email marketing, but I'll go out on a limb here and say they're all lying.
Of course, we'll try to sell our product because we know email is the channel for it. But it's how you do it that makes the difference.
Ready to Scale Your Email Onboarding?
Creating an email onboarding workflow that takes into account all your readers' preferences is hard work.
But with the right strategy, it can boost your email marketing engagement significantly as it did for us.
When you write and design your onboarding flow, you need to consider every possible step your readers can take after receiving an email, and then the next email they receive should be based on that previous action.
By doing so, your emails will become more personal and relevant to the individual reader—and increase your conversion rates.
What tactics have you used in your email onboarding? Share in the comments below.