The fashion and apparel industry is exploding right now. According to a new report by Shopify, "Experts predict that the e-commerce segment of fashion and apparel will increase at a compound annual rate of 10.6 percent from $408 billion in 2017 to more than $706 billion by 2022" (emphasis mine).

With the decline of ad revenue and the rise of third-party-cookie restrictions, email, as a marketing channel, continues to be more important than ever for online retailers.
So, with that in mind, I want to share 9 apparel email marketing examples you can model for your business. These emails will help turn readers into subscribers into buyers and with a little luck, return customers into brand loyalists.
Apparel Email Marketing Examples 101
1. Reduce Cart Abandonment
Cart abandonment is a headache for online retailers.
According to one recent report by SaleCycle, 75.6 percent of people put items in their online shopping cart only to leave it without completing their purchase.
We've written a lot about cart abandonment on our blog, here and here, so I won't repeat myself. Instead, I'll share a recent example that nailed their cart recovery email.
While writing about Beardbrand, a men's grooming company, I went through their checkout and abandoned my cart.
After doing so, they sent me the following email: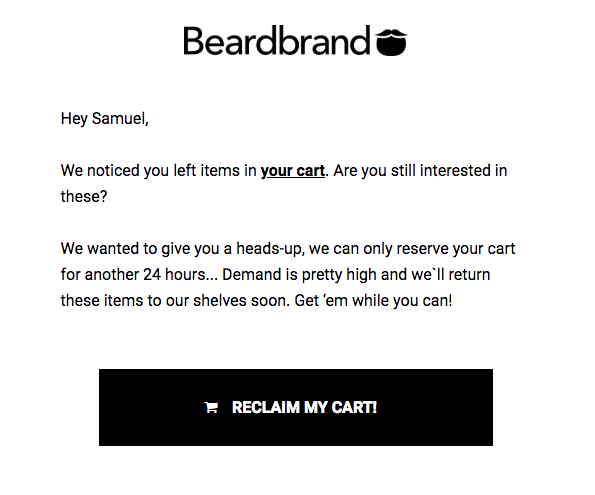 Nothing new there. We're all familiar with cart recovery emails that focus on offering an incentive. You might even be using them yourself. And if you are, you're following good practice.
But what I wasn't prepared for, and what I want to draw attention to, is the second email I got a few days later, from the founder himself, Eric Bandholtz: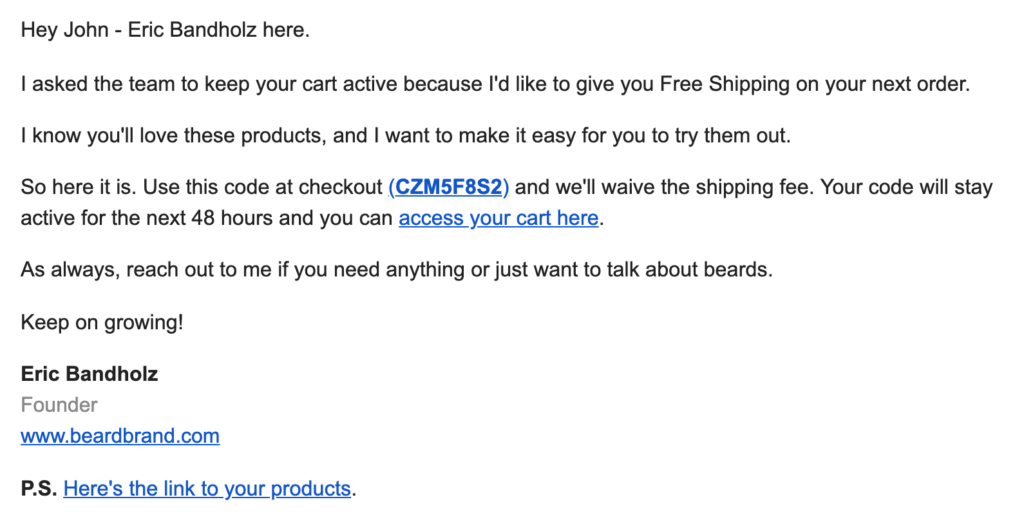 With its conversational nature and plain format, it's hard to argue it's overly-salesy or aggressive. And given they're still sending months after I wrote my post, one can only assume it's working like gangbusters.
Want to make a workflow like this?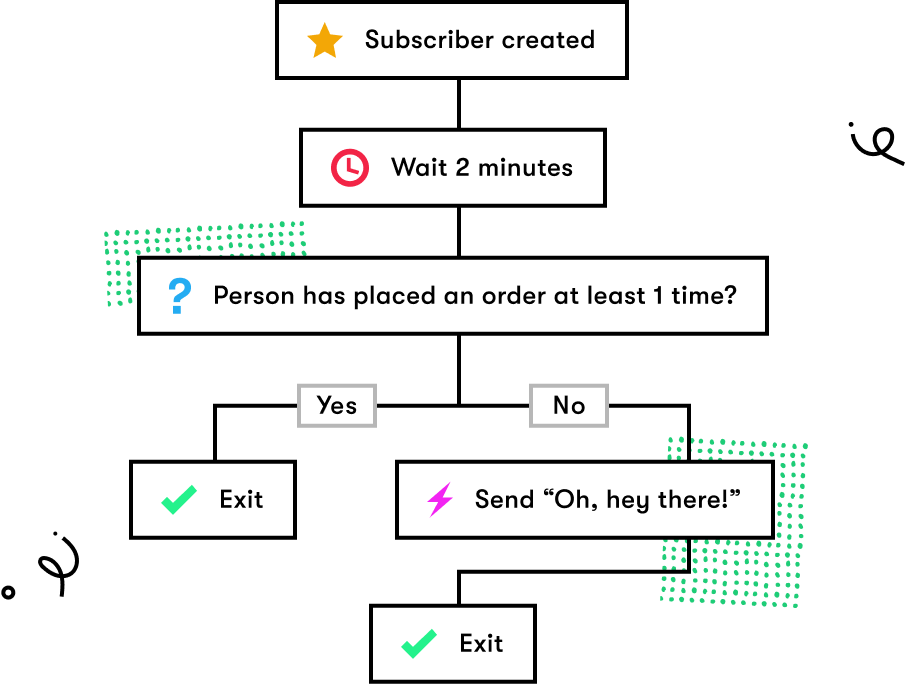 Hit the ground running with our pre-built workflows.
2. Communicate Corporate Social Responsibility (CSR)
More companies than ever before are engaging in socially responsible activities.
And for good reason.
Corporate social responsibility, or CSR, not only increases employee engagement, but it also increases how customers rate a company's products.
When subjects in one study were told that the wine they sampled supported a charity, they rated the wine as tasting much better than those who had not been given the additional information.
According to Robert Cialdini, who shares the study in the book, Yes! 60 Secrets from The Science of Persuasion, there are two keys to making a CSR program work.
The first is to persuade prospects and buyers that a CSR program is worthwhile. The second challenge is to find ways to publicize the charitable deeds and socially responsible activities that you practice without bragging or appearing self-righteous.
One of my favorite CSR examples that illustrates both keys comes from a recent email from Bombas.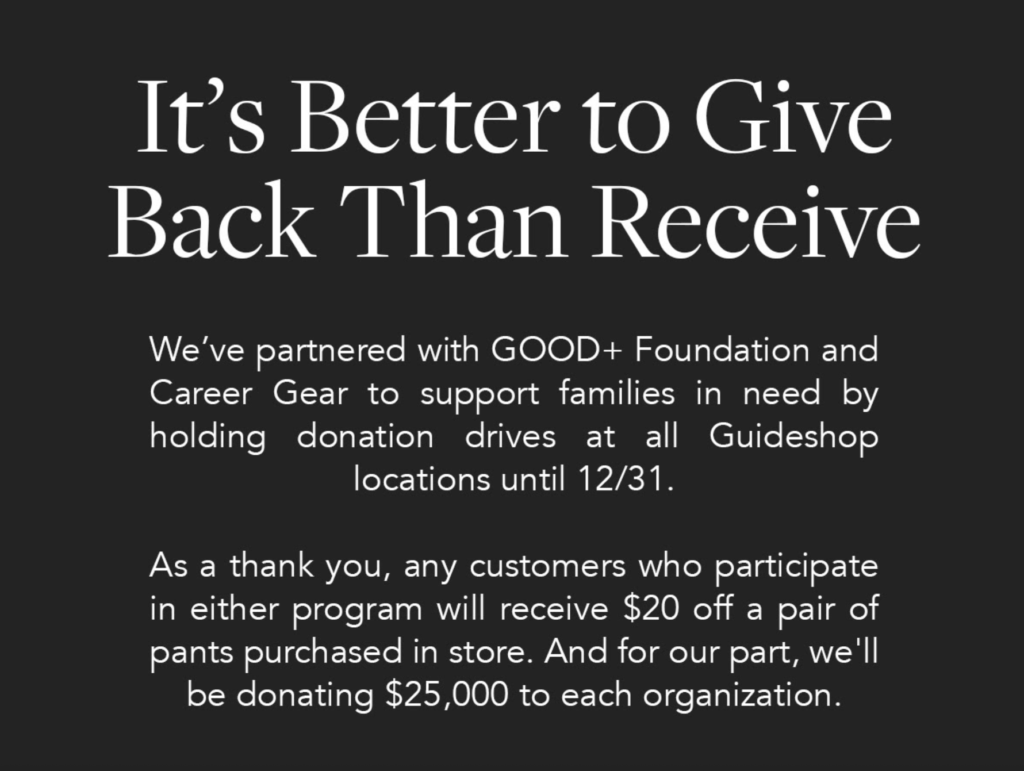 Not only are GOOD+ and Career Gear worthwhile causes (both aim to combat multi-generational poverty), but Bombas makes the good deed reciprocal. Bombas donates $25,000 to each organization with each purchase and the customer contributes to not one, but two worth causes. What's not to like?
While CSR activities have been found to increase customer loyalty and enhance employee engagement, it's important to mention that abusing it for financial gain is not recommended. Anything otherwise is guaranteed to leave a bitter taste in your customers' mouth.
3. Run a Giveaway
Let's face it:
People love freebies.
It doesn't matter whether it's a $100 gift card, or fully-stacked skincare fridge, as Freeman Beauty recently offered, we love getting something for nothing.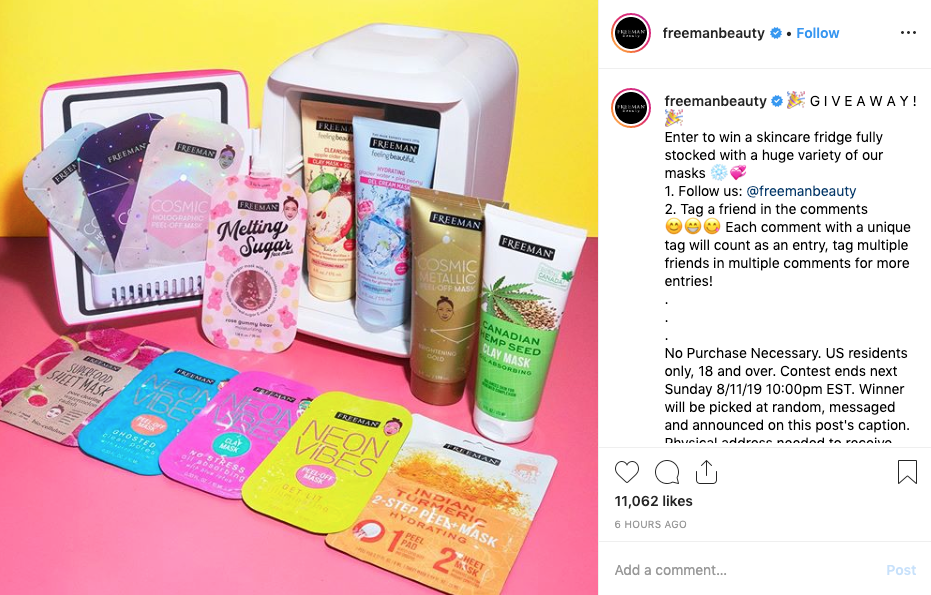 While many giveaways often take place on platforms like Instagram, that doesn't mean you can't drive traffic to a giveaway, off-site or otherwise, using email.
Ban.do recently ran a giveaway on Instagram and invited their email subscribers to get involved by including the following in the email footer.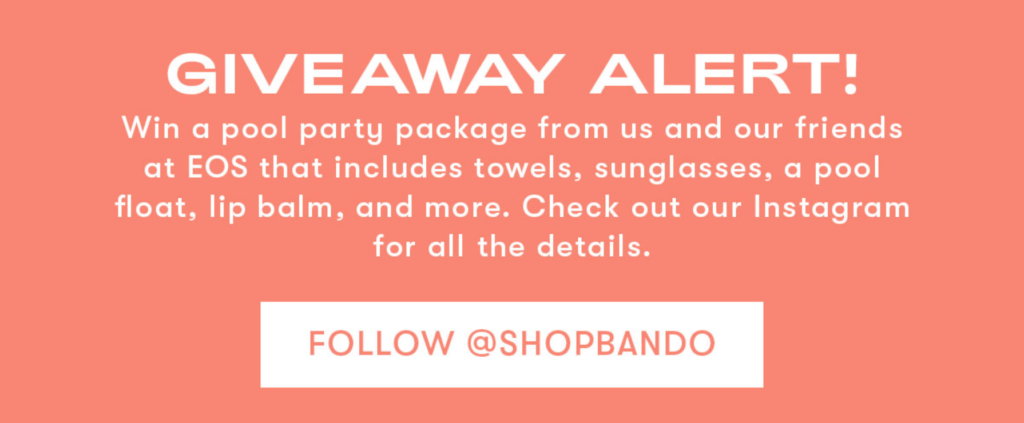 The goal, as is with any giveaway, is to create virality. The more people share the giveaway with others, the greater its exposure. So, if you're following best practice and telling subscribers to tag friends in the post, why not invite them to forward the email, too? It might not make a big difference, but it's a difference nonetheless.
Instagram isn't the only platform for running giveaways, of course. You can (and should) run them on your website, too—but not until you've read Seray's guide: 7 Creative (On-Site) Giveaway Ideas You Can Try Today.
4. Encourage Buyer Engagement
We all know the importance of email marketing.
You've no doubt read the figures and agree that, for the time being, at least, it's the best marketing channel when it comes to delivering a return on investment (ROI).
But that return is dependent, by and large, on the extent subscribers open and engage with your emails.
That might be replying to emails, redeeming coupons, clicking-through to learn more about promotions, and more.
Given its importance, then, not to mention the ubiquitous of inbox overcrowding, inviting readers to open, click through and engage with your emails is crucial for apparel marketers. That's why many retailers constantly work on improving their fashion email marketing strategy.
Charlotte Tilbury is one of those retailers.
They likely experience cart abandonment like many online retailers, so, to minimize it, they make a concentrated effort to reach out before you even get a chance to abandon your cart.
And it's truly something to marvel at.
After browsing one of their product pages and exiting without buying anything, I got the following email in my inbox.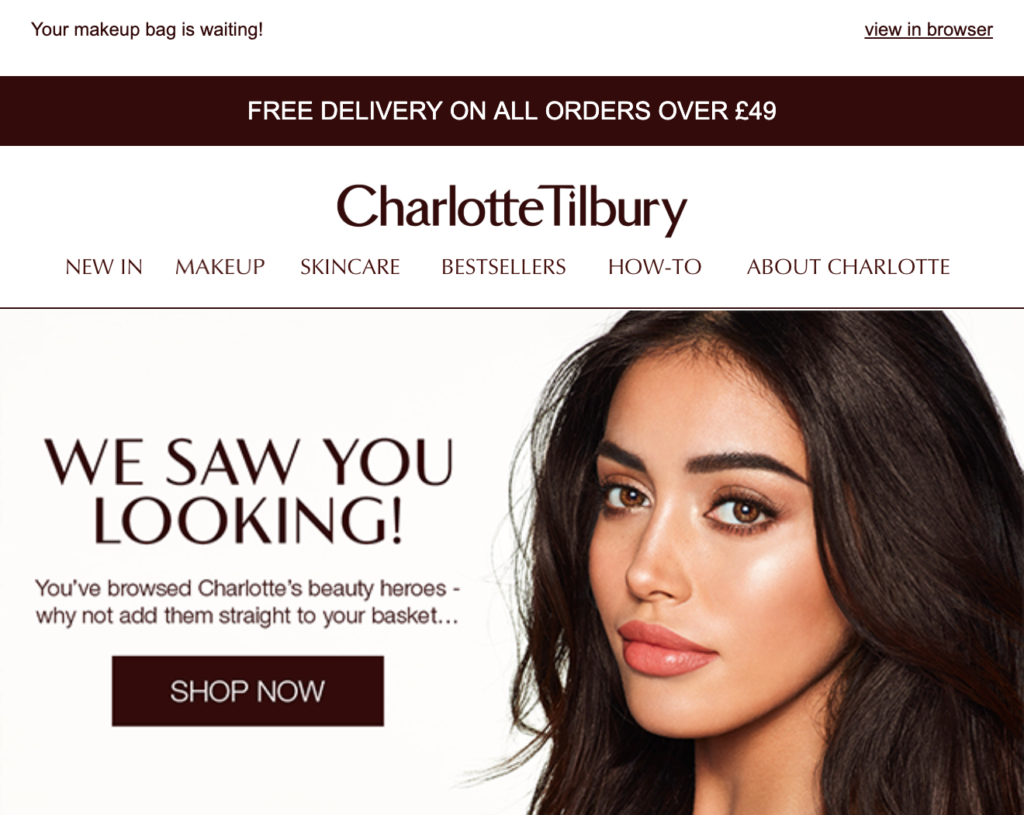 Personalized. Timely. Impressive, even. It's a breath of fresh air in my otherwise over-crowded inbox. After all, they're right—I was looking (for a friend, I swear).
And given its relevant copy and clear call-to-action, it's tough not to engage with.
Bottom line?
Invite subscribers to interact with your emails, early and often. Not only will it increase your email deliverability, but it will invite subscribers to keep you top of mind, longer. And that's only a good thing.
5. Promote Popular Products
"People love to buy but hate to be sold to," at least, that's what conventional sales training suggests.
But research from a report by Marketing Sherpa suggests otherwise. In their findings, a staggering 93 percent of people said they would like to receive promotional emails from companies they do business with.
While numbers like the above vary from one industry to another, it does iterate the importance of giving buyers what they want when they want it.
However, as I'll discuss in a moment, there's more to product promotion than blasting out an email to all subscribers.
i. Product Launch
With countless product launches bombarding buyers on what feels like a weekly, if not daily basis, one would imagine that those brands are doing their best to differentiate themselves from their competitors.
But opening any recent product launch email suggests otherwise.
Generic, unimaginative, and rarely enticing, many emails leave little to the imagination. And those that do, fail to get the buyer to take any action.
One online retailer that does distinguish itself, fortunately, is Huckberry.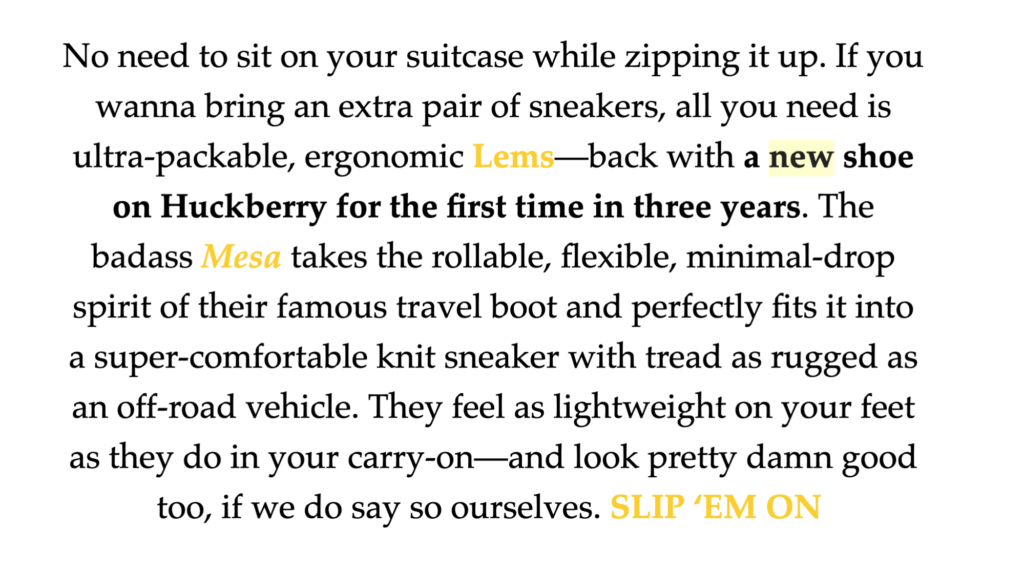 Going beyond general announcement and uninspired imagery, Huckberry leverages benefit-driven copy to invite readers to click through and learn more.
Adding a backstory to a product launch—why you're launching it, who it's for, the benefits it offers—calls for greater effort, of course. But given our experience writing story-based emails, it's an effort worth prioritizing.
ii. Seasonal Sale
Countless factors go into influencing a product's revenue performance—target buyer, price elasticity, market competition, to name a few.
But one that's often overlooked, is seasonality.
Take a recent email I got from luggage retailer, Away: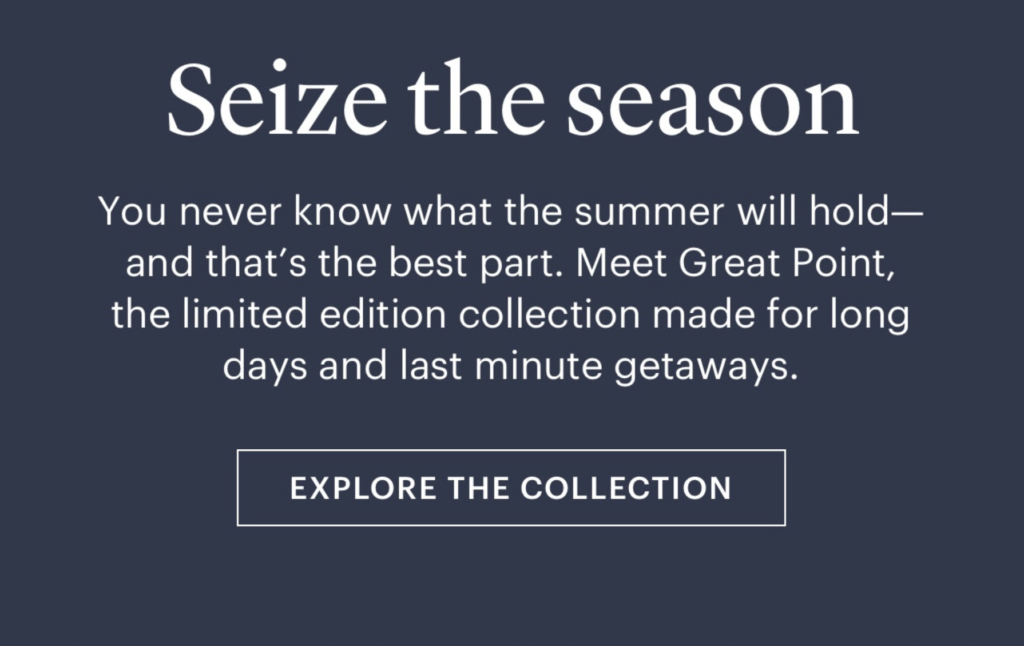 Knowing the demand for their products is likely to spike before prospects go away on their summer vacation, Away invite readers to "seize the season," and "explore the collection" before vacating.
Of course, that's not to say Away, nor you, for that matter, can't market your products off-season. But it is something to keep in mind when scheduling promotional emails.
iii. Just Because
Buyers are dubious enough when it comes to buying discounted offers. But they're especially cautious when a reason isn't given.
Failing to justify a promotion, then, be it due to launching a new product launch or clearing out last season's bestsellers, leaves prospects to jump to their own conclusions. And that's rarely a good thing.
So, if you don't have a reason for running a promotion, do you need to forgo it completely?
Not necessarily.
In the now-famous copy machine study, Ellen Langer and her colleagues found that people waiting to use a copy machine were more likely to let a stranger cut in line if they give a reason—regardless of its legitimacy.
When the stranger asked to cut in front due to being in a rush, 94 percent of people complied. But when the reason, "because I need to make some copies," was given, 93 percent of people obliged.
To bypass people's skepticism to promotions, then, give a reason—any reason—when running a promotion. I call this the "just because" strategy: you're running a product or offering a discount "just because."
Take AYR, for instance.
They recently offered their subscribers $40 off dresses. The reason they gave? Because "it's too damn hot out":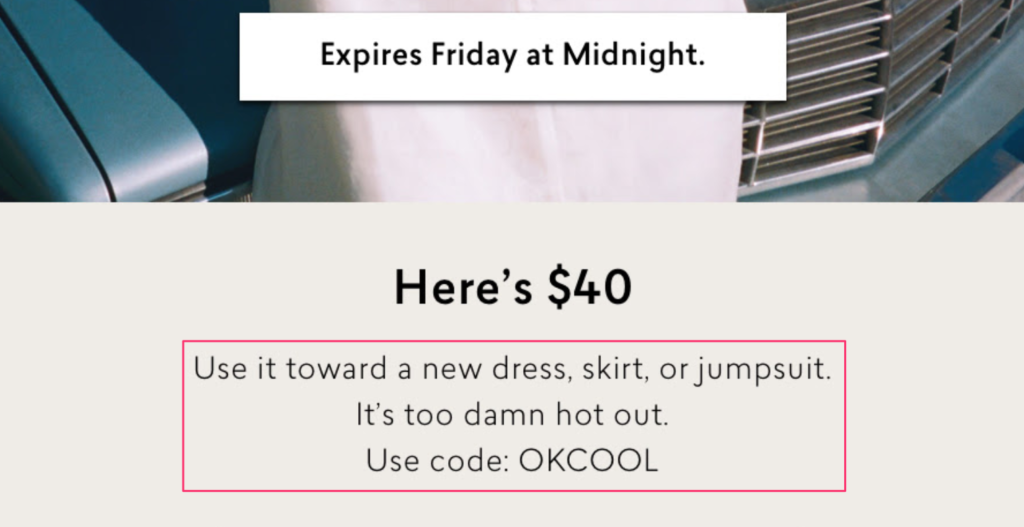 You don't always need a meaningful reason to run a promotion. "Just because" is often more than enough.
6. Drive Last-Minute Purchases
Decades ago, selling through direct mail was a gargantuan feat.
Not only did you have to convince prospects to buy your product, but you also had to get them to complete a form and mail it off.
(Assuming, of course, they were still interested by the time they got to the post office.)
Today, thankfully, making a purchase is as easy as the click of a button. But with greater ease, has come an unintended consequence to put off buying until the last possible moment.
Following on from the earlier section, if you're running a new promotion, sending a final, last chance email is a no brainer if you want to convert more buyers.
We've written about scarcity and FOMO before, so I won't repeat myself here. What I will say, though, is as always, honesty is key. If "Time's almost up!" as it was for a recent ASICS Tiger promotion, so be it.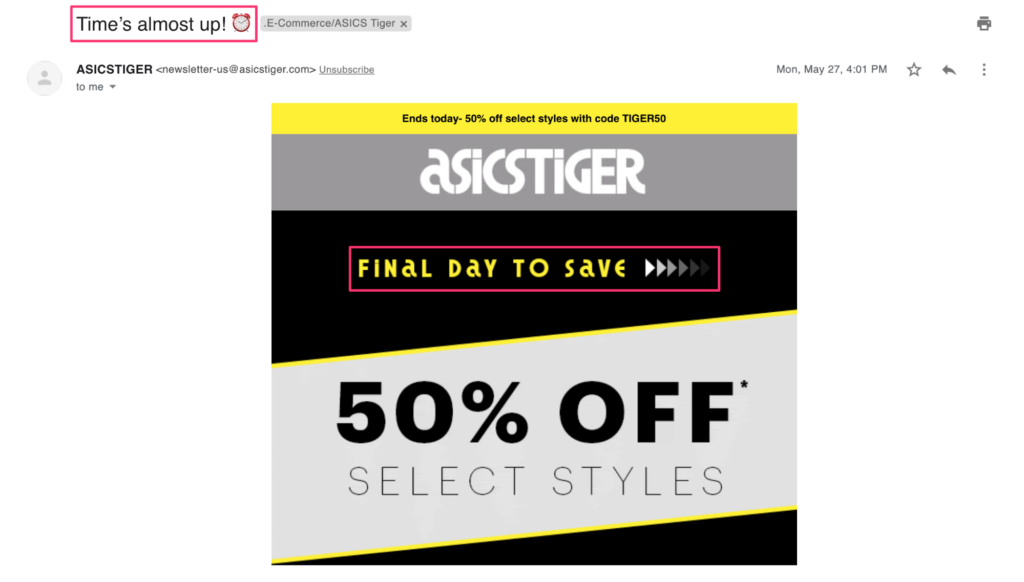 And if it's not?
Avoid lying at all costs.
7. Survey Your Subscribers
If you're in the habit of surveying new customers, you already know their inputs are worth more than their weight in gold.
But what about non-buyers? Can you mine value out of their insights, too?
Aside from more common inquiries like email preferences, surveying prospects gives you feedback on customer service improvements, reason(s) for purchase, and even online course creation.
Yes, you read correctly: more e-commerce brands are now expanding into online courses and using their audience's insight to help build them.
To offer an example, Fab recently asked for my inputs for a yoga-based online course they're creating.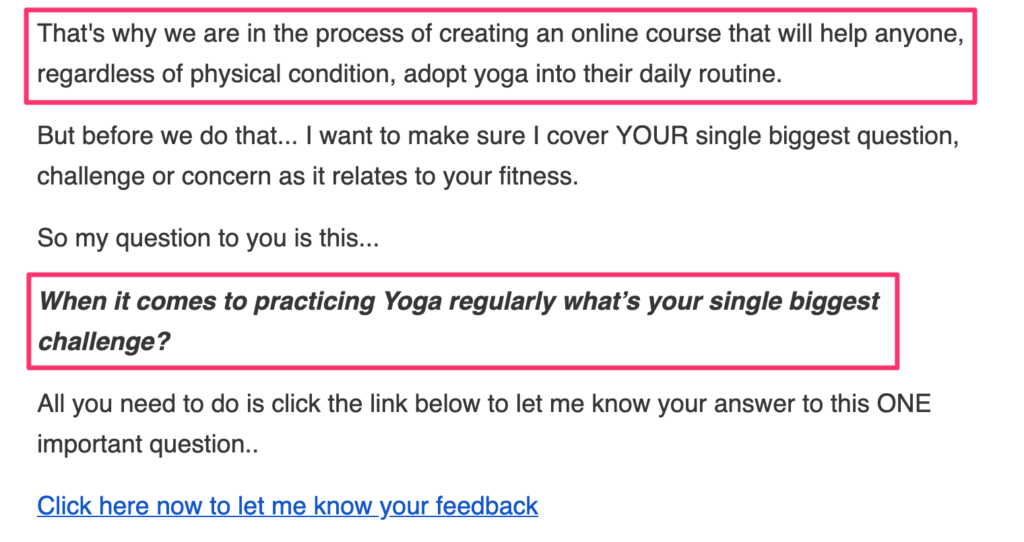 You might not have intentions to create an online course, but take note: asking subscribers what they want—and repeating back to them what they want in your copy—goes a long way.
8. Show Your Appreciation
There's an old joke that the comedian Rodney Dangerfield would tell about his wife: "With my wife, I don't get no respect. I made a toast on her birthday to 'the best woman a man ever had.' The waiter joined me."
Humor aside, no one, buyers, prospects, or otherwise, want to feel disrespected or underappreciated. When it comes to considering a purchase, we want to feel like the brand we're thinking about buying from has our best interests at heart.
What better way to show you care, then, than with an email offering subscribers a discount on their birthday?
Topshop is known for their rapid growth in recent years, but what they might not be known for is their effort to make their audience feel special. Take a look at how they welcome and wow new subscribers. First, they tease a "special treat" in their email popup copy.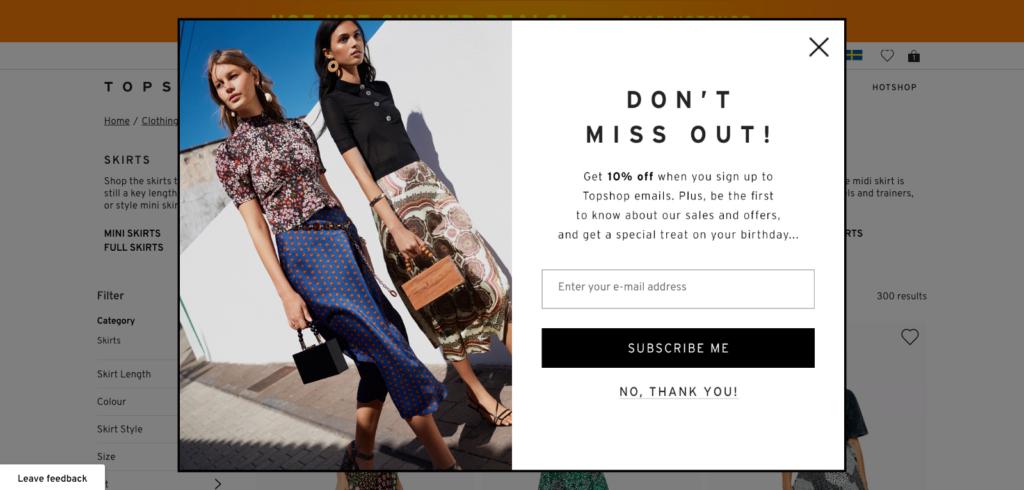 Then, on your birthday, they email you to wish you many happy returns…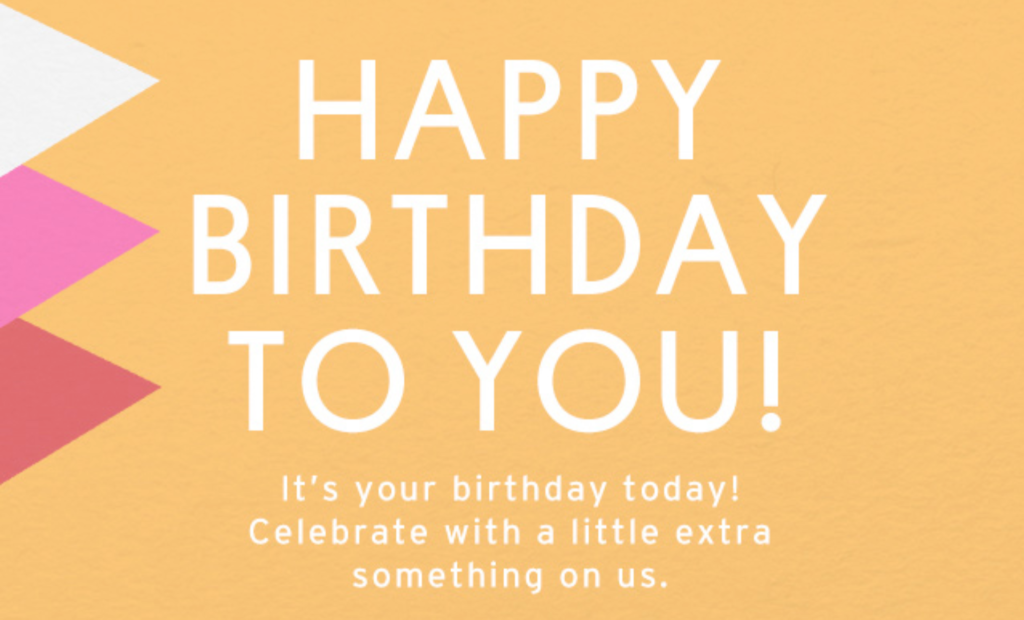 …before offering a 20% discount.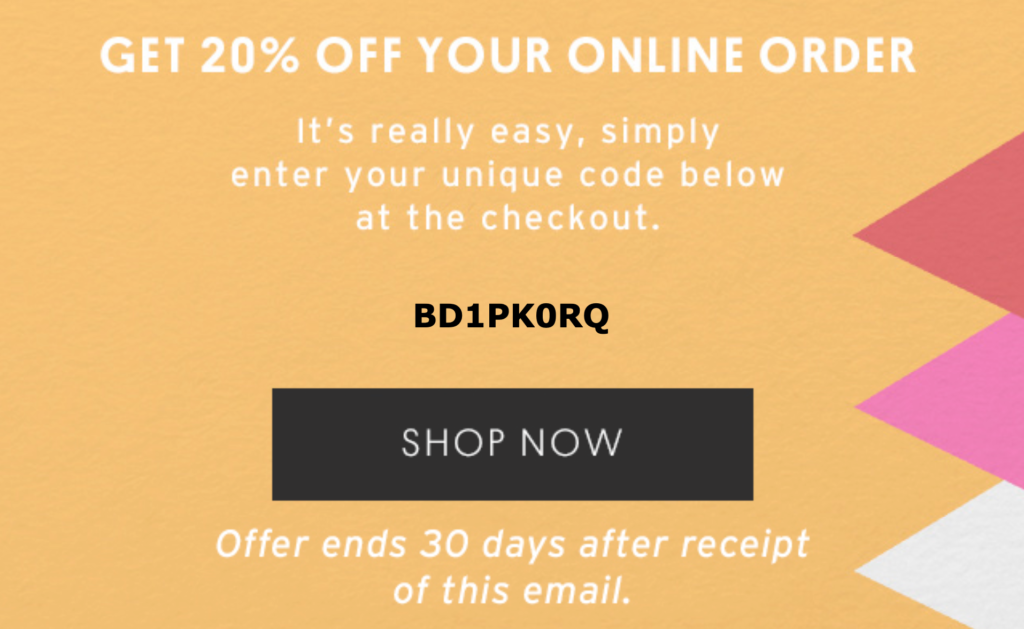 While it's nice for subscribers, it's also clever on Topshop's part. They know many people are gifted money on their birthday … and are likely to splurge it on a brand that acknowledges it (if, that is, they're given a little incentive).
9. Ask for Referrals
With as much as 74 percent of consumers identifying word-of-mouth as a key influencer in their purchasing decision, as reported by Ogilvy, it's no surprise that many brands invest in referral programs.
But it's important to understand that there's more to referral marketing than asking for a recommendation—timing, as well as incentivizing the request, is as important.
The latter, for the most part, is obvious when you think about it. After having tried on, worn and justified their purchases, buyers are more likely to refer a friend (especially with a little prodding).
But what about incentives? Well, there are a few approaches to consider.
One common approach is to offer a percentage discount as Bonobos do: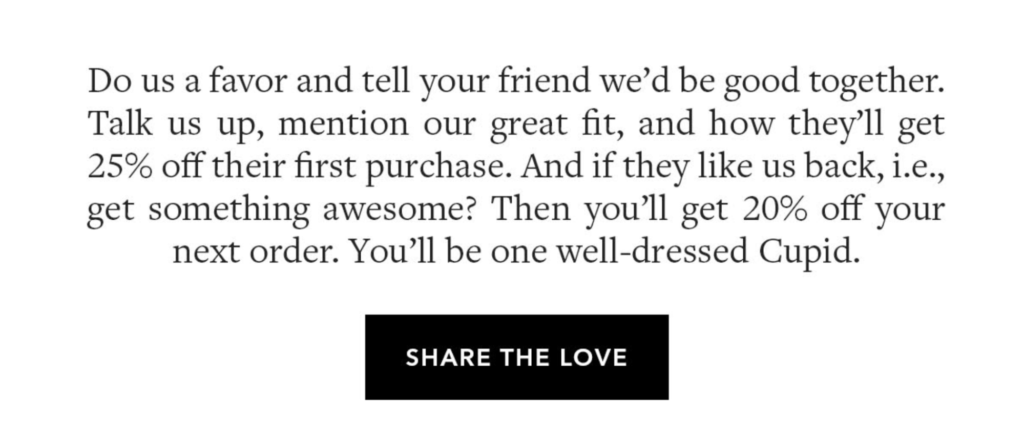 Another, more creative approach, is to follow Away's example and offer a dollar amount discount: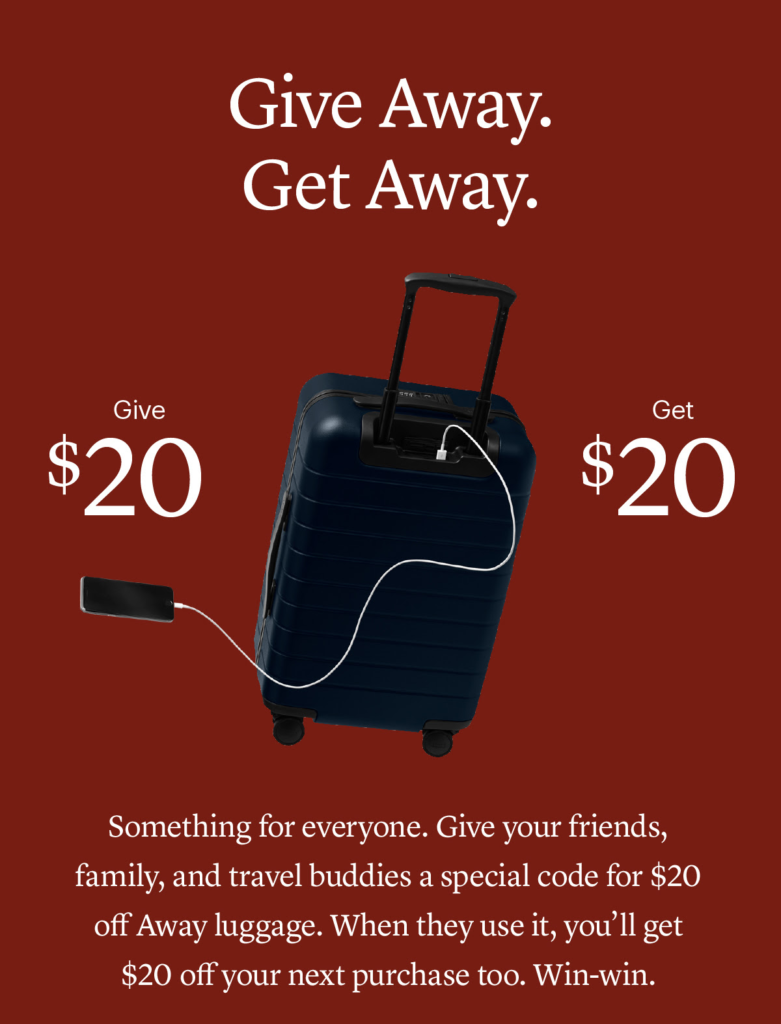 My favorite approach, though, and one I've written about before, is offering a physical incentive as Bombas does: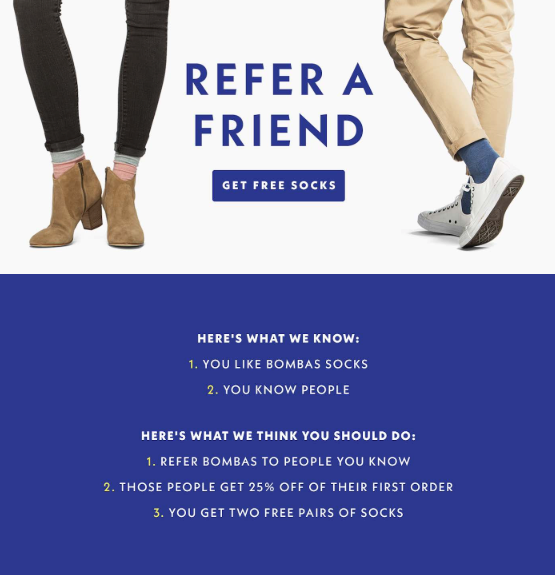 There's no right or wrong way to incentivize referrals and you will need to experiment what resonates with your buyers. But given the effectiveness of referral marketing, it's something you need to consider if you haven't already.
Conclusion
Your ability to write good emails—and send them to the right subscribers at the right time—can mean the difference between a failing business and a thriving, profitable powerhouse.
But it doesn't have to be a challenge. I've shared above several brands that are nailing their email marketing. Learn from them. Iterate on their campaigns. And I promise you will be rubbing shoulders with them and others like them in no time.