Today, we're thrilled to show you Drip's latest features. Each one is lovingly crafted by our team of genius developers to help you send the right email to the right person at the right time.
Automatically Re-send Opt-in Confirmation Emails
Double opt-ins can be a critical part of maintaining a quality list, and with this feature, Drip will increase your opt-in rates automatically. If you get a new subscriber who doesn't confirm their opt-in within two days, Drip will automatically re-send their confirmation email.
To enable this feature in your account, visit your Account Settings.

Key Form Analytics Now Available At-A-Glance
We've added form analytics to the forms list, so you can see at-a-glance which of your forms are your highest-performing. Start comparing your form metrics and use this data to optimize for more form submissions.
Clicks Reporting for One-Off Emails
Drip's robust reporting just got stronger: One-Off emails that run in Automation Rules join the ranks of Campaigns and Broadcasts with their own option in the Clicks Report. See how many times each of your one-off email links have been clicked in Reports -> Clicks -> Automation.

An Alternate Approach to Handling Unsubscribes
There are a variety of ways to unsubscribe people from your mailings. Now, Drip allows you to pick the one that suits your situation best: Multi-step or one-click.
Some subscribers expect to never hear from you again once they click the unsubscribe link. If your subscribers fall into this category, our "Unsubscribe from all mailings immediately" option is for you.
But we've found that others would prefer to be able to selectively unsubscribe from certain campaigns. So we've added an account-level setting to let you choose for yourself…

This new unsubscribe option is available in your Account Settings, and existing Drip accounts are untouched. If you like the way things have been working (instant unsubscribe from everything when clicked), then do nothing.
But if you'd prefer that clicking "unsubscribe" allows your subscriber to then choose which campaign(s) to unsubscribe from, as shown below, then navigate to Settings-> Account and update this setting in the lower left.
New Drip accounts will use the new, multi-step setting.
Subscribe/Unsubscribe Added to Subscriber Profile
You can now easily subscribe and unsubscribe a subscriber from any campaign with a button click. This makes manual subscriber management faster and simpler.
Find the options on your subscribers' "Subscriptions" page.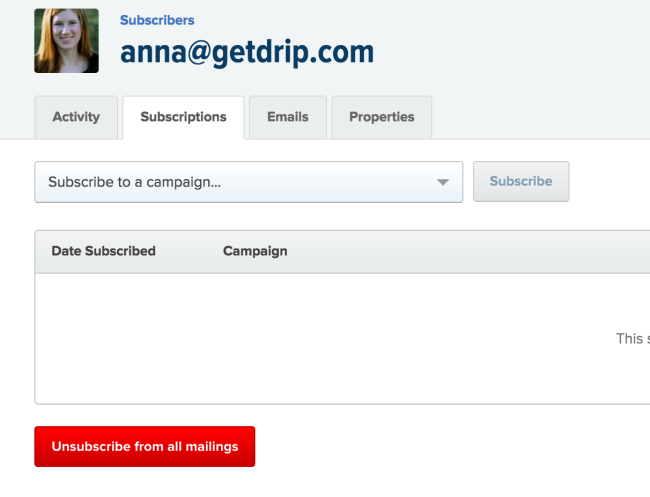 New Automation Trigger: Removed A Tag
With the Removed A Tag trigger, you can automate Drip actions whenever a tag is removed from a subscriber – and you now have a total of 11 triggers to choose from when creating Automation Rules.
These Drip upgrades bolster our rich feature set, including tagging, lead scoring, conversion tracking, 35+ integrations with your favorite apps, and rock-solid automations (at a fraction of the cost of any comparable tool).
Once you give these new features a try, we'd love to hear about it. Just hit reply to this email and let us know how you're using them.
And ff these features sound like something you'd use, you should give Drip a try. Your first 100 subscribers are on us. Get started here.