"For five years we've been saying marketing automation is the future of marketing at Drip. That's no longer true. Marketing automation is not the future of marketing—it's the present."
And that, says Drip cofounder Rob Walling, is why you need to be at Automated 2017—our first-ever free, virtual marketing automation conference.
Specifically, you should sign up if …
You're just getting started with marketing automation and need to quickly catch up to what your peers and competitors are doing.
You want to discover advanced (but easy to deploy) automation strategies that most businesses don't even know are out there.
You want to see your business grow by 2x, 5x, or even 10x this year (not generally possible without automation).
So what can you expect to hear and see at Automated 2017? Read on to find out why you should meet our star speakers and what marketing automation ideas they're obsessed with right now.
Ezra Firestone: How to Automate Your Paid Media Campaigns to Drive More Sales
Who he is: Ezra's the founder of Smart Marketer and one of the smartest ecommerce marketers we know.
What he's interested in now: I asked Ezra about a new development in marketing automation that has his attention. His answer: automation based on video engagement. That includes things like:
"Re-engaging people who watch a video on Facebook with content that is specific to what/how much they've consumed. Tailoring email and advertising communications dynamically to create sequenced video content consumption paths. It's very exciting that we can use information about what a user is interested in to curate the messaging they receive! It's been very effective for ongoing brand engagement and conversions."
Laura Roeder: Automation for Social: Less Work, More Traffic
Who she is: After starting her career as a social media consultant, Laura decided to automate what she'd learned with the social-media scheduling app MeetEdgar. In her Automated 2017 presentation, she'll combine her social media smarts with what she's learned marketing a SaaS product.
Her advice on choosing what to automate: "Let software do what software can do so that you can free up your time to do what only you can do," Laura told me. "There are some things that software hasn't mastered, like writing, creating content, and interacting with your prospects and customers. At MeetEdgar we believe in letting automated tools handle all of the chores like scheduling and recycling your updates so that you can spend more time creating the excellent, unique content that Edgar sends out."
Clay Collins: The Future of Automation & the Marketing Stack
Who he is: Clay is the CEO and cofounder of Leadpages. Since acquiring Drip last year and launching the marketing automation tool Center, Clay has been deeply focused on determining where marketing automation needs to go next to serve marketers and entrepreneurs best.
How Clay kicked off the Drip/Leadpages partnership: One day in June 2015, he sent this email: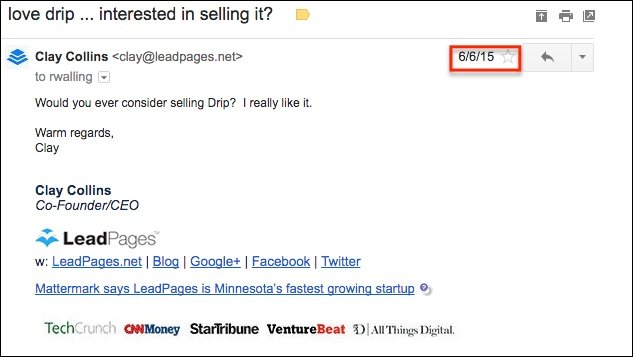 The rest is history.
Ethan Denney: How to Supercharge All Your Leads with Automated Personalization
Who he is: Ethan is the co-founder and CEO of ConvertFlow, which lets you serve personalized calls to action to your website visitors. He'll explain how to use tools like this strategically to give every prospect a custom experience.
Where to start learning: Check out this deep dive into the Drip/ConvertFlow integration for a few personalization ideas ahead of time.
Anna Jacobsen: How to Get Your Customers on the Minimum Path to Awesome
Who she is: Anna is our very own Education Director here at Drip, so she's guided hundreds of customers through setting up email campaigns, automated workflows, and much more.
What's next in marketing technology, according to Anna: "People are buying a set of tools that are perfect for their use case and moving away from all-in-one solutions," she says.
"The new trend is for entrepreneurs to find agile, elegant point solutions (like Drift, SamCart or Leadpages) that exactly meet their needs and integrate with their marketing stack seamlessly. I've seen plenty of folks abandon their all-in-one systems with bolted on, one size fits all components like shopping carts and page builders and instead pick the best-in-class tools and integrate them to fit their exact needs."
Brennan Dunn: How to Effortlessly Drive More Sales in Your Webinars; How to Sell Automation to Your Agency's Clients
Who he is: Brennan is the founder of Double Your Freelancing, but Drip customers may know him better as a generous dispenser of mind-expanding next-level Drip tactics and automation hacks. He's written several books, created videos, and constructed several courses to grow his audience's automation knowledge by leaps and bounds. At Automated, he'll continue his tradition of over-delivering by presenting two different sessions.
Where he thinks marketing automation is going: I asked Brennan how he thought marketing automation would change in the next couple of years. Here's what he said:
"If I were to predict one thing that I think more businesses will be doing over the next 2 years, it would be personalizing content specific to the viewer—possibly fueled by machine learning. This means looking at someone's behavior and drawing conclusions about where they are now and what they need from you, and then tailoring their entire experience with your organization to talk specifically to them."
Brian & Scott Moran: How to Engineer an Affiliate Launch
Who they are: Brothers Scott and Brian cofounded SamCart, a shopping cart platform that helps small businesses get their store up and running online. Last year, they ran a massive affiliate launch that netted $2.3 million.
Scott's automation motto: "I wish I could go back a few years and tattoo 'Done is better than perfect,' on my forehead," he told me. "It would've saved me a lot of stress. The impulse to have everything perfect right from the start is a huge time-waster. Don't try to copy the big complex stuff right off the bat … You can always add more as you grow!"
What Brian doesn't miss about old-school automation: "Gone are the days where we have to talk to each visitor the same," he says. "Now we can customize what content people see based on actions they take or things we know about them. I think this is just going to get better and better as technology advances, and it serves both business and customers well in my opinion."
Erik Ullanderson: How to Become a Marketing Automation Specialist
Who he is: Erik is our Certification Program Director. His first project when he joined the team was developing Leadpages' Conversion Marketing Certification program, which provides digital marketers foundational real-world skills for today's digital marketing landscape. That program has since been joined by a Drip Consultant Certification program.
Why marketing automation is a natural fit for educators: "As an educator, I aspire to be as personal as possible," says Erik. "Marketing automation is allowing people to really reach a large audience while keeping it relevant and personal to each and every person."
Kenny Rueter & Travis Rosser: 5 Mistakes Membership Entrepreneurs Make, and How to Avoid Them
Who they are: Kenny and Travis cofounded Kajabi, a platform that lets you sell access to your course, online community, or membership site.
How Kajabi got started: Kenny and Travis got into the software startup business through an unexpected side project: an ebook and video about creating fun water toys for kids. After trying and failing to find a tech solution to let them sell what they'd created, they decided to go ahead and build their own platform.
David Gerhardt: How to Automate Customer Interaction with Onsite Messaging
Who he is: David is the Director of Marketing at Drift, a messaging platform that's been on the forefront of interesting developments like bot-powered chat campaigns.
Why he thinks messaging is where it's at: "I just think about how we all communicate as people every single day," David told me. "We all rely on messaging apps like Slack to talk to our coworkers and iMessage to talk to our friends. There's a huge opportunity in marketing automation around messaging, especially at the top of the funnel with generating and qualifying leads."
André Chaperon: Creating Customer Journeys
Who he is: André is a bit of an internet-marketing Renaissance man, but you may know him best as the creator of AutoResponder Madness, a pioneering course on taking email marketing way beyond mass emails to your list.
André's advice to email marketers: "Focus less on what the status quo are doing with email," says André. "Just because most email marketers send email broadcasts, that doesn't mean it's the most effective way to deliver relevance to your audience." Instead, he recommends using subscribers' behavior (which platforms like Drip can track) to trigger automated sequences and decide who gets which email.
Josh Braaten: How to Hire a Marketing Automation Specialist
Who he is: Josh joined the Leadpages team with a background that's included business consulting, product management, and paid advertising. As Senior Director of Marketing, he's constantly seeking out new ways to acquire customers.
What he's thinking about right now: I asked Josh what's on his mind these days, and his answer was simple: "Segmentation and personalization. Every campaign should be able to shift dynamically to speak to the exact persona or market segment you're trying to sell to. The more you know, the better."
Nate Grahek: How I Created an Automated Email Coach to Retain More Customers with Drip
Who he is: Nate is the founder and CEO of StickyAlbums, a tool that lets photographers share sessions with their clients through a custom online app. He was also an early user of Drip, which he deploys to create amazingly sophisticated onboarding campaigns to keep new customers on track.
Nate's business-growth cred: Despite having no programming experience or outside funding, Nate was able to grow StickyAlbums from 0 to 1,500 customers in just three months. You can hear how he did it in this 2012 video interview with Clay Collins.
James Thompson: How to Get a 99% Deliverability Rate Every Time
Who he is: James recently joined the Drip team after a decade at Infusionsoft, most recently as Director of Email Operations. At Automated, he'll be explaining what you can do to improve your deliverability rate above and beyond what even a good email platform can do on its own.
Why he's looking forward to the future of marketing automation: James predicts that we'll see better machine-learning algorithms arise in the next couple of years. Soon, he says, "I think that marketing automation will in essence run on autopilot mode, with very little setup required from the user."
Chris Gaudreau: How to Plan Your Entire Marketing Funnel from Start to Finish
Who he is: Chris signed on as our Funnel Architect and Marketing Strategist after wowing the team with his elaborate—yet strikingly intuitive—campaign funnel diagrams. He'll be diving into his blueprinting system at Automated.
Chris's advice for automation newbies: Chris actually recommends not jumping into automation by selecting a marketing automation platform. "With seemingly endless possibilities, your only hope for success is a good plan," he says. "Choose your marketing technology based on your plan, not the other way around."
Ready for Automated 2017? Here Are the Details …
When is it? Wednesday, April 12 (9 a.m.–5 p.m. Central) & Thursday, April 13 (9 a.m.–4 p.m.)
Where is it? From the comfort of your own living room, office, or wherever you choose to be! Automated is completely virtual.
I know you said it's free. So what's the catch? No catch—we're serious about the "free" thing. And if you don't yet have access to automation software, you can even grab a free Drip account so you can play around with all the automation tactics you'll be learning while you attend the conference.
What if I have to miss some (or all) of the conference? That's no problem—go ahead and sign up anyway. We'll send you the recordings afterward so you can catch up on anything you missed. (But do sign up now, because the price for the recordings will go up to $250 after the event.)
No matter where you are in terms of marketing automation maturity, you'll walk away from Automated with fresh new ideas to help grow your business. We can't wait to see you there.
What are you looking forward to learning at Automated 2017? Tell us in the comments.