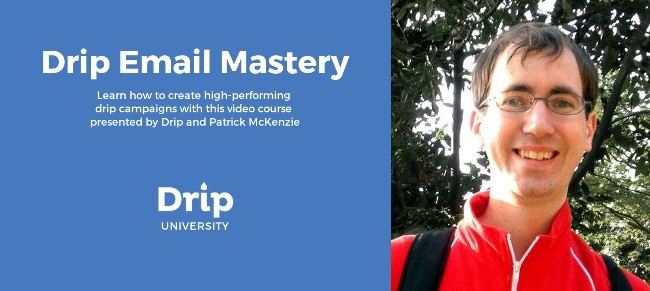 Here at Drip, people ask us all sorts of questions about how to construct email campaigns that will make them more money.
So we teamed up with Patrick McKenzie, asked him a series of questions about email campaigns, and recorded it all for posterity.
The result? Drip Email Mastery, a video series featuring Patrick answering every question we could find on the topic of highly-profitable drip campaigns. Today, we're launching this series to the public and for the next week, we're giving it away for free.
What You'll Learn
You already know that email is the not-so-secret "secret weapon" for selling books, ebooks, courses, consulting services, SaaS apps and software. Allow us to rock your email marketing world in this series of 20 succinct, info-packed videos.
In them, Patrick McKenzie imparts nuggets of wisdom he's gleaned from his 10+ years of email marketing experience. These insider tips come from what he's seen work with real-life companies, agencies and consultants.
He answers questions like…
How long does it take to write a good campaign?

What's the secret to getting more opt-ins?

What's a healthy open rate for my campaigns?

What makes for a good subject line?
And offers these (and many other) game-changing tactics:
One simple tip to double your conversion rate (video 16)
When to use broadcast emails (video 20)
How to know what to teach in an email course (video 2)
The content ratio sweet spot: education vs. persuasion (video 10)
How to know if your conversion rate is amazing…or craptastic (video 14)
The top 3 mistakes people make with onboarding email sequences (video 17)
Each video takes just a few minutes to watch and provides strategies you can use right away.
This series is free right now on Gumroad. After Dec. 21, 2015, it will be available for purchase ($79) or to rent ($19).
Prepare to master drip email. Get your copy of the video series here.
About Patrick McKenzie
Patrick makes and sells software that improves people's lives. He's the author of the Hacking Lifecycle Emails course, he's built and marketed his own software products and he is a sought-after consultant for businesses ranging from SaaS to multinational organizations. Before that, he was an anti-spam researcher.