Kickbox is email address verification that ensures you only send email to real users and helps you separate low-quality addresses from high-value contacts.
Kickbox recently integrated with Drip, allowing for easy movement between the two applications.
This is a guest post from Jessica Martinez of Kickbox.
The foundation of successful marketing automation, or any email marketing campaign for that matter, is a solid email list — even segmentation won't produce the best results if your email list is full of non-existent, invalid or low-quality email addresses.
We're excited to launch our Kickbox.io integration with Drip, which virtually eliminates email bounces and even goes as far as offering a 95% deliverability guarantee.
Now all Drip users can clean up their email lists… with just a few clicks. To sweeten the deal, all Drip users get 10% off Kickbox's email verification services, for life.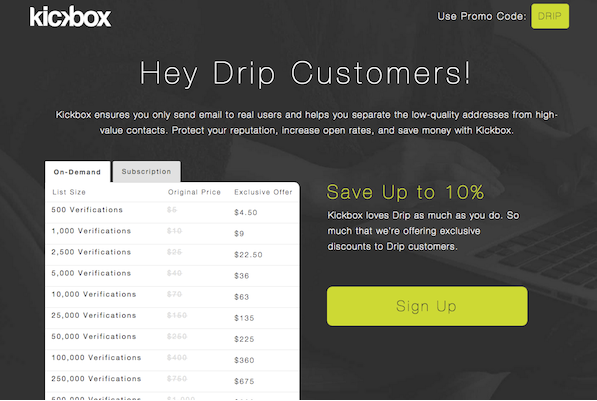 Why Should I Use Kickbox?
List hygiene is often overlooked because marketers are so focused on growing their list. Sure, growing your list matters. However, routine email verification is an important step to getting the most out of your marketing efforts. Some of the most notable benefits include:
Increased Open Rates – When you get rid of the bad and low-quality email addresses infecting your email list, you'll see improved analytics across-the-board, including a higher percentage of people opening your emails.
Decreased Bounce Rates – Find out if an email is going to bounce, before you launch your next campaign, so you can ditch the dead weight.
Cost Benefits – Every subscriber on your email list costs money. If you are consistently sending emails to bad or low-quality leads, you're throwing money out the window.
Reputation Protection – If your list contains a large amount of bad or non-existent email addresses, Drip (or any other ESP or marketing automation tool) reserves the right to ban or suspend an account. Clean up your act, I mean email list, by running your list through Kickbox.
The Kickbox + Drip integration makes it easy to import and export your email lists for batch verifications. Another solid feature of Kickbox is our real-time email verification API. The Kickbox API allows you to verify email addresses before they enter your database. This is invaluable if you are collecting email addresses from online forms like newsletter sign-ups and contact forms and ideal when paired with marketing automation tools like Drip.
The Kickbox API is not part of the integration and does require some development time to set up. The good news: Drip users verifying addresses through their API are eligible for the 10% discount when you sign up using this link.
Kickbox Results Summary
Kickbox's email verification technology identifies Deliverable, Undeliverable, Risky and Unknown addresses in your email list(s). Separating bad and low-quality addresses ensures you only send emails to high-value contacts.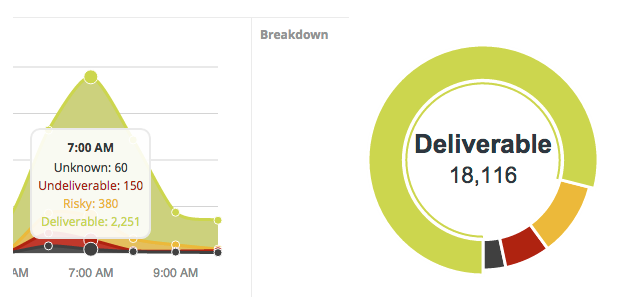 When you verify your list through Kickbox, every email address will be identified as…
Deliverable – These email addresses are good and backed by the Kickbox 95% Deliverability Guarantee.
Undeliverable – We know you've worked your tail off to get every email address on your list, but these bad boys will undeniably result in a hard bounce and should be removed from your database.
Risky – Sending to these email addresses can be a slippery slope because deliverability cannot be guaranteed due to quality issues and/or factors related to the receiving mail server.
Unknown – Every once in awhile the receiving mail server will hiccup (think, timeouts or technical issues) and return an Unknown result. When this happens Kickbox's system will automatically return credits for any Unknown results.
If you are hesitant to remove Risky email addresses from your to list, this is the perfect opportunity to experiment with segmentation. Try separating them from your "good" email list and put them on a different send cycle and/or spread them out across multiple campaigns.
Carefully monitor email performance, then based on your results determine if they are worth keeping or removing from your database.
You can even segment your list by Kickbox Sendex Score™ to help determine the value of a lead. What you do with your Kickbox results is entirely up to you.