Improve Your Open Rates by 30% with Automatic Broadcast Resend
Sometimes, people don't open your broadcast the first time around. What if you could get a second chance at engaging those people?
Today we're announcing Automatic Broadcast Resend, one of Drip's most powerful new features. Now, when you set up your Broadcast, you can set it to resend, with a new subject line, to everyone who didn't open it the first time – automatically, without having to cajole your reports and segments to give you the data you need to do so.
It takes just a few clicks: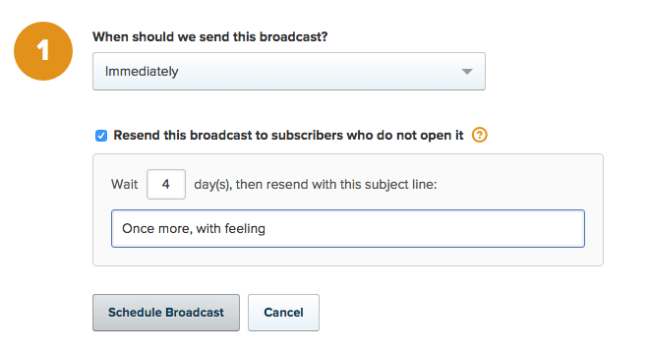 We've seen a significant bump in open rates by using this trick. It's been popularized by Patt Flynn, and Noah Kagan has seen a minimum of a 30% bump in open rates using this tactic alone.
To resend to people who don't open the first time, just click one checkbox, select the delay of your second email and pick an awesome subject line.
Without any monitoring or segmentation from you, Drip will automatically send to the people who didn't open the first time.
If you're itching to use this feature and you haven't tried Drip, there's no time like the present. We'll even give you your first 100 subscribers free.
Did you grab your copy of our guide to Black Friday & Cyber Monday?
It's time to rethink BFCM. Get this guide to building long-term customer loyalty instead of just focusing on short-term sales this holiday season.
Get my copy
x
Free Guide to Black Friday & Cyber Monday
Ready to rethink Black Friday? Focus on long-term loyalty, not just short-term sales. Grab our free guide full of whys and hows for this holiday season.
Get my copy