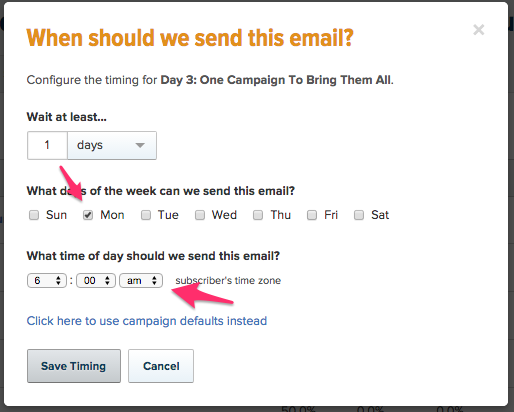 We just released a feature that gives you even more control over when your individual Campaign emails send.
Typically, Drip Campaign emails send in a sequence determined by timing settings at the Campaign level.
But now, you can set individual emails to send only on certain days of the week, and (if you choose) only at specific times.
Here's how you set this up:
In your Campaign Emails view, click on the gear to the left of the email you want to modify.

Then, select "Click here to customize the days allowed and sending time for this particular email."
Here's one way you'd use this feature:
Perhaps you run a weekly webinar, with registrants subscribed to a "Webinar" campaign.
Your webinar runs each Wednesday, and you want to remind registrants to attend on Mondays and Tuesdays, and one hour before the webinar on Wednesdays.
Then, on Thursdays, you want to send a follow-up email.
On Fridays and the weekends, you don't want any emails to send.
All of this is possible by selecting the days of the week your individual emails in the Campaign will send.
If you're already Drip user and find another use for this feature, we'd love to hear about it in the comments.
If you're not a Drip user, hop aboard! Collect your first 100 subscribers on us.