This post is part of our Funnel Hack Friday series, where we document growth case studies for founders and marketers to learn from.
In this case study, we showcase Ninja Outreach, a SaaS tool for influencer marketing.
Imagine you put an item in your Amazon shopping cart.
You leave to go check Facebook without buying… and you know it's coming.
The next time you open up your inbox, chances are, you'll see an email waiting for you, gently reminding you to come back and buy.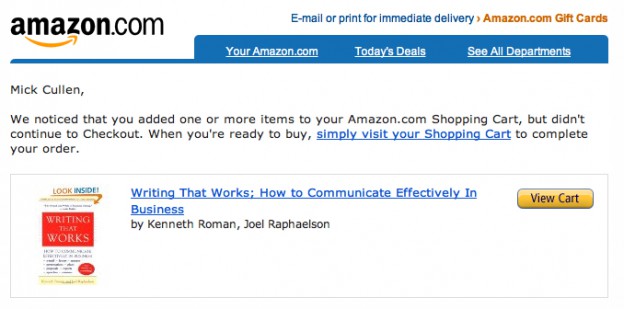 It works.
These emails are money-makers because they send the right message, to the right person, at the right time.
And the same goes for SaaS email marketing.
In every industry, a percentage of people bail when you ask for a credit card. That's why it pays to have a system like Amazon for following up with lost leads.
"But How Many People Are Really Leaving My SaaS Trial Sign Up Form?"
It's worth noting that cart abandonment is a massive and well documented problem in online retail. Business Insider estimates that ecommerce companies lose a combined $4 trillion in revenue per year to abandoned carts.
In this case study, we'll show you how to limit trial abandonment—the SaaS equivalent of shopping cart abandonment—so you can get a permanent lift in your conversions and accelerate your growth.
And that's exactly what NinjaOutreach has done.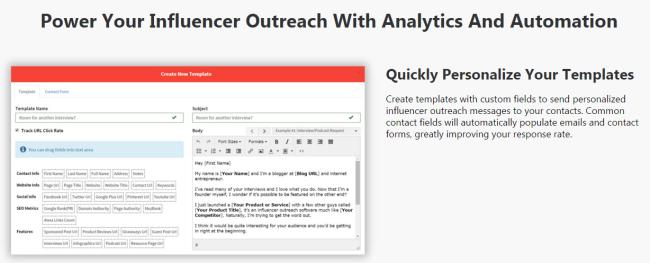 Ninja Outreach has found a way to turn lost trials into sign-ups and paid users automatically.
And they've done it without hiring a consultant or paying $2,000+ mandatory setup fees for one of the big automation platforms.
Without further ado, let's see how they started rescuing more SaaS trials… and how you can do the same.
The 2-Step Sign Up: How NinjaOutreach Rescues Abandoned Trials And Maximizes New Users
Check out NinjaOutreach's Pricing page below.
It's a pretty standard tiered Pricing page.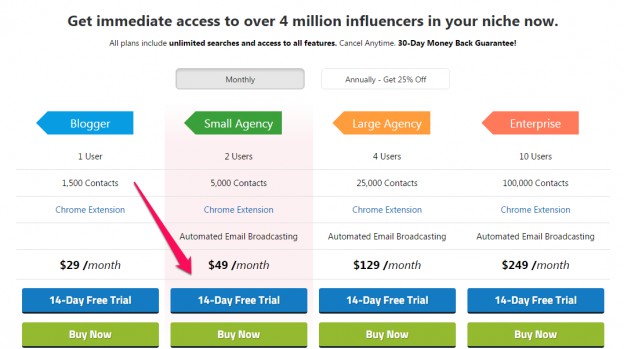 Here's what's interesting:
When you click the blue "14-Day Free Trial" button above, instead of hitting a prototypical Free Trial page to enter your credit card, you see a popup. It looks like this: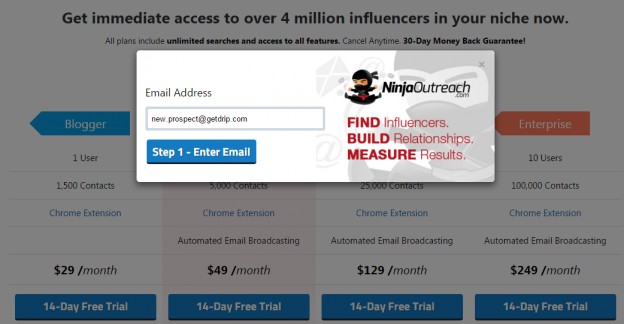 Now, after you enter your email address, Ninja Outreach takes you to the Free Trial page, asking for your payment details. And that's it.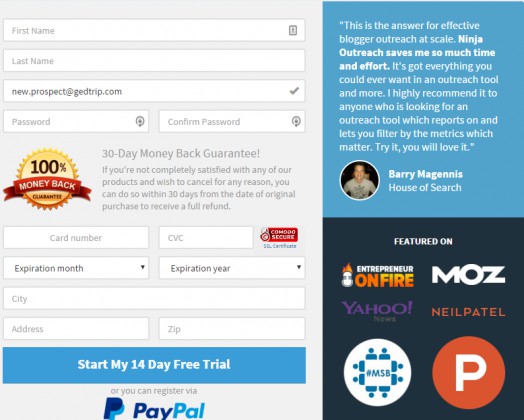 This way, when leads abandon the Free Trial page, instead of losing them forever, Ninja Outreach has an email address.
This lets them follow up with people based on their behavior (i.e. finishing the sign up or not). The results have been impressive.
The Economics Of Lost SaaS Trials: How To Drive Growth By Uncovering An Extra 65 Sign Ups Per Month
Here's the latest breakdown of Ninja Outreach's funnel abandonment campaign, over the past 30 days:
564 leads entered the Form Abandons follow up email sequence
11.6% of these abandoners came back and finished their trial sign up
65 total recovered users trialing for plans ranging from $29/mo to $249/mo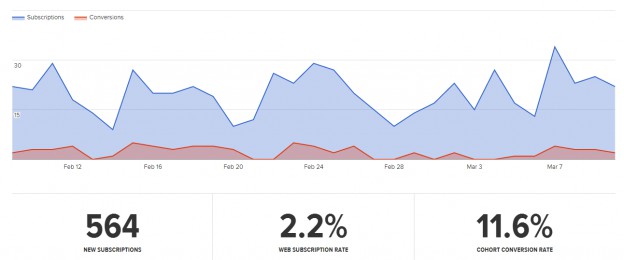 All in all, NinjaOutreach's system might take you an afternoon to set up. Trust me, it'll be worth it. We're talking about a permanent lift in your conversions, at the point in your funnel when people literally couldn't be closer to starting a trial.
First, you'll need to change the "Free Trial" buttons on your Pricing page. Instead of going to your payment gateway, you'll want these buttons to trigger a popup like Ninja Outreach.
In Drip, you can set this up with a Form.
On the "Rules" tab of the Form, you'll see "What should happen when this form is submitted." Ninja Outreach chooses "Send a campaign."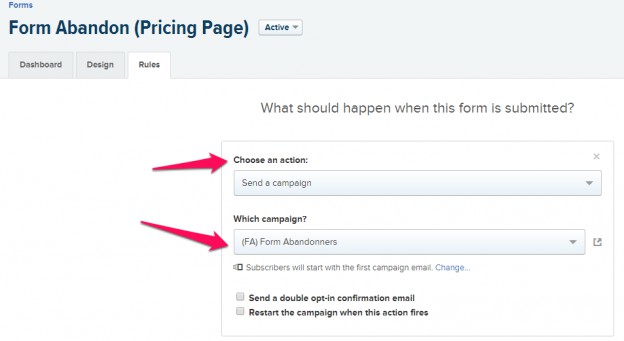 This campaign ("Form Abandons") is a simple 2-email drip sequence, nudging abandoned visitors to come back. Just like Amazon's emails.
This pair of emails get a 36% open rate and a 14% click-thru-rate. That high 14% click-thru-rate is the equivalent of clicking on Amazon's button to revisit your shopping cart. Instead of being annoyed by these emails, the data shows that people are still very interested in finishing their trial sign up of Ninja Outreach.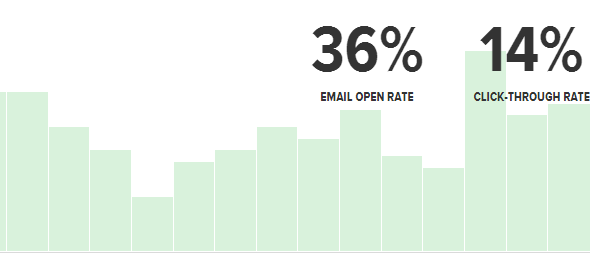 In the emails themselves, Ninja Outreach co-founder Dave offers a helping hand, and even offers a personalized demo in email follow up #2.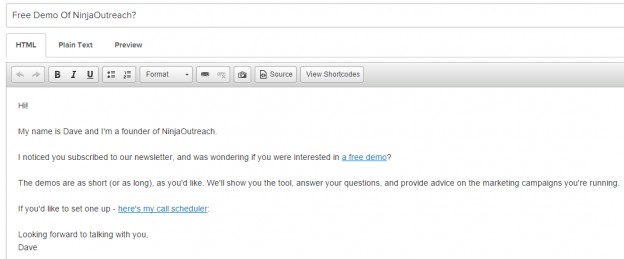 Disclaimer:
When setting up this type of campaign, you want to be 100% sure you avoid emailing the WRONG people. In this case, Dave wants peace of mind knowing that successful completed trial sign-ups won't accidentally receive nudges to "finish your trial sign-up."
That's where automation rules make life easy.
With native 1-click integrations with Stripe and Paypal, Drip can instantly remove people from the Abandonment reminders as soon as they actually finish their trial sign up. This way, contacts who complete their sign up won't ever receives irrelevant emails.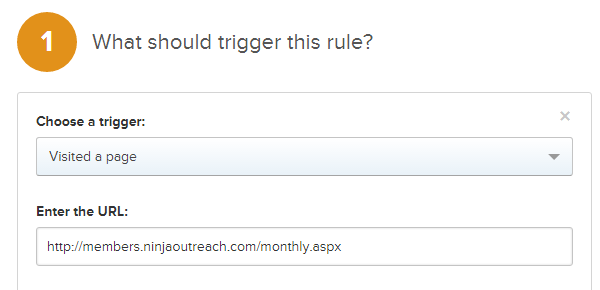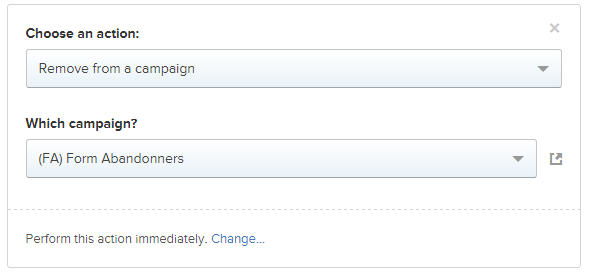 Finally, with this rule in place, the founders can sleep at night knowing that the right messages are being triggered to the right people, at the right time.
The overall flow works like this:
Leads abandon the Free Trial page, and enter a 2-email campaign with reminders to come back
Leads can schedule a personalized demo, and Dave wakes up with new demo calendar events in his inbox, because these emails include a link to his online scheduling software
Ninja Outreach nets 65 new trials per month, amounting to thousands of dollars in extra monthly recurring revenue
All on autopilot.
Side note: Dave was taking an extended trip in South America, as we put this case study together. The beauty is, once you set this system up, marketing automation does the heavy lifting.
To set up your own 2-step signup and reduce abandoned SaaS trials, we've put together a step-by-step blueprint to get you up and running. Get it here.
P.S. If you're not on Drip, you can set this up in an afternoon when you sign up for a Drip account.
P.P.S. Fair warning: if you do go to sign up for Drip and you abandon our Free Trial page, you can expect a couple of follow ups (naturally).