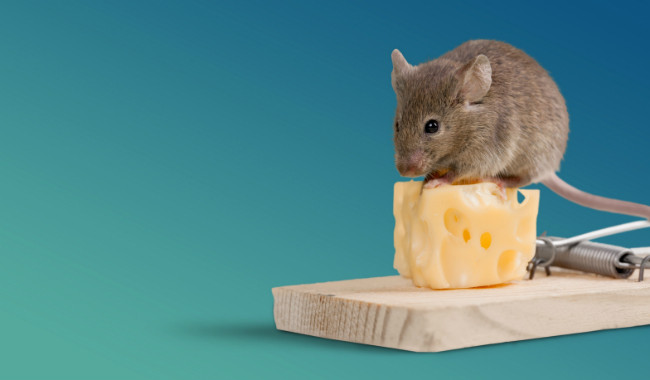 Over the last few years, mobile SaaS app usage has skyrocketed.
App popularity started at the personal level, affecting our daily lives with streaming music, health and fitness trackers and much more.
Now professional SaaS apps have matched their personal counterparts and etched themselves into our lives through the workplace. In 2014, SaaS applications generated almost $25 billion worldwide.
Clearly, people are using apps in all shapes and sizes, and for just about anything.
But just using an app and engaging with one is not the same.
How can you make your app irresistible, regardless of mobile or browser access?
How can you "hook" your users, increase app engagement and make sure they never leave?
Let's talk about that.
First, let's consider this:
Why SaaS Apps To Begin With?
SaaS apps make software businesses run a whole lot smoother. They enable automatic updates, giving each user regardless of their location the latest versions instantly. This increases SaaS app performance while lowering costs across the board.
According to Venture Capitalist Tomasz Tungus in his recent mobile-SaaS article:
"There's no question that mobile has impacted SaaS companies' businesses. At the very least, SaaS companies must build a mobile application to maximize engagement with their user base."
If users are expecting mobile apps from SaaS companies, then the engagement factor alone is enough to realize it is time to get your SaaS app built.
First Must-Do Tactic: Mobile, the Latest Innovation in SaaS
Traditional SaaS business models focus around the browser. Most everything is done there. SaaS within an app takes it to a new level. It makes it mobile and always accessible.
Mobile is key – and when it comes to SaaS, so is the cloud. To put it in perspective, let's take a look at Google Apps for Business.
In the past, you would buy a software and install it to your hard drive either by disc or large file download. Updates would be periodic and require additional downloads. When you saved your work, it would save to your computer and only you could access it.
Today, cloud-based SaaS apps have made the traditional software solution a thing of the past. Google Drive, a popular piece of the Google Apps for Business package, is a web-based application that lets you create, edit and save your work online.
You can use any computer with internet access to log back in and continue working. And you can work on the same document with multiple users in real-time.
With SaaS, everything happens online thanks to cloud tech innovations. From the ground up, building the software, using it, and full customer support is all done online.
When building your company's SaaS app, there are a few steps that you will need to make sure you are doing right in order to maximize your growth speed and capacity.
Two Steps Toward Irresistible Mobile SaaS Apps
The first of these steps is User Onboarding. A vital piece of your SaaS app business model is to convert free users to paying ones.
Step #1: Free-to-Paid Customer Acquisition
In SaaS, free software service trials are a staple in customer acquisition. Free trials are a great tool to generate a buzz around your services.
That is why almost all SaaS companies offer free trials. People love free software that is able to help them out. It's a staple in the SaaS industry, and in mobile SaaS this holds just as true.
Unbounce, the popular lead page generator, published these free-to-paid conversion rates:
"…you can only expect roughly 15-20% of your free trial users to actually become paying customers – and even that percentage will drop off after 90 days. Typical conversion rates from visitor to free trial in SaaS are 2%. This means that if you have 10,000 web visitors, 200 of those visitors will become free trial users and the best you can hope for is that 30 of those new users will eventually become paying customers."

Image source: https://unbounce.com/email-marketing/convert-free-trial-users-email-marketing/
There are a few reasons free trials work so well in SaaS:
Customer satisfaction. SaaS is dedicated to customer interactions. Unhappy customers and SaaS do not mix, so that's priority number one.
Social Proof. When you give away a free trial, your services are featured in various outlets. From word-of-mouth to online exposure, giving out your SaaS app within a free trial makes you known.
Data Collection. Knowing your customers is how you scale your business in SaaS. By giving free trials you learn exactly who your customers are, and not only that, how your product works which is even more valuable.
Let's look at some examples…
GetApp is a website that features a routinely updated list of the latest and most used SaaS apps in business. And many of their ranked SaaS applications features a free trial for new users to try out their software. Below are a few examples from Zendesk, Hubspot and Insightly.
Zendesk: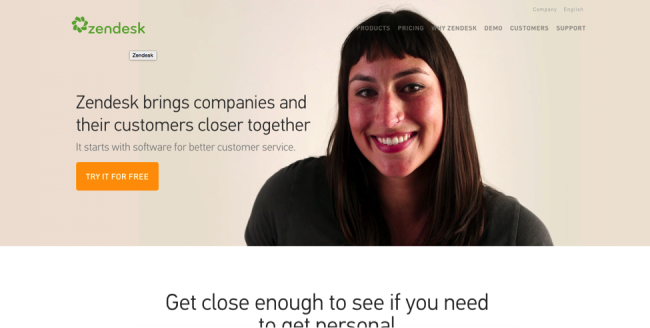 Hubspot: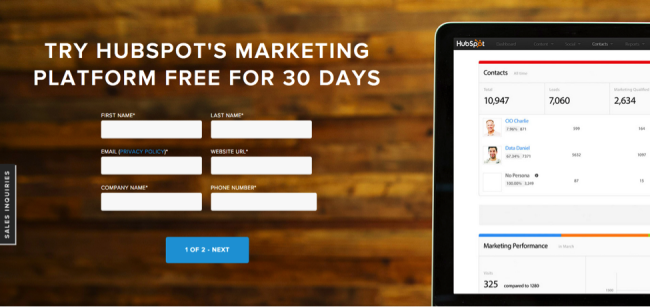 Insightly: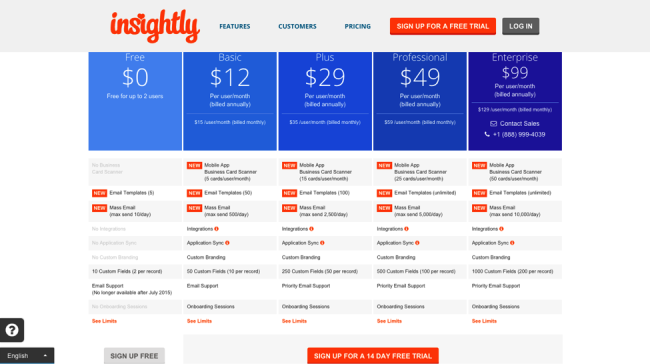 Step #2.: Customer Onboarding
"Having a poor onboarding experience for your customers can pretty much kill your growth … if not your business."
That is a quote from Lincoln Murphy, the customer success guy with SaaS company Gainsight.
User onboarding is the key to a successful SaaS app. A poor user onboarding experience can not only hurt your growth dramatically, but it can ultimately put you out of business.
In SaaS, user onboarding is of utmost importance. The free-to-paid strategy is an important part of the whole user onboarding experience. Taking advantage of the data provided in the process is important, too.
By focusing on customers' onboarding experiences you break down all doubts one by one and problems within your app at the same time.
You gain loyalties, and inch by inch scale your free users to paid through user onboarding. It's all part of the process to a regularly paying customer. You have to take them through the Buyer's Journey.
SaaS company Hubspot defines the Buyer's Journey as:
"A model to help keep the prospect's behavior; information needs and problems central to anything sales and marketing does."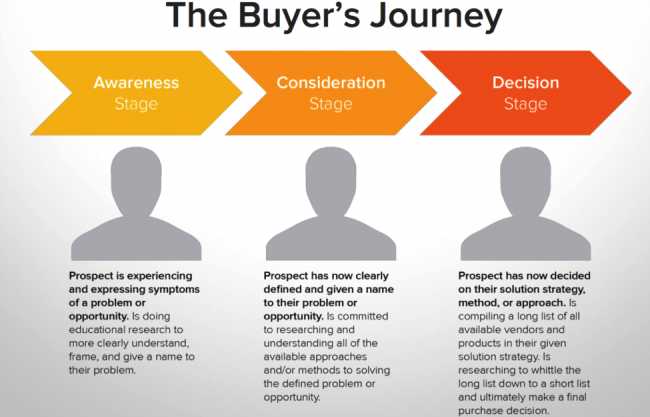 Image source: https://www.slideshare.net/HubSpot/kukesh9-16-2014final
Bad user onboarding can cause abysmal trial-to-paid user conversion rates. And as a result, it will stunt your growth and never let you get that kickstart your business needs from analyzing free user data.
SaaS onboarding is comparable to dating. It requires constant relationship building and strengthening. It's a relationship. Just like in real life, where the first 15 seconds of face-to-face time can determine a person's opinion of you, user onboarding is this 15-second judgment within SaaS applications.
If you make it difficult, confusing, or at all uncomfortable to use your app the very first time they try it, then you're going to have a very hard time.
For example, offering a free trial during your customer acquisition phase is a good way to get users inside your app.
But if you make it troublesome to use your application once inside, then you've just botched your whole operation.
Free or not, bad UI is bad for SaaS.
Instead, with a great UI and these tactics, you can make your users love your onboarding:
Onboarding Tactic #1: Hold Their Hand
SaaS apps by nature can be quite complex. Considering confusing your users is a huge No No, you will need to work extra hard to support them.
After Sale Service is one way to improve your user onboarding experience this way. This means DO NOT just throw up a page and a demo video and hope for the best. You really need to hold your customer's hand and guide them through your application's usage.
Don't let go until they are fully comfortable. And make sure to track your user onboarding. If they leave before they have finished the "tour," offer them to pick up where they left off next time they sign in.
Onboarding Tactic #2: Always Ask and Listen
When taking your customer through a free trial period in order to prove to them you can solve the problems they need solved, you can optimize this trial period for a higher rate of paid user conversions by asking.
Often times a SaaS company will send out an automatic email after "day 15" to ask how things are and push for the halfway through the month trial. Though if the customer loves your app, this can be too long. There is nothing wrong with asking for the sale within the first few days of usage.
If you've solved their problem fast, and they know they like your app, then go for the sale right away. You just have to ask earlier within the free trial. Don't wait until free trial is over (like far too many SaaS companies currently do). If you are holding their hand and tracking their progress then this will be easy.
Onboarding Tactic #3: Communication Wins (But Don't Overdo It)
Communicate throughout the hand-holding process through email, in-app messaging, Skype, phone, etc. to really hone in on their progress and ask for sale soon as you have won them over. Marketing automation capabilities that tag users based on their actions are a good way to judge readiness to buy.
Onboarding Tactic #3: Keep it Simple and Easy
Also be sure to keep things simple for you and them. Mapping out the whole onboarding process gives you a bird's eye perspective that should help you do this. Here are two SaaS companies' user onboarding map at a bird's eye view:
Basecamp: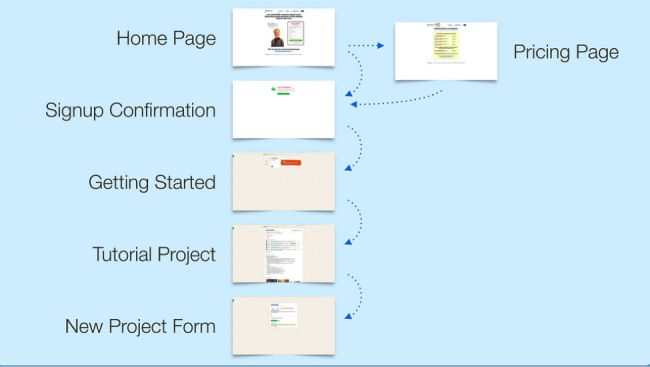 Optimizely: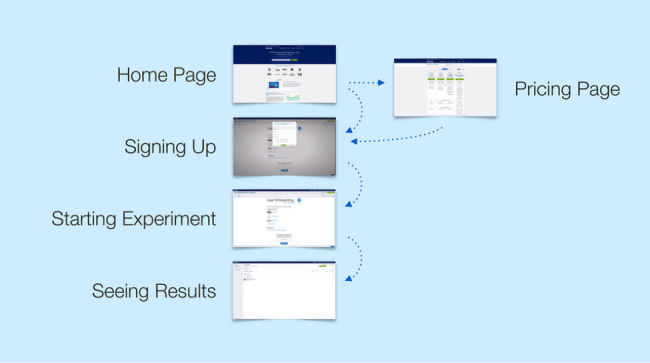 Onboarding Tactic #4: Email Optimization
If you want to increase your free trial activation rates, email is the absolute number one way to do it. People lead busy lives and the best way to reach them throughout this free trial period is through their inbox.
Sadly, email marketing is a severely underused in SaaS.
Although it poses one of the strongest ways to onboard new customers, only 25% of SaaS companies are using it according to Marketing Sherpa.
Other SaaS companies are losing out on a significant number of potential customers by not implementing even a basic email autoresponder catering to these individuals in their customer lifecycle.
This diagram from Unbounce shows their activation sweet spot for free trial users. If 2% of site visitors sign up to your free trial, then out of 10,000 visitors you will have 200 free trial signups.
From these 200 maybe half will actually activate your SaaS app and from those 100 you maybe get 60 paying users. Out of 10,000 visitors that is 60 paying customers.
Emails need to be deployed here from the free trial activation until the customer pays.

Email marketing and onboarding should always be mentioned together..
By gathering data and implementing behavior based emails with tagging and marketing automation, you can avoid sending people emails they don't want.
Here is a snapshot of the email SaaS company Help Scout sends 45 days after their free trial expiration if the user has not signed up.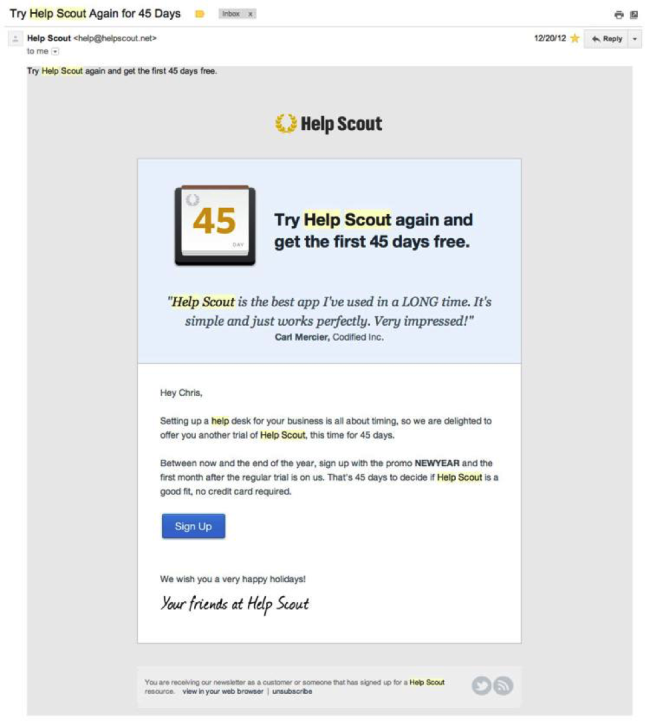 It's simple, inviting, they use social proof, and it's easy to read.
Try-before-you-buy is an essential part of B2B SaaS applications – UX is vital. No matter if the person buying the app from your company is the user or not, always make sure the UX is tight.
Marketing Turns Into Experience, Which Equals Irresistibility
SaaS marketing is a bit unique. Revenue is made from recurring monthly subscriptions, and unlike most traditional pieces of software, SaaS applications for the most part do not require a large upfront investment from the customer.
SaaS doesn't become profitable per customer until months down the road. And after you do break even, it's vital to keep delivering value and taking care of the customer so that they stay signed up and paying monthly.
"This push toward Customer Acquisition Cost (CAC) payback – recouping the cost of SaaS Marketing – should only be done with customer retention and lifetime value (CLV) in mind"
Once you reach the point of getting back your cost, focus on CLV because that is what will create your SaaS business' main revenue.
The point?
Knowing "your math," economics and realizing that marketing never ends helps you craft a compelling free-to-paid user experience, as well as onboarding process.
These two aspects go hand-in-hand and are critical factors of increasing the irresistibility of your SaaS app.
Marketing to acquire customers turns into delivering the experience that keeps them.
Allocating some of your marketing budget towards continuous marketing (read: experience) can only happen when you know your CLV.