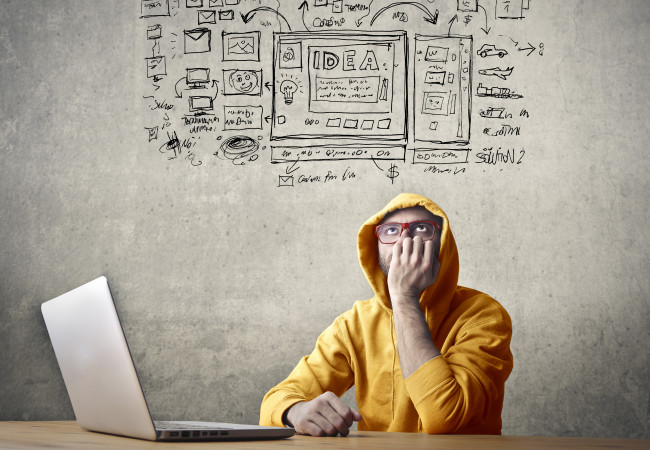 Here's the thing: Everything about SaaS app marketing is different.
With SaaS, you have a business model that revolves around something completely new.
When matched up to traditional enterprise software business models' marketing methods, SaaS marketing is a whole new beast.
Expert marketing consultant Neil Patel recently spoke about SaaS' complexities and these marketing differences in this KISSmetrics article:
"SaaS marketing isn't that complicated. I know, I know what you're thinking. "But what about customer retention, acquisition cost, MMR, CLTV, CLV, churn, multi-touch attribution analysis, linear attribution models, statistical algorithm implementation for attribution distribution credit via continual adjustment (wha-?),niche market awareness, and value proposition, and…?"
Sure, but the real key is something else.
If you're in SaaS, I am sure you know these metrics all too well and can agree with the sentiment. In the beginning of the article, Neil states it all boils down to the value you provide.
This value needs to be in these two forms:
The value your product provides
The value your business provides in support
The utopian ending for marketers in this article was a software that sells itself.
Because if it's that good, and your service is that wonderful to work with, your SaaS product will make everyone's lives that much better, including yours.
How And Why Is SaaS Different?
SaaS architecture is generally set up in a way that utilizes the web and cloud technologies that it requires no physical download.
SaaS companies also develop and manage their own software and provide a centralized solution for their users with services available to assist them when they need it.
In short, the nature of SaaS apps is something like this:
Update far more frequently
Updates are not the choice of customers/business owners, but of SaaS company
Have access to all customer data
Measure user behavior with data analytics to gauge necessary improvement updates
Have open integration protocols that integrate with APIs
Offer web 2.0 features like chats and file sharing within team members for stellar project management
That's all well and good, but this also changes the nature of marketing your SaaS app.
Yet, far too many SaaS founders are stuck on using "old" strategies without also adopting new approaches.
(Sure, not all "old" marketing is useless – not at all; but there are other ways to "skin the cat" that are more effective.)
How Does This Change Your Marketing? Here's 4 Ways

Let's discuss a few aspects of how SaaS marketing requires new approaches compared to other types of marketing:
1. SaaS Apps Have More Directories (That Are Actually Used & Send Traffic)
When applying to app marketplace directories, you're giving your company more exposure, and often plenty of new visitors that can turn into leads.
It's smart to have a value proposition before embarking on your SaaS directory campaigns, though. The more you can differentiate and stand out, the more likely you are to succeed.
Directories are a nice avenue for SaaS marketing, but you need to focus on finding the top directories.
You're looking for that perfect cupid-like SaaS client match.
Like all client/customer searches, it won't be easy, but just listing your app can provide you valuable insights for when you do find those perfect SaaS clients.
Don't fail on the follow through, though, because that will make all your efforts a waste of time and resources. Have these things in place before blasting yourself out on web app directories:
Value proposition (elevator speech for your SaaS solutions)
Ability to capture new lead's contact info (the more the better)
A prominent CTA with a follow-up sequence to give the prospect valuable information to lead to sale
Where should you apply and get listed?
Here: Lincoln Murphy from SixteenVentures lists out an extensive list of app directories for you to use in his blog post.
He linked many of the directories directly to the form you need to apply:
2. Always Be Ready: Provide Extra Value Throughout The Marketing Journey
Normally software purchases, especially at the enterprise level, come with extremely long sales cycles.
What this means is that buyers take their time. They analyze things. They bounce ideas and questions about it around the office before making a choice. And marketing to these prospects requires a lot of wining, dining, golfing etc.
That's not how it works in SaaS.
In the previously-referenced KISSmetrics article by Neil Patel, he quotes managing partner of SaaS Marketing Strategy Advisors Peter Cohen in regards to SaaS quick-purchase tendencies:
"When [SaaS customers] need a solution, they do some online research, maybe ask a colleague, try the solution or watch a demo, and then buy. The whole process might take a few days, maybe a few hours. There's no long, drawn out sales engagements, RFIs and RFPs, head-to-head "bake-offs," contract negotiations, blah, blah, blah. Customers find it, they see it, they like it, they buy it. Done."
SaaS apps are much more quick and to the point. Their functions are clear as day and simple to understand. You can usually get a free trial if you want to try it out first too.
Most of today's SaaS apps work together and so each one you use will serve a direct purpose. Unless it's an enterprise B2B SaaS product, it's not going to be that complex.
With SaaS, buyers usually make choices about 1000x faster than with traditional software purchases.
So when you're marketing SaaS apps, it's best to be on top of it and providing constant information by any means possible.
Always be there to reassure and answer questions. The decision is made in the beginning, so break down all the prospect's barriers to purchase quickly, because the decision will be happening soon and you want it to be a "yes."
To make sure you get that "YES," add value, value, then some more value.
By always providing valuable information whenever possible, you will land customers for your SaaS solutions who originally were interested, but weren't ready to buy, the moment they decide to buy. Direct response aimed at the immediate sale is more in line with SaaS marketing than anything else.
But remember, the more complex the SaaS app (B2B enterprise), the longer the sales cycle.
In longer sales cycle campaigns, you'll need to adjust how you approach, as well as how you break down, analyze and draw conclusions from the data.
It's not the same as with more simple SaaS apps and their general impulse purchases they get.
3. Customer Retention Should Be Your Primary Focus, Too
Customer LTV is a statistic that weighs in on how much you allow yourself to spend on acquiring more customers.
Here's the SaaS expert again on another reputable marketing blog, Crazy Egg:
"In order to be truly successful, a SaaS must have steady customer acquisition and successful customer retention. But since retention is less expensive than acquisition, your most cost effective strategy is to…you guessed it…hang on to those customers!"
CLTV is the one metric you want to always be doing well.
What Neil is expressing is something that all SaaS marketers need to always keep on top of mind.
An increased surging CLTV is the final prize that all SaaS companies should aim for when providing a great product and great service and letting all the rest of the pieces fall into place.
4. Read The Numbers With New Marketing Lenses
SaaS marketing uses the same traditional marketing terms like "LTV" and "churn rate," but you can't read these statistics differently.
It's like weighing 175 pounds on Earth versus weighing 175 pounds on the Moon. Your weight is same in both places, but your situations are vastly different.
So when gauging a SaaS marketing campaign success solely from the number of conversions, you will have to reframe the traditional software business values given to the conversion rate.
SaaS expert Christoph Janz explains the contrast of software business models marketing term meanings in this post. Here, he explains how conversion rates in SaaS don't show the extreme value they are providing.
In SaaS, a conversion rate can show as far lower than any traditional SaaS company would find acceptable. This, however, does not mean it's not providing extreme value:
"If you are evaluating the performance of a marketing campaign solely based on the number of conversions, you are missing a large piece of the picture. Like a great midfielder who doesn't score many goals himself but prepares goals for the strikers, a marketing channel might not be delivering many conversions but could be playing an important role in initiating the conversion process or assisting in the eventual conversion."
Single touch point attributions should not be relied on as 100% when breaking down numbers.
That's because cookies can't track multiple devices and the data may be skewed. in simple consumer SaaS products, touch points are much more easy to determine results from.
In more complex B2B apps, prospects will have very many different touch points (more similar to traditional software, but an online version of wining and dining through internet marketing instead).
Here's Christoph Janz showing what the typical touch point progression might look like coming from an interested B2B enterprise SaaS product potential client:
"A piece of content that you produced comes up as an organic search result and the searcher clicks on it.
A few days later, the person who looked at the content piece sees a retargeting ad.
A few days later, she sees another retargeting ad, visits your website, and signs up for your newsletter.
A week after that, she clicks on a link in your newsletter.
A few days later, she receives an invitation to a webinar, signs up for it, and attends the webinar.
After the webinar, she signs up for a trial.
The next day, one of your customer advocates gives her a call.
Close to the end of her trial, your lead does some more research, happens to click on one of your AdWords ads, and signs up for a paid subscription."
What Christoph reveals by showing us the multiple touch points of B2B SaaS customer, is that attributing final conclusions based on single touch point results could be detrimental and lead to you drawing wrong conclusions.
Therefore, when marketing SaaS, it's necessary to look through a new lens.
Know when the sales cycle is short. And know when the sales cycle is long. Measure each of these differently in terms of performance because each is treated completely differently by its buyers.
Final Words On New Ways To Approach Saas Marketing
SaaS app marketing, as you can see from a few of the many examples out there, is far different than traditional software business models.
It's smart to take advantage of these differences that many tend to overlook or do with subpar effort – from applying to app marketplace directories armed and prepared with a value proposition, to simply knowing how and when to provide interested followers with valuable information.
Learning that SaaS depends on customer retention is also essential to your long-term success.
Create your business model around these essentials to better prepare yourself for the long haul. It's a new model in the grand scheme of business. and it's necessary to look at it through a new lens, and redefine each metric within it.
Are you ready to get your SaaS marketing strategy in place?
Contact us today at info@getdrip.com