You haven't ignored LinkedIn, have you?
The platform regularly garners the attention of executives and the eyeballs of decision makers.
Despite some recent trouble in the stock market, the company remains the best place online to network and rub elbows with potential clients.
The question is, are you attracting qualified leads (and even clients) straight from LinkedIn?
If not, you may want to consider the possibilities. As of 2015, this social network has over 414 million users (the population of the U.S. is around 320 million). There are several key differences between LinkedIn and the 800 pound gorilla of social networks, Facebook.
LinkedIn is almost entirely professionals; many of whom are actively looking to connect with others
CEOs and decision makers are WAY more active on the platform.
While there may be a personal update or two, there are significantly fewer cat videos being shared by your Aunt Linda.
Essentially, LinkedIn is like a 24/7 networking dinner where all of the key players show up. If you're a consultant, it's too good of a marketing tool to pass up.
Which is exactly why we've put together this guide to show you what's working. So, pause that cat video and let's get started.
Step #1: It All Begins with Your Profile
If you've looked for help with your LinkedIn skills you've almost certainly been told about the importance of your profile.
Our advice? Take heed of the warning. Unlike other social networks, people actively look at the profiles of both people in their network and those that want to be in that network. Forget about sending leads to your website and spectacular email marketing funnel; if you don't have a decent profile, your leads won't make it that far.
Here are the basics:
Fill Out the Entire Profile: LinkedIn does a very good job of prompting you to fill in all of the information (it's for your own good).
Augment Your Link: You have a URL to your profile that you can change. Instead of linkedin.com/stevejobs3424593469w30, you can change it to just your name. Here's a tutorial.
Get a Professional Photo: It's shocking how many consultants rock the board room in a suit, but have a terrible photo from a weekend barbecue on their profile.
Next up, it's time to make your LinkedIn presence really shine.
Step #2: Go After The Right Connections
LinkedIn stops showing people who view your profile the specific number of connections over 500. This feature makes most new users strive to see the "500+" as quickly as possible, but we'd advise a more thoughtful approach.
Not to pick on Facebook, but if you have too many loose acquaintances on your friends list, you're forced to clean it up or stop scrolling through your feed. Yes, you want to grow your number of connections past that 500 mark, but if you're looking for clients it's important to focus on key players.
Here's why:
When you connect with potential clients on LinkedIn, you'll open yourself up to targeted referrals. Lawyers tend to know other lawyers; venture-backed tech startup founders tend to know others of the same ilk.
Now that you know the importance of quality, here's how to boost your connections:
Post Content Often: Post a mix of thought industry content, your own articles, and an occasional case study demonstrating that you get results.
Stand Out With Thoughtful Comments: LinkedIn doesn't invite a ton of post engagement (compared to Facebook and Pinterest.) That's why, if you take the time to write a meaningful comment, it will be appreciated by the very successful decision makers you seek to woo. Engagement on LinkedIn equals meaningful connections.
Personalize Your Invitations: You can send the stock connection invitations all day long, but if you want to get started on the right foot with your new future client a personalized approach is crucial.
Step #3: Demonstrate Your Expertise
So you've got a sweet looking profile. You're sharing content. Now, it's time to really bring in some leads. How?
LinkedIn Pulse.
It's free to publish all of the content you want on Pulse, and if you have a few hundred connections, you already have a built-in audience ready to read and comment on your content.
Pro Tip: While stories and opinion pieces can work on LinkedIn, generally "how to" posts perform better.
Here's a statistical breakdown on LinkedIn Pulse, via OkDork: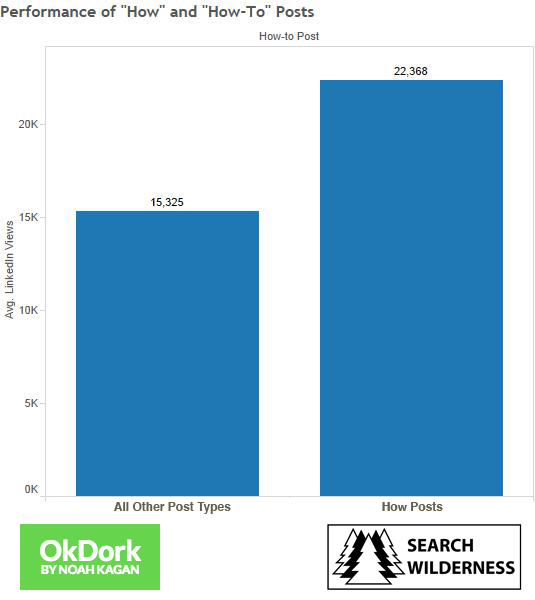 Stick to actionable content.
As an example, take a look at Alan O'Rourke. Not only does O'Rourke have an excellent profile, he also has a following for his plethora of actionable posts on Pulse. It's not hard to see why he has 3,743 followers who see his updates on LinkedIn: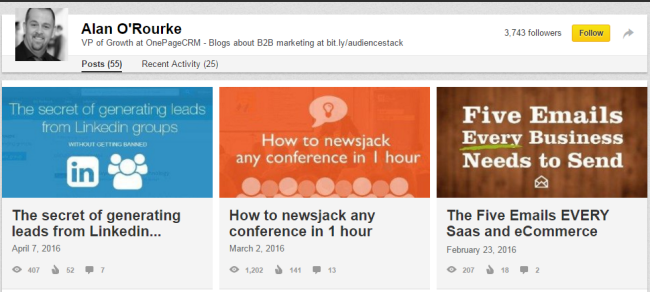 As you get started writing actionable content for Pulse, here are a few tips to help you get the biggest bang for your buck:
Be Consistent: It's not your WordPress blog, but it's still incredibly important. Regular quality posts are perhaps the greatest key to your success. If you already have a decent amount of connections, you could have an instant voice in the market.
Repurpose: Many executives simply take the content from their blogs and post it to Pulse. It's a strategy that gives you more bang for your buck and doesn't have a negative impact on SEO.
Join Groups: Groups are not only a great way to make more relevant connections, they can help you showcase your posts (both from your blog and Pulse). Be careful not to over self promote, many of these groups will kick you out in a second if you post only your stuff all the time.
Bonus Resources: You can find out more helpful tips to grow your Pulse following here and here.
Almost 80% of marketers believe content marketing is the future, and (besides your site) one of the best places to regularly publish is where your clients already hang out: LinkedIn.
Whether they look at your invitation to connect and your profile, or your Pulse content and your website you can't afford to overlook the leads that can come from the number one professional network in the world.
Question: what tactics and strategies have worked well for you to get clients on LinkedIn?