Ask any info-marketer you know about his favorite online tools, and you're bound to have just opened a can of worms.
Colorful opinions of various types abound here.
Not surprising, since Info Marketers rely on tools to create, maintain and grow their online businesses.
Just like you'll never see a construction worker go to work without his tool belt…
…you'll never catch an info marketer leaving his home without his own version of an "Info Marketing Toolkit" either.
But with thousands of tools all over the web, how do you pick the right ones?
What are some of the absolutely critical tools an Info Marketer (or anyone) should have?
Let's find out.
Drive Free Website Traffic Every Month with ClickFlow
If you run an info marketing business, the single-best kind of website traffic you can get is SEO traffic.

Here's why:
It's free (unlike Facebook Ads... which get more expensive by the month)


It's consistent (Once you rank a blog post for a relevant "how to" keyword on the first page of Google, you'll keep getting steady traffic to that content month after month.


Searchers already know they need help with the problem you solve. So they're much more likely to join your email list (and buy your course or ebook).
Cool, right?

ClickFlow is an SEO A/B testing tool that lets you optimize your existing blog posts to get more clicks from searchers on Google.
Without investing in new content, you can often see a 10%+ boost in SEO traffic—relatively quickly.
Here is a list of highly recommended tools for your information marketing business.
ClickFlow offers a 21-day free trial, so you can check out the tool, plug it into Google Analytics, and approve ClickFlow's A/B test suggestions for your site.
Write Epic Ebooks With Penflip
Penflip makes writing ebooks or any long-form content easy.
One of its highlight features is the way it lets you organize your writing by chapters within its main writing processor window. Focusing is made easier with the minimalistic text editor that lets you work on or offline.
Just like the cloud-based Google Docs, collaboration mode makes sharing feedback and editing together possible. It also has built-in revision history.
Once you're finished with your book, download your ebook with a single click. Your ebook can be downloaded into any format including PDF, ePub, HTML, Mobi and others.

Webinars: the Info Marketer's "Weapon of Mass Control?"
There are plenty of the usual suspects, but have you looked at omNovia?
Webinars are a versatile information marketing tool.
They can be recorded, packaged and sold as information products or used as free valuable content for followers and customers. There are countless reasons to use webinars.
To get the best quality, it's best to work with good webinar tools. Here's some things to look out for:
Easy for people to register and join.
Up to date to 2015 standards.
Support multiple joining options (phone, app).
Ad-free and without a cap on attendees if you don't want one.
Other features to look for in webinar software is social integration, branding capabilities, data gather and analytics capabilities and one-click meeting recordings.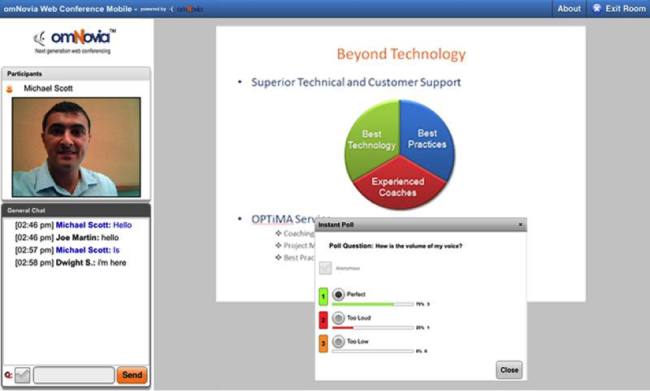 Image source: https://play.google.com/store/apps/details?id=air.com.omnovia.WebConferenceMobile
Here are a few excellent omNovia features:
Twitter integration
Interactive cobrowser
Slide show presenting
AV remote
Document sharing capabilities
Instant webinar polls
Record webinars
Customize webinar interface
Chat/Q&A options
Hold slide show presentations
Stream live webcasts in HD video
Another good option is GoToWebinar. It's been the info-marketers go-to for a solid string of years, and for good reason. It's a good software that works without problems. But is it up to date?
Here's Pat Flynn from Smart Passive Income with a comment on webinar software and a comparison chart: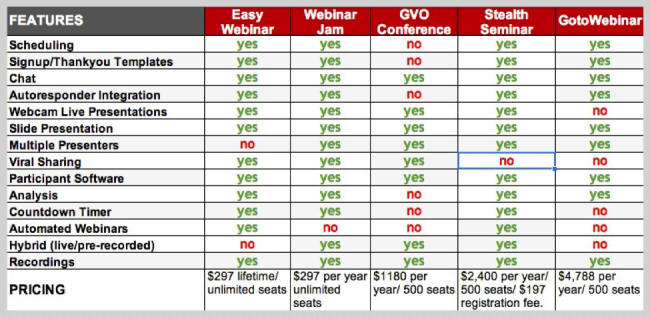 Image source: https://www.smartpassiveincome.com/hangouts-on-air-for-webinars
Pat also says:
"Software programs – like EasyWebinar Plugin, WebinarJam, or Stealth Seminar – offer ways to schedule webinars, register participants, and hold them in a virtual 'waiting room' before the Hangout begins."
One gripe some have on GoToWebinar is that it doesn't have a "virtual waiting room" for people to standby in. If there is any downtime, a room like this serves as a communication channel to let people know what's going on rather than leave them in the dark.
Another solid free option is Google Hangouts OnAir, but you can't record and sell webinars made with it.
Build Links & Create Epic Content with Text Editor Tool on Steroids: Zemanta
As an info marketer, you might or might not be an avid blogger. Chances are you at least have a blog that's kept up to date by you or an outsourcer.
Blog posts have the capability to be repackaged and used for information products. They have the power to provide free value to your current followers, gain new ones, and also rank you higher on Google thanks to the SEO juice good content provides.
From the Zemanta homepage:
"REACH 195M MONTHLY US UNIQUE VISITORS – With Zemanta's massive reach, you get to target only the people you're interested in. With advanced targeting capabilities we make sure you get the most out of your content marketing campaign."
Zemanta is a powerful plugin. It gives you content to use or refer to as you are writing in real-time. It's a text-editor plugin, a content creation tool and it's also a link-building distribution tool.
Publishers are able to suggest content to other content creators who use Zemanta by paying a premium. This makes Zemanta a very special tool because, as a blogger, it kills two birds with one plugin. You get content inspiration and build links at the same exact time.
Craft Irresistible Headlines and Test Them To Perfection Using KingSumo Headlines
In case you haven't heard, headlines are arguably more important than the content pieces themselves.
Think that's absurd?
Here's an interesting statistic from the reputable Copyblogger about headlines:
"On average, 8 out of 10 people will read headline copy, but only 2 out of 10 will read the rest. This is the secret to the power of your title, and why it so highly determines the effectiveness of the entire piece."
If there is one thing you should be split testing, it's your headlines. And KingSumo has the ability to do this using a WordPress plugin
Of course, you need traffic to use this plugin, but once you're getting some, plug this into your site and as you post you'll create separate headlines for each. This plugin will tell you the percentage of which gets the most impressions. It's a fool-proof way to optimize your blog posts.
Once you know the best headlines for your audience, your information products will automatically be more engaging and attractive as a result.
Gain New Customers By Giving Them Nothing But Value with LinkedIn's SlideShare
Slideshare is a content marketing tool that lets you distribute content through a new avenue using visual informational slides.
G2 Crowd describes SlideShares abilities here:
"SlideShare is the world's largest community for sharing presentations. With 60 million monthly visitors and 130 million page views, it is amongst the most visited 200 websites in the world. Besides presentations, SlideShare also supports documents, PDFs, videos and webinars."
If you use decks to share content SlideShare is perfect for your distribution. The premium version uploads presentations onto YouTube automatically.
SlideShare makes creating presentations easy even if it's your weak point. Others are also able to collaborate online and pitch in to the presentation creation.
Information marketing can be dispersed in many ways, and today, SlideShare is one of the better ways to grow awareness around your professional messages.
Retarget Content & Provide More Value with Resonance
Resonance says on their website that 94.3% of site visitors will usually leave without trace. That's why Resonance exists, to make sure you follow up with them.
Resonance is a retargeting content tool that focuses your content in front of the right eyes, those interested in your message. Track visitors and what they read on your website. Watch them stay longer as you use Resonance to provide them with more related content that they wouldn't know about without the retargeting.
The insights gained by retargeting data accumulated will help you formulate a bulletproof information product that is sure to be loved by its consumers.
Tools For Dominating With Social Media, Email And Automation
Information marketing often will rely on social media as a brand supporting platform. Because of this, a few social media tools are here to support the social media outreach strategies around your information products and marketing.
We'll start off with a graphic design tool that enables anyone to make great visuals for any content or product they need, Canva.
Not a Graphic Designer? No Problem. Create Your Info Product and Blog Post Graphics With Canva
Canva makes all people professional designers.
Does the word Photoshop scare you?
Are you tired of outsourcing subpar graphics?
You need Canva then.
Social Media is a very visual platform. I hope you're not posting articles without good quality related images. Social media posts that use good images, get good results. Whether you're starting up or already have a large following, getting the perfect image for each of your posts does not have to be difficult.
Tip: The same image you use on your blog posts you can use on your social media posts. You might need to size things up differently, but for the most part, sharing images on social media as previews to post isn't as strict for sizing as say a website hosted one.
Here's a general sizing guideline. Right sized images get more social shares.
Facebook: 1200×625
LinkedIn: 800×800
Pinterest: 735×1100
Instagram: 1200×1200
Google+: 800×1200
Twitter: 1024×510
Canva is perfect for images if you're not a natural born graphic designer and haven't taken the time to learn the skills, yet still want to take a crack at doing your own images.
Everyone uses the same free stock photos. They often look good, but after seeing it again and again, it serves as a negative thing instead of an image that will draw engagement.
Create fresh, eye-popping images that force people to click using Canva.
Canva gives you template options that zone in on select social media channels. The sizing is listed above for your information, but with Canva, you will not need to know sizing for individual platforms in order to get the most shares for your posts. Canva does it for you. Just select the template where it's going under the "Layouts" tab, and you're good to go.
Every info marketer, regardless graphics skills, should have Canva in their toolkits.
Never Be Out Of The Loop With Tagboard
By knowing which brands are saying what about who, you gain leveraging power in your industry. By capitalizing every chance you get to engage with your followers, you fortify your info marketing business with this successful social media mindset.
Tagboard makes sure you never ignore a follower or a mention of your brand.
It lists for you the latest posts on various social networks like Instagram and Twitter that use any select hashtag term you specify for in the Tagboard Search Bar.
Gain insights on what your customers are searching for
Monitor non-brand keywords
Follow people interested in select hashtags
Interact with people interested in select hashtags
Quickly monitor your brand keywords with ease and daily to never skip a beat.
Find High Quality Leads On Twitter With Socedo
In case you didn't know it possible, it is completely doable now to locate and qualify leads from Twitter thanks to Socedo.
With Socedo, all that needs to be done is a quick keyword search to generate a valuable list full of targeted prospects. Let me list out more benefits Socedo provides:
Automatically favorite tweets
Automatically follow prospects
Automatically send direct messages
Fine-tune custom criteria with provided business insights
Get Started With Marketing Automation (If You Haven't Yet) With Drip
Marketing Automation, according to Hubspot, is a type of software that allows people to:
"Nurture prospects with highly personalized, useful content that helps convert prospects to customers and turn customers into delighted customers."
With marketing automation you can revolutionize the way you do your email marketing. Forget about lists. Forget about double entries in multiple lists. Marketing automation allows you to tag people based on interest, therefore quickly searching for the right subscribers for future promotions becomes a breeze.
The nightmare of multiple list management suddenly becomes a lot less scary with automation marketing.
You won't want to get too deep into marketing automation until you have fresh new organic leads coming to you regularly. The same Hubspot article explains why:
"Too many marketers without inbound lead generation strategies spend their time figuring out how to take the tiny fraction of the market they already have in their database as leads and squeeze more out of them."
Tip: Use Drip to place a JavaScript snippet on the footer of each of your pages and then capture leads from each of those pages with it.
Get Personal With AutoSend
Engaging customers, followers, readers, and clients is a vital focus for information marketers and service providers alike.
As an info product creator, chances are you grow your email list. With AutoSend, you make subscribing a much more personal thing.
You can literally 10x your engagement with these AutoSend features:
Automatically send personalized email or SMS to each new customer solely based off their actions on your site (the result is an extremely targeted message)
Send a personal message even if that person just visited your About Me or FAQ page.
Convert more visitors into longtime, paying customers that bring others just like them to your subscription-based business.
Wrapping It Up: Dedicated Action + Tools = Winning
The truth is that Information Product Marketing requires dedicated action – and the right tools.
Use these tools to keep your action optimized for peak return on time and effort and money investments put into it.
Make sure your content production is prime, your social media outreach is consistent and engaging, and that your email marketing is set up to generate interaction and grow conversions.
Information marketing has been around since pre-internet days, but thanks to tools like these, the internet is now the ultimate info product selling platform.
Drip is an Email Service Provider that makes automation marketing attainable for even beginner info marketers.
Learn how to start automating your email marketing ASAP. Contact us today for a free consultation at info@getdrip.com.