The tech industry is one of the fastest changing industries in existence, with new advancements being made all the time. Software as a service (SaaS) is no exception.
In fact, in the last few years alone this sector has seen dramatic growth.
While many are often skeptical about predicting the future of this sector, we're going to highlight some of the factors, changes and possibilities for the future of Saas. After a few years stagnating last decade, the SaaS market is set to continue its rise as service users become increasingly dependent, but also become more knowledge about the products they're using.
Vertical vs Horizontal SaaS
Before we dive into specific areas and examples, it's important to remember the basic differences between vertical and horizontal Saas and the trends within the two categories.
These are the two main ways for SaaS startups to tackle the B2B software market:
Vertical SaaS – software that answers the needs of a specific industry. Think of areas such as healthcare, education, accounting and finance or real estate.
Horizontal SaaS – products that focus on a software category. A good example is Quickbooks–which serves countless industries that need online accounting software.
In horizontal SaaS, many categories have now come through the "awareness" and "education" phases and are now entering a new, more mature phase.
The new phase is comprised of:
A larger, educated customer base: Now customers are aware of the benefits of SaaS . With many SMB's used to buying SaaS the focus has shifted from education to trying to keep customers happy (the rise of "customer success").
More competitive landscape: Given that customers have a choice between many good products, in some categories it's getting harder to differentiate your product from your competitors. New methods in terms of product are emerging to help combat this. Take a look at the Unbundling SaaS and Mobile Priority sections below.
Category winners have control: Companies such as Hubspot, Docker and SalesForce have established themselves. For new entrants, it's going to be impossible for them to dominate the market. As new approaches are applied we'll see some disruption, but many of these are already becoming platforms themselves.
The outlook for many vertical SaaS products is similar to what horizontal SaaS faced a few years ago, before it obtained its current level of maturity such as:
Educating the market: A lot more focus needs to be put on educating clients to persuade them to move on from their traditional solutions or totally change to new ones.
No category winners here: Many verticals don't yet have clear category winners and no platform dynamics have been created.
In Vertical SaaS: Classical sales, distribution playbooks and full-featured products are still going to work best as the market space is not yet crowded.
In the coming year these two macro trends will certainly continue.
Product, sales and distribution playbooks worked well for horizontal SaaS in the past years. It is now very well documented online that these are becoming less effective and need to be updated to take into account the changing landscape. While new product paradigms will begin to emerge.
For vertical SaaS more and more industries will transition into using and needing SaaS products. It will be key to follow what worked in other industries that now rely on this and adapt accordingly, of course the speed of execution during this shift will be crucial to success.
Market Maturity Evaluations
By 2018 it is thought the SaaS enterprise market will be worth over $50b. If we unpack the data from the IDC study we can see:
SalesForce, Intuit and Oracle controlled 35% of the worldwide SaaS market in 2013, this could continue to decline as other companies have now established a strong foothold in the market.
The worldwide SaaS operations and manufacturing applications market will reach $5.8B by 2018 – In 2013 7.3% of all applications were SaaS based and this is set to increase to 10.30%
Cloud applications will account for 90% of all worldwide traffic data by 2019 an almost 10% hike seen from usage stats at the end of 2014.
A study from the Economist Intelligence Unit Study obtained a diverse set of data that found the more experienced the enterprise the more likely they're to use cloud based apps to boost customer demand strategies (50%).
With more mature enterprises using cloud strategies for this and expanding sales channels, the study showed low-maturity or lagging cloud adopters focused more on costs than growth. This isn't that surprising given that vertical software represented the largest portion of the market in 2014.
How much a small business owner is willing to spend on new software also increased. Intuit found 85% small business are willing to invest more in software over the next 5 years. Their focus centered on factors such as simplifying their daily operations and solving a problem not offered by existing software.
Now that 43% of all business owners use their smartphone to manage their daily operations this definitely signals a bright future for mobile first.
Mobile Is King
According to Statista, the number of smartphone users worldwide is expected to reach a whopping 2.66 billion users by 2019.
Even a few years ago, it was difficult for mobile-focused startups to compete in broader areas such as marketing or customer support. Luckily things have already begun to improve with several messaging apps making the leap to mobile-only (including Whatsapp). We are now witnessing the birth of a new breed of mobile-focused SaaS.
For more info and data on the catalysts revving up mobile priority start here. Even for non-mobile SaaS, mobile experience using apps is still going to increase in importance over time. By 2020, the number of things connected to the internet will exceed the number of people on the earth by seven times over.
Unbundling SaaS
"Unbundling SaaS" refers to new generation of startups that don't offer traditional "full-featured" products. Instead, these tools choose to be world-class at what they do, and integrate with other world-class tools.
At Drip, we choose to be world-class at email marketing and marketing automation. And if you want to integrate with the best landing page providers, sales CRMs, or shopping carts, we integrate with all of them.
Clearbit is another example of this trend.
Clearbit is an API that enables you to improve your users or contacts data. This concept of enriching data isn't a new thing and has been available within many traditional SaaS such as CRM or sales tools. But to stand up and offer something different Clearbit has packaged an API with a range of add ons for Google Spreadsheet, to let users personalize their experience. (Warning: Be sure not to make the mistake of making your product too complex while breaking it down.)
It's been a promising trend in 2016 and set is continue into 2017. This trend has been driven by:
Overcrowded categories – As the market continues to become overcrowded, people don't want traditional products with classical UX anymore, they want more flexible products.
Market Maturity – Most businesses are used to SaaS now and they know exactly what they want/need. They want custom UX and build your own options because they have the know-how but they don't want to and shouldn't have to create the code and wheel from scratch.
API's are easier to use – This is not just a phenomenon occurring for developers. There are reasons such as more non-tech profiles in programmes such as Blockspring that let people alter and create their API's. Not only does this make for a more diverse program but it leads to better visual programming interfaces.
API first Startups – Will go far beyond the traditional API's and this will likely be the next step in the SaaS after the mobile priority categories begin to mature.
We've only touched on a few of the areas that are going to be prominent and rapidly changing areas within the software market, the others may include messaging/marketing efforts and performance, software and AI and micro SaaS companies. All things that could be big players in the future of SaaS.
Why Now is a Great Time to Start a SaaS Company
The good news is, further funding is set to be given to SaaS startups over the course of the next few years and by then we should start to see advancements and changes that allow more businesses and personal users to get the most from their applications.
Relatively speaking, the market is young and the future is bright (even though there bound to be ups and downs and unforeseen turns). However, the need for service-based software isn't going away anytime soon.
According to the 2016 State of SaaS report by BetterBuys, 85% of small businesses are set to spend MORE money on software as a service products in the coming decade.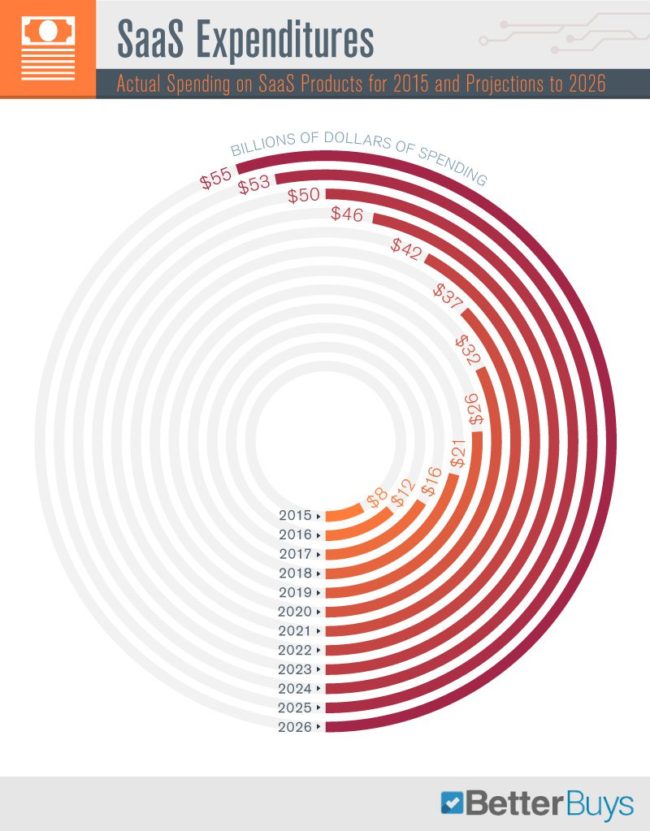 The future is bright for SaaS.
Question for the comments: Do you agree or disagree? What trends do you see playing out in SaaS right now?