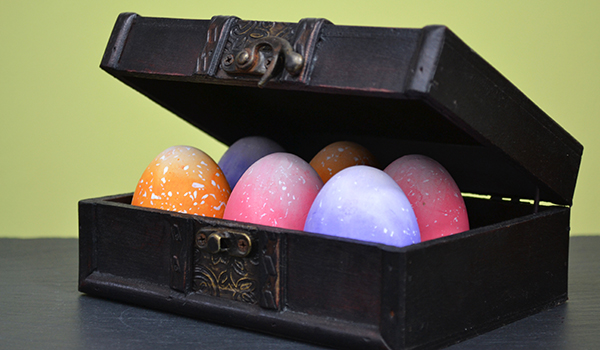 When you run a marketing campaign, you judge its success based on performance. But oftentimes securing accurate reporting on the metrics you need to measure can be cumbersome or, in some cases, virtually impossible.
Today, we're announcing the Drip Source Tag, a new Drip feature that takes the guesswork out of your marketing campaigns.
Drip Source Tags allow you to track the source of your subscribers (Facebook ads, for example) and tag them accordingly in Drip with one simple modification to your links.
Using Drip Source Tags is a game-changer for tracking how traffic from your various channels is interacting with your emails. You can now make decisions based on not only tracking from your advertising channel, but use the full power of Drip reporting to see how traffic from a particular channel is opening emails, clicking links, and converting to goals.
In this post, you'll learn how to use Drip Source Tags and out-of-the-box Drip reports to unearth data you've likely never seen about how each individual marketing channel interacts with your emails and sales funnel.
Step 1: Append Your URLs
Drip Source Tags are a good choice for when you need to segment subscribers by lead source so you can compare the performance of subscribers from your various marketing channels.
Here's an example of a Drip Source Tag used in a Facebook ad:

Drip Source Tags work like a UTM code – just add ?dst=mytag to your URL.
For example, www.example.com?dst=facebook would apply the "facebook" tag to any subscriber who clicked that link.
Step 2: Use Common Sense Tagging
Unlike UTM, which has three layers of tagging with source, medium and campaign, source tags can be made up of any text string without commas. This flexibility gives you a lot of freedom, which makes it important to keep your naming consistent.
Establish tagging conventions and stick with them. If you're tagging by campaign and ad set in Facebook, keeping your tags consistent makes it easier to create catch-all segments in Drip, or filter out by campaign, ad set, etc.
Let's say you're running a campaign to promote a joint venture webinar. You buy social ads and promote the webinar organically through various channels. Here's how your source tags might look for your Facebook ads and your partner's site:
Advertisement, Facebook:
In this example, you have three separate locations for your Facebook ad: the mobile newsfeed, the newsfeed, and the right hand column.
Channel = fb
Ad Placement, mobile newsfeed = mnf
Ad Placement, newsfeed = nf
Ad Placement, right hand column = rhc
Ad Set = jvwebinar
Here are the full URLs you would insert in your Facebook ads:
https://www.example.com/?dst=fb–mnf–jvwebinar
https://www.example.com/?dst=fb–nf–jvwebinar
https://www.example.com/?dst=fb–rhc–jvwebinar
Link to webinar on joint venture partner's blog:
Channel = partnername
Campaign = jvwebinar
So, the full URL you would give to your partner to use would be:
https://www.example.com/?dst=partnername–jvwebinar
You can use UTM and source tagging together: If you already use UTM, you can include Drip Source Tags after your existing UTM tag.
Step 3: Use Drip Reporting to See Who's Engaging
Drip's Email Metrics report shows you opens, clicks and unsubscribes for your Broadcast and Campaign emails. You can use your Drip Source Tags to filter these reports, allowing you to see how different traffic sources or advertising campaigns affect your email metrics.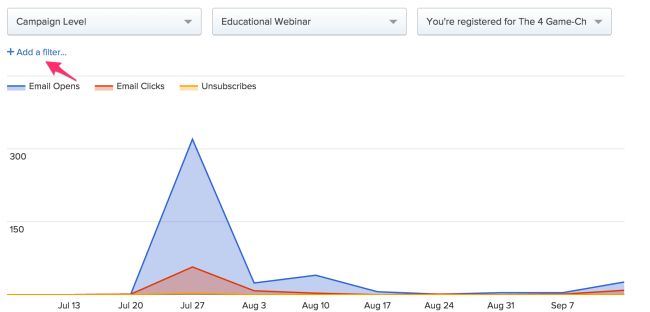 In the Email Metrics report, select a campaign or broadcast. Then, click "Add a filter" to filter by your tag.
Step 4: Use Goals to track conversions from your tags
Track who converts from different traffic sources and campaigns by setting up Goals in Drip for each traffic source.
First, create a Drip goal (find this under "Analytics" in Drip). You'll need to create a name for the goal, but you can leave the URL and conversion value blank for now.
Next, create a segment for each traffic source. If you use consistent naming conventions, it's easier to create a catch-all segment for all your traffic from Facebook like this:

Now, create an Automation Rule. Use the appropriate trigger – for example, a confirmation page visit – and under" Who should this trigger apply to?" filter the trigger by the segment you just created.

On the action side, record a conversion for your newly-created goal. You can now see conversion data for a particular traffic source through the "Goals" section.

We want to hear how you use source tags – let us know in the comments.
And if you aren't yet using Drip for your marketing automation, get started by signing up for an account here.