You're an entrepreneur, and you want to give your online image a little graphical style, knowing that eye-catching designs are important to drive traffic and hook people's interest.
The trouble is that you're really not experienced with graphic design, and the thought of buying and learning how to use a complicated software package makes you tremble.
Fortunately, there are some useful resources available online. One solution is to simply hire a designer to do it for you, but that can get expensive quickly. Plus, you'll have to spend some time working out and explaining to the designer exactly what you have in mind. If you want to change or add something later, you'll probably have to pay again.
Another option is to do it yourself. It's much cheaper, and you might find that it's really not as impossible as you may have thought.
What follows is a list of seven of the best online design resources to help you create professional looking graphics for your blog, email campaign, presentations, and website – minus (most of) the hassle.
1. Create and Share Graphics Easily With Canva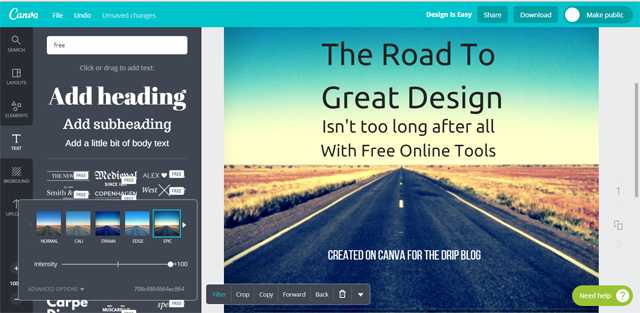 This is one of the best resources online right now. Canva's raison d'être is to make design easy, and from what I can see, they've done a great job of it. Their whole approach takes most of the pain out of designing.
From the moment you've registered on the site it takes literally 23 seconds to understand the basics – it's actually timed, so you know! Then you get to pick and choose from hundreds of templates, following the intuitive steps to creating something that looks good in no time at all. The example above took under fifteen minutes to create – and it was my first project on Canva.
Best of all, it's completely free when you use your own images. If you have nothing suitable, or you'd like to help support the team at Canva, elements are purchasable for $1 apiece. Once you're done, you simply download or share directly from the buttons on the top right of the screen.
They also have a design school where you can get the answers to your design questions, and sharpen your design skills. It's perfect for beginners.
2. Produce Eye-Catching Infographics Quickly Using Piktochart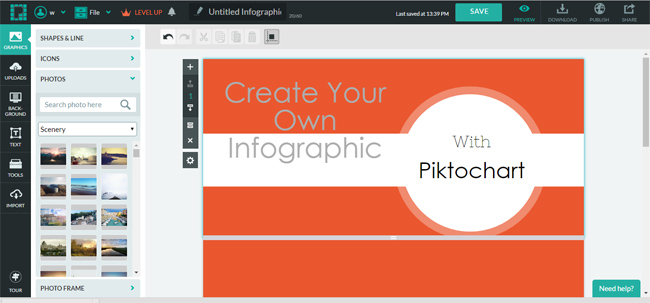 Piktochart is quite similar to Canva in layout and usability. The focus here is more specifically on infographics and charts though, so it's a little more limited. If infographics and charts are what you need, and you can't find a template on Canva, this might be the resource for you.
You can browse through a nice collection of over 400 templates, select the general look you want, and customize each element quite easily. There are maps, icons, and images to incorporate with your design.
In the resources page you'll find helpful articles on how to get the most out of the app, including a couple of useful Piktochart hacks.
There are some limitations. You can only upload up to 400mb, and unless you 'level up', your design will contain the Piktochart watermark. But those are minor issues for many entrepreneurs.
3. Create a Presentation From Your Smartphone With Haiku Deck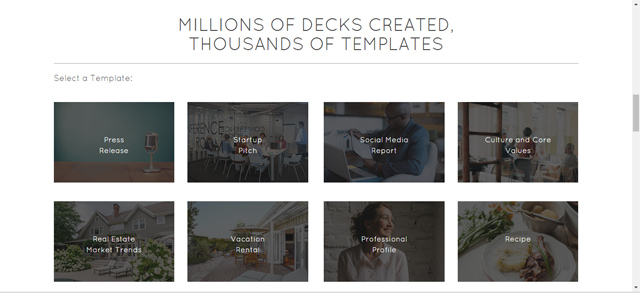 While you commute to that meeting where you'll bounce around some business ideas, why not create a quick presentation right on your iPad?
Haiku Deck is geared for the task. Their templates are easy to use, plus they're linked up to lots of Creative Commons images. The finished product will work on most devices. Just like Canva and Piktochart, you start with a template and customize it the way you want to.
If you need a heavyweight presentation with interactive features, and the ability to zoom in on specific details, you might prefer Prezi. Their public user option is free, but you need to pay to make presentations private.
4. Find Presentation Templates and Graphic Elements at GraphicRiver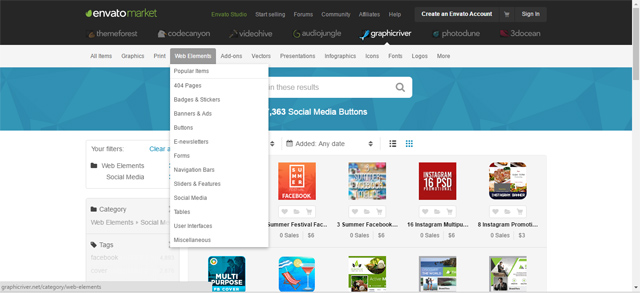 When you need a quick product mock-up or fantastic presentation template for PowerPoint or Google slides, but you're out of time and on a budget, GraphicRiver could help.
Browse through or search thousands of professionally designed templates and you'll find almost anything you need. They cater for web and print elements, so you can create a menu for your restaurant, or find a template for your email marketing.
Although it's not free, many of the products they sell are very reasonably priced, considering how much time it took to create them.
5. Enhance Your Typography With Free Fonts From Google Fonts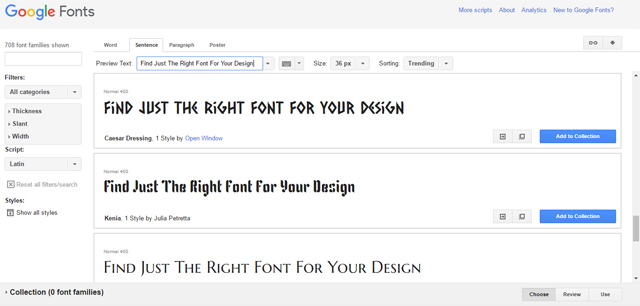 Typography is the graphic element that is too often forgotten. A unique font can really make an impression, and easily reinforce (or break down) the emotional effectiveness of a heading.
If you can't find the right font already installed on your device, you can download one from Google Fonts, but Dafont also has a huge selection of free fonts to download and install. For mainly paid choices, MyFonts is popular too, and they have some unique and interesting choices.
6. Find Free Stock Images to Use Along With Any of These Tools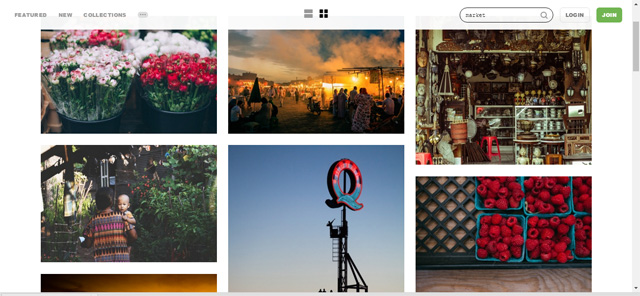 Finding images suitable for your needs is simple with a Google image search – but not all images are created equal, and the best ones are often not free to use. If you select the Labelled for reuse option (under More Tools) in Google images, often the best images will not be available.
The following design resources will help you find just the right image – and you can be sure that it's free to use too:
And if you really can't find the right image, there are a few more places to try in this useful list from design bombs.
7. Pick the Perfect Color Palette With Adobe Color CC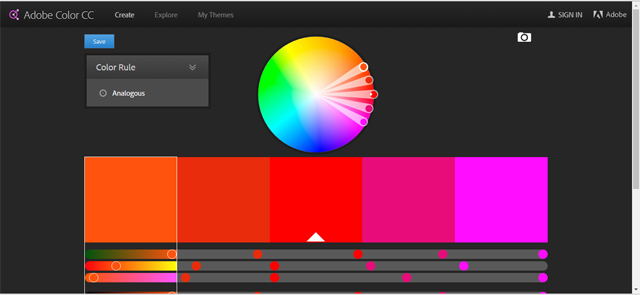 Color is another important psychological factor in your design – and it's easy to find complementary color schemes with Adobe Color CC.
There is a drop-down where you can select which kind of color rule you want to use, before turning the handles on the color wheel to get the RGB and Hex details for your palette. You can then copy the Hex code (color code), and paste it directly into Canva's color menu, for example.
COLOURlovers has some handy palettes, patterns, and colors too.
Conclusion
A captivating design is worth a thousand words. The right graphical elements, combined with the right photos and the right words, are worth a lot more. Hiring a professional designer might be the right choice for you, but it isn't strictly necessary if you can do it yourself quickly and professionally.
Firstly, choose the app that suits the task at hand: Canva covers most graphic design elements, whereas Piktochart does infographics well. If it's a quick presentation you need, use Haiku Deck or Prezi.
Make sure the typography is perfect for your project with Google Fonts, or one of the alternatives. If you need some photos or pics, use one of the free image resources listed here. Choose the perfect color scheme, and in no time you'll have a great visual asset to add to your online business.
Which design resources do you find most helpful, and have you found any that you simply can't live without? Share them with us in the comments section below!