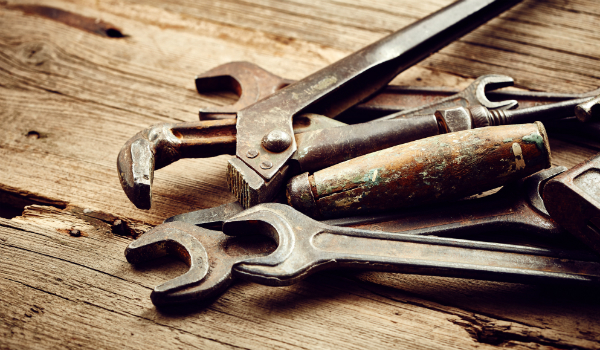 The latest beneficial apps, tech and marketing innovations available to us today are making consulting that much more powerful and effective.
Whether you're new to marketing consulting or have a business already, this list will be instrumental in your future and continued success.
Staying on top sometimes is not an option.
So in order for you to always be competitive no matter what point in your career you're in, you need to know what's going on in your industry.
The following list of tools and tactics will help you know all these developments and will also make sure you're always ahead of the game.
Let's get started.
Your Strategy: Stay Alert, Educated, and Connected
Any powerful marketing strategy or tactic relies on executing the right ideas, at the right time and in the right places.
For you to do that, you first need to keep yourself up-to-date and connected with your industry.
Tactic #1: Believe it or not, yes Google Alerts is still useful
Google Alerts lets you check where your name is being used online, and not only yours but your competitors. You can also search by keyword.
Here's consultant Jay Baer of Convince and Convert on Google Alerts,
"Like most marketing professionals, I have several Google Alerts set up for my name, my company name, and topics of interest to me. This is invaluable for finding bloggers that have linked to my posts, so I can go to their blog and thank you in the comments – a practice I highly recommend."
Tactic #2: Stay on top of industry news and events with Feedly
A feedburner like Feedly will let you browse through your entire industry's latest developments as well as any other industry you choose. It's a great way to stay up to date on the latest news in tech, business, etc.
Tactic #3: Generate leads via Twitter and LinkedIn with Socedo
If your target market is on Twitter, you need this fantastic lead generation tool. It makes landing qualified prospects off Twitter easy. Their basic plan guarantees to bring you in at least 50 targeted leads each day. You can search your target market using bio terms, send automatic LinkedIn requests to new Twitter followers, and use links and track clicks.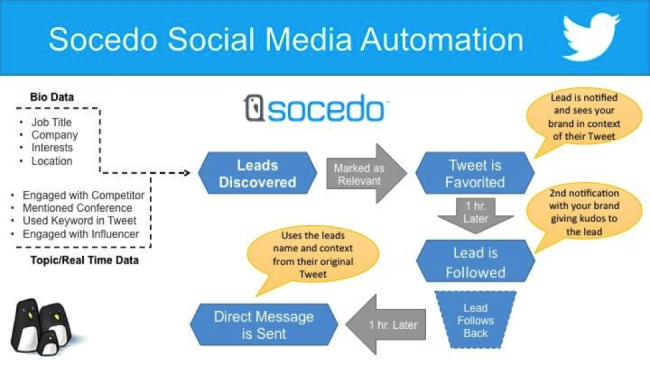 Image source: Funnelholic
Tactic #4: Use the LinkedIn App on the go, whenever you need it
LinkedIn is far and away one of the most powerful platforms for networking. Their app has great usability, enhancing the already-solid professional network. And, as a consultant your success lies in your network.
Wall Street Journal author and CMO/co-founder of Branderati, Ekaterina Walter, believes that LinkedIn is a vital piece to business success:
"The most important app for me is the LinkedIn app. The reason is simple, really: A businesswoman is only as good as her network of partners, colleagues, peers and industry thought-leaders.

In business, your network is everything. The LinkedIn app allows me to not only to keep up with my network (career moves and personal changes), but it helps filter the content that my network shares or considers important.

I make new connections through discussions around content and through membership of various groups. I find new people to hire. It is an effective way to always be connected to the most important group of people in your personal and professional life."
Your Strategy: Effective and Results-Oriented Project Management
When you're outsourcing jobs, teaming up with colleagues on projects, delegating tasks, and collaborating with multiple people on many projects, email communication doesn't quite cut it.
Online collaboration tools make things much easier.
As a consultant, you must live and breathe collaboration. Sometimes you're being monitored. But more often you have to monitor others' progress. Most of these tools let you do this in real-time, so you can make sure your projects are making progress.
When getting started on a new project management tool you will be delighted to see how easy and functional they are. Organizing your entire project's workflow will be easier than ever.
Using one of these tools you will find is a requirement to handling multiple online projects simultaneously.
By using a project management tool you ensure yourself a solid execution of your strategies with your whole team on the same page.
Tool #1: Stay organized and focused with Zoho Projects
From Harvard to eBay to Yamaha, Zoho Projects is a proven project management app that lets you collaborate, flesh out and then track every part of your multiple projects. It also has a built-in chat app so you can have immediate communication within the software.
Tool #2: Not to be forgotten, Asana is equally useful (just pick one)
Track team members' real-time progress with Asana. Being able to communicate in real-time with team members over tasks at hand is made easy.
Tool #3: Break down complex projects into manageable chunks with Trello
This online tool makes the most complex task organization look easy. Track company progress and break down big projects through the use of lists and cards that act like sticky pads.
Your Strategy: Use Only The "Must Have" Tools
As a marketing consultant, being ready to impress clients with new solutions from your marketing bag of tricks is essential.
From social media management systems, to data crunching, instant reports, landing page creations, lead generation insights and more, today we are pretty much spoiled with all the beneficial apps for us to utilize and grow our clients' businesses.
Tool #1: Keep password sharing secure with Keeper
"The World's Most Secure Password Manager & Digital Vault" according to their homepage, Keeper is a solid password securing tool with an innovative fingerprint authentication.
When dealing with multiple clients on high-dollar projects, passwords get as complex as they become plentiful.
But to tame the influx of various passwords, keep them updated, and to keep them and your work safe, there are now online tools that will make your life much easier.
Tool #2: Keep your eyes on yourself and client mentions with Perch
Perch is a nifty content management system (CMS) app. Its name refers to the "bird's-eye view" of all the mentions you or your client receives. You can also see all competitors' mentions.
Perch caters to small brick and mortar businesses who want to stay a step ahead of their local competitors.
Tool #3: Powerful marketing software for SEO, traffic and analytics using Raven Tools
This all-in-one internet marketing software makes online marketing reports a breeze. It also helps you land clients, manage smoother campaigns, build mobile-ready reports, store unlimited marketing research data, store your content outreach link building campaigns, modify and view client website SEO issues, and it also integrates with over 20 3rd party solutions including Google Analytics and Search Console.
Tool #4: Manage your relationships with FullContact
Relationships are key in consulting. This software helps you build them by staying on top of all contacts you and your clients collect each day, online or offline.
Tool #5: Make sense of torrential social media streams with SocialMention
SocialMention is like GoogleAlerts on steroids, but strictly for social media. What it does is organize and bookmark anything on social media, blogs, or even forum boards according to what you're looking for.
Your Strategy: Making Better Decisions with Analytics and Research
As a consultant you need to be able to measure your efforts. Through split testing and implementation of new methods to compare against each other, you will be able to gauge your progress.
Gathering reports through analytics will ensure all ROI is tracked and used properly. Make sure to dial down the top metrics like click through rate (CTR), estimated cost per click (EPC), Top Referrers, Facebook Insights, and more depending on your niche or client.
Here are a few tools to help you do just that.
Tool #1: The standard but still insanely useful Google Analytics
A staple in any online marketer's toolbox. Track stats with this analytics tool from Google. For many, it is their go-to software even though it is free from Google. Among the plethora of features being added every day are the main ones like focusing on select pages to track various stats like page visits, click-through rates, time spent on site, and much more.
Tool #2: A contender to GA, have you tried Analytics App?
Digital marketing consultant Jay Baer is a fan of this application, even favoring it over Google Analytics. One offer that Analytics App has is its Today Report. GA does not have this feature which shows the previous night's blog action, giving you a more real-time view of all your vital stats.
Tool #3: Link tracking and organization with Bit.ly
Are you a Twitter user? What about just social media in general? This link shortener provides massive value in various ways.
First of all, long links are unsightly in microblogging social media spaces. Bitly helps by shortening long URLs that would otherwise eat up all 140 characters.  Bitly also personalizes links, can be set up to generate automatic short URLs, and is excellent for tracking stats because of its ability to see who is clicking your links, and how many times.
Tool #4: Stay on top of keyword trends with KeywordTool.io
Geoff Kenyon talks about KeywordTool.io:
"KeywordTool.io is great for discovering variations of keywords to built pages around. Frequently, I use this the most for developing content.

I will use the tool to pull in a lot of keywords related to a theme and group them into relevant topics. These topics will either become their own content page or will be combined with other topics to create a page.

KeywordTool.io is similar to other tools out there such as Uber Suggest, which I've used for a long time, but it tends to produce more keywords and it provides search volume for the keywords."
The Consultant Who Leverages Tech & Innovation Wins
With innovative technologies being produced by the day, it is no small feat to stay ahead of the curve.
It's nice to see select dominant tools mature and modify their features in order to to pass the test of time. It is even nicer to see the influx of new, advanced tools coming out each month.
Whether you've been consulting a while or are thinking about jumping in, the tools here, if you are not already using them, are sure to make you that much better.
It's easy to get overwhelmed about all the things you should do, and lose track of tips, strategies and tools.
But the goal of these apps is to reduce the work you need to do, by setting yourself up with systems that do all the heavy-lifting for you.
Stop working more and make technology work for you instead.