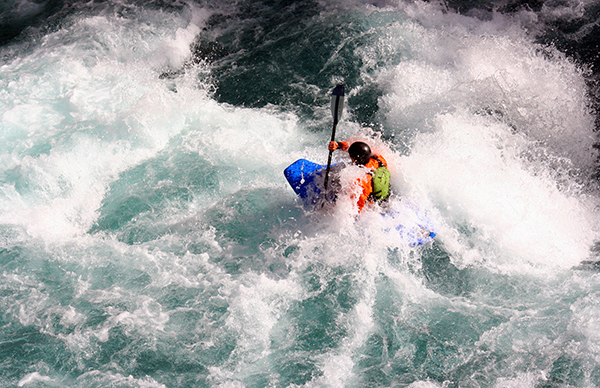 How would you like to never again stress about having a steady stream of clients?
..or to actually be able to say "no" to a client if you know they're not your best fit (instead of taking anything and everything that comes your way)?
Imagine always have a pool of high caliber warm leads that are just begging to work with you.
The top consultants across all industries use well-crafted content strategies to make this happen.
They're able to produce enough of a buzz through their unique content, that they always, at all times have a steady flow of potential clients just waiting to work with them.
But how can you do this?
Let's get into it.
Why Should You Produce Content For Generating Consulting Leads?
As a consultant, you want to consistently be attracting new leads and turning the best ones into new clients.
A premium content strategy does exactly that. It doubles, triples, and quadruples your efforts because it doesn't go stale.
By creating quality content, you create an evergreen system that multiplies your efforts exponentially. And it works constantly – an evergreen system that never sleeps. Your target readers (potential new clients) find you through relevant content online.
They grow accustomed to the valuable content you share, and then they start to trust you.
When it's time for these interested readers to commit to consulting…
Who do you think they'll turn to?
You have already convinced and persuaded them through your authority on the subject – and they're now ready.
As a consultant, deploying a solid content strategy will build your business.
And that's the end goal: Using content to drive new leads and build your consulting practice.
Quality content drives alone can sustain and grow your consulting business with the steady influx of warm leads it creates.
Craig Rosenburg from funnelholic.com credits content creation for his consulting business' success:
"We wouldn't have been able to start our business so quickly without content marketing… You write content, content gets shared, content builds the brand, and people find you…people that don't know you initially, can easily go online and see your expertise and street cred in real time."
Whether you enjoy creating the content or not is beside the point. The important thing here is just to know that you need it and its lead-driving power, and that you find a way to get it done regardless.
So, what exactly is content marketing for consultants, and how do the most successful ones use it to drive in new leads and land great clients?
Whether you are already using content to drive leads in successfully, or whether you're dabbling with it but haven't really made a solid plan of action, going over your content strategy time and time again will help iron out any current kinks and set you on the right path from here on out.
So that's why it is a good idea to step back and get a bird's eye view of your content strategy as it stands now.
Important: Start With ONE Single Method
…Then build it out from there.
Don't overwhelm yourself by doing it all from the beginning; YouTube videos, blogging, advanced email marketing funnels, ebooks, webinars, podcast etc.
You need to focus on just one. In time, you will add to your first method.
Usually having a blog is the preferred first method for consultants; it's easy to get started and you'll be communicating yourself, your knowledge, expertise, and authority.
More of a "talker" than "writer?"
Transcribing videos or podcasts is another way to reap those written benefits while utilizing other forms of content creation like video or audio.
Know what you're good at and fit that into your plan, as opposed to bending over backward to do something you don't like:
"The key is to integrate it [content marketing] into the rest of your marketing plan, so it works together like cogs in a machine."
The Power Of Content Creation For Consultants
Jay Baer hits the nail on the head when it comes to how you must think about your content:
"… the real secret to content marketing is that the more you sell, the less you sell. Of course, you want your content to drive customer behavior. We're not Bolsheviks. But the way that happens is to be a Youtility: to genuinely help, inform, delight, and inspire your customers and prospects."
Jay is the president of Convince And Convert, a successful content marketing consultancy that has worked with numerous big companies such as Allstate, PETCO, Walmart, Columbia Sportswear, Billabong and RCI to name a few.
So when you hear him make strong statements like, "the real secret to content marketing is that the more you sell, the less you sell," you need to follow his lead.
You should be creating high-value content that people will come away feeling satisfied, impressed, and feeling good about your business.
But, as soon as you start pitching your services you are walking on thin ice.
When you "genuinely help, inform and inspire your customers and prospects," you are doing it right.
When you produce content that resembles old-school-internet-marketing-keyword-driven-spun-articles-with-a-hard-call-to-action, you are doing it completely wrong.
So, how do you create content that "just works"? With the following four pillars.
The 4 Pillars Of A Perfect Content Strategy: Analyze, Collect, Publish, Manage
It's time to craft your vital foundation.
Let us take a look at a diagram created by Rahel Bailie and recently shared on the UXBooth marketing blog (the infographic below):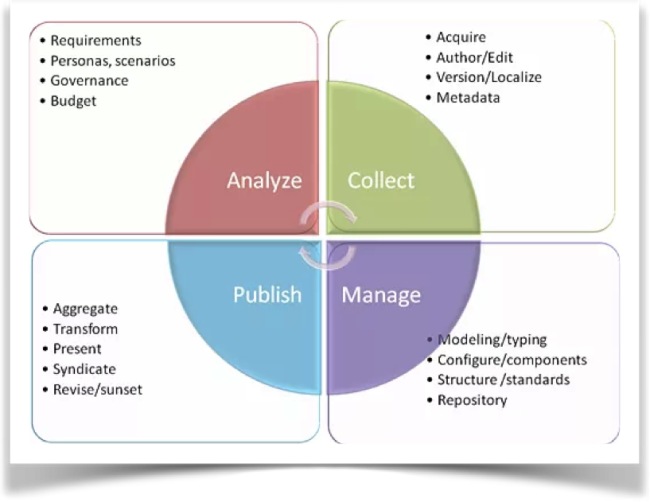 Rahel's infographic explains what you need to analyze when creating your content strategy. These four sections, when covered in full, will build you a base foundation for your content output that doesn't fail.
Analyze: You know what your business represents, and you know who your clients are, so when building your content marketing foundation, use these two major points as a compass to guide all your content. You can do this by analyzing your target clients. Research what they need. Know the problems you solve for them. And cater to that ideal client, always writing to them and them only.
Collect: This is the stage in which you will create your editorial calendar. Choose your content theme after analysis and plan out your messages. Plan how you will disperse this content as well as how, when and for whom you will produce on a regular basis.
Publish: It's time to take action. It's time to put your hard work out there to benefit the world. At this point you should have a set plan for regular content release. You need to know how it will mix into your overall scheme of client acquisition.  As UXBooth states, it's time to "annotate wireframes and sitemaps to explain how both interaction and content will work. Specify CMS features like content models, metadata, and workflow based on the content strategy." And start to create inspiring, brand building content as much as possible.
Manage: Once you're creating and publishing content you will need to reevaluate it and make it better. Tweak it until you have something that comes out automatically the same way. That means you need to have a tone of voice behind all your copy that stays consistent. You need some templates to work with, for example, with the closing of the article where it would be good to include a call to action for your readers. Set up a linking policy and strengthen your SEO.
Action Time: Produce A Never Ending Flow Of Enticing Content For Your Readers
Enticing content draws readers in and makes them want more.
You must, however, continually produce content. You can't just stop.
You have to set an editorial calendar and make sure to always be unique, entertaining, and valuable to your readers.
It sure sounds like a lot of work, doesn't it?
But it doesn't have to be.
You don't have to come up with content out of thin air; instead, find what to write (and most of the content for it) by simply tapping into the right sources. More on this below.
But first, come to terms with the fact that content marketing is not really a choice anymore. The current trend in big business everywhere is that content marketing is virtually exploding.
Forbes writer Jayson DeMers stated in a recent Forbes article, that:
"With almost nine out of 10 companies now using some form of content marketing to attract leads, just try to visualize the sheer volume of content that needs to be produced on a daily basis."
From Old Spice and McDonalds to professional services and consulting agencies big and small, content marketing is stronger than ever.
If you are willing to follow some content marketing tips and guidelines and put in the effort, it will become easier for you and your team to create engaging content that becomes a round-the-clock lead gen system for your consulting practice.
Here are a few practical tips that will give you more than enough ideas to create consistent content for years to come:
Tip #1: Yes, Still Make Use of Google
The Content Marketing Institute shows us how Google can be a great way to create starter content for your consulting practice. After exhausting Google's offerings, you will need to get more creative and think outside the box, but for gathering a large number of starting content ideas that are guaranteed to reach online browsing potential clients, it's perfect. Just type your best keywords into the Google search bar and see what other keywords it creates for you.
Tip #2: Mine LinkedIn Groups
LinkedIn is a professional's Facebook. Professionals from all industries form groups, publish great content, and network with other professionals.  Groups on LinkedIn is where you want to go.
A LinkedIn member can join a group they're interested in and post questions or give feedback to others. It's a great way to get insight on an industry and everything that goes on inside it. There are countless ideas out there throughout these LinkedIn Groups. People engage in deep discussions and one thread alone can give you month's worth of content ideas. Get inside your industry-related groups and read discussions for ideas.
You will soon see which questions are burning that hottest for your average prospect, as well as industry-related news that you can use as "breaking news." Who doesn't want to be the first one to share new and valuable content?
Tip #3: Gather & Learn From Customer Feedback
Leverage your list to come up with endless content. Use surveys and simple questions within your email marketing to draw opinions out from your followers. Use these answers to create a long list of potential content ideas.
As an example, here is a survey example from Campaign Monitor. As you can see their surveys are not flashy. And they shouldn't be. Text-based, clear and concise emails work best. Make your survey email quick and to the point and you will get plenty of gold answers to draw from.
Another good tactic is to simply ask a single question on a P.S. line of occasional emails. For example, for best engagement, reward your readers if they take part in the survey. Whether it's something small, like a dollar amount off or a prize for a certain reader, incentivizing your surveys is always a nice idea.
Tip #4: Quora
Quora is a sophisticated Yahoo Answers. In Quora you will run into big and important questions, and you will come across deep insights when reading the answers. Quora responses are typically more valuable than Yahoo Answers because users aren't allowed to post answers which don't provide true value.
Within these high-quality answers, you can gather numerous ideas for content. Just ask an industry-related question, then step back and be prepared to be blown away. It is an invaluable source of quality content ideas.
Final Tips To Get & Keep Momentum
Here are a few more tips to get the ball rolling:
Know your avatar: Do you know who is reading your stuff? Who is you're average client?  Who are you writing for? By figuring out who your ideal customer is, you can speak directly to them with each and every post.
Know your metrics: And then show them off. By crunching down industry related numbers and breaking down the research, you will not only impress your readers, but you will drive far more traffic over to your website. Industry-related statistics are always a winner.
Free online tools: Google Keyword Planner and Ubersuggest. Both of these free online tools will generate great ideas through the use of your keywords.
Recycle old content: Have there been industry changes since a previously published post? Update that post, bolster it, and re-publish. Do you have a post that is extra popular? Turn it into an infographic or a slide share.
Join other groups, not just LinkedIn: Yahoo Answers can be a great source for industry related ideas. Facebook Groups are also great ways to get into your target customer's psyche and generate a large amount of ideas for future content. Reddit is a good source as well.
Build out white papers: By creating an "Ultimate Guide To [your service industry]" you can draw in a large amount of prospects. And the best part about in depth white papers is that they teach your readers as well as give them benefits of the end result, which is what you offer.
How To's and Top 10 articles: These type of articles always engage and educate readers at the same time. Make sure to include "top 10" posts occasionally such as top 10 softwares, tools or actual related businesses.
Follow these tips and you will always produce engaging well crafted content on a consistent basis.