Regardless of how long you've been doing email marketing, you're unlikely to have seen every tool out there that might be useful. After all, new web apps and other tools are being released on virtually a daily basis (though of course some are significantly better than others). And there are peripheral tools that you may not have even considered using before that can greatly improve your email marketing effectiveness. This includes things like grammar checkers and readability level tests.
Besides those, there are stand-alone tools that have features you may not find in your standard email marketing suite, like spam tests and subject line ratings. Keeping up to date with what's out there in the world of email marketing apps and tools puts you in a much stronger competitive position.
Making use of the latest and best tools gives you an edge over others in your industry who may just stick with the old tried-and-true (which may or may not keep up with the times). Read on for ten great tools you may not have heard of before but that you should definitely take the time to check out.
Litmus Scope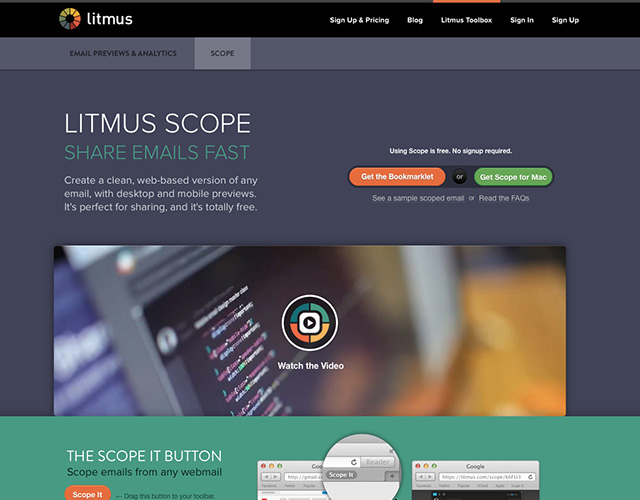 Want to check out the code behind that awesome email newsletter you just received? Or maybe you want to check out how that email looks in dektop and mobile views side-by-side?vLitmus Scope makes it easy to do either one.
Use the bookmarklet with your supported webmail (at the moment it's just Gmail), or download the Litmus Scope Mac app to use Litmus Scope with Apple Mail or Sparrow.
Scoped emails are available for 15 days without a Litmus ID (if you want to save them longer than that, you'll need a Litmus account). A Litmus ID also allows you to obscure personal information in emails you Scope. You can Scope plain text or HTML emails.
Premailer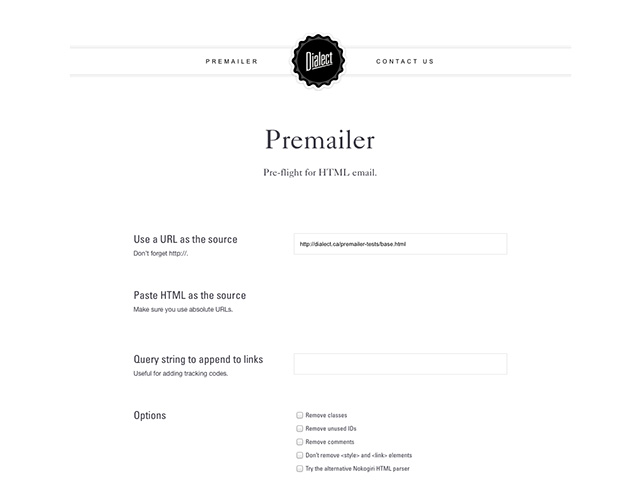 In the world of printed newsletters or other marketing materials, there is a process called "Preflighting" that makes sure everything is ready for print and all the necessary files are included.
Premailer offers the same thing for HTML email. Just enter the URL of your email's source (or paste the HTML source code directly into Premailer), and then have it automatically add a query string to links and make adjustments to your code (including removing classes, unused IDs, comments, style and link elements, and more).
It's a big time-saver and simplifies your coding workflow.
Beaker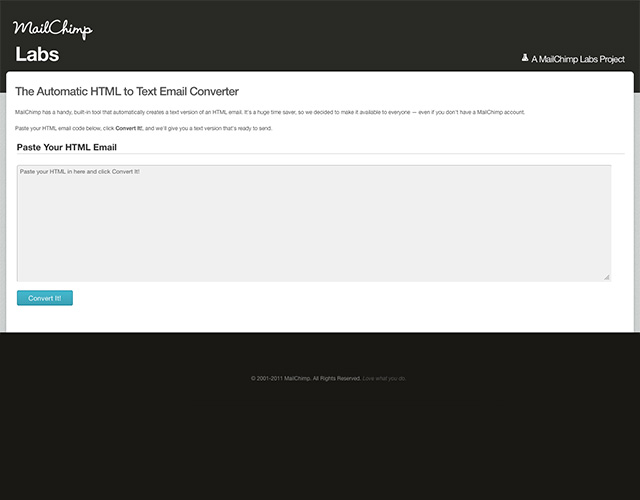 Beaker, offered by MailChimp, gives you a quick and easy way to convert your HTML emails to plain text. Just paste in your HTML email, click "Convert It!", and get a clean plain text version.
Email Spam Test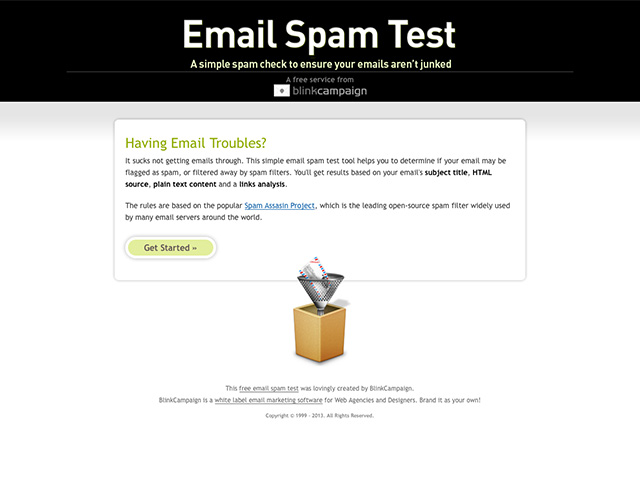 Worried your email is going to get caught by your recipients' spam filters? This Email Spam Test tool will help you determine the likelihood of that happening.
It checks your email's subject line, HTML source, plain text content, and links. The rules for this easy to use tool come from the Spam Assassin Project, the leading open-source spam filter out there. It's offered for free from BlinkCampaign.
Subject Line Rating Tool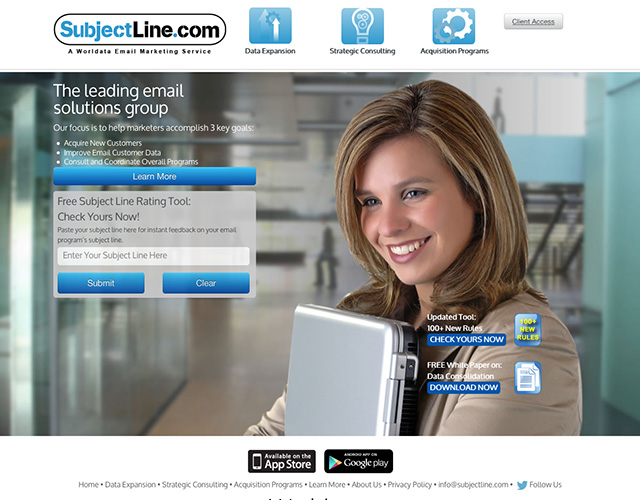 Your subject line is one of the most important factors in getting your emails opened. A good subject line can greatly improve your open rate, and even prime your readers to be more receptive to whatever is in the email itself.
The Subject Line Rating Tool from SubjectLine.com gives you instant feedback on your email's subject line, for free. It will tell you not only what your score is (on a scale of 100 possible points), but will also give you feedback on why points were deducted, based on industry standards.
You can use the tool once without signing up, though after that you'll need to sign up for their newsletter to continue using it.
Litmus Email Previews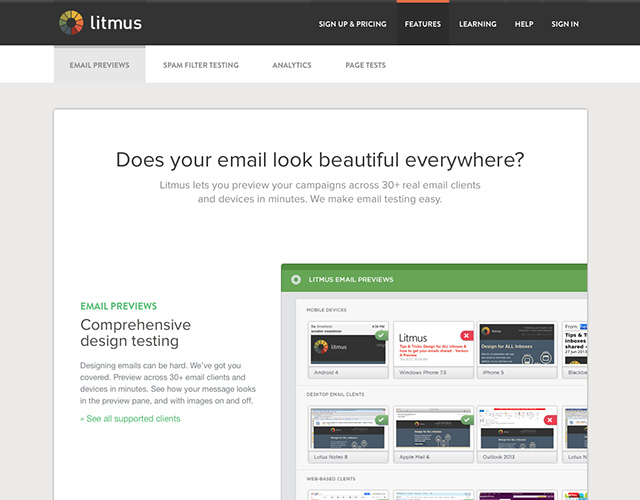 Considering how many different devices people are reading email on these days, it's important that you know what your emails will look like regardless of what they're being viewed on.
Litmus offers Email Previews for more than 30 real email clients and devices to make email testing easy. Clients supported include AOL Mail, Apple Mail, Gmail, Thunderbird, Outlook, Yahoo!, and more, while supported devices include Android 2.3 & 4.0, iPhone 4S and 5 (iOS6), iPad 2 (iOS 6), BlackBerry, Symbian S60, and Windows Phone 7.5.
You can even preview one email for free to try out the service.
Grammarly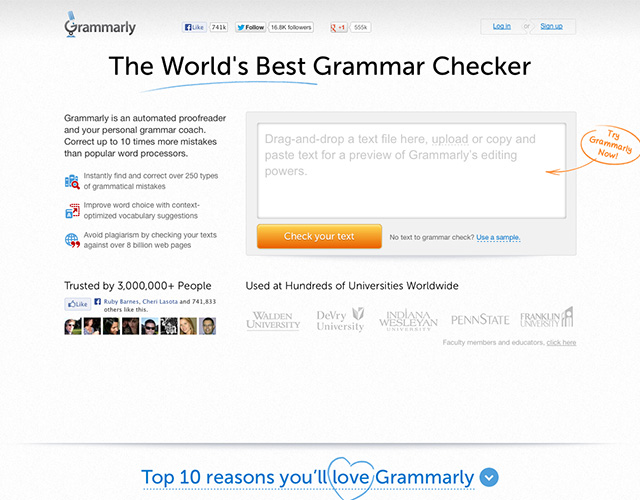 Not everyone has impeccable grammar. This is particularly true for those marketers where English is not their first language.
In those cases, you may want to try a service like Grammarly to proofread your emails for you. While word processor grammar checks can give you a bit of help, Grammarly can detect and correct more than 250 kinds of grammatical mistakes, plus offer context-optimized vocabulary suggestions.
There's even a feature to check your text for plagiarism (perfect if you outsource your email copy and want to verify that it's original). Grammarly is trusted by hundreds of universities worldwide, giving it more credibility than your standard word processor (or maybe even your intern).
The Readability Test Tool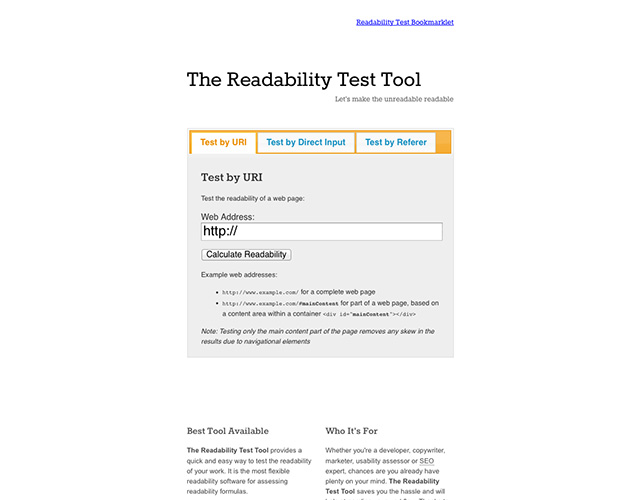 It's important to match the readability level of your emails to your chosen target market. In other words, you don't want to send something with a 3rd grade reading level if your target reader is a PhD candidate.
Likewise, for general marketing messages, you don't really want to send out emails with a PhD reading level. That's where something like The Readability Test Tool comes in handy. Just enter the URL of your email or input your text directly and it will tell you what your score on a variety of readability indicators, including the Flesch Kincaid Grade Level and Reading Ease, the Gunning Fog Score, Coleman Liau Index, and Automated Readability Index.
Klaviyo Email Templates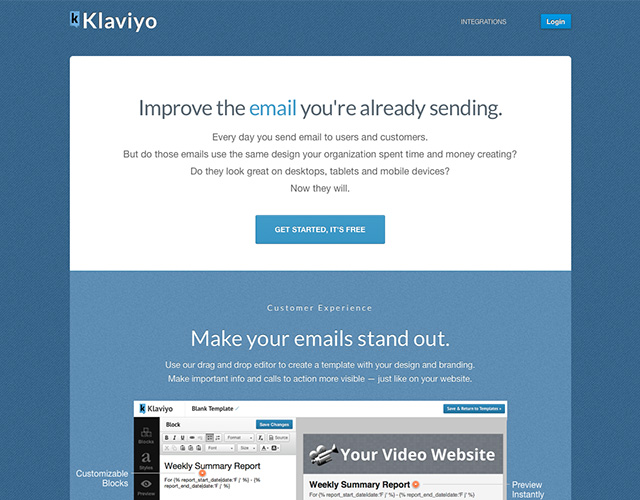 Klaviyo has an incredibly easy to use template builder for creating your HTML emails. You can start from a blank template, or even use a pre-built template for Shopify or Zencart.
Pre-built templates include things like order and shipping confirmations, order status, checkout, and more. They're a great option if you use Shopify or Zencart.
Once you've created your template with Klaviyo's drag and drop editor (it even has a live preview so you can see exactly how it will look as you design it), you can export it to use with the email client of your choice. Since you're in control, you can easily create and test multiple versions of your emails to see which converts best.
CampaignCog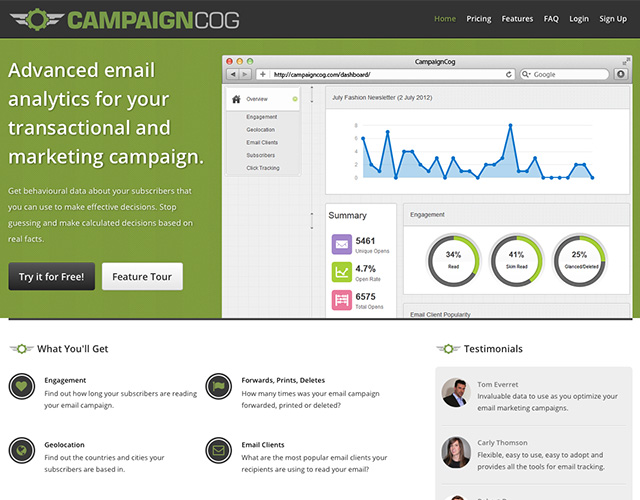 Delivering your emails is only half the story when it comes to email marketing. If you really want to maximize your results, you need to carefully monitor what happens after those emails are delivered. CampaignCog makes it simple to track the analytics for you email marketing campaigns.
It includes information about how long recipients spend reading your emails, where your subscribers are based, what email clients they're using, how many times your compaign was forwarded, printed, or deleted, and even lets you analyze each subscriber you have.
Conclusion
Regardless of whether you have a few hundred opt-in subscribers or a few hundred thousand, using the right tools will make your emails better and speed up your workflow.
It's worth checking out what's available on an ongoing basis, and what might fit into your current workflow to make it better. It's even worth checking out tools you may have dismissed in the past, as updates and constant improvements can mean that a tool that was once a poor fit might offer just what you need.
There's no one-size-fits all solution out there, and sometimes you need to combine tools to get exactly the features and functions you need. Look for apps that integrate with one another to make your job easier.
Which email marketing tools do you use? Do you plan to try any of the above?