Mailchimp is an all-in-one integrated marketing platform, with its bread and butter being email.
It's been around since 2001 and is an absolute beast, claiming over 60 percent of the email market with over 12 million customers. People love it because it's easy to use, making it the ultimate tool for building a loyal list of email subscribers.
In this post, I will explain how to use Mailchimp with Sleeknote to create an email popup that pulls in new subscribers left and right.
So, let's jump right in. Here's how to make a Mailchimp popup with Sleeknote.
How to Make a Mailchimp Popup
Step 1: Specify What You Want to Use Sleeknote For
To begin, you'll want to select which specific goal matches the purpose of your campaign.
There are four options to choose from, which include:
Collect Email Addresses
Increase Product Sales
Connect with Visitors
Guide your Visitors
The option you select will determine the premade themes Sleeknote provides you with (something I'll discuss in more detail in the next step).
I'm going to go with Collect Email Addresses for this example.
Just click "Select."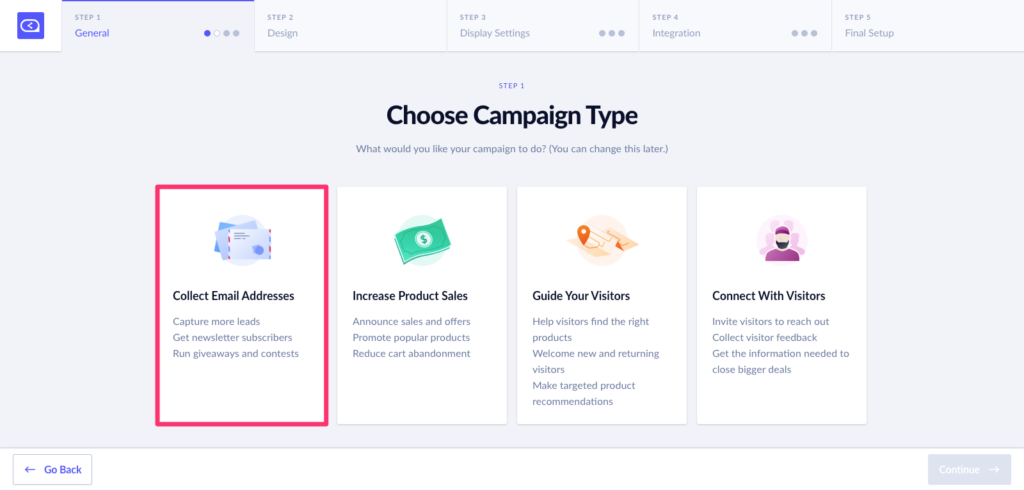 Step 2: Choose a Popup Position
Next, you'll need to decide where you want your Mailchimp popup to be displayed.
There are five choices—the bottom right, the bottom left, the center, and the top or the bottom of the screen.
I'll go with the bottom right because it's less intrusive, but feel free to experiment and do your own testing to see what works best for your e-commerce store.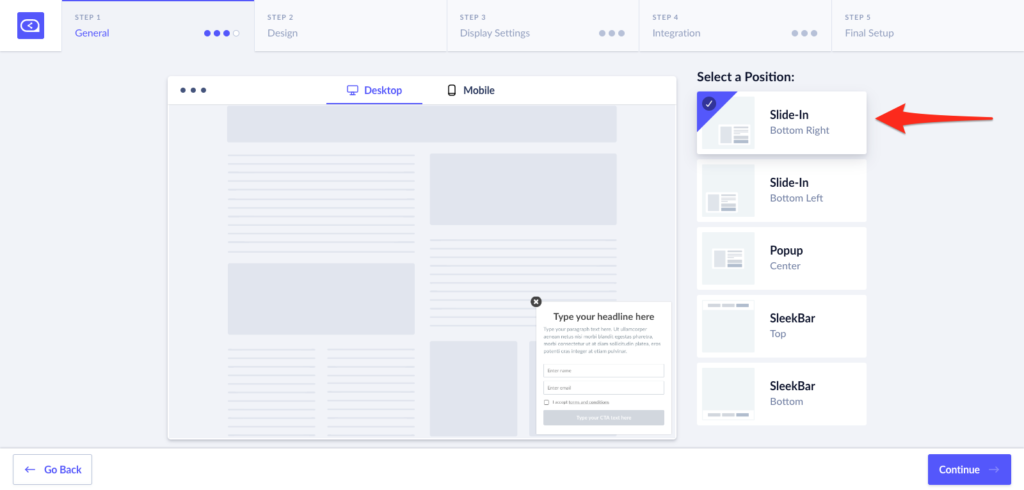 Sleeknote will then confirm the position, and you'll want to click "Continue."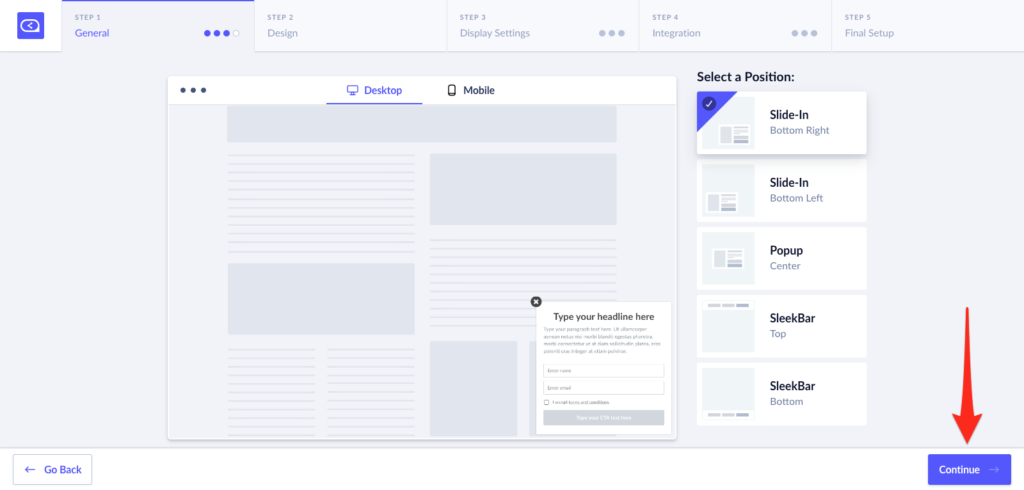 Step 3: Choose a Themed Template
Next, select a themed template that matches the offer you want to use.
Sleeknote has a lot to choose from, with Collect Email Addresses featuring 50 themes.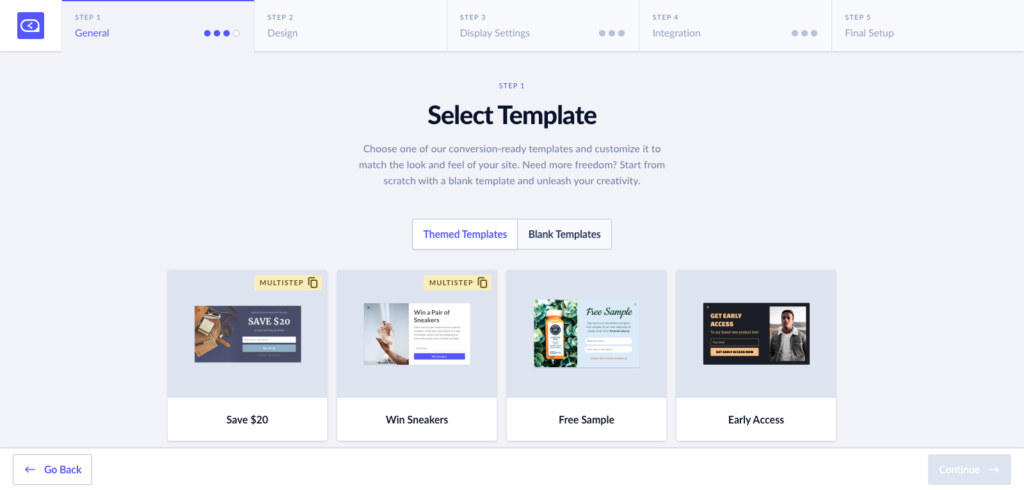 I'll go with the 10% off men's fashion template for this example.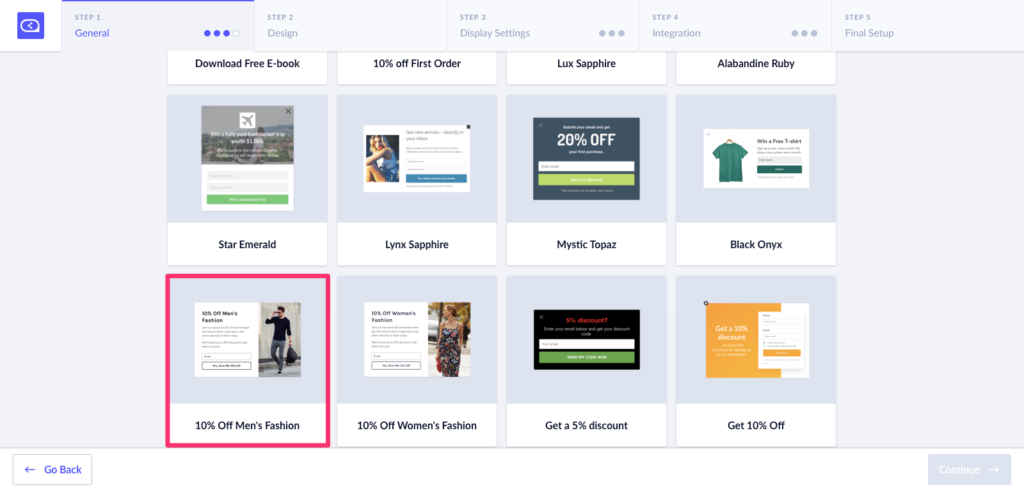 Also, note that there are some blank templates at the bottom, which you can use to build a template from scratch.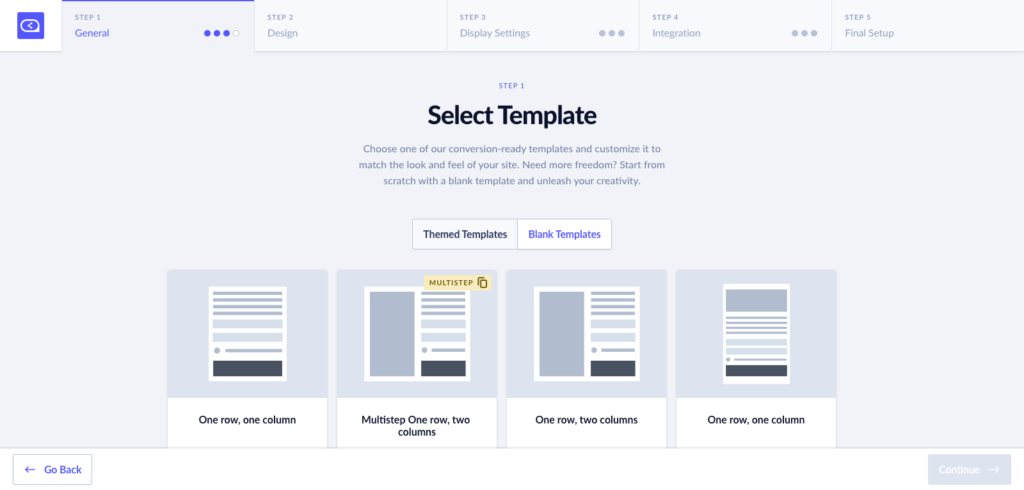 These require a bit more effort to create, but if you want total control over your Mailchimp popup, this is the choice you'll want to go with.
Step 4: Edit the Elements of the Popup
At this point, Sleeknote will start you off with a generic version of the template, like this.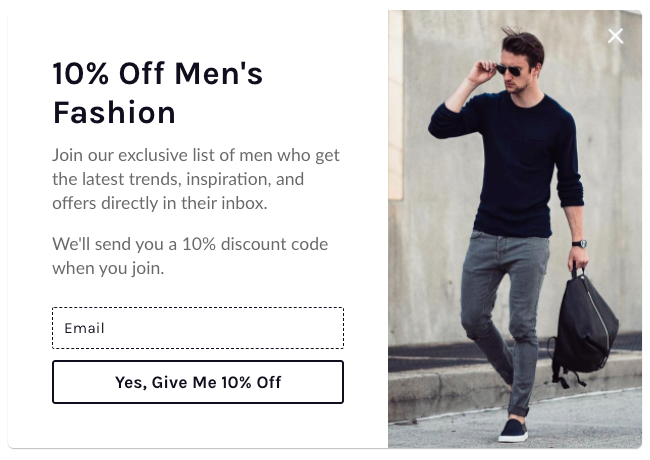 This is where you can start customizing your popup to make it 100% unique.
Click on an individual element to begin. I'll start by tweaking the headline.
Today's e-commerce shoppers love discounts, with about 93% of them using a discount code each year.
So, I'll go ahead and offer a healthy 20% discount for signing up for this newsletter and make it specifically for men's jeans.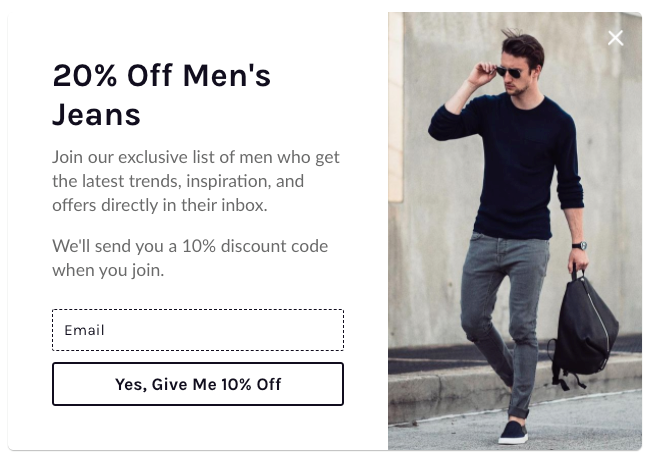 Note that Sleeknote allows you to easily change the font with this box, as well as the size, color, positioning, and so on.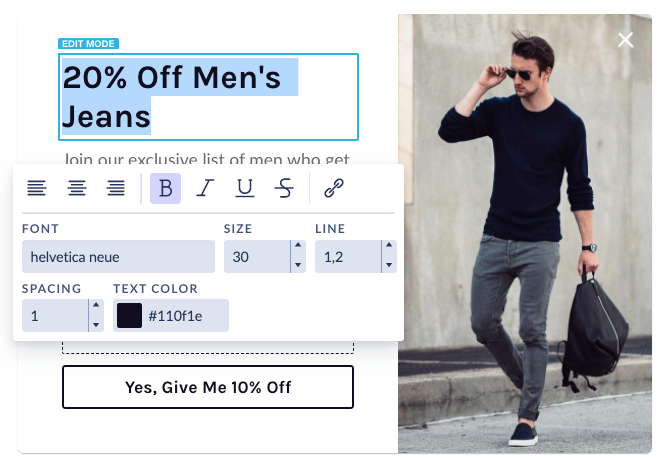 Now, adjust the rest of the text to fine-tune your offering.
You can switch up the body…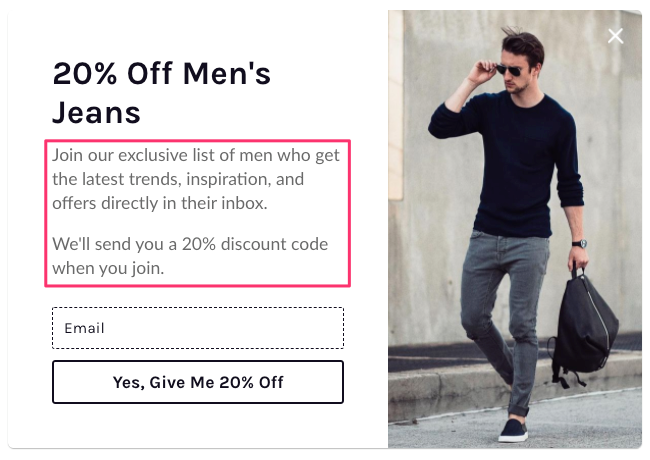 …the email input field and the CTA…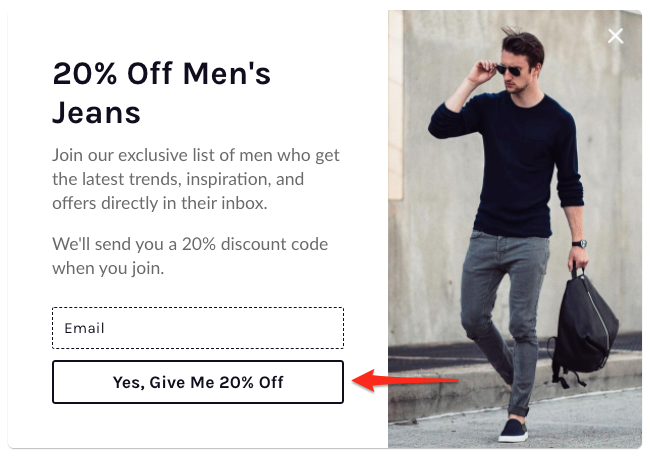 …and also the image.
I suggest spending some time toying around with Sleeknote to get a feel for the wide array of personalization features.
It's very intuitive.
Step 5: Adjust the Layout
Another cool Sleeknote feature is being able to modify the layout of a Mailchimp popup.
Just click on "Layout."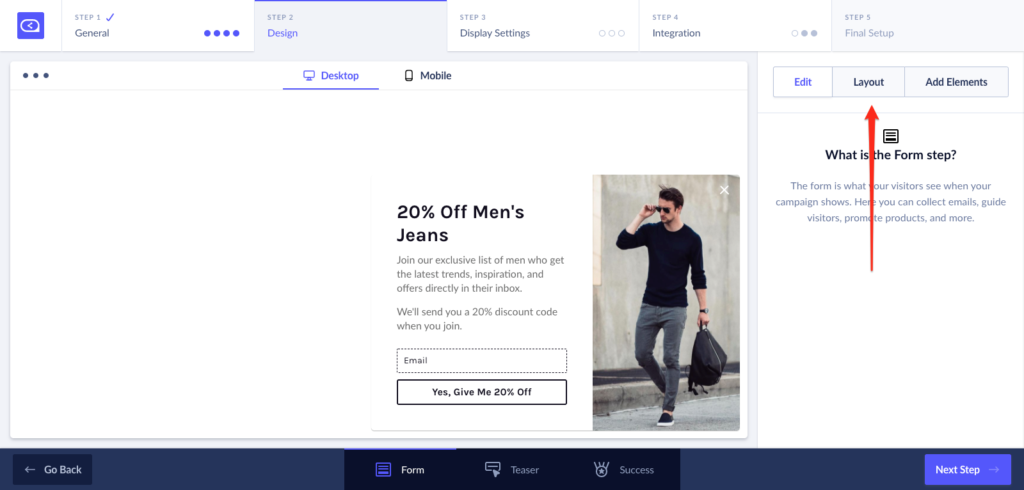 This will display a list of all form elements, so that you can adjust even the smallest of details.
Say, for instance, you wanted to tweak the CTA.
Just click on "Submit Button."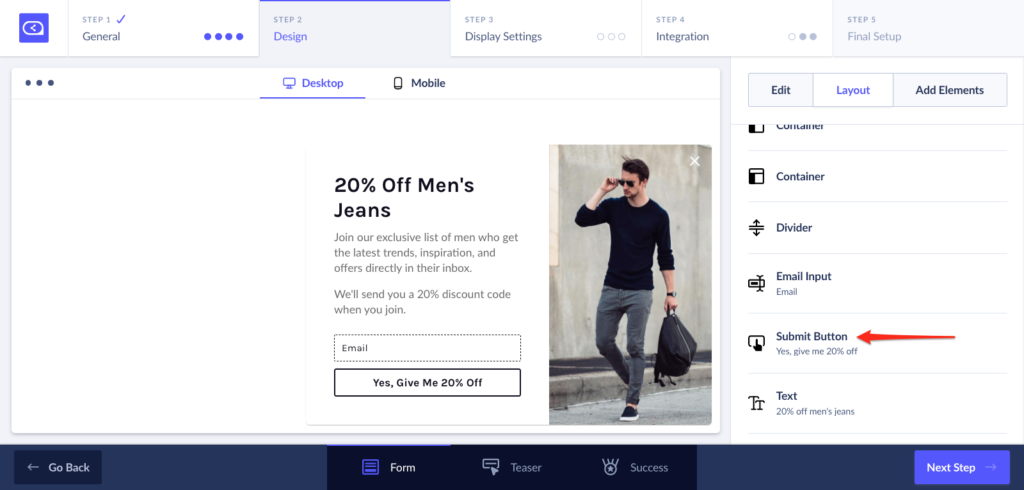 Then, change it however you'd like.
I'll go ahead and make the border a bit thicker.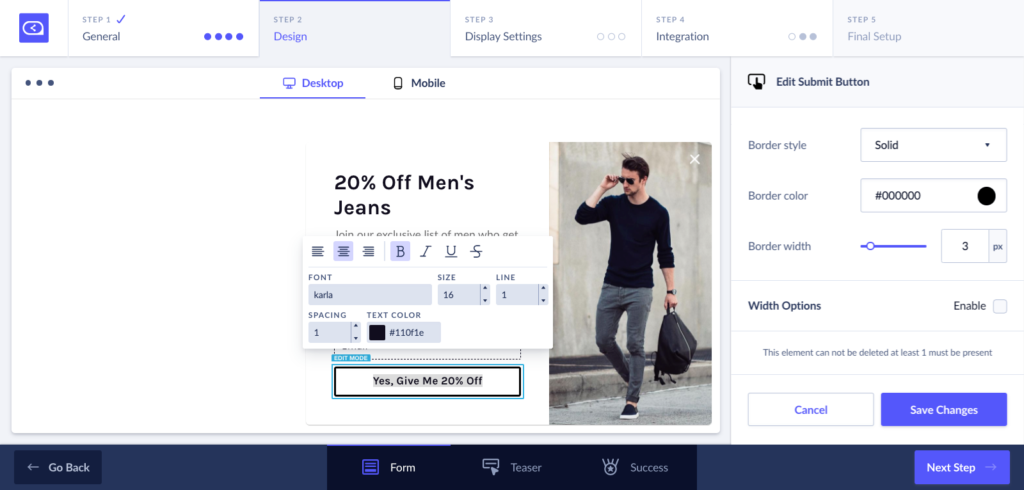 So, this Mailchimp popup goes from looking like this…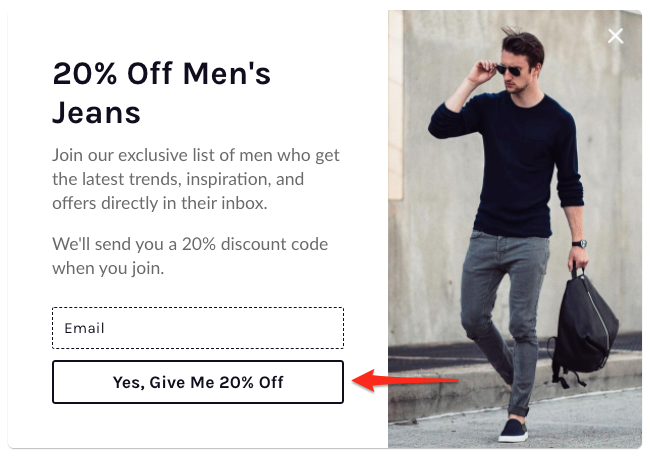 To this, making it a little more eye-catching.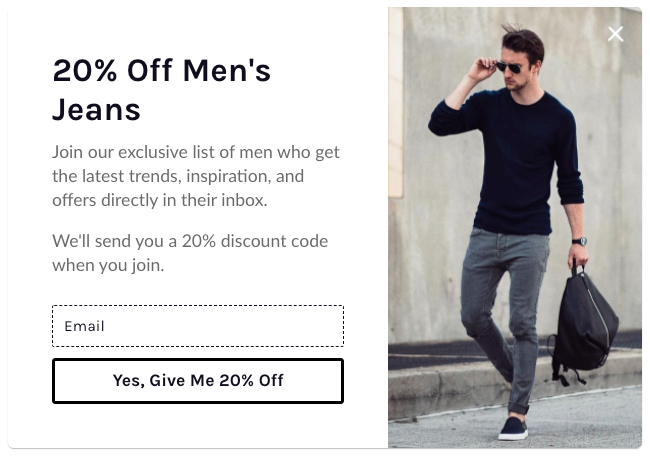 Or, let's say you want to do something as small as changing the size of the close button. Sleeknote makes it a breeze.
All you have to do is click the "Close Button."
Then, adjust the image size.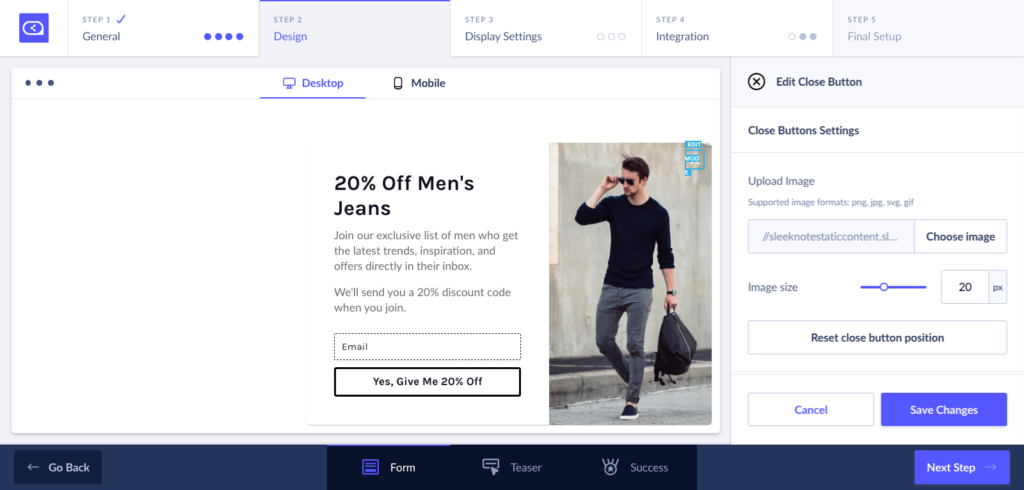 You can either enter the exact size of font you want or move the scale until it's just right.
I'll make it slightly bigger so anyone who's not interested in signing up can exit without any drama.
So, it goes from looking like this…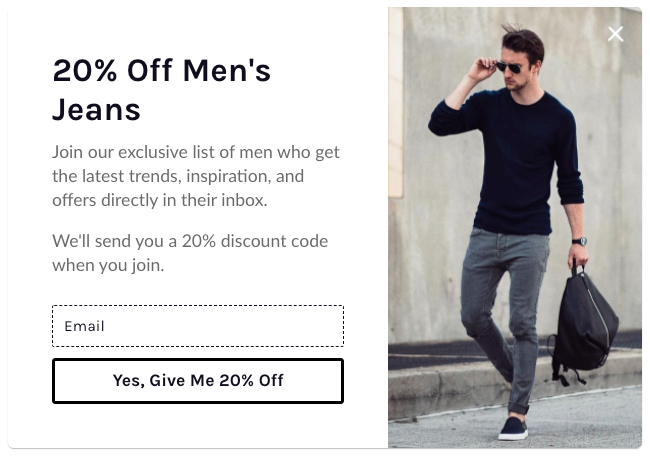 To this.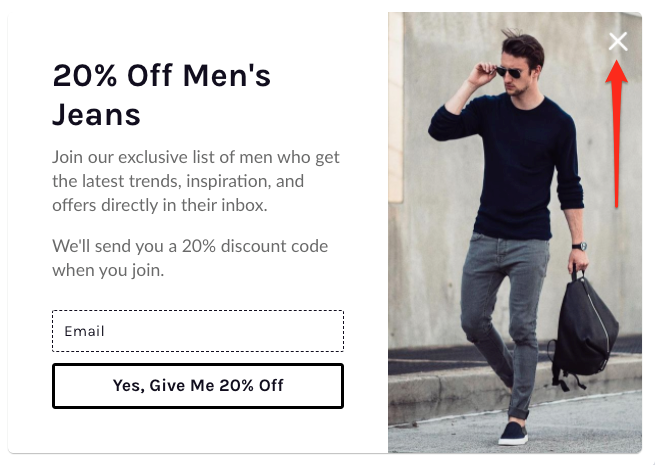 Step 6: Add Additional Elements
By now, you should have a pretty nice looking Mailchimp popup that's personalized to match your brand.
But you can take it one step further by going to Sleeknote's "Add elements" section.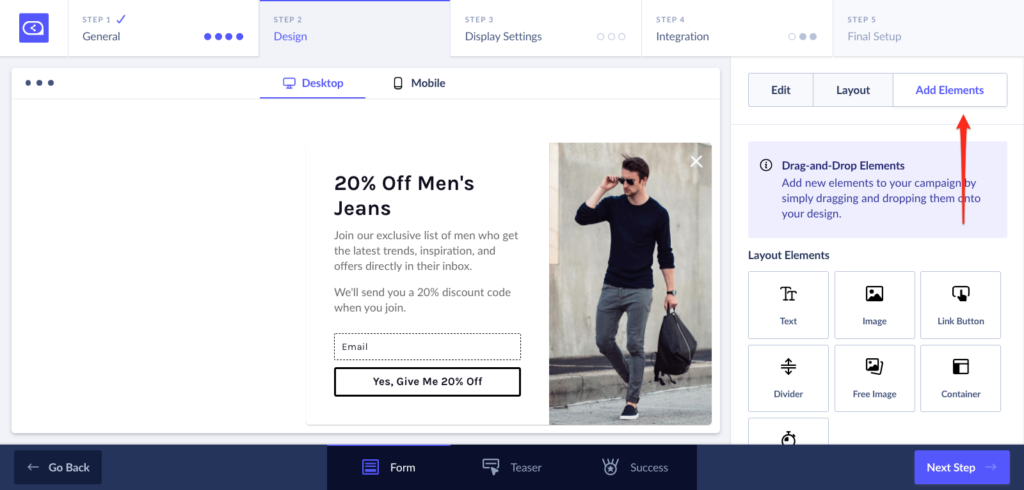 Here you'll find layout elements…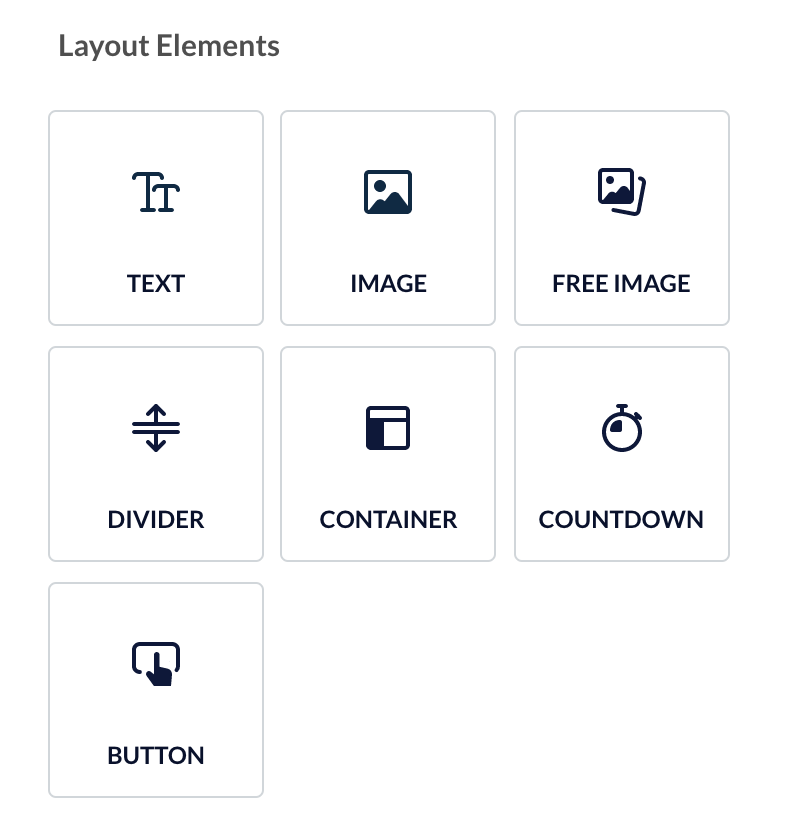 …as well as form elements and 3rd party apps like Clerk, Hello Retail, and Raptor.
Suppose you're unfamiliar with these 3rd party apps. In that case, they're designed to take your personalization to the next level—something that's important given that "Eighty percent of customers are more likely to purchase a product or service from a brand who provides personalized experiences."
To learn more about them, you can check out the Clerk.io, Hello Retail, and Raptor websites.
I'll go ahead and add a countdown from underneath "Layout elements" because creating a sense of urgency has been proven to raise opt-in rates.
Just click on "Countdown."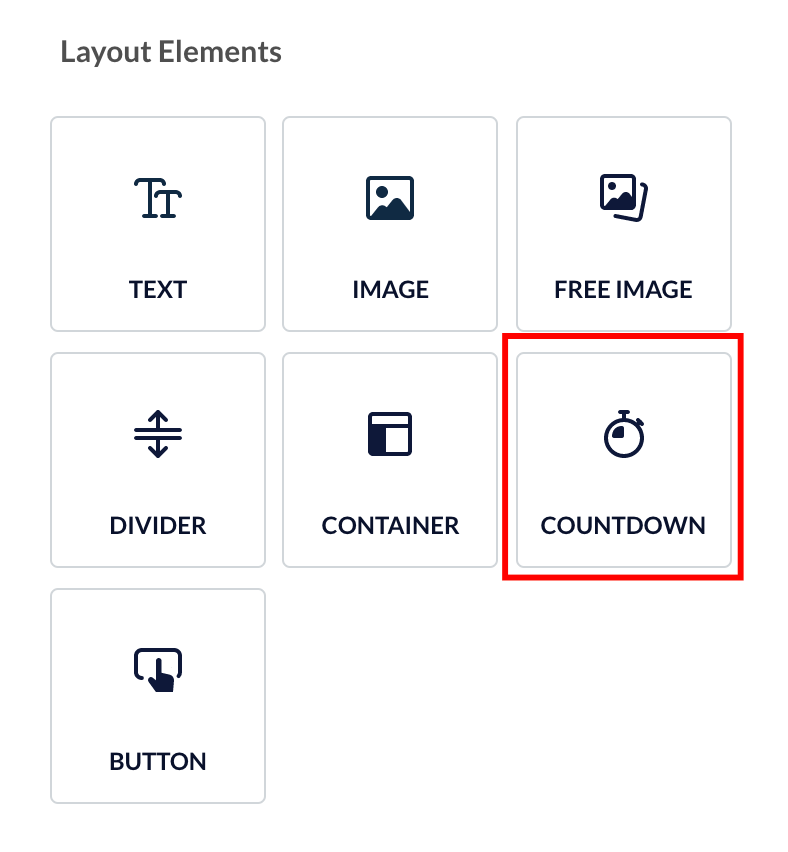 Then, drag-and-drop. I recommended adding the countdown timer to the popup's body.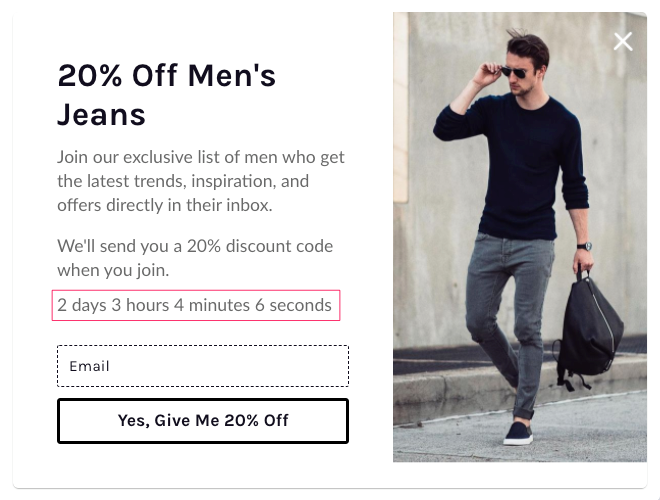 Voila! This Mailchimp popup now has a countdown timer to encourage more visitors to sign up.
Step 7: Personalize the Teaser
After you've put the finishing touches on your popup, it's time to customize the teaser.
If you're unfamiliar, a teaser is a small box that appears on the bottom of a page before a popup is triggered. If a visitor closes the popup, it will go back to its position, but it remains in place for the visitor to reopen it if they change their mind later on.
In other words, they can still sign up for your newsletter at any point, but it doesn't get in the way.
Here's what the default teaser looks like.

Just click on it to make edits.
For instance, I'm going to change the discount from 10% to 20% to match the popup.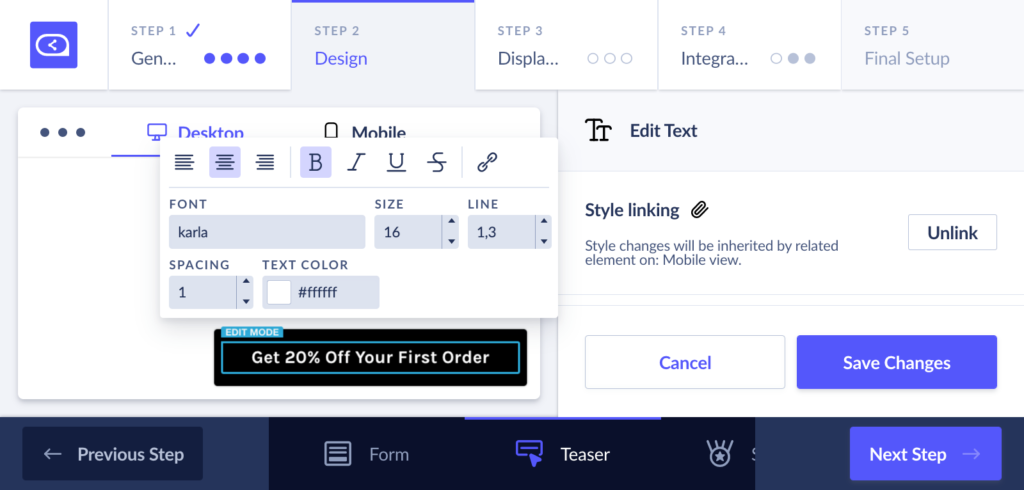 Once you're happy with it, click "Save" and "Next Step."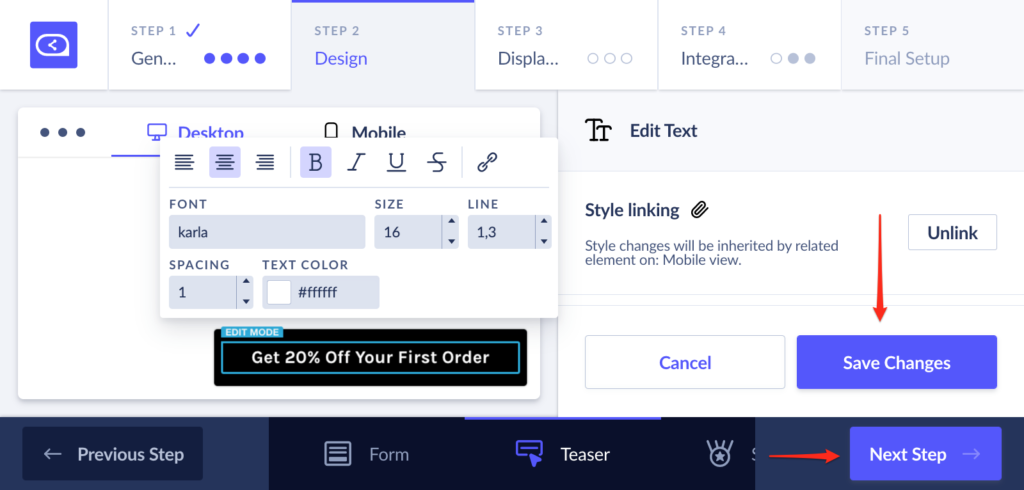 Step 8: Customize the "Success" Box
Now it's time to optimize the "success" box, which is what shoppers see after opting in.
Here's what the default version looks like.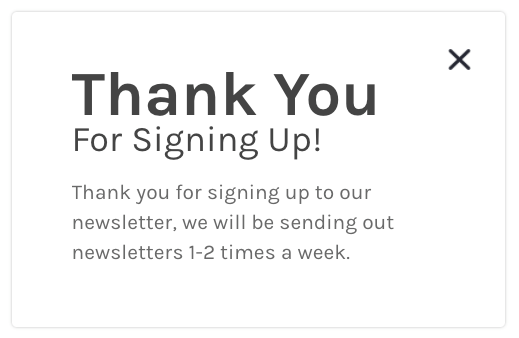 I'll go ahead and let subscribers know that we'll only be sending out newsletters once a week by changing this little bit of text.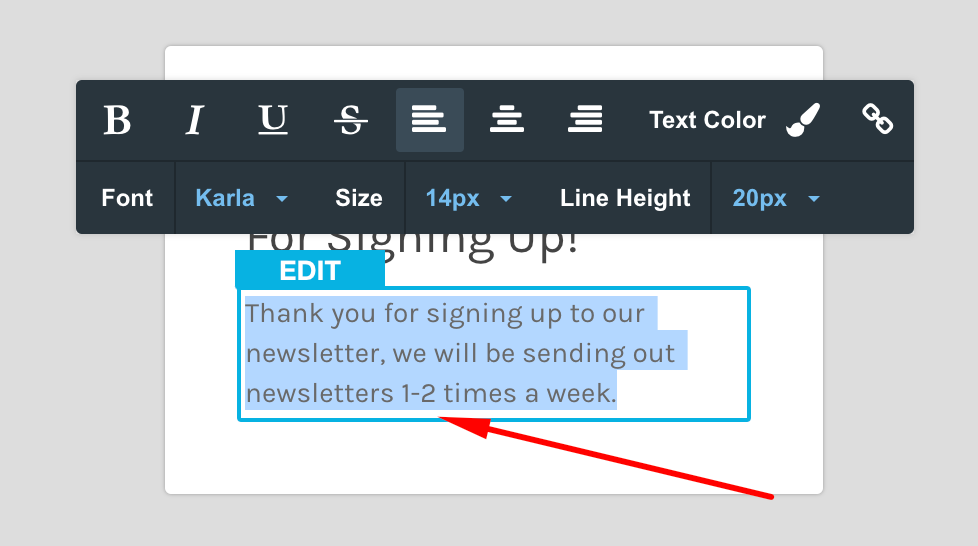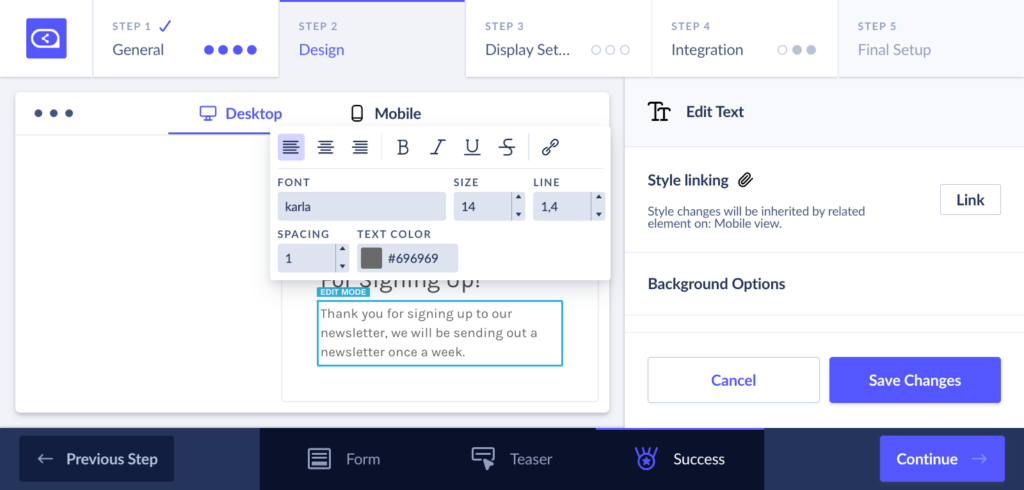 I'll also make the font size slightly bigger, taking it from a 14 font to an 18.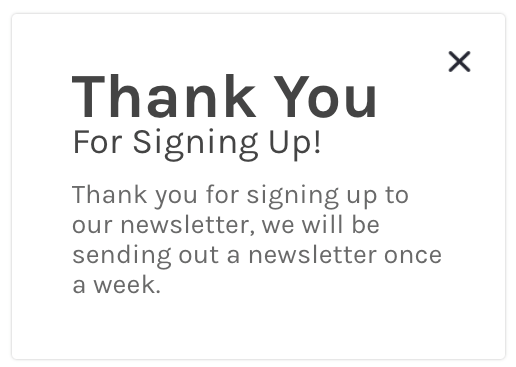 And once you're done, click on "Save Changes" and "Continue."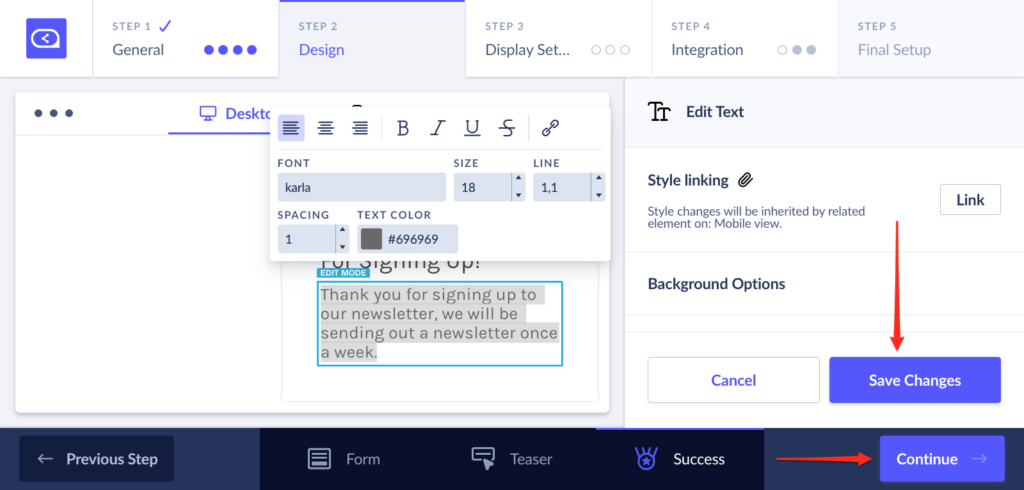 Step 9: Finalize Your Mailchimp Popup
Once you're satisfied with your popup and everything looks good, it's time to wrap things up.
On the Triggers page, you can use targeting rules to target a specific audience, track a specific goal for your campaign, and use advanced options.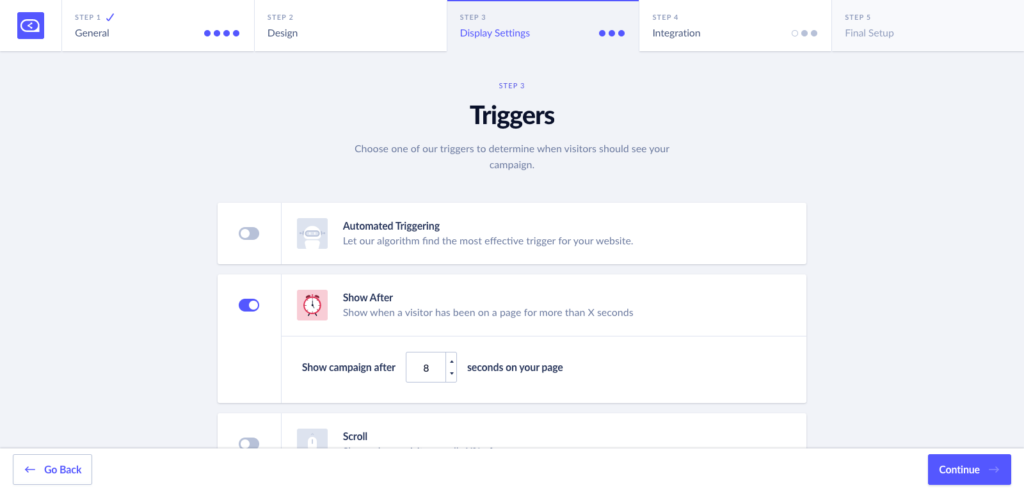 I'll go ahead and choose "Scroll" and leave the percentage scroll as 35 percent, given that's what our research found to be the optimal number.

Click "Continue," and you're all set.
Sleeknote will then give you a list of other conditions, like only displaying the popup for a certain URL, specific geographic locations, after they've viewed a certain number of pages, and so on.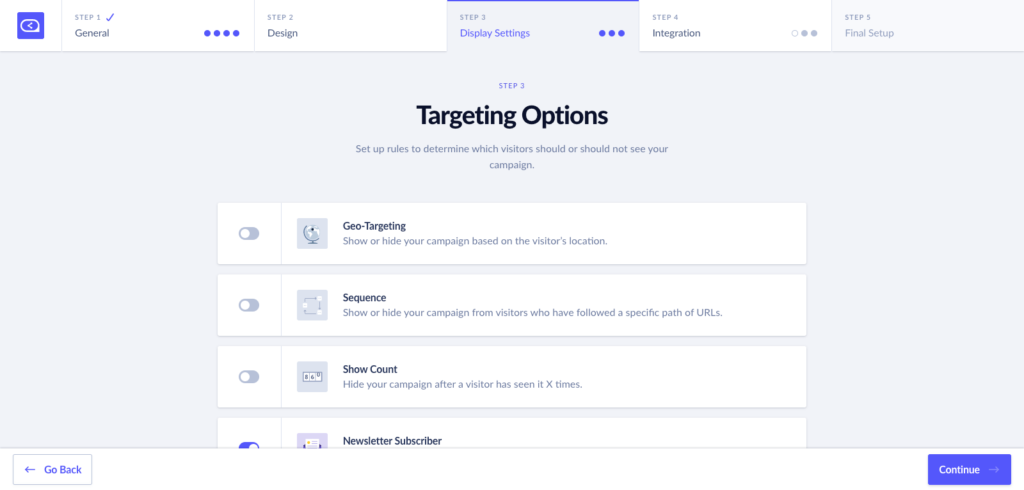 Add the conditions you'd like for total customization. Once you've got it just right, click on "Continue" at the bottom of the page. While these aren't necessary to create a killer Mailchimp popup, they give you a greater control over your campaign.
So if you're feeling frisky and want to experiment with them, you have several different options here. I don't recommend "getting too cute" with these when you're just starting out. But once you've learned the ropes, it's fun to play around with.
Step 10: Integrate Sleeknote with Mailchimp
Last but not least, you need to integrate your popup with Mailchimp.
Here's how to go about that.
Once you do that, this screen will appear. Next, choose Mailchimp (it's the very first option).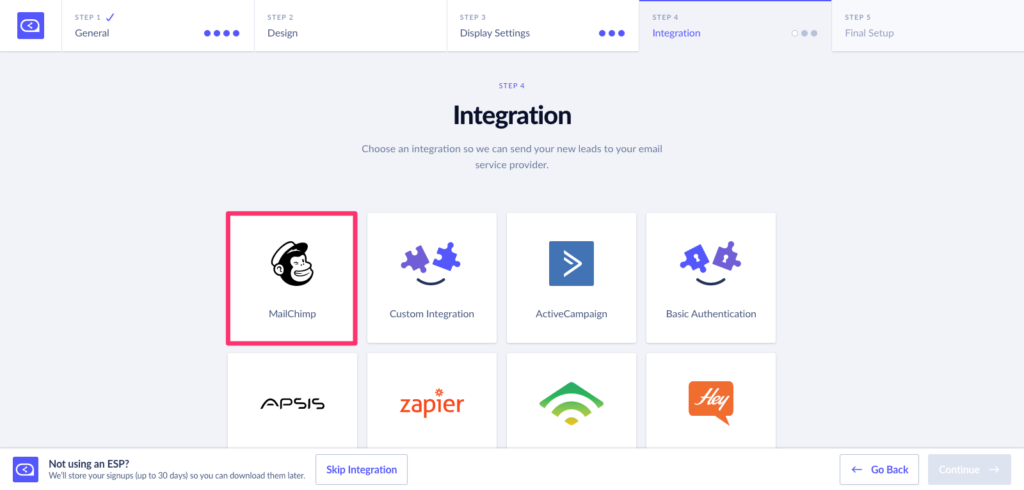 You'll then see this screen asking you to enter your Mailchimp credentials.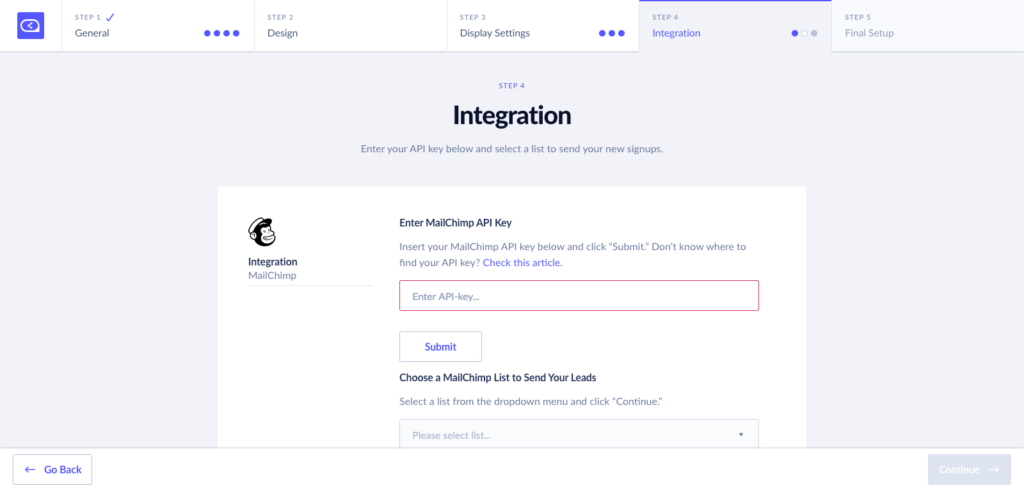 To do this, you'll need to enter your Mailchimp API key. Then, click "Submit." Once submitted, you can then choose a list from the dropdown to send your leads.
If you're unsure what your Mailchimp API is or where to find it, check out this quick tutorial. Once you've done that and put the finishing touches on your campaign, click "Continue."
And that's it!
You've just made an awesome Mailchimp popup that's completely customized for your e-commerce brand.
Conclusion
Mailchimp is one of the most trusted and widely used email marketing platforms out there, with countless companies using it to build their brand.
You can boost your email opt-ins on Mailchimp by using it along with Sleeknote to create an epic popup that instantly grabs your visitors' attention.
Studies have found that using popups like this can increase subscriptions by as much as 114% and leads by as much as 162 percent. And as we've just learned from this guide, making a Mailchimp popup with Sleeknote is pretty straightforward.
It's just a matter of following a few basic steps and modifying the popup until it's just right.
What's the number one goal of your Mailchimp campaign?