Klaviyo is a fast-growing email marketing and SMS marketing platform that places an emphasis on personalization.
It's currently used by over 32,000 companies of all sizes and is instrumental in their growth.
Some of the more notable Klaviyo users include Huckberry, Chubbies, and Blenders Eyewear.
This platform also offers over 70 pre-built, one-click integrations—one of which being Sleeknote.
You can use Sleeknote to make an epic email popup that instantly piques the interest of e-commerce shoppers and makes them want to sign up for your newsletter.
And that's exactly what I'm going to go over in this guide.
Here's how to make a Klaviyo popup with Sleeknote that shoppers just can't resist.
Table of Contents
Step 1: Launch a Klaviyo Campaign
The first thing you'll need to do is create a Klaviyo campaign from your Sleeknote dashboard.
This is really easy to do. Just click "Create New Campaign" in the top left-hand corner.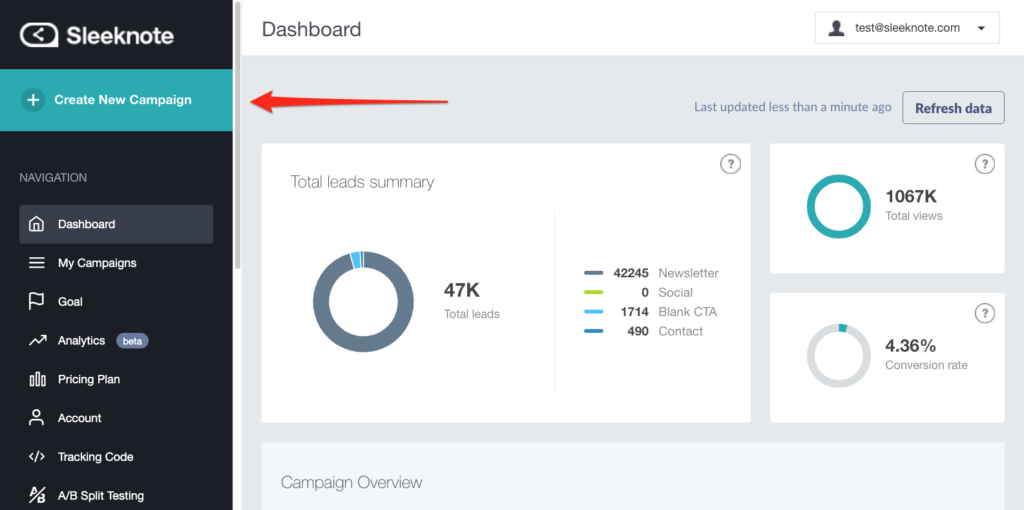 Sleeknote will then ask you what website you want to use the campaign for.
Enter the URL of your website, and click "Use this website."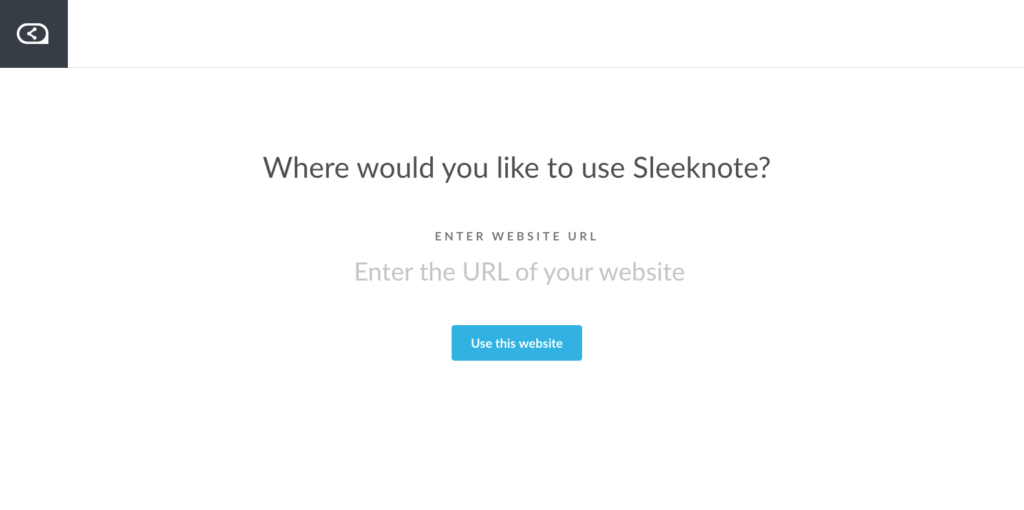 After doing that, you'll be prompted with this screen asking what you would like to use Sleeknote for.
We're learning how to make a Klaviyo popup to increase opt-ins to gain more newsletter subscribers, so click on "Collect Email Addresses" on the left.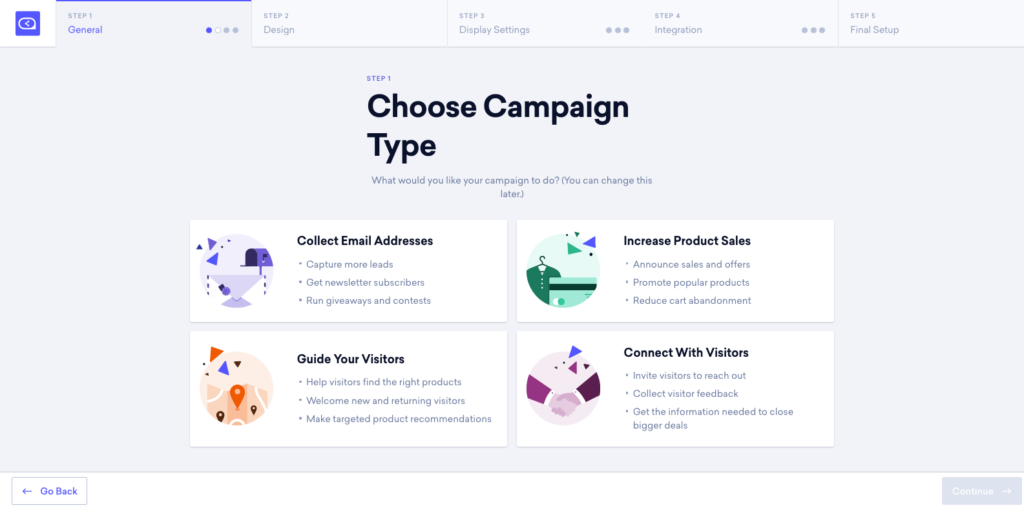 Step 2: Pick a Position for Your Klaviyo Popup
At this point, Sleeknote will ask where you want your popup to be located.
You have three choices, bottom left, center, and bottom right.
I'll go with the "Slide-In; Bottom Right" for this example.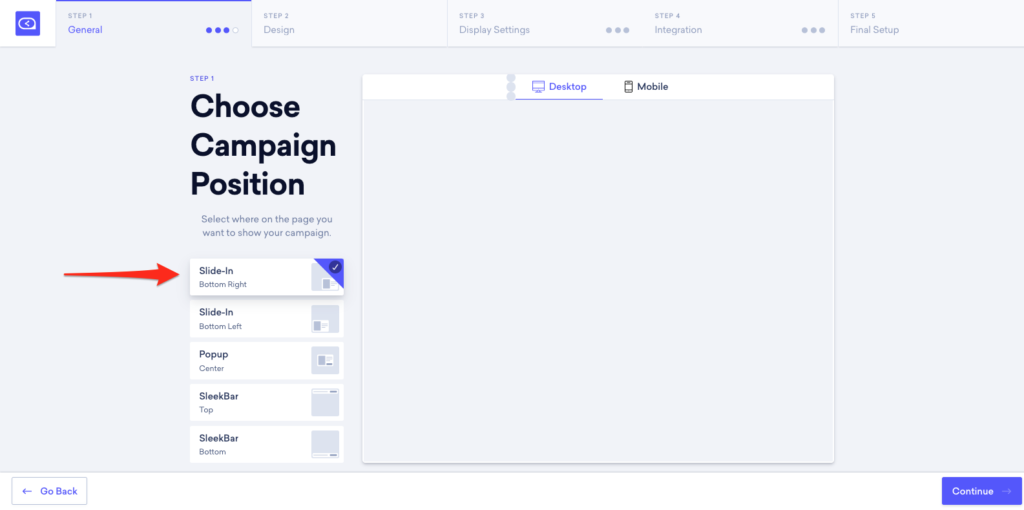 Click on that, and then choose "Continue."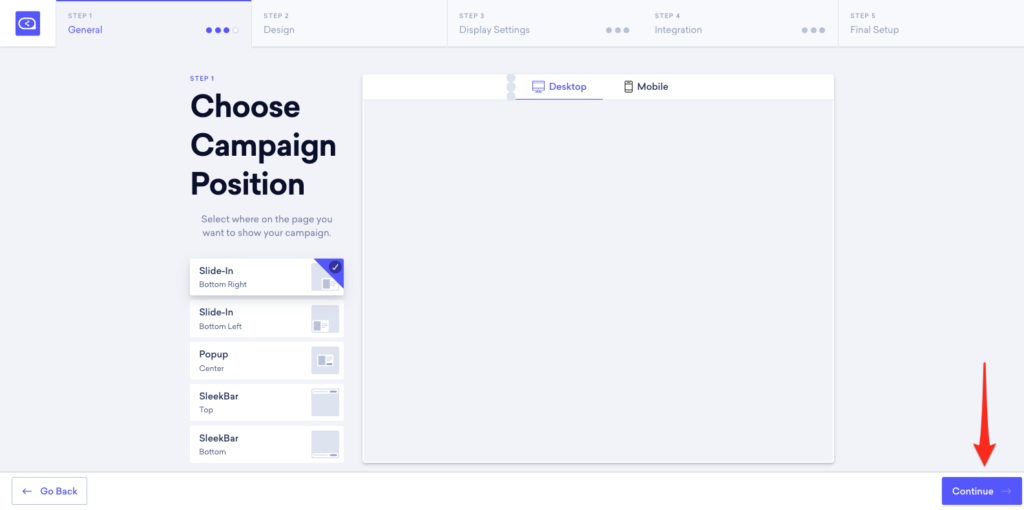 Boom! Now we're ready to get into the fun part.
Step 3: Choose a Template
One of the main reasons people love Sleeknote and Klaviyo is the level of personalization both platforms offer.
This is huge given that 80% of digital shoppers say they are more likely to buy from a business if they offer personalized experiences, with 90% of them finding personalization appealing.
And when e-commerce brands go all-in with their personalization, fully tailoring their campaign to individual shoppers, they see an average return of $20 for every $1 invested.
The numbers speak for themselves.
With Sleeknote, you can choose from over 50 different email templates to create a rock-solid Klayviyo popup that hits all the right notes.
Here's what I'm talking about.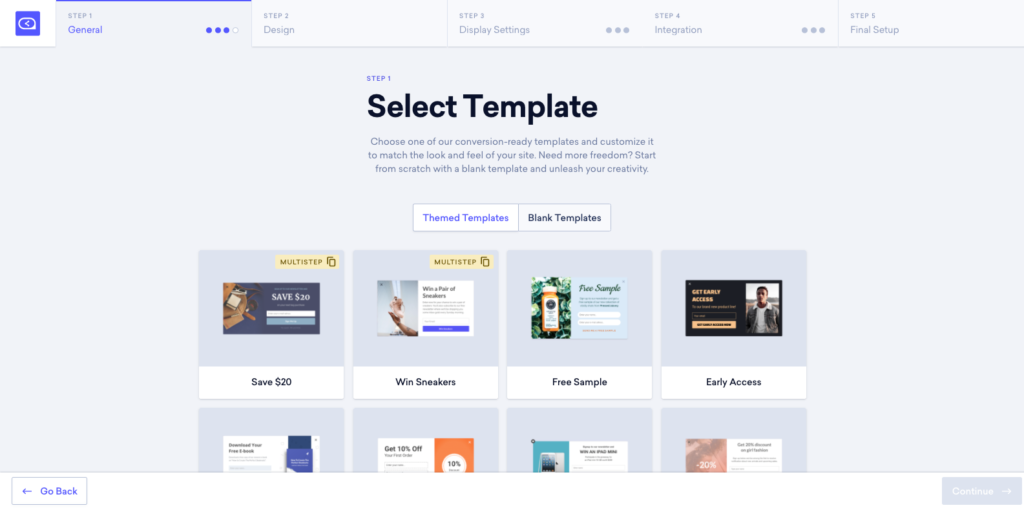 Scroll through the list to find a template you think would appeal to your audience.
Most templates are single-step. Some are multistep. And some are blank, which allows you to build a template from the ground up.
For this example of how to make a Klaviyo popup, I'll go with the "Product Giveaway" theme, whereby signing up to your newsletter a subscriber is entered into a contest to receive a free product.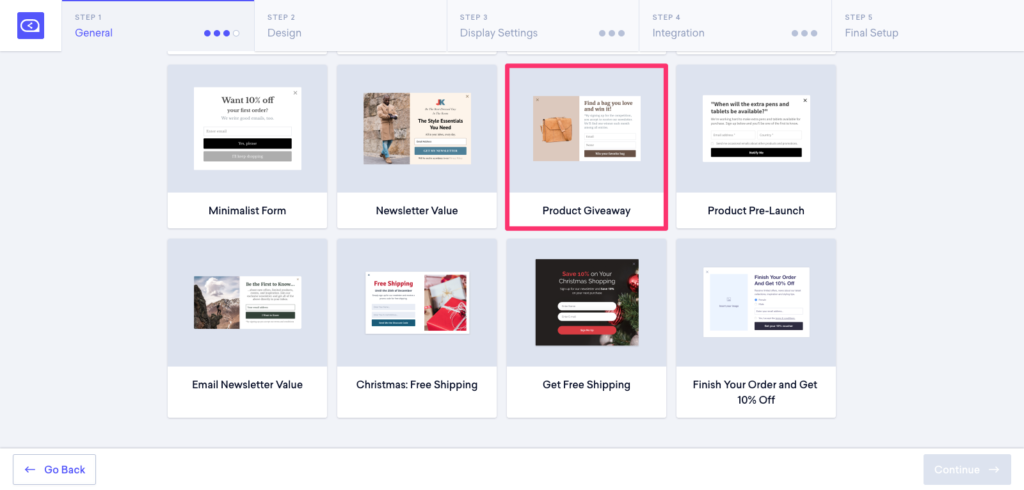 Step 4: Start Customizing Your Klaviyo Popup
When I said earlier that Sleeknote lets you personalize your campaign, I wasn't kidding.
You can edit or change every single aspect of your Klaviyo popup so that it's exactly to your liking.
Or, if you want to keep most of the elements the same as in the default version, you can do that too. It's completely up to you.
Let me walk you through the process step-by-step.
Here's what the pre-built template looks like in default mode.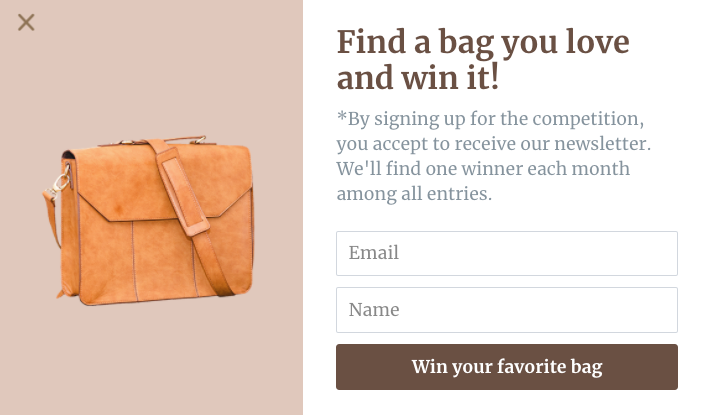 To make your edits, there are three form steps you can use throughout the process—"Edit," "Layout," and "Add elements," which you'll see here.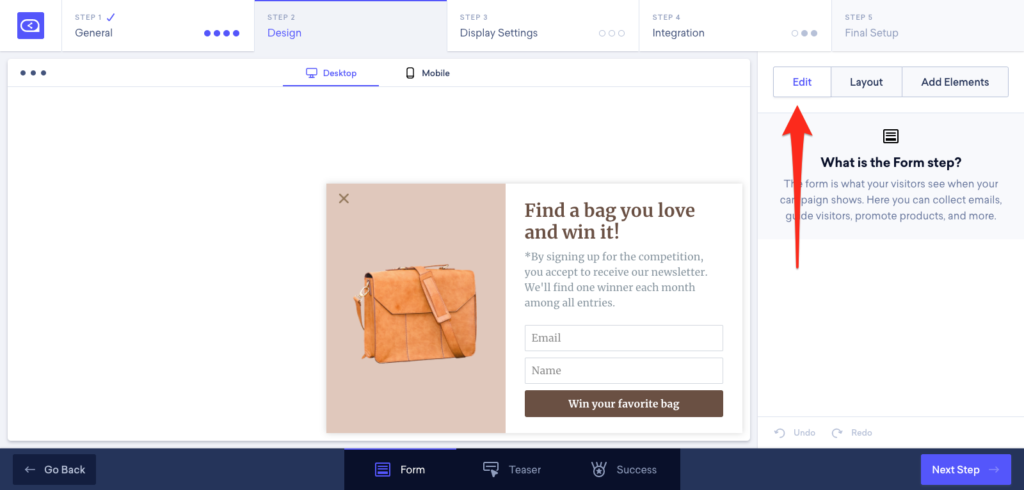 I'll start in "Edit" mode.
Using it is insanely simple. Just click on whatever element you'd like to change in your Klaviyo popup.
I'd like to have a different color for the background, so I'll click on this element.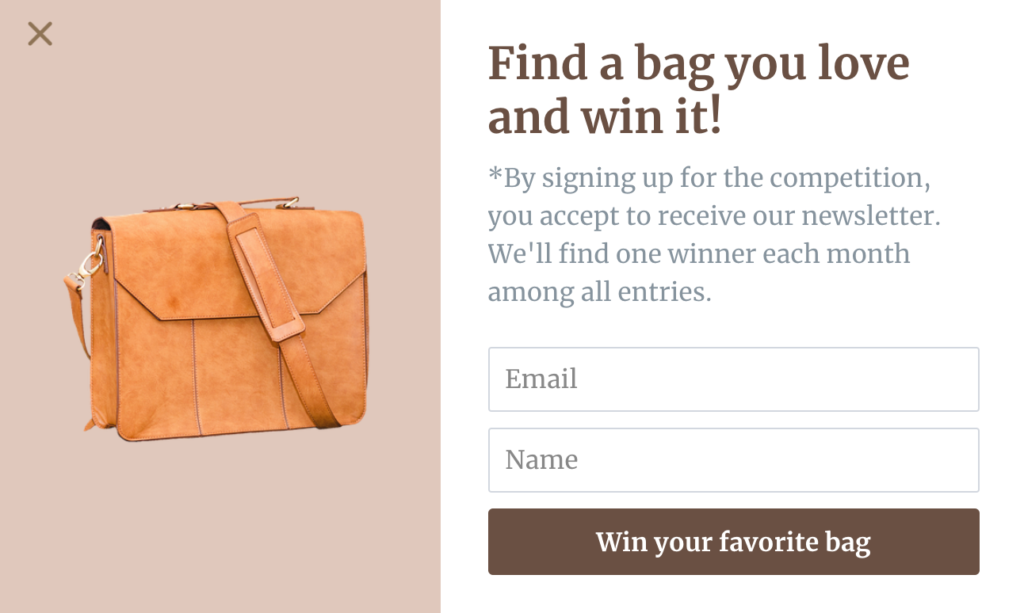 Then, I'm in edit mode.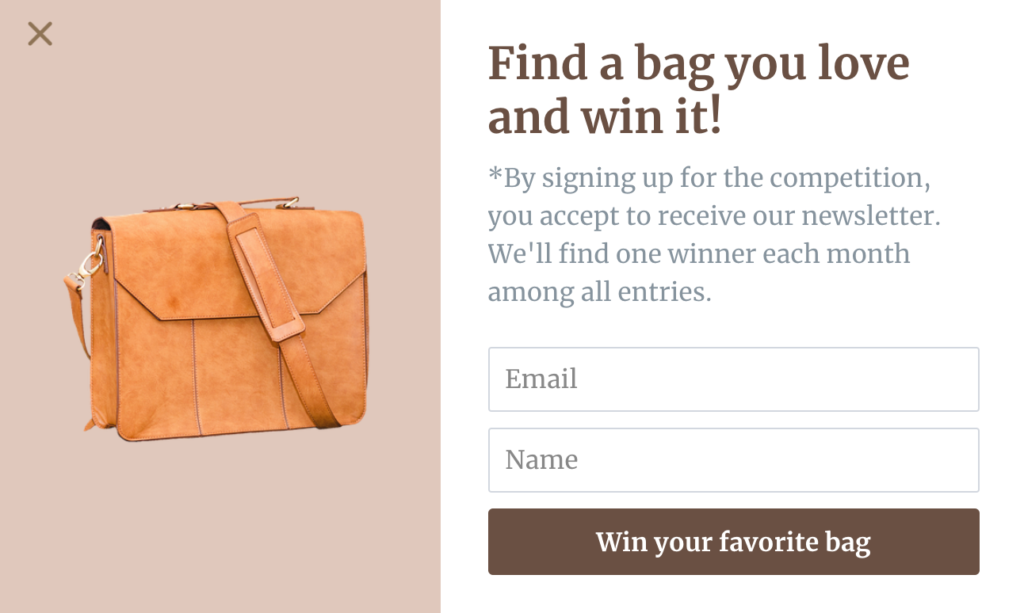 All I have to do is switch up the background color here.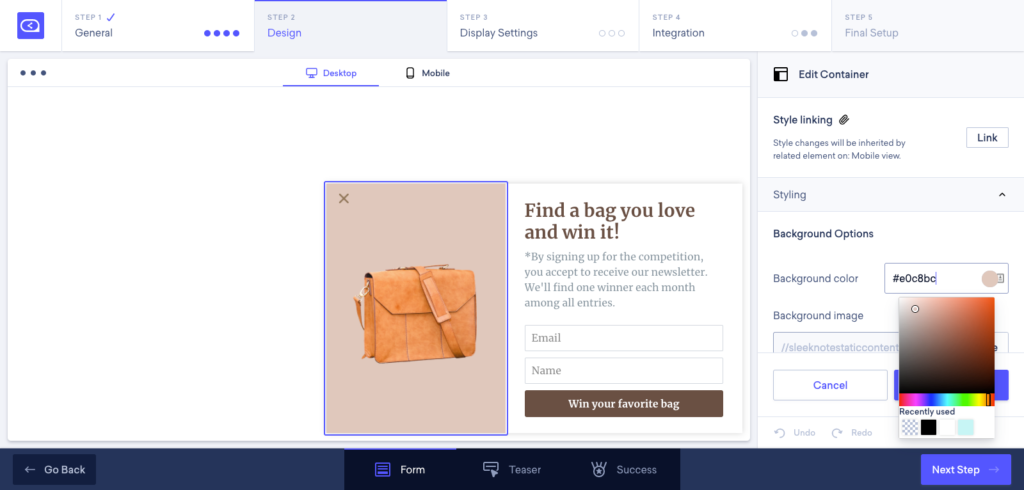 I think I'll go with this light green color.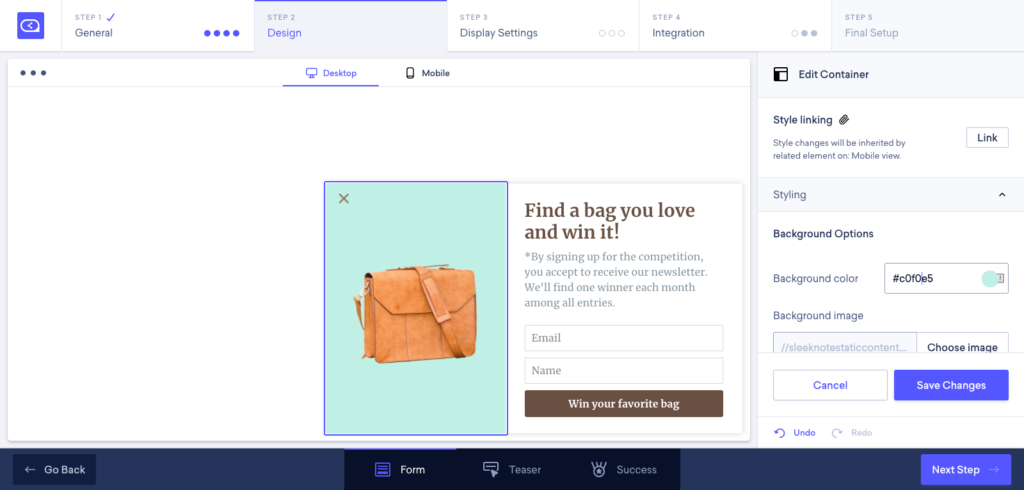 Click "Save" and you're all set.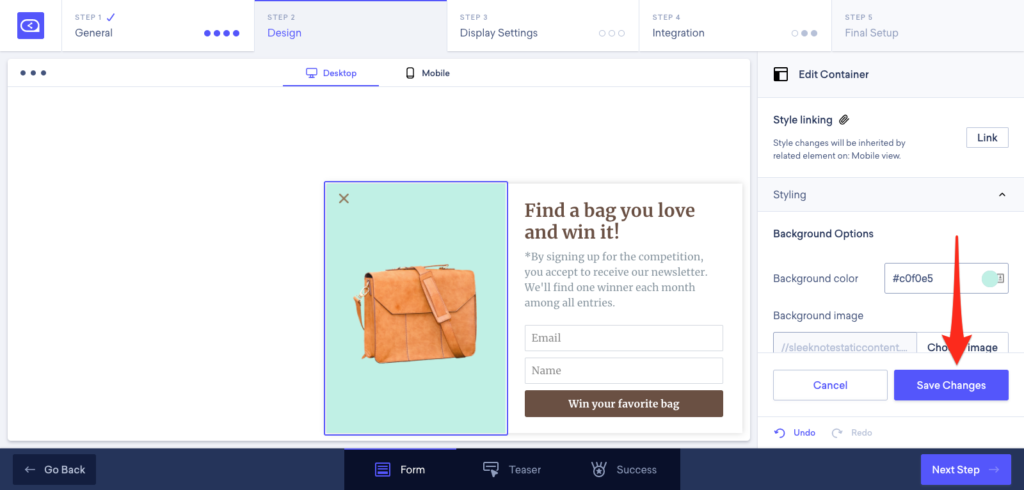 The background color of this Klaviyo Popup went from looking like this…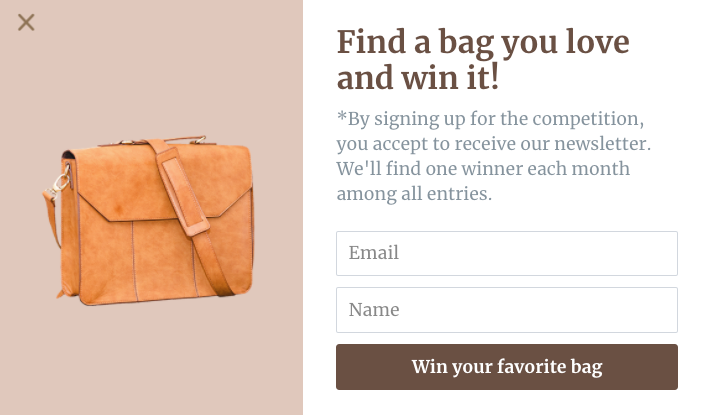 …to this.
Nice!
Just follow the same steps to tweak any other elements of the popup, including the header…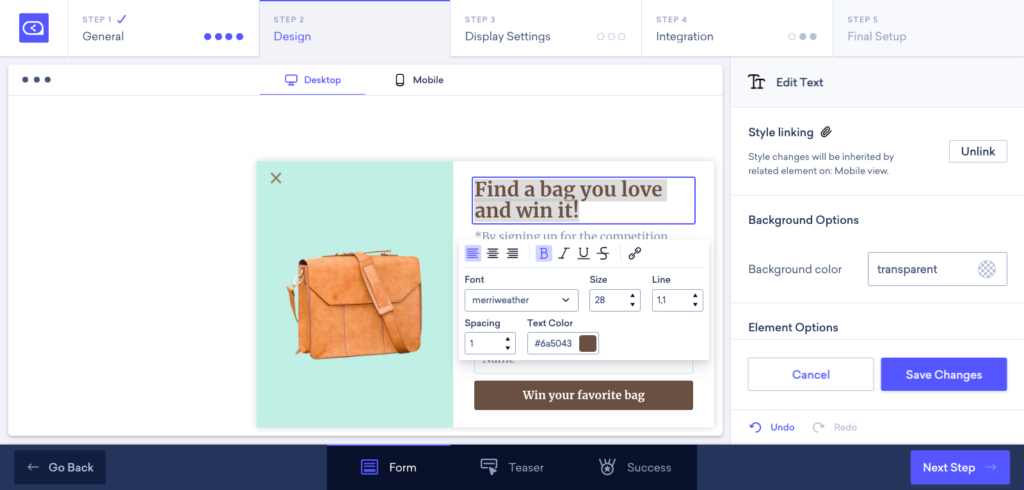 …the text…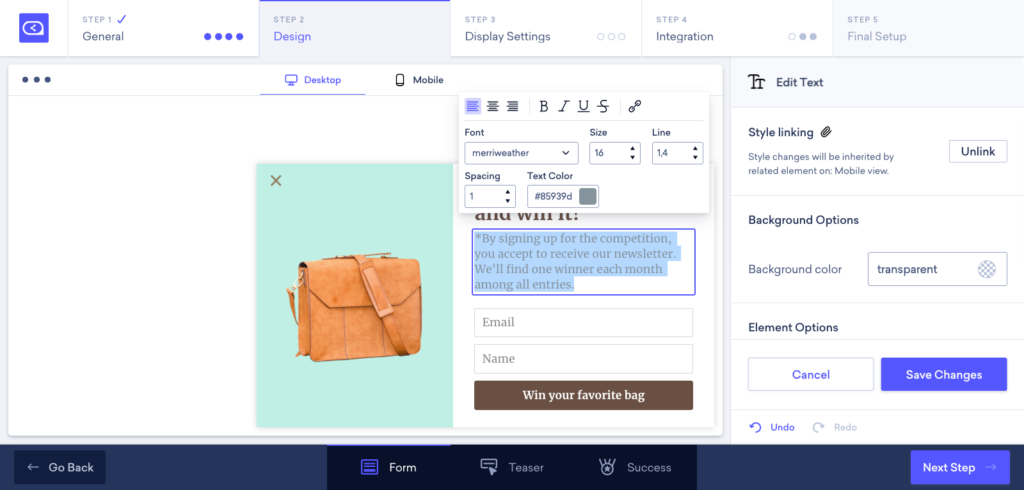 …the email and name box…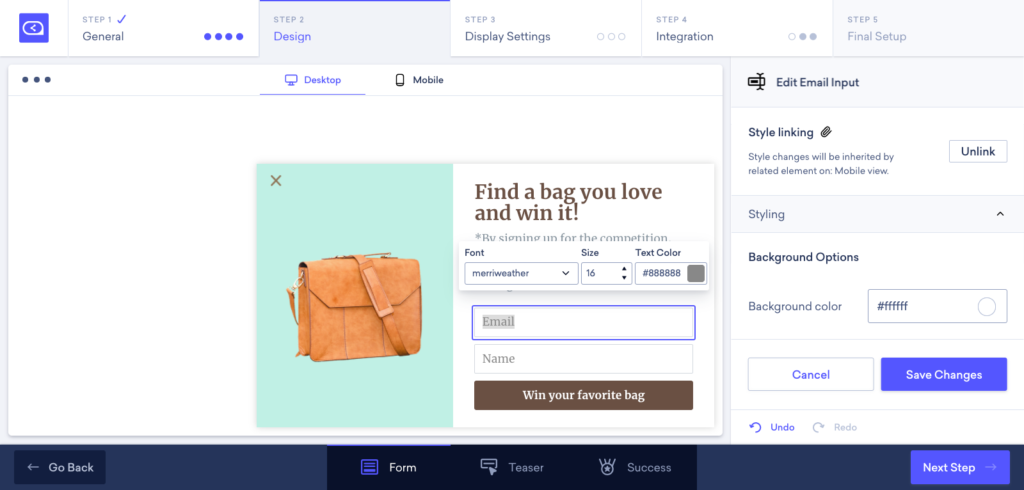 …the CTA…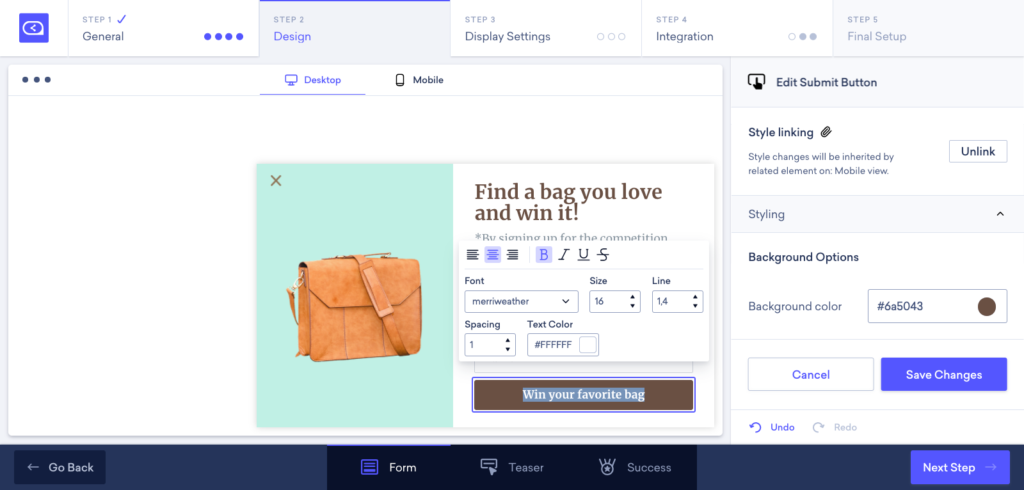 You can even edit the close button if you'd like.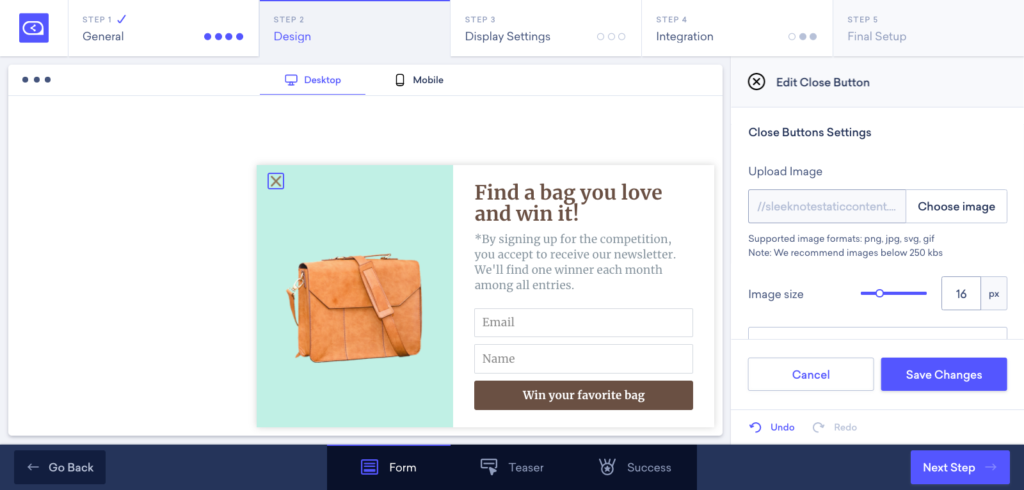 The next form step is "Layout" which is located here.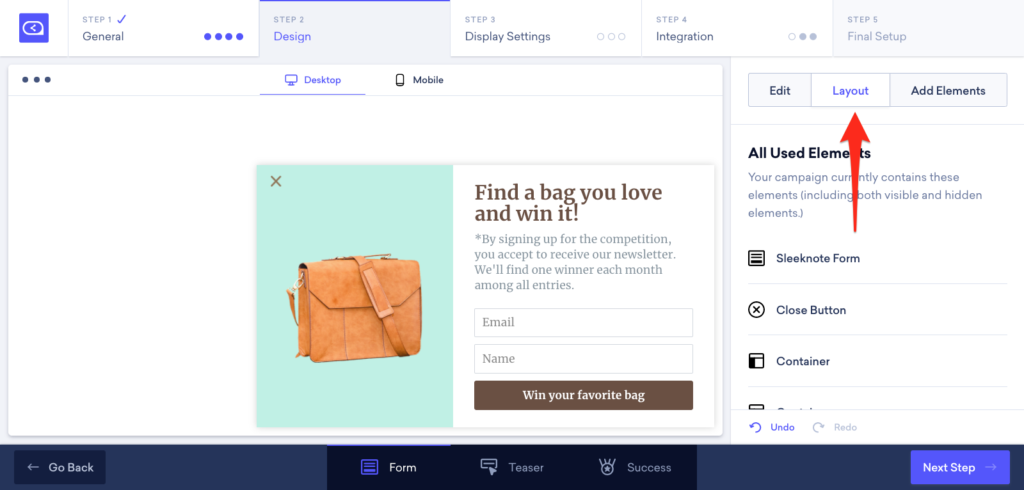 This provides you with an overview of all the elements that are present in your campaign for quick reference.
It essentially allows you to do the exact same thing as you would in "Edit" mode but offers another way of accessing the elements.
For instance, if you wanted to modify the CTA, you would click on "Next Step."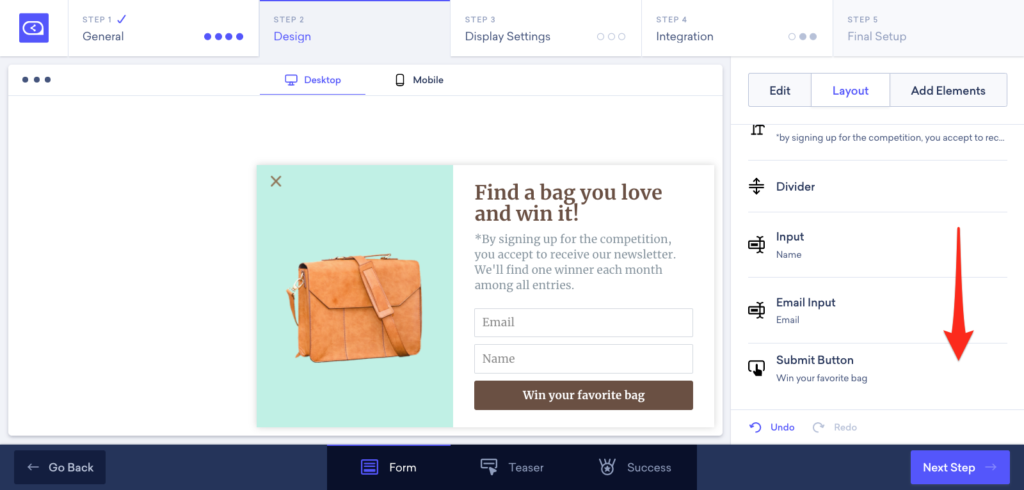 Then, you can change the text, the font, the CTA background color, and so on.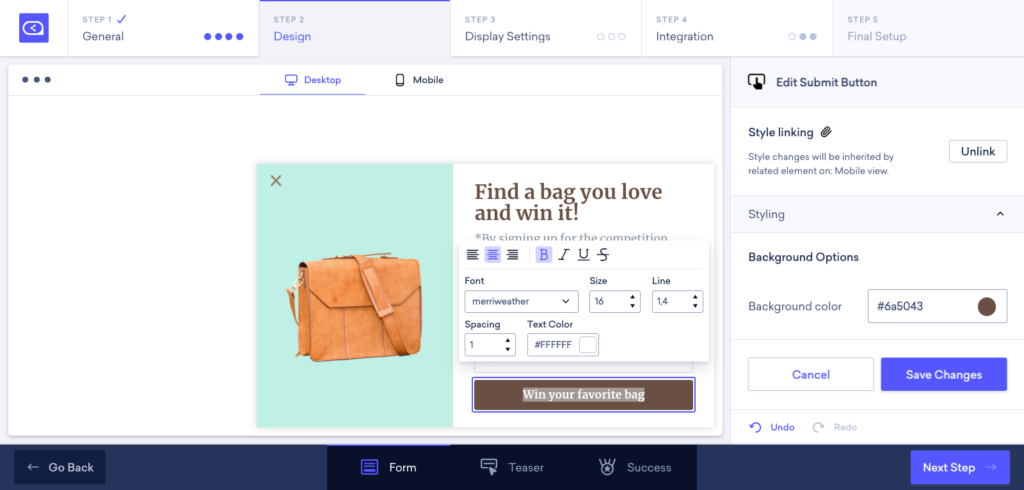 I'll change the text slightly, as well as the background color.
I'll say "Win an epic bag!"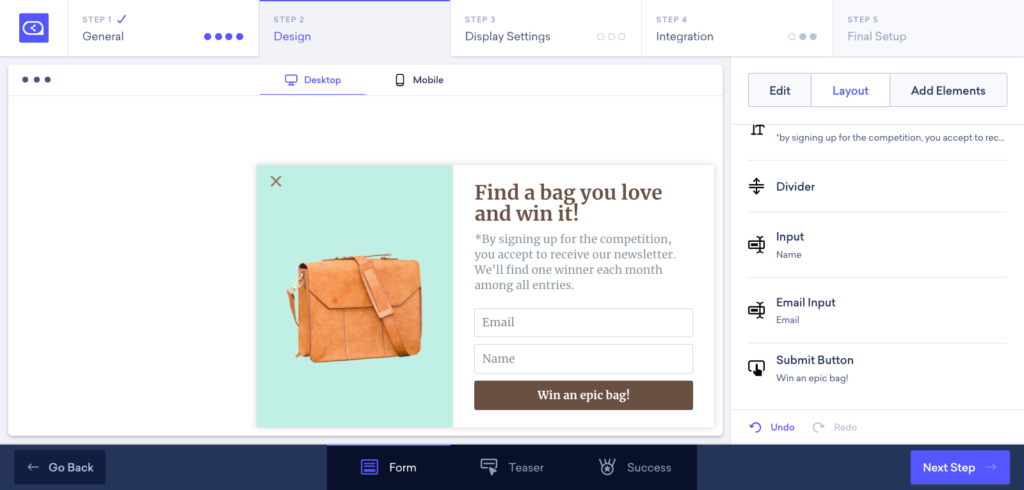 Then, I'll change the background color to a light orange.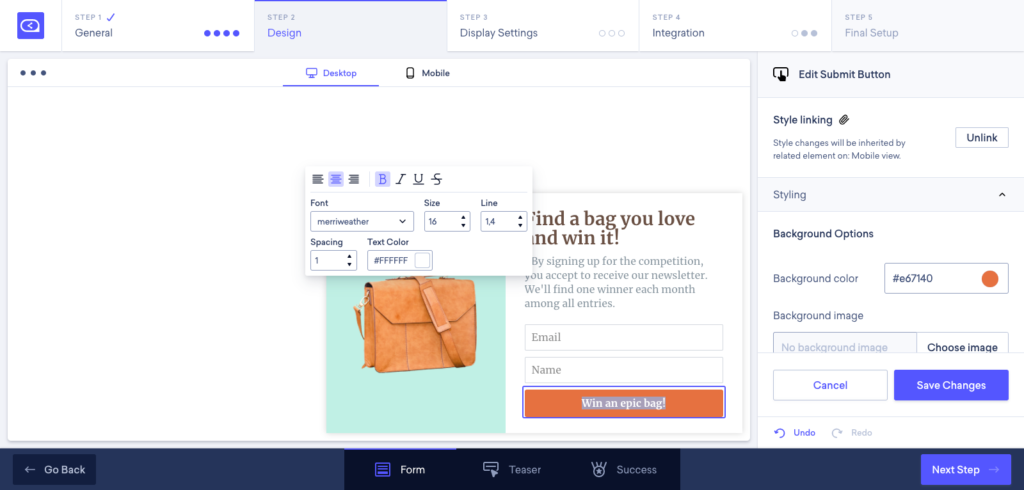 So with just a little bit of tinkering, the CTA went from looking like this…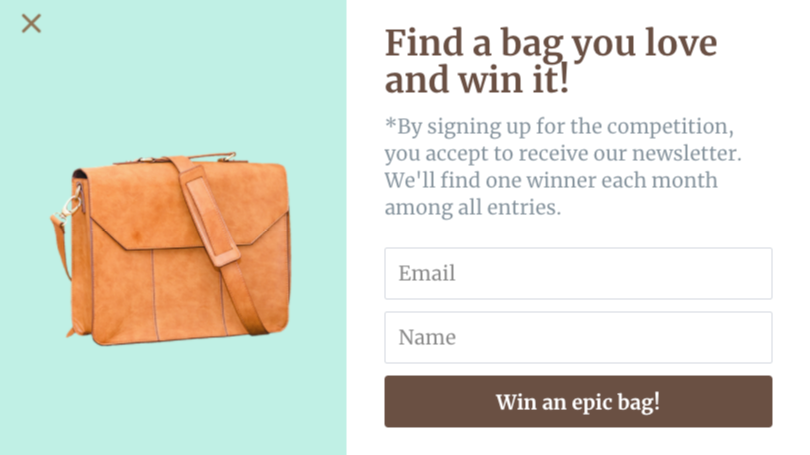 …to this.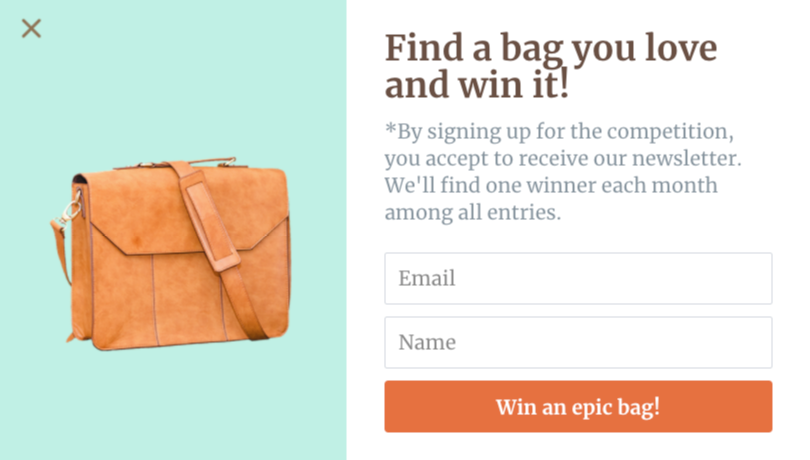 The third and final form step is "Add elements" right here.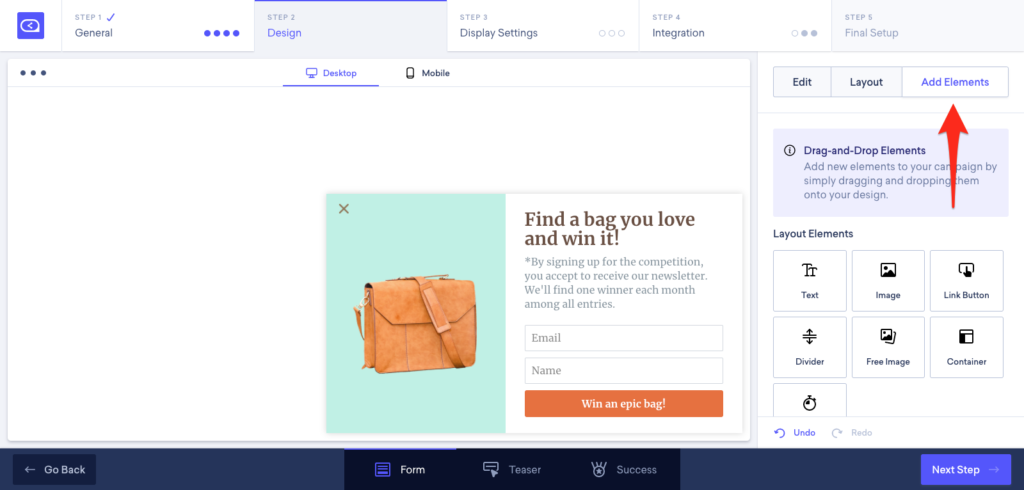 As its name implies, you can quickly add new elements to your Klaviyo popup.
Just grab whatever you want and drag-and-drop into place.
There are several different elements you can add, including layout elements, form elements, and 3rd party apps.
So, I suggest doing some tinkering to see how to best optimize your Klaviyo popup.
Step 5: Create Your Klaviyo Popup Teaser
Now it's time to move onto the teaser, which can be found on the bottom of your dashboard here.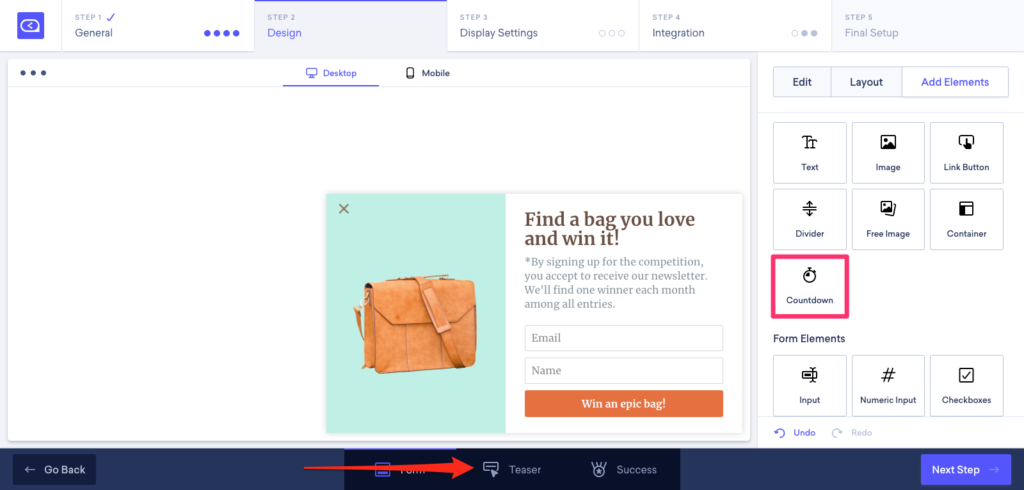 The teaser is a small box that appears at the bottom of the screen.
Whenever a shopper clicks on it, the full popup appears so they can see your offer.
That way they can easily sign up to your newsletter at any point during the shopping journey.
But they can also close the popup so that it doesn't take up excessive real estate, ensuring an uncluttered, non-obtrusive shopping experience—something that's especially important for mobile users.
Here's what the default version of the teaser looks like for this popup.

And just like everything else from Sleeknote, you can fully customize it to meet your exact preferences.
So that it matches the CTA of the popup, I'll go ahead and make two changes.
I'll change the wording to "Win an epic bag!"

And I'll change the background color to the same shade of light orange.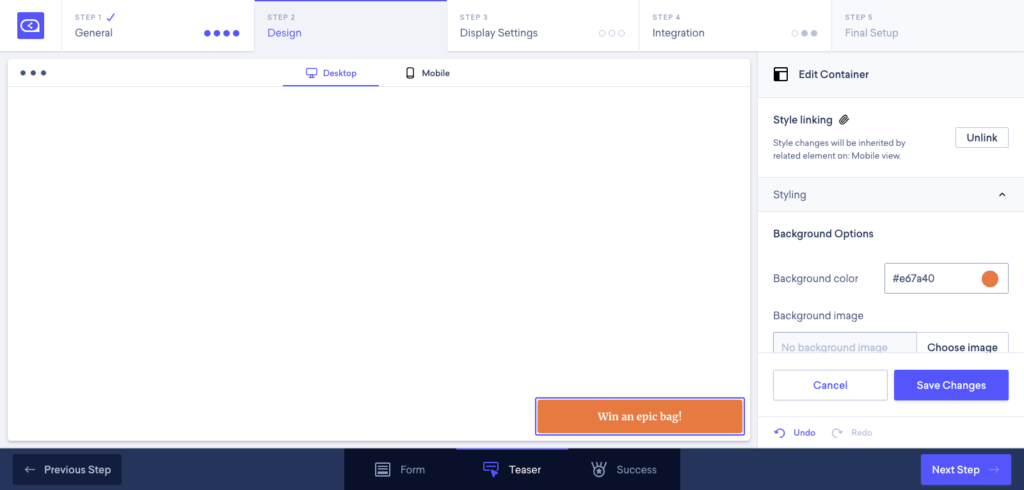 Presto! It goes from looking like this…

…to this.

Step 6: Personalize the "Success Step"
We're getting close to completing the Klaviyo popup.
There's just one more thing to do from the design end, and that's to edit the "success step" where you share important information with new subscribers and let them know what they need to do next.
You'll find this at the bottom of the screen right here.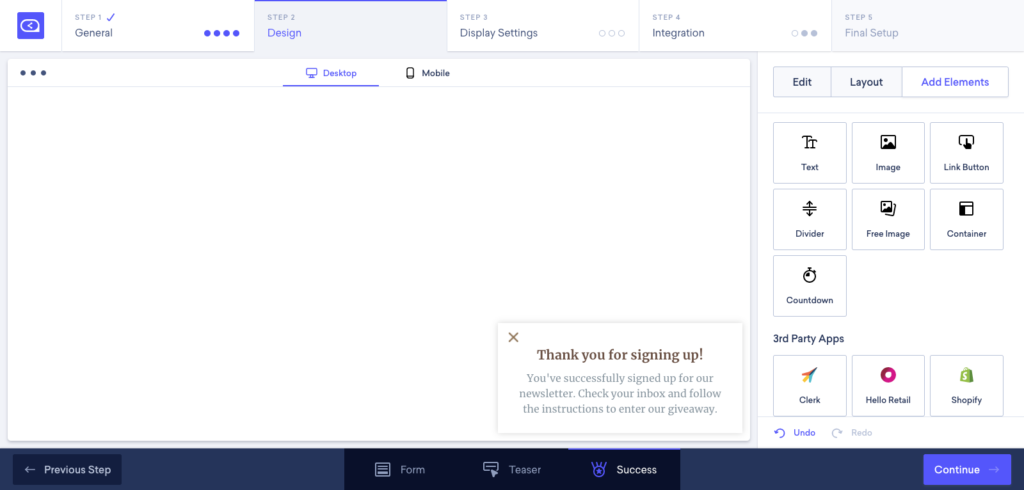 Here's what the default version looks like for this theme.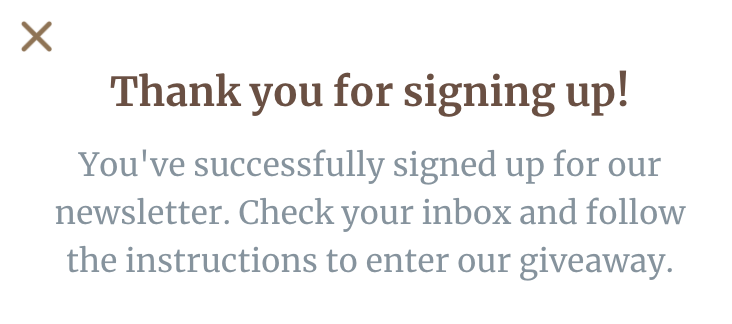 Overall, I like how the default looks, so I'm not going to make any major changes.
But I will switch up the color so that it matches the background of the Klaviyo popup.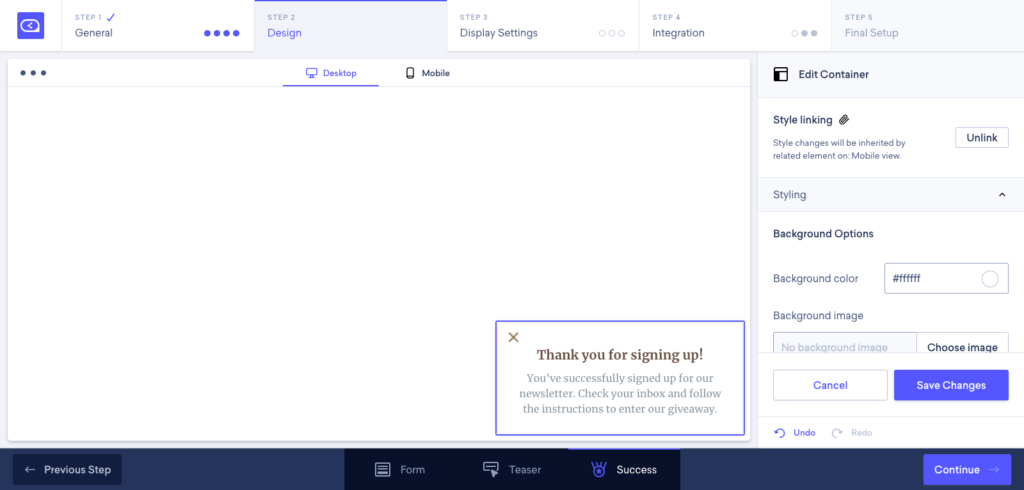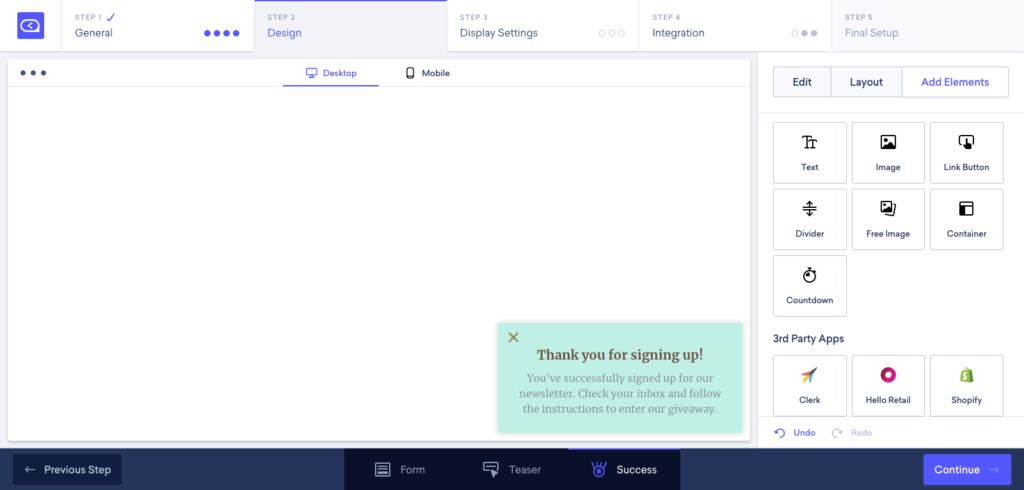 So it goes from looking like this…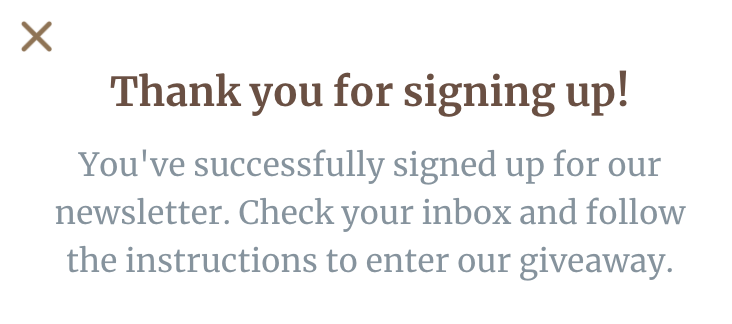 …to this.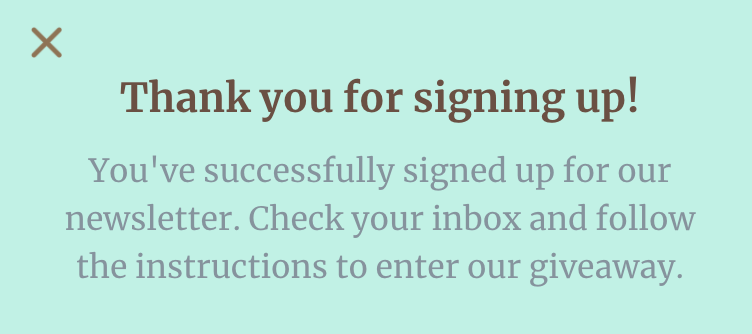 You can change up any other elements you need, including the header, text, and close button.
Or, if you want to skip the success step altogether, you can do so by clicking on "Success Actions" here…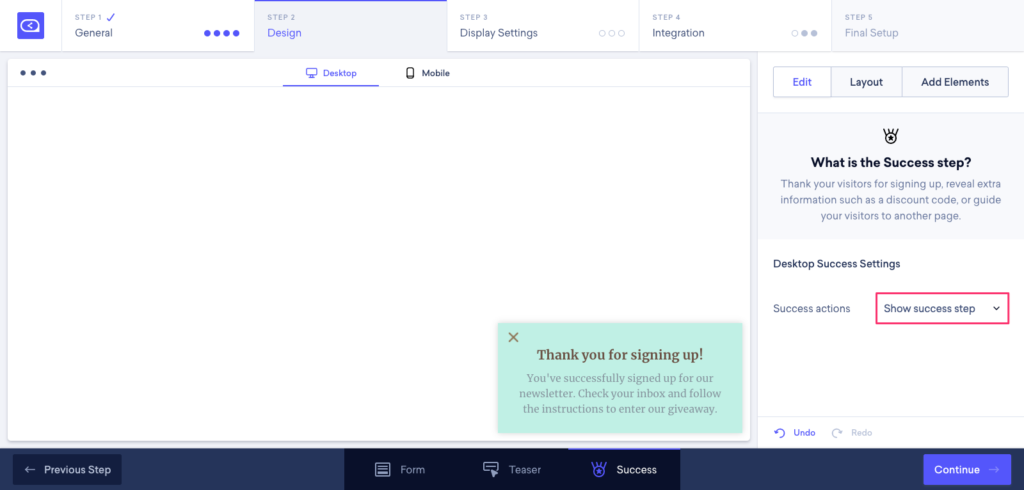 …and then clicking "Just hide success step."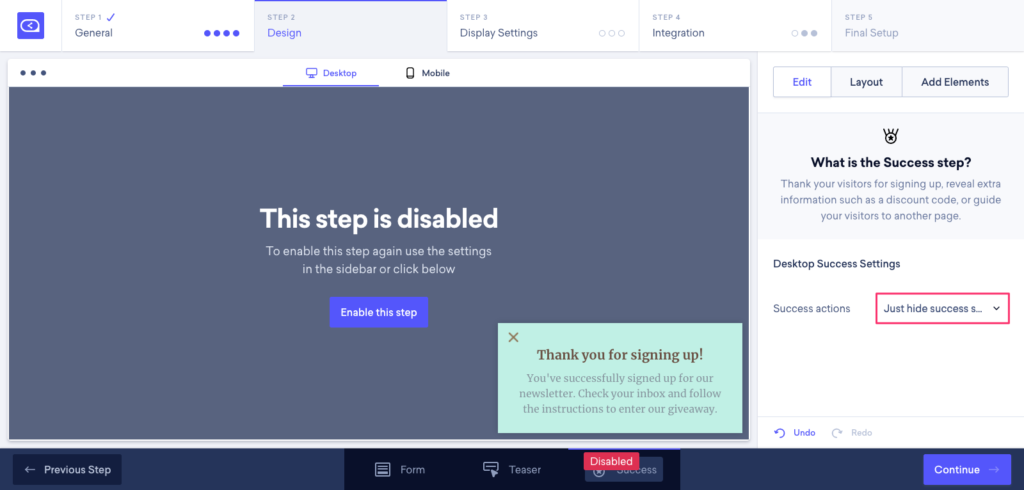 Step 7: Finish Up Your Campaign
Once you're satisfied with your Klaviyo popup—the form, teaser, and success step—click "Continue" at the bottom right-hand corner to start wrapping things up.
Then, you can edit your targeting rules to ensure your Klaviyo popup is shown to the right audience.
You can see the default settings here.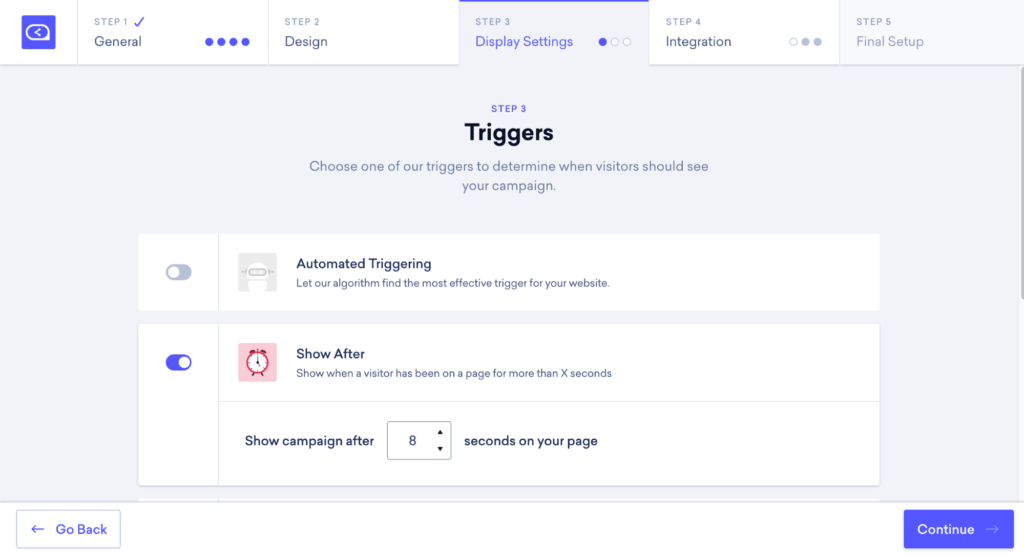 Decide who you want to target in your campaign under the section called " Target a Specific Audience with Targeting Rules."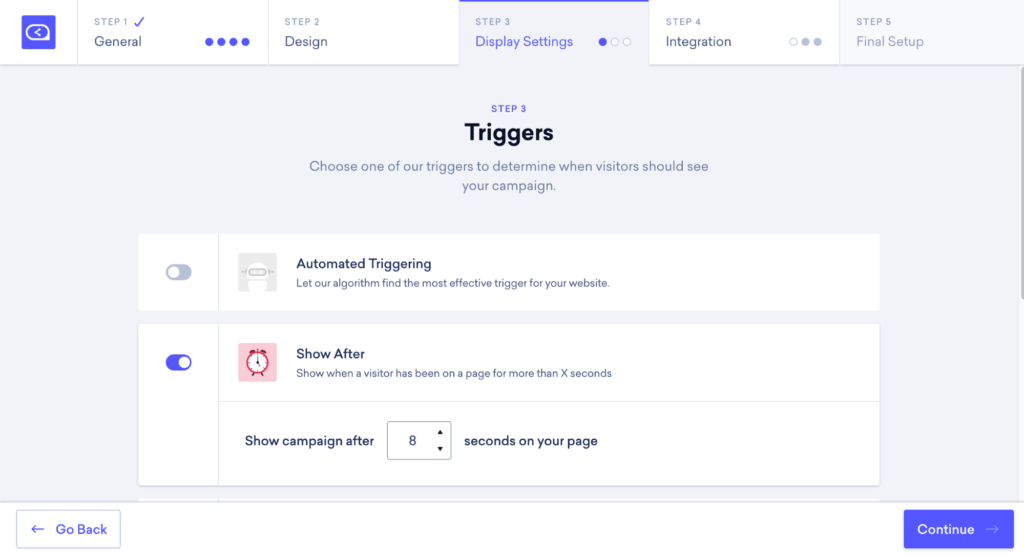 Then, select which pages you want to show your campaign on…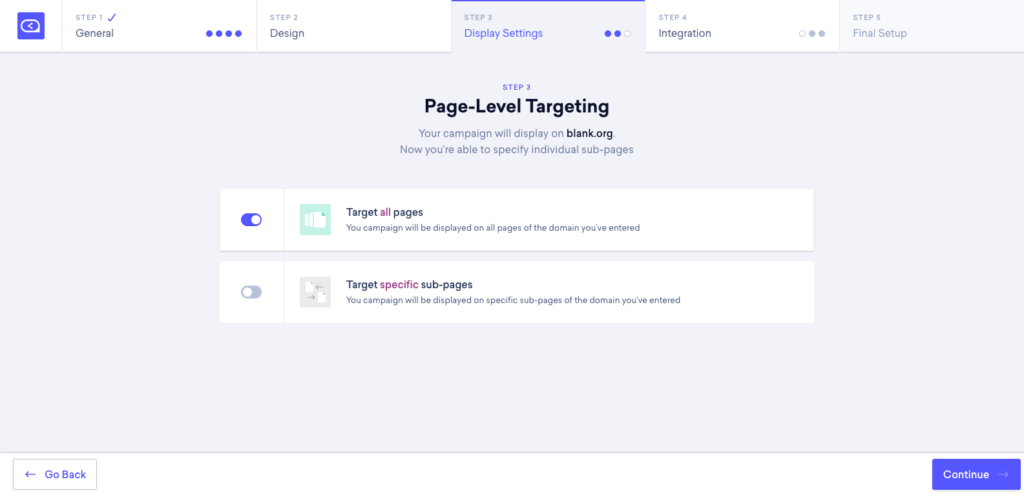 …and which targeting options you want to apply.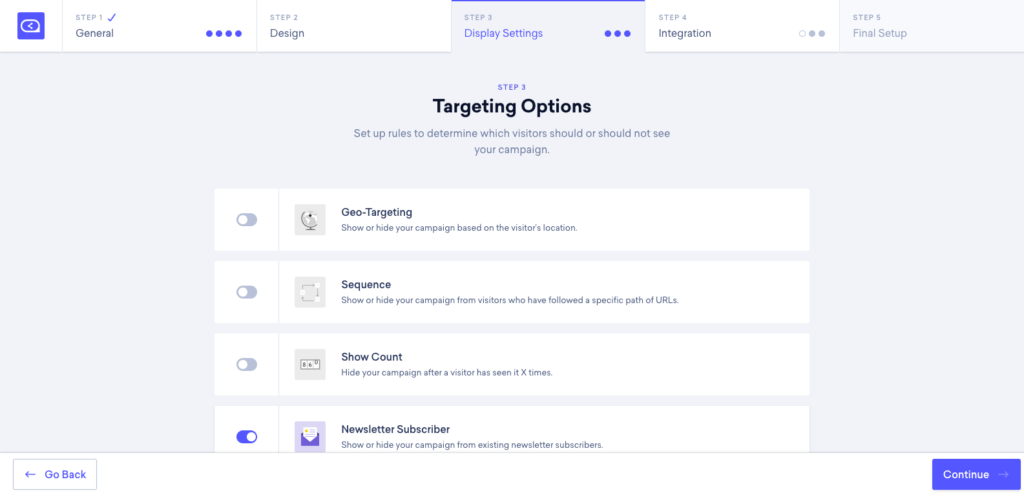 For example, with targeting, you might want to wait until a shopper has viewed a certain number of pages or scrolled down a certain percentage of your site before the popup appears.
Here are a few options to consider.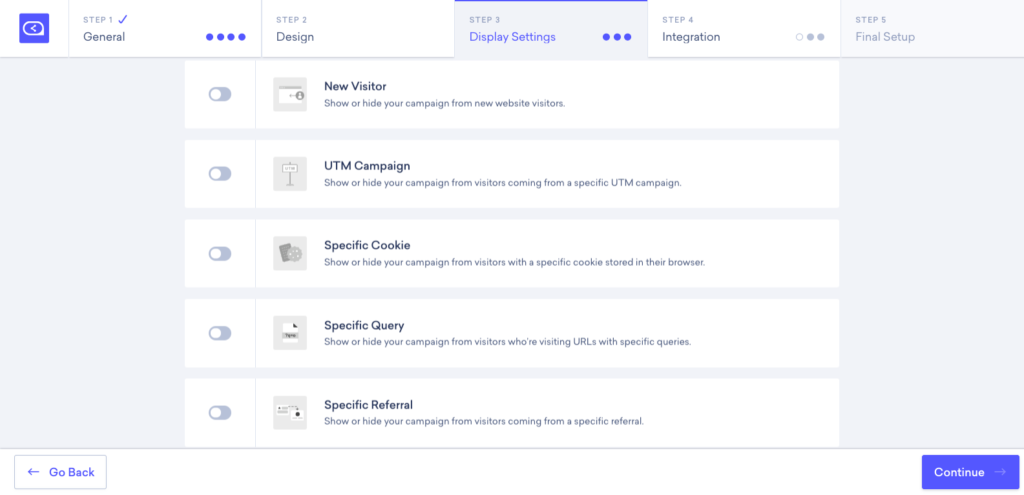 Once you're happy with everything, click "Save Condition," and you're all set.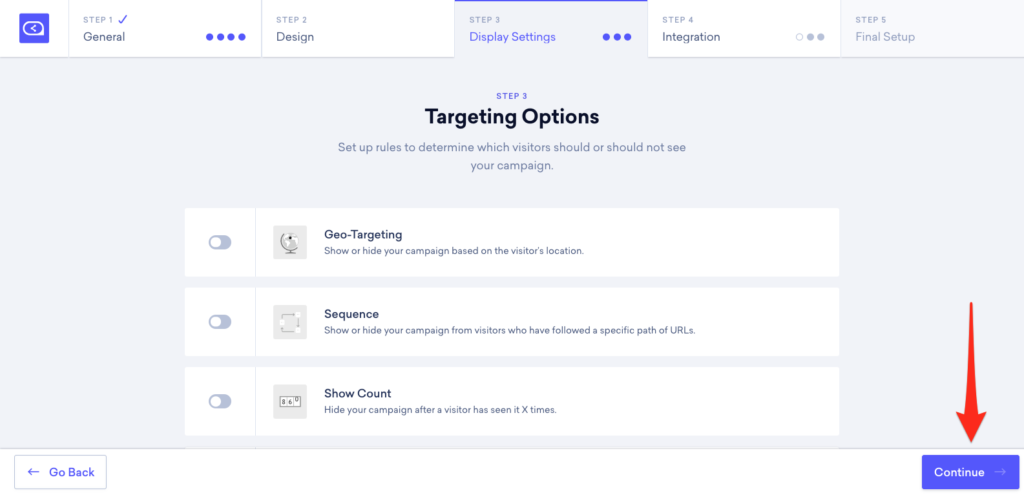 I don't suggest using these right off the bat if you're just starting out as it can be a little overwhelming.
But if you want to get techy later on, it can be fun to experiment with.
Step 8: Integrate Sleeknote with Klaviyo
Since the whole purpose of this tutorial is to learn how to make a Klaviyo popup, there's one important step you need to complete.
And that's to actually integrate Sleeknote with this platform.
It's easy to do. Just click "Set Up Integration."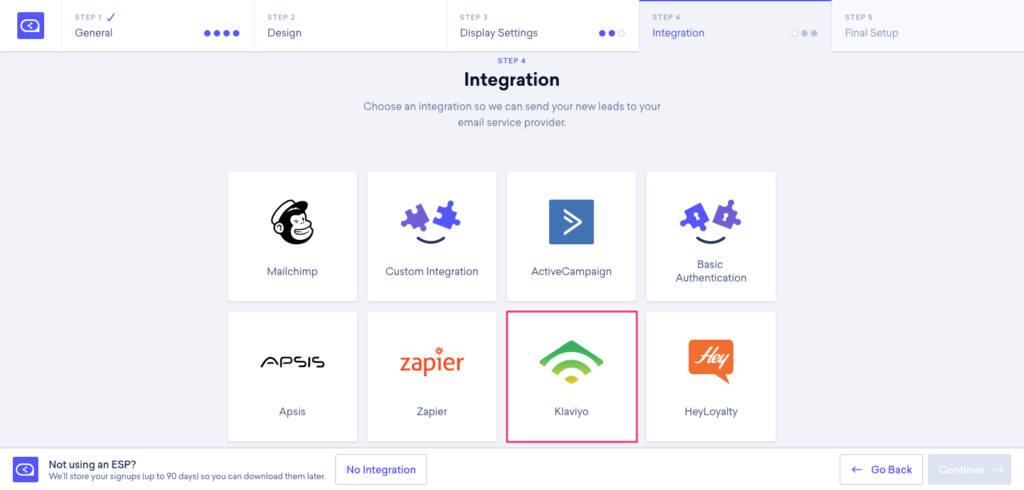 You'll then see a list of platforms you can integrate with.
Choose Klaviyo. Then, enter your Klaviyo API key and click "Authenticate"…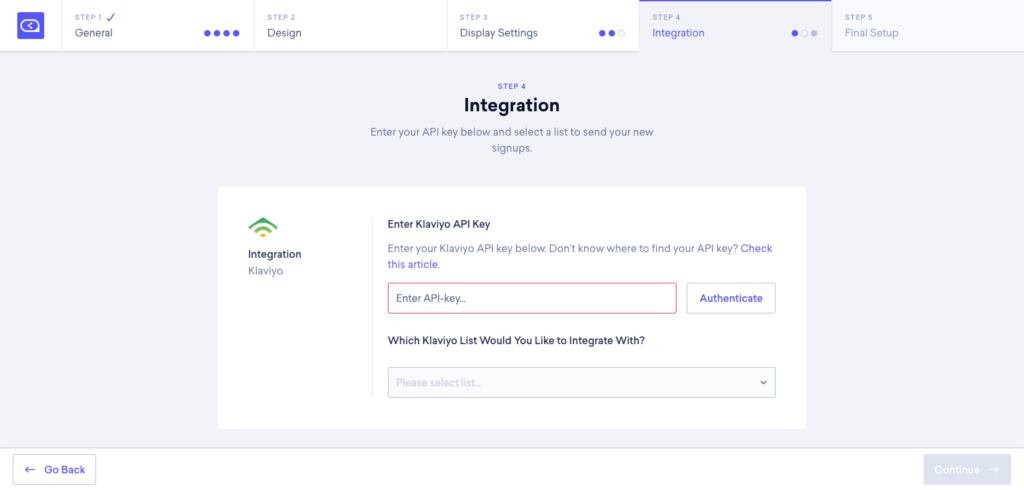 Easy peasy.
Step 9: Save Your Klaviyo Campaign
After that, there's just one last thing to do, and that's to save your campaign.
This can be done by clicking "Save" at the bottom.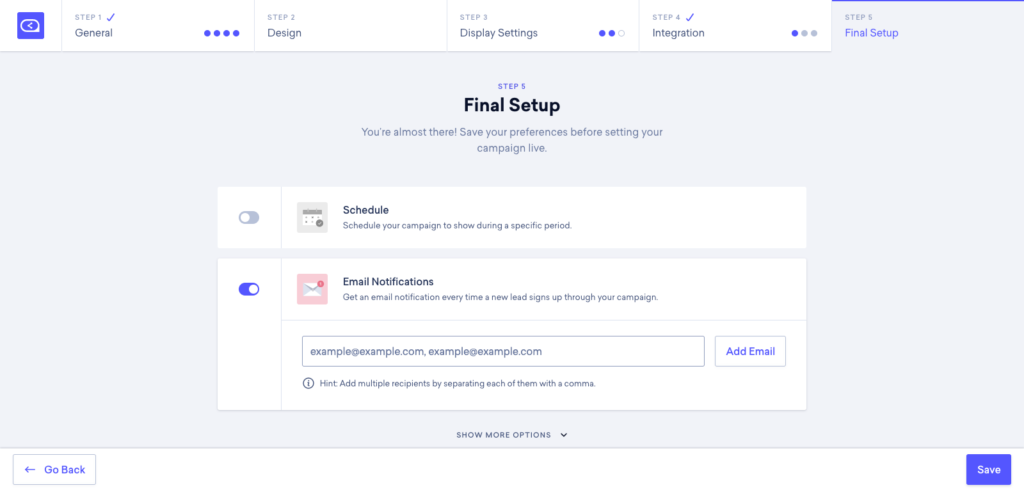 Congrats, you just made an eye-popping Klaviyo popup with Sleeknote that your shoppers are sure to love!
Now, wait for an influx of new subscribers to sign up for your newsletter and generate a steady stream of qualified leads.
Conclusion
Using a popup for your email optin can be a real gamechanger.
They instantly grab a shopper's attention and entice them to sign up with an attractive offer like the product giveaway I mentioned here.
But that's just the tip of the iceberg, and there are several other types of offers you can use, such as:
Discounts
Savings
Free Shipping
Early access to new products
And much more
By integrating Sleeknote with Klaviyo, you can create a winning popup that shoppers can't resist, and that keeps your e-commerce store popping.
Which Sleeknote theme are you most interested in using, and why?