Drip is a marketing automation platform that I love. Why? Because its mission is to "empower the e-commerce rebellion" and give small businesses the same automation abilities as the big guys.
And most brands that use Drip are remarkably successful.
For instance, The Spice House, an online store that sells high-end spices, herbs, and seasonings, increased its online sales by a staggering 90 percent year-over-year by using Drip.
A big reason for the success of e-commerce brands like these is the level of personalization they can achieve with Drip. This platform allows you to "segment to your heart's desire" and create an ultra-personalized experience for shoppers.
For this post, I want to talk specifically about how you can integrate Drip with Sleeknote to design a killer email popup so you can crank up your optin rate and gain boatloads of new subscribers.
So let's get down to it. Here's how to make a Drip popup using Sleeknote step-by-step, along with plenty of screenshots.​
Table of Contents
Step 1: Create a Drip Campaign
First off, you'll need to create a campaign from your Sleeknote dashboard.
Click "Create New Campaign" to get started.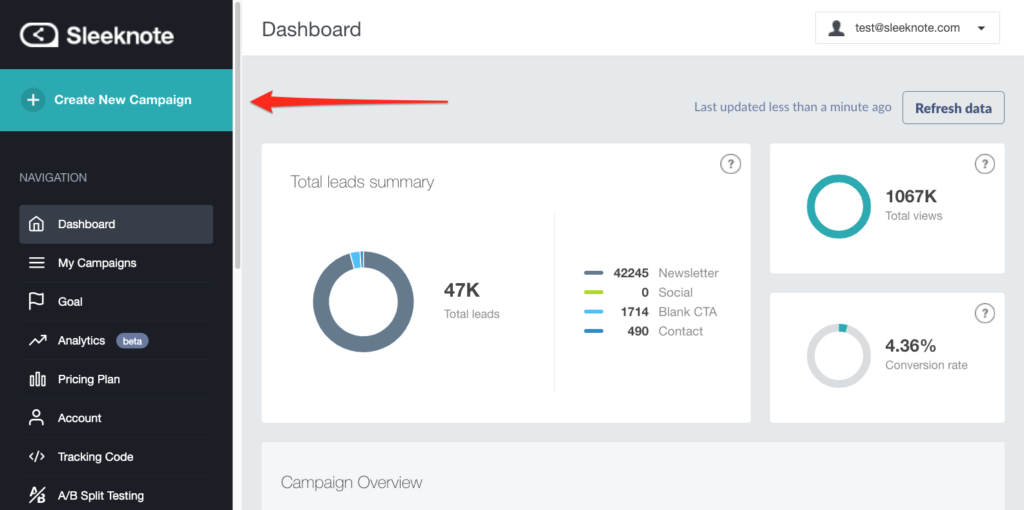 Once you've done that, you'll see this screen where Sleeknote asks which site you want to use the popup on.
Enter the URL of your e-commerce store and click "Use this website."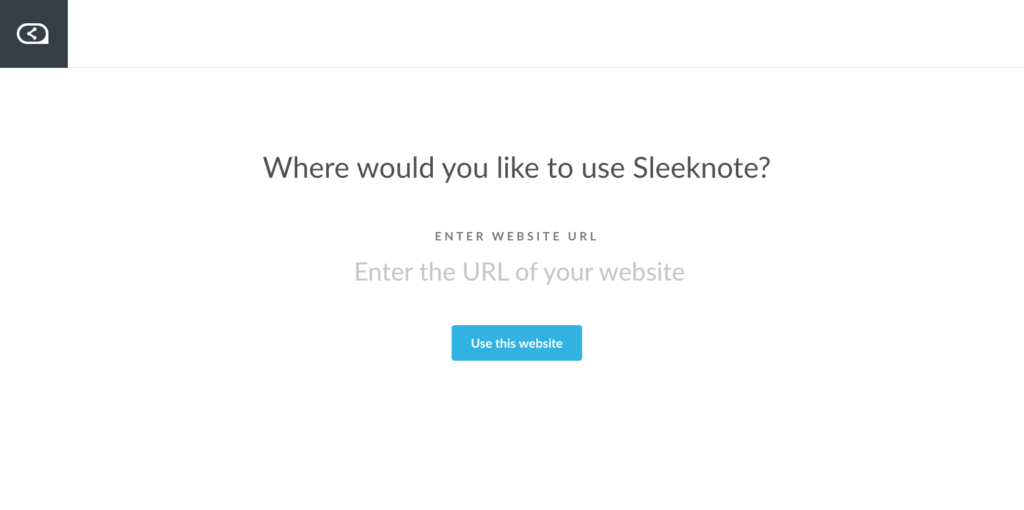 Then, Sleeknote will ask you what the specific goal of your campaign will be.
We'll be making a Drip popup to increase your optin rate and pull in more subscribers.
So, you'll want to click on "Collect Email Addresses" on the left.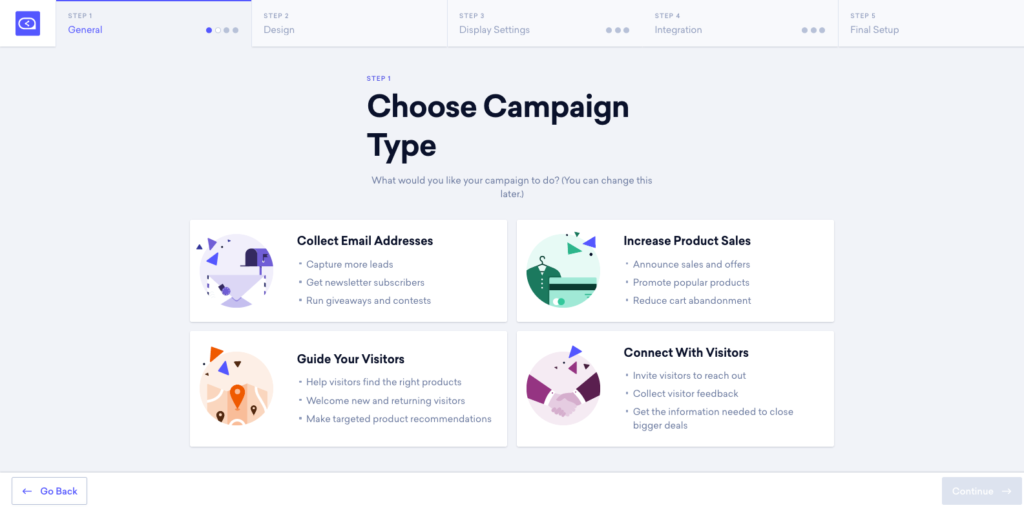 Then, click "Continue."
Step 2: Choose a Position
You will then be asked where you want to show your campaign.
I'll go with "Slide-In; Bottom Right" because it's the least intrusive.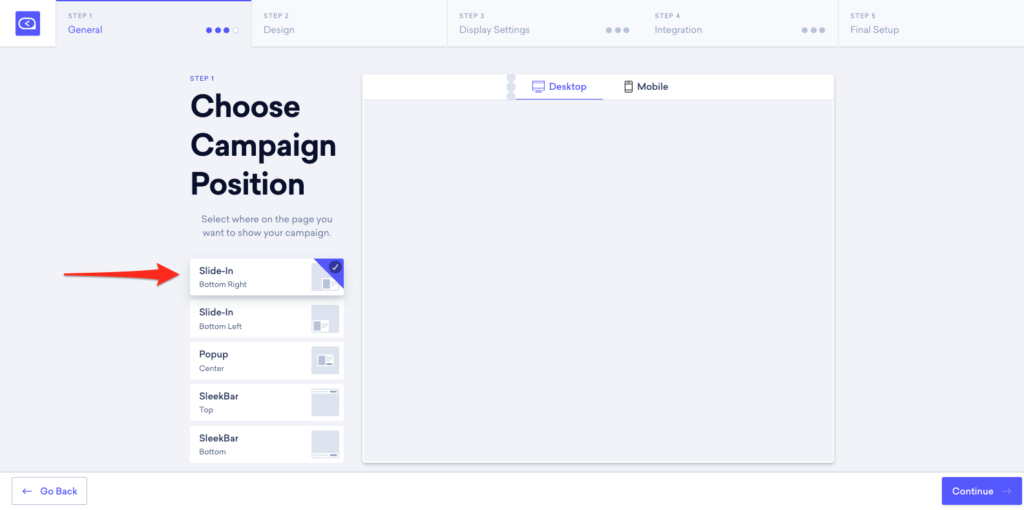 However, the bottom left can also work well, depending on the layout of your e-commerce store.
Click on that, then click on "Continue."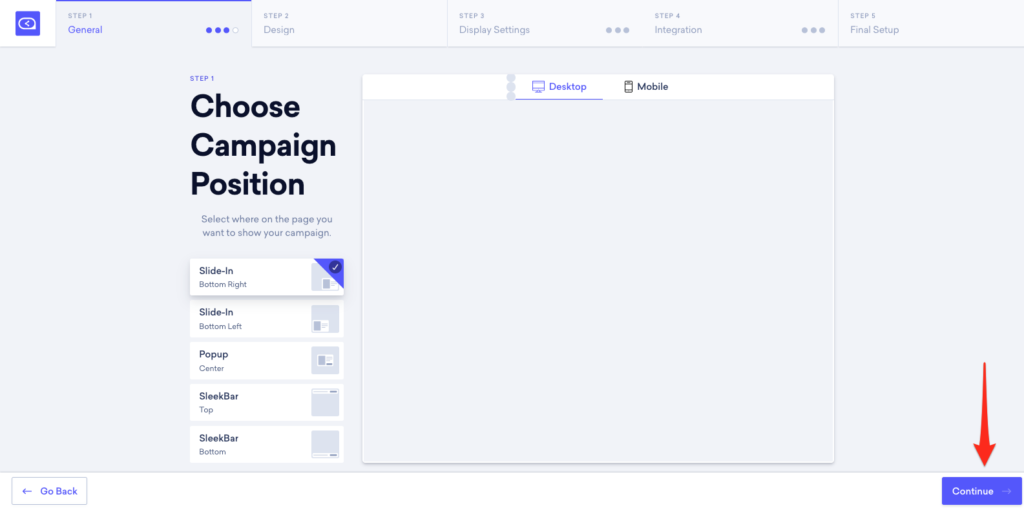 Step 3: Select a Template
Sleeknote is all about giving your shoppers the popups they deserve to see and generating more leads and sales without annoying them.
A big part of creating a positive experience is by providing eye-popping templates to build popups around.
The next step in how to make a Drip popup is to browse through Sleeknote's robust list of templates and choose the perfect one for your campaign.
When it comes to collecting email addresses, you have 50 templates to choose from, including:
Single-step templates. These are the quickest and easiest to create.
Multistep templates. These require a bit more effort but are still relatively simple.
Blank templates. These require the most effort but are perfect if you want to build a Drip popup from the ground up.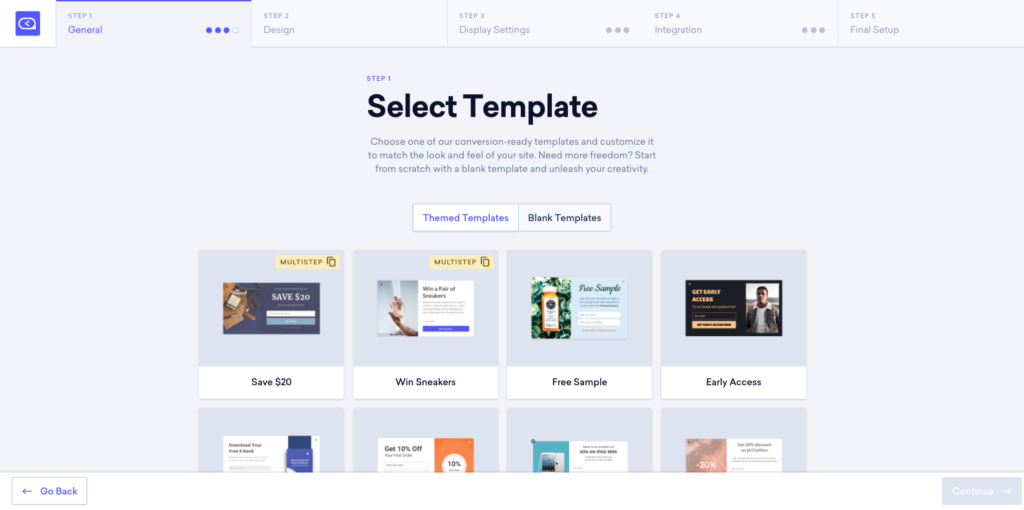 Peruse this list of templates, and you'll find a ton of different options that cover pretty much any angle you can imagine to entice shoppers to sign up for your newsletter.
For this example, I'll go with the "Get 50% Off" template, where a subscriber gets a discount on their next purchase, plus exclusive access to new products.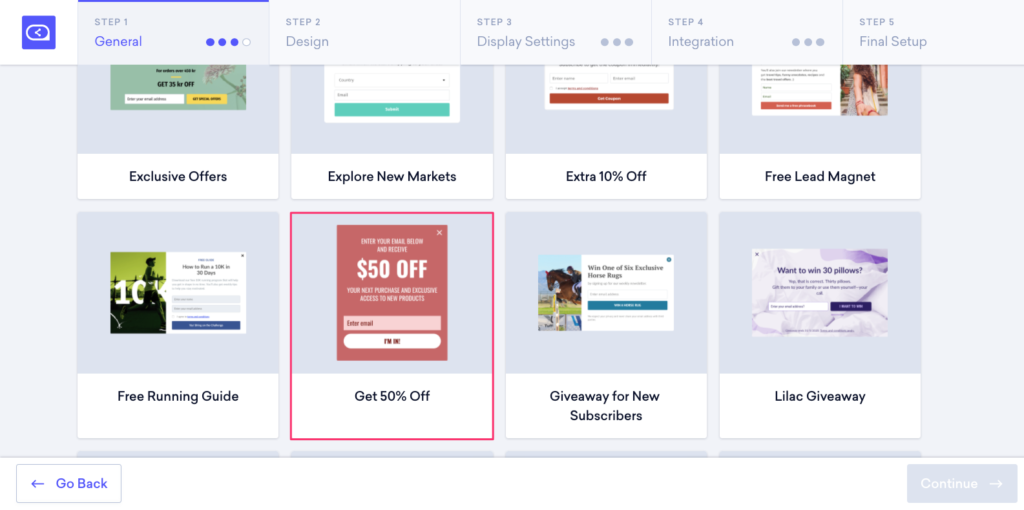 Step 4: Personalize the Form Steps
At this point, you'll see the complete default version of your popup.
This particular template currently looks like this.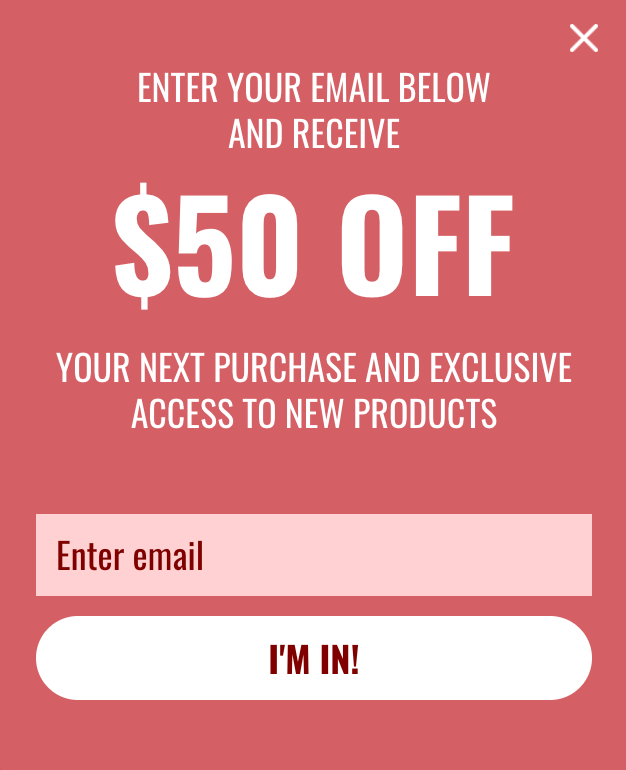 Now it's time to personalize the heck out of it and get it looking in tip-top shape.
This is done by using the three form steps—"Edit," "Layout," and "Add elements," which you'll see at the top right-hand of the screen.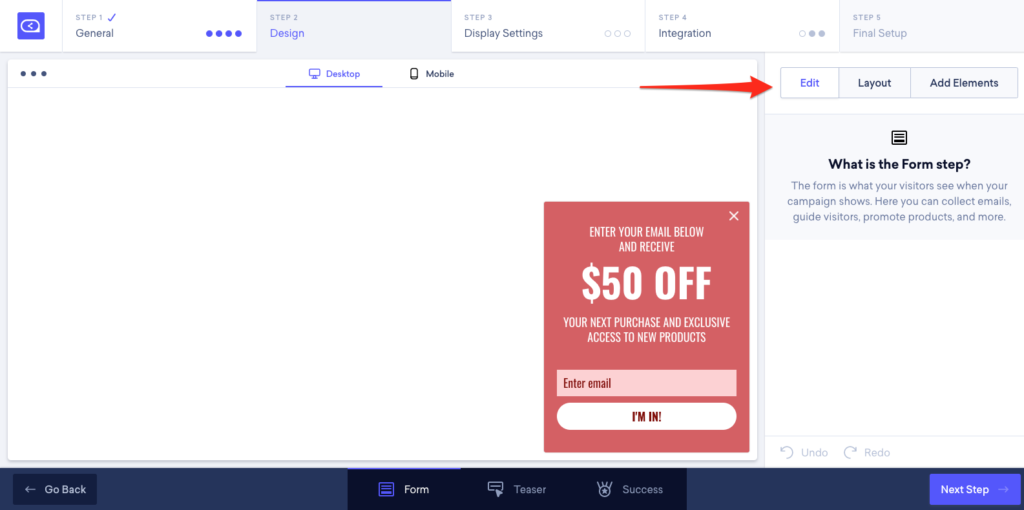 I recommend starting in the "Edit" mode, where you click on the individual elements of the Drip popup to change them.
I'll start by tweaking the offer and lowering it from $50 off to $30.
Click here, and then you can start editing.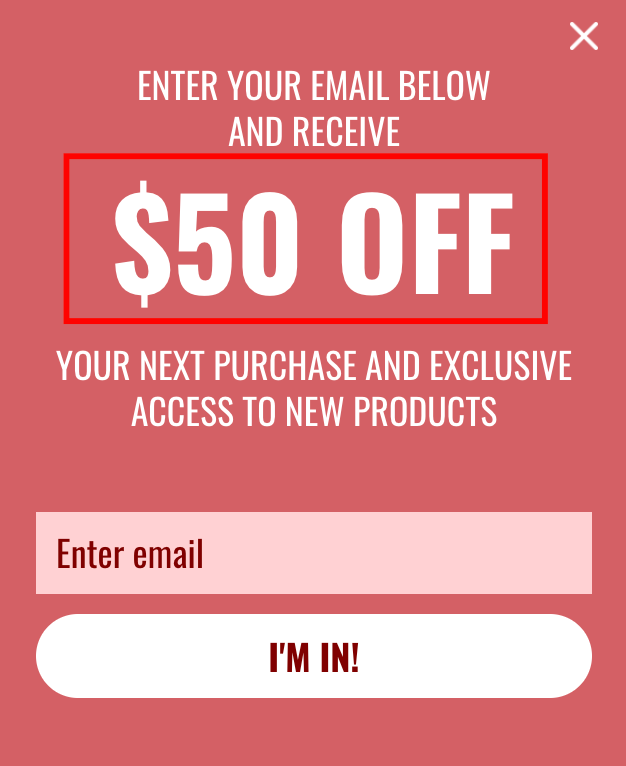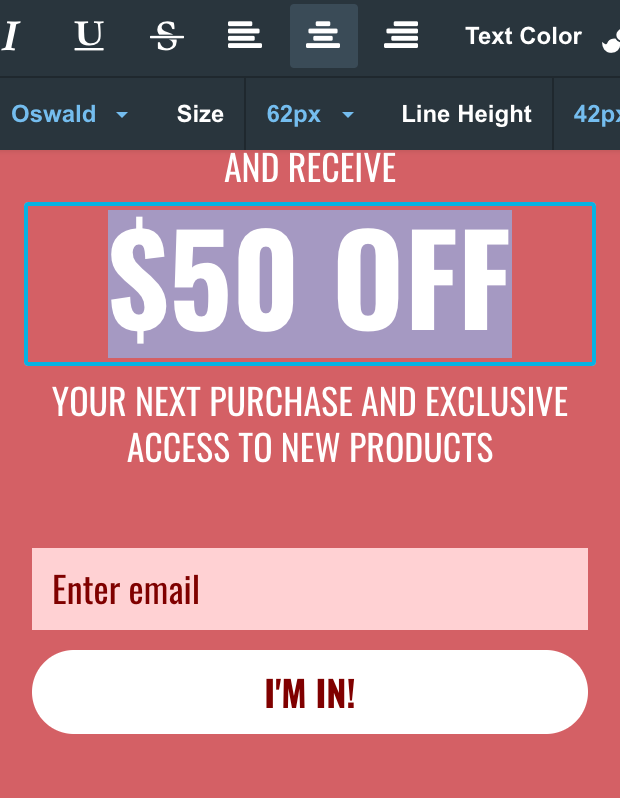 With a quick tweak, the discount has changed to $30 off.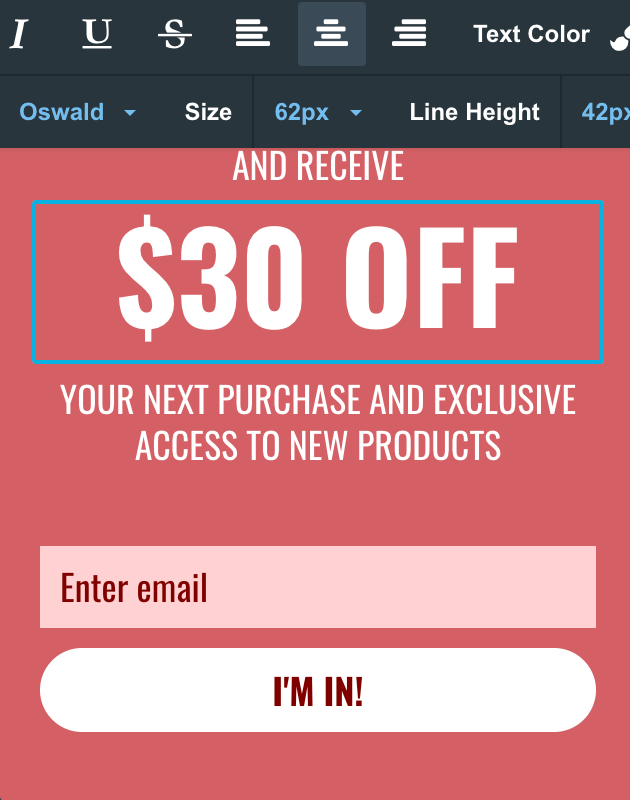 Click "Save Changes" right here, and the change has officially been made.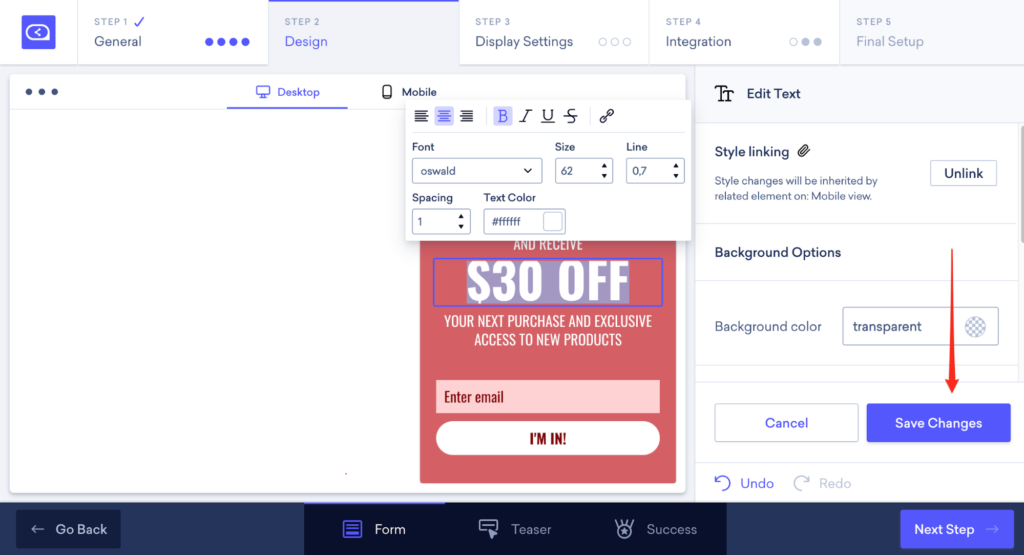 Another edit I want to make is to switch up the background—something that can be done by clicking anywhere along the border.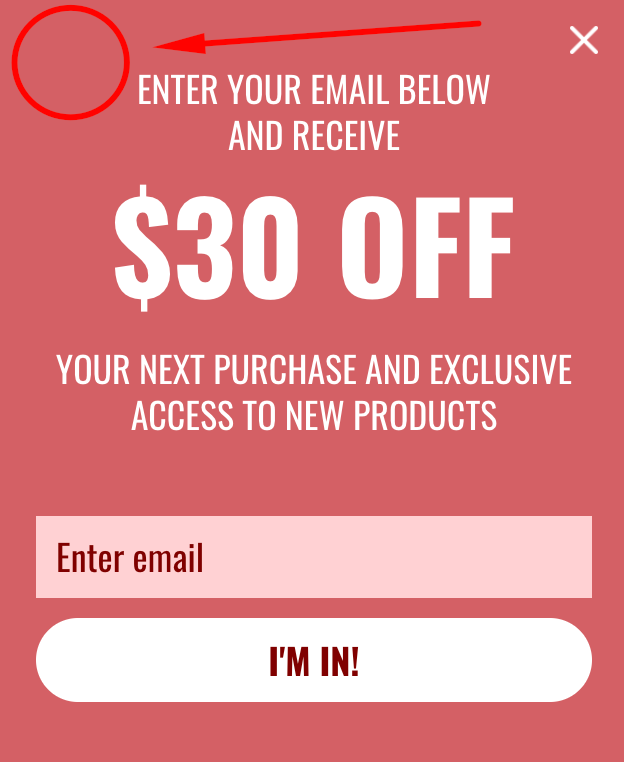 Then it's a matter of choosing a different color under "Background Options."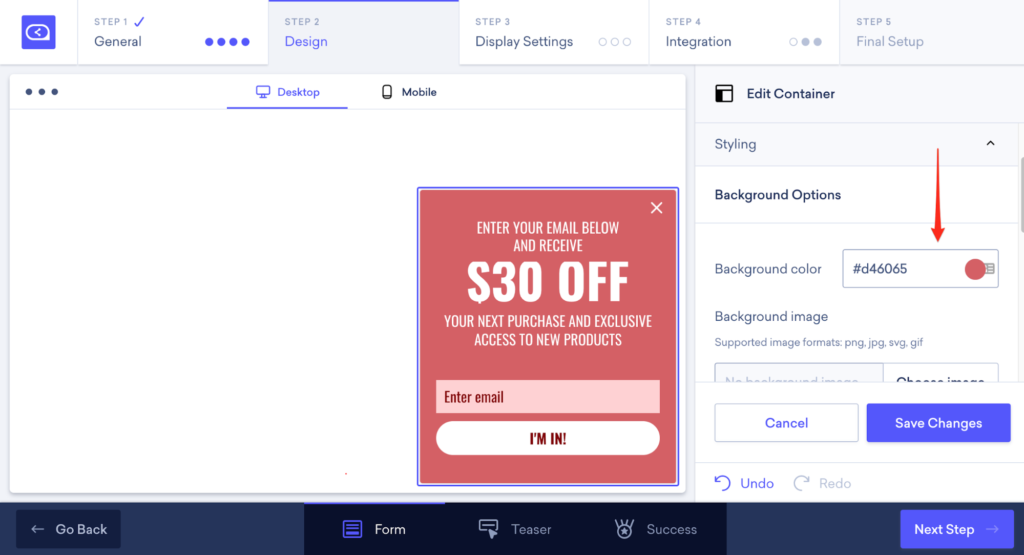 I'll go with this shade of blue instead.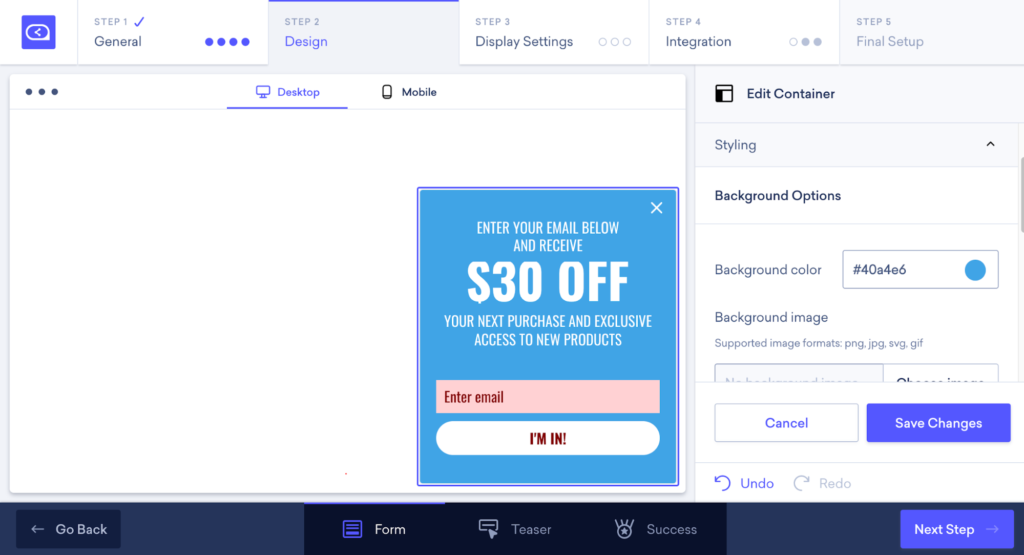 Save it, and it's good to go.
So, in a matter of seconds, the Drip popup has gone from looking like this…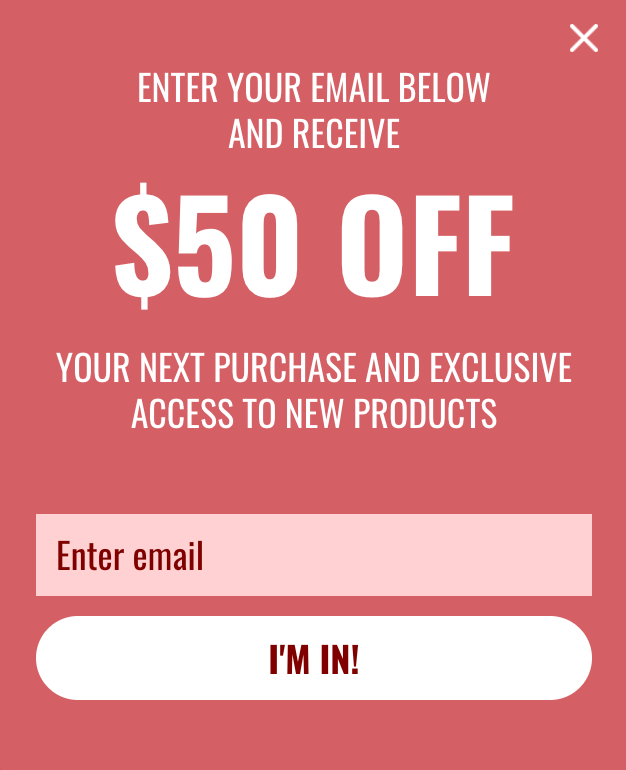 …to this.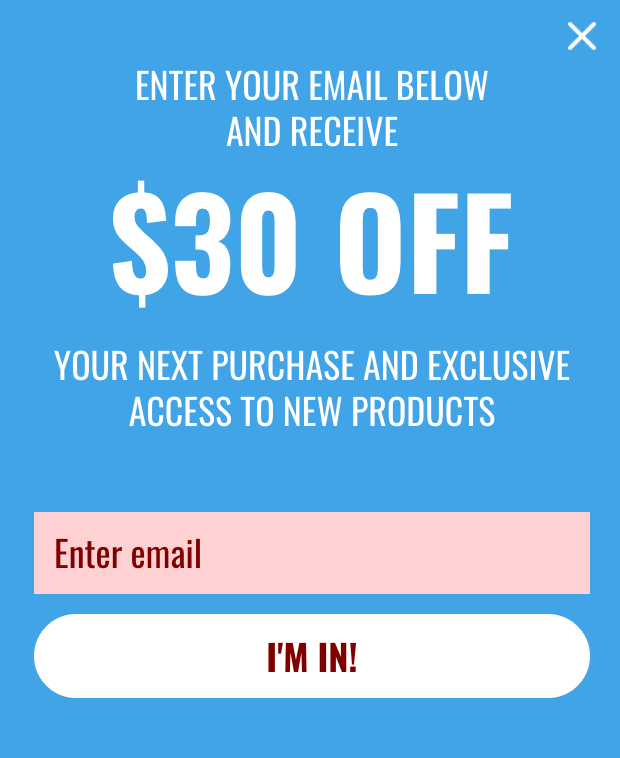 And it was no sweat!
Follow this same process to change any other elements like the headline, text, enter email box, CTA, etc.
The second of the three form steps is "Layout," which is located here.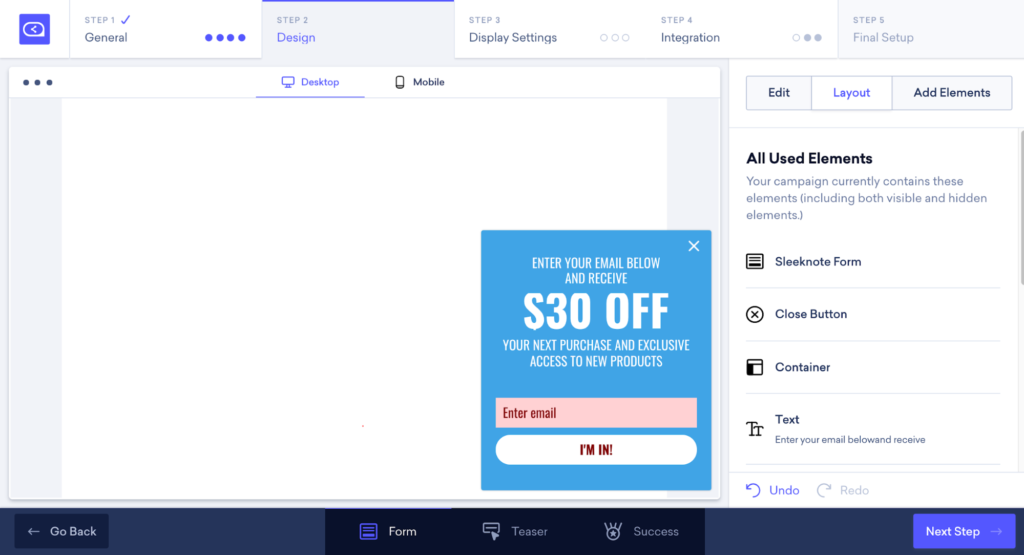 This lets you make the same changes as you would in "Edit" mode, but it provides you with a bird's eye view of all the elements that are currently present in your campaign.
For example, there's the form, close button, container, and so on. I'll go ahead and tweak the CTA slightly. All I have to do is click on the "Submit Button." Then, I'll switch the text from "I'm In!"…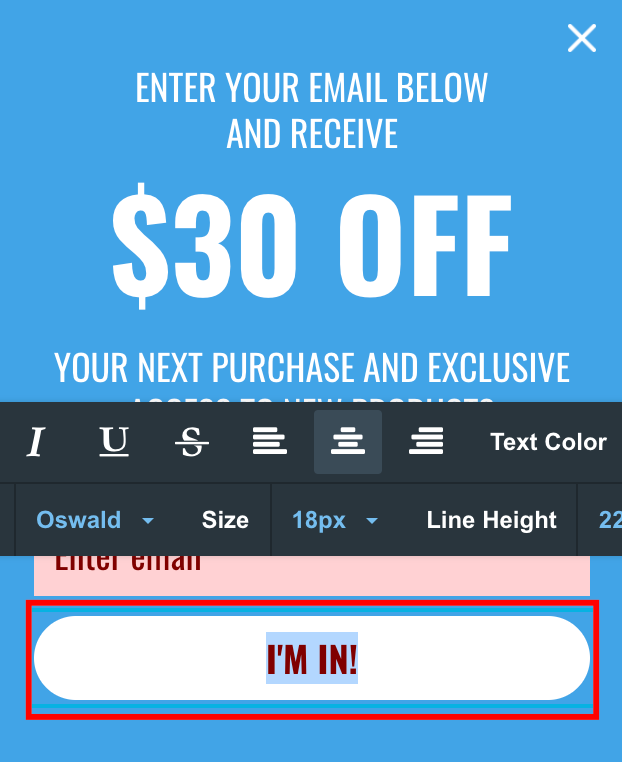 …to "Sign Me Up!"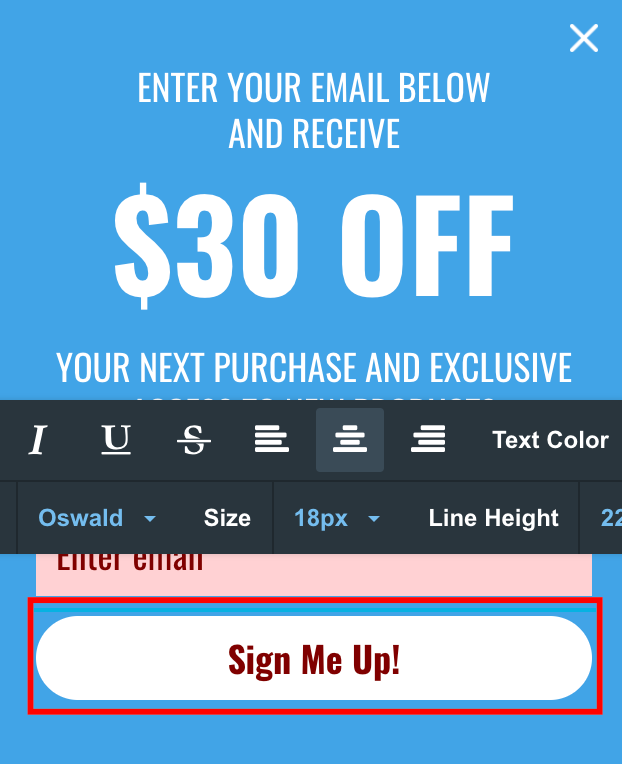 Click "Save," and it's all set.
The third and final of the form steps is "Add elements," which is right here.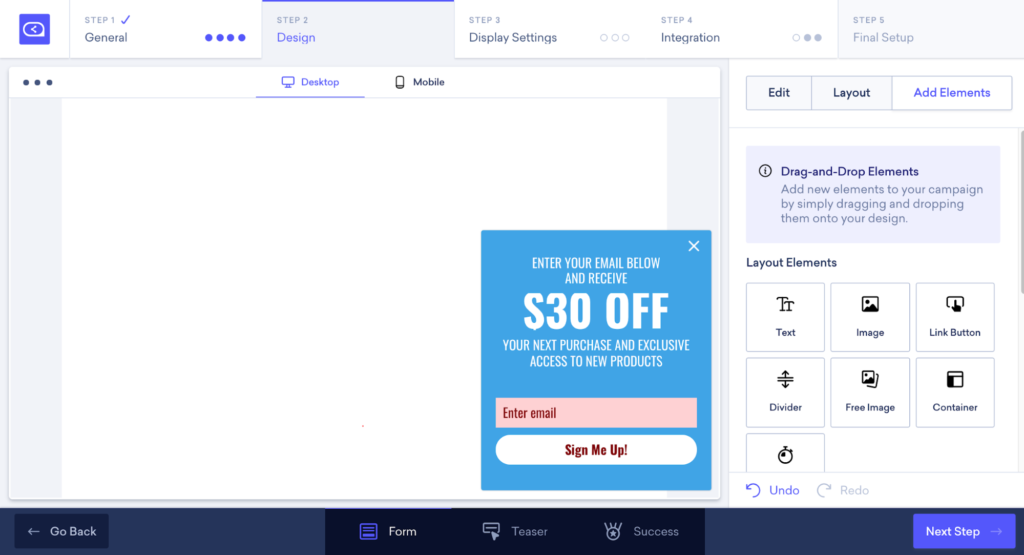 This allows you to place more elements into your Drip popup, such as text, images, dividers, containers, etc.
It also syncs with 3rd party apps like Clerk, Hello Retail, and Raptor. All you have to do is drag-and-drop the element into your popup.
If, for example, you wanted to create a bit more space between two elements, you would drag-and-drop a divider.
I'll go ahead and place one between the "Enter email" box and Sign Me Up!" CTA.
Drag from here…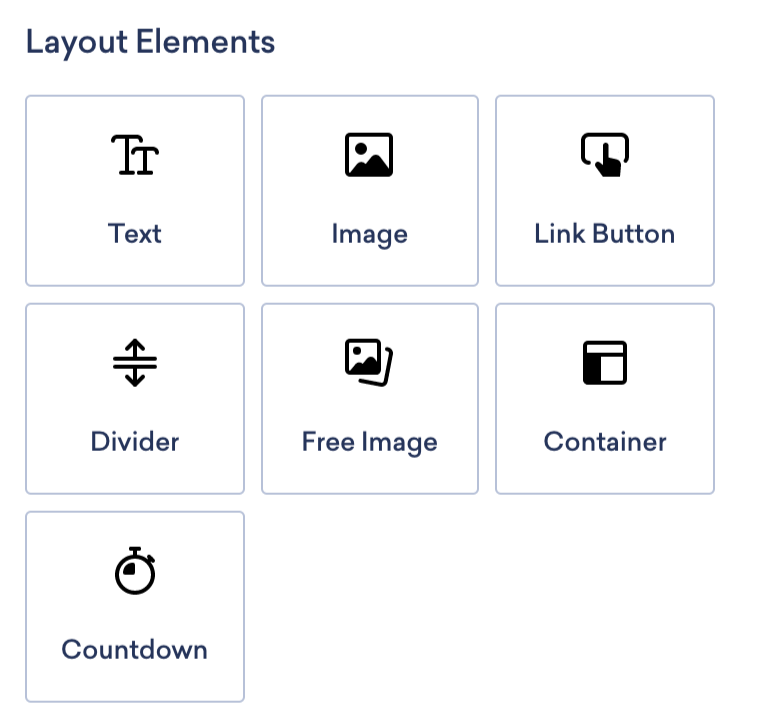 …and drop it here.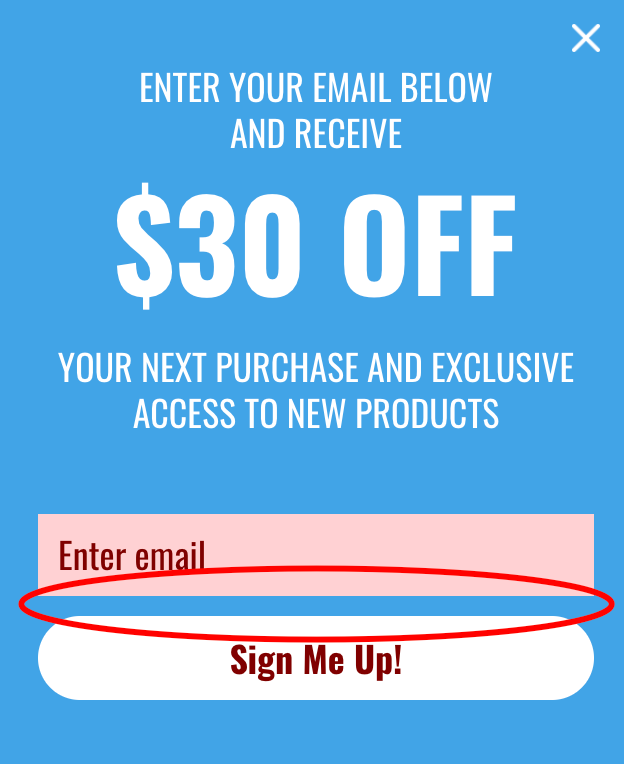 Then, it's a matter of choosing how big you want the divider to be by adjusting the height.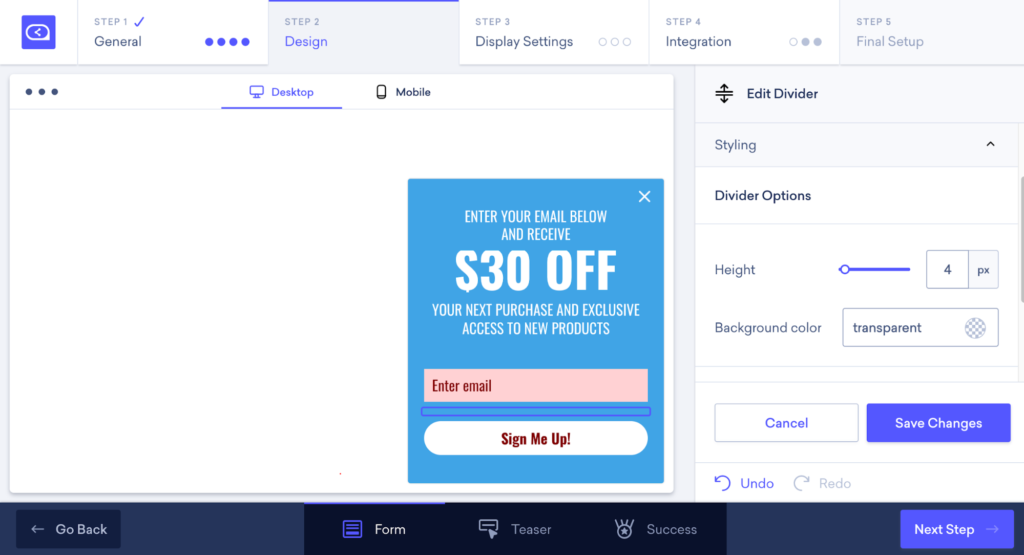 I'll change it from 4 pixels to 10.
Click "Save," and there's a bit more room between these two elements so that it doesn't feel cluttered.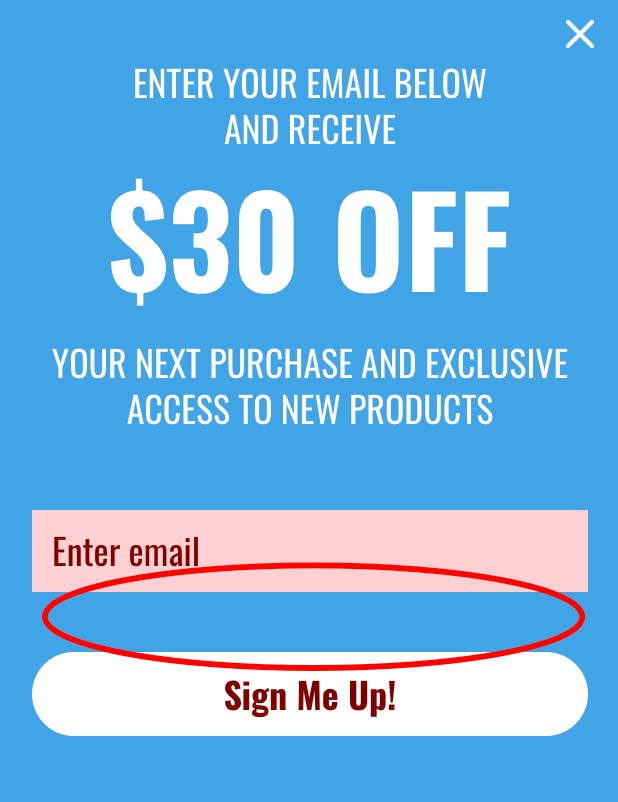 As you can see, editing your Drip popup is straightforward with Sleeknote.
I suggest playing around with it, and you should figure out all of the excellent features in no time.
Once you're satisfied, it's time to move onto the next step.
Step 5: Modify the Drip Teaser
A teaser is a smaller, condensed version of the popup that appears at the bottom of the screen.
Its purpose is to pique shoppers' interest, and by clicking on it, they open the full popup.
But if they're not interested, they can click on it again, which collapses it where it returns to its normal position.
This way, shoppers can conveniently find your offer, but it doesn't get in the way and create unnecessary friction.
To modify the Drip teaser, click on "Teaser" at the bottom of the screen.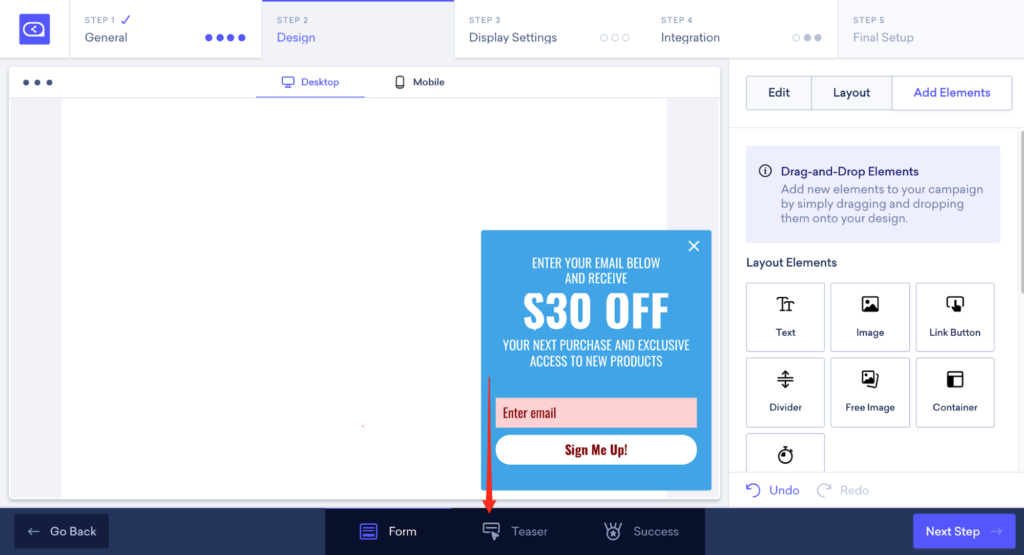 Then, the default version will appear.
Right now, it looks like this.

Now, follow the same steps as you did when creating your popup and click on the individual elements you wish to change.
Again, I'll change $50 off to $30.

I'll also change the background color so that it's the same shade of blue.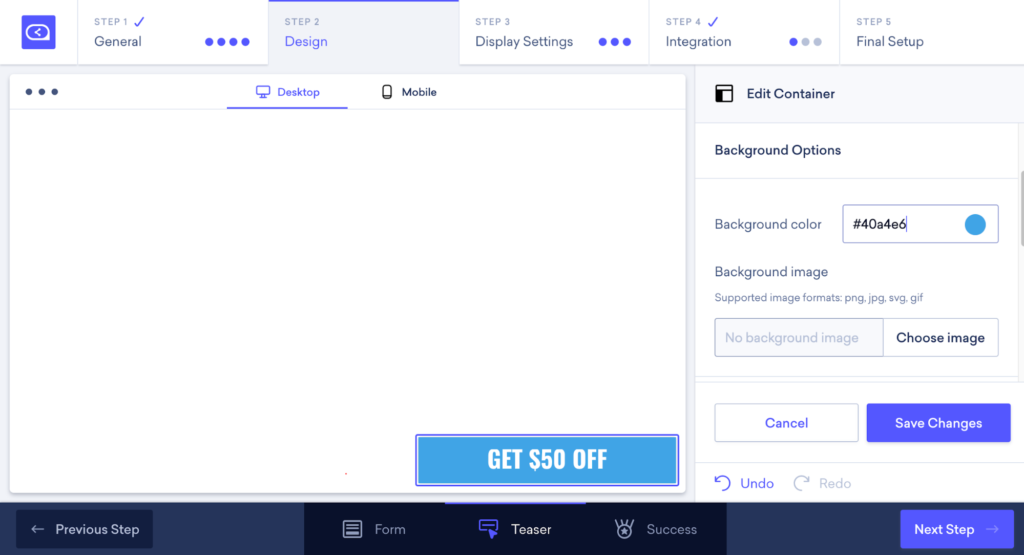 And finally, I'm going to make the text a little larger, taking it from 18 pixels to 30.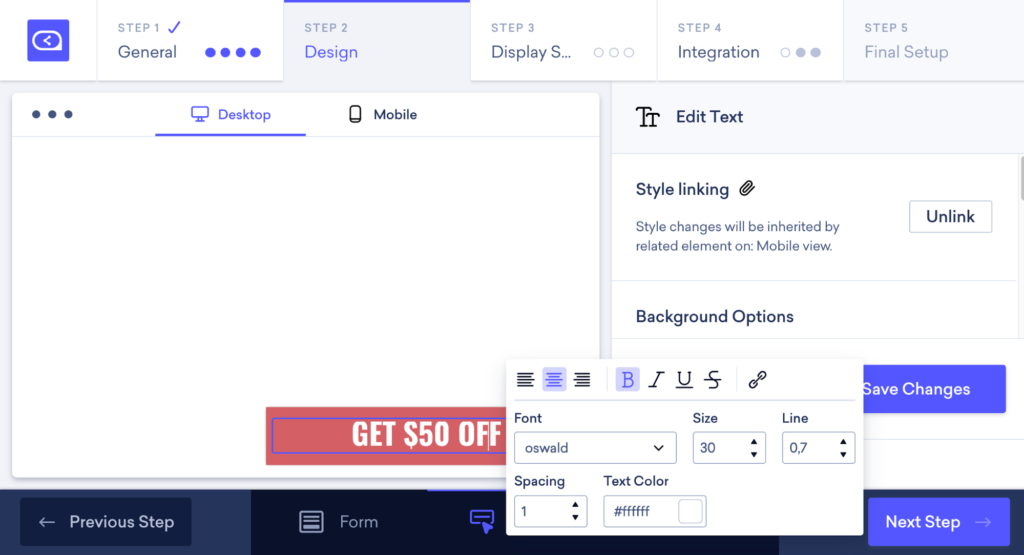 After saving it, the teaser goes from looking like this…

…to this.

It's that simple.
Step 6: Create Your Drip "Success Step"
The last part of designing your Drip popup is personalizing the "success step," a box that thanks subscribers for signing up and lets them know what to do next.
Check out what the default version currently looks like.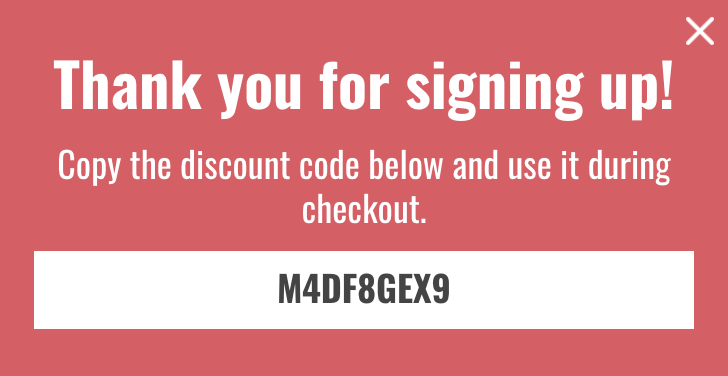 This template's success step says a quick thank you and gives a new subscriber a discount code they can redeem when making their purchase.
And with Sleeknote, editing it is a cinch.
Again, click on the element you want to change—I'll switch up the background color—and work your magic.
To make this edit, I click anywhere in the background…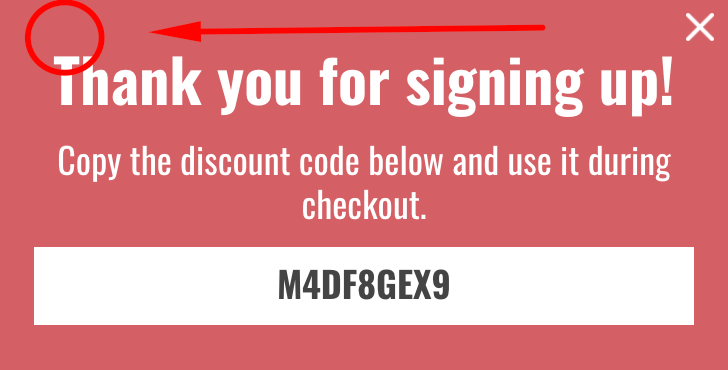 …change the color to blue…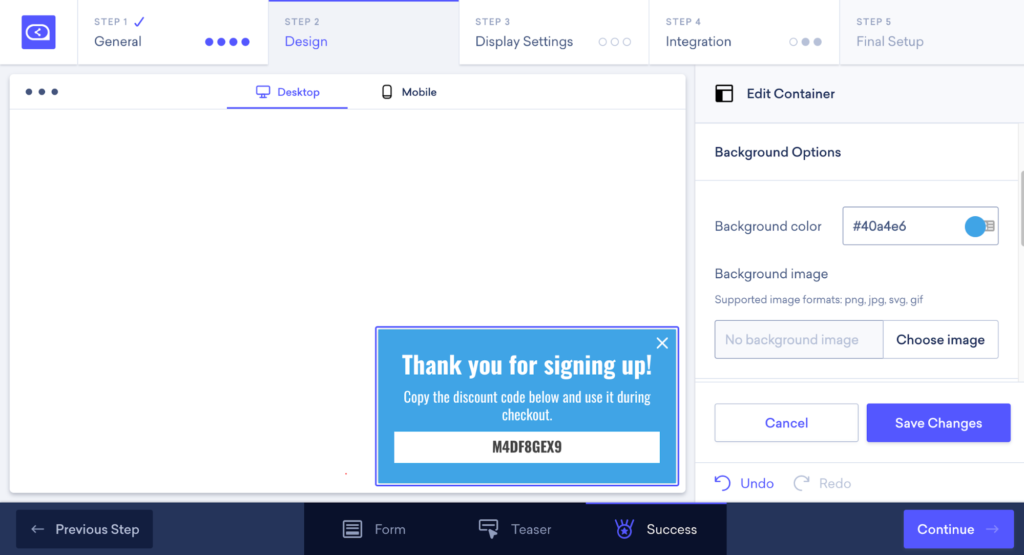 …click "Save Changes," and it's good.
The success box went from looking like this…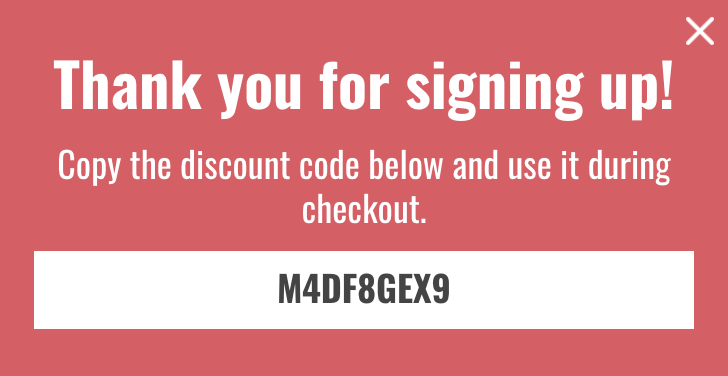 …to this.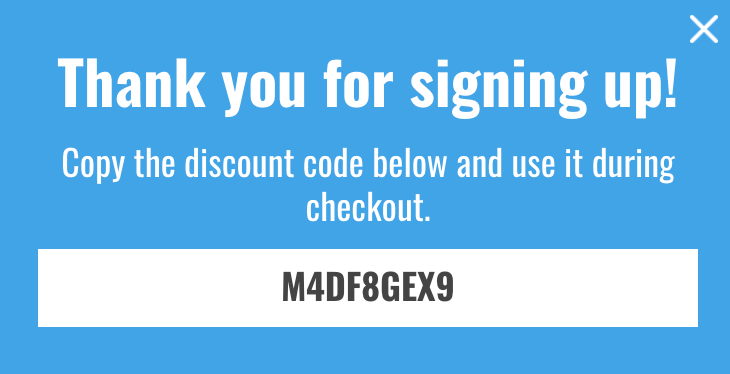 And by the way, having a success step for your Drip popup isn't mandatory. It's completely optional.
If you don't want to use one, click on the "Success Actions" box…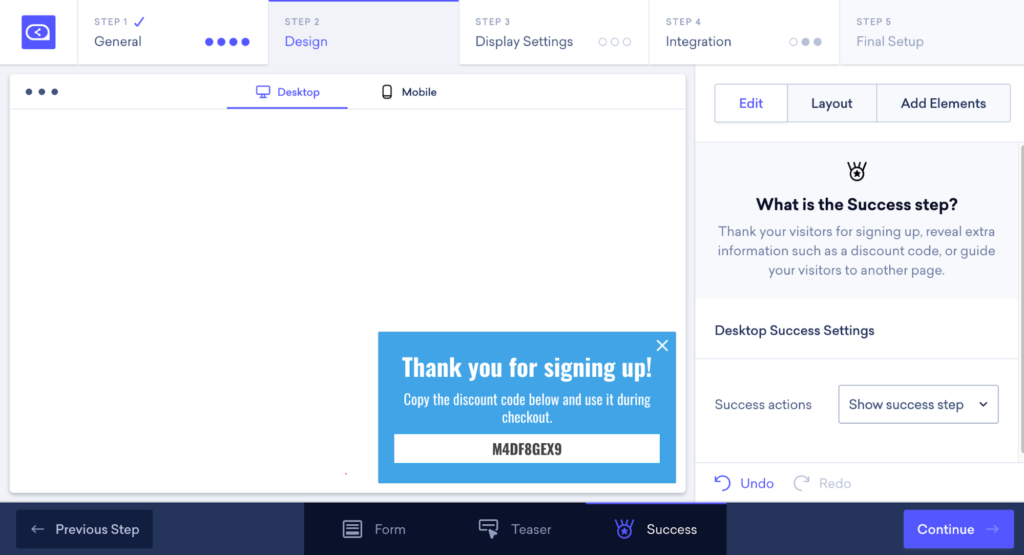 …then click "Just hide success step."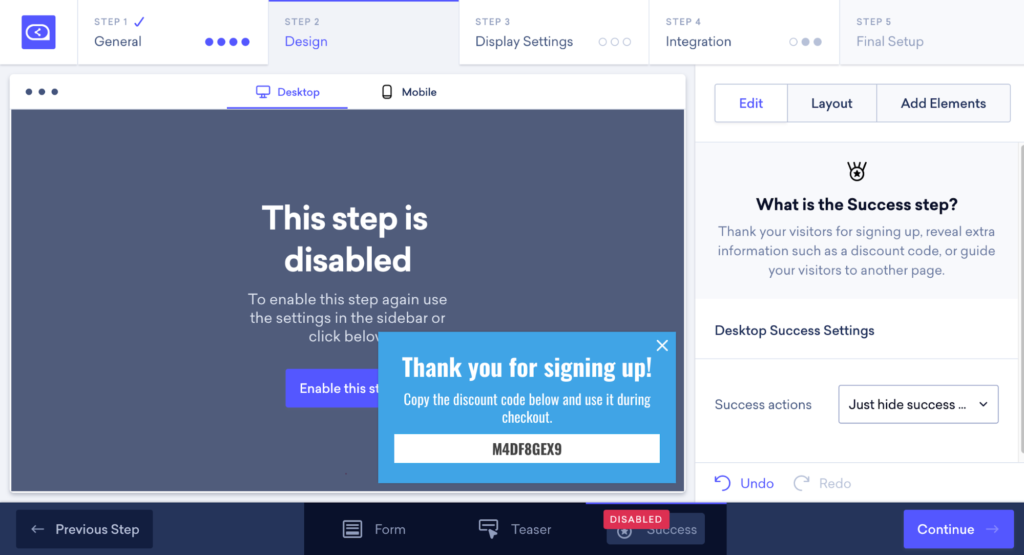 Step 7: Wrap Up Your Drip Campaign
Once you've put the finishing touches on your popup and everything is right, click "Continue" at the bottom right-hand corner.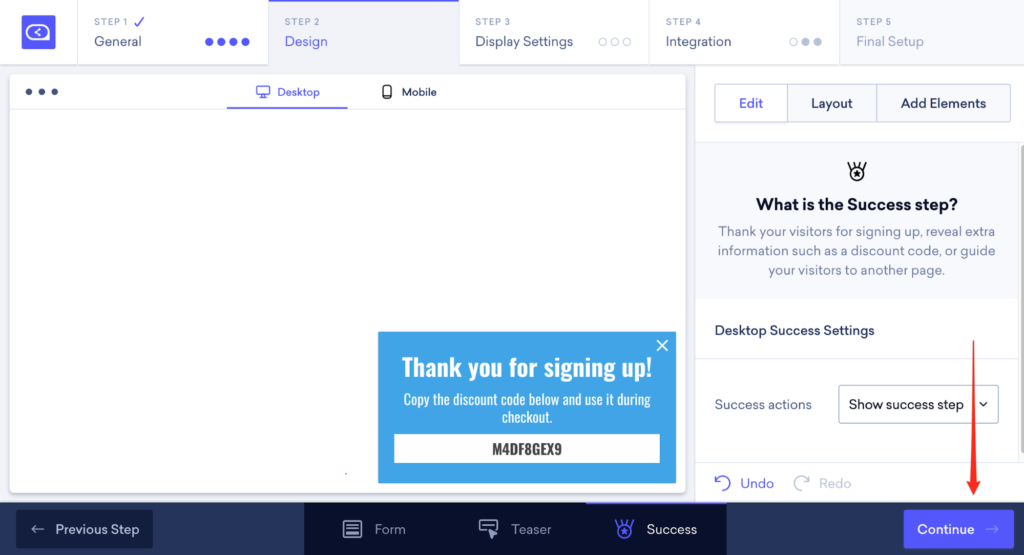 That will take you to this page, where you can select the exact audience by setting targeting rules.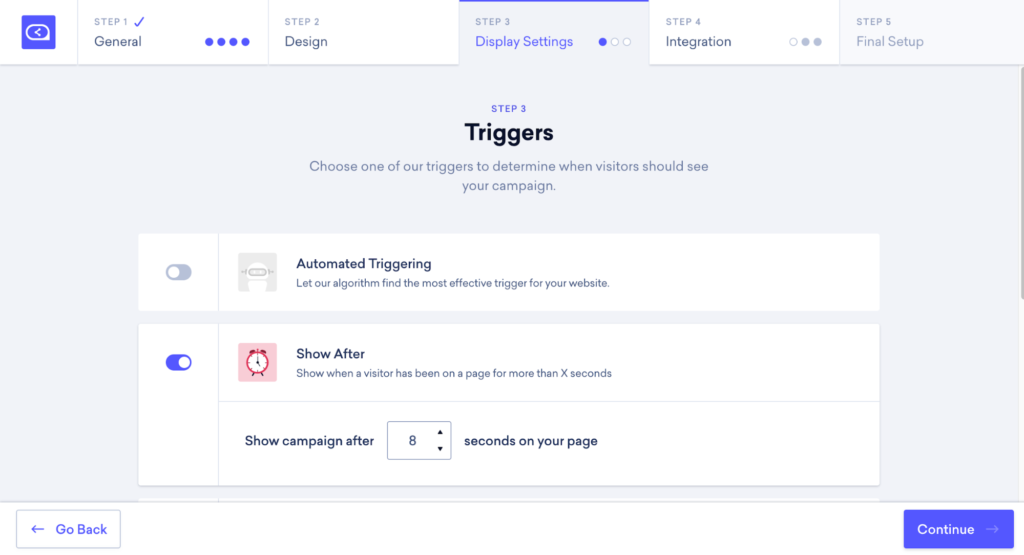 You can set triggers, such as the timed trigger that's already set up under default, where a shopper only sees your campaign after being on your site for eight seconds.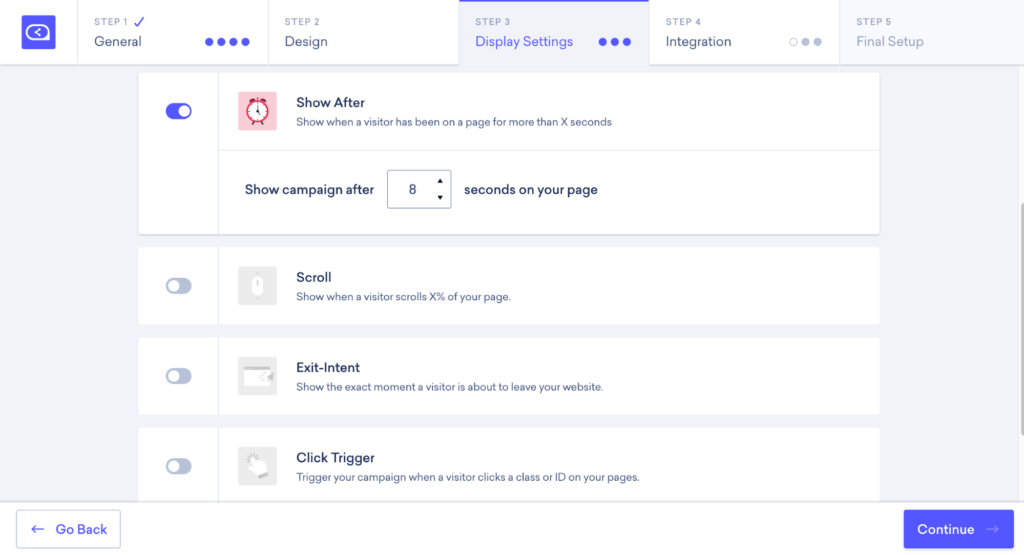 If you want additional triggers, click "Continue."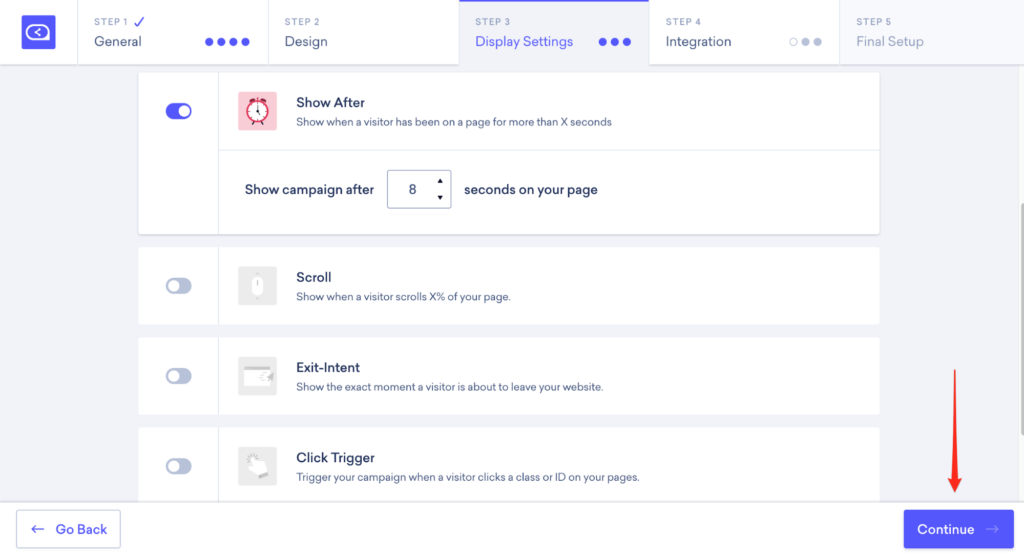 You can then choose whether to target all pages or specific sub-pages.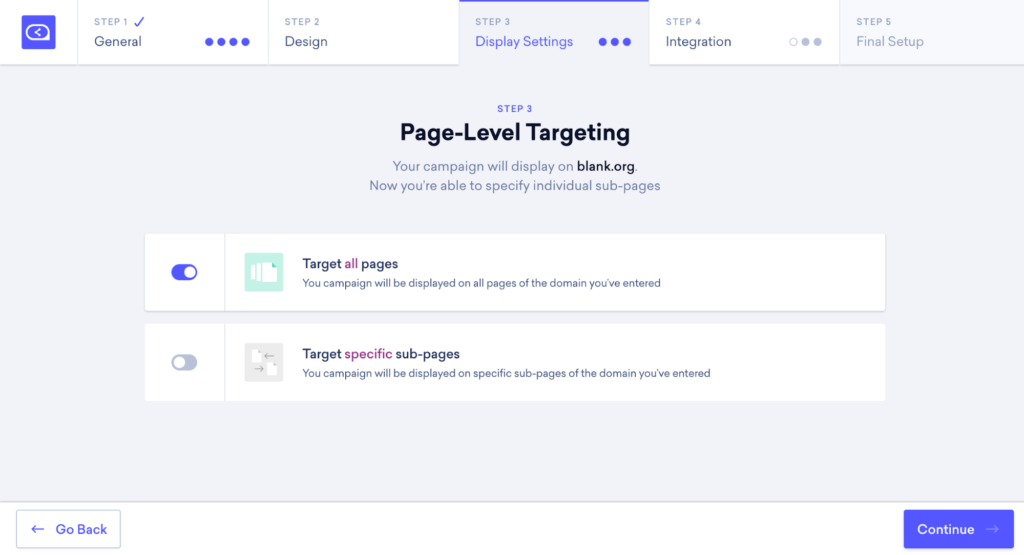 Besides that, you can hide your campaign, so individual users don't see your Drip popup.
Currently, it's not shown to shoppers who have already signed up.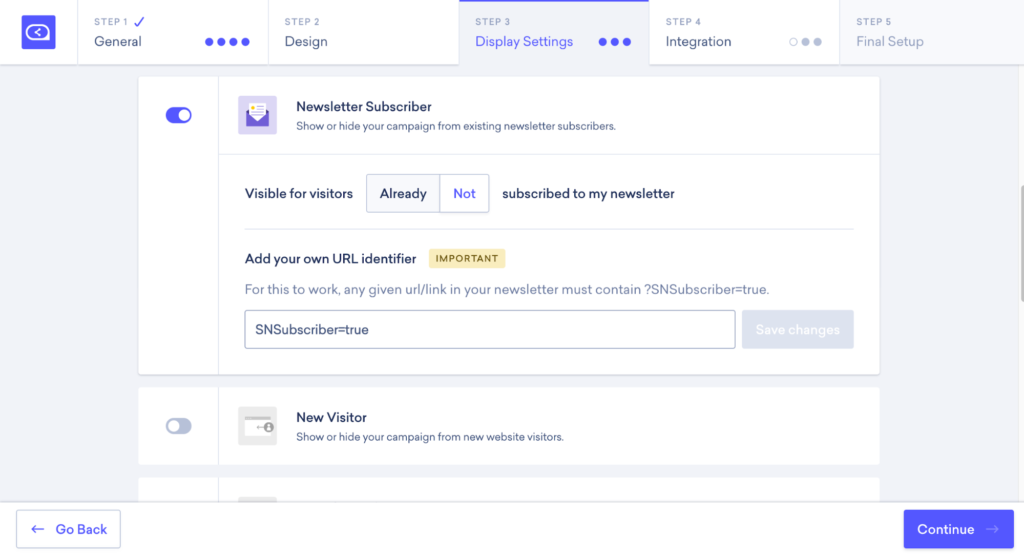 But if you want more conditions, toggle on other conditions.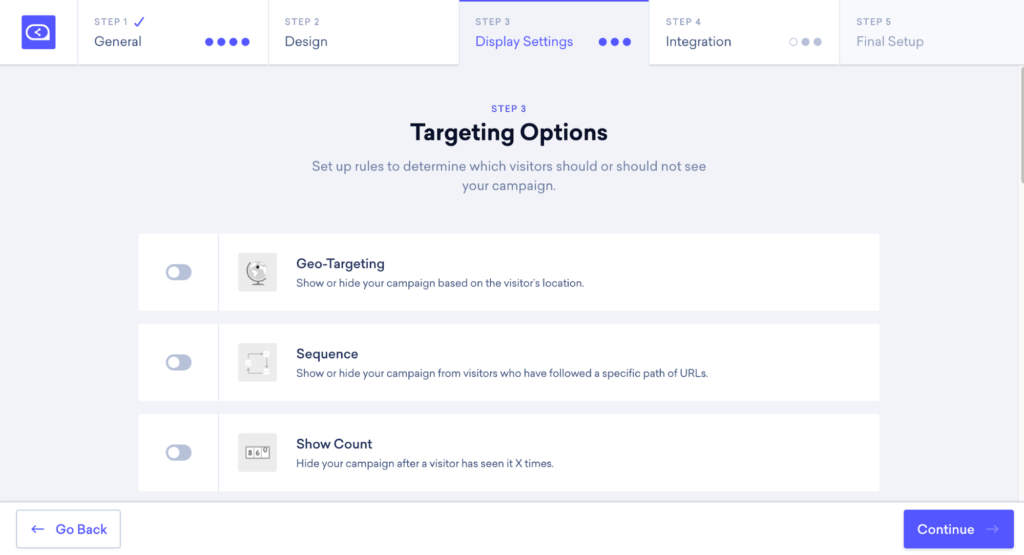 There are several options to choose from, and I'll go with "Pages Visited" where the campaign is hidden based on how many pages a visitor has viewed.
Then, you need to choose how many pages and whether a campaign shouldn't be shown during a current session or all sessions.
Click "Continue," and you're good.
Step 8: Integrate Sleeknote with Drip
One last business order set up the integration, which can be done on "Integrations."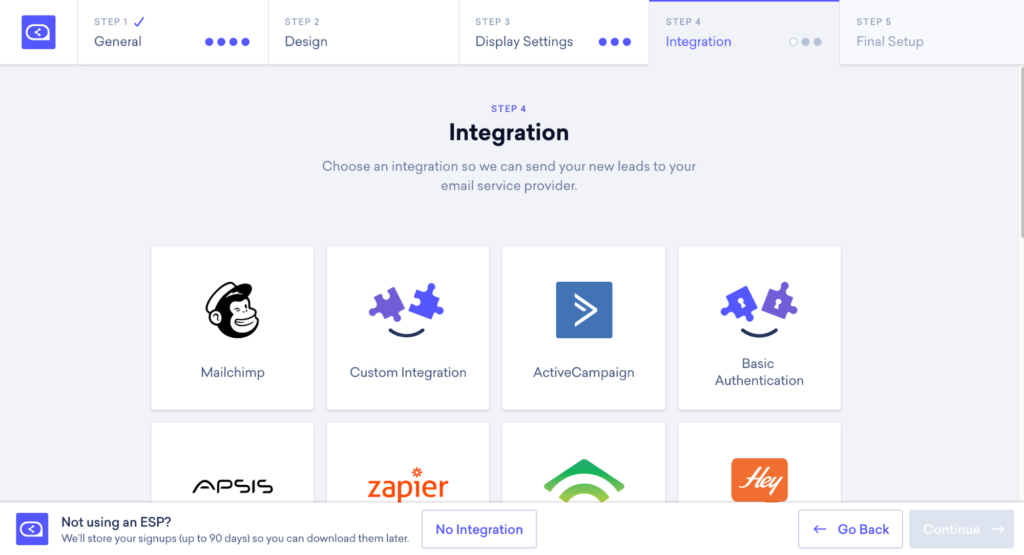 Then, click on the Drip box.
Enter your Drip API key.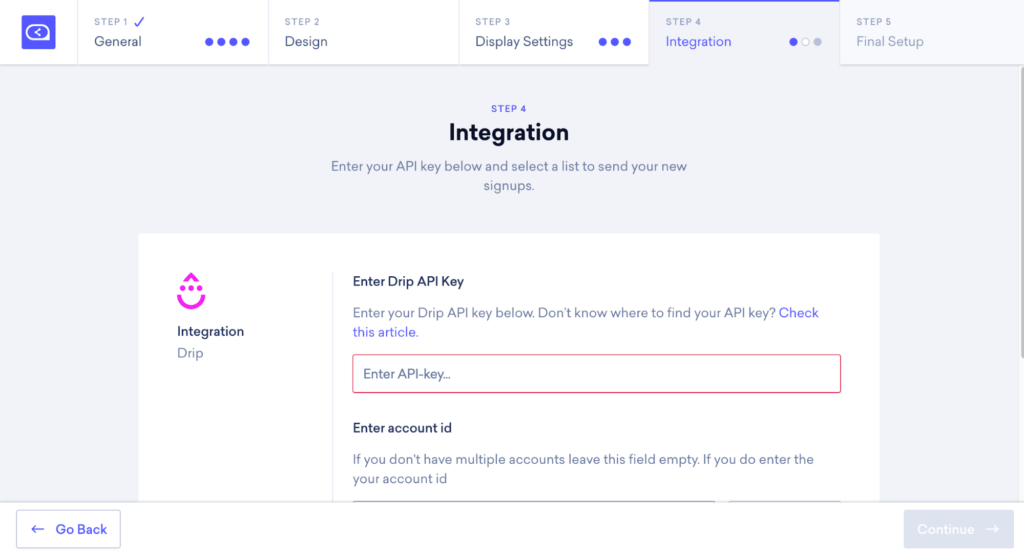 And if you have multiple accounts, enter your account ID.
Then, click "Authenticate."
If you run into any trouble with this process, consult this guide from Sleeknote for help.
Step 9: Save Your Drip Campaign
Finally, click "Save Campaign" at the very bottom, and that's it.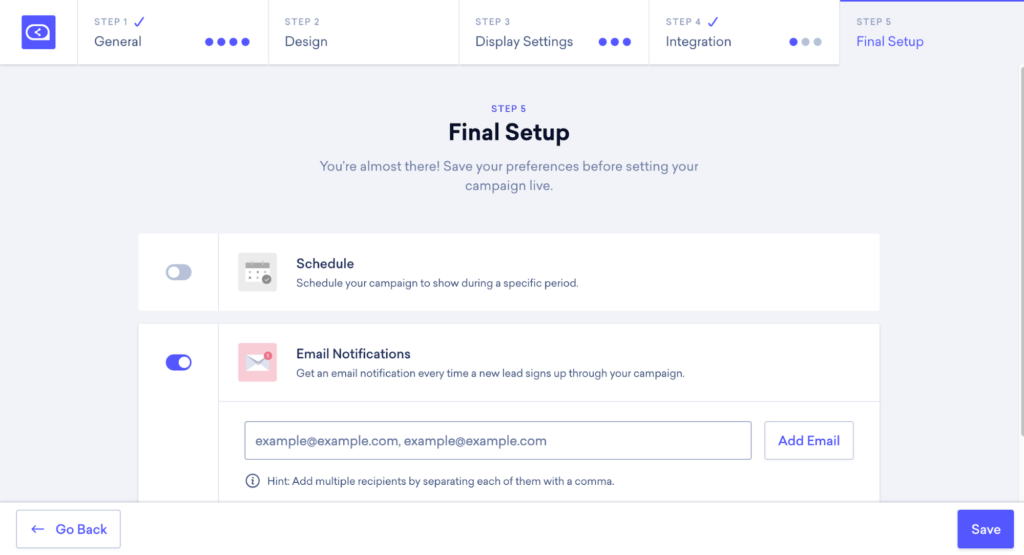 You learned how to make a Drip popup. Way to go.
Conclusion
As we've learned, creating a Drip popup with Sleeknote is pretty straightforward, and you don't need to be a design expert to do it.
Follow the steps I've outlined above to build your own super personalized popup to send your optin rate through the roof.
What type of offer do you want to feature in your Drip popup?