Your average person receives 120 emails in their inbox per day. That's quite a bit, and readers are understandably selective about what they choose to open.
There's simply not enough time in the day to open and engage with every single one. So, you need to make sure your emails are unique enough to get readers to check them out.
The first step to grabbing their attention and getting them to open your travel emails is hitting them with a captivating subject line. One that stands out from the "noise" of their inbox.
To show you how to do that, I've curated a list of A+ travel agency subject line examples that fire on all cylinders. Let's not waste any time and get right down to it.
Table of Contents
1. Your Next Adventure Awaits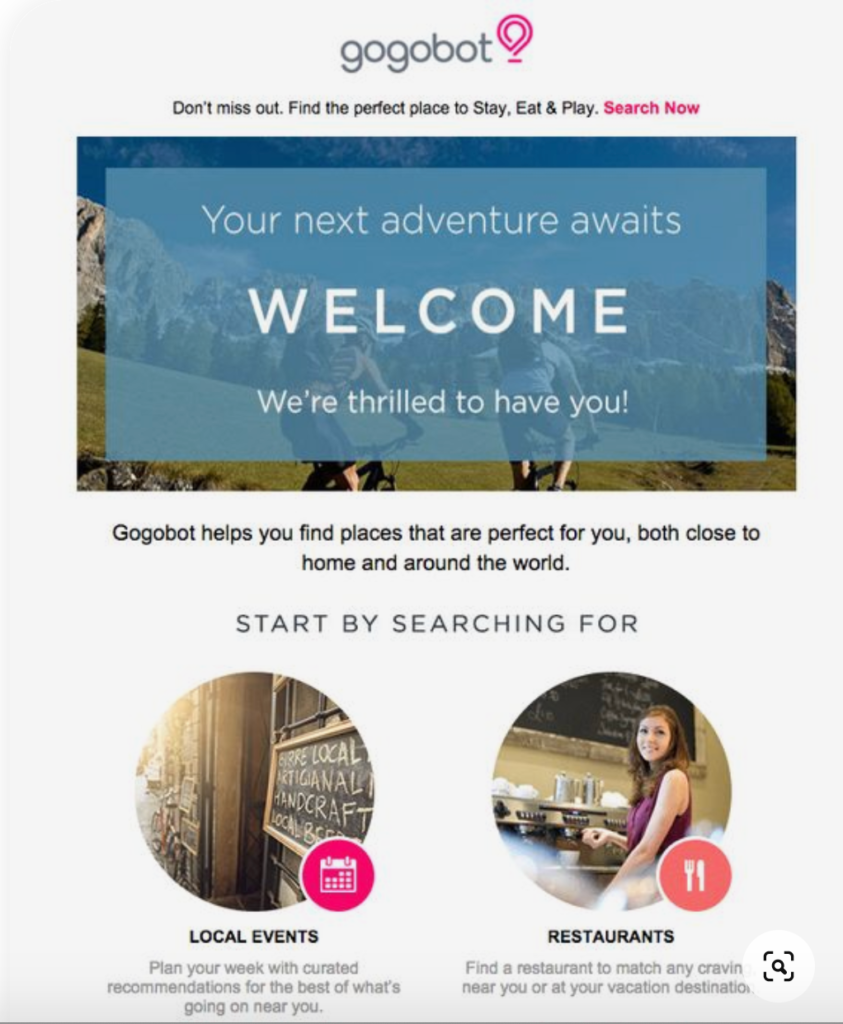 Now known as Trip.com, Gogobot was an online travel agency that helped users plan amazing trips all over the world. Besides finding hotels, they also pointed users to restaurants, events, and activities, all from one convenient interface.
"Your next adventure awaits" is short and sweet at just 23 characters, ensuring it doesn't get cut off for mobile users, and instantly piques the interest of many wanderlusting prospects.
It gives readers just enough to go on to compel them to open the email but still contains an element of mystery — something digital marketing expert, Brian Dean, says can have a dramatic impact on your open rate.
2. Chill Without the Chill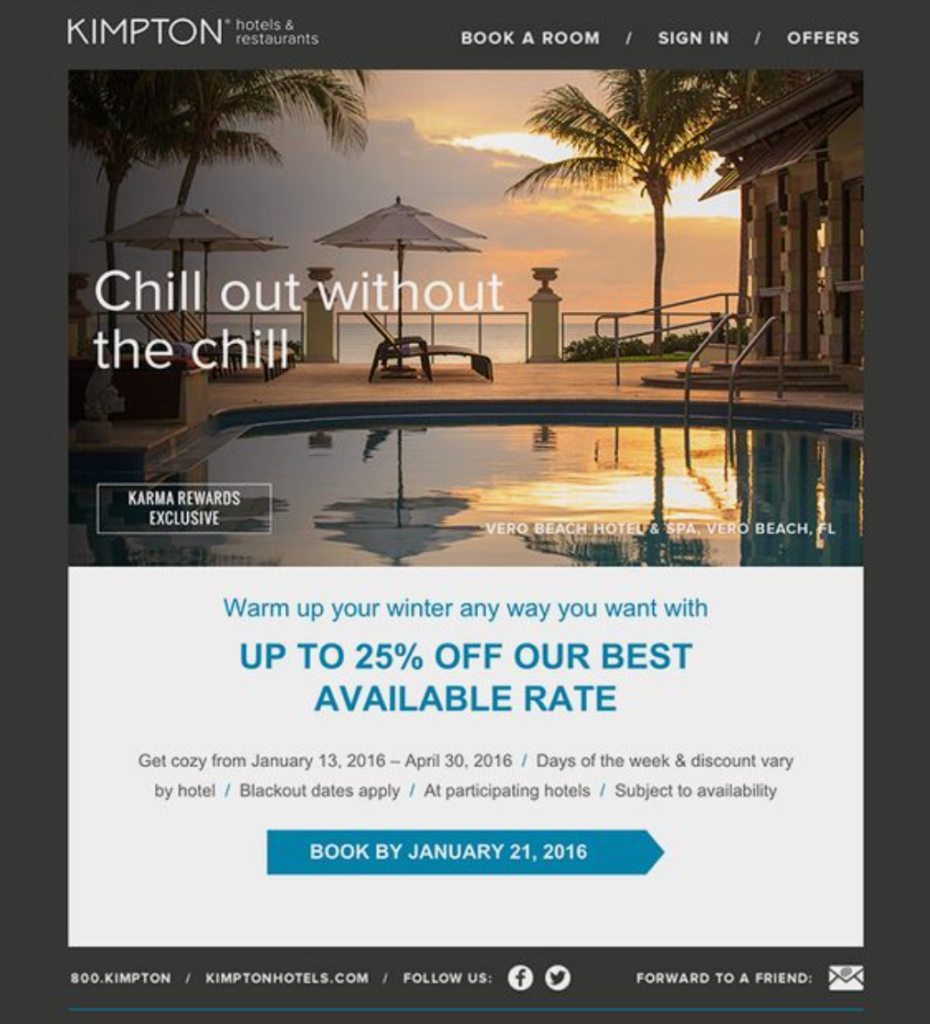 Who doesn't love some good wordplay? I love it when travel agencies get playful with their copywriting, and it's a great way to stand out in a crowded inbox.
Kimpton—a brand that specializes in boutique hotels and restaurants uses some clever wordplay that specifically targets readers who are craving some warmth and sunshine in the depths of winter.
"Chill without the chill" perfectly articulates the vibe of relaxing somewhere on a beautiful beach in a warm, tropical climate, which sounds ideal to me right about now. And when readers open the email, they're instantly met with the enticing image of a pool and palm trees above.
This travel agency subject line is an excellent example of how to use wordplay and how to capitalize on seasonal trends.
3. Special Delivery: Sunshine Inside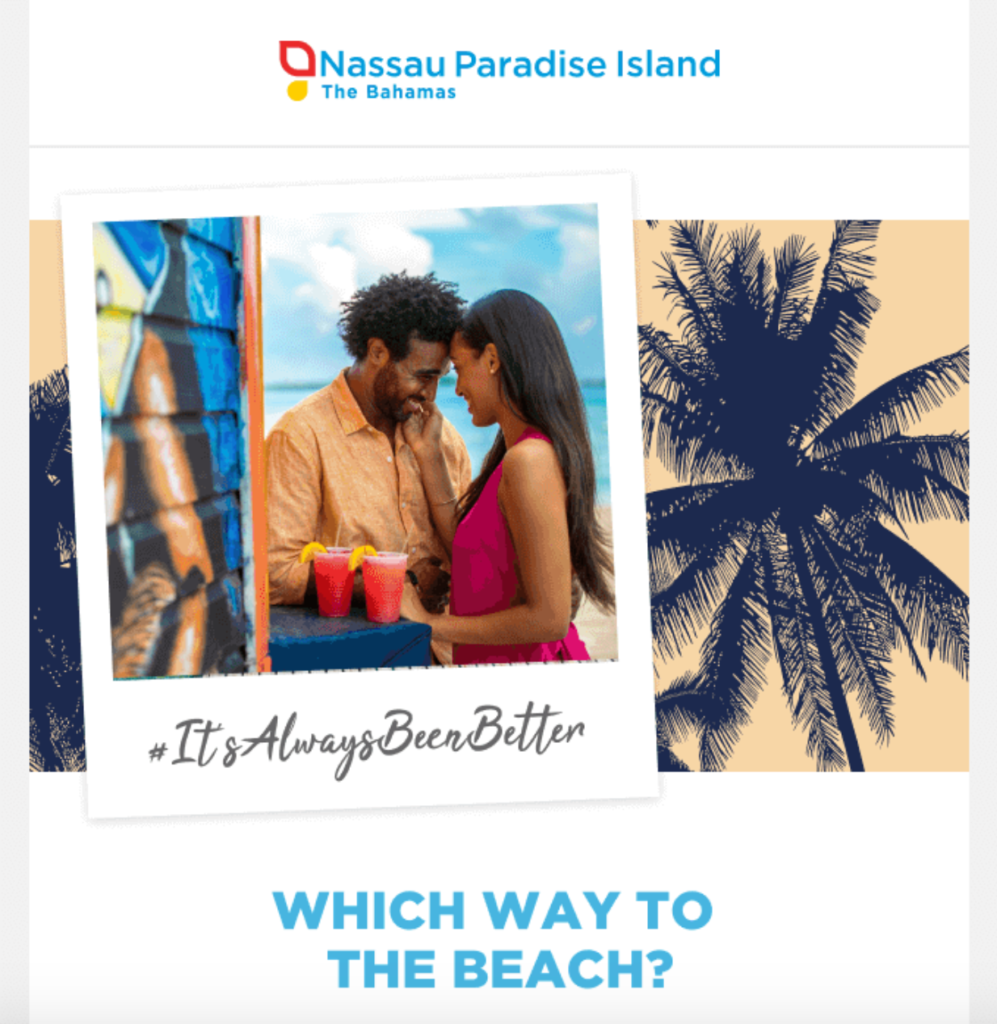 While we're on the subject of beachy escapes during winter, here's another example of a home-run subject line that targets this sunshine-starved demographic. It's from Nassau Paradise Island, a travel agency that helps people plan sun-soaked trips to the Bahamas.
"Special Delivery: Sunshine Inside" is a playful subject line with minimal characters, and most readers can quickly surmise what it's about. It also aligns with Nassau Paradise Island's brand.
So, when readers open the email, the offer is on par with their expectations.
4. Any National Parks on Your Bucket List?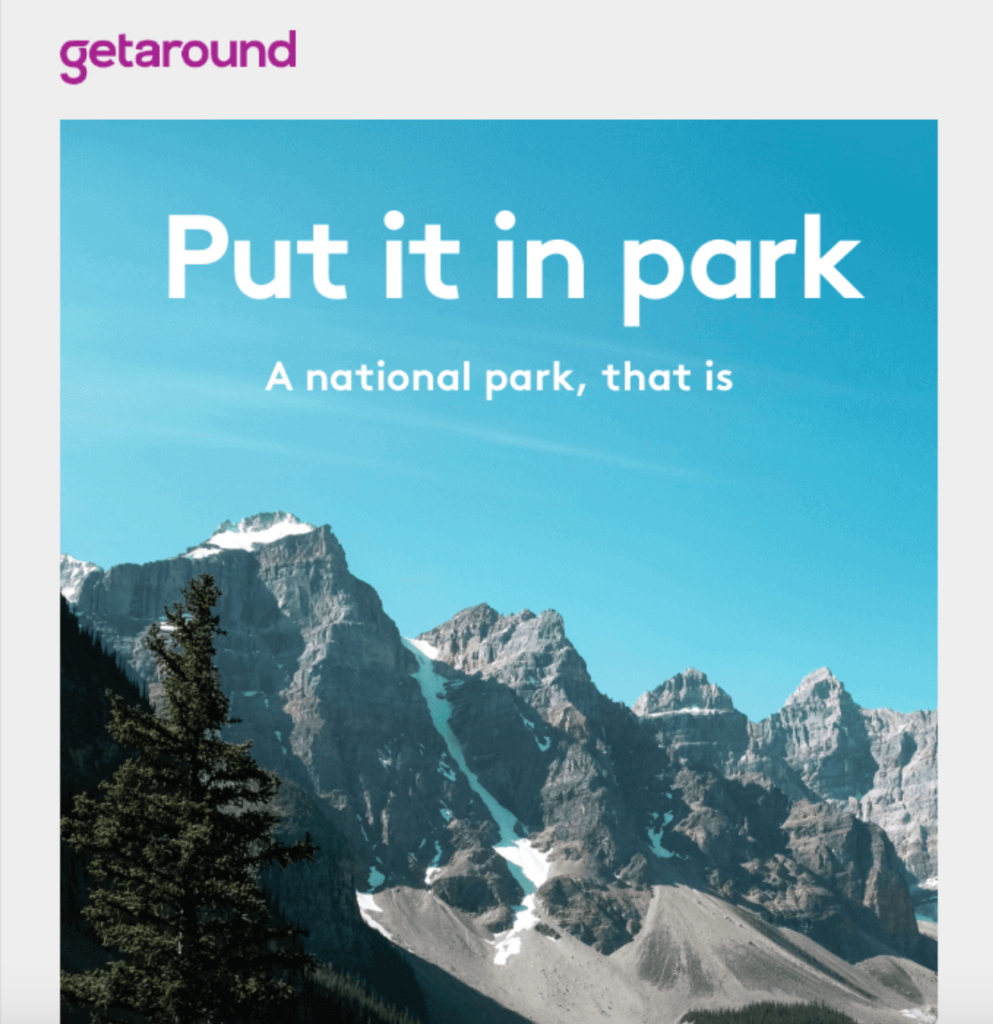 Roughly 331 million people visit national parks in the US each year. This subject line from Getaround, a company that helps people find reliable travel transportation, specifically targets this massive demographic by asking the compelling question, "Any national parks on your bucket list?"
Olivia Allen of HubSpot explains that asking a question like this can help draw readers in, especially when it involves something that's relevant to a buyer's persona.
In this particular case, asking a reader if any national parks are on their bucket list signals that the email likely contains engaging content about traveling to a national park.
And when they open it, they see a jaw-dropping image of epic snow-covered mountain peaks, along with full details. This makes it a great example of how to effectively incorporate a question into a subject line to rouse a reader's curiosity.
5. Your Travel Planning Just Got Easier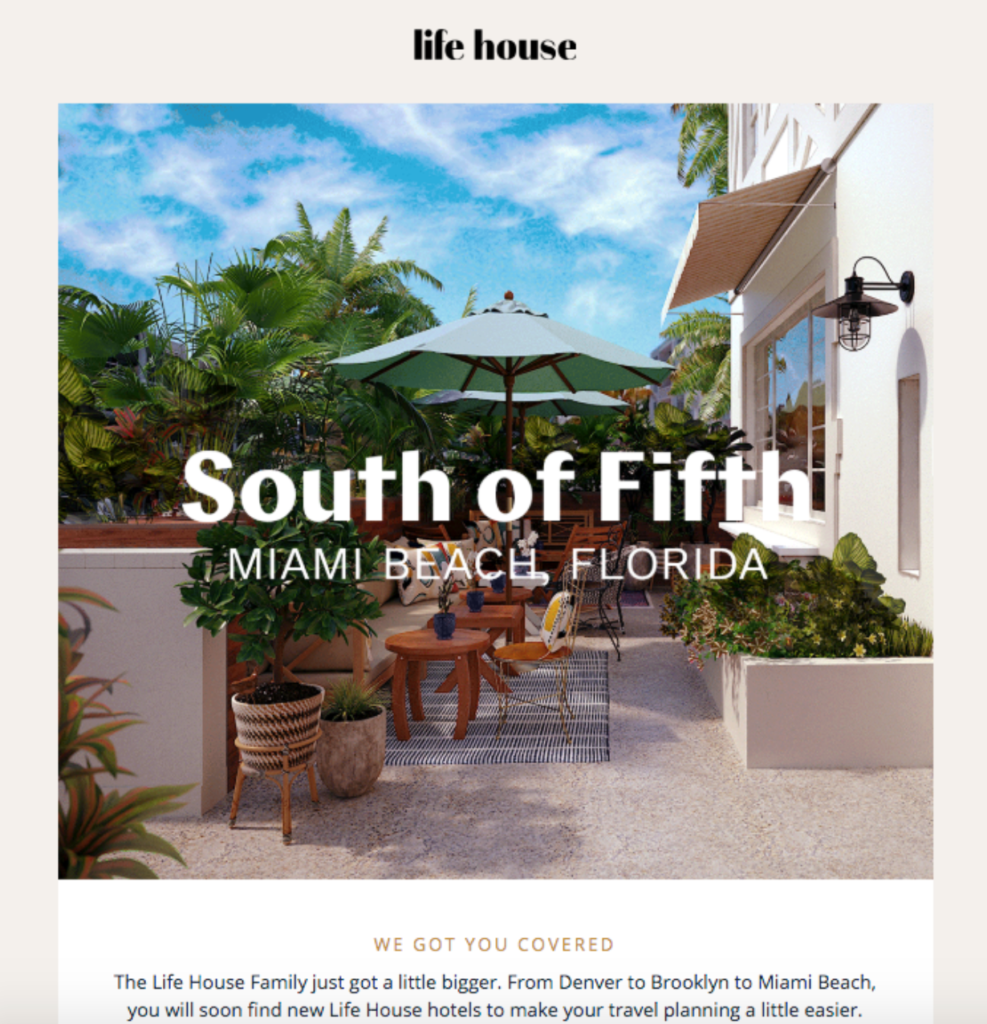 I love traveling, and there's nothing like setting foot in some exotic destination for the first time. That said, one unfortunate downside is that you have to plan your trip out, and things can get stressful in a hurry.
After all, there's always the potential for flight delays, lost luggage, screaming kids, just to name a few unpleasantries.
But this subject line from Life House, a brand that matches people with "contextually designed hotels," instantly puts the kibosh on much of the drama that people often associate with travel. "Your travel planning just got easier" has a soothing feel to it and makes readers want to see exactly how.
Once they check out the offer, Life House says "they've got readers covered" and highlight some of the cool places they can stay, including convenient links to accommodations.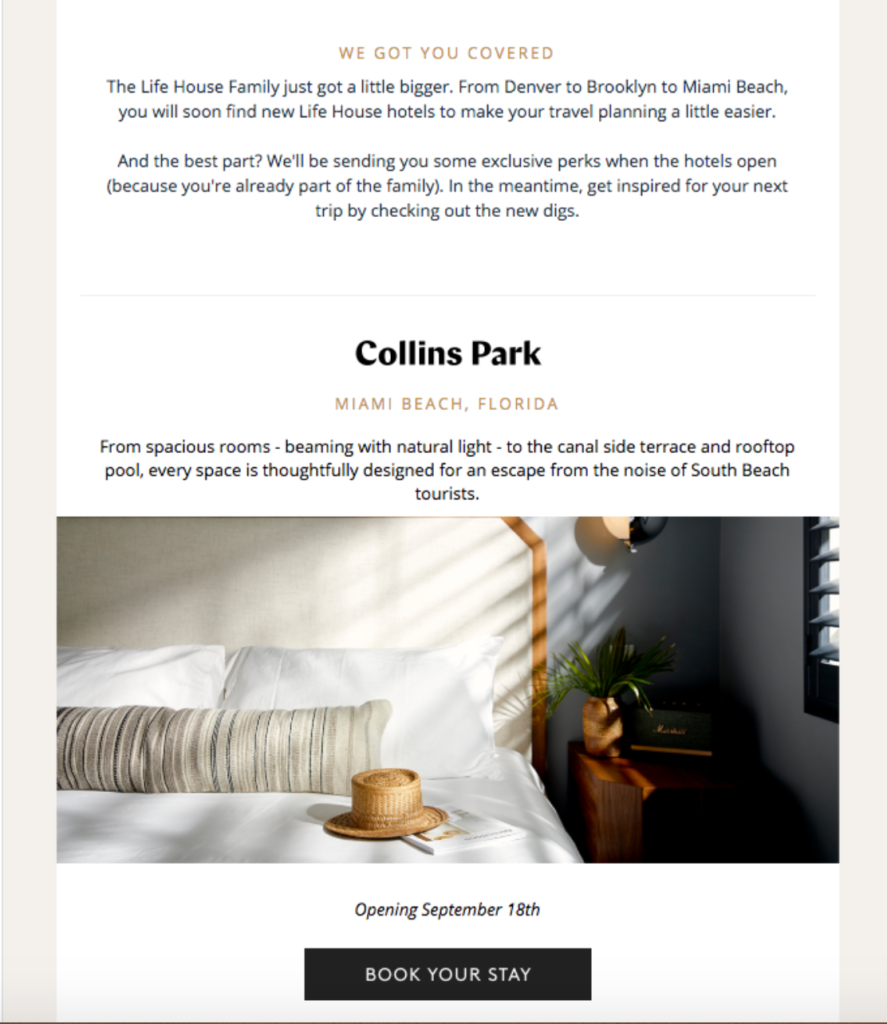 6. Interrupt Your Regularly Scheduled Fall with a Getaway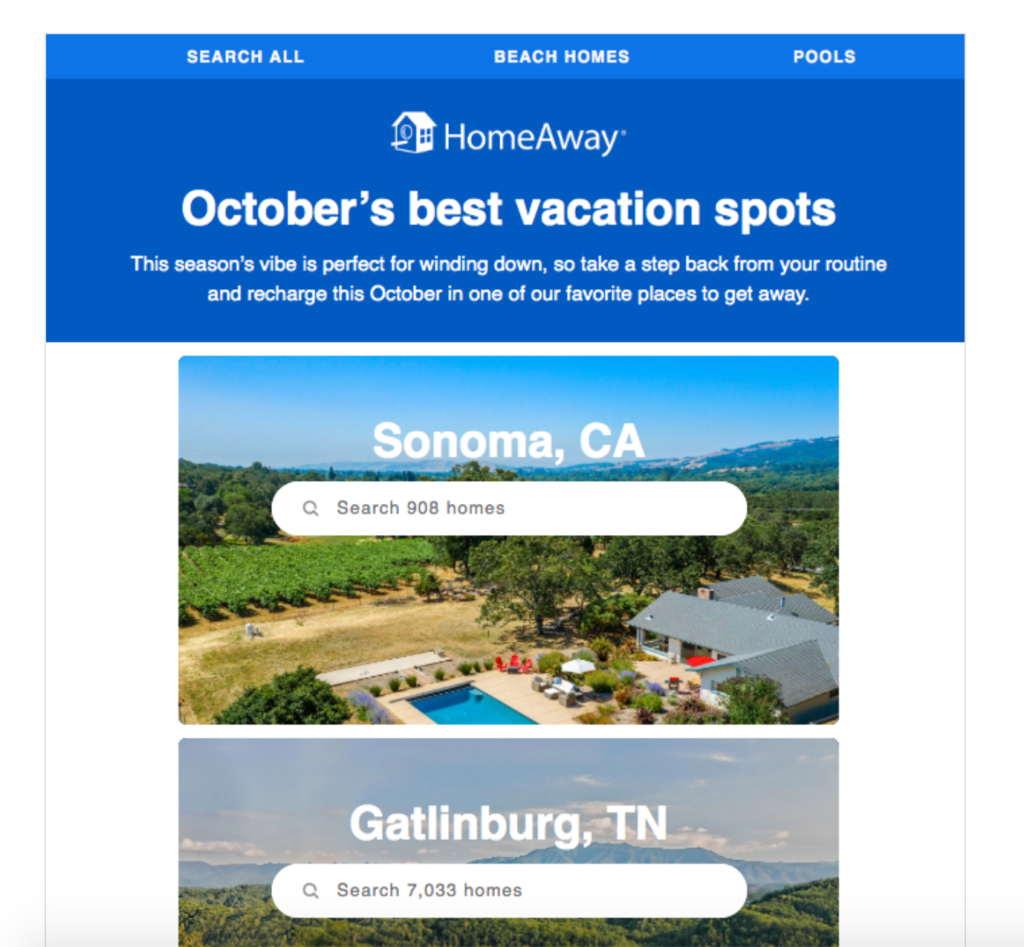 HomeAway helps travelers find amazing vacation rentals for "cabins, condos, castles, villas, barns, and farmhouses." They have a reputation for sharp, witty copywriting, and this subject line is certainly no exception.
It was sent in October during the height of fall foliage beauty and invites readers to check out some of their best vacation spots during this glorious time of year.
The subject line is ultra-relevant and captures the attention of anyone interested in taking in the scenic beauty of autumn. And once opened, the information is presented in an easy-to-follow, logical layout.
7. 5 Winning Holidays Under $200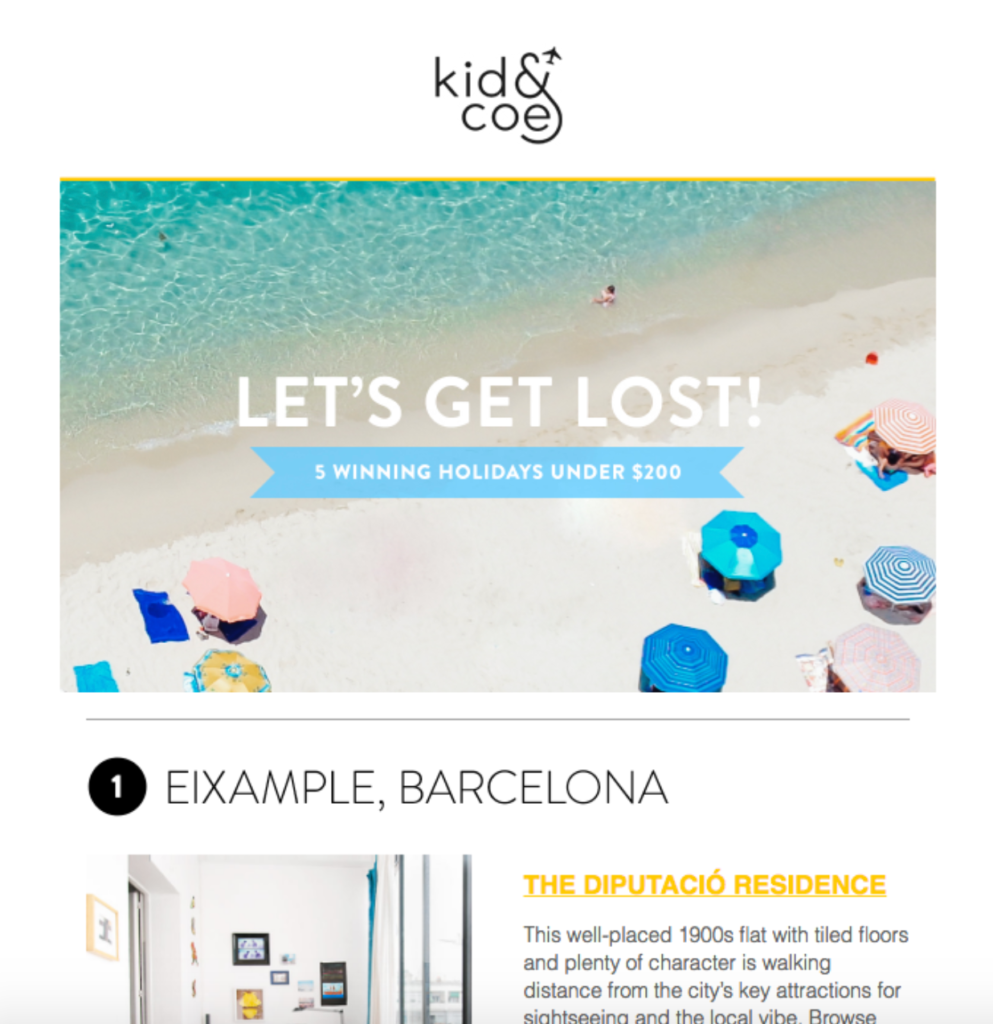 Kid & Coe is a travel agency that specializes in kid-friendly family vacation destinations. The subject line for this email is a winner because it's so specific with the numbers it uses.
At a glance, readers can see that by opening the email they can find about five holiday adventures under $200. Using quantifiable numbers like this is huge because it sets the right expectations from the start.
"A lot of businesses send emails with vague statements in their subject lines—which is why using data and numbers is a great way to get your emails noticed, demonstrate a clear and straightforward message about your offer, and set the right expectations," writes Olivia Allen of HubSpot.
So whenever possible, try to be hyper-specific like this, as it should help increase your open rate.
8. The Best of America: 5 Star Getaways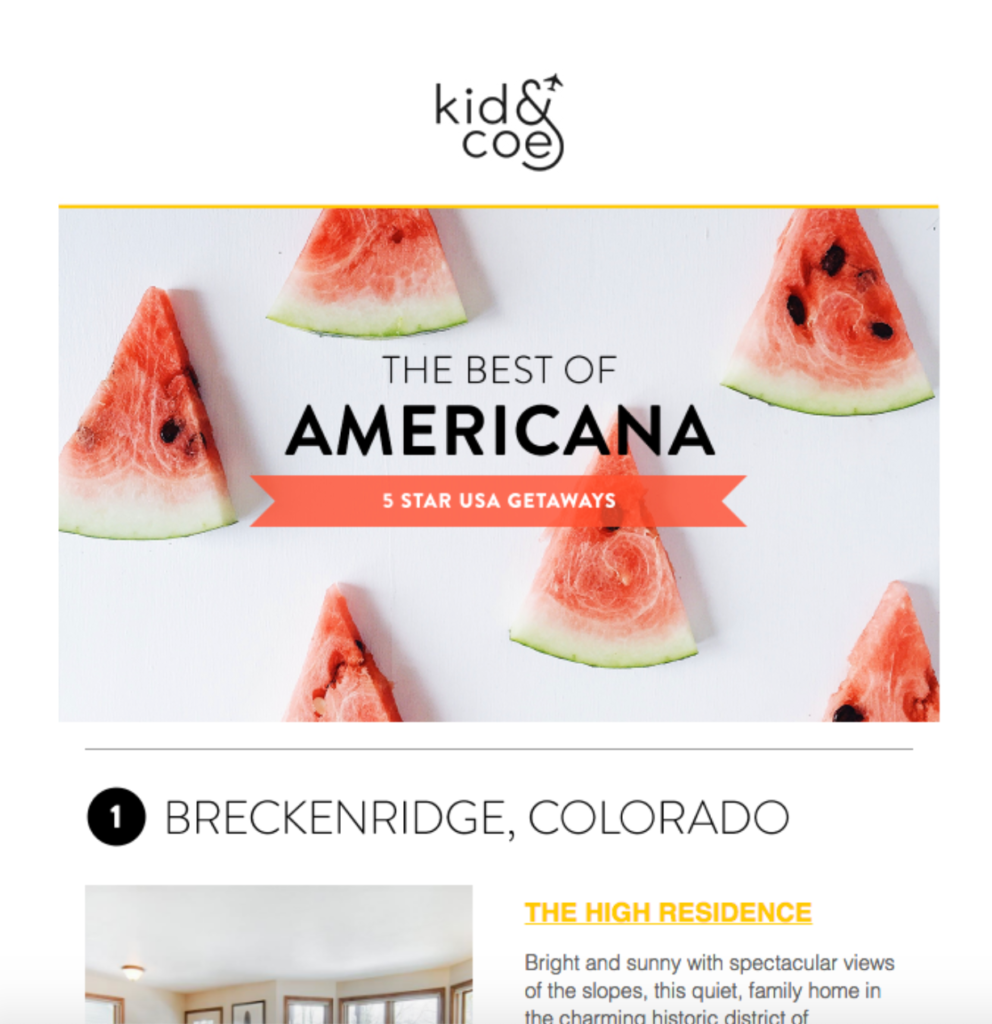 While I'm at it, let me give you one more example from Kid & Coe. This one is for a curated email featuring 5-star getaways from around the US, including places like Breckenridge, Colorado, and Sonoma, California.
While it doesn't have the same level of specificity as their first email, it's very clearly worded so readers know exactly what the contents are before opening it.
That way they don't have to do any unnecessary sleuthing, and the content aligns with their expectations.
9. Sandy Beach or Private Island?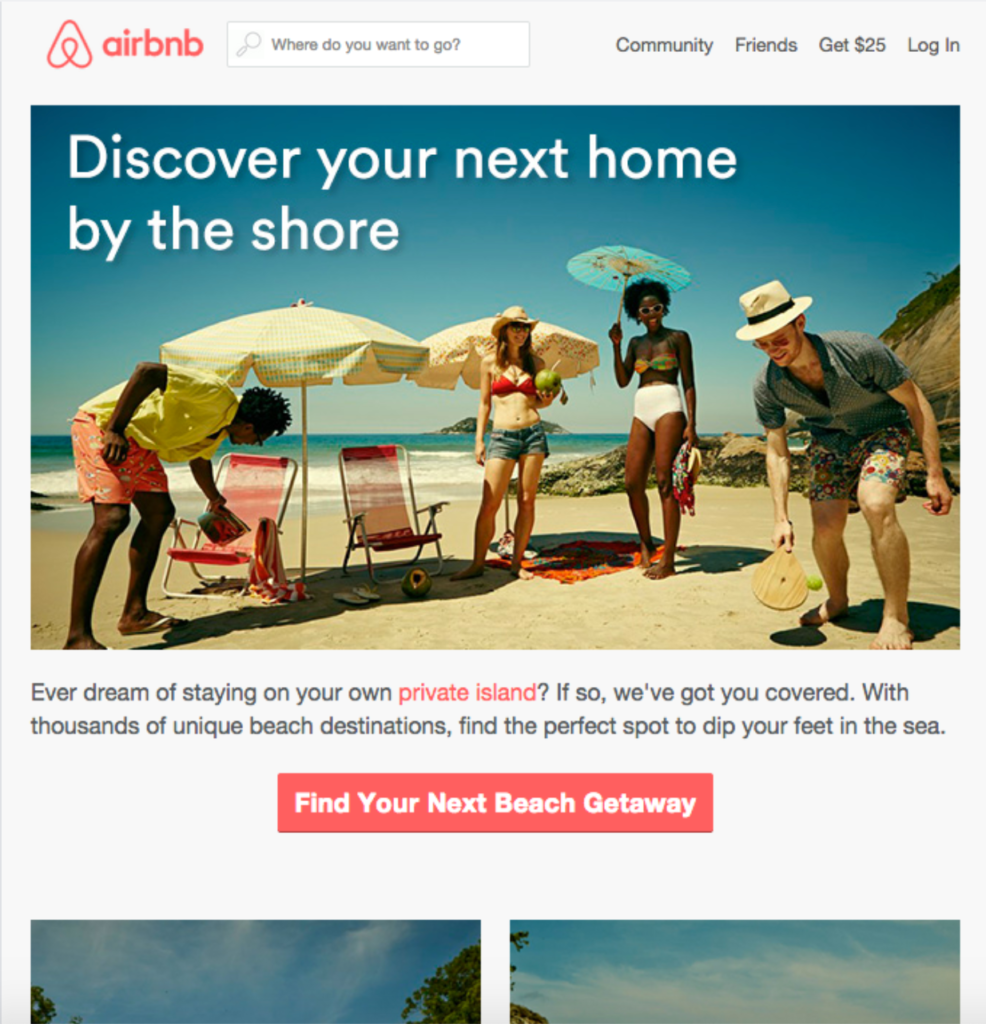 Airbnb is no stranger to killer copywriting. If you've ever subscribed to their newsletter, you know they keep the amazing content coming, and their writing team is sharp as a tack.
I love this subject line because with just a quick question, readers have a crystal clear idea of what the offer entails—visiting a tropical paradise.
"Sandy Beach or Private Island?" perfectly encapsulates the types of properties readers can find through this Airbnb email and conjures up ultra-appealing imagery.
So, this is another great technique for taking the question-based approach to a subject line.
10. Check Into Somewhere Exceptional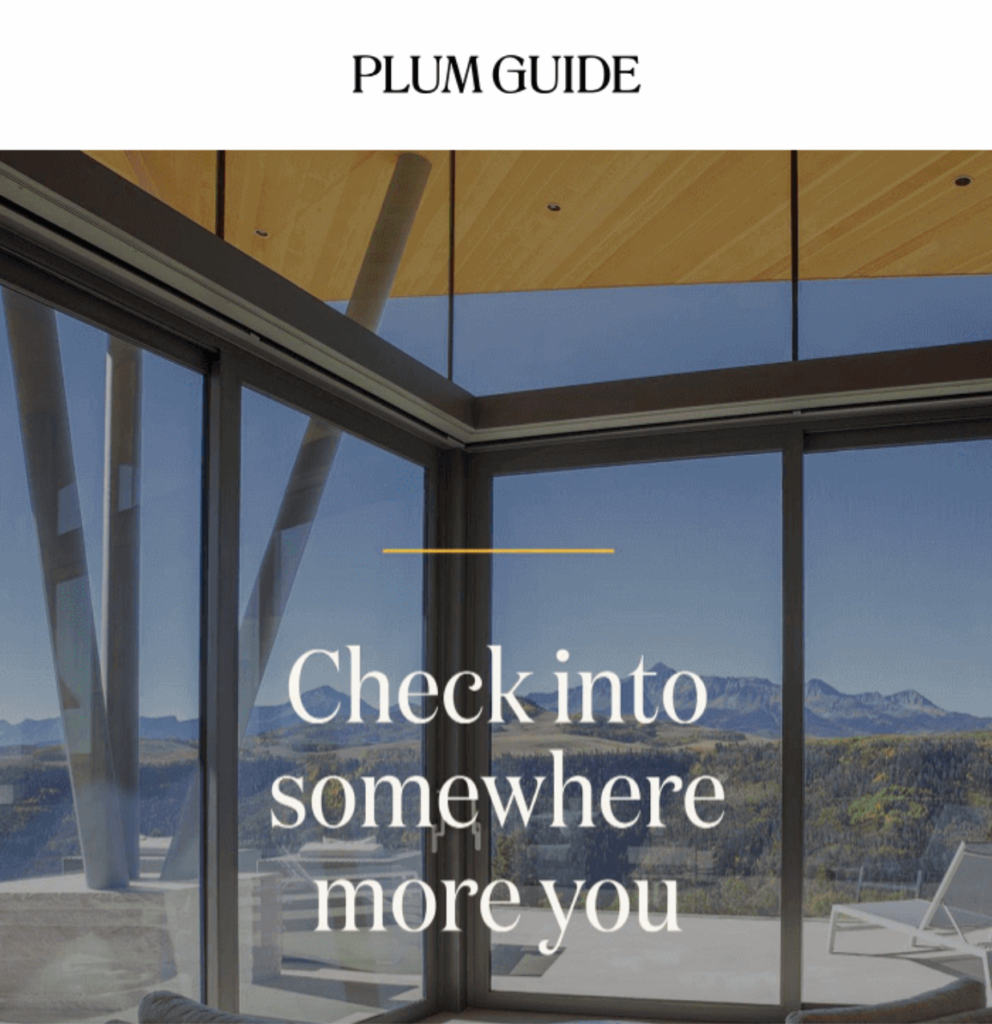 Plum Guide "handpicks the world's best vacation rentals, holiday homes, short-term lets, and Airbnbs from over 25 different sites."
The subject line for this email cuts straight to the chase, and with just four words, readers understand the essence of Plum Guide's offer. Using concise wording like this is essential because prospects scan through their inboxes quickly.
If they have to stop and think about what's inside an email, they'll likely pass it up. But using clear wording like this means they can get this gist without having to do any heavy cognitive lifting.
I also like how saying "Check into somewhere exceptional" invokes images of high-quality accommodations — ones that stand out from your run-of-the-mill roadside motel.
And when readers open the email, Plum Guide delivers, featuring gems like this beauty from Telluride, Colorado.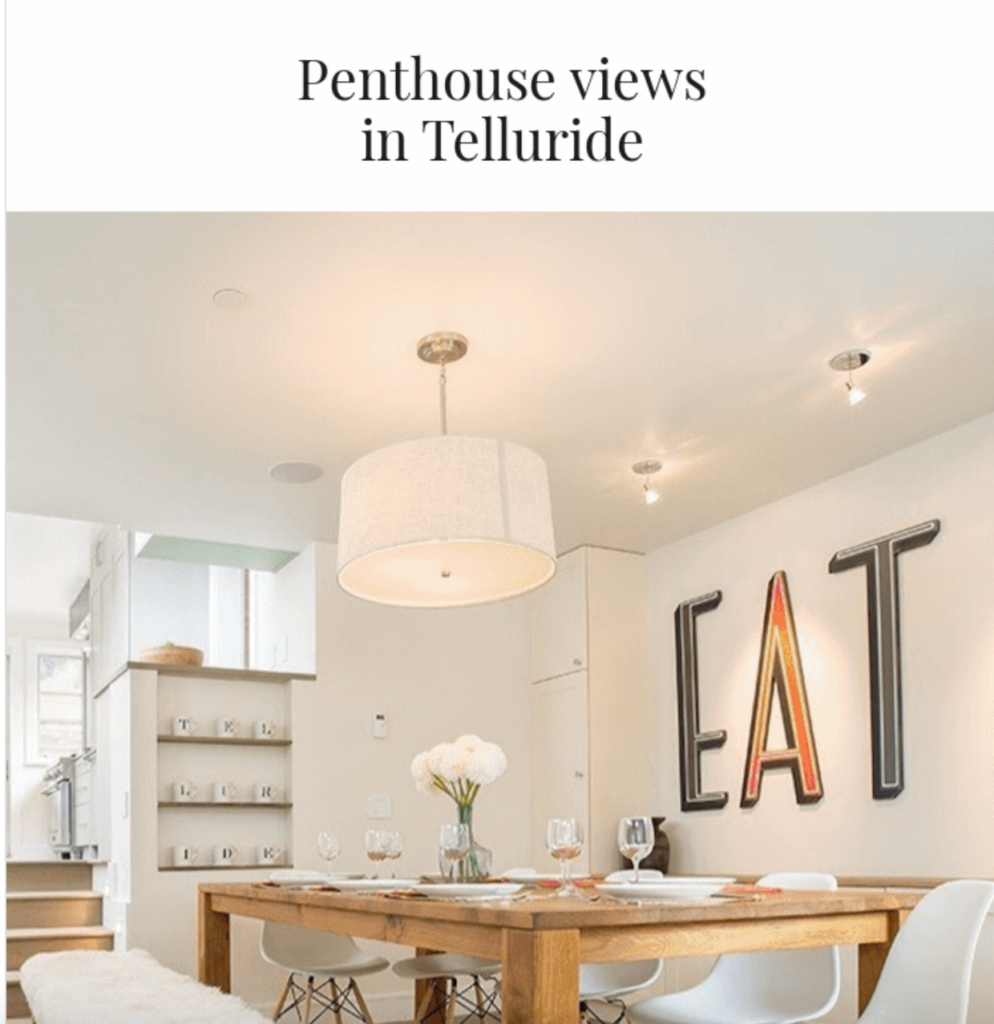 As Olivia Allen of HubSpot puts it, "Make sure that you make good on your commitment — and do not try to get your email opened by making false promises."
This is key for building rapport with your audience and for preventing excessive churn long-term.
11. Ben, Travel Locally—Take a Weekend Trip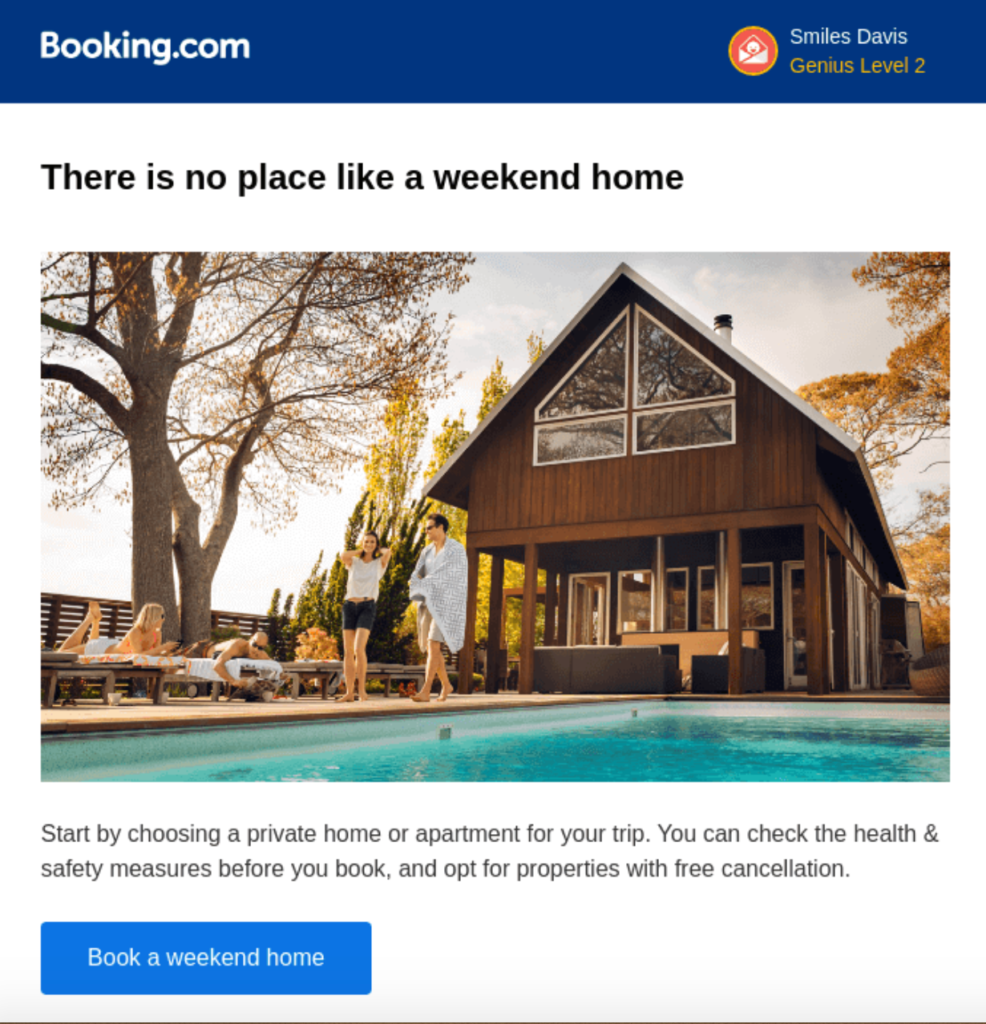 You're probably well aware of how important personalization is in email marketing. And there's arguably no better place to use personalization than in subject lines. In terms of quantifiable impact, "Readers are 26% more likely to open emails with personalized subject lines," explains Campaign Monitor.
This tactic has also been found to lead to higher click-through rates, which means more readers not only open emails but go on to check out the offer afterward.
This example from Booking.com demonstrates an extremely simple yet effective way to incorporate personalization. The very first word they use is the reader's first name, Ben, which is followed by suggesting that he takes a weekend trip to a local spot in his area.
Rather than simply saying, "Travel locally — take a weekend trip," injecting the reader's name makes it 26% more likely that the email will be opened. And once it is, Booking.com continues with the personalization, offering unique recommendations in his locale.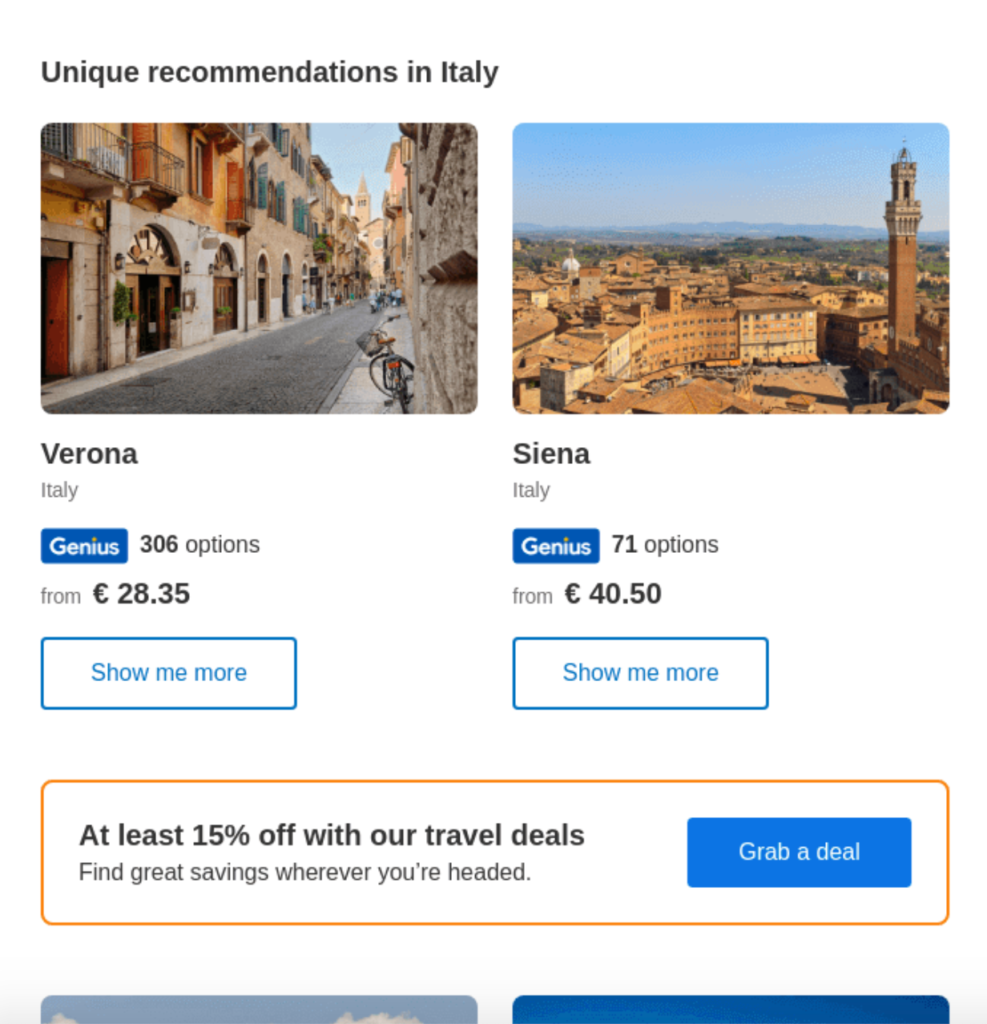 This goes to show that you don't have to reinvent the wheel when it comes to personalizing subject lines. You just need to look for effective ways to tailor them to each reader in a way that grabs their attention.
12. Say Hello to Our Newest Cities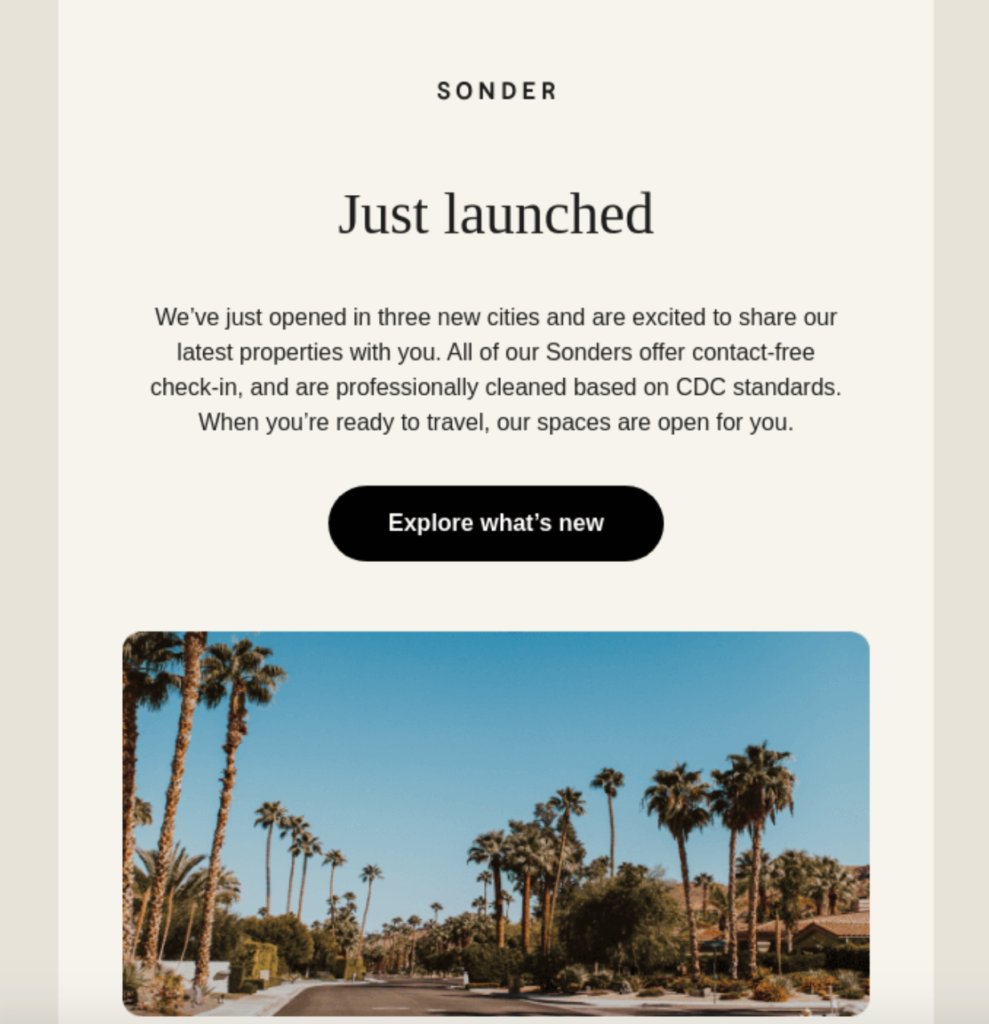 Sonder is a travel agency that lets users stay in their favorite neighborhoods around the world. For this subject line example, they have one simple goal.
Make an announcement that they just opened in three new cities to get the word out about it.
"Say hello to our newest cities" succinctly gets the message across, giving readers enough information to go on, while making the subject line easily viewable by mobile users.
Once opened, Sonder serves up the full details where readers can see exactly what's happening.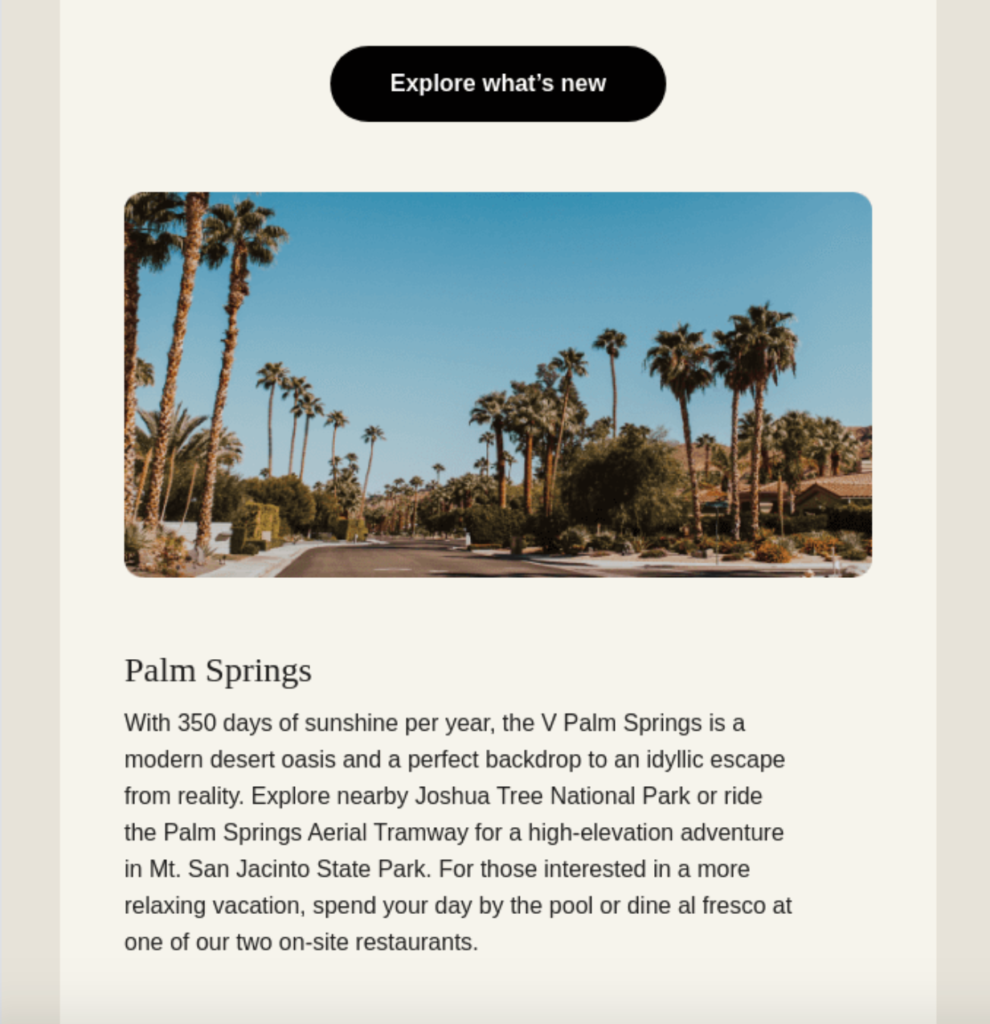 This example is a reminder to boil your subject lines down to absolute essentials to motivate the highest possible percentage of readers to open your content.
From there, you can offer the full info.
13. Start Dreaming of Your Next Vacation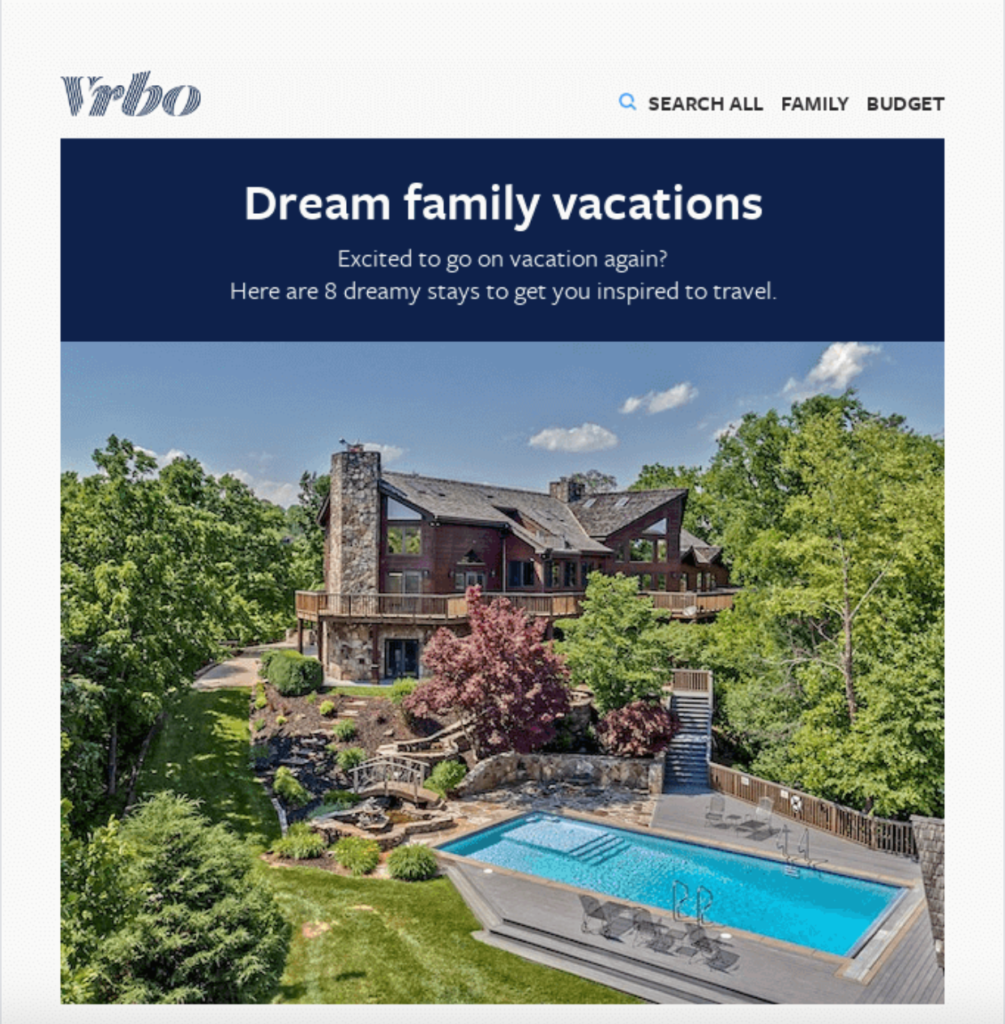 This final travel agency subject line example comes from Vrbo, which is quickly becoming one of the top vacation rental sites online.
It's what you would call action-oriented, which helps motivate a large percentage of readers to open the email. And that's a big deal.
"Subject lines are similar to calls-to-action, in that you want the language to inspire people to click," adds Olivia Allen of HubSpot. "Subject lines that begin with action verbs tend to be a lot more enticing, and your emails could be drastically more clickable by adding a vibrant verb at the beginning."
This particular example gets the ball rolling for readers to start dreaming of their next vacation and should prompt many to check out the offer inside.
When they open the email, Vrbo hits them with amazing spots like the ones below and provides convenient links where readers can find property information.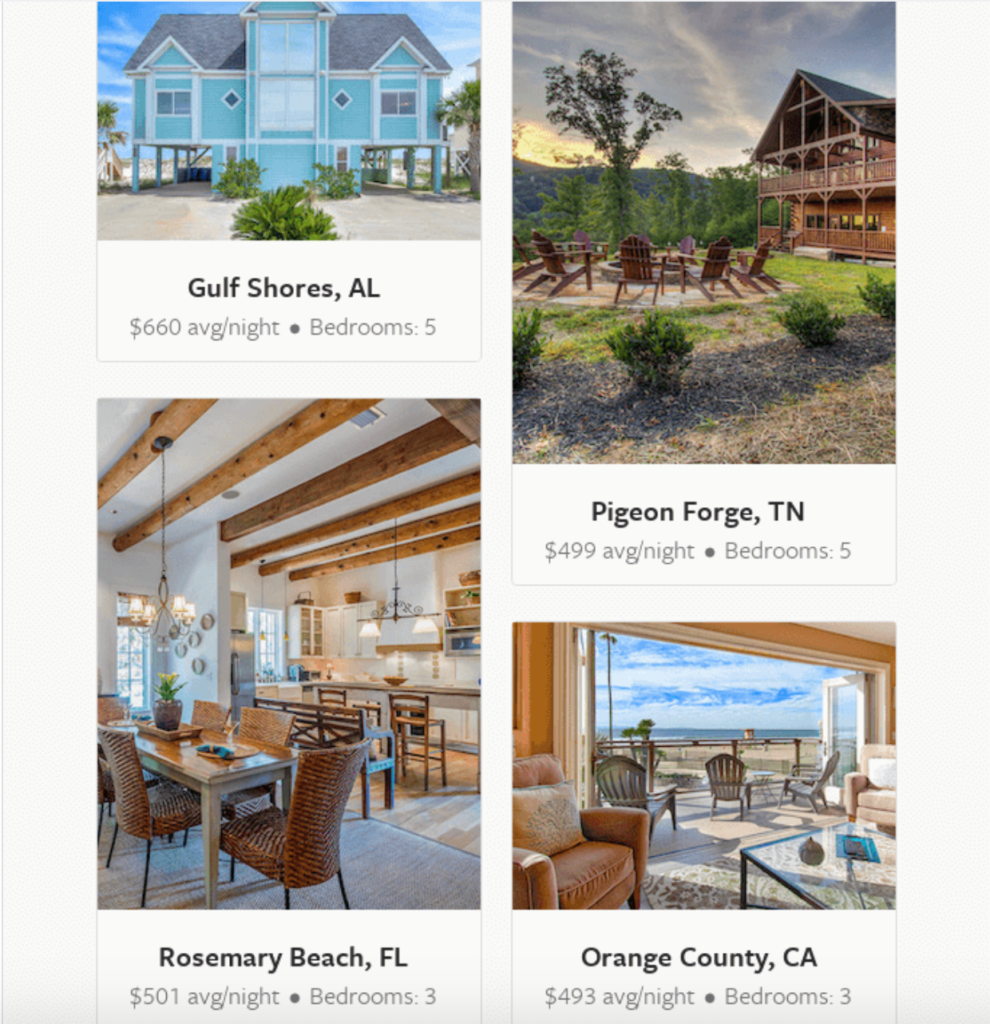 So, if someone was starting to feel the itch to travel, this email serves up some amazing ideas to spur action.
Conclusion
Writing a killer travel agency subject line is like knocking over the first domino of your email campaign. It helps your email stand out in cluttered inboxes and compels more readers to check out your offers.
From there, you can fully elaborate and persuade readers to click-through to your website or wherever else you're looking to send them. But none of that happens if you don't first nail the subject line.
These travel agency subject line examples demonstrate firsthand how to go about this correctly and showcase some specific best practices to use. All of these brands have had success with their email campaigns, and you can draw inspiration from them to get your own campaign popping.