Spooky costumes, fake spider webs, horror movies. Everything points to that time of the year.
But for e-commerce marketers, Halloween means more than dressing up and trick-and-treating.
Falling at the end of October, Halloween signals the start of the holiday shopping season—a season that's highly profitable for e-tailers, regardless of their industry or country.
According to the National Retail Federation, holiday spending exceeded $789 billion last year in the US only.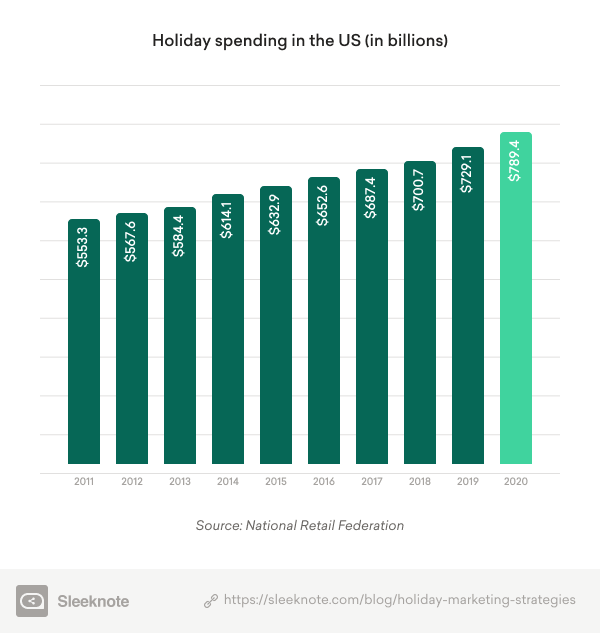 And nothing less is expected this year. So, with that in mind, here are seven inspiring Halloween email examples to help you sell more this season—without running a big sale campaign or hurting your profits.
Halloween Email Examples
1. Birchbox
It's no secret that online shoppers expect to score good offers around this time of year. Unsurprisingly, most e-commerce companies run Halloween sales but do so by discounting their products.
While the "20-percent-off-everything" type of sale might work for some brands, it carries the risk of reducing your products' perceived value.
A smarter approach to running Halloween sales is to frame your offer as a gift, in the holiday spirit, and Birchbox does this in its Halloween email.

Carrying the above subject line, Birchbox's email talks directly to you. Taking the tricks out of trick-and-treating, Birchbox implies that it has a gift for you.
This is what you see when you open the email to find out more about Birchbox's treat: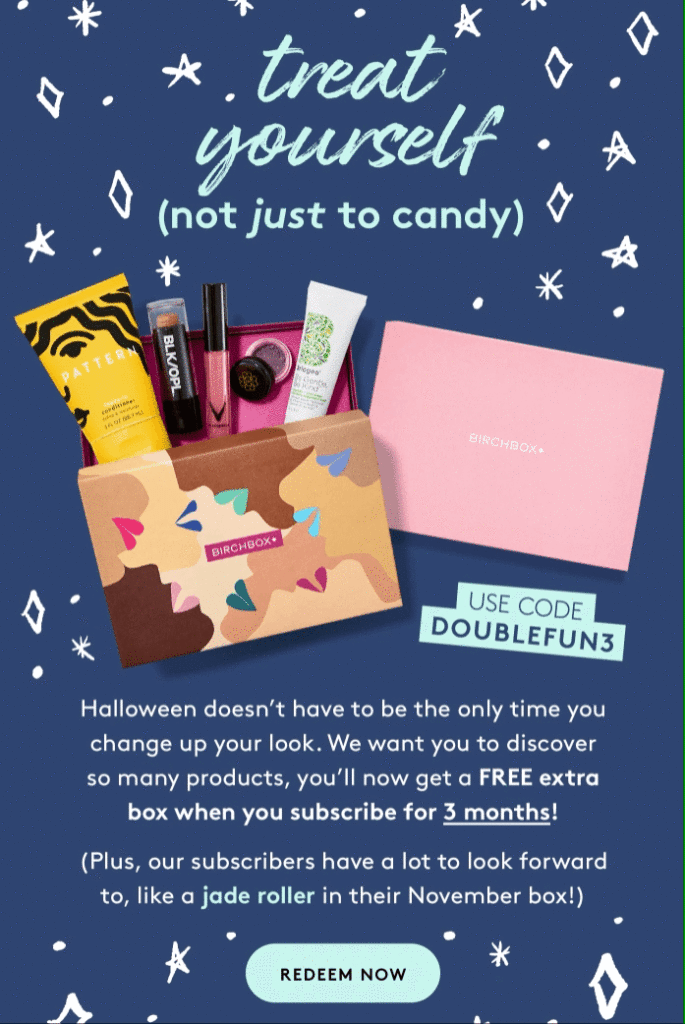 Unlike most brands that go with the orange-and-black Halloween aesthetics, Birchbox's email content focuses on its product and how it can help you.
What's more, Birchbox's entire value proposition is based on helping you discover new beauty products so you can "treat yourself" every month. And while Halloween isn't typically a time for self-care, Birchbox cleverly turns the concept of trick-and-treating around and makes it all about you.
The email is a nice reminder to treat yourself every now and then, and Birchbox's incentive (i.e. extra three months) makes it easier for you to start doing that.
The brand illustrates the power of borrowing a concept from Halloween and using it to promote your limited-time offer, even if your products have nothing to do with Halloween.
2. Origins
Handing out ungated discounts like in the earlier example might work well on warm leads who are ready to buy from you.
Mid-funnel prospects, on the other hand, might need a little more work than that. An engaging email campaign, like Origins', can activate dormant leads in your email list before Halloween.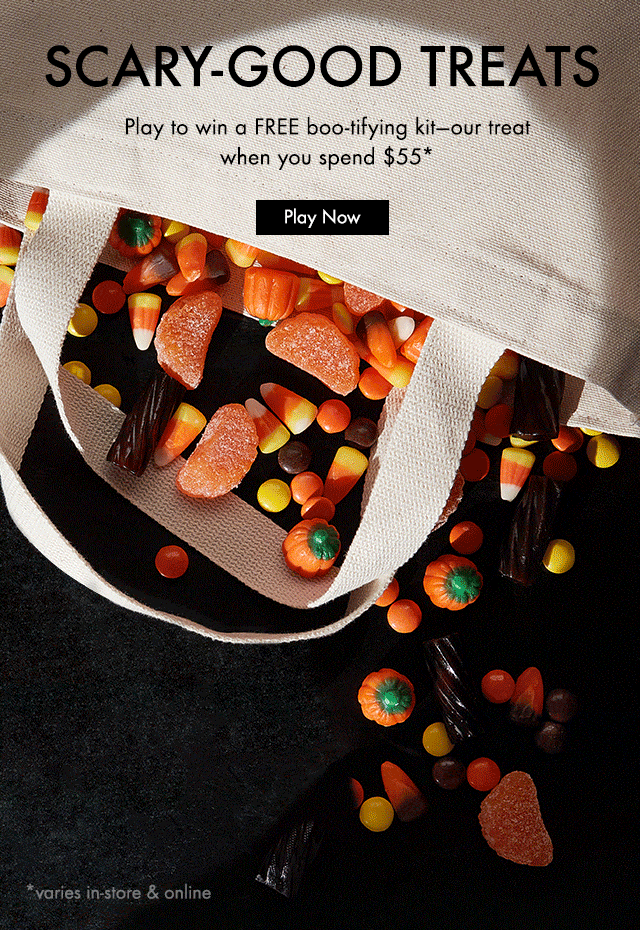 In this email, Origins offers you a free kit as its "treat" when you spend over $55 in its store. But it's uncertain if you'll win the prize, which makes the game more interesting.
Through gamification, Origins makes its offer more desirable. You don't know if you'll win or not, but it's an easy commitment to click through and play a game. You have nothing to lose (and a nice gift to win).
Whether you gamify your offers as Origins does or invite subscribers to your site to "reveal their mystery prize," Halloween emails like the above are ideal to engage your email list.
What's more, gamification not only works well in emails; it's perfect for your holiday popups too.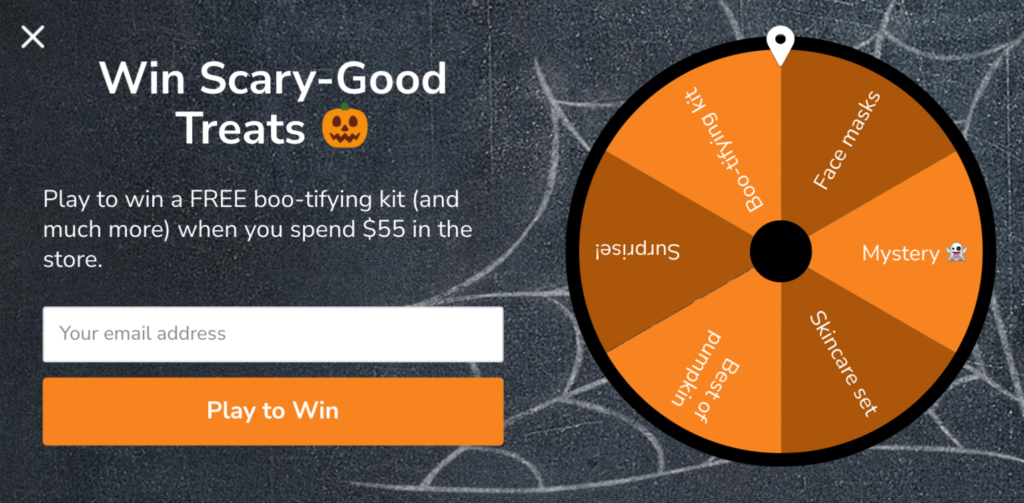 A scratch card, advent calendar, or a lucky wheel in popups can help you collect more emails before, during, and after the holidays.
3. DavidsTea
Halloween emails are often about scary things: ghosts, zombies, skeletons, and such.
If you're running a flash sale or launching a collection that is too-good-to-miss, nothing is scarier than the idea of your products running out of stock.
Or at least, giving that impression. DavidsTea uses this theme in its Halloween emails. In its first email, the company warns that its stock is running out: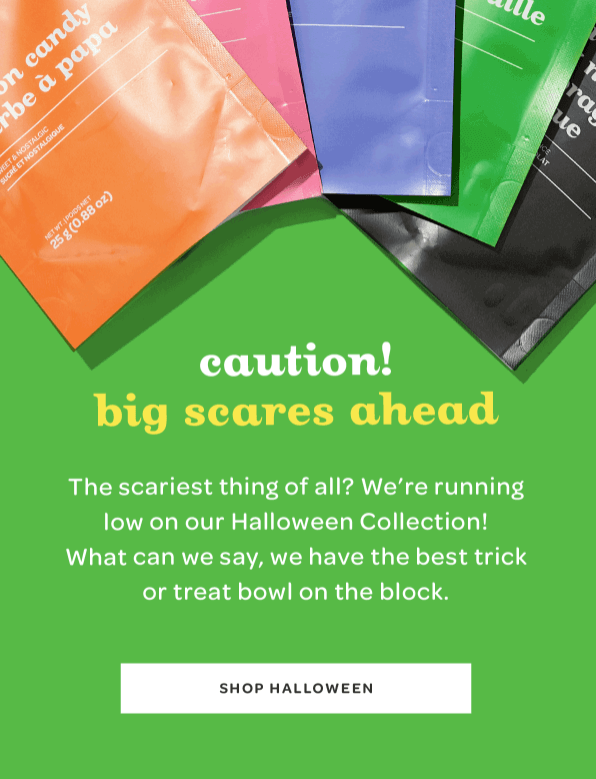 No festivities, no costumes, no scary products. What's scary this Halloween is DavidsTea's products selling out.
With its attention-grabbing headline "caution!", DavidsTea notifies you that its Halloween collection is highly popular. It's a great application of FOMO marketing and social proof in a Halloween email.
In the remainder of the email, DavidsTea promotes the collection at hand, so you can click through and buy its Halloween-themed products before they sell out.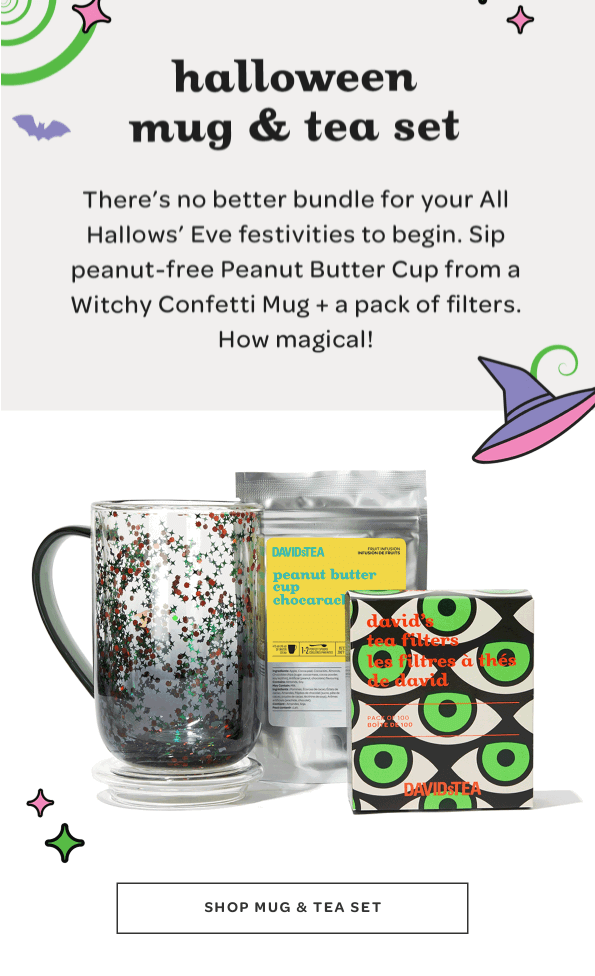 A few days later, the company sends another email, similar to the first one, but with a twist.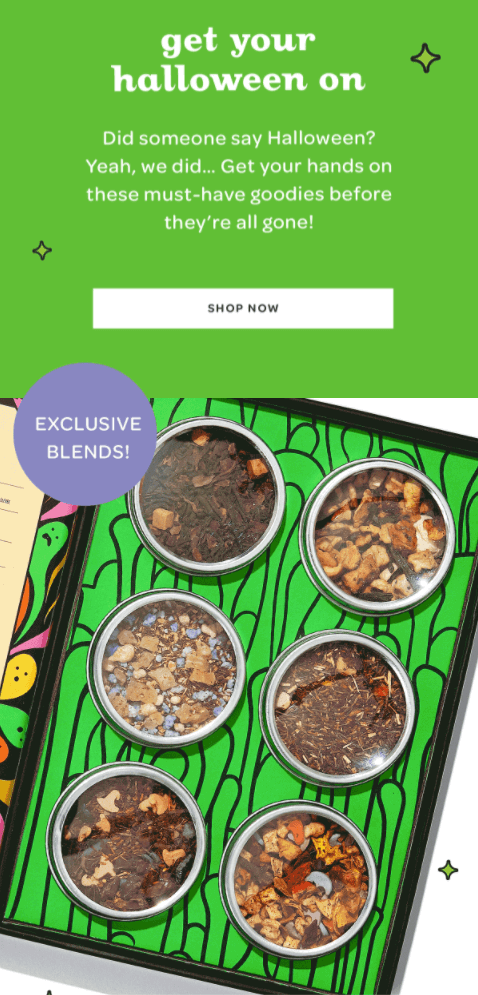 This time, toning the FOMO-scare down, DavidsTea promotes its exclusive blends and urges you to buy before they're all gone.
When you scroll down the email, you find out why you should hurry.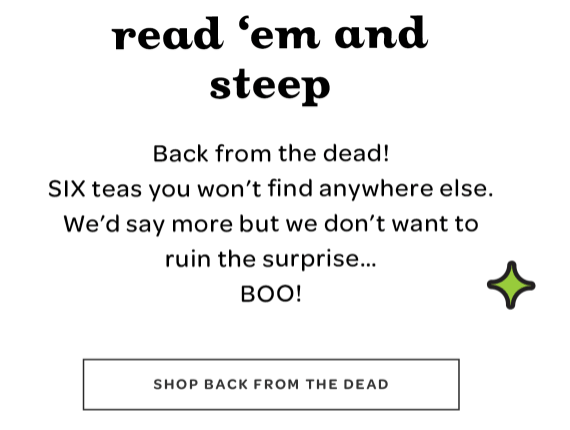 The exclusive blends aren't just like any other product: they are "six teas you won't find anywhere else" because DavidsTea brought them "back from the dead".
Long story short, what you read is actually a back-in-stock email that DavidsTea reframes with a Halloween twist.
Clicking the call to action (CTA) "Shop Back From the Dead" takes you to a product page where you can buy this popular collection.

Notice how the product description fits into the Halloween theme too.
DavidsTea's example shows us how you can use the Halloween angle to promote your limited-time sales or back-to-stock products by getting creative with your email copy.
4. MAC Cosmetics
Running special offers and sales campaigns is only one way of driving more seasonal revenue.
Another—less salesy—strategy is to inspire prospects to get ready for Halloween by using your products.
By injecting product marketing into your newsletters, you can (1) educate subscribers with useful content, (2) show different uses of your products, and (3) drive more purchases from your emails.
MAC Cosmetics is one of the few companies that get this right. In the weeks leading up to Halloween, the beauty brand inspires its subscribers with different look ideas.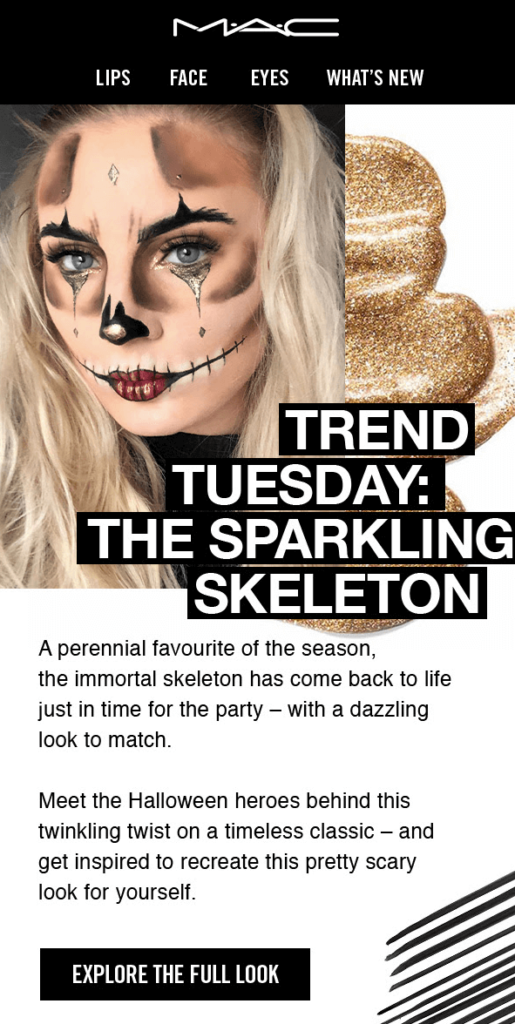 Every Tuesday, you get an email from the company, featuring a classic, yet creative Halloween look. All the products you need to recreate this look are in the remainder of the email.
If you're interested, you can simply click through and buy the MAC products necessary for the Halloween look featured in the email. And if you don't want to buy MAC's products at this moment, that's perfectly fine too—you get a nice idea for a Halloween look you can create.
In other instances, MAC goes even one step further.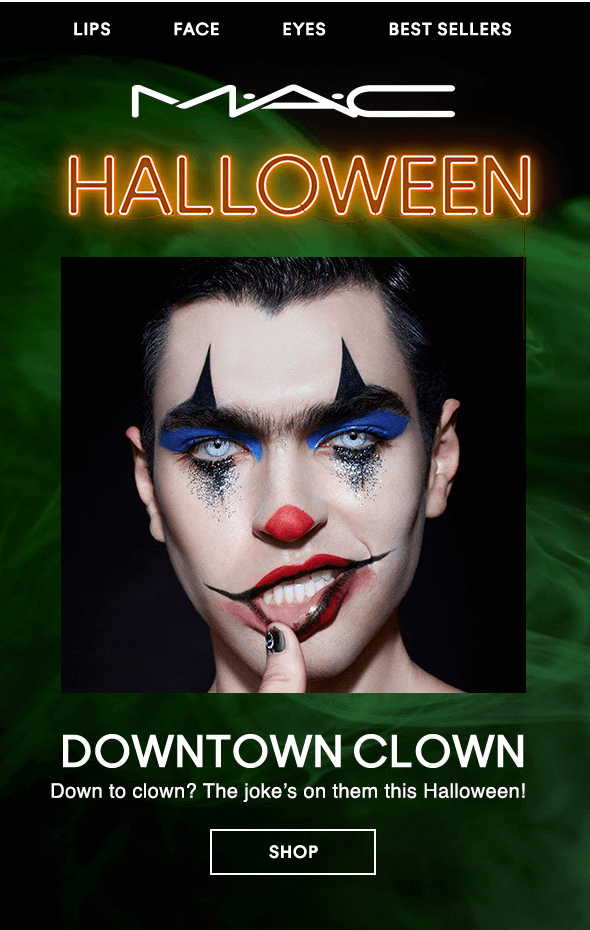 After visualizing another makeup look you can wear on Halloween, MAC gives you a step-by-step tutorial for creating it in this email.
Each product mentioned in the email links to its respective product page, making it ridiculously easy for MAC's subscribers to click through and shop.
MAC's products aren't items you can only use on Halloween. But the company goes the extra mile to show you great uses of its everyday products in each email.
It's a clever holiday marketing strategy you can use to make more revenue out of Halloween without running any offers.
5. Brooklinen
Some industries are more Halloween-friendly than others.
Coming up with costume ideas may be easier for a beauty or apparel brand than an online hardware store.
But it doesn't have to be that way and Brooklinen has the best example to prove my point.
Take a look at this Halloween subject line by the famous bedding e-tailer:

Brooklinen's wordplay not only puts a smile on your face but also makes you wonder what it can offer you for Halloween.
This is what you see when you open the email:
Sent on the day of Halloween, Brooklinen wants you to know that, in case you don't have a costume yet, you're not alone. In the email, they suggest a few ideas you can use today—with nothing but a bedsheet.

This is not just a funny email—Brooklinen's suggestions are helpful too. Plus, they are highly product-relevant.
There's nothing promotional about Brooklinen's email until the very last part.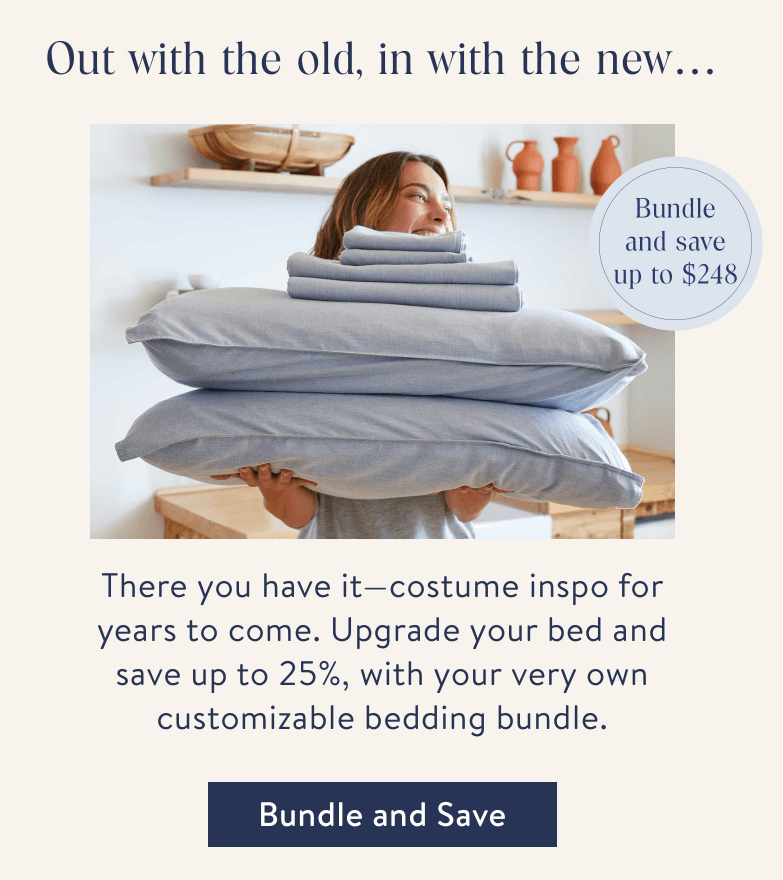 Even then, it's a subtle reminder that you can save $248 by buying your bedding from Brooklinen as a bundle.
I love how Brooklinen approaches its Halloween email with humor and hints at its products' usefulness. Thanks to Brooklinen's "costume inspo for years to come," you don't have to waste your money on a one-off suit either.
6. Framebridge
What if your products aren't wearable at all? How do you promote them for Halloween, then?
It's especially tough to get creative with Halloween emails if you're selling a service rather than a physical product.
Framebridge, an online company that offers custom framing services, is one of those brands. But they find a clever way to keep the brand top of mind even if their product has nothing to do with Halloween.
First, take a look at the company's Halloween subject line:

It's as if Framebridge is reading out loud a checklist you should follow for getting ready for Halloween. While candy and costumes are a no-brainer for the day, the camera is Framebridge's addition to the list, which hints at what's in the email.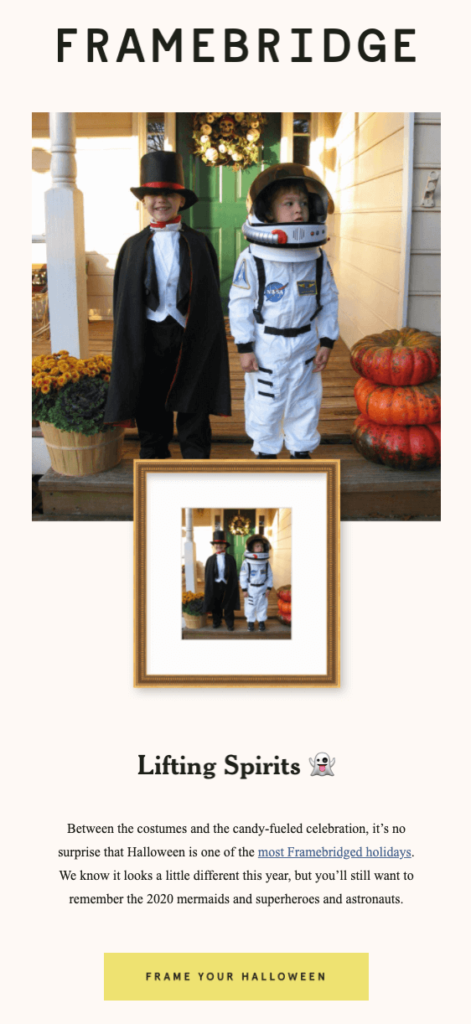 First, notice the clever use of visuals in this email. A photo of two kids dressed up for Halloween is followed by a framed version of it. By "showing" rather than "telling," Framebridge reminds you of its service without having to write a long copy explaining what it does.
Next, the company uses social proof to tell you that Halloween is one of the "most Framebridged holidays". If you haven't considered taking a bunch of photos this day and framing them, think again because lots of people are doing that.
This email belongs to 2020, in the midst of the Coronavirus outbreak, so the last sentence isn't relevant today. But it's an uplifting edition to Framebridge's email copy to say that no matter what happens in the world, you'll want to remember how your kids looked in their costumes.
Best of all, this is a strategy a service like Framebridge can replicate for any holiday or occasion. It's a brilliant way to connect a holiday to your products once you find that creative connection.
7. Allbirds
Halloween is only one day, but the holiday season lasts for a few months—a few months of gift searching, online shopping, (and then some more shopping).
October and November are the perfect months to get into gift shoppers' minds before your competitors do.
Knowing this well, Allbirds focuses its attention on holiday shoppers while every other brand sends regular Halloween emails.

Gift shopping before Halloween may be a bit early even for the early birds, but as Allbirds asks in its subject line, "why not?"
If you agree with Allbirds, you open the email to see this: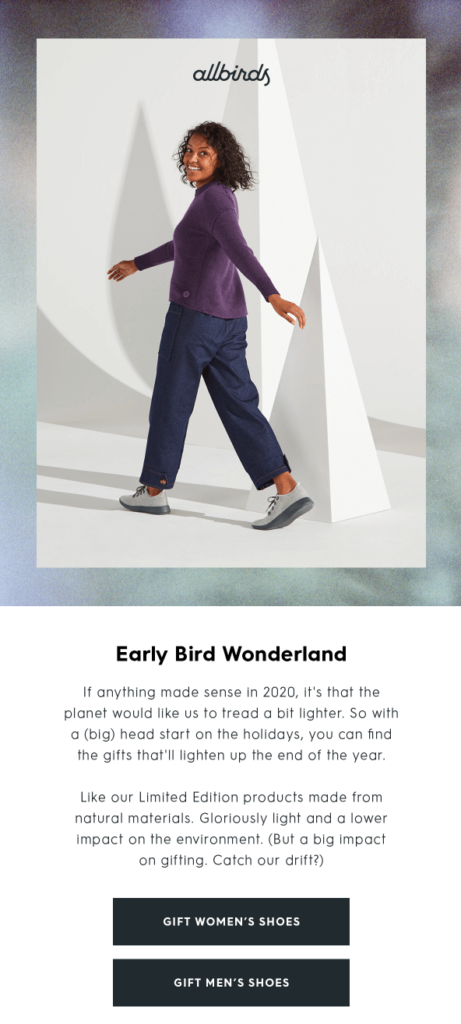 In it, Allbirds simply asks you to take it slow. We've been through a lot in the last few years, so why shouldn't you take your time and already start looking for the best gifts to "lighten up" the end of the year?
Allbirds suggests that you shop stress-free without waiting for the holiday shopping rush and have a big head start on the holidays. It's a smart move to plant the idea in potential customers' minds as early as October, and it's not something a lot of brands do.
If you want to build on Allbirds' Halloween strategy, you can offer a small discount to your email subscribers and incentivize early orders.
Conclusion
Whether you're planning to run a big Halloween sale or simply trying to get more revenue out of the festive season, your email marketing should never be an afterthought.
Take inspiration from these seven brands that nail Halloween emails even if their products or services aren't remotely related to Halloween.
No matter if you're selling teas or sheets, find that link to connect your products to the holidays and you'll start writing more engaging and higher-converting emails.