Mastering follow-up subject lines requires creativity and a comprehensive understanding of your email list.
Your subscribers are overwhelmed by the number of promotional emails they receive every day, so they can only pay attention to a handful of them.
The average open rate across all industries is 16.97 percent, and 47 percent of recipients will open an email solely on the subject line.
Whether you're sending an abandoned cart follow-up email or a thank you email, your subject line must be interesting enough to convince the recipient to open your email.
In this article, I'll share 42 follow-up subject lines you can use for every scenario.
Table of Contents
Crafting a great follow-up subject line is both an art and a science, and below are the main qualities of a compelling follow-up email subject line:
It's relevant. This is where segmenting subscribers by demographics, interests, and buying habits comes in handy. Segmentation lets you target each group of customers with relevant follow-up emails and subject lines that will appeal to their interests.
It's short. Most subscribers read emails on their mobile devices, and your subject line will get truncated if it's too long. The average length of an email subject line is 43.85 characters and you shouldn't use more than 60 characters for your subject lines.
It has incentives. We all love discounts, special offers, and gifts. A follow-up subject line that promises freebies is often enough to convince subscribers to click for more.
It's straightforward. Your subject line must clearly tell subscribers about the content of your email. And your email must deliver on the promise of your subject line.
It uses emojis strategically. Emojis can help grab your subscribers' attention and increase open rates—when they're relevant and used in moderation.
Now that you know the qualities of a click-worthy follow-up subject line, let's examine the different types of subject lines for every situation.
1. Welcome Email Subject Lines
Research shows that 74 percent of new subscribers expect a welcome email when they sign up for your newsletter. Moreover, those that open your welcome email likely read 40 percent more emails in the following three months.
This makes welcome emails non-negotiable for any e-commerce store that wants to take the crucial first step in building a lasting relationship with customers.
However, your subscribers need a compelling reason to open your welcome email, and that's where your subject line comes into play. The most common way to catch your subscribers' attention is to add their name to your subject line and include an offer.
Tattly effectively uses this strategy by adding a discount code incentive to its welcome email subject line that reads "Welcome! Here's your discount code!"

Source: ReallyGoodEmails
This subject line is warm, makes the subscriber feel important, and incentivizes the recipient.
More Welcome Email Subject Line Examples
Hi, [Name], we are darn glad to meet you (Blu Dot)
20% off – Just for you (Baggu)
Welcome to [brand]! Your exclusive discount is here (Hayneedle)
New to our (curious) world? (Fossil)
Welcome! Get $25 off your 1st order (Good Eggs)
2. Discount Reminder Subject Lines
Sending coupon codes to subscribers is the easy part. After all, 49 percent of customers expect promotional emails from their favorite e-commerce stores.
However, getting customers to use their coupon codes before your promotion ends can be a challenge. Your promotional email may get lost among a ton of messages or the subscriber may simply forget about it.
With a discount reminder email, you can follow up on your subscribers and remind them about your offer. Discount reminder emails work best when they include a subject line that evokes a sense of urgency along with the promise of a discount.
Sigma Beauty successfully creates a sense of urgency in this subject line that reads "Just 1 DAY LEFT to save 30%".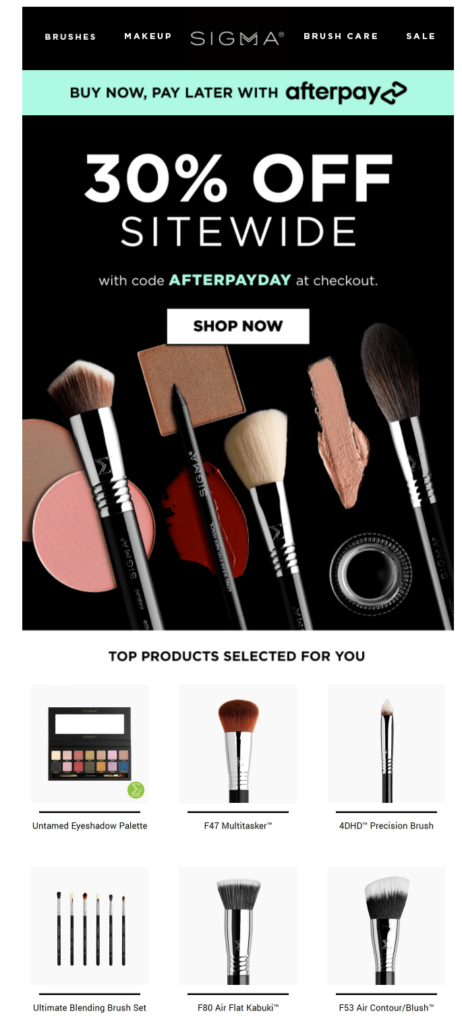 The capitalized phrase "1 DAY LEFT" reminds the subscriber of the time left to take action. You can evoke a similar sense of urgency by using phrases, such as "last chance", "offer ends tomorrow", "expiring", and "only until [day of the week]" in your subject lines.
More Discount Reminder Subject Line Examples
Only till Monday: 15% off everything (Juniqe)
Don't wait: get $50 off our Pre-Black Friday sale (Freshly)
Don't forget your 10% off (Moo)
Save up to 52% – offer ends tomorrow (The Guardian)
You've scored 15% off (but it won't last) – Society6
3. Abandoned Cart Subject Lines
If you ever visited an e-commerce store, added products to your shopping cart, and left without completing the purchase, you're not alone. Research shows that 75 percent of customers abandon their shopping carts and most of them don't come back.
The good news is your abandoned cart follow-up email can help bring a bunch of these buyers back. But for your abandoned cart email to work, your subject line must be compelling enough to ensure your email gets opened.
Here are a few tactics you can try while crafting your abandoned cart subject line:
Induce the buyer's interest with a question, such as "did you forget me?" or "forgot something?"
Offer a discount to convince the buyer to come back. (For example, "empty your cart with XX% off".)
Use a simple cart reminder subject line with an urgent tone, e.g. "Hurry! Your cart will expire soon".
The Kooples balances simplicity and curiosity in its short but sweet abandoned cart subject line: "Still thinking about it?"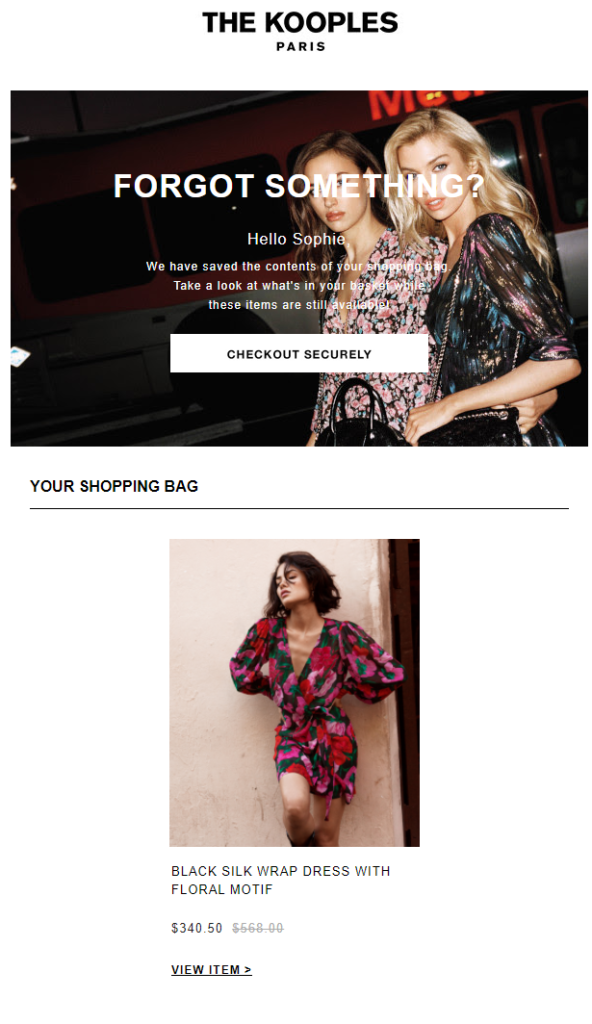 This subject line works well because the question piques the recipient's curiosity and nudges them to answer the question. Naturally, the only way the reader can satisfy that curiosity is by opening the company's email.
More Abandoned Cart Subject Line Examples
A quick reminder: you have left something behind (Williams Sonoma)
Ready to finish what you started? (Vistaprint)
Don't miss out – complete your order today (Cratejoy)
Heading out without checking out? (Huckberry)
Ooops, you forgot something (J Crew)
Clear your cart with 10% off (Bumboo)
4. Post-Purchase Subject Lines
Customers expect a warm response and a thank you when they buy products from brick-and-mortar stores, and your e-commerce store is no exception.
One way to show your gratitude to paying customers is to send well-written thank you emails. Post-purchase emails are also a great opportunity for upselling since they, on average, have a 65 percent open rate.
The goal with this type of subject line is not to incentivize the customer or pique their curiosity. It's simply to express your appreciation. Keep your post-purchase subject lines short, simple, and remember to include the words "thank you".
Hudson's Bay gets it right with its simple and positive subject line that shows gratitude without conveying any other underlying goal.
Here's the email the company sends with the subject line "We just wanted to send a quick thank you".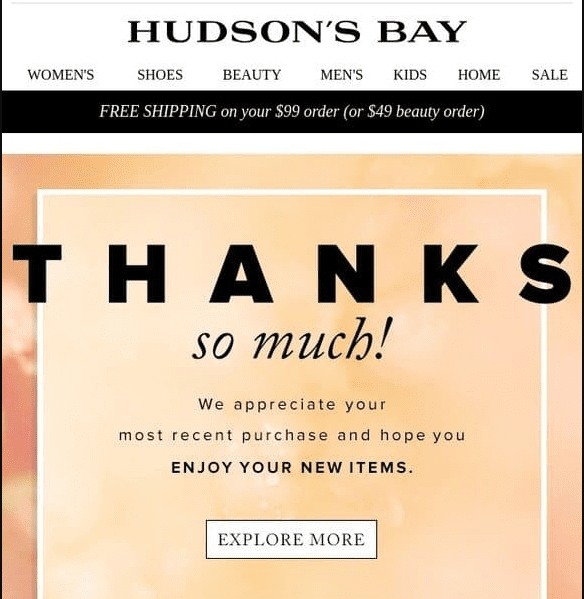 The email content is also straight to the point. It expresses the store's appreciation for the purchase and doesn't aggressively seek to drive more sales.
More Post-Purchase Subject Line Examples
A great big thank you (Warby Parker)
Thanks for your purchase (The Perfect Grid website)
Thanks, [name] – Tarte
Thank you for your order (Chipotle)
Thank you for shopping with us (The Frye Company)
5. Customer Appreciation Subject Lines
Your customers are the reason your business exists and appreciation emails can help you retain loyal customers.
These are the emails you send to celebrate your customers during special events including birthday emails, membership milestone emails, and special occasion emails.
Customer appreciation email subject lines must convey genuine appreciation and include a personal touch. Offering a gift like a discount code can further help your email to stand out.
The most popular customer appreciation emails are birthday emails, and Puma gets it right with this personal email subject line that reads "Happy birthday to you!"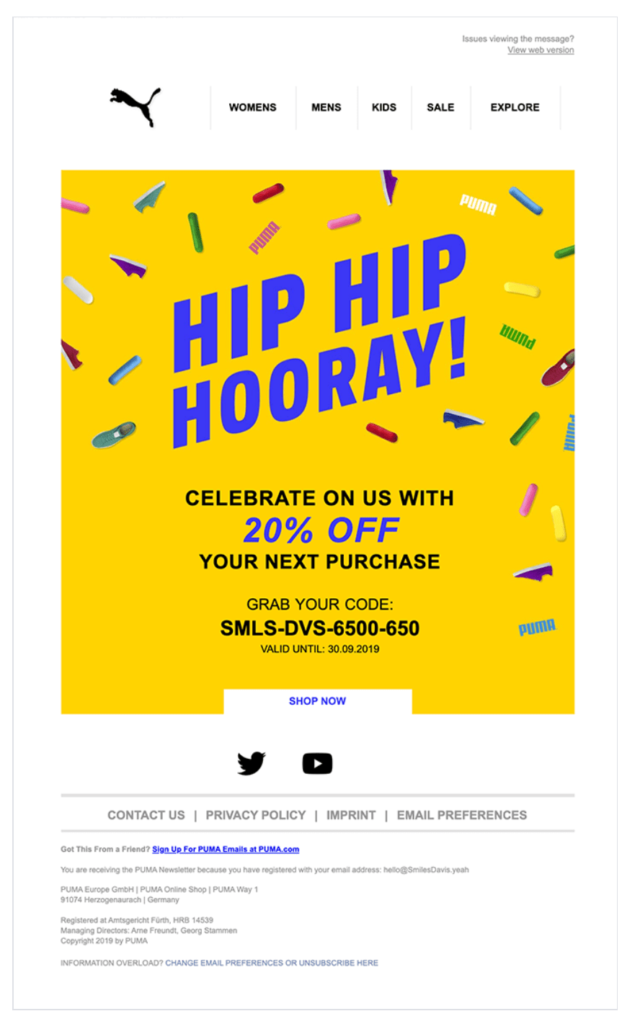 Source: ReallyGoodEmails
More Customer Appreciation Subject Line Examples
Thank you for [X] great years (Fort Foamy)
We couldn't have done it without you (Bombas)
Our one-year gift to you (Bonobos)
Fancy a treat on your birthday? (Monica Vinader)
Because of you, we are donating $X (The North Face)
6. Announcement Email Subject Lines
Your subscribers join your email list because they likely want to know about your new products, features, and upcoming events.
The key to getting subscribers to open your announcement emails is to craft a subject line that evokes excitement.
Away does this well in its subject line that reads "In case you missed it…something bigger is here".
With a sense of mystery that generates excitement, the company makes its subscribers curious about the content of its email.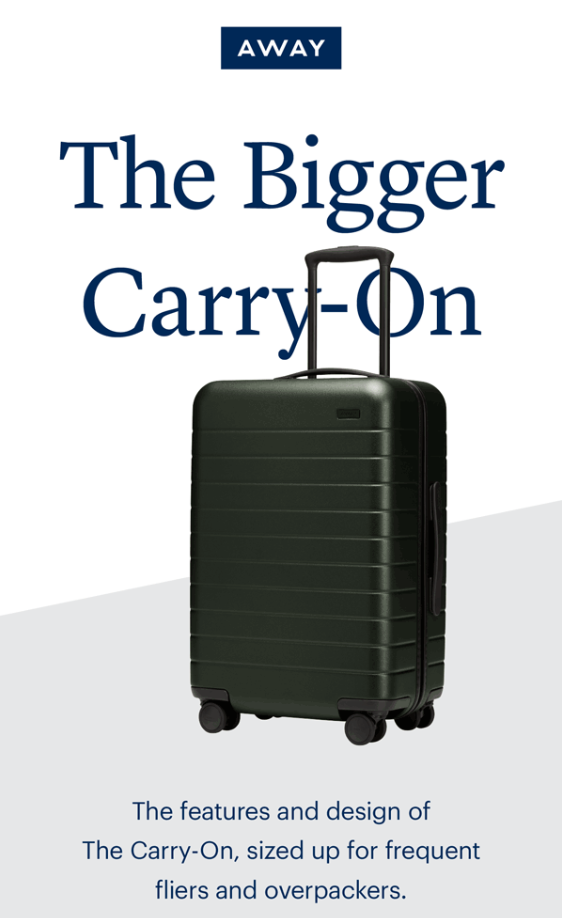 Source: Pinterest
More Announcement Email Subject Line Examples
The newest [product] is here (Pulp & Press)
Have you tried [new store feature] yet? (Vivino)
Something new is coming to [store name] – Havenly
[New product] is here. Pre-order yours. (GoPro)
Our newest product launches tonight! (Sakara)
7. Win-Back Subject Lines
There is always that 25 percent portion of your email subscribers that fall into the disengaged audience group.
These are the subscribers that have stopped reading your newsletters and buying products from your store. Win-back emails help you follow up with these subscribers and try to rekindle their interest.
To grab the attention of this group, you need an extra-compelling subject line—one that is short, witty, and emotionally charged.
Framebridge is a company that does this exceptionally well with this subject line: "Goodbyes are hard…"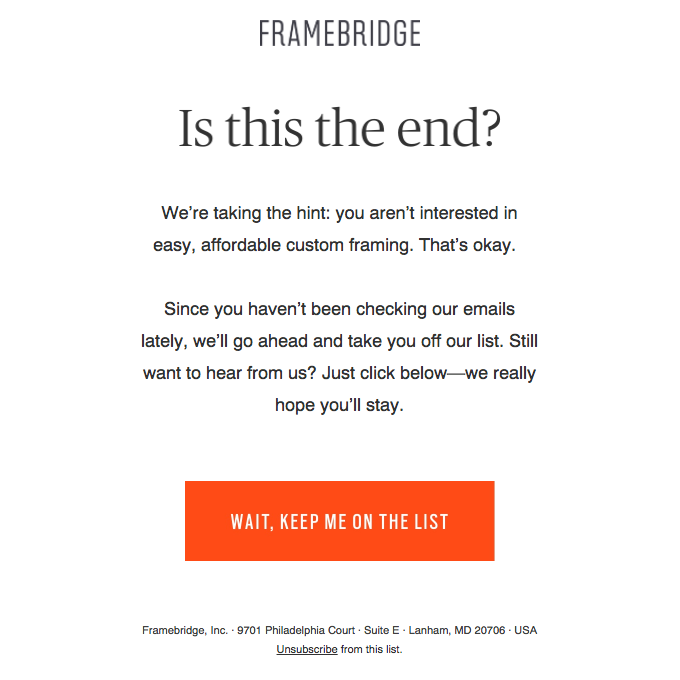 Source: ReallyGoodEmails
Conclusion
These were my all-time favorite follow-up email subject lines.
Take inspiration from them to fine-tune your subject lines and I'm confident you'll increase your open rates in no time.
Make sure to A/B test different subject lines for each category until you discover the one that resonates best with your target audience.