The fashion and apparel industry has always been competitive. Trying to capitalize on email marketing's 4,400% ROI, fashion brands are competing for prospects' attention.
But it's no easy mission.
With over 250 billion emails sent and received every day, it's becoming harder for marketers to get their emails opened.
If you're looking for a way to boost your email opens, you need to craft eye-catching subject lines that your subscribers can't help but click.
To inspire your next email campaign, we collected the 66 best apparel subject lines sent by exceptional fashion brands and divided them into seven categories for your convenience.
Apparel Subject Lines
1. Welcome Emails
You just turned a visitor into a subscriber and got your foot in the door. Now's your chance to leave potential buyers a memorable first impression.
Driving four times more opens and five times more clicks than regular email campaigns, it's crucial apparel e-tailers perfect their welcome emails.
Your subject line, without a doubt, is the best place to start.
One angle you can take is reminding new subscribers that joining your email list was the right decision.
Shinesty masters this type of subject line:

Shinesty knows that we always want to be sure that we made a good decision, and with the subject line "your inbox will thank you later," they reaffirm your decision to sign up.
After welcoming you to their list, Shinesty expresses their typical bold humor and summarizes what you should expect from their emails: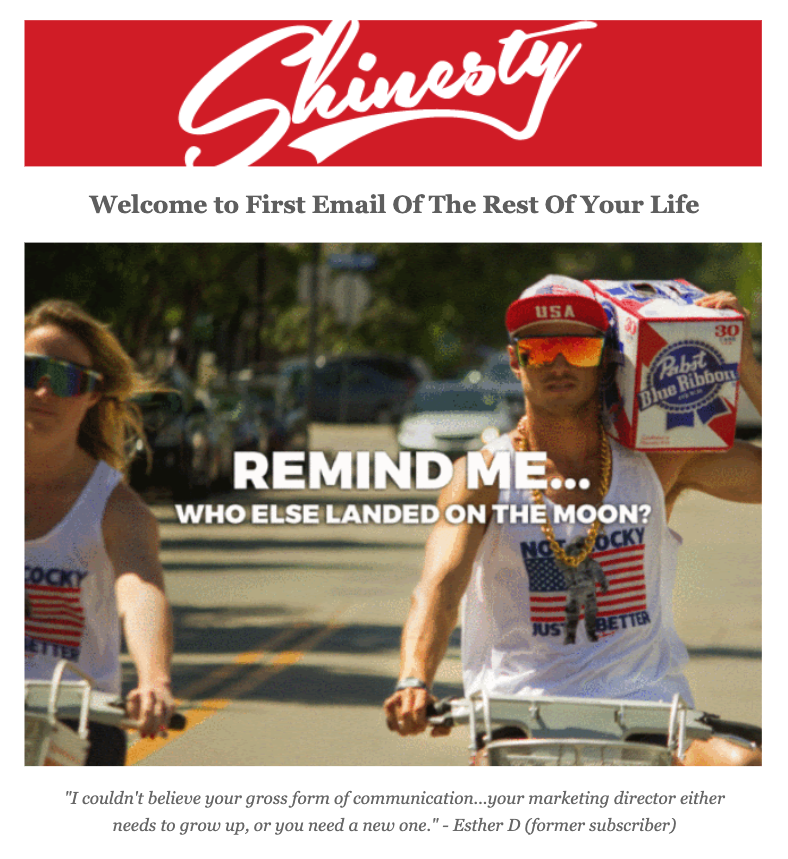 In the remainder of the email, they set more expectations by showing a few examples of their previous emails: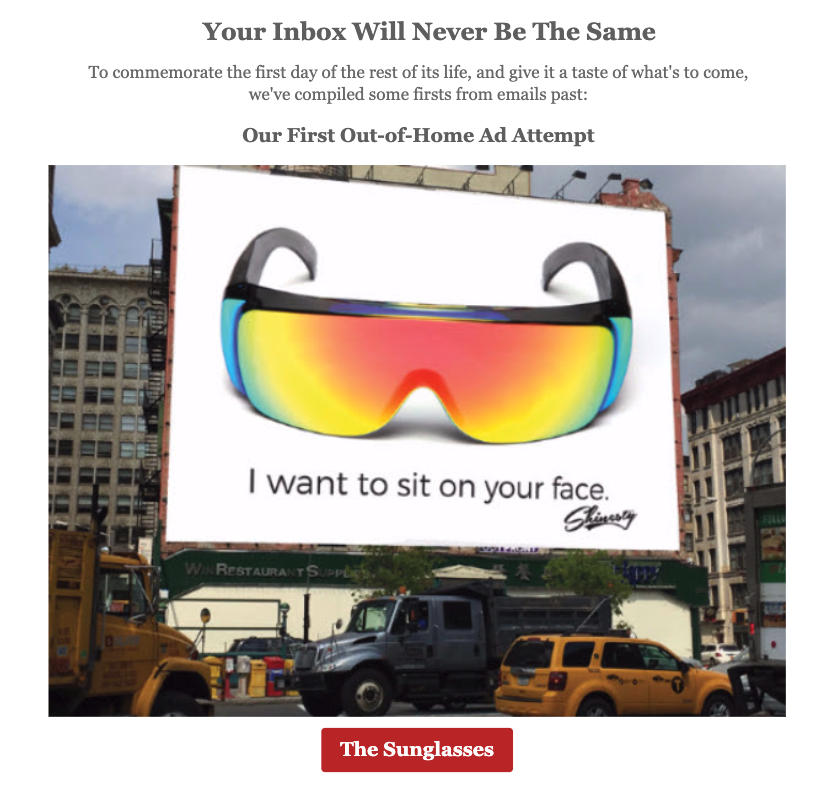 Another angle many successful apparel brands use is creating a sense of belonging in their welcome emails.
Check out this example from AYR: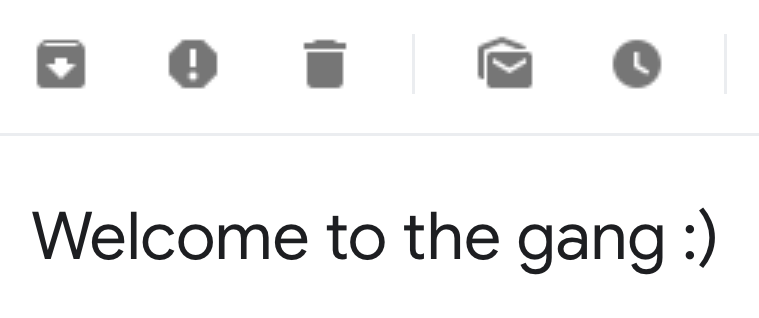 Instead of welcoming you "to the list," "to AYR," or "to the newsletter," the company welcomes you to "the gang," which implies that you're part of something bigger now.
In the email, they compliment you further and offer 10% off your first order: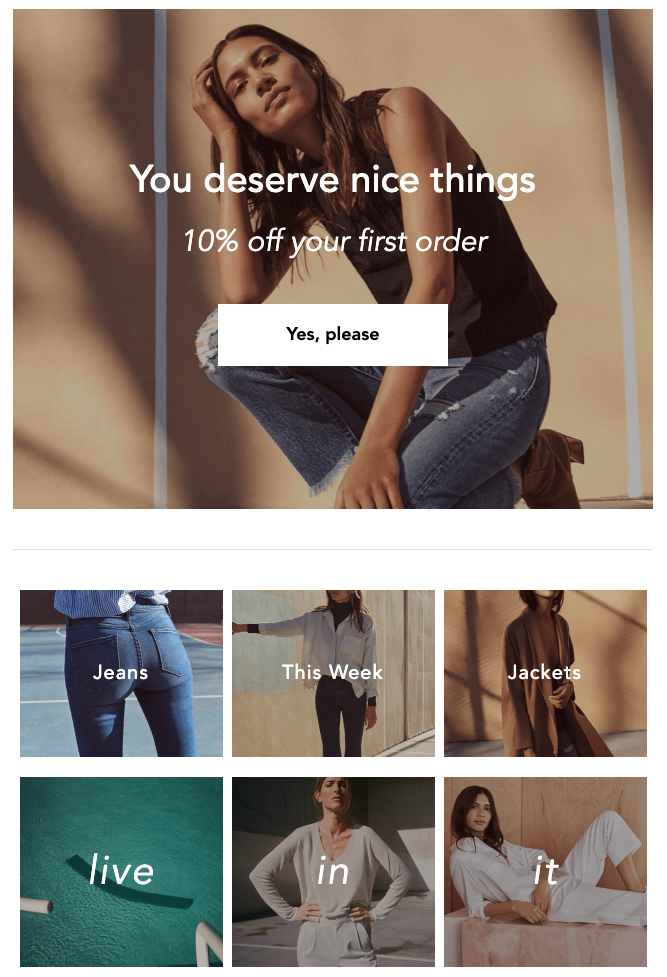 AYR knows that creating a sense of belonging can pave the way for a long-term relationship between the company and its subscribers.
While many companies include their welcome offer in the subject line and write "Here's Your 10% Off," good apparel brands know how to deliver a promise the right way.
Take a look at this subject line from Anthropologie: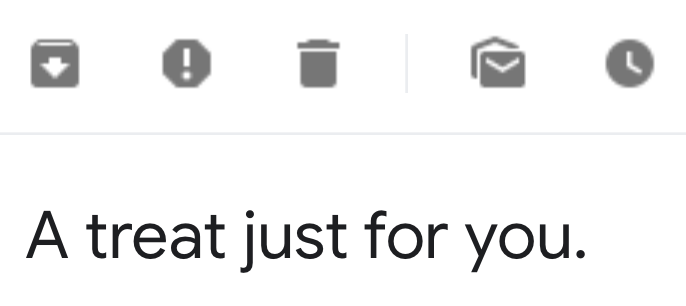 Although I'm certain that this welcome discount is not only for me, the company creates a feeling of exclusivity, which we all enjoy.
And in the email, they greet you with a warm welcome, a discount offer, and a link to their new arrivals: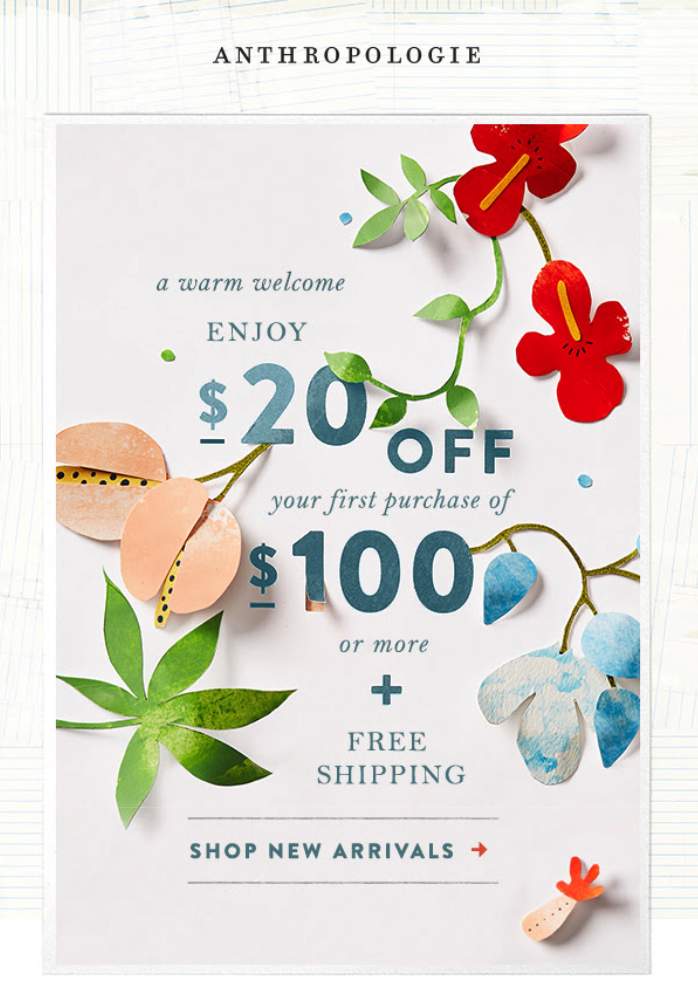 All three strategies work like a charm to welcome new subscribers and they're easy to apply to your brand.
Welcome Email Subject Lines
Kate Spade: let's start this off with a gift: enjoy 10% off your next purchase
Forever 21: A Welcome Gift Just For You…
J.Crew Factory: That was a good move
Levi's: It's official. You're one of us. (Here's 20% off)
Everlane: We're Glad You're Here
Tailgate: Congrats, you made the cut – here's 25% off.
2. New Arrival Emails
While welcoming new subscribers is the first step in your e-commerce email sequence, your next (and equally important) goal is to make those users return to your site with purchase intent.
Promoting new arrivals with an email is one of the most effective ways to engage new subscribers as well as to retain your existing customers.
One way to make your new arrival announcements click-worthy is to add specificity such as the number of items remaining in stock.
J.Crew Factory knows this well. That's why they write ultra-specific new arrival subject lines:

When you see this email in your inbox, you know what to expect: lots of newly added items (that are already on sale).
What's more, they frame this email around your need to buy "new things to wear," rather than the new items they're selling: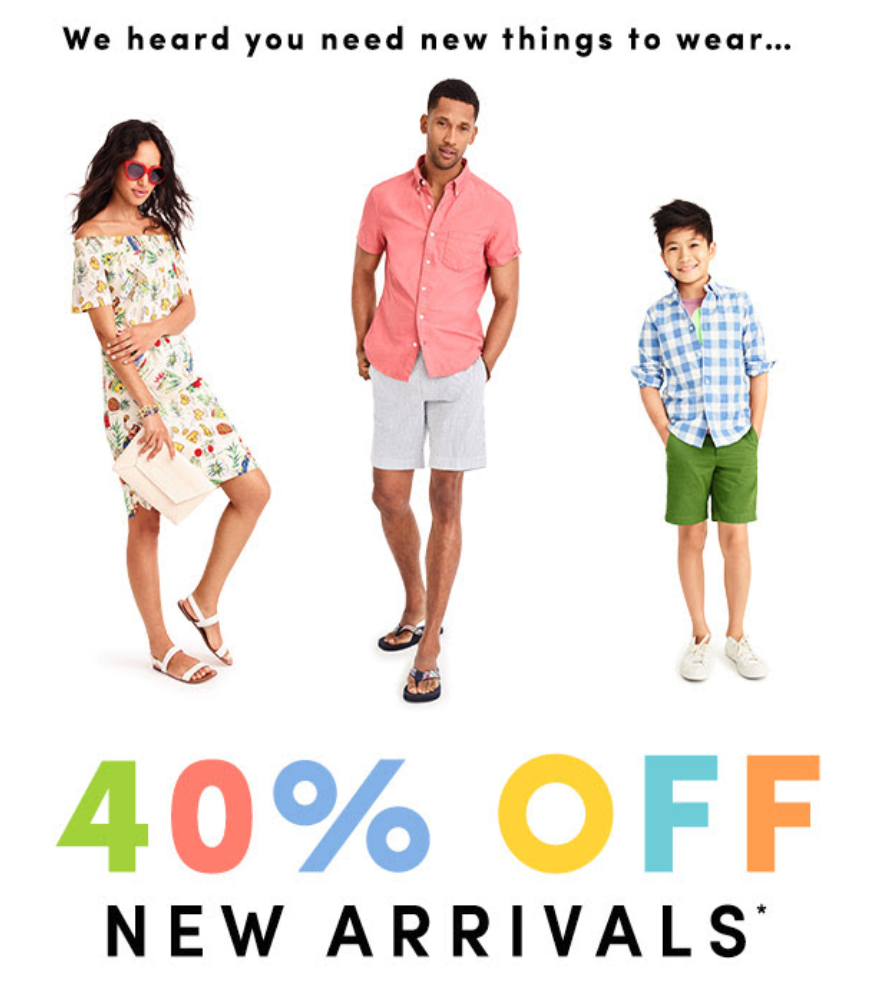 As I mentioned earlier, exclusivity works well in apparel emails, and new arrivals are no exception.
While one way to promote your latest products is to simply announce them, a more effective way is to frame them as subscriber-specials.
That's what Bombas does successfully in their emails:

Using the words "early access" in their subject line, Bombas reminds you of the benefit of being a subscriber.
With this email, Bombas announces they're launching new colors for their products and want you to be the first to know: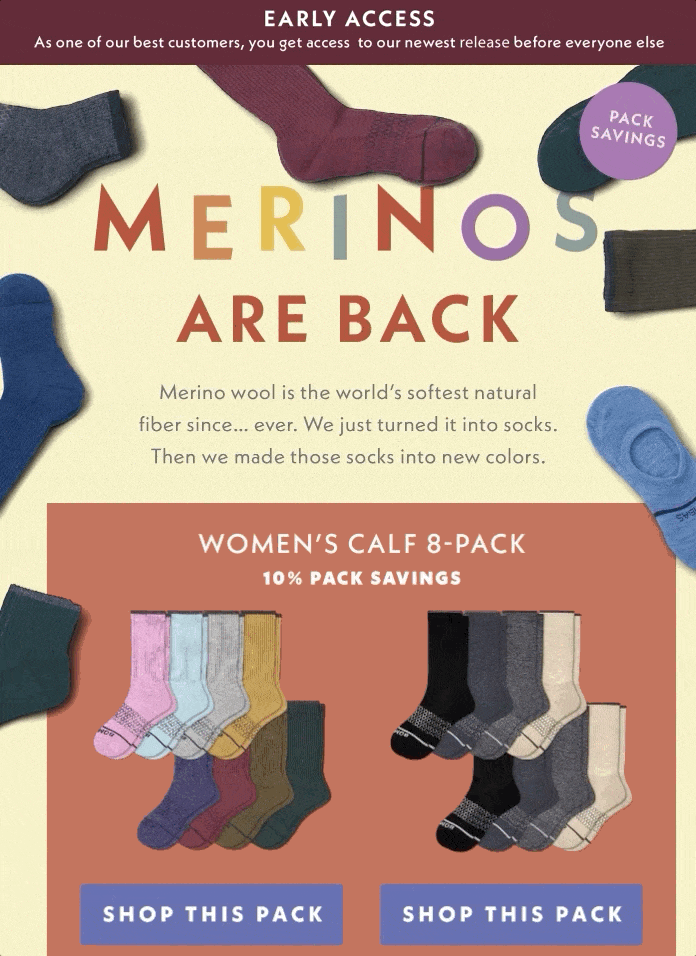 This way, Bombas promotes its new products and makes you feel special at the same time.
New Arrival Email Subject Lines
J.Crew Factory: NEW ARRIVALS ARE HERE!!! (Sorry, we're just really excited.)
Lavish Alice: Thanks, It's New ✨
Bonobos: Our email button broke. Here's over 300 new arrivals.
Allbirds: There's A New Shoe In Town
AYR: the fresh pants of bel-AYR
3. Promotional Emails
If you're an apparel marketer, one of your main email marketing goals is to convert as many subscribers into customers as possible.
To do that, you're likely running sales campaigns or limited time offers, and promoting them in your emails.
While writing high-converting promotional emails is an art by itself, crafting compelling subject lines is its most critical step.
If you need some inspiration to skyrocket your email conversions, take a look at how the best apparel brands promote their offers and products with attention-grabbing subject lines.
i. Discounts and Offers
If you offer special discounts or free shipping for a limited time, you want as many prospects as possible to know about it.
Email is the perfect medium to deliver your discounts and offers. However, your subscribers' inboxes are already full of discount emails because your competitors are also aware of this fact.
One apparel brand that stands out with its promotional subject lines is Forever 21: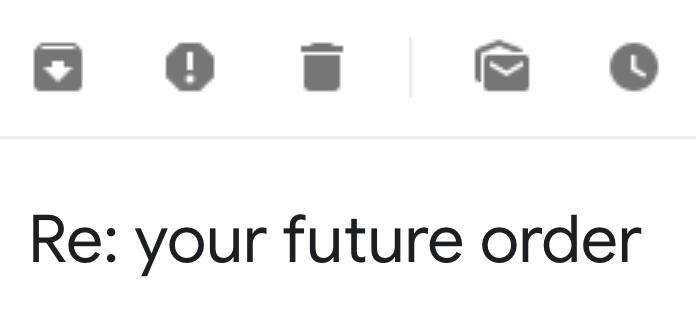 With this assertive subject line, Forever 21 grabs your attention by alluding to a future order you'll certainly make from them.
When you open the email, you see that they're promoting a sales campaign that gives you 20% off their dresses: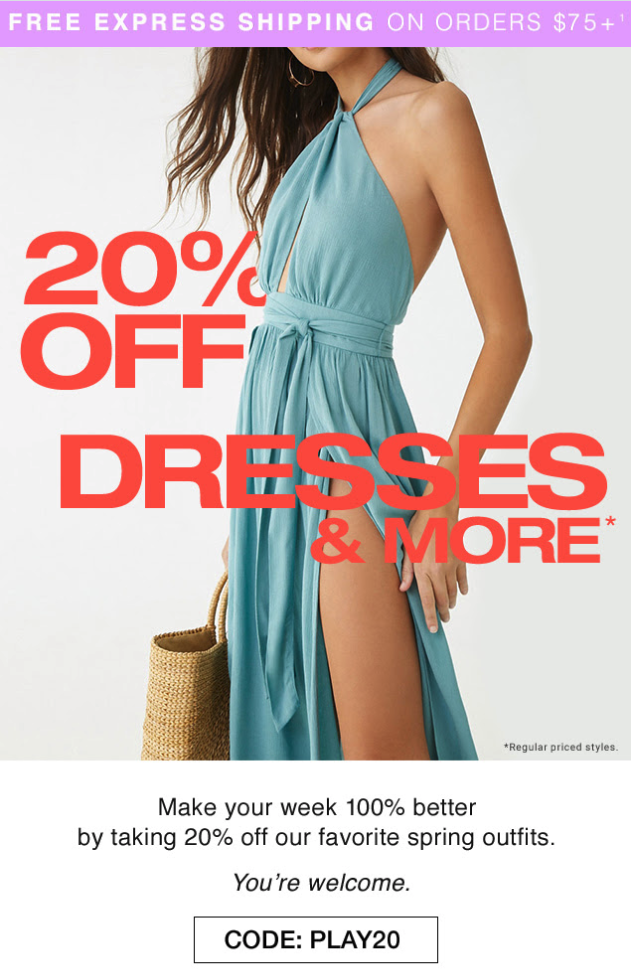 Another apparel subject line that goes beyond normal discount emails comes from Anthropologie:

At first, I thought this was a behavioral email that was personalized based on my browsing history so it piqued my interest.
After opening the email, though, I discovered Anthropologie was running a sale on all their dresses: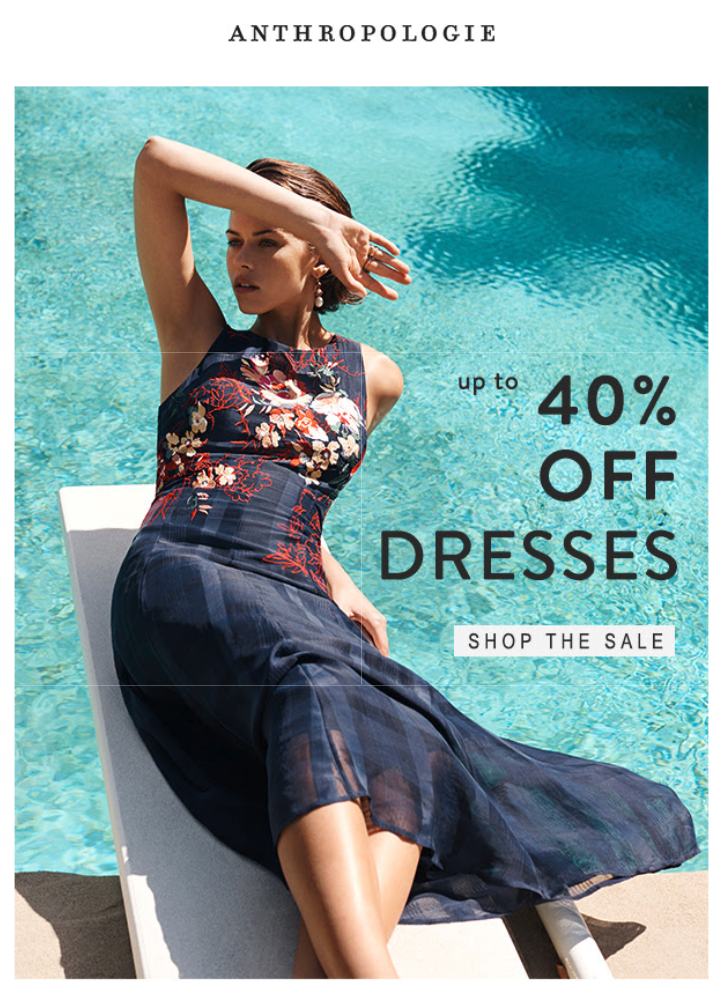 Personalized or not, this subject line got me to click the email and browse through their products.
Discounts and Offers Subject Lines
Bonobos: SAAALE! Extra 40%! Sorry for yelling!
American Eagle: A special discount just for you, Seray
Hush Puppies: Save BIG on bestsellers
Levi's: You Won't Regret Opening This Email
EyeBuyDirect: It's the Sale You've Been Waiting For…
Aerie: Get shopping with a new offer just for you
Calvin Klein: Something to brighten your day…
Chubbies: COME SALE AWAY
ii. Product Curation
If you ever tried to write a promotional email focusing on your products, you know the struggle: You don't want to sound overly salesy, but you need people to click through to your products.
That's when product curation emails come to your rescue.
Whether in the form of bestsellers, expert recommendations, or gift guides, curated emails help you subtly frame your product promotion.
Outstanding apparel brands often use this strategy, and American Eagle is one of them:

Addressing a common pain point among their audience—namely transitioning your wardrobe between seasons—the company promises its subscribers a solution with this subject line.
Instead of promoting their autumn collection by highlighting their products, American Eagle suggests different ways to transition from summer to autumn: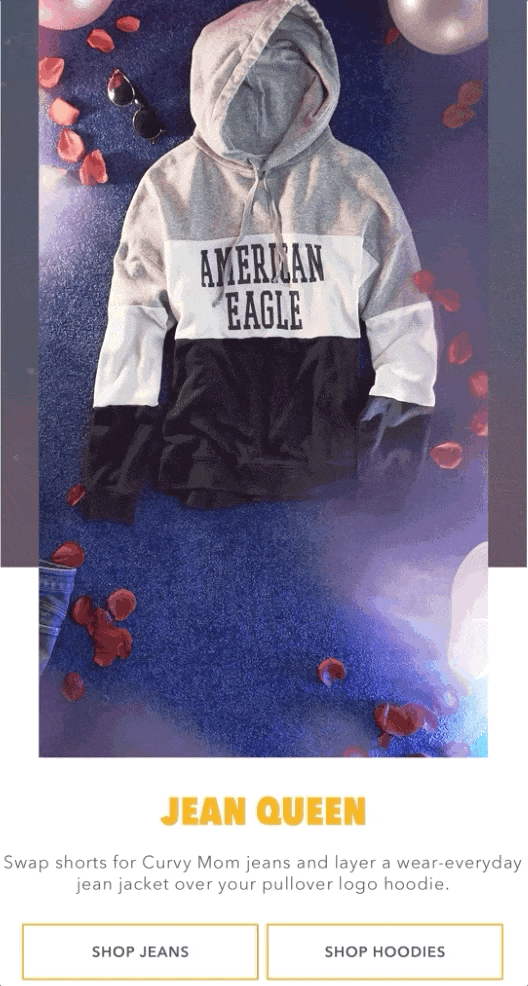 And as you might expect, they send you to relevant product categories with different email calls-to-action (CTAs).
It's a smart way to recommend products in context while still being helpful to your subscribers.
Following a similar strategy, Anthropologie sends this email:

In it, the company delivers what they promise, listing the seven new fashion trends you need to see: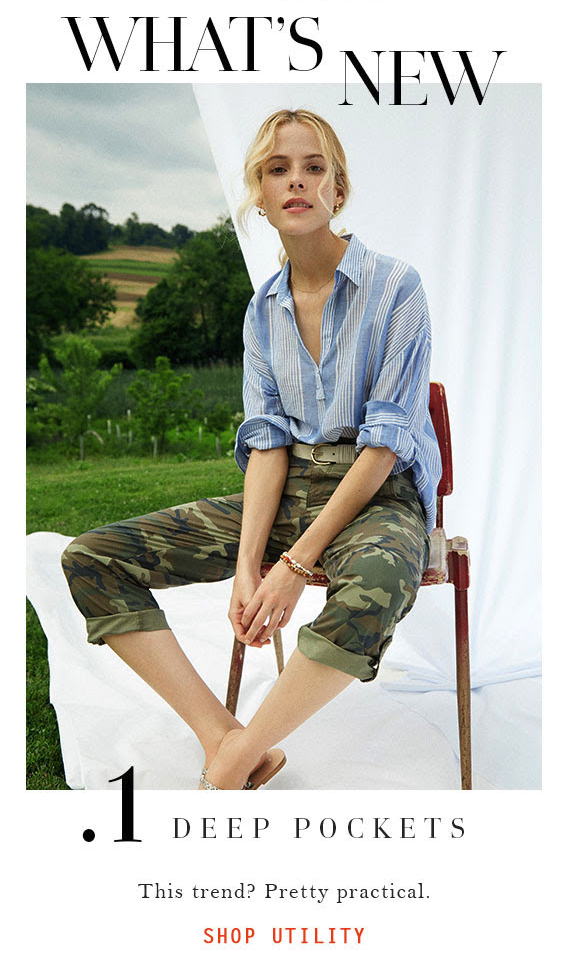 While doing that, they add links to relevant product categories under each trend.
Anthropologie, first, gives valuable fashion advice that resonates with their subscribers, and then promotes their products subtly.
Product Curation Subject Lines
Happy Socks: Nobody gives holiday gifts like you 🏆
Bombas: Our Bestsellers of 2019… So Far
Bombas: Below-The-Radar Favorites
AllSaints: Five easy pieces
Calvin Klein: Have you chosen your autumn outerwear?
The Iconic: 8 easy pieces = spring sorted
4. Social Proof Emails
When used cleverly, social proof can make people take any desired action, from helping out a charity to buying an overpriced pair of jeans.
Unsurprisingly, using social proof in your emails can boost your open rates and email conversions, too.
As a principle, social proof works best when we're unsure about a situation. That's when we turn to other people's behavior to see what they're doing.
MeUndies leverages this principle with the following subject line: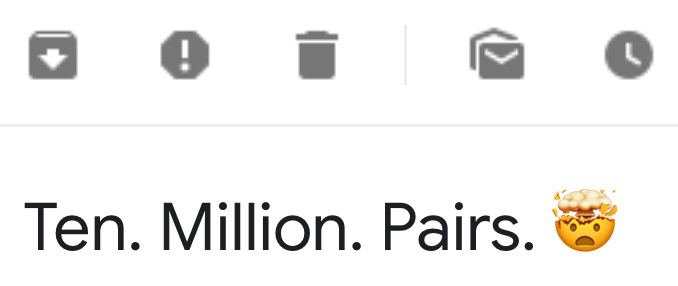 This subject line, that implies the number of products MeUndies has sold, provides powerful social proof, especially if you're considering buying from them.
When you click the email, you see MeUndies celebrating a milestone: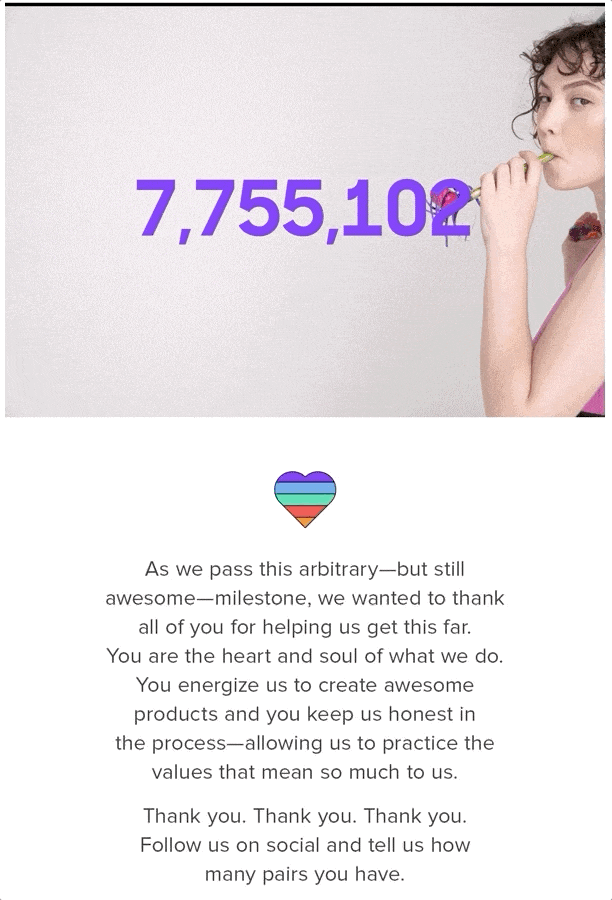 And you can't help but think, "This many people can't be wrong."
Another apparel brand that uses social proof in their subject lines, albeit with a different angle, is Aerie:

Quotation marks help you quickly understand that this statement belongs to either a customer, an influencer, or a media mention (which, in any case, points to social proof.)
Next, it evokes your curiosity, prompting you to open the email to learn more about the crown jewel of sweatshirts: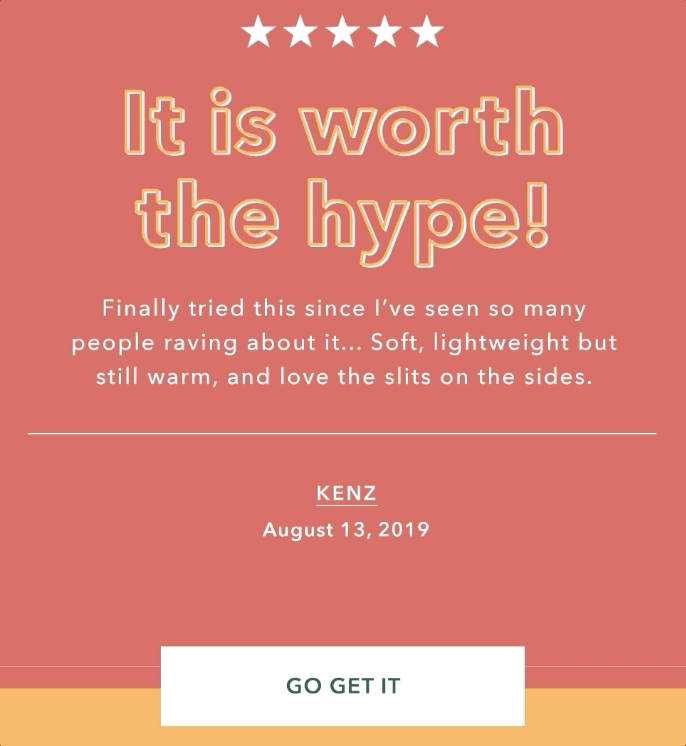 In this email, Aerie curates several customer testimonials from the sweatshirt category and rotates them using GIFs.
You don't get to see the crown jewel of sweatshirts in this email, but if you're curious, Aerie invites you to click through and browse their products.
Social Proof Subject Lines
Ban.do: Check out the reviews…
Marc Jacobs: The Box Bag As Seen On…
American Eagle: 25% off our most-wanted bottoms (your code inside!)
Anthropologie: Do you know our best-selling pant?
Bombas: Our Favorite Runners' Favorite Socks
5. Scarcity Emails
When we know that an opportunity will soon become unavailable, it becomes more attractive.
While many online stores use scarcity in their product pages and sale campaigns, the principle works just as well in email marketing.
Successful apparel brands leverage scarcity in their emails and Fabletics is one of them:

This subject line grabs my attention easily for a couple of reasons:
It addresses me by name;
It claims to provide a personal recommendation; and
If I don't act quickly, I'll miss out on this opportunity.
By focusing on the scarcity of the product and proving it with a specific number, Fabletics triggers my fear-of-missing-out (FOMO) and I open the email without thinking.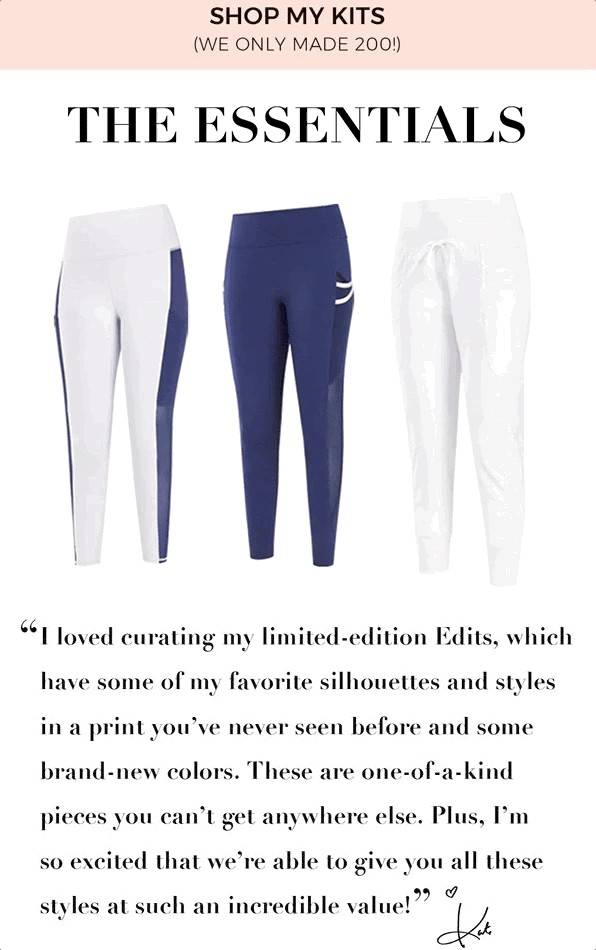 The company adds social proof on top of scarcity in the email, by including a quote from the company's founder Kate Hudson.
While Fabletics takes a straightforward approach to scarcity, brands like Shinesty go with a more subtle angle:

Although this subject line doesn't directly highlight the current scarcity of Shinesty's products, it teases their possibility of selling out. If a product has sold out four years running, you expect it to sell out again.
Creating this association in your mind, Shinesty implies scarcity in their subject line.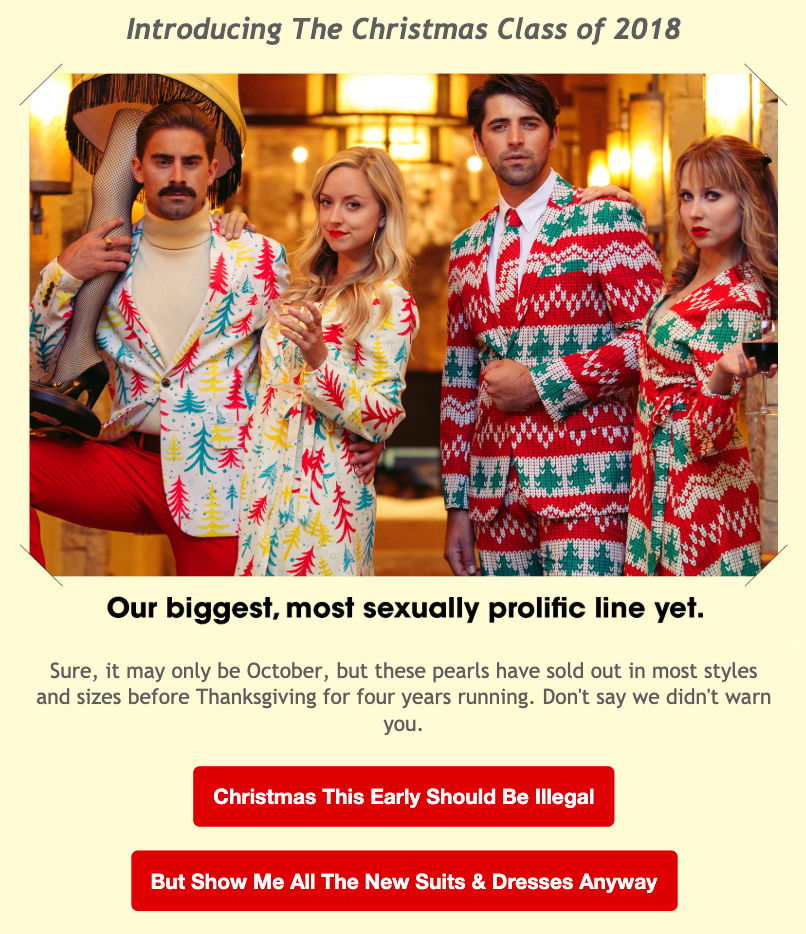 And in the body of the email, they warn you one more time.
Scarcity Subject Lines
AYR: We can't keep this jean in stock
Pura Vida Bracelets: Going, going…
Mack Weldon: Sells out every year.
Chubbies: Today Only?
Happy Socks: The party is almost over!
Old Navy: Click quick!
American Eagle: Your 1-day-only code (inside)
Aerie: Not to rush you, but BOGO free is ending…
Allbirds: A Limited Edition Treat Is Up For Grabs
6. Abandoned Cart Emails
If there's one thing apparel marketers struggle with, it's cart abandonment.
Many e-tailers try to reduce cart abandonment using email marketing, website popups, and advanced on-site strategies, and apparel stores are no exception.
In fact, the fashion industry has one of the highest cart abandonment rates, hovering around 74%.
While cart abandonment emails are a must for any apparel brand, crafting attention-grabbing subject lines is the first step to it.
Check out this email Fabletics sent to me after I left my cart:

It's hard to resist opening this email for two reasons:
It catches my attention by using my name; and
It triggers FOMO by mentioning the scarcity of my cart items.
This is what the email itself looks like: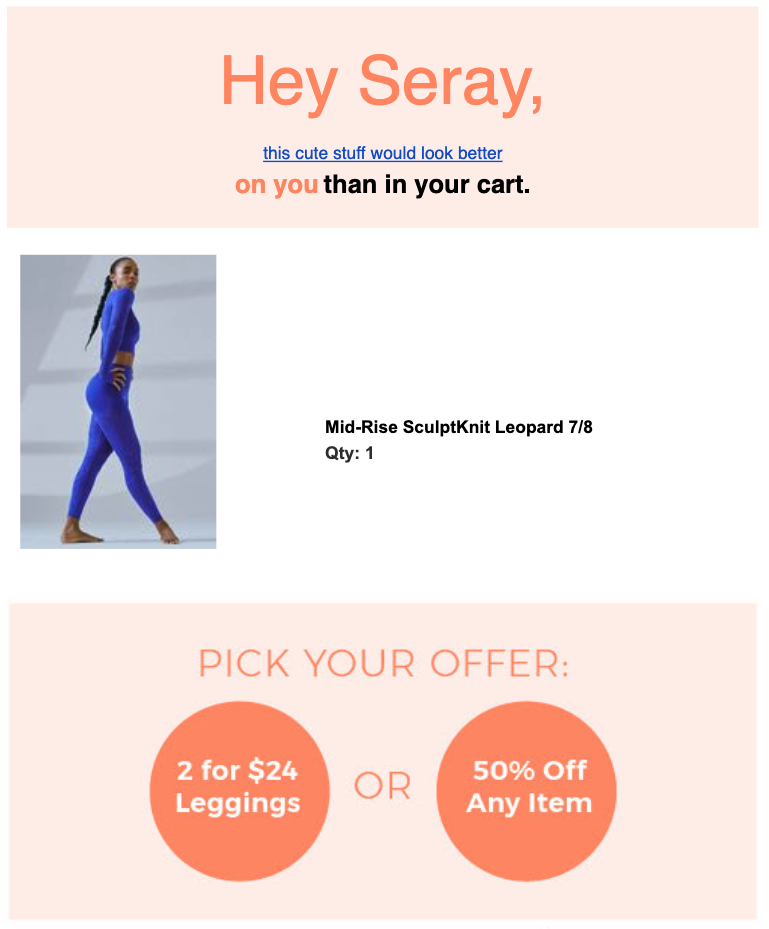 The company maintains a personal tone in their email copy and tries to persuade you by claiming that your cart products "would look better on you than in your cart."
By showing the product image, they remind you of your abandoned items and make them easier to click through.
Another company that uses a personal tone in their abandoned cart emails is AllSaints:

After addressing me by name, the company makes me wonder what I'm missing out on with this subject line. Naturally, I open the email to reconsider my decision to abandon my cart.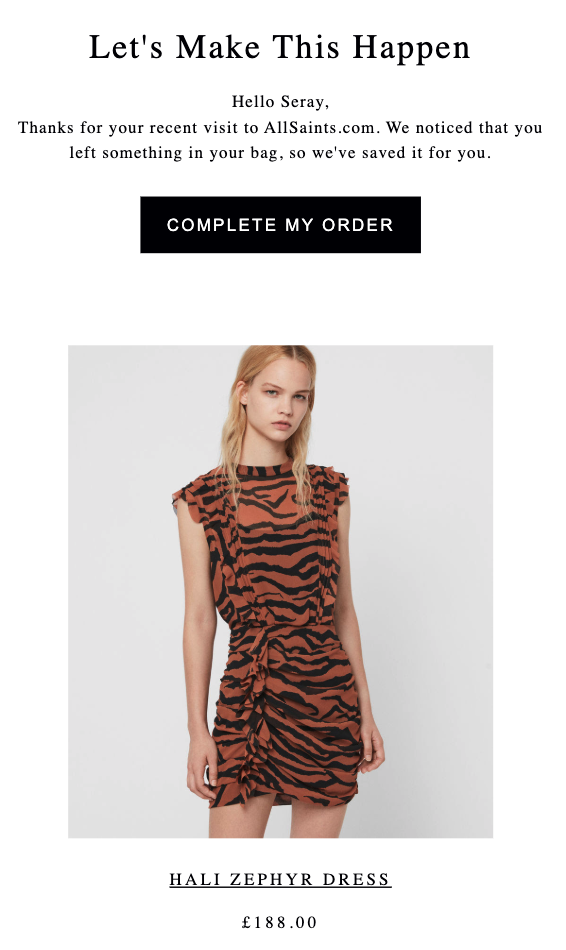 Similar to Fabletics, AllSaints also include the product image, price information, and the product page link in this email. Plus, they use a headline with positive connotations that reads "Let's Make This Happen."
Abandoned Cart Email Subject Lines
Frank and Oak: Seray, Don't forget these items
Huckberry: Just a couple left…
Everlane: Eyeing Something?
AYR: Just lookin out for you 🙂
Bombas: Your Bombas Are Waiting For You
ASICS Tiger: Get it before it's gone…
Allbirds: Leap Into Comfort, Your Shoes Are Waiting
7. Referral Emails
While the six types of emails above help convert subscribers into customers, this seventh one will grow your revenue on autopilot.
It's not a secret that consumers trust recommendations made by someone they know. One study found that people are four times more likely to buy when they're referred by a friend.
When coupled with attractive incentives and emails sent at the right time, referral marketing turns your customers into one of your greatest revenue sources.
For referral marketing to perform well, though, you need to get your referral emails opened.
Let's take a look at how PrettyLittleThing solves that problem:

Inviting me to be "the best bestie," the company almost makes me feel guilty for not referring them. In case I'm not fully convinced, they also offer me the incentive to get £10 off my next order.
Guess what? Their subject line makes me open the email to find out how I can be the best bestie: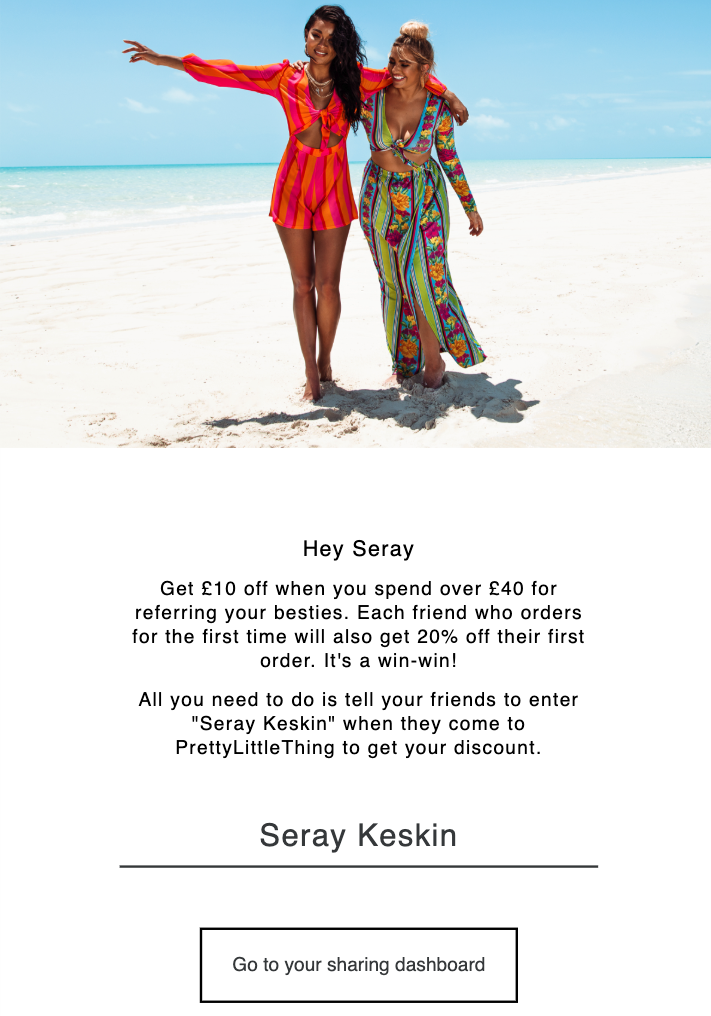 In this email, PrettyLittleThing promotes their referral program and explains how easy it is to use it.
While offering discounts in exchange for referrals works for many companies, Bombas uses a different referral strategy: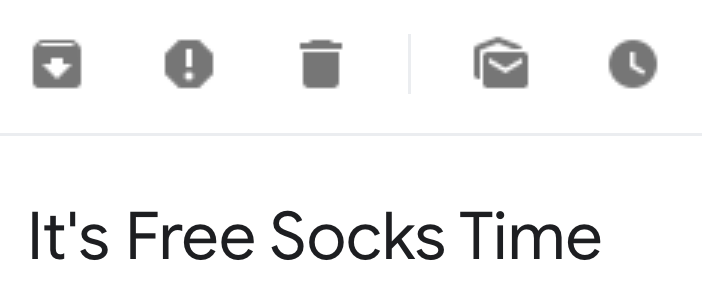 If you're like most shoppers, you'll find it hard not to open this email because, let's admit it, we love freebies.
Using one of everyone's favorite power words "free," Bombas grabs your attention with this subject line.
In the email, the company explains how you can claim your free socks…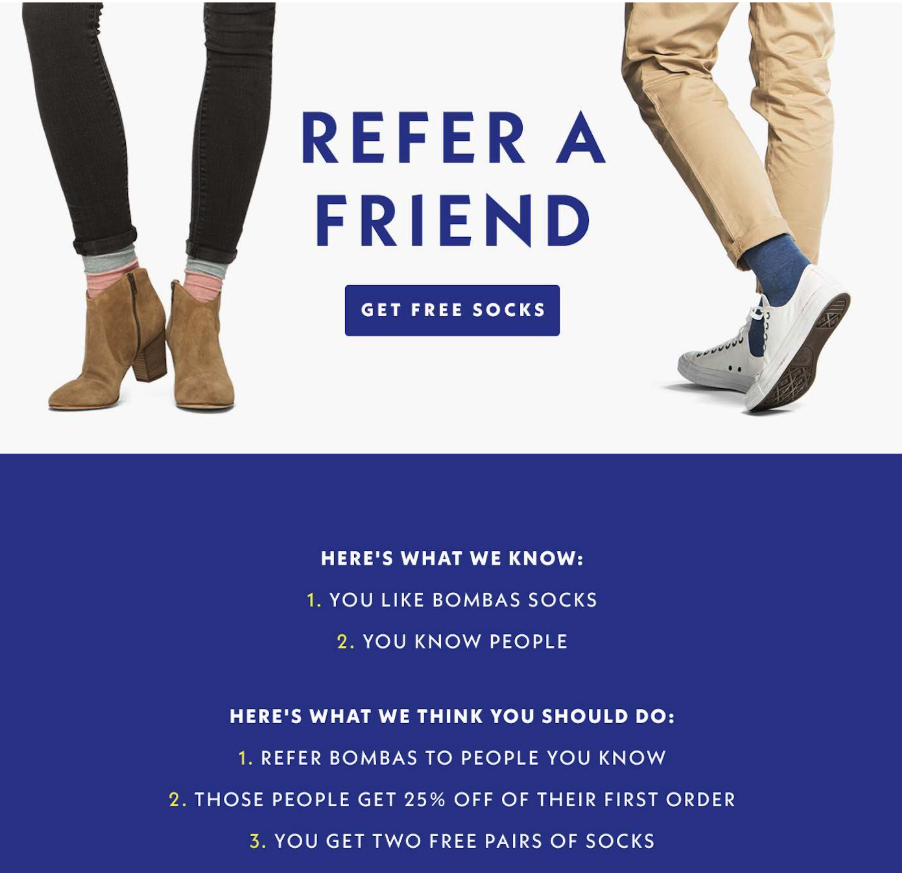 …And that's through referrals.
By including a step-by-step guide in the email, Bombas ensures that their referral program is both easy-to-understand and easy-to-join.
Unlike PrettyLittleThing, Bombas uses physical products as an incentive and focuses on the benefit of referrals in their emails.
If you want to encourage referrals for your apparel brand, follow the two examples above, and craft personal and benefit-driven subject lines.
Referral Email Subject Lines
Ban.do: Get $$ when you tell a friend about us!
Wool and the Gang: 💜 Treat your friends 💜
Bonobos: Refer a friend, get 20% off 🙌
Conclusion
Apparel e-commerce keeps getting bigger. This means you need to up your email marketing game if you want to stay ahead of the competition.
Take inspiration from top apparel brands and craft subject lines that'll get every one of your emails opened.