Cart abandonment is an e-tailers worst nightmare. You likely already know that sending cart abandonment emails to recover lost revenue is crucial.

But with an overcrowded inbox, how do you ensure that your emails stand out and capture your audience's attention?
With a well-crafted cart abandonment subject line, of course.
So, if you're looking to drive more opens for your cart recovery emails, this post is for you.
You get no less than 48 creative cart abandonment subject lines from top brands to inspire you. I've divided them into seven strategies for your convenience.
1. The "Make Them Want It—Now" Subject Line
You might have heard about the famous cookie experiment by Worchel, Lee, and Adewole (1975), where they asked 200 female undergraduates to rate chocolate chip cookies.
They put ten cookies in one jar and two cookies in the other jar.
All the cookies were the same, but the cookies from the two-cookies jar got a higher rating than the cookies from the 10-cookies jar. Why? Because they were more scarce.
If there were only two left, they must be good, right? Why else would there only be two left?
As Robert Cialdini describes in his book Influence, people are more motivated by the prospect of losing something than the prospect of gaining something.
And that's why scarcity works especially well in cart abandonment subject lines.
Take this example from Zalando:

It mentions the reader's name (sorry for snooping in your inbox Seray) and then triggers the reader's fear of missing out (FOMO).
Notice how the scarcity continues in the first sentence of the email: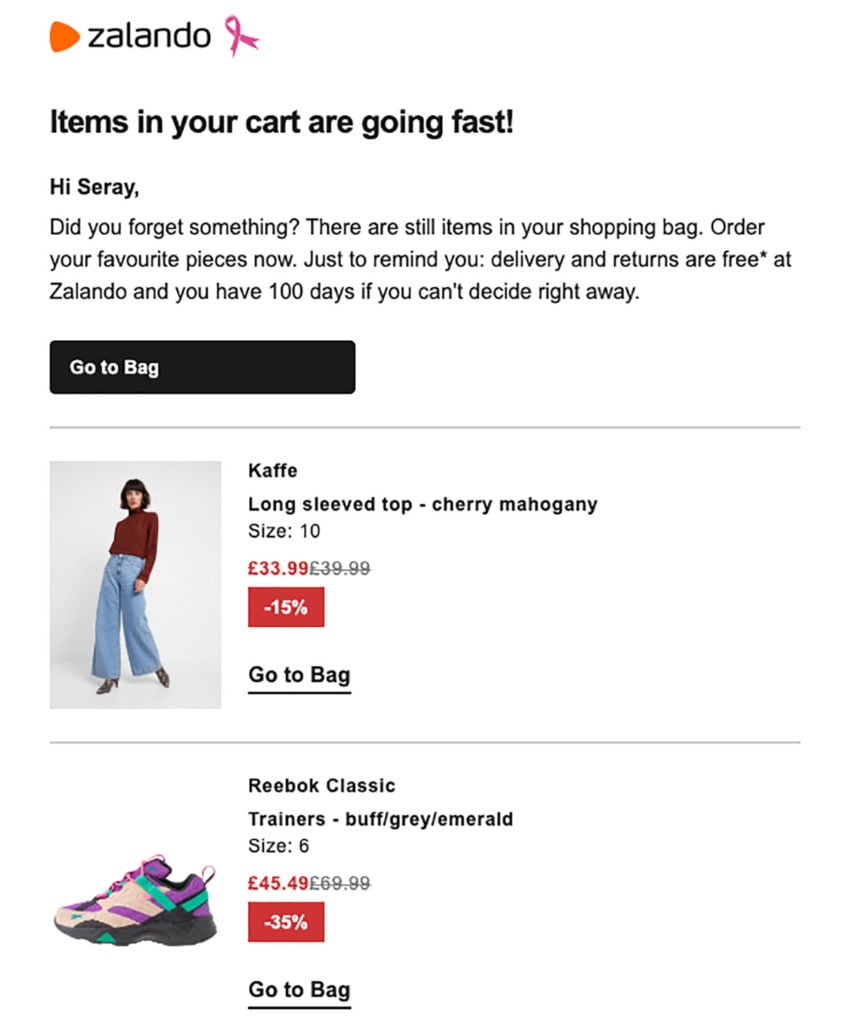 Scarce items have a higher perceived value, making them more attractive in the consumer's mind. Plus, scarcity is an easy strategy to apply to your subject lines no matter what you're selling.
Scarcity Driven Subject Lines
AllSaints: There's still time!
JRINK: Uh oh, your cart is about to sell out.
Sweaty Betty: Don't miss out!
Crate and Barrel: We've held your cart for a limited time only.
MAC Cosmetics: View Your Cart Now Before It Expires!
Fabletics: [Name], item(s) in your cart are selling fast!
ASICS Tiger: Get it before it's gone…
Huckberry: Just a couple left…
2. The "How Far Can You Go?" Subject Line
Psychologists Joseph Nunes and Xavier Dreze ran an experiment to determine whether subjects would be more motivated to complete an action if they had already made some progress.
Two groups of people were handed a punch card offering a free car wash once the cards were fully punched.
One group got cards with ten un-punched squares. The other group got cards with 12 squares where two of the squares had already been punched.
The second group who was given the two free punches had an 82% higher completion rate compared to the other group.
This goes to show that using a prospect's progress—artificial or not—can motivate them to take action. This is known as the endowed progress effect.
This psychological trigger can easily be incorporated into cart abandonment subject lines, as Hollister perfectly exemplifies:

A subject line doesn't need to include a number to indicate progress.
Letting prospects know that they're close to completing an action implies that the person already did most of the work and moreover that it would be a shame not to finish.
The call-to-action (CTA) in the email builds on the progress by letting the prospect know what the last step is:
Complete Your Order.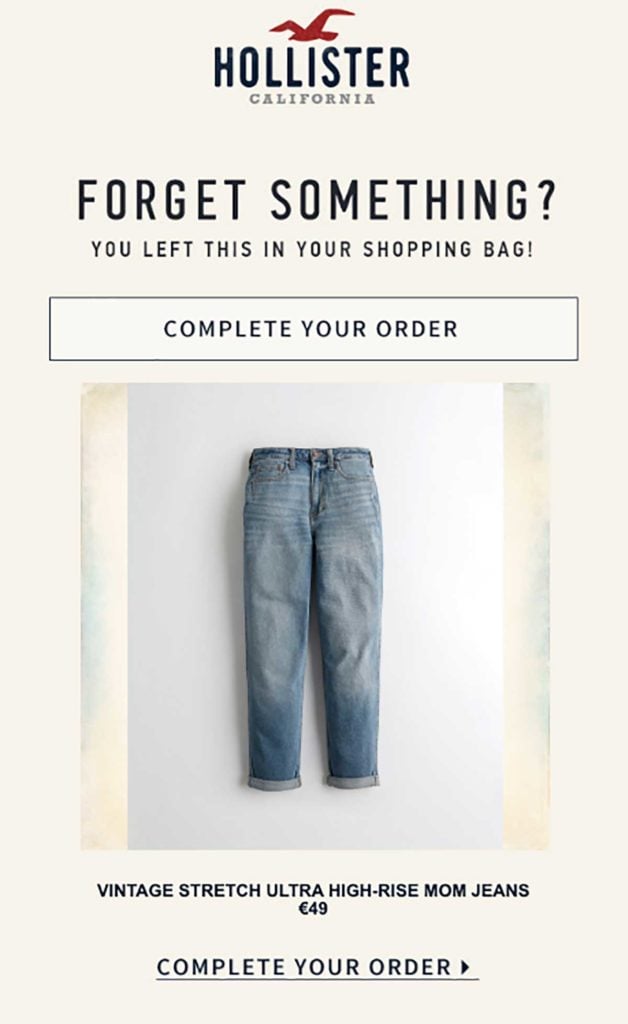 There's also a level of personal gratification involved with completing a task—even if it's just for the sake of doing it.
As Nir Eyal describes in his book Hooked:
Pursuing a task to completion can influence people to continue all sorts of behaviors. Surprisingly, we even pursue these rewards when we don't outwardly appear to enjoy them.

So, try to evoke progress in your cart abandonment subject lines. It works.
Progress-Based Subject Lines
The Horse: Complete Your Purchase
Prose: Your Prose is ready to order
3. The "Special Price for You My Friend" Subject Line
If you've read my post on discounting strategies, you'll know I'm not a big fan of using discounts.
But I've included it in this post for a simple reason:
They work.
At least when it comes to recovering lost cart revenue.
Unexpected costs are the number one reason people abandon their carts. So, helping potential buyers overcome that objection with a discount can do wonders for your cart recovery email open rates.
Seray recently got an email from Tattly when she abandoned her cart with the following subject line:

It's clear and simple.
And so is the email: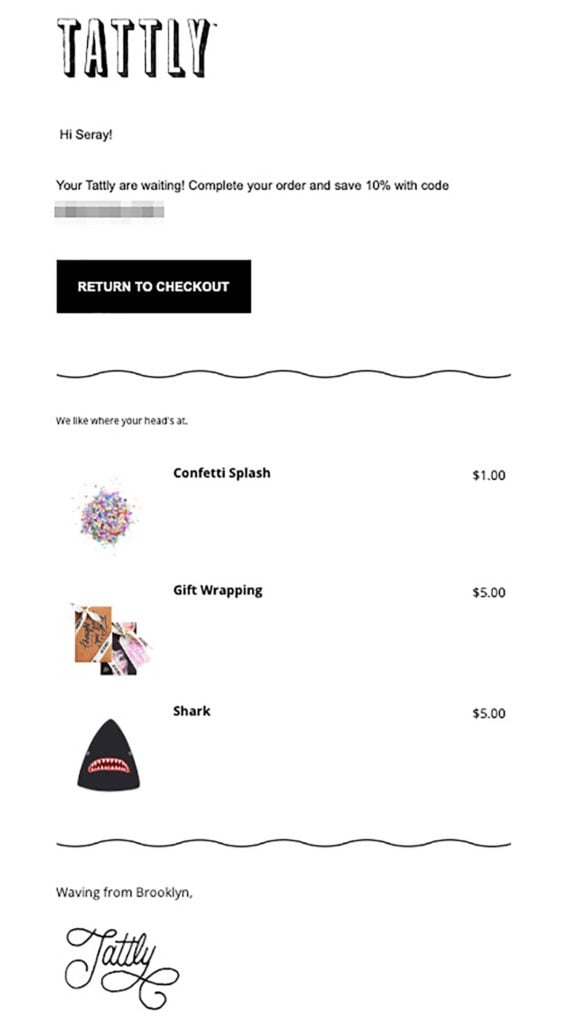 No-fuss. No doubt. Just a simple email with a simple call-to-action: Get 10% off when you complete your order.
Discount Subject Lines
Old Navy: The style(s) in your cart just went on sale!
Bonobos: Forget something? Will 20% off jog your memory?
Fanchest: LAST CHANCE – Take 15% off your Cart
Framebridge: Don't miss 10% off your entire cart.
Bean Box: 20% off sitewide today — Your freshly roasted cart expires soon
Design Within Reach: An item you liked is on sale for one more day.
Lavish Alice: Treat yourself, 10 off for 48 hours
Fab: Enjoy this discount on your next order with Fab!
4. The "A Little Flattery Goes a Long Way" Subject Line
Everybody loves a good compliment.
Whether it's for your new haircut or the new pair of jeans you just bought, it feels good, right?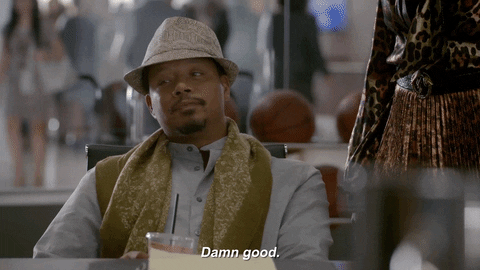 And it doesn't even matter if the compliment is genuine or not. As Robert Cialdini writes in Influence:
We are phenomenal suckers for flattery. Although there are limits to our gullibility—especially when we can be sure that the flatterer is trying to manipulate us—we tend, as a rule, to believe the praise and to like those who provide it, often times when it's clearly false.

I'm not saying you should lie to your audience—you shouldn't!
Instead, try offering a compliment in your subject line to encourage the reader to open your email, as Kikki K does:

Referring to the item that was left in the cart, Kikki K opens a curiosity gap (more on this later) and reassures the reader that they made the right choice adding this specific product to their cart.
They also emphasize it in the email by writing, "We noticed you left some favorites in your bag":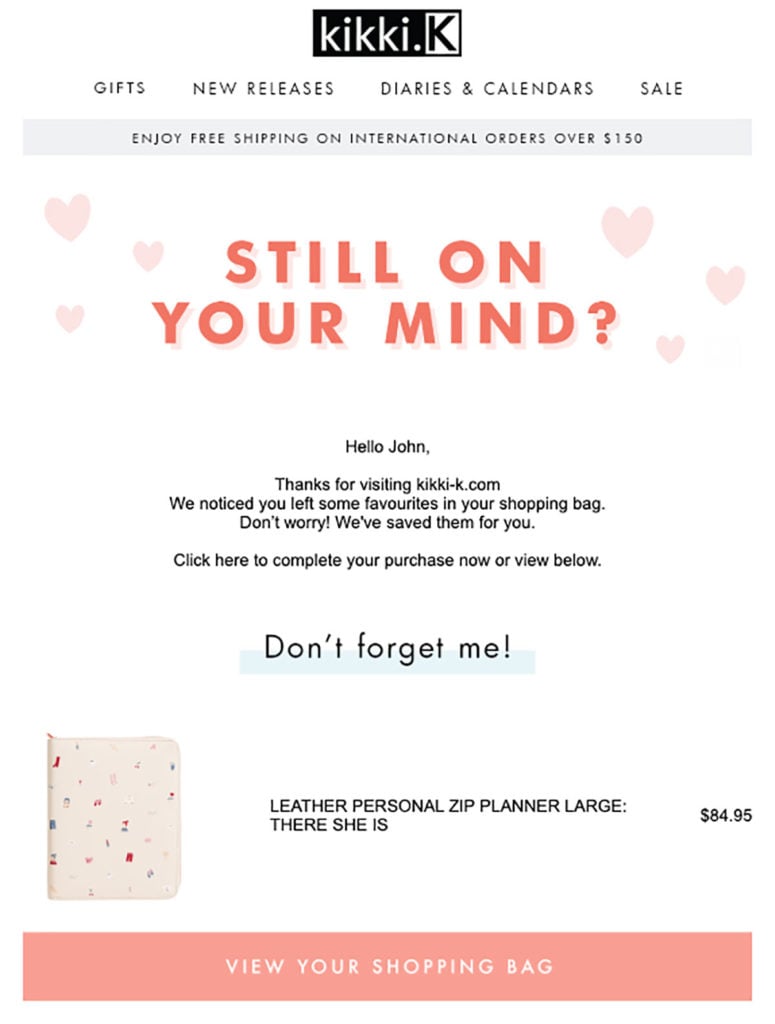 Give prospects a little pat on the back for their choice of product and encourage them to return to your site and buy it.
Flattering Subject Lines
AllSaints: Seray, we'd look good together
Bath & Body Works: Trust your instincts.
Man Crates: You've left something epic in your Man Crates cart!
Herman Miller: You've Got an Eye for Design
Michael Kors: You've Got Great Taste, Don't Leave It In Your Basket!
5. The "Try Not to Laugh" Subject Line
We all like to think we make calculated and well-thought-out decisions.
But reality tells a different story.
Our decisions are largely influenced by our emotions.
That's why putting a smile on your audience's faces can have a great impact on your open rates—and the replies you get.
Check out this reply David, my colleague, got recently from one of our outreach emails:

In fact, 50% of European and American consumers prefer humor in marketing over any other messaging theme.
One brand that absolutely nails humorous marketing messages is Poo~Pourri:

Selling a before-you-go toilet spray that eliminates the odor of #2, Poo~Pourri cleverly turns their subject line into a play on words that matches their brand perfectly.
And when you open the email, the puns continue: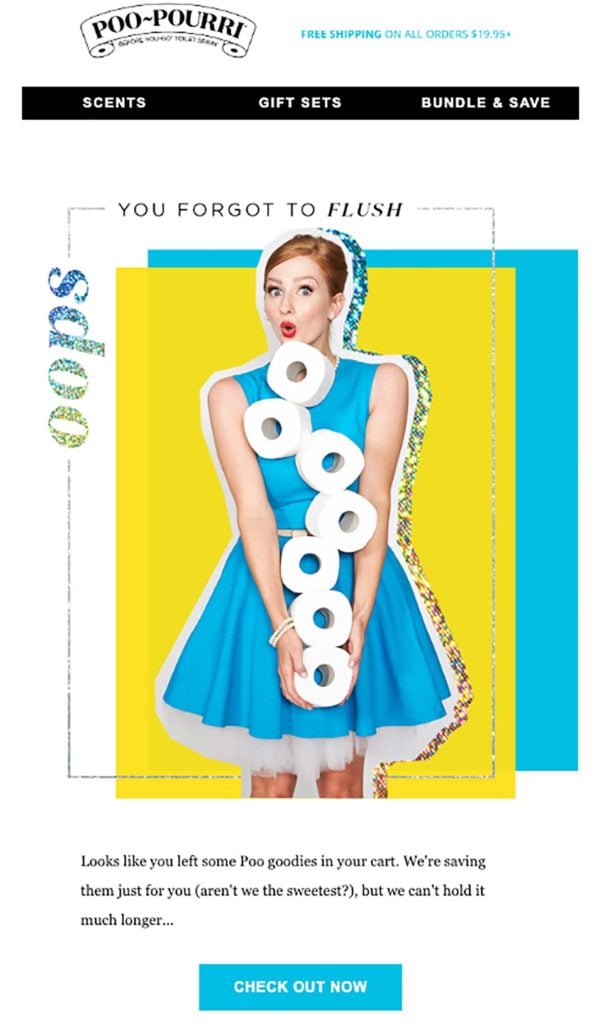 We can't hold it much longer. (Funny, right?)
Humor isn't for everyone. It has to fit in with your brand and your communication style. But when used right, it can potentially get more people to open your cart abandonment emails.
Humorous Subject Lines
Abercrombie & Fitch: You've got this one in the bag (literally)
Shinesty: You left your stuff at our place…
Vinomofo: Wine abandonment cry for help
6. The "Scratch That Itch" Subject Line
What distinguishes humankind from all other living creatures is our unique ability to ask why.
We're naturally curious by nature, and using this knowledge in your subject lines can be a powerful weapon of persuasion.
There are several types of curiosity, but one, in particular, is interesting to marketers:
Perceptual curiosity.
As Mario Livio describes in his book, Why? What Makes Us Curious:
Perceptual curiosity is engendered by extreme outliers, by novel, ambiguous, or puzzling stimuli, and it motivates visual inspection.

Think of it like an itch you need to scratch. You simply must satisfy your craving.
You can trigger this type of curiosity with "mysterious" subject lines. Subject lines that the reader can't help but click to find out more.
Take this example from Brooklinen:

But what?!
We want to know what comes next. And once you open the email, Brooklinen delivers in the first sentence: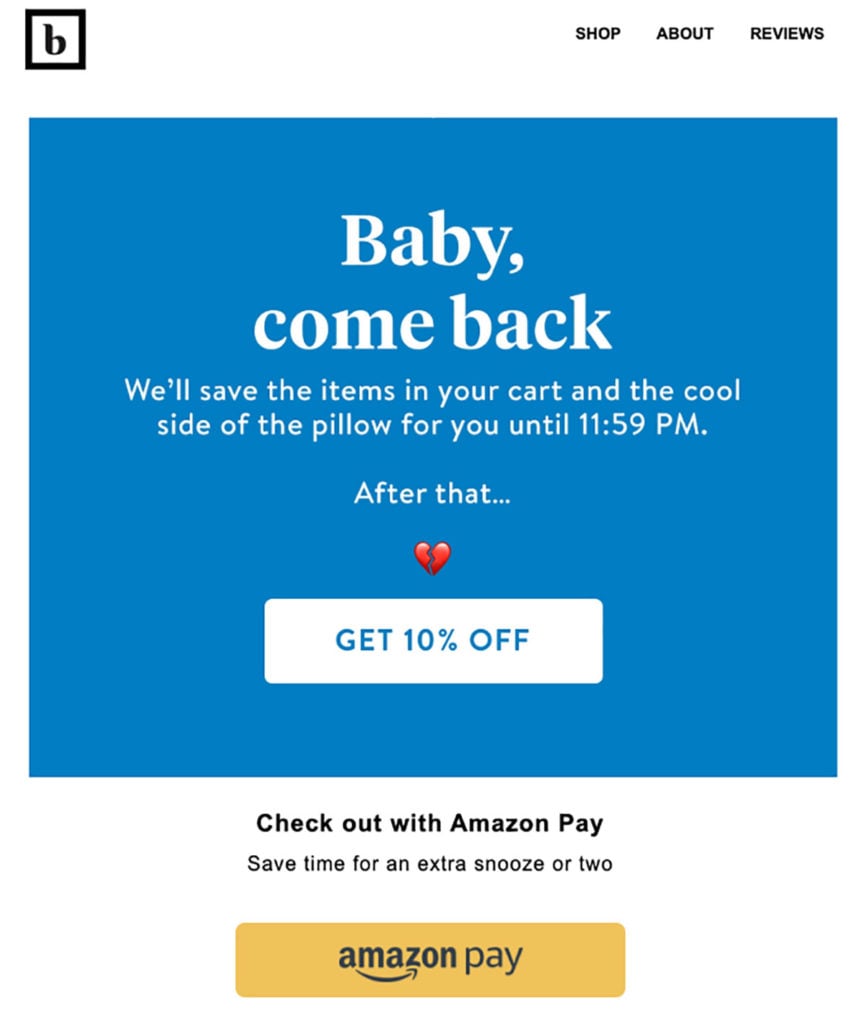 Using curiosity in your abandoned cart subject lines to trigger more opens can be effective. But make sure you satisfy the curiosity in the email (or when prospects click through to your site in the email).
Unfulfilled curiosity will lead to frustration, and you don't want to end up with frustrated prospects. (Imagine an itch you weren't allowed to scratch—torture!)
Curiosity-Driven Subject Lines
Sweaty Betty: Something caught your eye?
Brooklinen: unlock a dreamy deal
American Apparel: Forget something?
Crate and Barrel: We saved this for you.
Framebridge: Let's get it on your wall.
OUAI Haircare: YOU FORGOT SOMETHING
Everlane: Eyeing Something?
Prose: Ready when you are
Bobbi Brown: You know you want them.
AYR: Just lookin out for you 🙂
Birchbox: *Nudge Nudge*
Pandora: You forgot something…
7. The "Let Me Help You with That" Subject Line
The one thing all abandoning shoppers have in common is that they left their cart for a reason.
You might not know what that reason is, but eliminating common concerns in your subject lines can drive readers to open your cart recovery emails.
I already mentioned how price is a common concern for many shoppers, but lack of information and technical issues are also at the top of the list.
So, use your subject lines to address these concerns before prospects open the email, as Lavish Alice does:

Klarna is an installment plan solution that enables visitors to split up their payment, so they don't have to pay the full price upfront.
Prospects might not have known this was an option when checking out, so addressing this in the subject line and then expanding on it in the email is a clever strategy.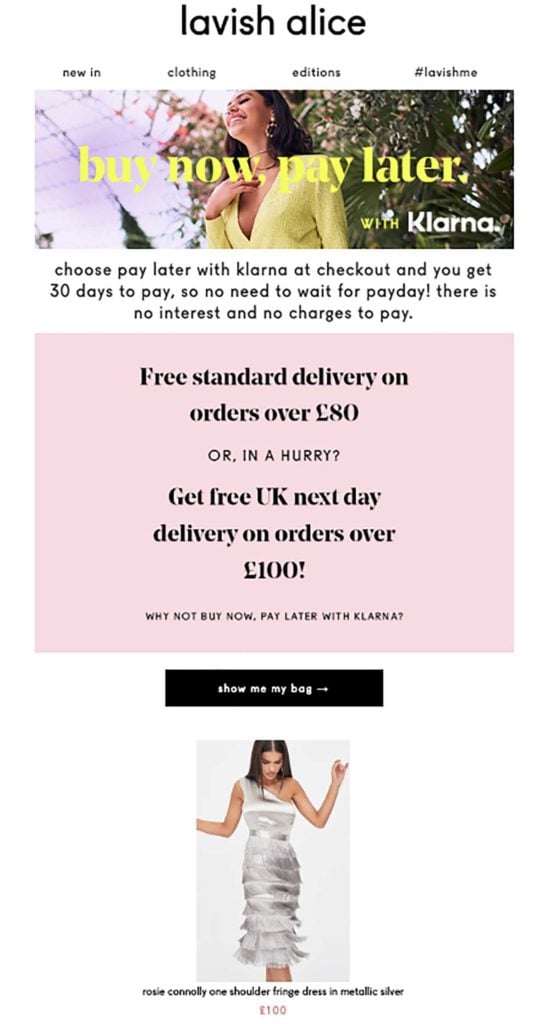 Find out why your visitors abandon their carts and then use that information to your advantage—in subject lines as well as other messages.
Examples
Beardbrand: free shipping
Daniel Wellington: You left some great items in your shopping cart
Joybird: Trouble Checking Out?
Conclusion
Writing subject lines that stand out in the inbox is no easy task.
Consumers are bombarded with promotional messages every day, making it harder than ever to get them to open your cart recovery emails.
But don't give up just yet. There's a lot of revenue to win back, and I hope the above examples have inspired you to get creative with your subject line next time you're sending an abandoned cart email to your audience.
Who knows? It might be the one thing that gets people back to your site and buy.