Did you see that video? Have you heard that song? Have you done that challenge?
These are all questions you may hear from friends, family or colleagues on any given day.
Answer "no," and you'll likely be considered out of the loop or out of touch.
And that's no good.
As humans, we naturally want to be a part of things, to know what's going on, to be connected.
Therein lies the value of Fear of Missing Out (FOMO) marketing.
It's a technique that has immense power and can help your brand stand out in even the noisiest of industries.
In an era that's sometimes referred to as "the attention economy," FOMO marketing can be a real game-changer.
It also helps you strike while the iron is hot and convert a larger number of leads so that they don't slip through your fingers.
Now let me break FOMO marketing in detail and explain how to fully utilize it.
Table of Content
The Psychology Behind FOMO Marketing
A 2013 study defines FOMO as, "a pervasive apprehension that others might be having rewarding experiences from which one is absent."
I think that nails it.
FOMO marketing taps into a simple yet primitive desire to be in on the action, to be "in the know."
No one wants to be left out, after all.
Missing out is a universal fear that goes back thousands of years.
To be out of the loop puts a person at odds with the group.
It creates social friction and could even be a threat to survival back at one time.
So it's easy to see why inclusion is a priority for people.
"FOMO is characterized by the desire to stay continually connected with what others are doing," the study adds.
In our hyper-connected world with endless status updates, breaking news and events unfolding in real-time, there's a pervasive anxiety that we may miss something important.
And this fear is only heightened by social media.
In fact, 56 percent of people are afraid they'll miss out if they don't stay on top of what's happening on social media.
It's a particularly big concern for younger people.
Eventbrite even found that 69 percent of millennials experience FOMO.
"For millennials, FOMO is not just a cultural phenomenon, it's an epidemic, writes Eventbrite. "In a world where news feeds and social media broadcast what friends are experiencing, the fear of missing out propels millennials to show up, share and engage: a driving force behind the experience economy."
FOMO marketing acknowledges this fact and uses it as leverage to capture the attention of consumers, get them to react and ultimately buy.
Using FOMO Correctly
Before I dive into the actual ways to use this strategy, I feel I should point something out.
FOMO marketing should be used responsibly.
The thing about FOMO is that its impact lies largely in its ability to trigger negative emotions.
A study from Citizens Relation found:
39 percent of people felt envy
30 percent felt jealousy
21 percent felt sad or disappointed
Feeling like they're missing out can create a real sense of unease for people.
So you need to have the right intention when formulating your approach.
Today's consumers are smart and savvy and can usually sense whenever a brand is trying to deceive or manipulate them.
Being over the top with FOMO marketing where you try to deliberately trigger unpleasant emotions can end up backfiring and drive a wedge between you and your customers.
So you need to use it correctly.
Here's are some ways to do that.
1. Show That Something is in Demand
As of writing, it's winter, and the weather is chilly.
So naturally, there are a lot of people looking to escape the cold by heading south to Florida.
Here's an email I recently received from Airbnb a few days after checking out vacation spots there.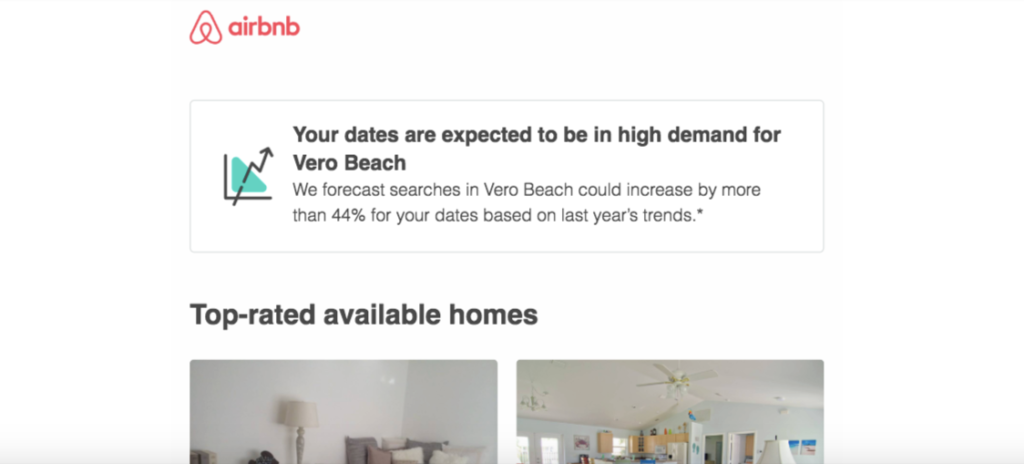 It lets me know that there's currently a high demand in the Vero Beach area and that searches have increased by more than 44 percent since similar dates last year.
If someone didn't jump on it right away and secure a vacation rental, a great opportunity may be lost.
Or at the very least, they may end up having a lot fewer options and paying more money.
Showing that something is in demand encourages people who have some level of interest to continue exploring and take action.
Knowing they may lose out if they delay can provide motivation to make a purchase.
2. Show That an Offer Won't Last
Urgency is one of the most common scarcity tactics and can be highly effective.
It's also an excellent angle for FOMO marketing.
Realizing that the clock is ticking and there's only a finite amount of time to take advantage of an offer can be a strong incentive.
That's something that meal replacement brand Soylent does well.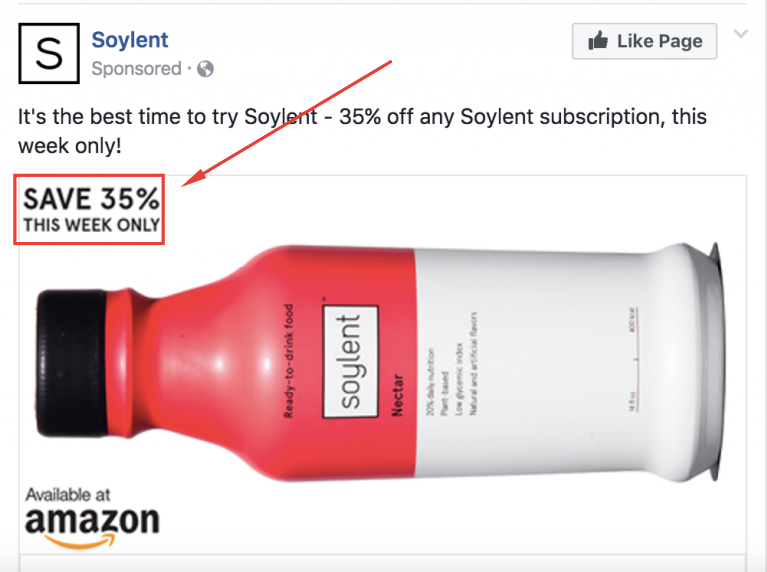 On this ad, customers see that they can save 35 percent, but they have to make their order by the end of the week.
If someone waits too long, they'll miss out.
However, to encourage maximum participation, he also offers people the option of reserving their spot for a later time if they're too busy at the moment.
I find that most people really take notice of this, and it greatly increases their chances of converting.
Setting a deadline for a sale can also work.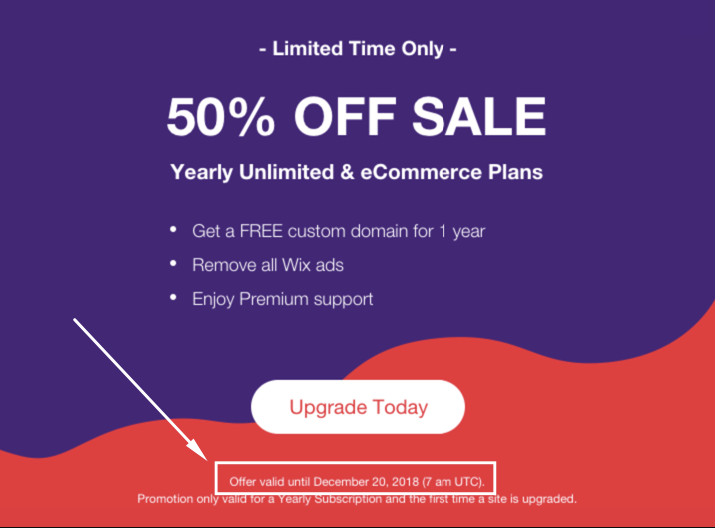 In this case, web development platform Wix is offering 50 percent off but has a clear deadline of December 20.
Another idea is to create a "countdown" where shoppers can see exactly how long before a deal expires.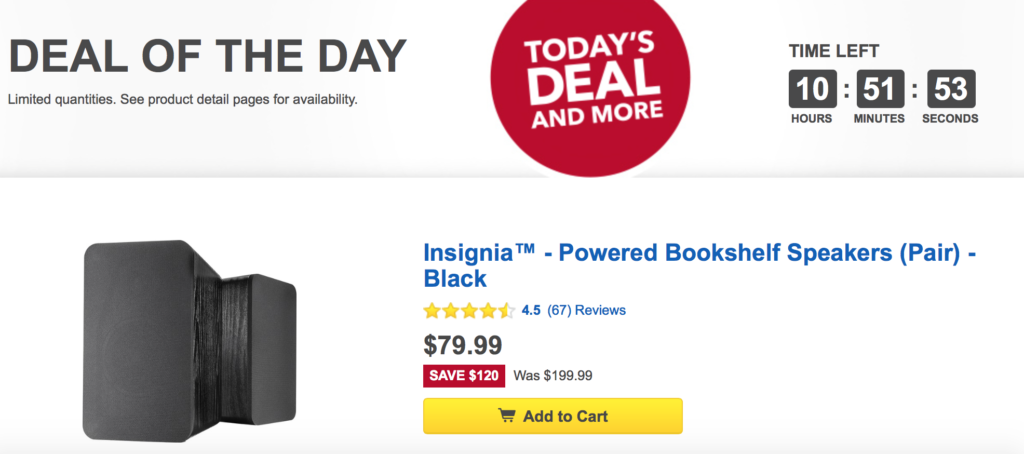 You don't want to be manipulative about it, but having a shelf life to an offer can effectively trigger the FOMO reflex.
3. Show How Many People Are Buying
Say that someone is interested in your product.
Perhaps they've browsed your site, done some research, and think it could potentially solve their problem.
But they just can't quite get over the hump.
Letting them know that other people are buying, and better yet, how many people are buying can provide some strong motivation to proceed with their purchase.
Here's an example of a clothing company putting this into action.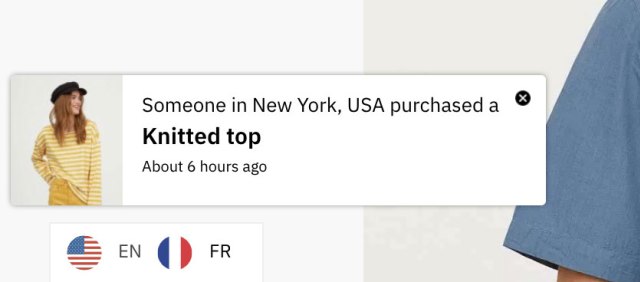 When prospects are browsing their clothing line, they'll see the specific products that other customers recently purchased.
So it must be legit. Passing it up means they're likely missing out on something great.
Often, this is just the extra little bit of motivation someone needs to complete their order.
4. Use Exclusivity
As humans, we love exclusive offers.
There's something about having access to discounts and deals that others don't that gets our blood pumping.
It makes us feel special.
So it not surprising that exclusivity is a big part of FOMO marketing.
Creating offers and positioning products in a way that only certain people can access them can have a huge impact.
Take this promotion for example.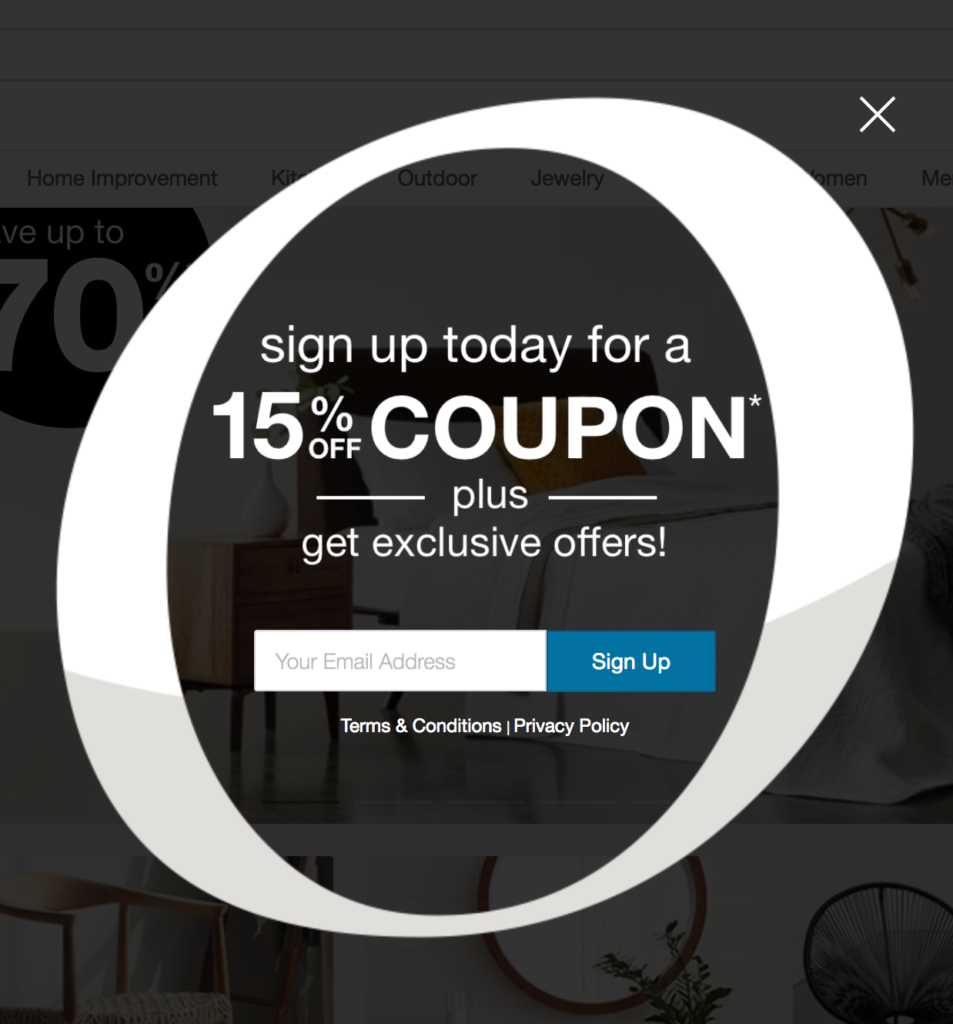 Besides earning a 15 percent off coupon, those who sign up will receive exclusive offers as well.
In addition to overcoming the fear of missing out, this can instill a sense of loyalty in many customers.
They'll be grateful that you've given them perks that the general public doesn't have access to, which can be a big selling point.
People love free shipping.
"Nine out of ten consumers say free shipping is the top-most incentive to shop online more, and orders with free shipping average around 30 percent higher in value," Invesp explains.
So, of course, it's enticing when shoppers can receive free shipping on their orders.
In many cases, it means the difference between abandoning an online shopping cart and going through with an order.
Luckily, FOMO can become part of this equation where you offer free shipping but only for a limited time.
When there's a specific deadline, people are far more inclined to proceed with their order than if there wasn't a deadline.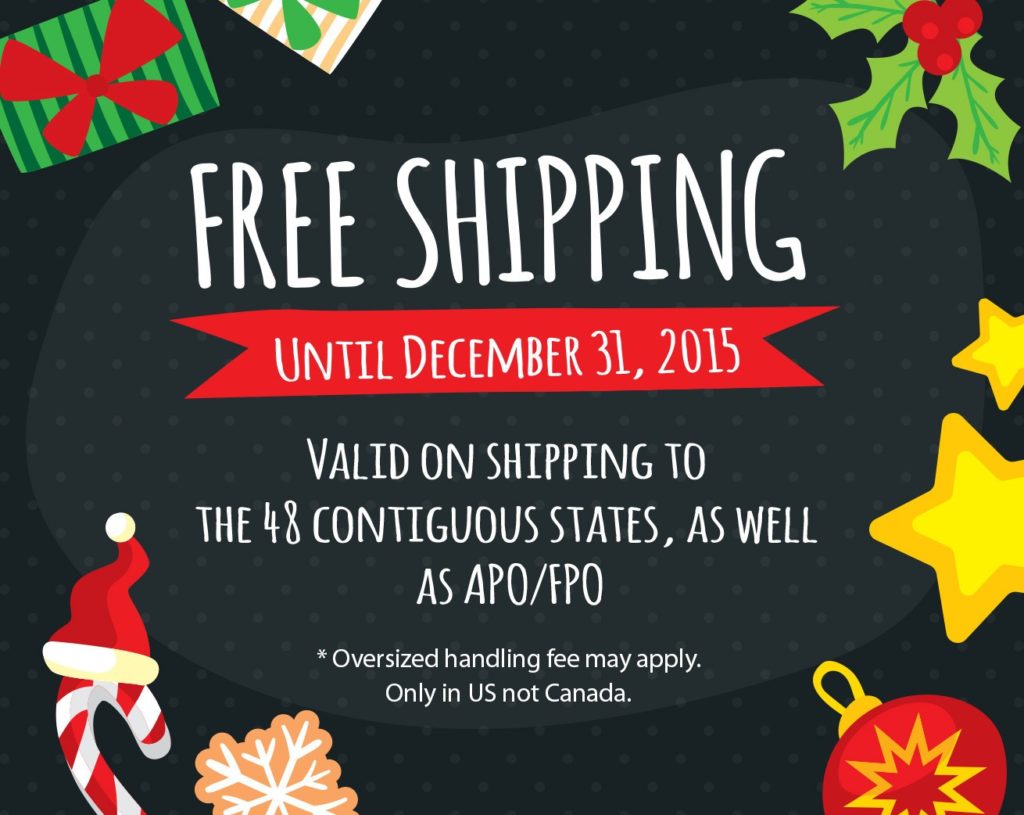 This particular offer guarantees free shipping until the end of the year.
6. Offer a Discount to Early Purchasers
A common promotion for many sports teams is to give away a free t-shirt, hat or bobblehead to the first 1,000 or so people who come to the arena or ballpark.
It rewards attendance and encourages people to get there earlier.
This is yet another form of FOMO marketing that you can use in your own promotions.
While it may not be feasible to give away of a ton of free merchandise as sports teams do, it's a concept you can still implement.
Here's a great example from a restaurant that gave the first 100 customers to use their app 50 percent off of their order, a free drink and a free cupcake.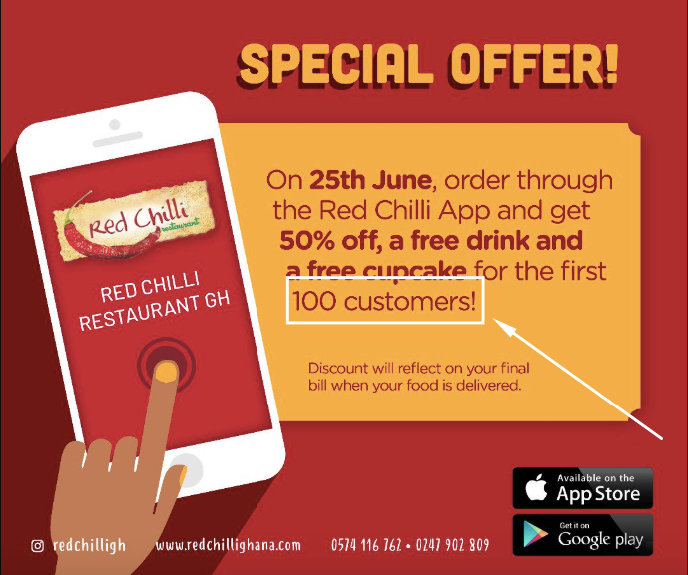 It's a pretty sweet deal.
Assuming the offer is enticing enough, this can be a huge incentive.
Knowing that it's only available to a select number of people encourages quick decision-making.
Rather than thinking it over and maybe returning later, they're more apt to complete an order right away.
7. Leverage Testimonials
Testimonials are one of the most tried and true marketing techniques of all times.
They rely on a very simple premise of having current customers validate your product or brand.
And it factors in heavily to the overall FOMO strategy.
At the end of the day, testimonials let prospects know that other people are already using your product and they couldn't be happier about it.
Therefore, prospects should take action so they don't miss out on the benefits.
Here's an example of a brand selling "The Shakur Shades," created in the style that Tupac Shakur used to wear.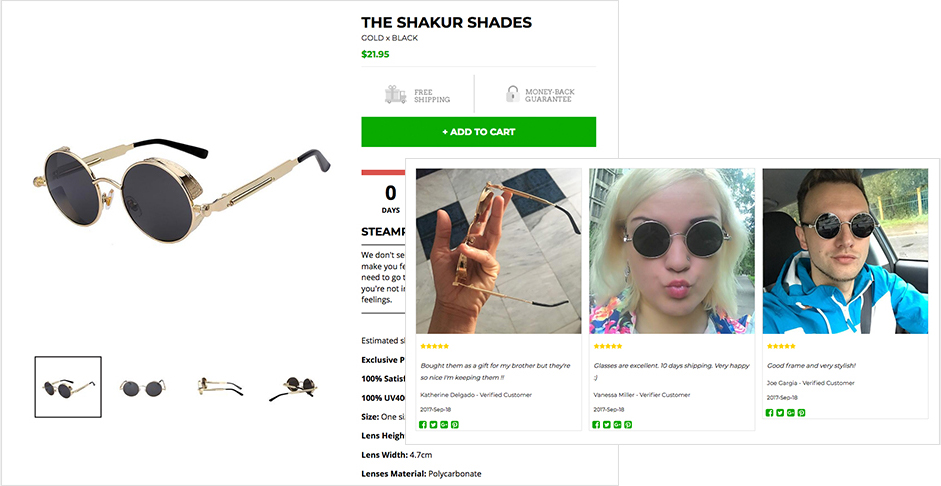 Potential buyers can quickly see testimonials along with actual product photos from satisfied customers.
8. Install an Exit-Intent Campaign
In all transparency, I do not like intrusive popups or email forms. Nonetheless, there are marketers who espouse their use and have benefitted from them.
When used responsibly, they can be used to point prospects to valuable offers they may not be aware of.
And they can definitely increase conversions.
One particular type of campaign that ties in brilliantly to FOMO is the exit (or exit-intent) campaign.
Conversioner defines this as, "a message that displays to users as they are attempting to navigate away from your site."
Here's an example of Danish bag company, Helm using an exit-intent campaign to encourage visitors to sign up for their email list.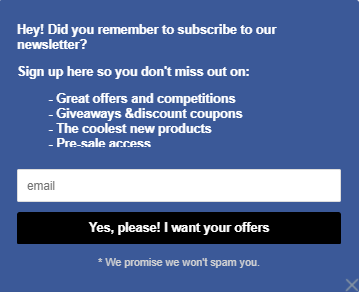 Here's another that offers an opportunity to win the bag of their choice.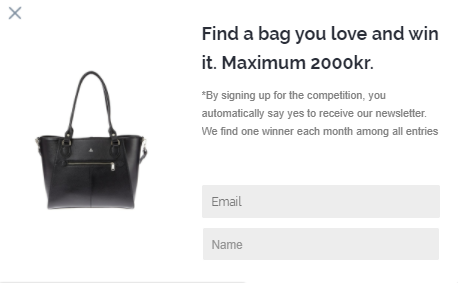 If someone was about to leave your site, the exit-intent campaign would present them with the opportunity to receive 10 percent off of their first order.
So theoretically, a person could go from being a squandered lead to a cash paying customer.
It's just a matter of providing them with a bit of motivation.
While it won't work on everyone, studies have found that a good percentage of people are receptive to exit-intent campaigns.
In fact, Danish traveling company Hojmark Rejser was able to increase the number of offers they sent to customers from 1,300 to 2,300 in a season by using this strategy.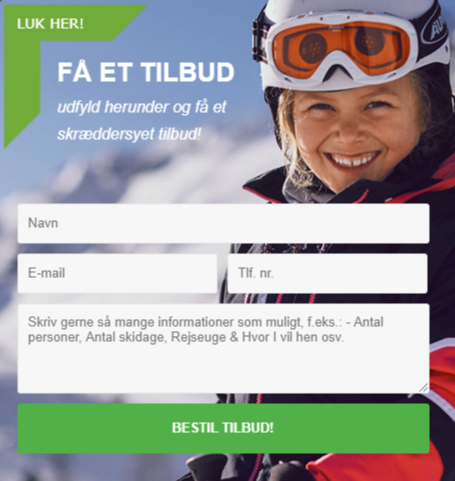 The key is to include offers with genuine value and perform A/B testing until you find the perfect copy.
Conclusion
The fear of missing out is nothing new. It has primal roots.
But it has been magnified by the Internet and social media.
We live in a day and age where everyone seems to know what everyone else is doing at all times.
While it's often a source of anxiety for many people, it can also be a powerful marketing tool.
There are several ways to use FOMO marketing to rise above the noise and connect with consumers.
The eight techniques covered here should help you do that in an ethical manner so that you can make the most of your leads and get more of them to take action.