This is the most complete guide to email marketing examples online.
We've compiled 31+ email marketing examples from real brands and organized them by type, industry, and season.
Enjoy the article in full, or jump to a section by using the table of contents below.
What is Email Marketing?
Email marketing is a digital marketing channel in which organizations promote their products and services via email.
Well, duhhh.
The effectiveness of email marketing stems from the fact that you're speaking to a captive audience. Because you're targeting people who've signed up to your marketing list, you know they're at least somewhat familiar with your brand and products, and are interested in learning more.
Email plays a key role in inbound, "pull" marketing strategies, which are all about attracting customers through tailored experiences and high-value content that targets their specific pain points and objectives.
For instance, as an eyewear brand, Warby Parker knows that a lot of glasses-wearers have broken a pair of specs at some point. Maybe they sat on them. Maybe they dropped them off a balcony or backed over them in the car. Maybe the dog ate them.
As such, an obvious pain point for Warby Parker's audience is to find a more resilient pair of glasses. So the brand sent this email to its marketing list: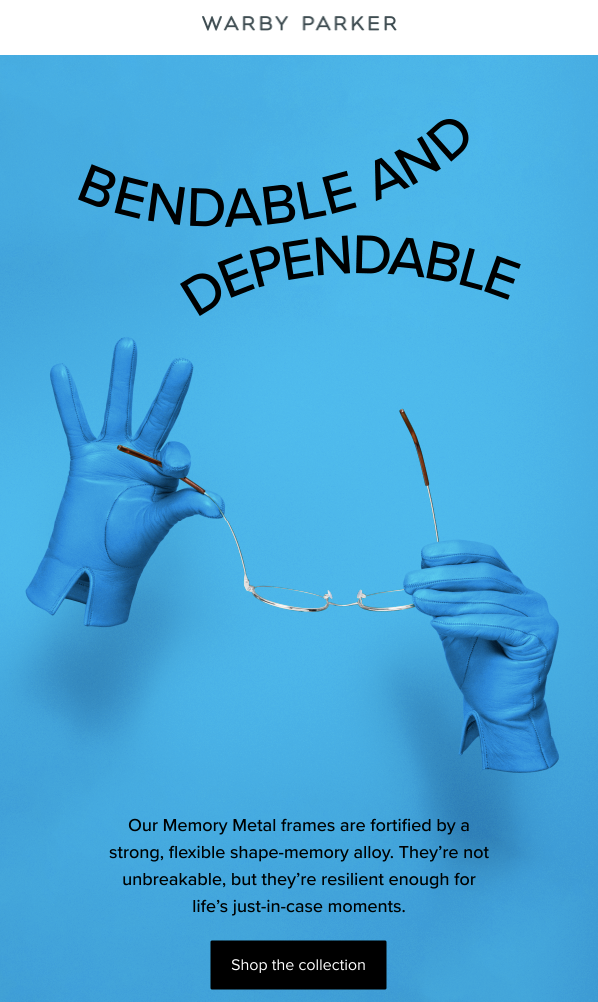 If you've recently shattered a pair of glasses and are looking for a replacement, there's a strong chance you'd click the CTA button.
How to Get Started with Email Marketing: 6 Steps
If you wanted, you could start a (bad) paid media campaign in just a few minutes by setting a budget, writing a caption, and clicking "go".
Email marketing, on the other hand, requires rather more planning—not least because people have to actively opt-in to receive your messages. Over the years, email marketing has gone from batch-and-blast to more sophisticated in targeting.
Jessica Totillo-Coster of Ecommerce Badassery breaks down the way email has changed over the years.
While email has become more sophisticated, it's not become too difficult to do. Follow these steps to get started with email marketing:
Define Your Audience
The starting point for any marketing campaign is to figure out who you're targeting. Because the better you understand your audience, the easier it becomes to write highly targeted email messaging that feels like it's written for individual customers.
That's a key point, with 90 percent of leading marketers agreeing that personalization significantly contributes to business profitability.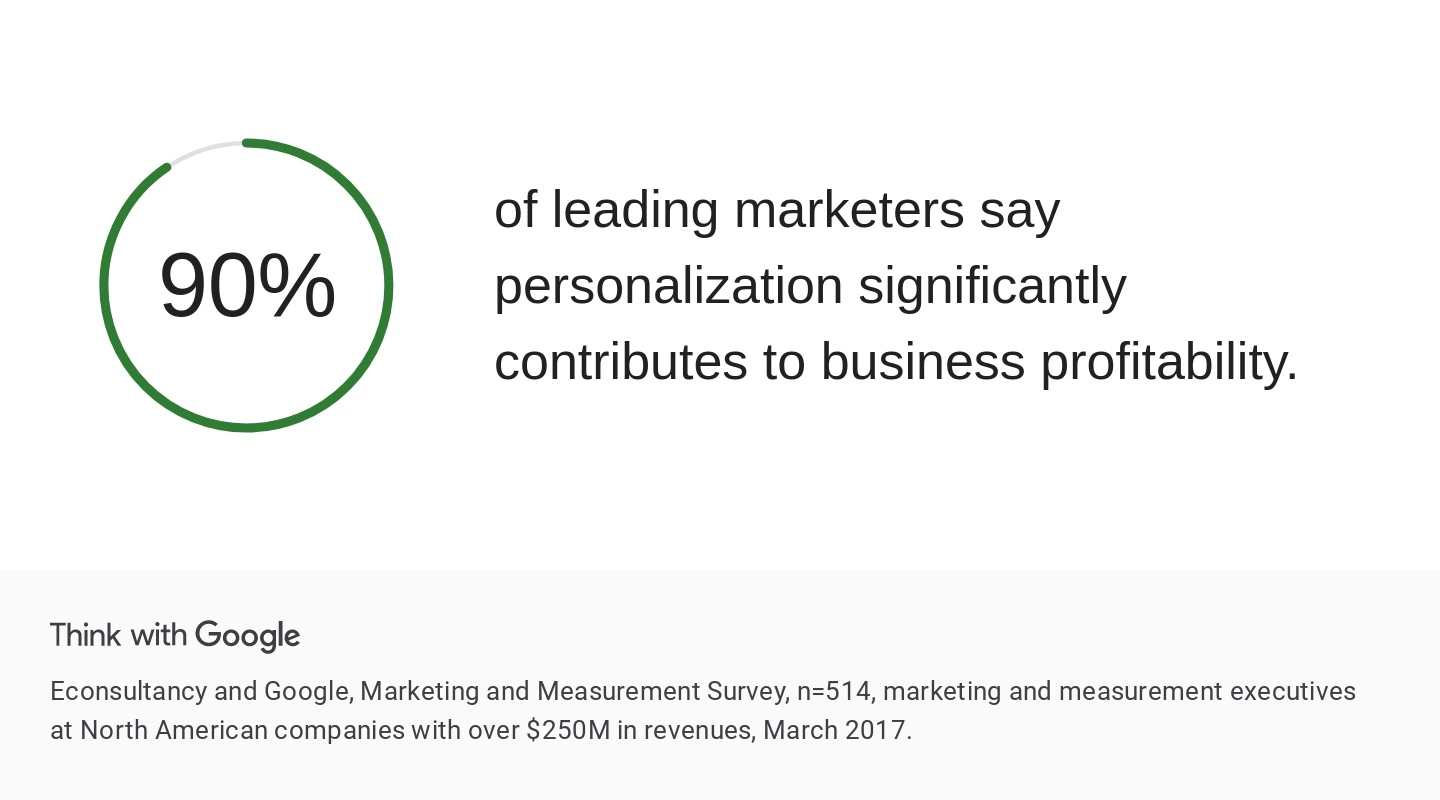 Unless you're a totally new brand, it makes sense to use your existing audience as a guide to the types of consumers you want to reach. Identify your best customers in terms of:
Purchase frequency
How long they've stuck with you
Draw up a list of common traits shared by those high-value customers. How old are they? Where do they live? What do they do for work? What goals and pain points do they face? Why do they buy your products?
Then create messaging and offers that resonate with other consumers who share those characteristics.
Establish Your Goals
You've figured out who you're speaking to.
Now, it's time to decide why you're speaking to them.
There are any number of potential goals for your email marketing strategy, but common examples include:
Nurturing leads.

Once you've captured a potential customer's email address, they become a lead. Through email marketing, you can educate those leads about your brand and products until they're ready to buy.
Improving customer loyalty.

Converted a lead into a paying customer? Now it's your job to

keep them buying

by sharing targeted promotions, recommending relevant products, and generally making them feel a connection to your business.
Driving upsells and cross-sells.

Maximize the value of each customer by sharing upsell and cross-sell emails highlighting complementary or upgraded products.
Reducing cart abandonments.

About

seven in 10 online shopping carts

are abandoned. Recover some of that lost revenue by targeting those shoppers with personalized

cart abandonment campaigns.
Growing your audience.

Boost your customer base by encouraging existing email subscribers to refer friends and family in return for a discount or promotion.
Of course, many email marketing programs have more than one goal. You might aim to increase average revenue per customer through cross-selling and upselling, while also driving loyalty by sharing attractive, personalized offers.
That's fine. But different goals require different strategies. Unless you take the time to clearly define what you want to achieve, you'll likely struggle to generate a decent ROI from your email campaigns.
Build Your Email List
Without a captive audience of leads to target, your email campaigns will be doomed to failure. So having defined your audience and goals, it's time to grow your marketing list.
There are two ways to do this:
Import a List Of Contacts
This is the easy option.
You might already have hundreds or thousands of opted-in contacts. Maybe you built them up during a previous email marketing program; perhaps they signed up while downloading an ebook or registering for a webinar.
Whatever the case, these people are ready and waiting to hear from you. So import that packed contact list to your email marketing tool (more on this later) and give them what they want!
Build an Email List From Scratch
Of course, a lot of brands don't have the luxury of a ready-made marketing list to kick-start their email campaigns. More likely, they're starting from zero. Or, if they do have an existing marketing list, it's full of dead emails. Maybe it's not GDPR-compliant.
Either way, they need to gather a bunch of new email addresses from customers in their desired target audience. Let's look at a couple ways to do it:
Use an Incentive
Almost nine in 10 consumers want to hear from businesses they deal with, with three-fifths preferring to receive these communications via email, according to research from Square.
But let's be realistic. Your customers are busy, and they already receive a ton of emails—about 350 every single day—so you'll have to give them a compelling reason to hand over their email address.
Typically, email capture incentives involve some sort of discount (e.g. "Join our email list to get 10 percent off your next purchase"). But that's not the only valid approach. Other incentives include:
A free gift
Exclusive content
Early access to new products
Early access to sales
The right incentive will depend on your brand and audience.
For example, Supreme has grown a huge, engaged customer base through its ultra-limited-edition product drops. Shoppers would likely jump at the chance to get advanced access to new releases—and might even be put off by discounted pricing.
Use Popups
Website popups are one of the most effective tools for capturing email addresses because they're guaranteed to catch the user's eye.
On average, popups boast a conversion rate of 3.09 percent, but the highest-performing 10 percent of popups convert three times as well.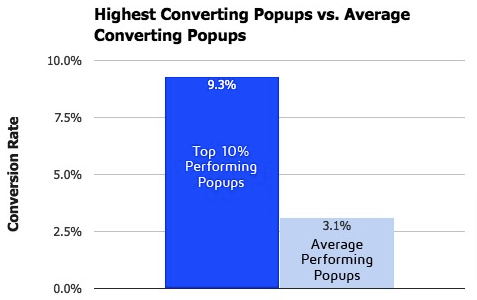 A typical email capture popup looks something like this: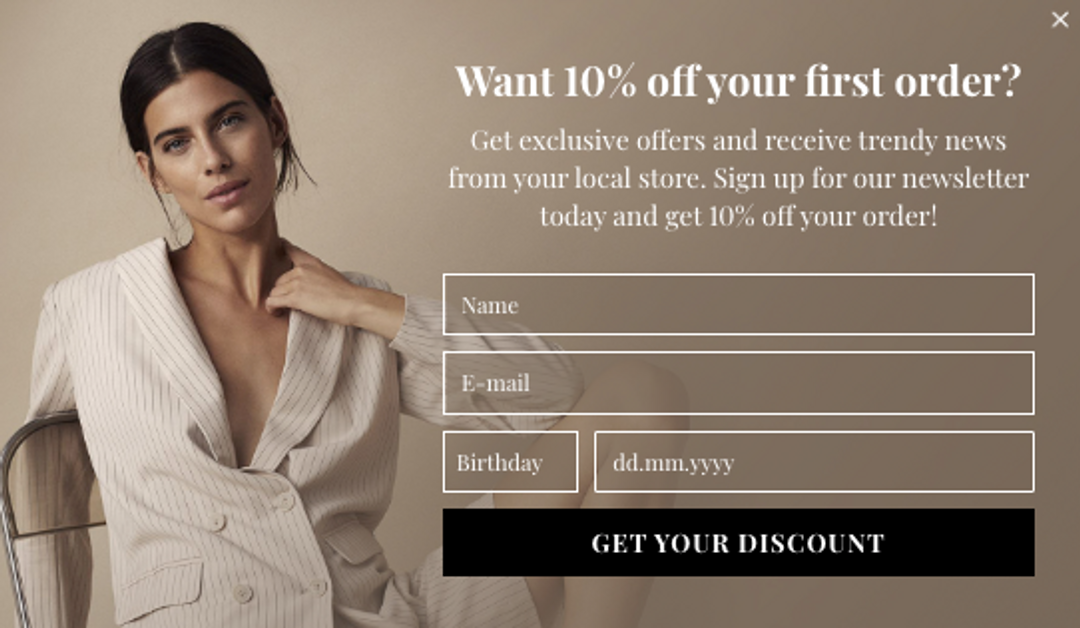 It gives the customer multiple reasons to sign up—a 10 percent discount, plus access to exclusive offers and "trendy news".
And, as you'll notice, it asks for the shopper's name and date of birth as well as their email. As a general rule, the more information you ask for, the lower your conversion rate will be. But at the same time, the more you know, the more personalized your messaging will feel, so it's a delicate balancing act.
Email Forms
Embedded lead capture forms can work separately to, or in tandem with, website popups.
You could just have a standalone email form somewhere on your website. Or you could have a popup plus a form, giving yourself the best possible chance of gathering those all-important addresses.
Bombas chose the second option. When you first land on the brand's homepage, you're presented with a popup asking for your email address in exchange for a 20 percent discount: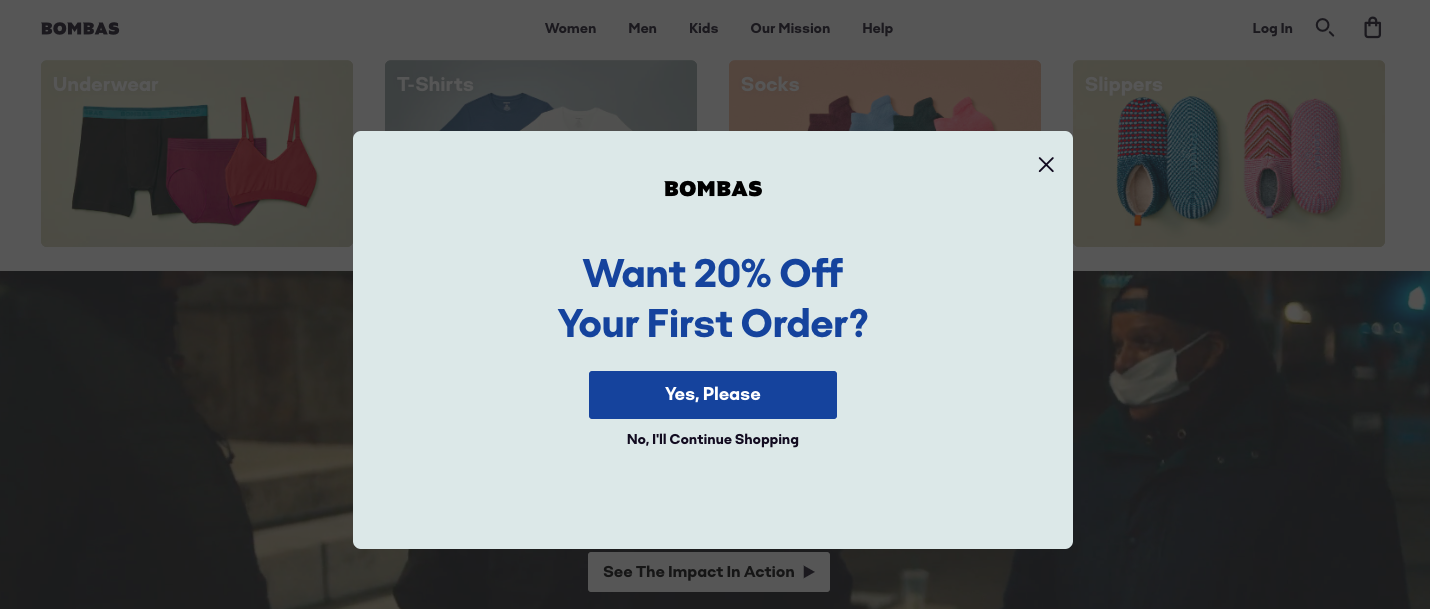 But even if you close that popup, you can still take advantage of the signup incentive using the email form at the bottom of the page: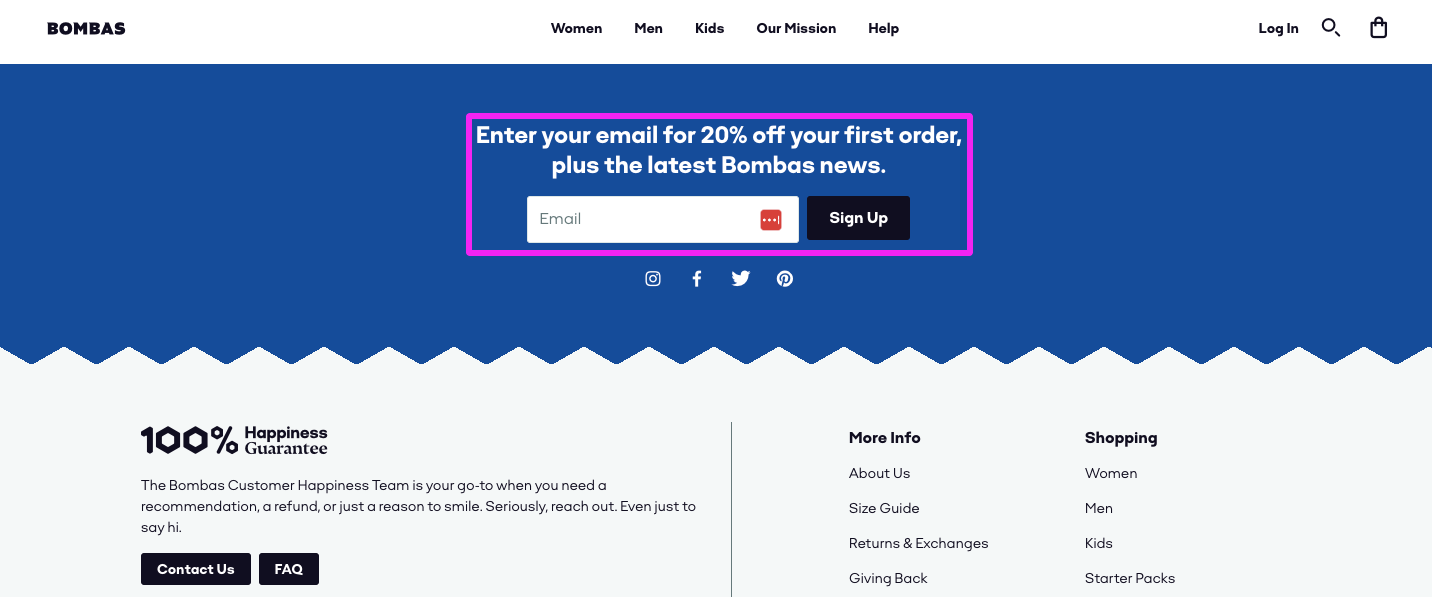 Hello Bar
Hello bars—also known as "sticky bars" and "announcement bars"—are banners that "stick" to the top of one or more pages on your website, presenting a succinct message to visitors.
Often, that message will promote a sale, free shipping, or some other type of promotion, like in this example from Brooklinen: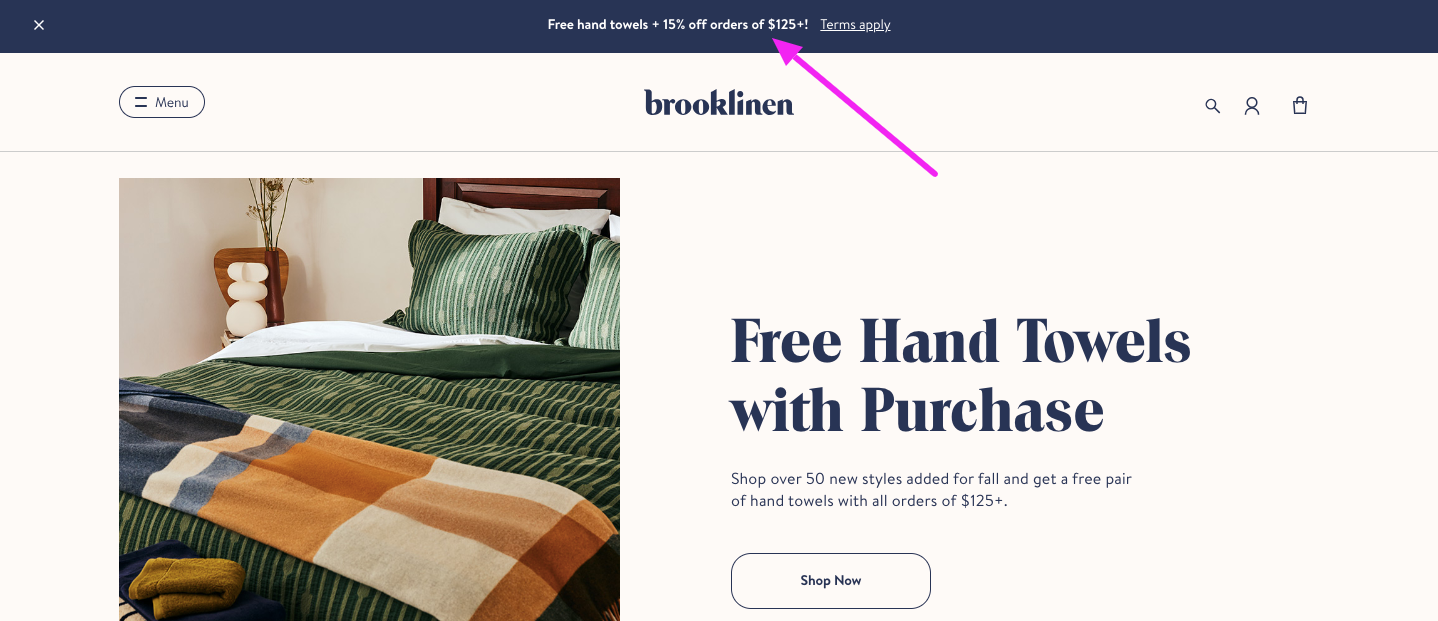 But hello bars can also be used in your email capture efforts. Briefly outline your offer at the top of the page, then encourage shoppers to click a link to find out more.
Landing Pages
A single popup or form might be sufficient to build your email list.
But if your business model is a little more complex than the average ecommerce store, you might need to work a little harder.
Stitch Fix is a great example. It's part-fashion store, part-personal styling service. To help it generate warm ecommerce leads, it points website visitors toward a dedicated email capture landing page, which takes the form of a style quiz: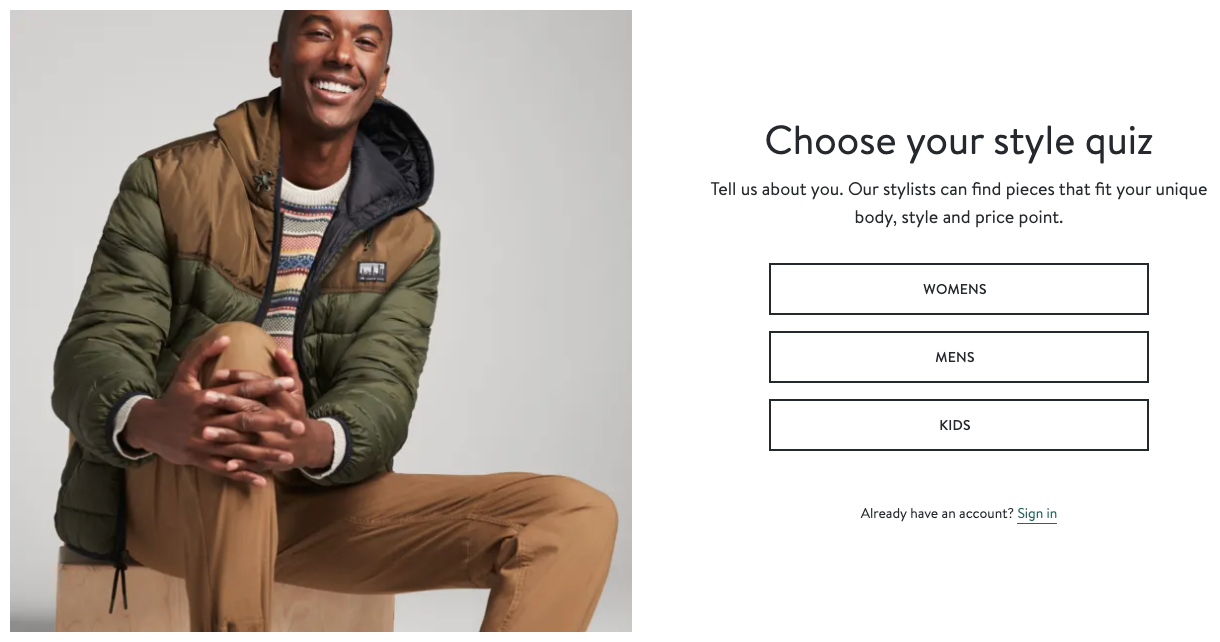 Before you get started, Stitch Fix asks for your email address so it can save your answers: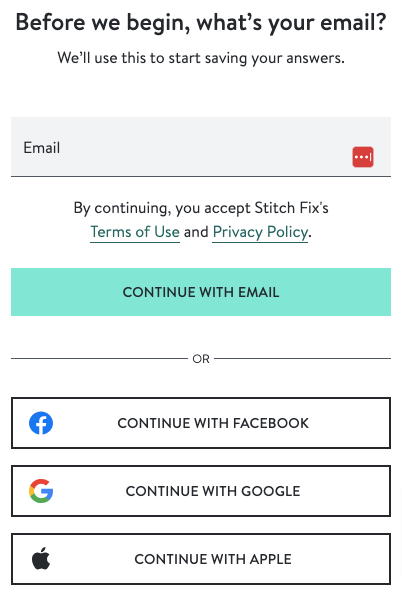 Sure, there are simpler ways to grow an email list, fast. But quantity isn't everything. With this strategy, Stitch Fix can feel pretty confident that anyone who completes the quiz is genuinely interested in its products.
Choose an Email Marketing Service Provider
Finally, you need to choose your email marketing software. Because you won't have much luck running your campaigns through your Gmail inbox.
There's no universal "best" email marketing service provider. Different platforms cater to different users, budgets, and industries. But, generally speaking, you should look out for a tool with the following features:
User-friendly interface.

Ideally, you want a platform that lets you do everything yourself, without relying on support from a dev team or an external agency. In particular, prioritize tools with drag-and-drop email and workflow builders.
Marketing automation.

Automated campaigns cut down on busy work and allow you to build more sophisticated strategies. To give a simple example, when you capture a new lead, you'll want to automatically trigger your welcome email series.
Customer-focused data.

Your email tool should bring

context

to your customer data. You don't just want a big list of names, email addresses, and transactions—you need to understand the types of products a customer loves, how often they buy, and which promotions are likely to resonate with them.
Dynamic segmentation.

Once you've built a customer segment, you want it to automatically update in real time. So when a shopper makes their first purchase, you want to remove them from your "unconverted leads" segment and into "first-time buyers".
Onsite lead capture tools.

Choose a tool that helps you grow your marketing list through onsite popups, embedded forms, stick bars, slide-ins, and sidebars.
Learn more in our roundup of the 9 Best Email Marketing Services for DTC Brands.
Create an Email Schedule
In our experience, most brands simply don't send enough marketing emails. Because, in a world where email marketing delivers an average return of $36 for every $1 spent, more is almost always best.
The perfect email schedule varies from one brand to another, but here are some general guidelines to help you get started:
| | | |
| --- | --- | --- |
| Email type | What's in it? | Monthly volume |
| Newsletter | News about your brand, products, and promotions | 2 – 4 |
| Product push | Features, benefits, and testimonials of individual products, bundles, or product categories | 4 – 12 |
| Brand education | How to buy/use your products | 1 – 2 |
Find out more in our guide on How to Plan Your Monthly Email Calendar.
How to Create an Email
By this point, you've defined your email marketing goals and target audience, built your email list, and imported it to your email marketing platform of choice.
Now, it's time for the fun stuff: creating and sending marketing emails! Before you start, check out these email marketing best practices…
Best Practices for Adding Humanity and Authenticity
Consumers are becoming increasingly savvy. If you make an empty statement or pledge without backing it up, they'll see through you—and run a mile.
On the flip side, they're happy to reward brands that get it right. According to Forrester, 71 percent of US consumers say they can relate to authentic brands—and therefore want to back them. What's more, 70 percent say authentic brands give them a "stronger feeling of confidence".
Authentic email marketing requires a human touch. Because brands are faceless entities, so it's tough to demonstrate their authenticity.
Haircare brand Oribe is evidently well aware of this. It often shares emails from president and co-founder Daniel Kaner to mark key company milestones, such as its 15th anniversary: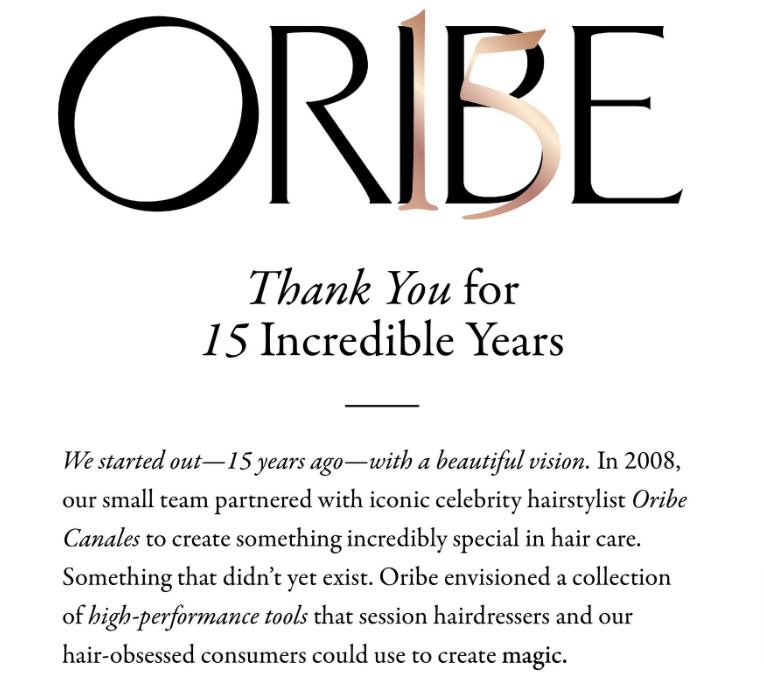 But authentic, human messaging shouldn't just come from your senior leadership team.
DTC fashion brand Chubbies places its regular employees front and center of its email campaigns by attributing every email it sends to an individual team member: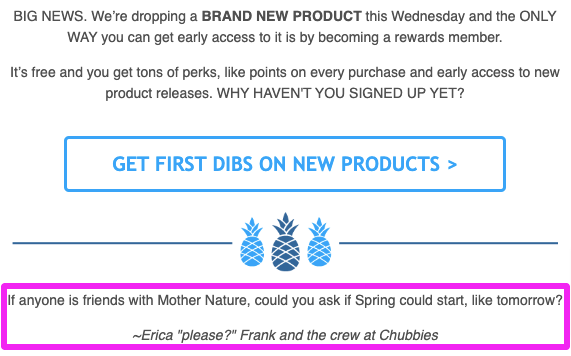 That way, customers feel like they're getting to know the whole Chubbies team.
Still, putting a human name on your emails will only get you so far. At some point, your audience will want to hear from an even more authentic source: other customers.
User-generated content (UGC) is one of the most powerful forms of marketing. So much so that 82 percent of consumers would be more likely to buy from a brand if it incorporated more UGC into its marketing initiatives.
This strategy is especially useful for brands selling complex and/or high-ticket products and services. Why? Because those customers are the most difficult to convert.
Mattress brand Casper is a prime example. In this email, it shared a bunch of reviews from real, named customers talking about how much they love their new Casper mattress: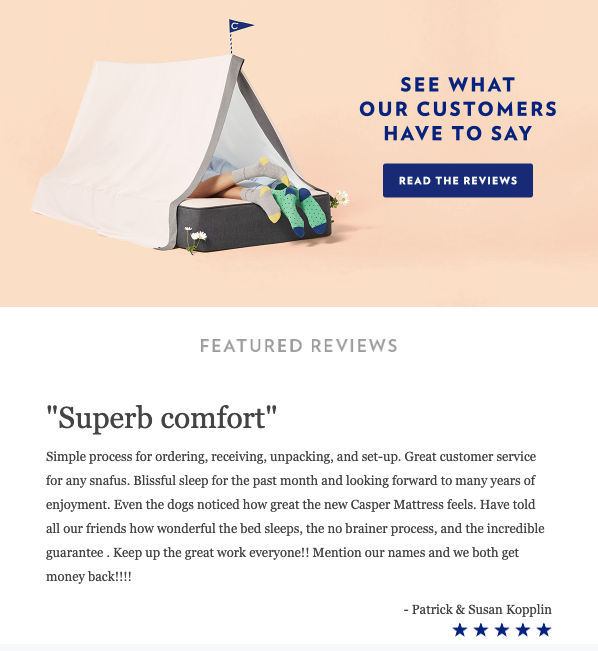 One word of warning: please, please don't invent your own customer testimonials—they always end up looking fake. It's the polar opposite of authentic marketing.
Email Subject Line Best Practices
With almost half of respondents choosing whether to open emails based on the subject line alone, it's fair to say email subject lines are kind of important.
One of the most critical elements of writing a winning subject line is to make it the right length. There have been many studies on this, but recent data from Campaign Monitor found that somewhere between 28 and 50 characters is the optimal length.
More specifically, they recommend starting with shorter subject lines ranging from 28 to 39 characters, as this is ideal for catering to mobile users with limited screen real estate.
Given that nearly half (46 percent) of emails were opened on mobile in 2020, this is definitely important. To give you an idea of what this looks like, here's an example from Trello with 31 characters.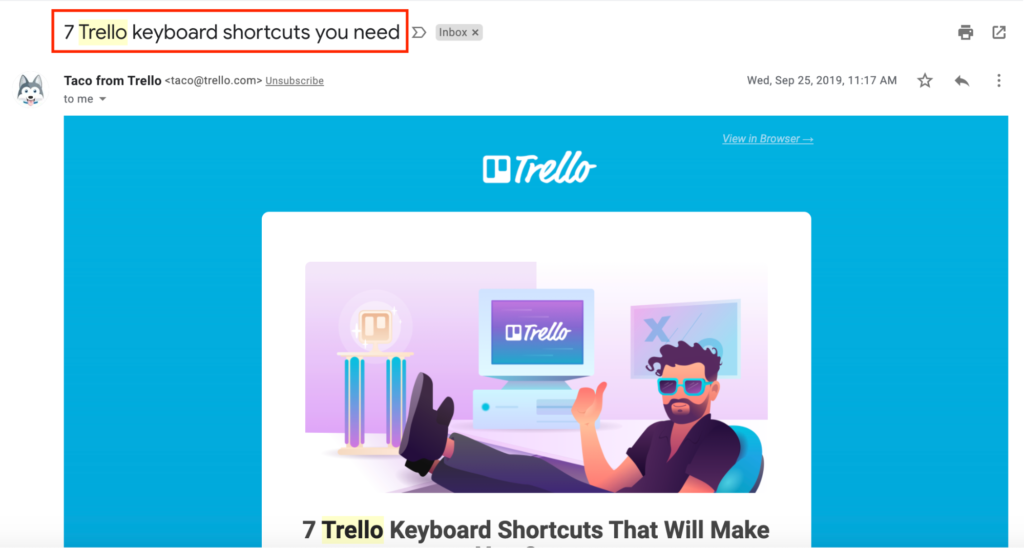 Campaign Monitor also references a study by Brian Dean of Backlinko that found slightly longer subject lines with 36 to 50 characters got the highest response rate.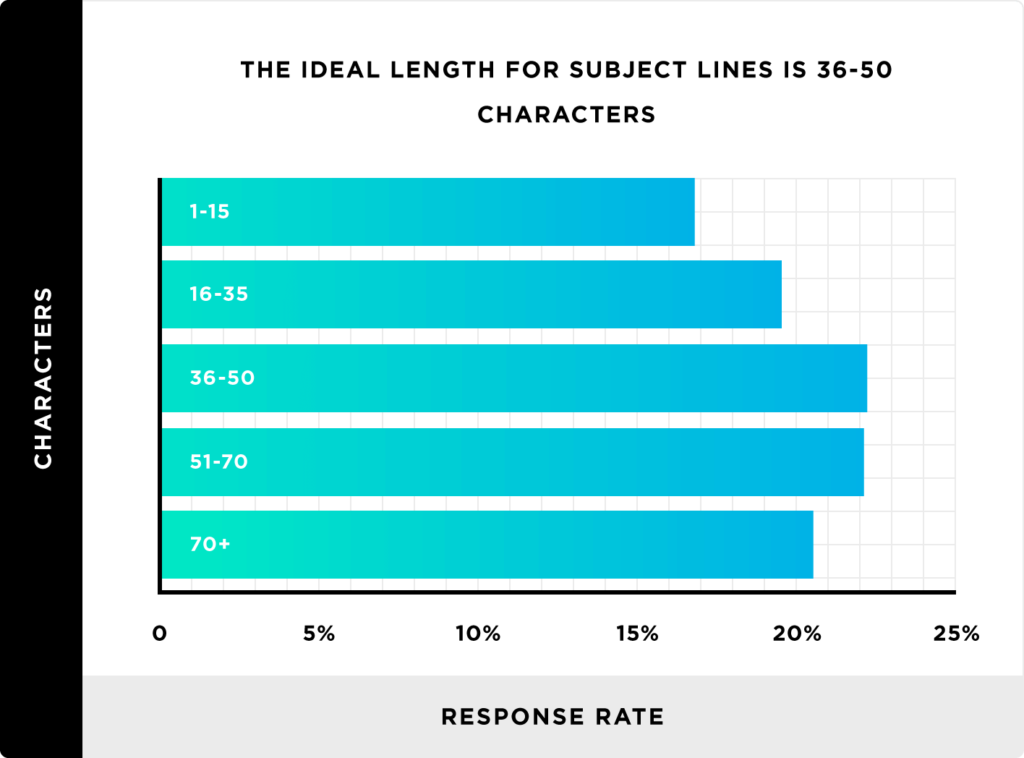 Our suggestion is to stay on the shorter end of the spectrum initially and then test out some longer subject lines later on to see which ones perform the best.
Email Copywriting Best Practices
Most marketing emails are highly visual, which makes it easy to overlook the importance of high-quality email copywriting. But, as anyone familiar with the classic Xerox Mindlessness Experiment will tell you, words matter.
A perfectly crafted sentence, or even just a single word, can inspire your audience to take action. Here are a few "power" words, segmented by the feeling they inspire in readers:
| | | |
| --- | --- | --- |
| Fear | Encouragement | Lust |
| Agony | Amazing | Allure |
| Fool | Fearless | Itching |
| Plunge | Score | Sinful |
Learn more in our roundup of 100+ Power Words You Should Use in Your Emails.
But it's not all about what you say; how you say it matters, too.
Your tone of voice says a lot about your brand (and, by extension, your products). Are you funny and informal? Serious and professional? You'd probably do a spit-take if Microsoft sent you a subject line like this…

…whereas it works for Shinesty, the brand that actually sent it, thanks to its reputation for irreverent marketing.
CTA Best Practices
Every email you send should be created with a single goal in mind. It could be to increase content downloads or event signups, boost sales of a specific product, or inspire people to donate to a good cause.
Whatever the case, a well-designed call to action (CTA) will play a big part in driving conversions.
Here are three tried-and-trusted best practices to craft high-performing CTAs:
Create High-Visibility CTAs
First and foremost, your calls to action must be easy to see, like in this example from Allbirds: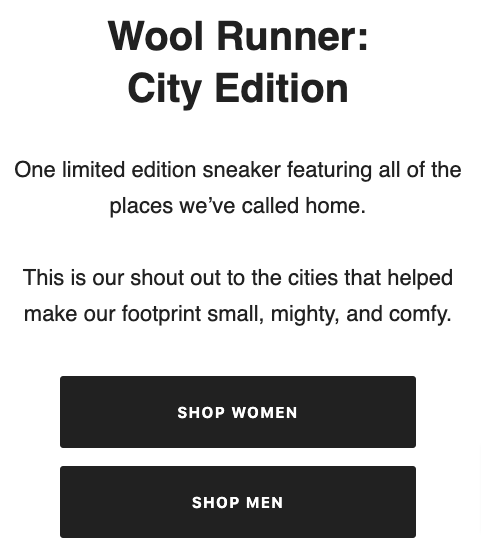 Allbirds got it right here by:
Using a button color that stands out against the background
Adding lots of white space so the buttons aren't buried by copy
Writing the CTA button copy in a bold, all-caps font
Keep CTA Copy Short and Sweet
Call-to-action buttons aren't War and Peace, so keep your messaging as succinct as possible. You won't go wrong with a classic "Shop Now" CTA, but feel free to experiment with more creative options, just like this example from Glow Recipe: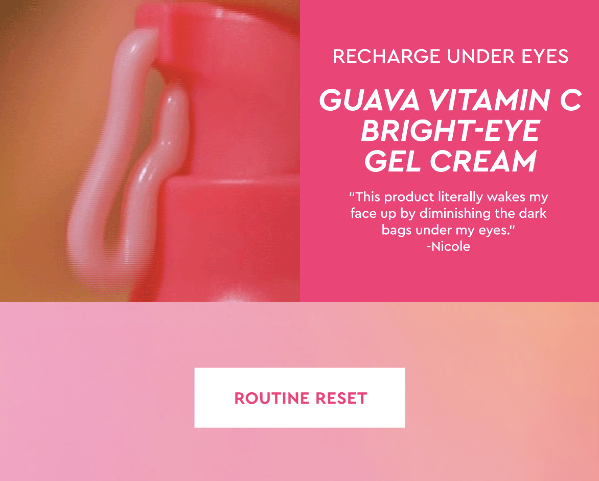 Add CTAs Multiple Times Per Email
Unless you're sending a super-short email that only takes up a single screen-scroll, it's worth placing CTA buttons in multiple spots throughout your email to ensure the message hits home.
For instance, Origins added a call to action to the hero image of this email…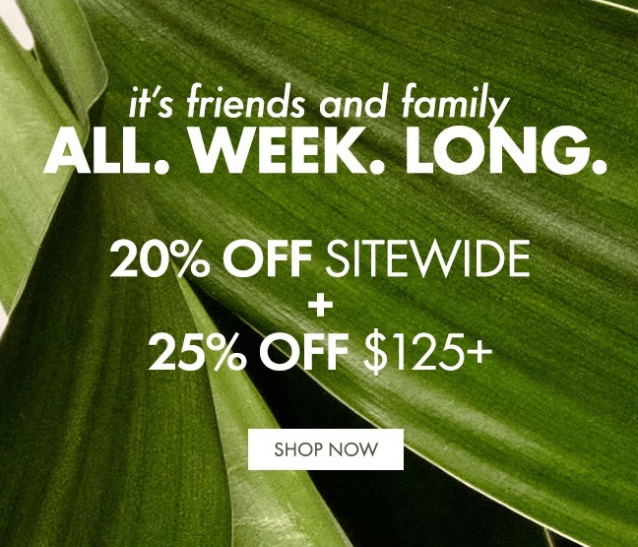 …as well as placing the same CTA alongside individual products: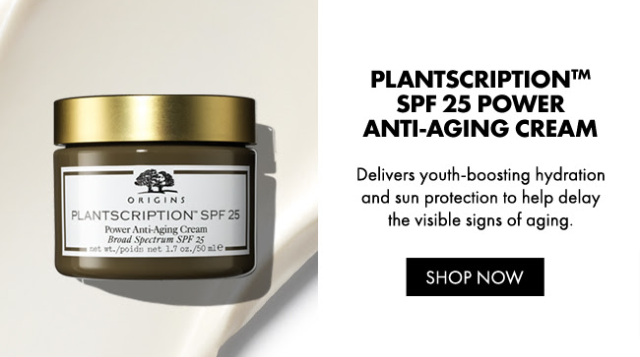 B2B Email Marketing Best Practices
Email continues to be a go-to marketing channel for most B2B brands, with 81 percent using it within the last 12 months. And when it comes to providing a framework for effectively nurturing leads, it was ranked number one.
But here's the thing. You can't just slap together a B2B newsletter and expect to have massive success. You need to understand the fundamentals and follow the right formula—one which has been proven time and time again to get results.
Whereas B2C marketers can close the deal with a single email, B2B is often a much slower burn. So the primary goal of your email marketing activity should be to nurture leads until they're ready to buy (or reach out to your sales team).
One of the best ways to nurture leads through email marketing is to share valuable content, like blog posts, case studies, ebooks, and webinars. That's precisely what SEO tool Keyword Insights did in this B2B email: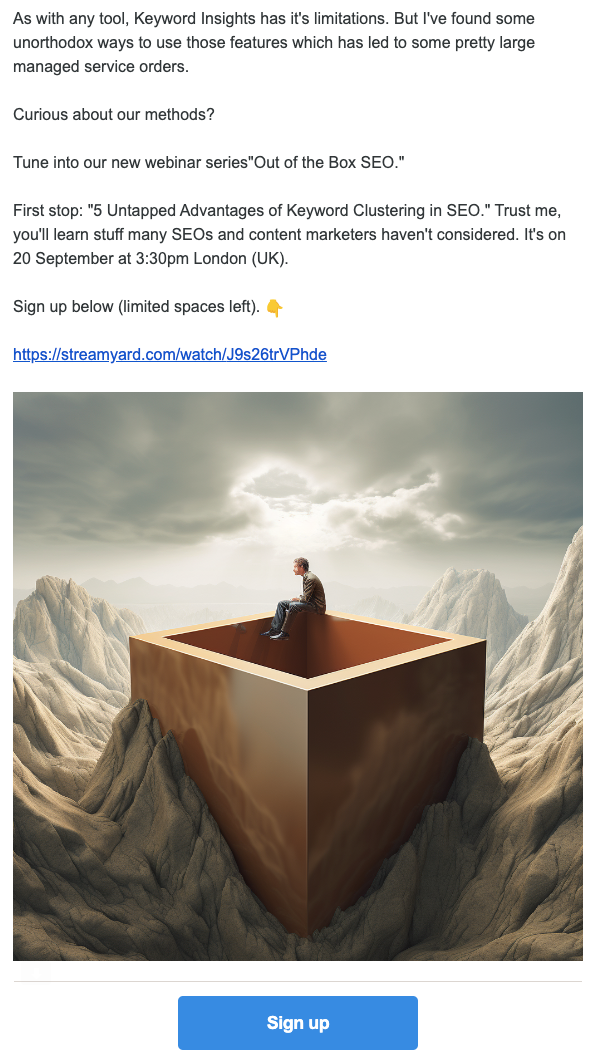 The whole purpose of emails like this is to persuade leads that you understand their business challenges.
Because when they trust your expertise, they'll be more likely to listen when you position your product or service as the solution.
Learn more in our guide: 7 B2B Email Marketing Best Practices (With Real-Life Examples)
Ecommerce Email Marketing Best Practices
There's a lot to think about when running an ecommerce business. But of all the ecommerce email best practices to consider, none are more important than having a welcome email.
When a visitor subscribes to your email list, they expect to hear from you. A welcome email is a great way to properly introduce your brand and tell the subscriber what they've signed up for.
We suggest sending a series of three welcome emails (once per day) before the subscriber lands in your regular email list. That way, you can show off your brand, set expectations, and even segment subscribers.
Remember that a subscriber is most engaged right after opting in, so this is a great time to invite them to look at your products or services. If the subscriber buys something during these three days, you can opt them out of your email list because you will now want to include them in a different segment.
Here's an example of a well-crafted welcome email from Sierra Designs: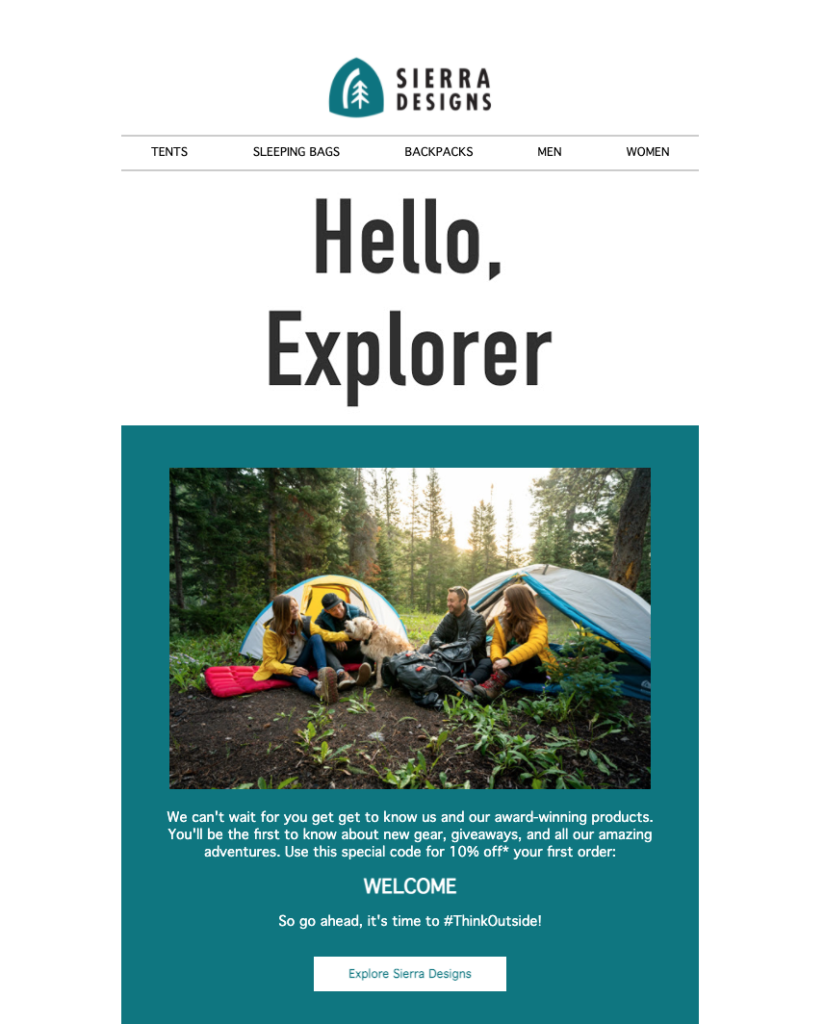 Offering a small discount to new subscribers is an excellent strategy to get your welcome emails to convert. To ensure your emails reach new subscribers within seconds, you can set up automation for your welcome series in your email service provider.
Ecommerce Email Newsletter Design Best Practices
You can have the best email copy and subject lines in the world, but if your emails aren't well-designed, following a few core best practices, none of that matters.
One best practice to keep in mind when designing an email is its visual hierarchy, which is a design concept that encourages viewers to engage with content in a certain way.
There are natural tendencies in how readers consume content, and a visual hierarchy influences their perception of what's most important, particularly in email.
According to the principle of visual hierarchy, readers tend to follow a page in a z-shaped pattern to consume content. The eyes start in the top left corner and scan across to the top right.
Then naturally, they move down to the left of the page and back across to the right again. This movement forms an imaginary "Z" shape. There is more than one visual hierarchy.
Another option, when following email design best practices, is using an inverted pyramid structure for better engagement. The inverted pyramid starts by grabbing attention using brand imagery. Then moving down the pyramid, the writing builds anticipation. This all points to a final call to action.
Blush Design uses the inverted pyramid method in their emails: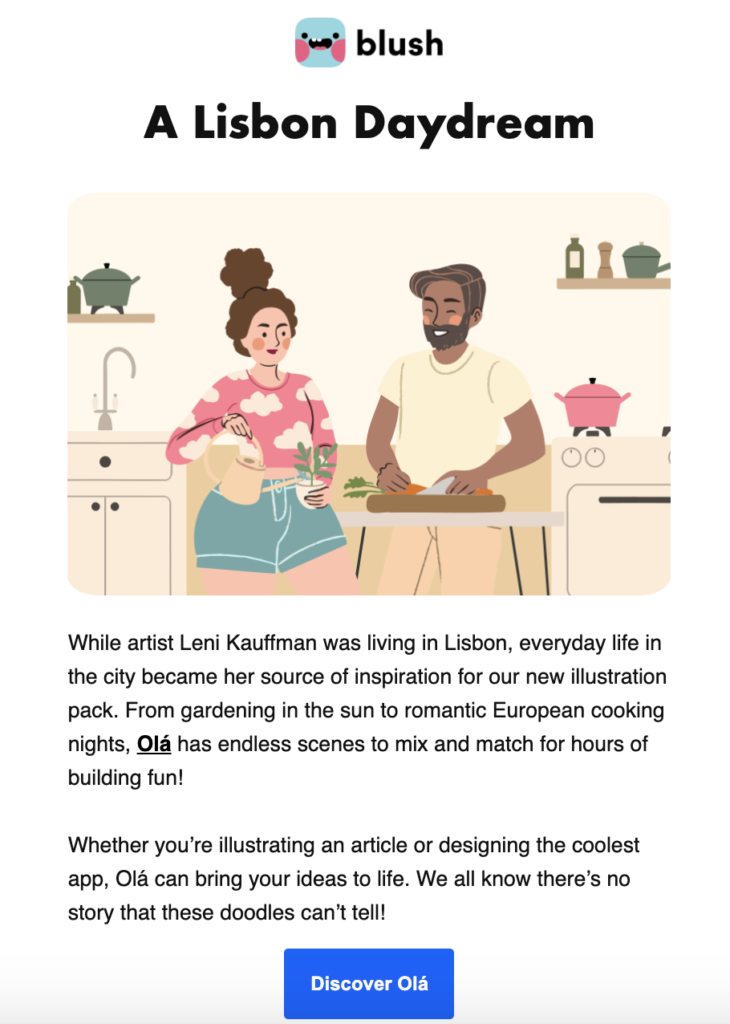 The key to a strong visual hierarchy in your email newsletter designs is an easily scannable hero section. Readers should be able to quickly work through the hero section, consume the following content, and be driven towards your CTA.
10 Types of Email Marketing: Lifecycle Campaigns
Need some real-world inspiration for your next campaign? Check out these email marketing examples from some of our favorite brands…
In this section, we'll share our favorite email marketing examples by type. Whether you're looking for abandoned cart emails to recover lost sales or new arrival emails to launch new products, we have you covered.
1. Referral Email Examples
A well-timed referral from a trustworthy source carries more weight than any or all marketing efforts combined.
In fact, recent research found that:
Consumers find word-of-mouth to be two to 10 times more reliable than paid advertisements;
Referred customers are four times more likely to refer your brand to others; and
Leads from referrals have a 30 percent higher conversion rate than the leads generated from other marketing channels.
It's no surprise, then, that many retailers have an automated referral email for new customers.
At Drip, we notice two types of referral email turning up in our swipe file:
Offering a discount and;
Offering an amount off a future purchase.
For the former, we'll share the below example from fashion brand Weekday.
With a minimalist, yet aesthetically pleasing design, the brand reminds readers "sharing is caring" before offering a 15 percent discount off a future purchase in exchange for referring a friend.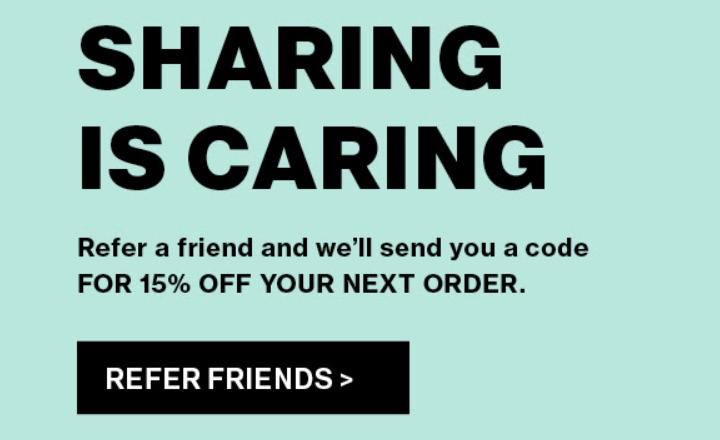 When clicking "Refer Friends," Weekday takes you to a page on its website where you can complete the required details through a dedicated popup.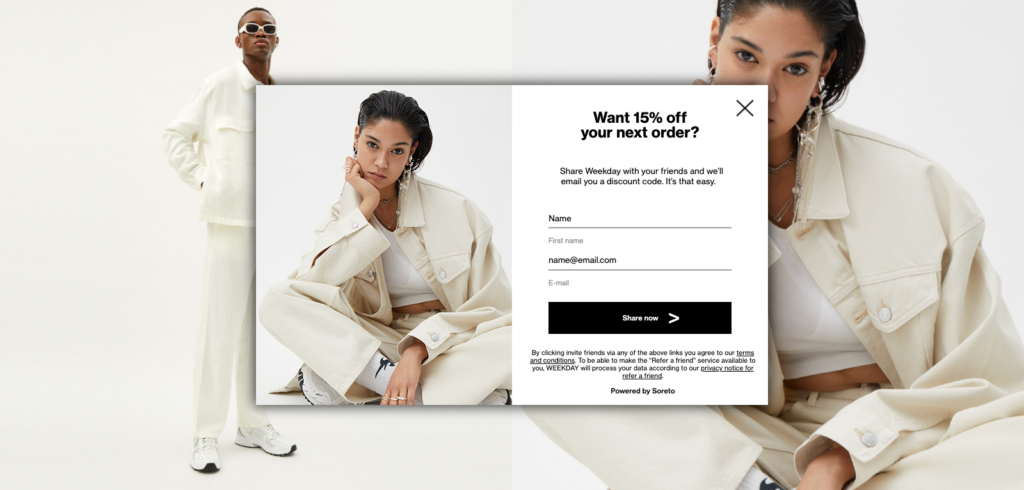 Travel company Away, by contrast, frames its referral program with the memorable tagline, "Give $20. Get $20," before explaining the offer beneath.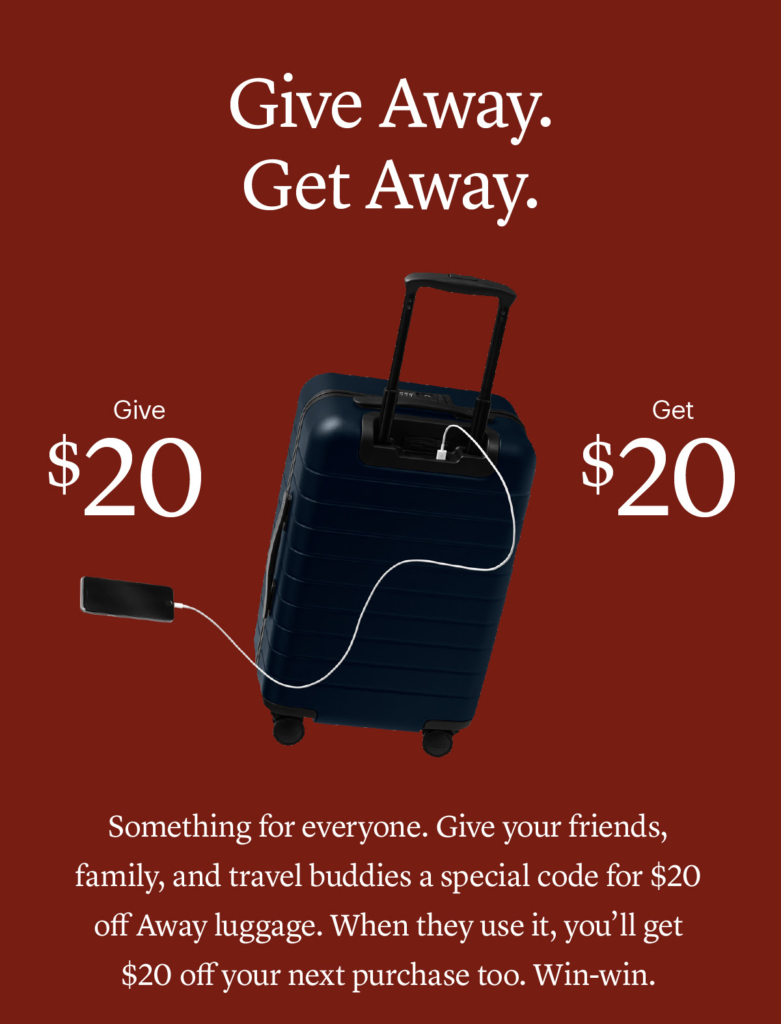 Much like Weekday, Away takes the reader to a dedicated page on its website, but opts for a more complicated process of having the reader login first before making a referral.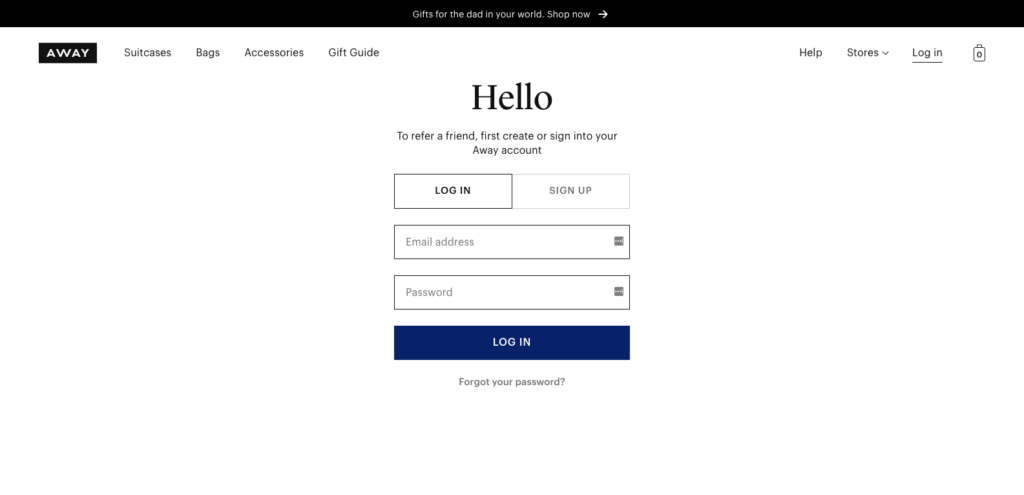 There are countless ecommerce systems for driving referrals once a reader is on your website, but it begins with having a good email and an unbeatable incentive.
2. Announcement Email Examples
When it comes to ecommerce marketing, awareness is everything. Even if you have a game-changing product that will revolutionize your industry, you won't have much of an impact if nobody knows about it.
You need to be able to get the word out quickly and reach the maximum percentage of your target audience. One of the most effective ways to do that is through announcement emails.
One of our favorite announcement emails comes from Bose, a brand known for specializing in audio equipment like headphones, speakers, and wearables.
The company has a reputation for innovation, which is evident from this email that announces the unveiling of one of their most revolutionary products—the new Bose Frames.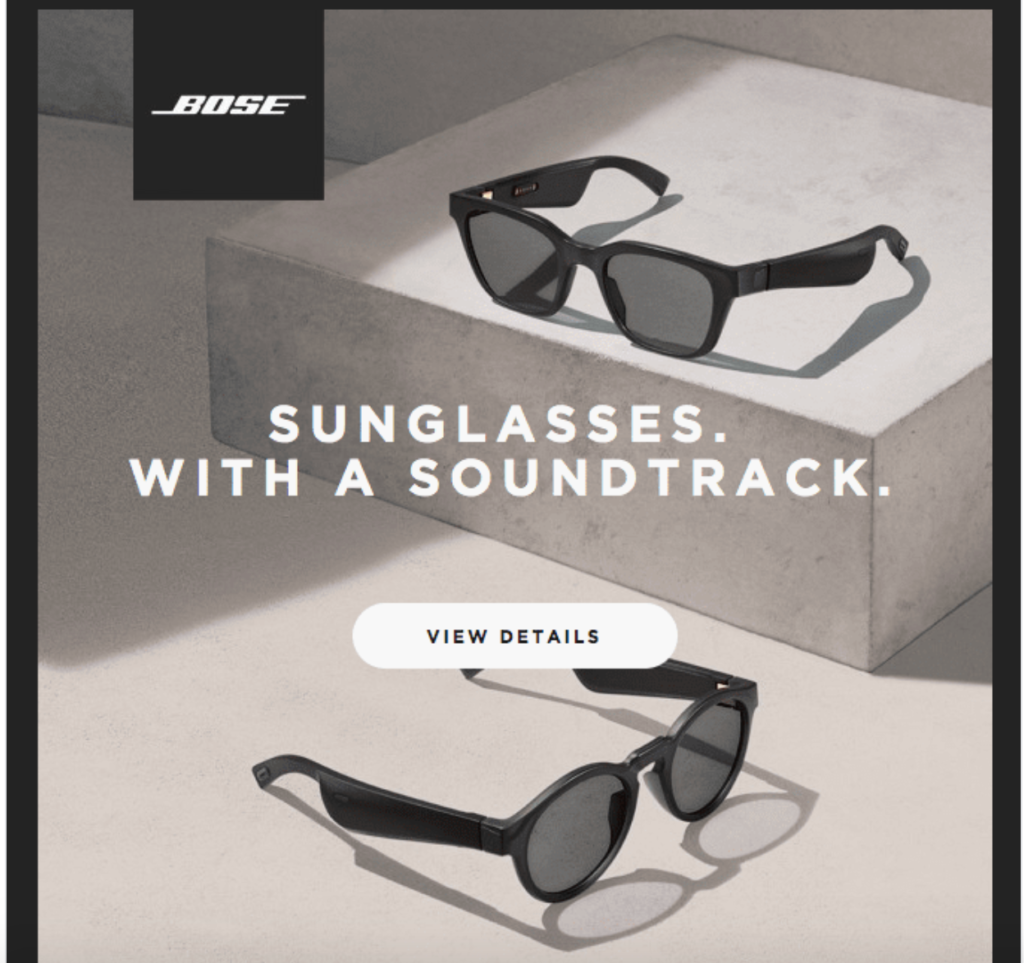 (Source: Really Good Emails.)
It's one of the most innovative new gadgets on the market and allows users to listen to audio without having to wear headphones or earphones. Instead, the audio comes directly from the sunglasses.
Bose did a great job of getting the word out and addressed three key questions:
What's going on? Bose launched an amazing new product that features groundbreaking technology.
Why should the reader care? This product allows them to discreetly listen to music and have an immersive audio experience, while still being able to engage with the world around them.
What do you want them to do about it? Click on one of the "View Details" CTAs to learn more about the product.
Once a reader clicks on it, they land on the Bose Frames product page where they can fully explore and watch videos.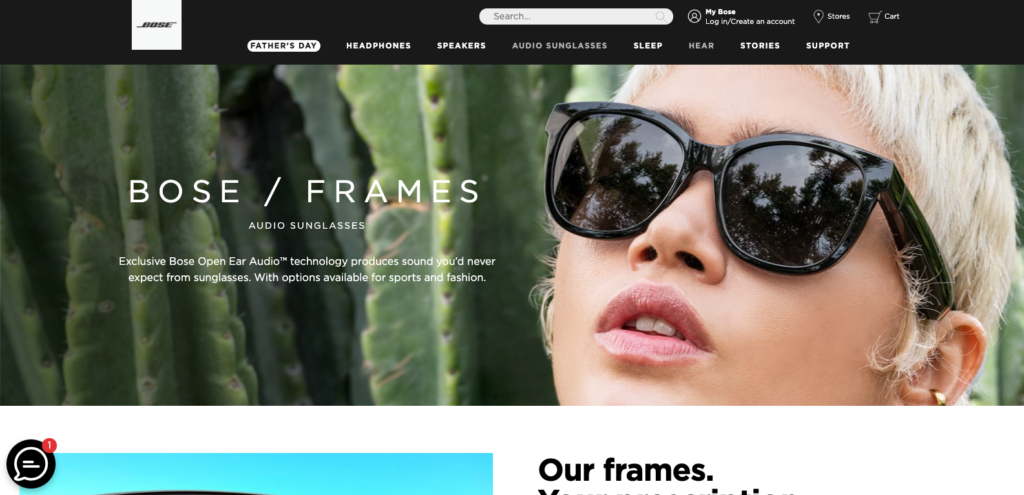 There are countless announcement emails to learn from, but if your goal is to turn heads with the launch of a new product, this is definitely an email that you can take a page from.
3. Product Launch Email Examples
Around 30,000 new products are launched each year. Unfortunately, 95 percent of them fail. It's crucial, then, that you inform your audience, and educate them when unveiling new products.
Willo, a brand that sells "an automated oral care robot designed to replace the toothbrush and give everyone a dynamically consistent clean," takes product launch emails to new heights.
The brand uses cutting-edge technology to not just simplify toothbrushing but ensure a much deeper clean than what traditional oral care products can offer.
Here's the first thing a reader sees when they open the email.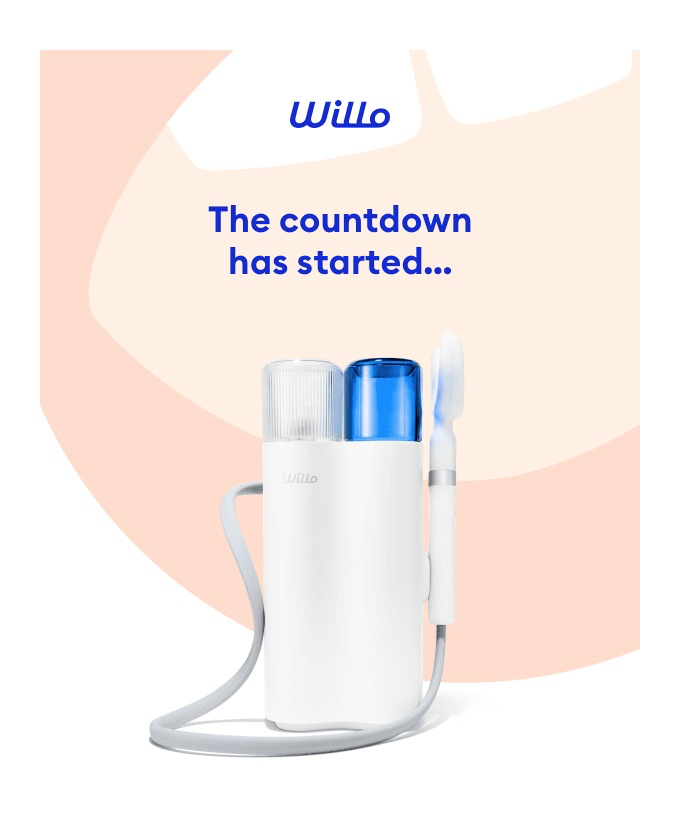 (Source: Really Good Emails.)
There's super simple yet eye-catching copy that says, "The countdown has started…" along with a picture of Willo. This instantly grabs a reader's attention and gets them to take notice.
The copy piques their interest and creates a nice build-up that makes many readers want to scroll down to learn more. When they do, they see the following announcement.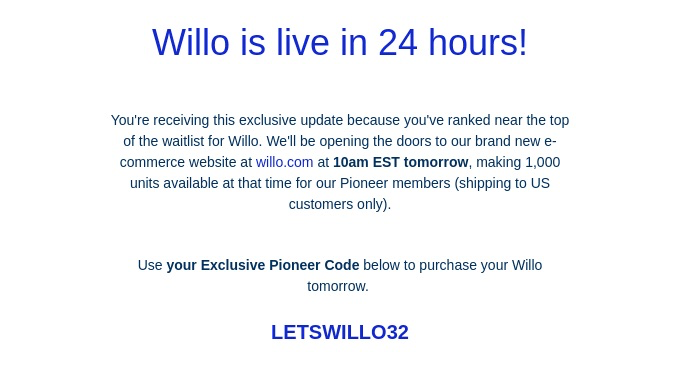 Willo lets readers know the product will be live in 24 hours and they've been chosen to receive an exclusive update. "People like things that are exclusive," explains Zach Heller of Business 2 Community. "They want what others covet. They want things that signal to the world that they are one of a select few. It's in our nature as consumers."
The brand also lets readers know when their ecommerce site will officially be opening and that 1,000 units will be available to their "pioneer members."
Below that, Willo offers an "Exclusive Pioneer Code," which allows readers to make their purchase. And at the bottom of the email, there's a brief video that offers a nice intro to the product.
In just over two minutes, Willo provides a fairly detailed overview that helps readers understand the ins and outs and know exactly what separates this product from the competition.
Willo effectively gets the word out and provides readers with the critical information they need without rambling on about it. The email looks great visually, and with minimal cognitive exertion.
4. New Arrival Email Examples
An important characteristic of a new arrival email is to tell customers what's different about your product—both in your store as well as among your competitors.
You shouldn't go around listing every little detail, of course. Simply mention three to four key benefits at the most to keep the message short, concise, and effective.
Take this new arrival email from J.Crew, for example.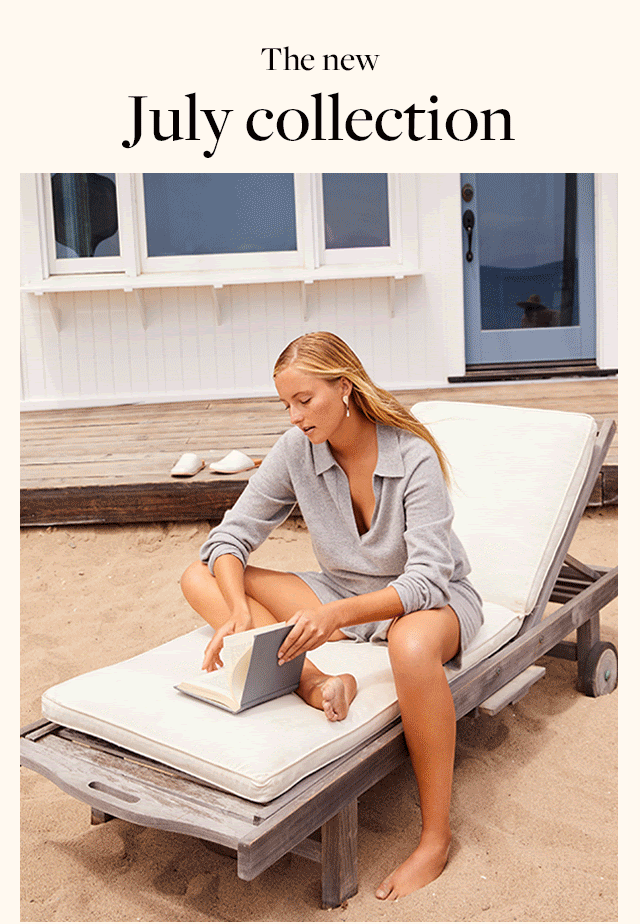 The fashion retailer opens its email with an eye-catching GIF, showcasing its new July Collection. From there, J.Crew invites you to "Shop new arrivals," before continuing with the following headline: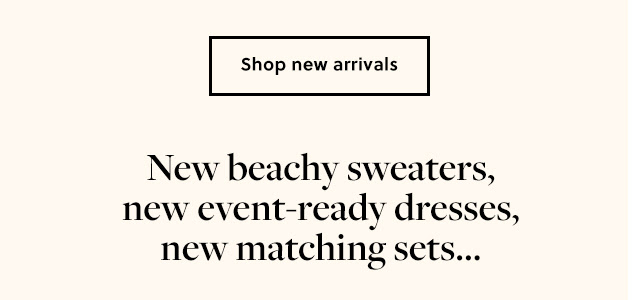 Beneath the headline, you can preview the many new arrivals in all their glory, highlighted by a colorful backdrop.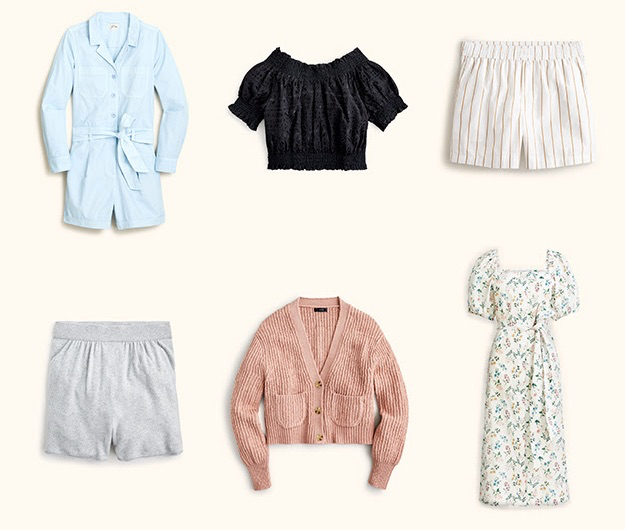 What's most interesting, though, is each item has its own unique URL to a product page. If you click shorts, for instance, J.Crew takes you to that collection on their website.
For the reader, it's convenient to click on what they want, rather than have to browse the entire collection. For J.Crew, however, it's a brilliant way to track which items drive the most clicks in its email.
Promoting new arrivals is one thing, but personalizing links by item is a nice added touch, and few brands are capitalizing on in their email campaigns.
5. Win Back Email Examples
What is one thing that makes a marketer's heart sink perhaps more than any other? Seeing your emails, with their specially crafted copy and hand-picked subject lines, lying unopened in your subscribers' inboxes.
Before you start jumping to conclusions about all the negative opinions your subscribers might hold about your brand, consider that perhaps they just don't know you well enough.
It's possible that your brand or products seemed interesting enough, in the beginning, to sign up to your email list, but over time other things got in the way.
Or maybe your product range didn't catch their eye back then, and they didn't have a chance to see all of your new and exciting additions. That's where a little refresher can be helpful.
A win-back email offers an opportunity to remind your subscribers of what your brand is all about, and what you have to offer right now.
That might mean your value proposition, current promotions, or a showcase of your latest products and content, as LastObject does: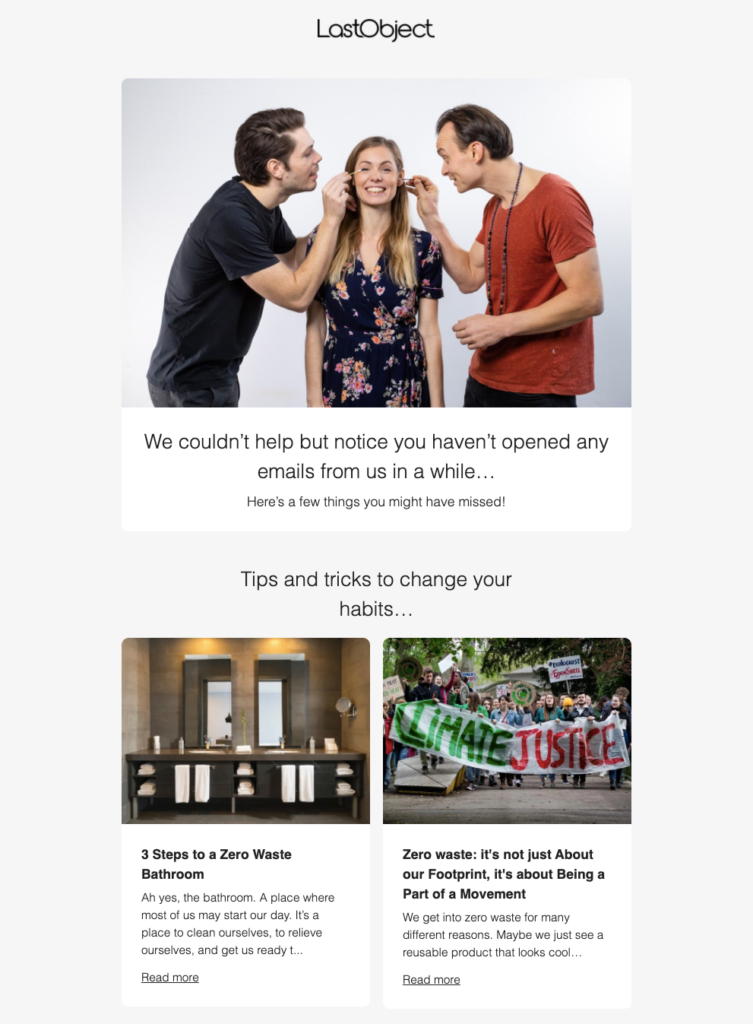 Right away, they get to the heart of the matter: you've been an inactive subscriber and you probably haven't seen all the new things they've been up to.
First, LastObject shares two articles from its blog on how to lead a zero-waste, sustainable lifestyle. These immediately engage you with their core brand values of eco-friendliness, sustainability and activism, making it about more than just sales.
Next, they give you a taste of their expanding product range. LastObject is probably most well-known for its reusable LastSwab, which went viral on social media a while back, and so it's likely that many of their subscribers are unaware of their new innovations.
This email hopes to change that, with quick descriptions and calls to action to learn more.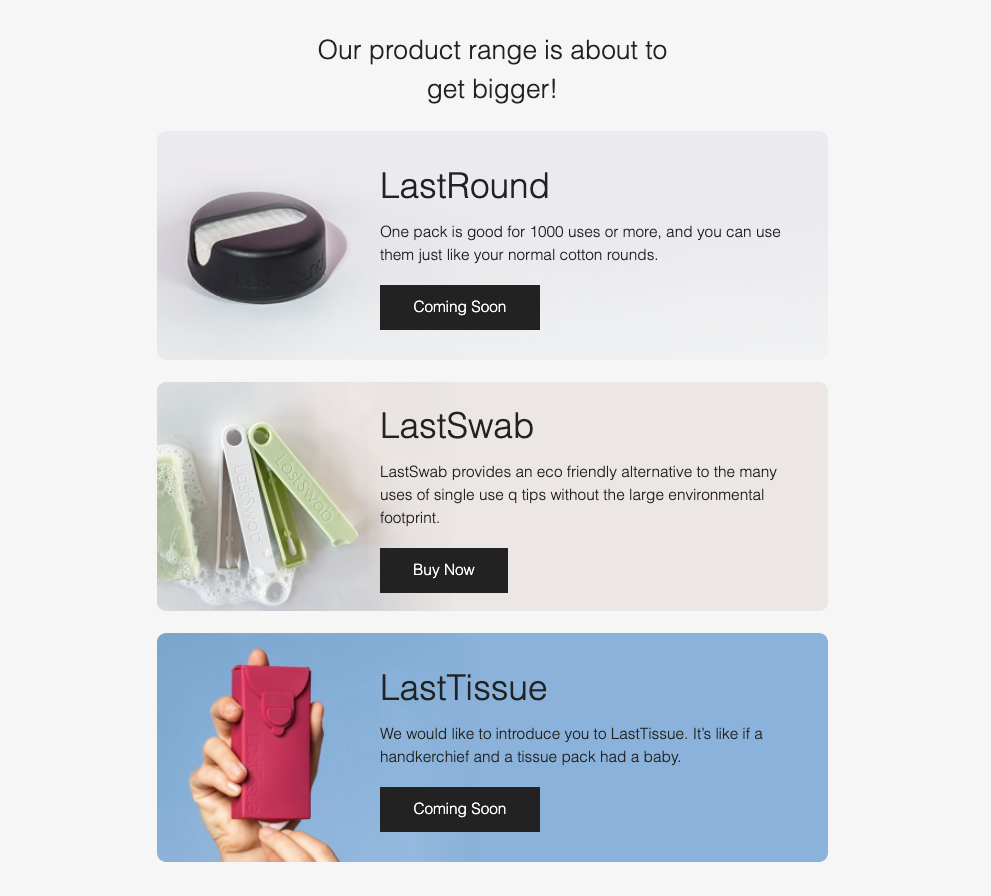 Refresher emails are a way to remind your subscribers why they joined your mailing list in the first place and keep your brand fresh in their mind, without the need for a discount or coupon.
What they are not are overly salesy or aggressive. Like LastObject, it's important that your email nudges rather than demands, with low-friction CTAs and engaging copy. It's also important that you keep these kinds of emails up-to-date, so you can keep showcasing your latest ideas and improvements.
6. Thank You Email Examples
Sending an appreciative thank you email to a new subscriber is an ideal way to both confirm their subscription and thank them.
After all, when someone subscribes to your email list, they're making a big commitment to your brand.
And if you don't acknowledge that, you risk them feeling ignored, and maybe even a little resentful.
There are many brands with great thank you emails, and though it was hard to choose, one of our favorites is the outdoors brand Huckberry.
Their subject line looks like this:

Immediately it creates a sense of community, which continues in the body of the email: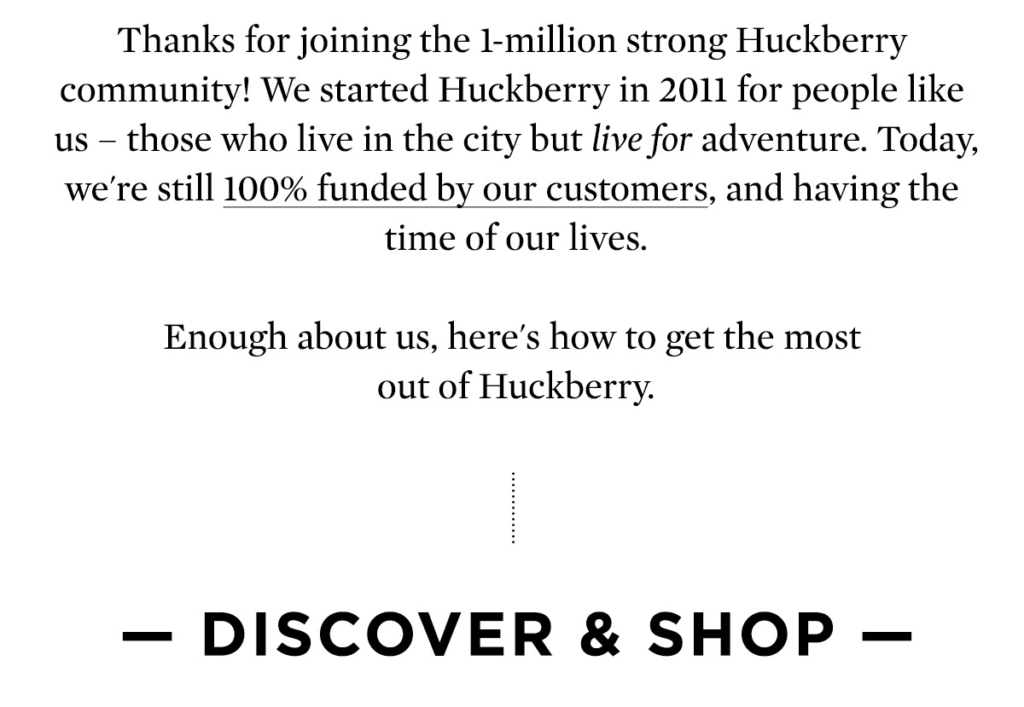 By showing their appreciation for new subscribers joining their community, Huckberry makes you feel welcomed and much more willing to invest in their brand and products.
They go on to introduce themselves in a concise but catchy way, with minimum sales-y talk. This is the perfect tone to strike in a welcome email: appreciative, informative, and authentic.
7. Welcome Email Examples
If you're welcoming new subscribers to the fold, it's a good idea to introduce them to your history and your core messages. We humans, after all, love to tell and hear stories.
Storytelling, particularly in a welcome email, inspires the imagination and engages our interest, to the point that people are up to 22 times more likely to remember stories compared to facts and figures alone.
You can use this to your advantage by introducing yourself to your new subscribers in an intriguing narrative form. Take this example from Johnny Cupcakes: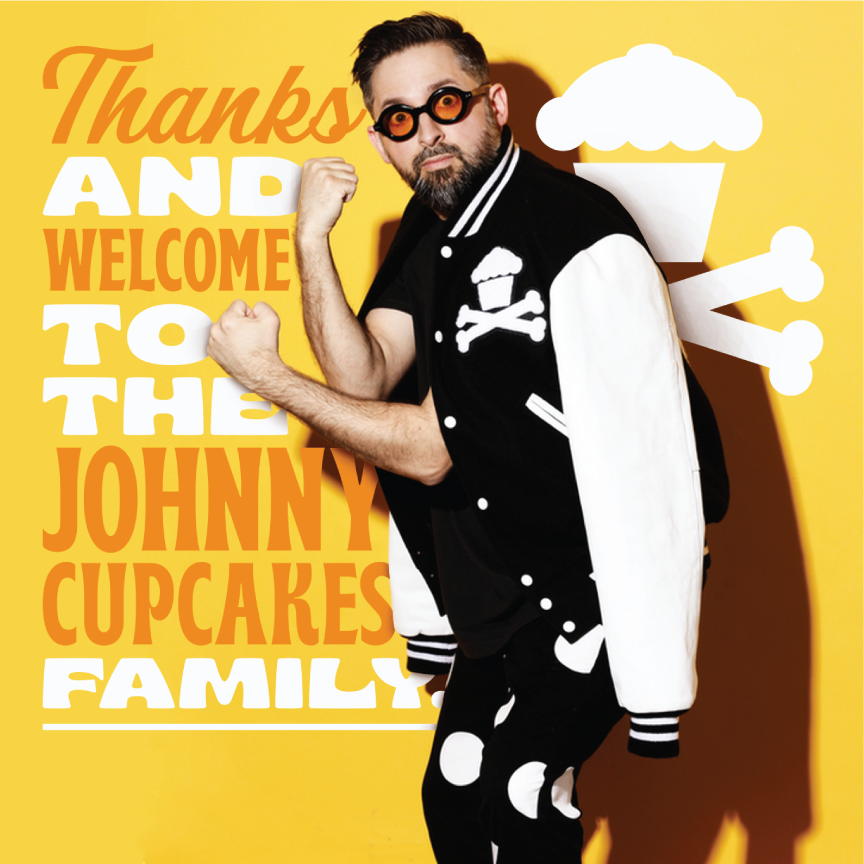 This email tells a simple but appealing story of how Johnny Cupcakes started, what they value in their company, and how they want to make you, the customer, feel.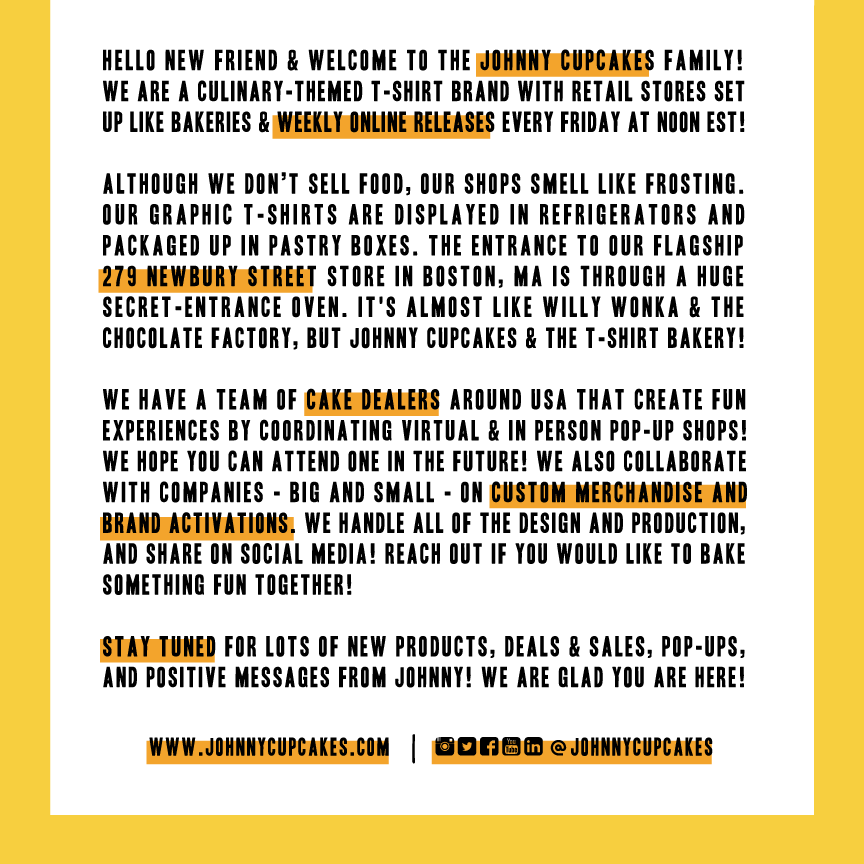 It flows naturally and feels personal and authentic, encouraging the reader to follow, connect with and invest in the brand.
And it works. When we read this email, we immediately liked Johnny and the story of his "homegrown" business, so we clicked through to learn more and check out the store.
8. Abandoned Cart Email Examples
We all know cart abandonment is a problem for retailers so we won't say anything here that has been said before. But let us ask you a question: have you ever received a vague abandoned cart email with little to no information about your basket?
We have. And we certainly didn't click through that email. Simply because we couldn't remember what we added to my cart in the first place. It's the simplest—yet most overlooked—rule of abandoned cart emails: Including the abandoned items in your emails.
Luckily, Warby Parker is aware of that. That's why the brand reminds you of your cart items, starting already from the subject line:

Warby Parker adds the name of the product you abandoned to their email subject. This way, they help you remember what you had left behind even before you open this email. And when you open the email to find out about the "connection" Whalen felt, this is what you see: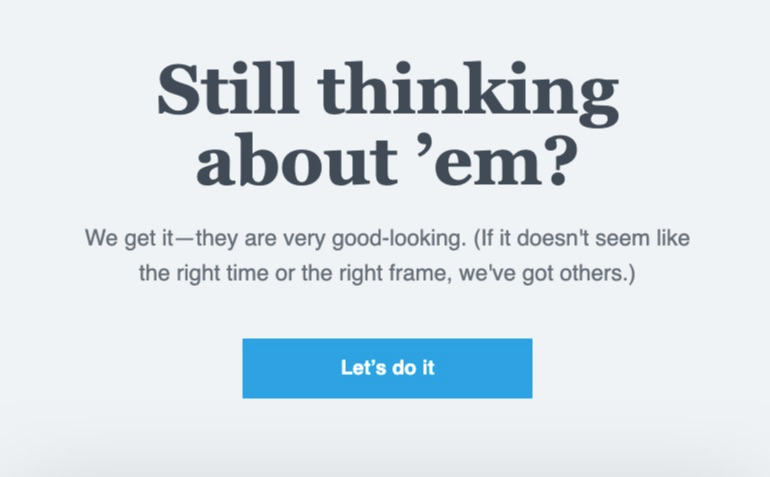 In it, the company asks if you're still interested in the product and reaffirms your taste by saying "they are very good-looking." Warby Parker is also aware that Whalen may not be the perfect pair of glasses for you, and that's why they cleverly add the note: "We've got others."
Since the name "Whalen" might mean nothing to you, although you intended to buy it once, Warby Parker makes sure to include a product image to refresh your memory.
Following another best practice in the remainder of the email, the company adds testimonials from their "happy customers":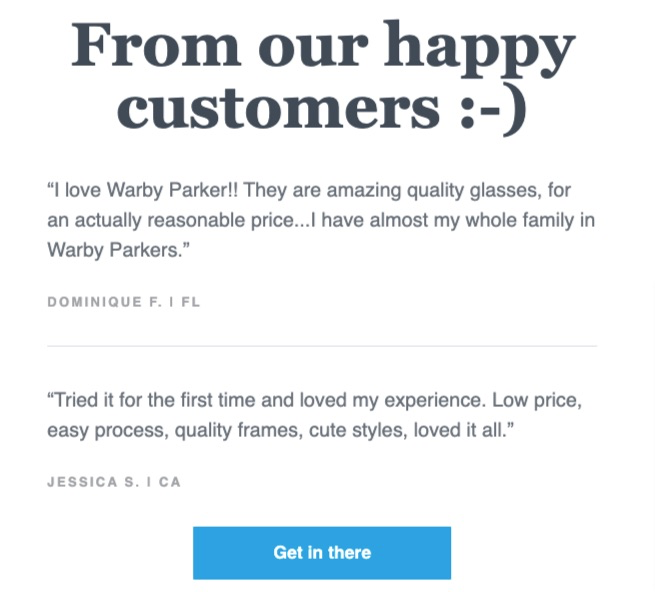 By featuring positive reviews about their product quality, Warby Parker tries to convince you to complete your order with the help of social proof. Overall, it's a simple, yet effective, abandoned cart email you can easily replicate for your business.
9. Happy Birthday Email Examples
Bust out the cake, confetti, and streamers. It's birthday time.
This is one of the most special days of the year when everyone deserves to be acknowledged and celebrated. It's also the perfect time for ecommerce brands to send a happy birthday email to their subscribers.
And research has found that this is something most people are insanely receptive to, with birthday emails having "179 percent higher unique click rates than promotional emails."
Just think about it. Would you be more likely to open an email wishing you a happy birthday with some type of exclusive deal or discount? Or one with a shameless promotion that you have no interest in?
To understand how to do this effectively, take a look at Stitch Fix, an online styling service. They offer clothing that's hand-selected by fashion experts based on a customer's unique size and style.
Shoppers, first, take a style quiz, and then Stitch Fix sends them quality clothing they can try on at home before buying.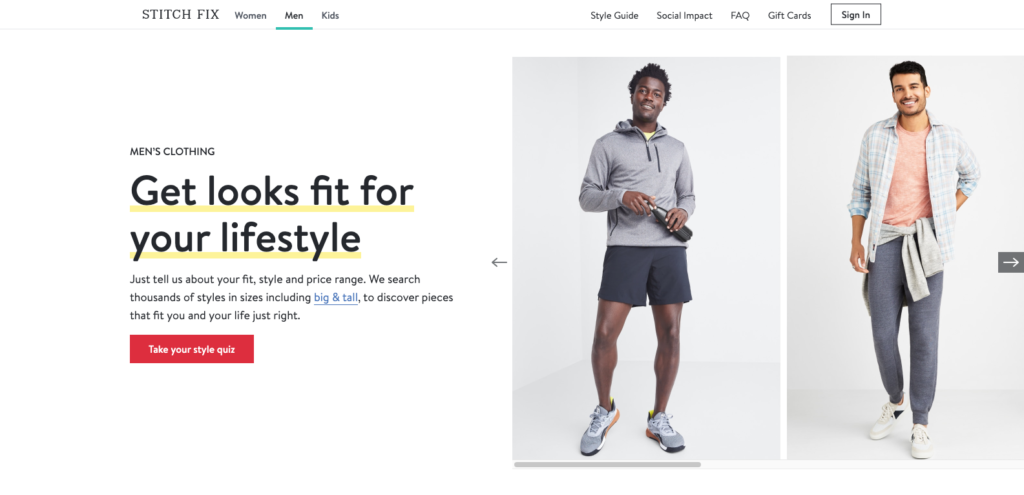 Stitch Fix is a brand that goes heavy on visuals, with everything having a crisp, clean look. And their email campaign is no different.
This particular happy birthday email features a beautiful arrangement of some of Stitch Fix's products and invites a subscriber to celebrate their special day by treating themselves to a "Fix" where they try on clothing at home and keep their favorites.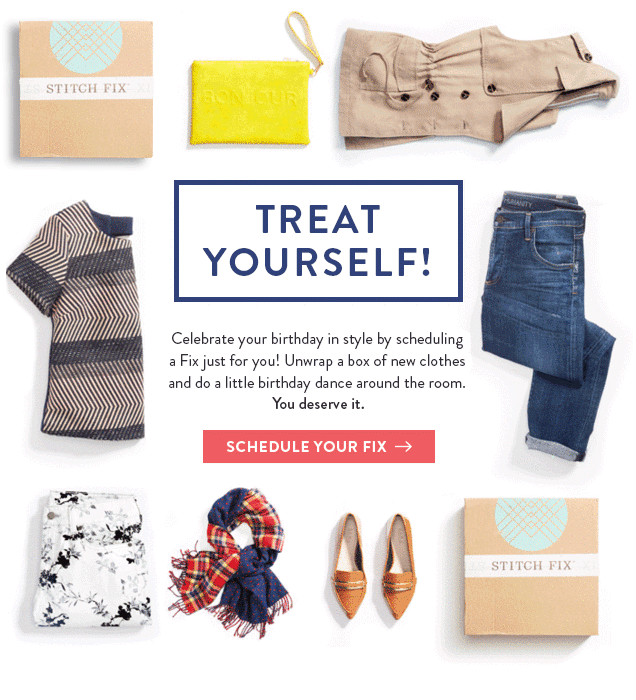 It incorporates succinct yet playful copywriting, saying a reader can "unwrap a box of new clothes and do a little birthday dance around the room." It also has an excellent CTA that simply says, "Schedule Your Fix."
The red color contrasts perfectly with the white background, which naturally attracts eyeballs and encourages a reader to visit the Stitch Fix website. When you put it all together, it's a well-designed happy birthday email and one we're sure many of their readers were receptive to receiving.
10. Giveaway Emails Examples
Although marketers primarily work with giveaways to collect email addresses, that's not their only use case. Effective giveaways, like Prose's, can also help turn subscribers into customers, and this email is an excellent example of that.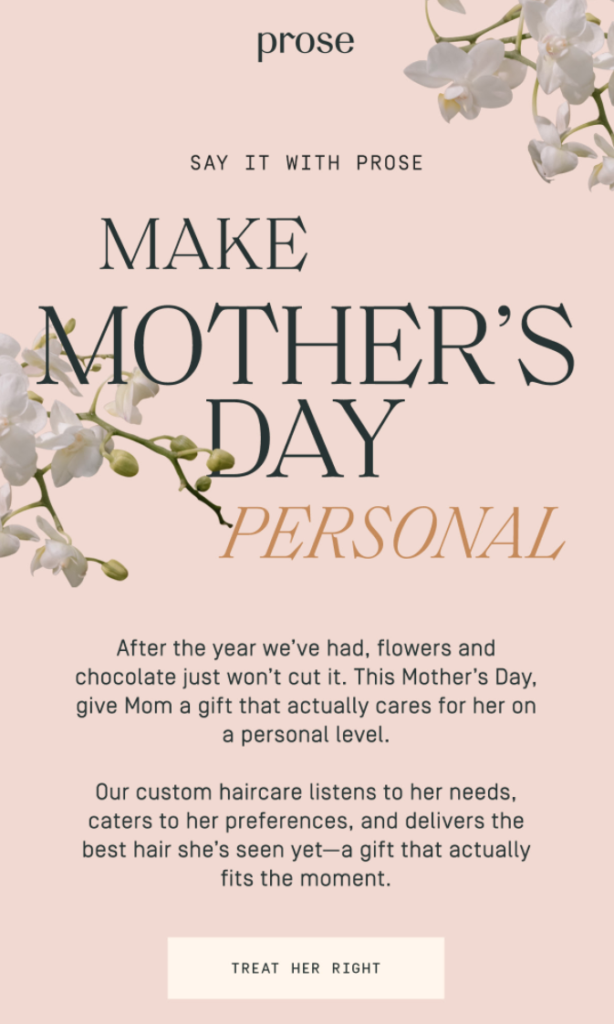 In this giveaway email Prose, first, invites you to shop for Mother's Day gifts. To do that, the company opens the email with relatable copy suggesting you buy your mom a personal, custom gift this year instead of flowers and chocolates.
Next, Prose introduces its giveaway by framing it around Mother's Day:

The prize is straightforward: a gift basket you can win for your mom (or yourself.) But by partnering up with other brands, Prose increases the gift's perceived value even more.
The email copy "Win all this for you" subtly speaks to your ego. After all, there's no harm in gifting yourself for Mother's Day, whether you're shopping for mom or not.
Prose's instructions are clear as well. To join the giveaway, you need to place an order by the deadline. The brand doesn't leave things to chance either. Instead, Prose follows up a few days later to ensure that you're not missing out on the offer: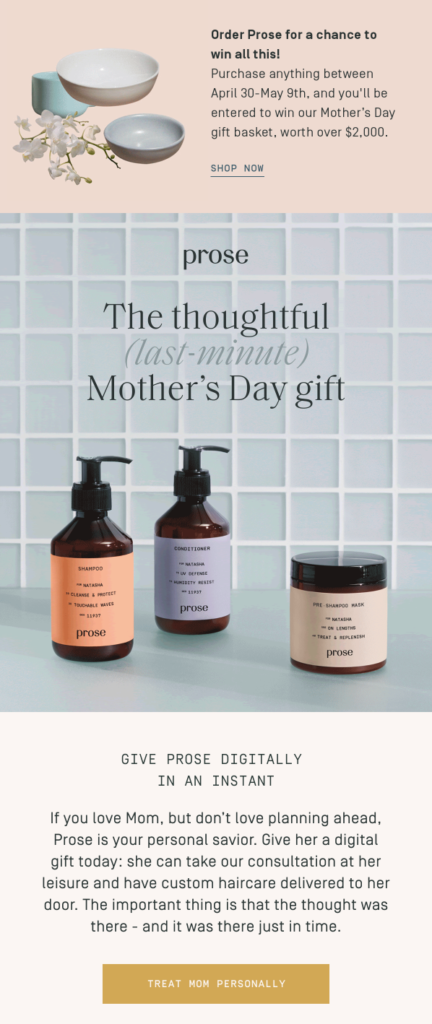 With an urgency-driven subject line that reads "Last Day: Enter for a chance to win our gift basket!" Prose reminds you that there's still time to enter its giveaway.
Knowing that it's too late to shop for physical Mother's Day gifts, the company recommends a digital option in the remainder of the email.
Positioned as a "thoughtful last-minute gift," Prose gives you the option to buy mom a digital consultation that she can take on Mother's Day (not that her products are necessarily delivered on this day.)
This is a brilliant way to target last-minute gift shoppers and best of all, Prose's giveaway is effortless to participate. Customers don't need to do anything extra to get a chance to win (other than spending some money on the Prose shop.)
Moreover, the email also gives Prose a great opportunity to prevent cart abandonment and upsell during checkout, provided they use popups and email reminders.
6 Email Marketing Examples by Industry
Each industry has its own unique audience. And how you talk to that audience is crucial in driving higher click-through rates.
That's why, in this section, we'll share our favorite emails by industry, such as travel, fashion, and more.
1. Apparel Email Examples
"People love to buy but hate to be sold to," at least, that's what conventional sales training suggests. But research from a report by Marketing Sherpa suggests otherwise.
In their findings, a staggering 93 percent of people said they would like to receive promotional emails from companies they do business with.
While numbers like the above vary from one industry to another, it does iterate the importance of giving buyers what they want—when they want it.
As we'll discuss below, though, there's more to apparel email marketing than blasting out an email to all subscribers. Here are three of our favorite apparel emails from brands that follow best practices.
a. Launch a Product
With countless product launches bombarding buyers on what feels like a weekly, if not daily basis, one would imagine that those brands are doing their best to differentiate themselves from their competitors. But opening any recent product launch email suggests otherwise.
Generic, unimaginative, and rarely enticing, many emails leave little to the imagination. And those that do, fail to get the buyer to take any action. One online retailer that does distinguish itself, fortunately, is Huckberry.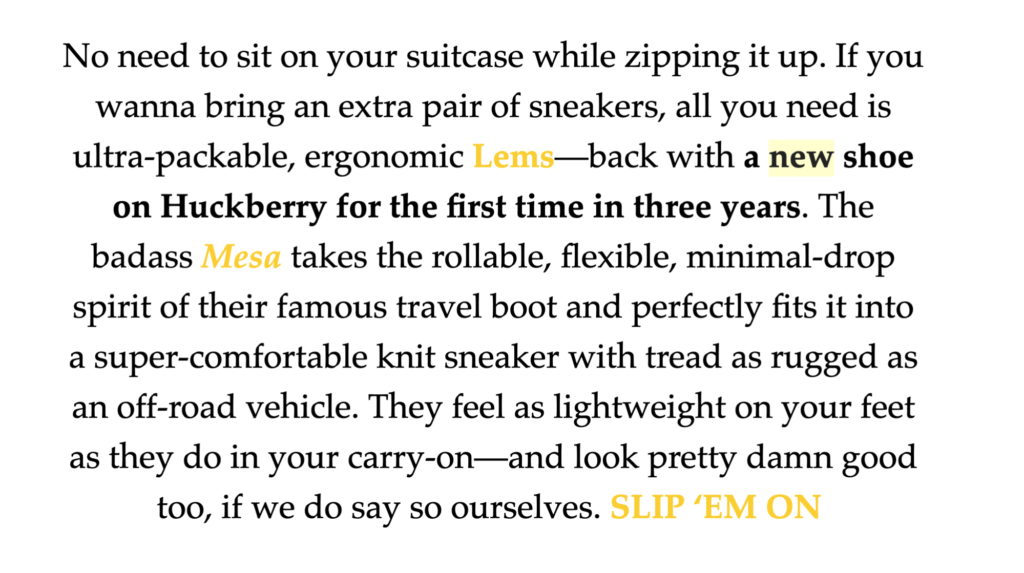 Going beyond general announcement and uninspired imagery, Huckberry leverages benefit-driven copy to invite readers to click through and learn more.
Adding a backstory to a product launch calls for greater effort, of course. But given so few companies leverage good storytelling, it's an effort worth prioritizing.
b. Promote a Seasonal Sale
Countless factors go into influencing a product's revenue performance. But one that's often overlooked is seasonality. Take a recent email we got from luggage retailer, Away: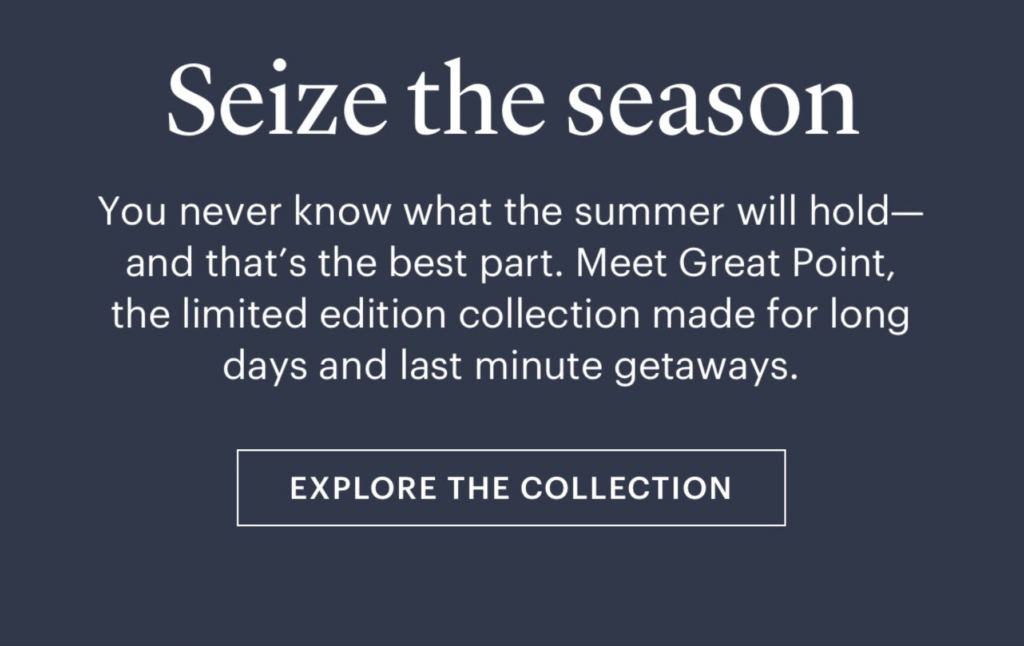 Knowing the demand for their products is likely to spike before prospects go away on their summer vacation, Away invites readers to "seize the season," and "explore the collection" before vacating.
Of course, that's not to say Away, nor you, for that matter, can't market your products off-season. But it is something to keep in mind when scheduling promotional emails.
c. Email With a Reason
Shoppers are cautious when it comes to buying discounted offers. But they're especially cautious when a product is discounted without a reason.
Failing to justify a promotion, be it due to launching a new product or clearing out last season's bestsellers, leaves prospects to jump to their own conclusions. And that's never a good thing.
To bypass people's skepticism about promotions, give a reason for running the promotion. We call this the "just because" strategy: you're running a product or offering a discount "just because."
Take AYR, as a recent example. The online retailer recently offered their subscribers $40 off dresses. The reason they gave? Because "it's too damn hot out":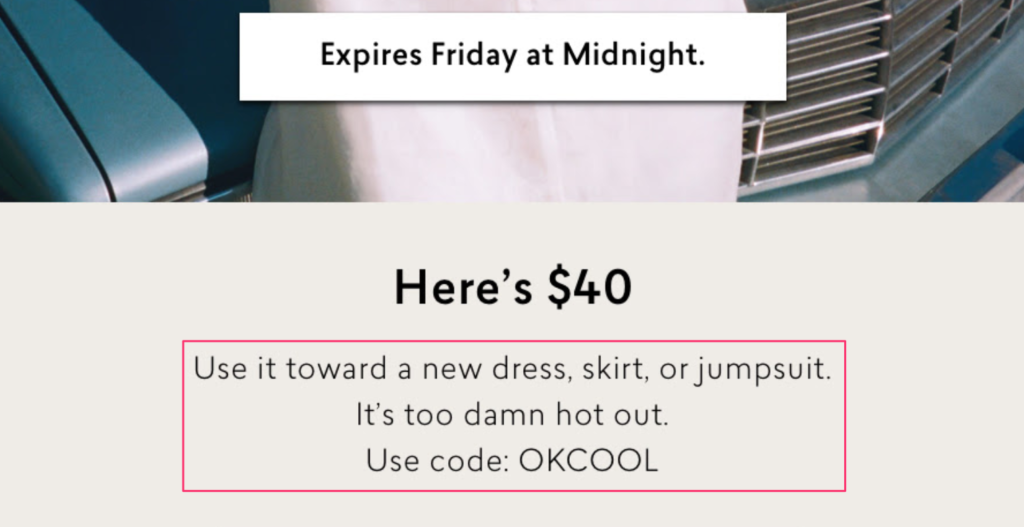 You don't always need a meaningful reason to run a promotion. "Just because" is often more than enough.
2. Automotive Email Examples
Admittedly, we're no car experts. We can barely change a tire.
We do, however, know a thing or two about automotive email marketing. And we know how potent of a strategy it can be for automotive companies who are looking to nurture leads.
To give you an idea of what that looks like, here's one of our favorite automotive emails from Subaru, promoting the release of its car model the 2019 STI S209.
The subject line reads, "Wait…how many s209 are being made?," which instantly piques the interest of most diehard Subaru fans. And it was the limited production of this vehicle that was the focal point of the email.
In fact, Subaru only made 209 of them in total. The email starts off with a jaw-dropping image of the car, a catchy headline, and a clear-cut CTA that simply says, "Learn More."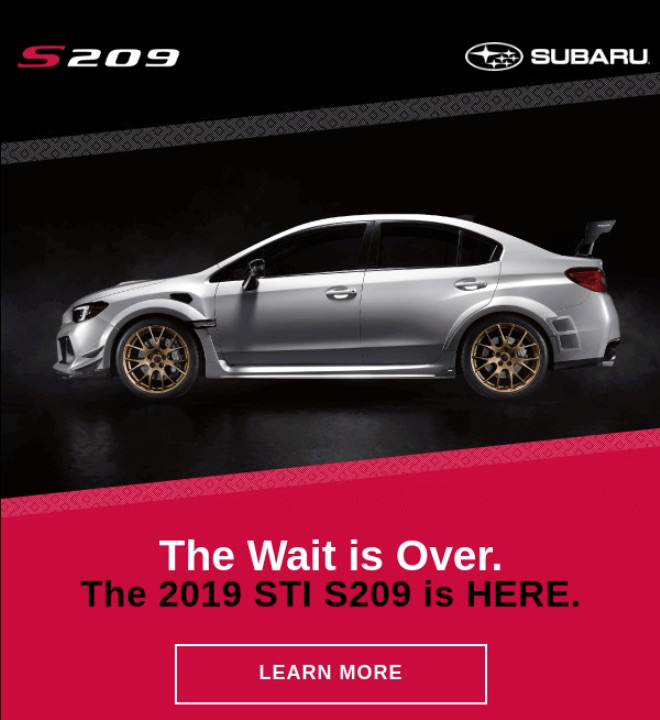 (Source: Really Good Emails.)
At a glance, readers know exactly what's being offered, why they should care, and what action to take. In short, it helps them quickly get their bearings.
And best of all, this information can be found above the fold without having to do any scrolling whatsoever.
While you certainly don't want to jam pack the above-the-fold section to the point that it's cluttered, it's important to highlight key information so readers don't have to do too much investigative work.
Below that, Subaru elaborates on the offer, explaining that the wait is over on this new model, and the first-ever S-line produced exclusively for the US is here. Then, they feature another eye-catching image of a blue model of the S209 and mention the starting price.
This is followed by the same "Learn More" CTA and they wrap it with yet another beautiful image and listing a few additional benefits, which really crystallizes the promise of the email.
So, if you're looking to promote a new car, this is the perfect automotive email example to draw inspiration from.
3. B2B Email Examples
B2B emails have on average a higher click-through rate than B2C emails. A 2018 study by The Data & Marketing Association found that B2Bs receive 52 percent more clicks than B2Cs (3.2 percent vs 2.1 percent).
By these numbers, it's clear that it's easier to get subscribers to engage if you're a B2B brand, and the odds are in your favor. If, of course, you nail your B2B email marketing.
InVision is one of our favorite B2B email examples. This digital product design platform helps companies create better customer experiences.
The first thing you'll notice about this email is how great it looks visually.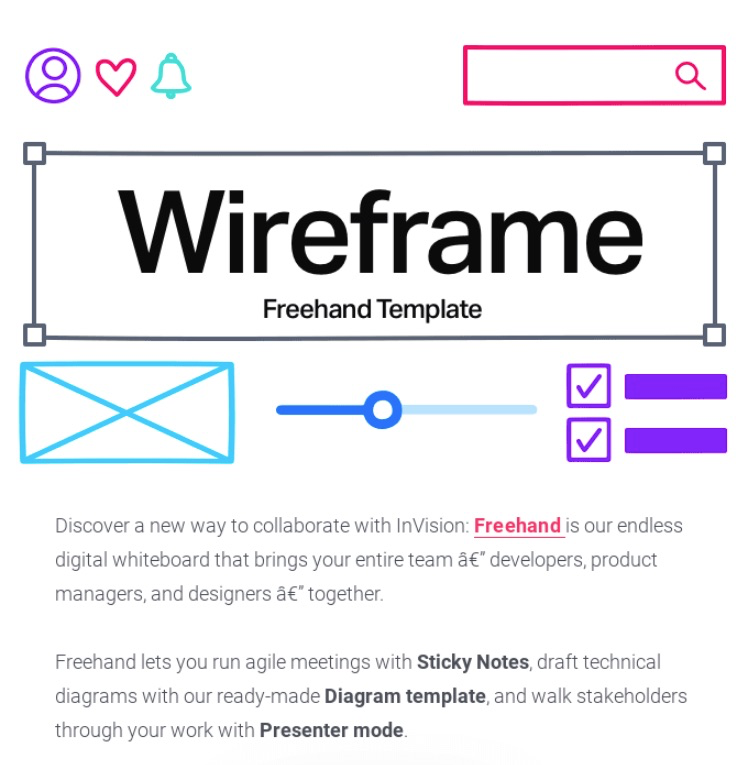 (Source: Really Good Emails.)
Featuring a jaw-dropping visual as the one InVision uses here is your ticket to getting your foot in the door and compelling subscribers to check out your email in detail.
You obviously want to include enough text to get your point across and let subscribers know what the offer is, but strong visuals should be your bread and butter.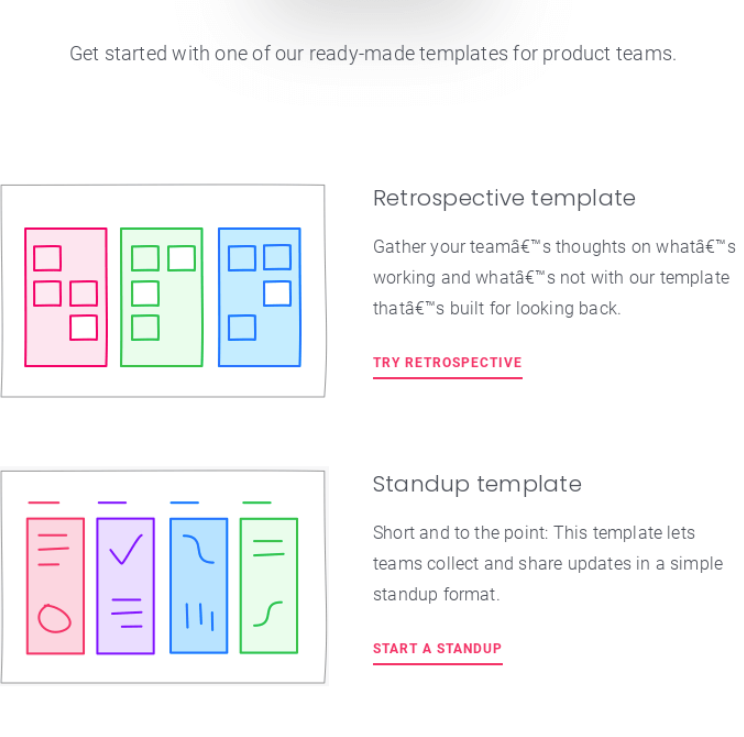 As for the text, it's short, sweet, and to the point. InVision lets subscribers know what they're offering, using clear and concise language and bolding the key features. That way subscribers can quickly absorb important information without having to sift through onerous paragraphs.
If you want to follow InVision's example, stay focused on helping readers navigate your email with zero friction and you should be good.
4. Ecommerce Email Examples
When we think of ecommerce emails, we tend to think of promotional emails and the like. But as we've seen from reading our emails, not all ecommerce campaigns are created equal.
Sometimes, engaging in corporate social responsibility, or CSR, not only increases employee engagement, but it also increases how customers rate a company's products.
When subjects in one study were told that the wine they sampled supported a charity, they rated the wine as tasting much better than those who had not been given the additional information.
According to Robert Cialdini, who shares the study in the book, Yes! 60 Secrets from The Science of Persuasion, there are two keys to making a CSR program work.
The first challenge is to persuade prospects and buyers that a CSR program is worthwhile. The second is to find ways to publicize the charitable deeds that you practice without bragging.
One of our favorite CSR examples that illustrates both keys comes from a recent email from Bombas.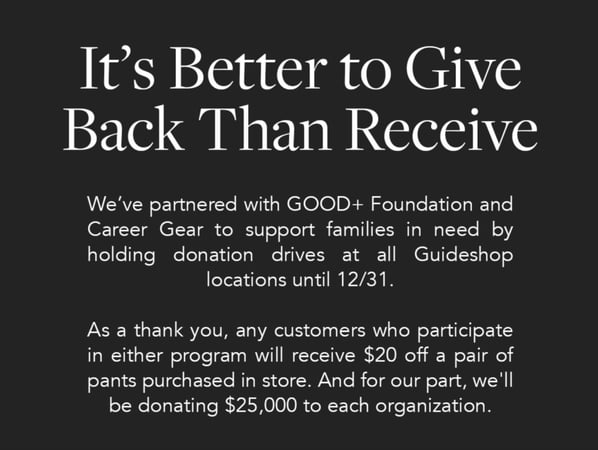 Not only are GOOD+ and Career Geara worthwhile causes (both aim to combat multi-generational poverty), but Bombas makes the good deed reciprocal.
Bombas donates $25,000 to each organization with each purchase and the customer contributes to not one, but two worthy causes. What's not to like?
We must mention here that abusing CSR for financial gain is not recommended. Anything otherwise is guaranteed to leave a bitter taste in the customer's mouth and turn them off your brand indefinitely.
5. Nonprofit Email Examples
Email open rates are on the decline.
According to one report, the average open rate dropped to 21.3 percent in 2020 (with a slight decrease compared to 2019).
That's the bad news. The good news is, for nonprofits, open rates are the highest they've ever been at 25.18 percent.
One of our favorite charities using nonprofit emails to drive donations is The International Rescue Committee (IRC), which helps people whose lives and livelihoods are shattered by conflict and disaster to survive, recover, and regain control of their future.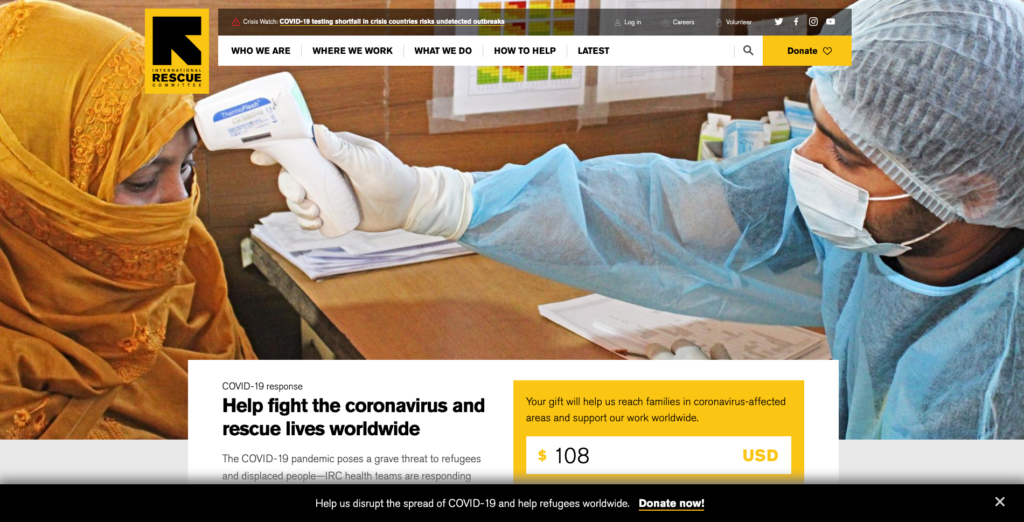 In one recent email, the IRC invited us to thank health workers in Syria by sending a card.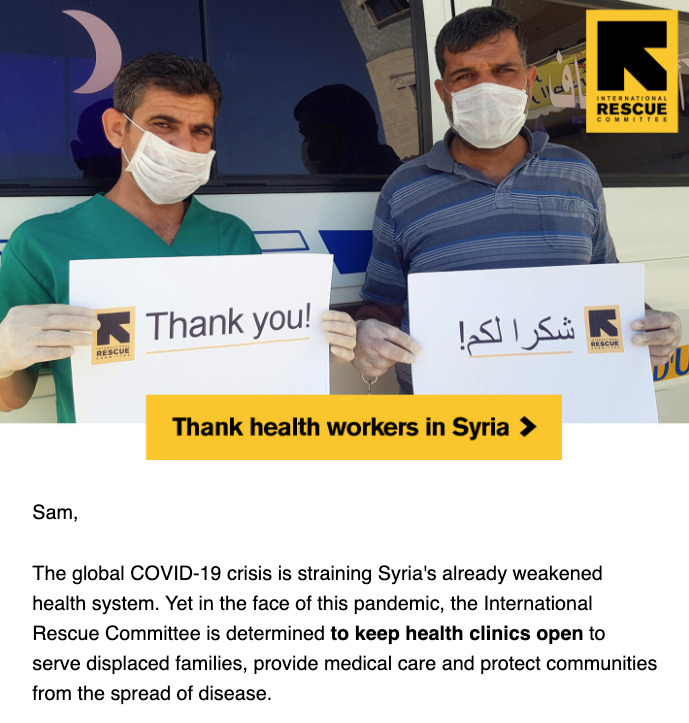 When we clicked "Send a card," the IRC took us to a page on its website where we could add our note of thanks and support.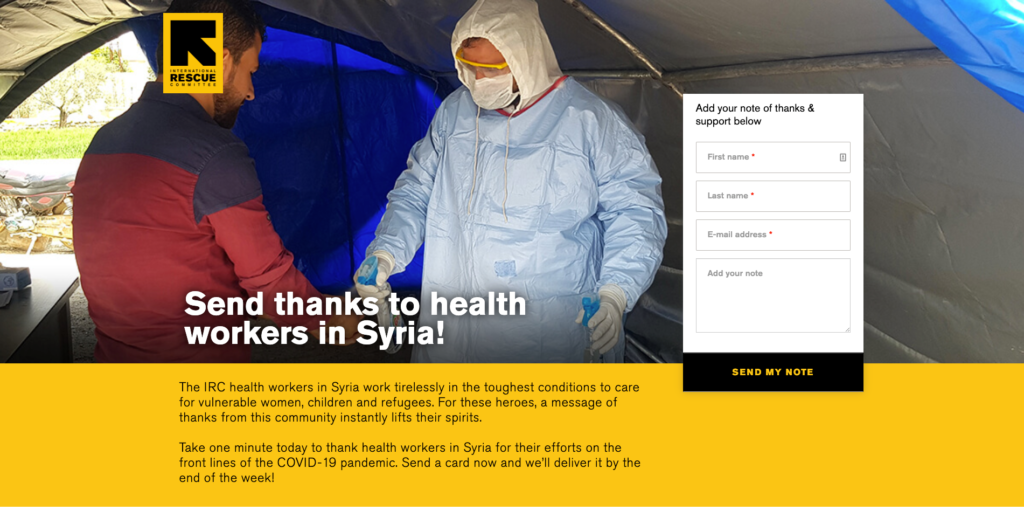 But here's where it gets interesting. After entering our name, email, and note, the nonprofit took us to a second page, where we could give a tax-deductible "gift."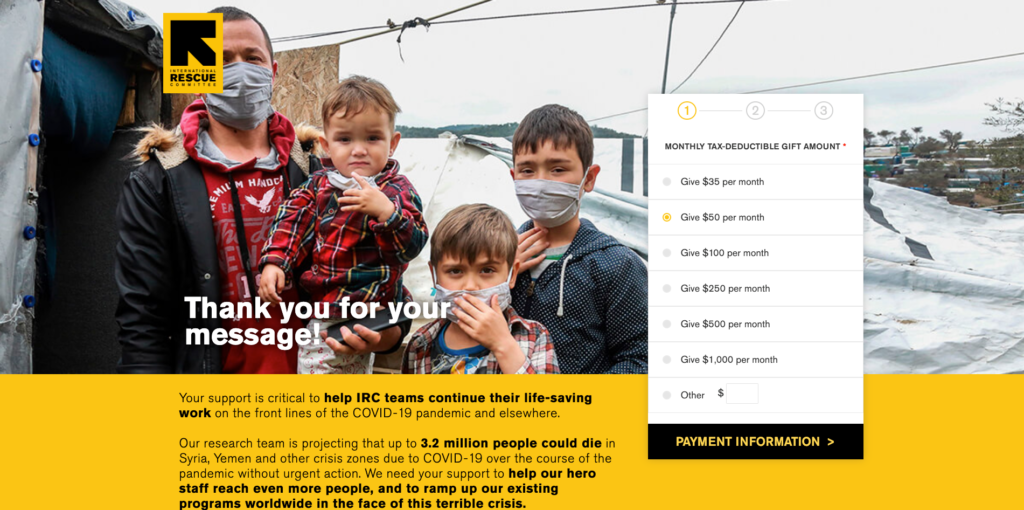 (Note the progress bar. This wasn't on the previous page.)
While a percentage of visitors are likely to leave at this stage, a decent percentage will still donate. Why? Because the IRC is using the foot-in-the-door technique.
In short, the foot-in-the-door technique is when you get someone to comply with a large request by first asking them to comply with a smaller request.
The IRC first asks you to click through in an email. Then, they invite you to add a note of thanks and support. Afterward, they ask for a donation. There's a sunk cost at this stage. You're more likely to give than if the IRC asked outright from the start.
Ask subscribers to give thanks to a cause related to your organization. Then, invite them to give. A decent percentage will follow through.
6. Travel Agency Email Examples
The travel industry no doubt took a hit with COVID, and 2020 was a rough year for everyone involved. But fortunately, it's steadily bouncing back.
In fact, the online travel market alone is expected to generate over a trillion dollars in revenue by 2022, and there's been a growth rate of 11.1 percent from 2016-2022.
Nassau Paradise Island, a travel agency that offers hotel accommodations in the Bahamas, does an outstanding job with a recent travel agency email.
What's interesting, however, is that this particular email was sent out right in the heart of the 2020 pandemic when much of the world was in lockdown and heavy travel restrictions were in place.
So, unfortunately, physically traveling to Nassau Island was out of the question for many people at the time. But this travel agency took a creative approach where they gathered some of their favorite vacation memories from guests to help readers make the most of their "staycation."
Nassau Paradise Island also provided media like a music playlist to help readers create their own personal paradise right at home. The email starts off by asking readers, "Which way to the beach?"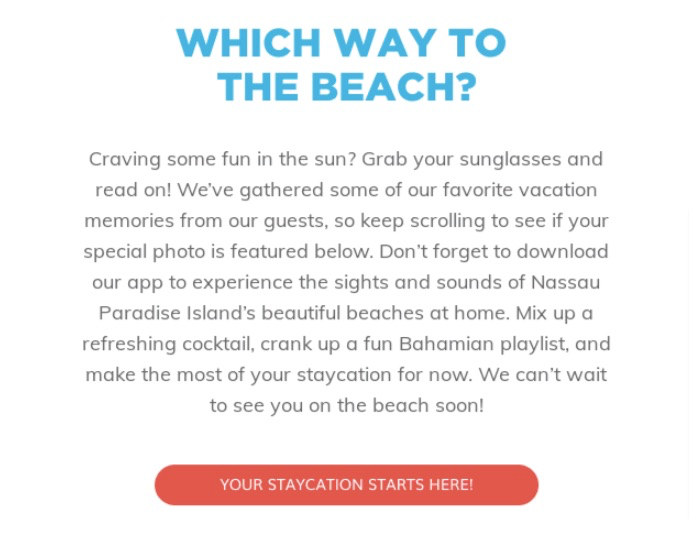 (Source: Really Good Emails.)
Then, Nassau Paradise Island offers a quick overview of what the email is about and from there, features breathtaking pictures from some of their customers' Instagram accounts.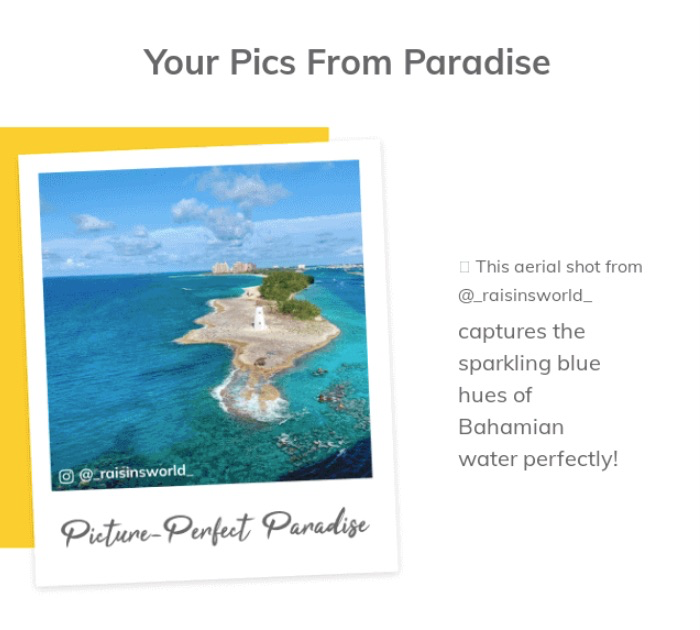 Beneath that, they point readers to an app they can download for the sights and sounds of the Bahamas. Finally, they wrap it up with a few more Instagram photos that create a stunning kaleidoscope of colors.
This travel agency email is the perfect example of how to adapt and create enticing offers regardless of what the current situation is like.
It's also a visual masterpiece and shows how you can feature user-generated content to tell a story and instantly grab the attention of readers.
7 Email Marketing Examples by Season
So far, we've discussed the many different types of emails you can send to your audience.
That's the "what" behind email marketing. Now let's discuss seasonality: the "when."
Fact is, there are literally tons of ecommerce holidays to take advantage of.
In this section, we'll share our favorite emails by season to help you make more money from your emails year-round.
1. Spring Email Examples
We often associate spring with change—both on a material and personal level. Many of us try to rid ourselves of unused items in our living spaces, declutter our office desktops, or break the old, unhelpful habits.
Spring cleaning is a typical reflection of this kind of urge to have a fresh start. While people are busy spring cleaning, companies that help their customers with that are the real winners.
For brands like Bed Bath & Beyond, this is an easy spring email task because they can literally help you spring clean: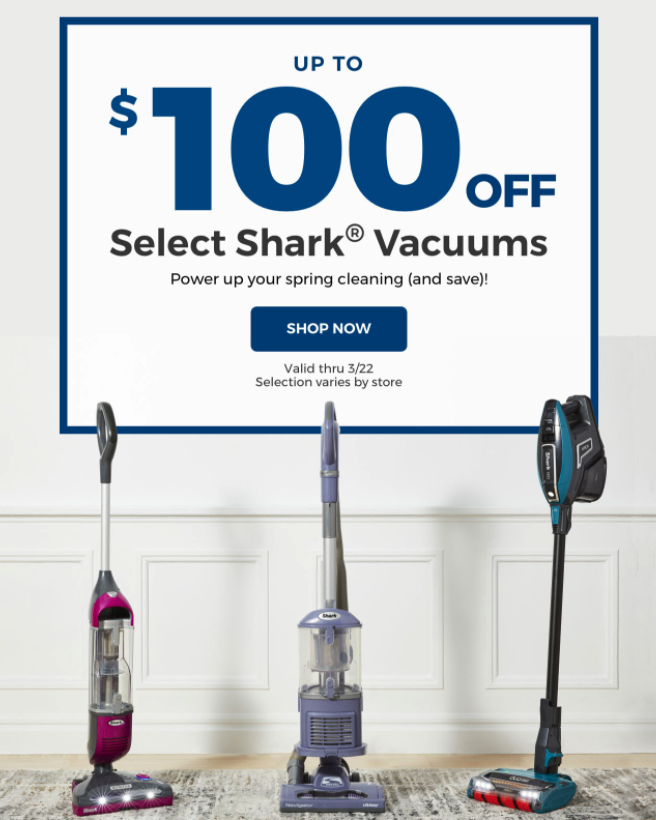 For others, such as Prose, this challenge can be overcome with a little creativity. Offering customized haircare products, Prose knows that it's not just your house that could use a spring cleaning.
Check this email they send with the subject line "Spring-clean your haircare":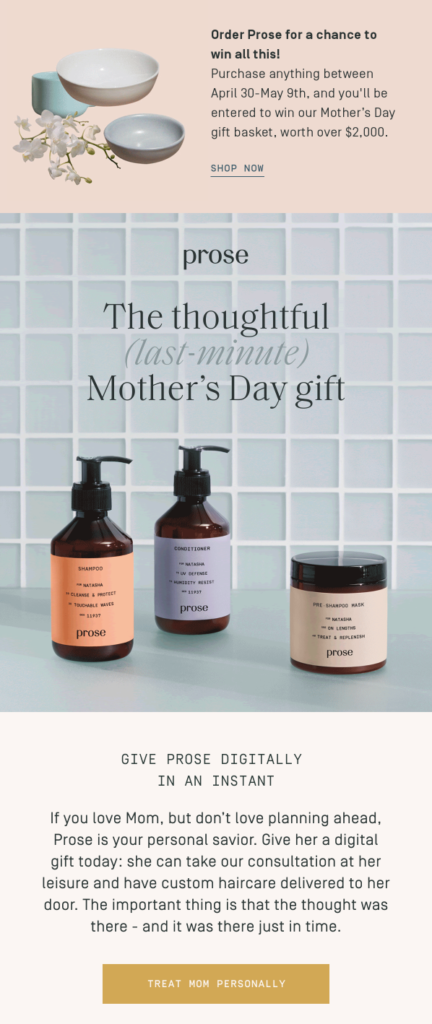 In this email, Prose gives you two reasons to buy into the idea of custom haircare and shop their products:
You'll stop using dirty formulas that aren't good for your hair; and
You'll clean up your shelf.
Prose's email successfully acts on the spring cleaning angle because they find the perfect connection between their value proposition and their prospects' needs during this season.
If you want to follow Prose's example, think about the ways your products help build better habits or improve your customers' lives—this spring and beyond.
2. Summer Email Examples
When it comes to writing seasonal emails, there's no one-size-fits-all formula.
Summer means one thing for an outerwear retailer and something else for an inflatable pool distributor.
If summer is canceled due to a worldwide virus outbreak, on the other hand, it means something else completely.
If you're running a furniture store, however, a canceled summer might even work to your advantage. Joybird has a great example of that.
The furniture and decor store recently sent this summer email with the subject line "Prep for the Perfect Staycation":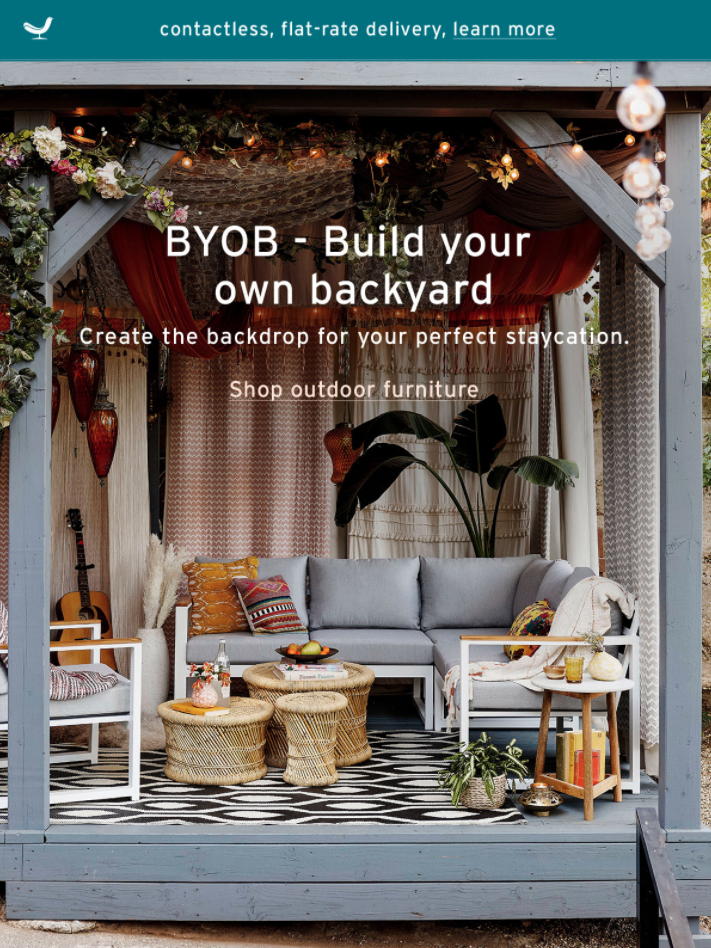 In it, Joybird cleverly focuses on the concept of staycation (a vacation spent close to home) to promote its outdoor furniture collection.
For that purpose, Joybird invites you to "build your own backyard" for the perfect staycation, unsurprisingly, with its products.
Next, the company promotes its summer sale and recommends a few products you can get started with: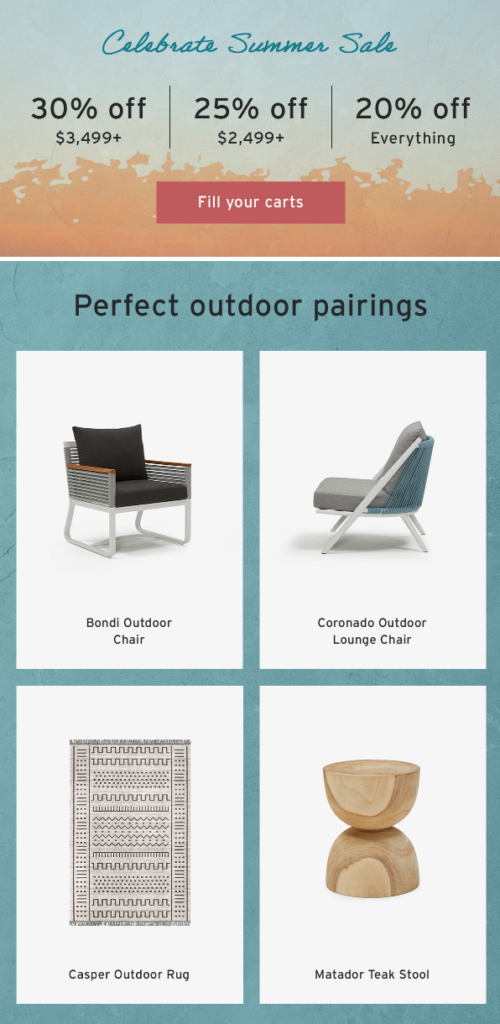 Finally, they invite you to join their giveaway to win store credit: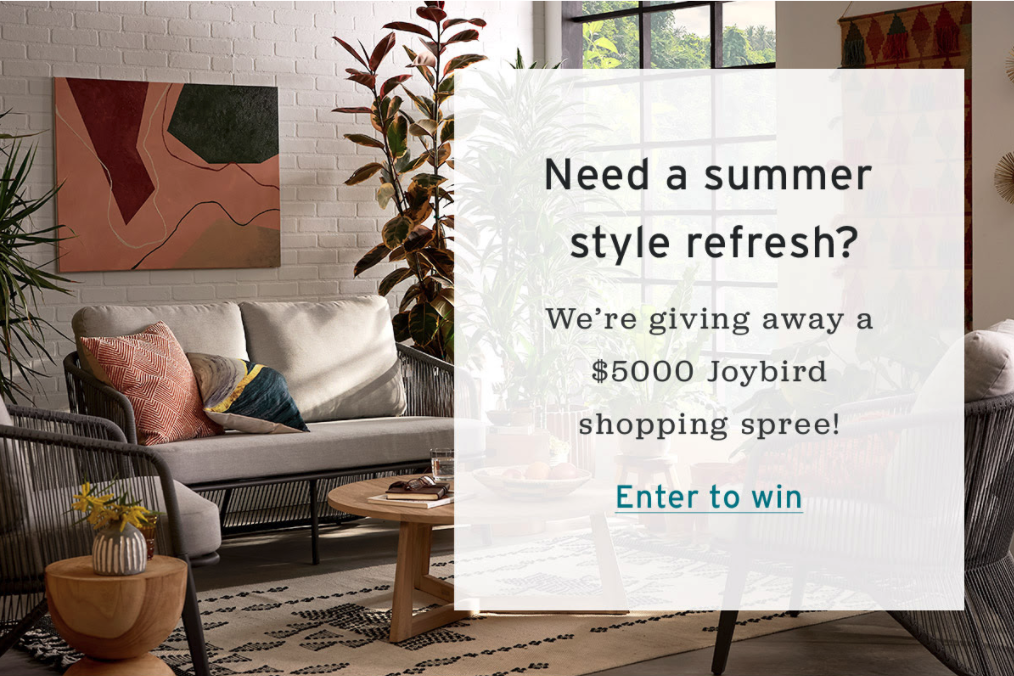 While doing this, Joybird consistently uses a summer theme without sounding unrealistic about your possible summer plans.
In short, the company smartly uses the "canceled summer" angle without patronizing you about how you should spend your summer.
Instead, they suggest a cozy alternative to traveling for a typical summer holiday: staying at home while enjoying your surroundings.
3. Fall Email Examples
If you're in an industry with seasonal inventory such as fashion, you will have products with fall colors and patterns.
By curating these products in a fall email as J.Crew does, you can revive the fall vibe with little effort.
Prefaced with a play-on-word subject, "In a fall mood…," J.Crew's email lists three things you can associate with fall: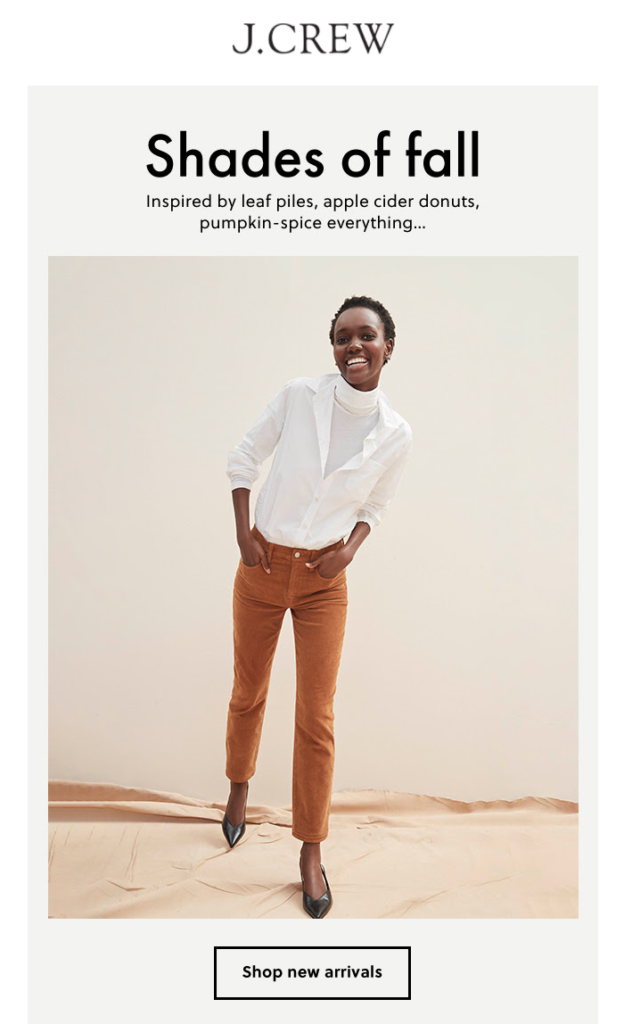 Once you learn the source of J.Crew's inspiration, you see the brand's products from a fall color palette, found further down the email:

J.Crew's email is aesthetically pleasing as it is season-appropriate. With minimal copy, colorful product photography, and two calls to action, the brand offers an email that's worth emulating for any seasonal email campaign.
4. Holiday Email Examples
You might think seasonal email marketing is only about promoting your Christmas sale with a red-and-green holiday email.
While that does work, there's so much more you can do to increase your revenue with holiday email campaigns. And the best part is, you don't have to wait until Christmas to have a winning campaign.
If you've ever sat down at your computer to find a gift for someone you love, you know that it's not easy. That's why companies like Wool and the Gang work hard to simplify finding the perfect gift: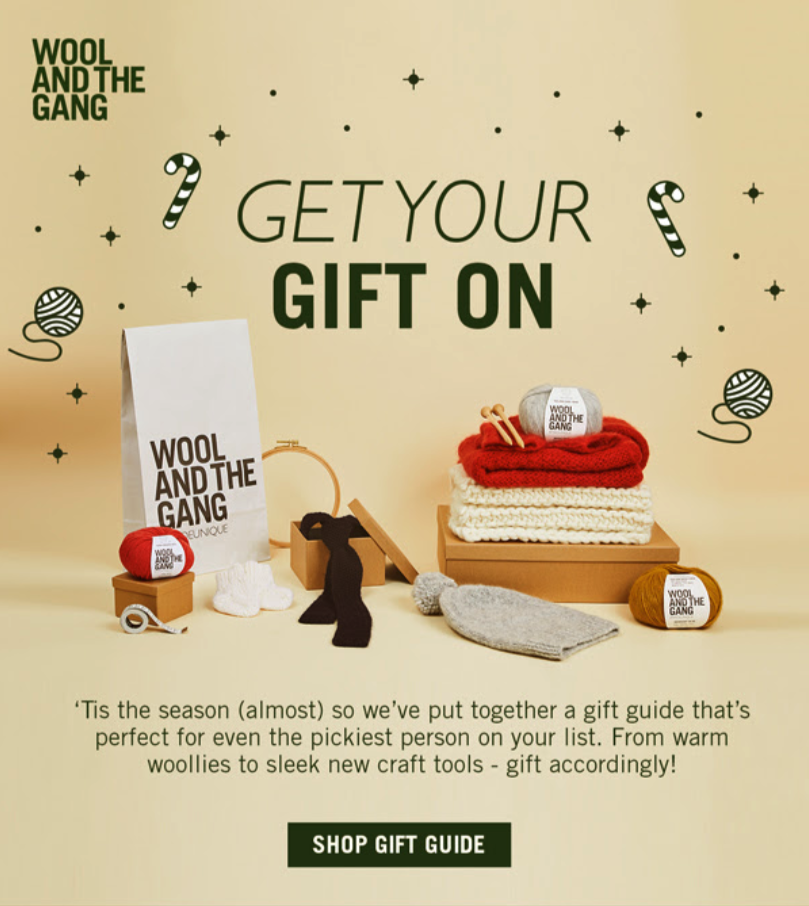 While this looks like any other holiday email in the beginning, as you scroll down, you see that the company divides its gift guide into different categories, based on the recipient's level of expertise…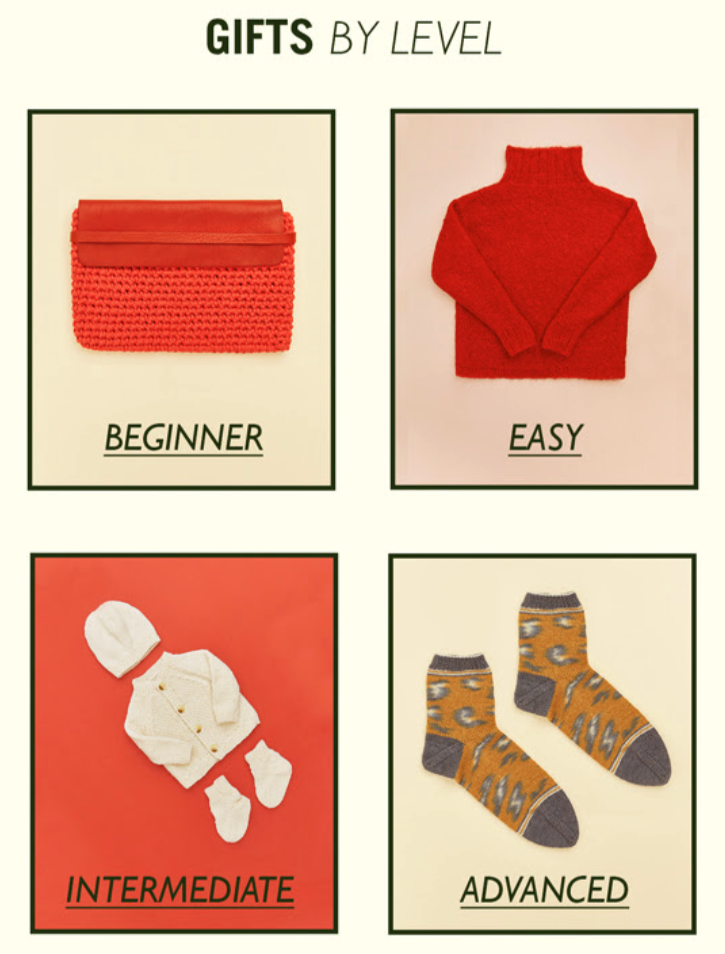 …and the type of craft they're interested in: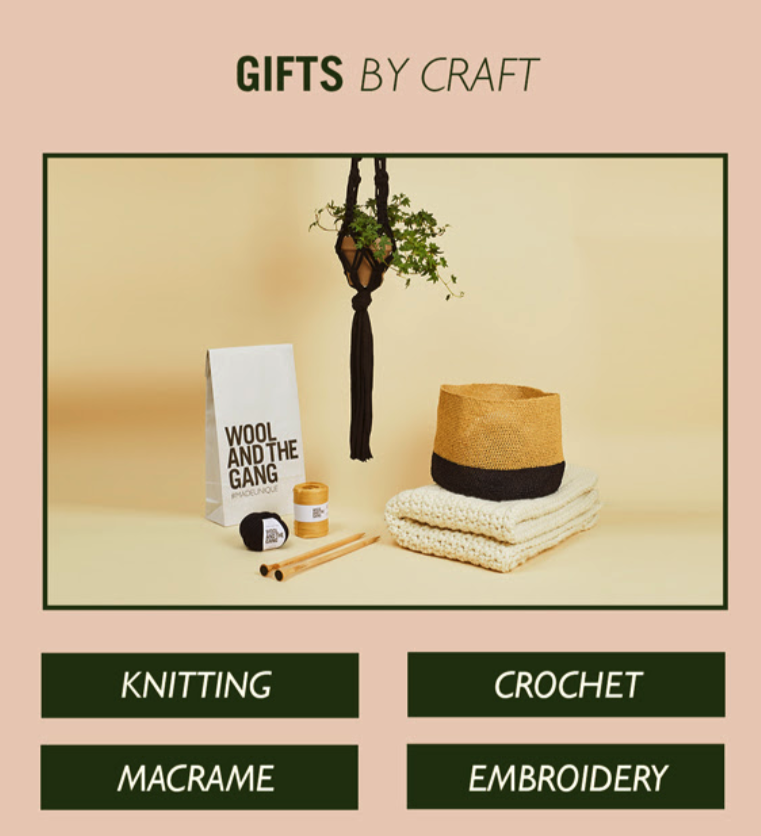 With this email, Wool and the Gang make your gift search easier. Furthermore, the company goes beyond the simple for him/her division and offers you diverse categories to choose from.
So if you have someone in your life, who's an advanced macrame fan, you know exactly where to start browsing from. This means higher click-through rates, more sales, and happier customers for Wool and the Gang during the holiday season.
5. Winter Email Examples
While many brands announce their winter sales in emails garnished with ice and snowflakes, a handful will add the "winter" to their sales.
Abercrombie & Fitch does that well by implementing a "cozy" theme in one of its recent winter emails.
Fronted with the subject "Evening forecast: completely cozy," the company informs you about its winter sale in the email header.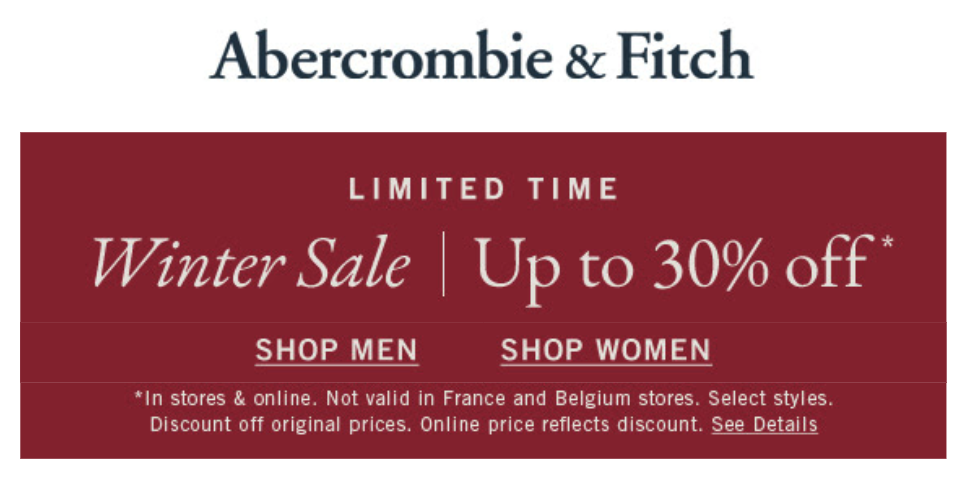 Rather than hard-selling, Abercrombie & Fitch focuses on coziness and staying in, and reflects that theme in the email's design.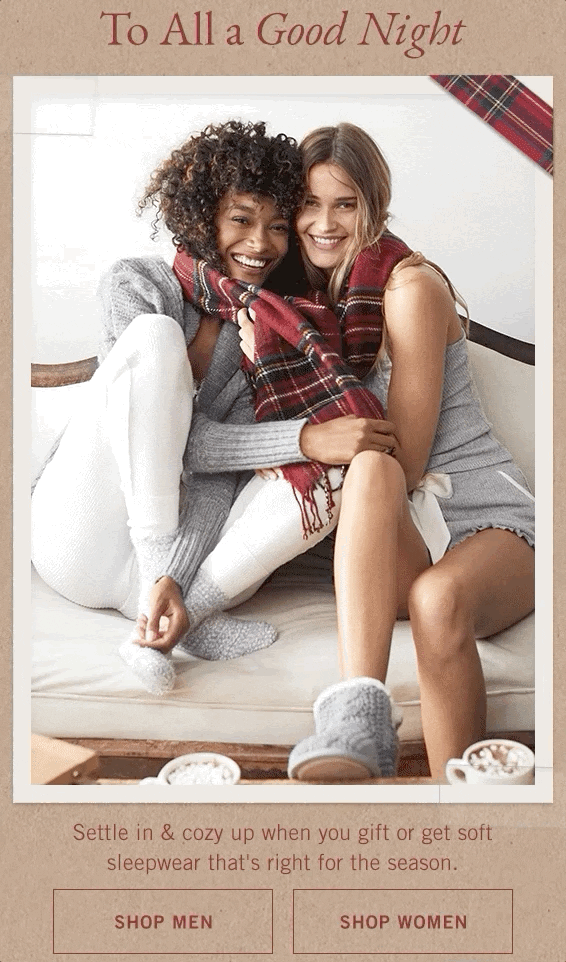 Using GIFs to portray customers at home, the brand evokes a feeling of comfort, while simultaneously promoting its sleepwear line.
Further down, Abercrombie & Fitch recommend products from different categories, using more GIFs to showcase the items: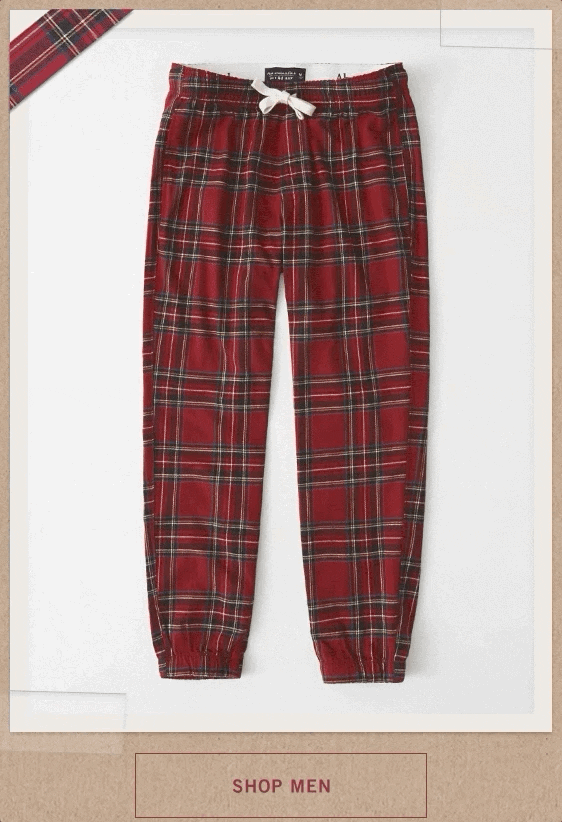 Three days later, the brand follows up with an even simpler email asking, "Too cold to go outside?":
Maintaining a similar design to the previous email, Abercrombie & Fitch drives urgency by mentioning it's the "last day" to get a discount.
There are many takeaways from reviewing Abercrombie & Fitch's emails, but one remains top of mind, front, and center.
Conclusion
Judging from the number of emails in our inboxes, email marketing isn't going away anytime soon.
We'll continue to update this page over time with new email examples and best practices.
In the meantime, check out the articles we've linked to through this guide to get more email marketing inspiration.