In 2009, Andy Fallshaw and a few friends crowded around a kitchen table in Bells Beach, Australia to design a wallet.
Through no fault of its own, wallets had become, for want of a better term, broken. With the rise of slim tailoring in the early 2000s, they had become unsightly; "massive hunks of leather that bulged uncontrollably from pockets," to quote Fallshaw. (Source.)
A year later, the release of his product signaled the birth of Bellroy: a company that helps people carry their everyday items with greater simplicity and ease.
Bridging the gap between style and functionality, Bellroy has carved out its own niche in the fashion industry, earning its rightful name as an e-commerce innovator which offers "the best men's wallets you can buy." (Source.)
I recently spent a month reverse-engineering Bellroy's marketing strategy. And today, I'll share 7 unconventional strategies you can use to get more traffic and higher conversions for your online store. (Strategy #4 is my favorite.)
Table of Contents
1. Model This Black Friday Marketing Strategy for Your Next Holiday Campaign
It's no secret that Black Friday is one of the busiest times of the year for any e-retailer…
And it's one of the most profitable.
In fact, according to one recent report, the average adult drops $483.18 on Black Friday and Cyber Monday alone.
So, it's no surprise then, that many online stores—Bellroy included—get creative with their Black Friday marketing come holiday season.
While writing this post, I saw a Facebook lead ad from Bellroy teasing a subscriber-exclusive promotion they were running for Black Friday.

When I clicked on the ad, Bellroy redirected me to a dedicated landing page, promoting a "Black Friday Subscriber Exclusive."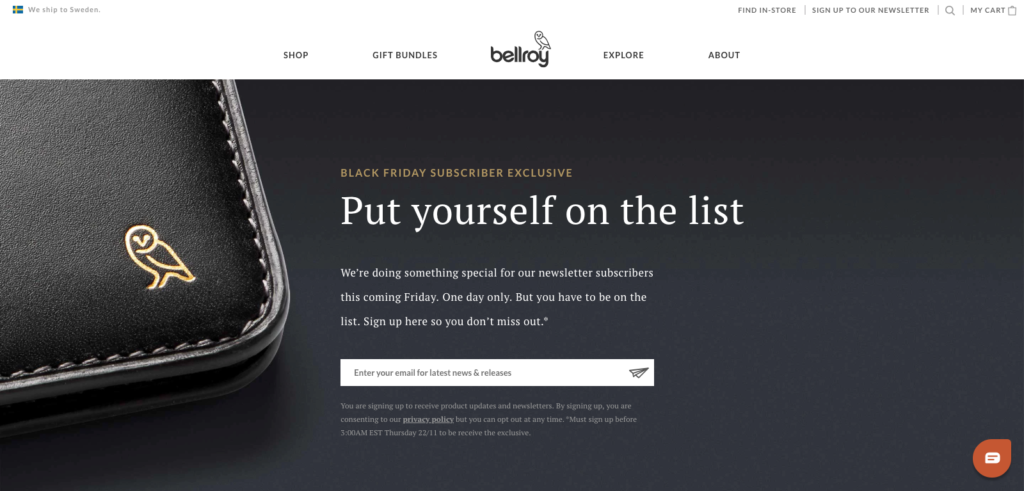 In their copy, they opened a curiosity gap by teasing a one-day only promotion. Here's an excerpt:

After entering my email address, I got an email with the subject line, "Psst. Don't miss our Black Friday gift."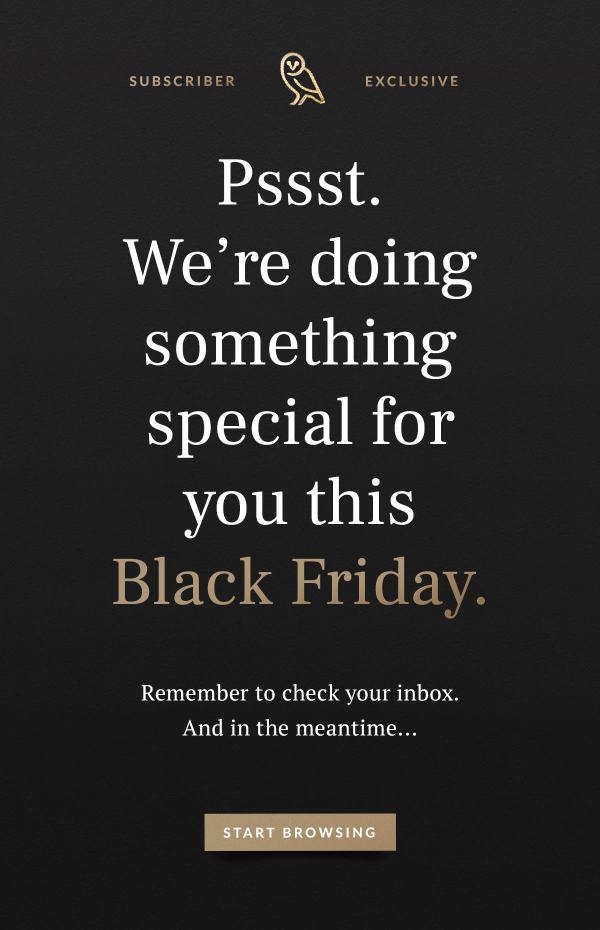 A day later—incidentally, on Black Friday—I got another email with the subject line, "Your Black Friday gift awaits—don't let it disappear."
There are a few things going in their email that are worth highlighting:
Animation;
Copy; and
User experience.
Let's look at each briefly.
i. Animation
Bellroy has become known for its use of visuals on its product pages. And, as luck would have it, their emails are no exception.
Take their Black Friday email, for example. In it, Bellroy included a GIF that flashed up the amount of credit they were offering for multiple currencies.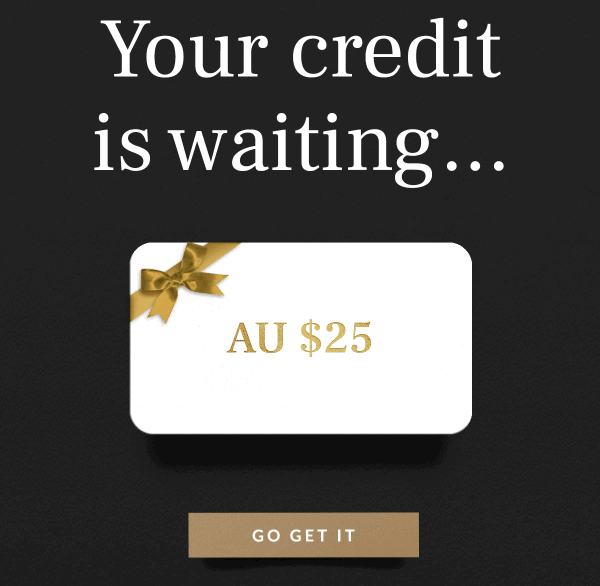 One reason they might have done this was to ensure that all readers could relate to the offer.
For instance, if you're American, $24 Australian Dollars (AUD) is harder to grasp than if it were in American Dollars (USD). Without a frame of reference for another country's currency, it's difficult to know whether you're getting a good deal, meaning you're unlikely to take action.
To remove any ambiguity, Bellroy cleverly frame their offer for each currency they accept to make it easier for potential buyers to relate to (and hopefully, take action on).
Interestingly, it's not just in their emails that they're doing this; it's in certain display ads too.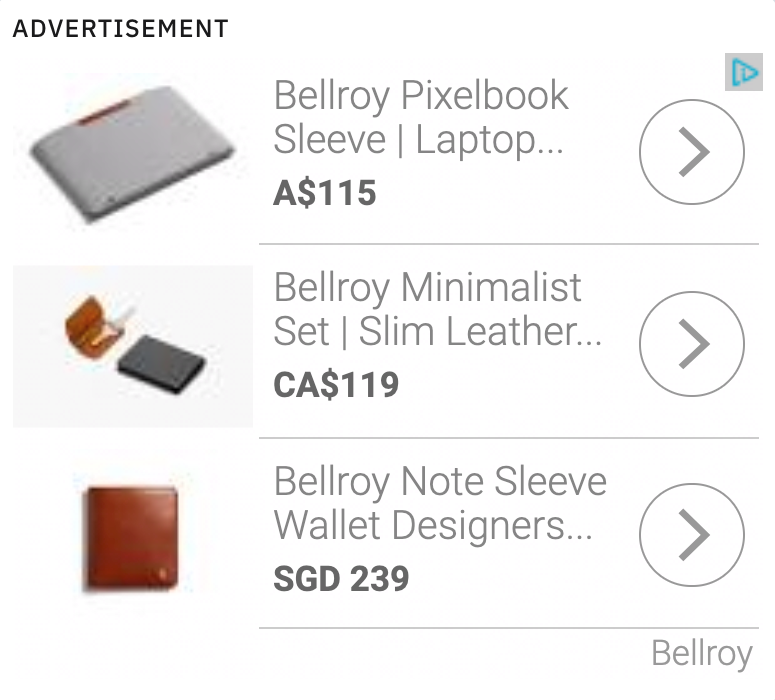 Framing is everything. Don't leave it to chance.
Action item. Use GIFs to grab readers' attention, and promote offers in multiple currencies.
ii. Copy
Bellroy's Black Friday email has a great copy. But there's one section worth highlighting more than any other.
Beneath the GIF we looked at above, Bellroy writes…

And it's clever, because Bellroy create urgency to justify why they're running the promotion, and it gives us a compelling reason to make a purchase.
After Bellroy justify why they're running the promotion, they explain how the offer works: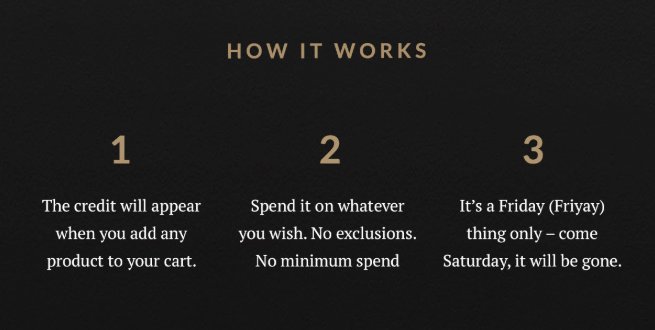 And it leaves nothing to the reader's imagination.
Beneath these three statements is a P.S., where Bellroy invite readers NOT to forward the email to friends, knowing, of course, that this is exactly what will likely happen.

Bellroy's playful use of reverse psychology in their email copy.
Much like little hinges swing big doors, micro-tweaks to your copy move more orders. Don't leave it to chance.
Action item. When running a promotion, explain how readers can claim their offer, step-by-step, to reduce confusion. Bonus: think about how you can encourage referrals. You don't have to use reverse psychology like Bellroy does in their P.S., but it might help.
iii. User-Experience
After explaining how readers can claim their Black Friday discount, Bellroy includes a call-to-action (CTA) in the email.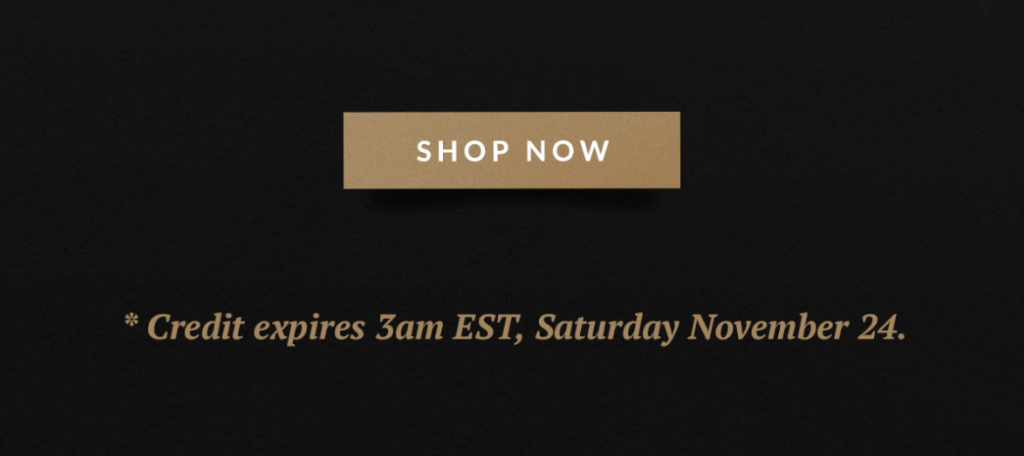 When I clicked "Shop Now," Bellroy auto-applied my credit (much like how MeUndies do for listeners coming from their podcast sponsorships).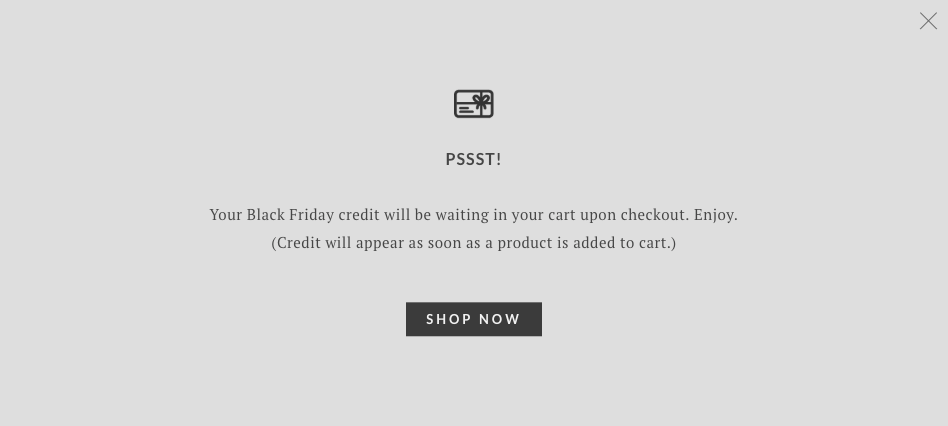 When I added an item to my cart and checked out, Bellroy deducted €15 and showed me how much I'd saved. (Note: Bellroy chose Euros as my preferred currency because I'm in Sweden and they don't accept Swedish Krona.)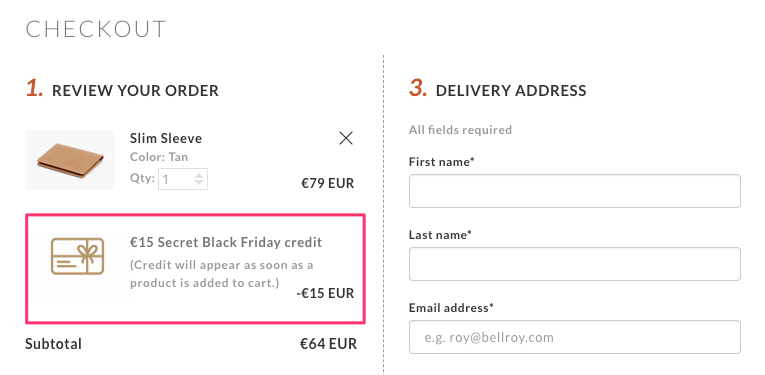 While their competitors bombard their visitors with Black Friday reminders, Bellroy creates exclusivity.
Buying discounted goods from them was a right reserved ONLY for email subscribers. In fact, when I tried to get a discount ON Black Friday, after pretending I wasn't on their list, Bellroy said no (and rightfully so).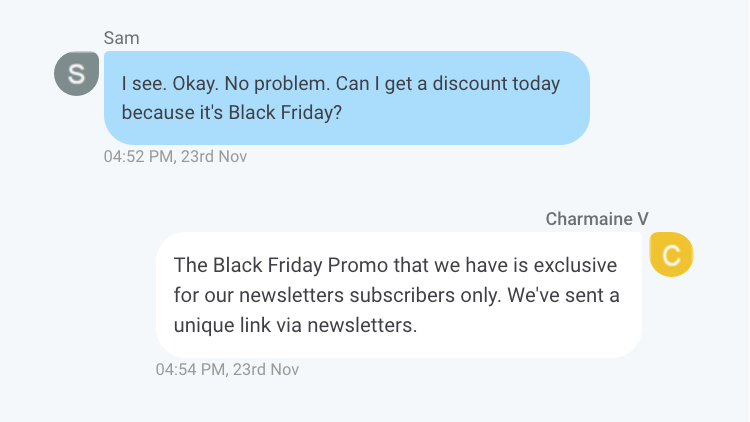 What I love about Bellroy's strategy is that it isn't limited to Black Friday. You can use it for ANY holiday. Christmas. Easter. Martin Luther King Day. You name it. The possibilities are endless. Get moving.
Takeaway. Generate demand for holiday promotions BEFORE you need it. Drive traffic to a dedicated landing page, grow your list, create as much buzz as possible, and then give your buyers the exclusivity they deserve.
2. Use "The Life Force 8" to Maximize Ad Conversions
There are two things you need to know about Bellroy's marketing strategy.
One, 23.80% of their overall desktop traffic comes from display ads.

And two, they leverage three marketing angles in their ad copy.
But it's not just any three marketing angles— these are angles that build on what are known as The Life Force 8.
In his book, Cashvertising, Drew Eric Whitman outlines eight biological desires we all have:
Survival, enjoyment of life, life extension;
Enjoyment of food and beverages;
Freedom from fear, pain, and danger;
Sexual companionship;
Comfortable living conditions;
Being superior, winning, keeping up with the Joneses;
Care and protection of loved ones; and
Social approval.
Bellroy appeals to three of the above angles in many of their top-converting display ads.
Let's look at each briefly.
1. Being Superior, Winning, Keeping up with the Joneses
To all intents and purposes, Bellroy's core offer is slim leather wallets for men. And after browsing their site for a few minutes, it's hard to argue otherwise.
But when you take a look at their paid advertising, it's clear that they're marketing to a segment within that segment. Specifically, fashion-conscious marketing executives.
Why?
Because, generally, it's a market segment that can and will happily pay more to fulfill the above innate desire to be superior.
You can see Bellroy appealing to superiority in ad copy, from inviting buyers to "Look the part…"

…to naming the product itself "The Executive Wallet."

Interestingly, the products Bellroy promote in the above ads and other similar ones, are also some of their more high-end items. Coincidence? Maybe. But with ad copy like the above, it's hard to disagree with.
2. Freedom from Fear, Pain, and Danger
"Positioning is not about creating something new and different," write Al Ries and Jack Trout in their book, Positioning. "It's about manipulating what's already in the prospect's mind. It's about bridging the connections that already exist."
One thing that's in the mind of a Bellroy customer is the fear of losing their valuables when travelling.
Bellroy recognizes that, and with the information in mind, position their travel collection as a remedy to that fear in many of their ads.

When you click "Learn More," Bellroy redirect you to a product page with copy that reassures and reiterates the above solution.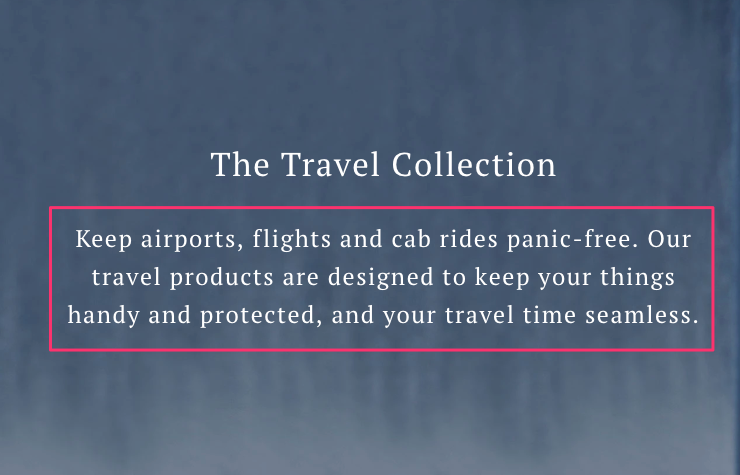 Not only are they following best practice in terms of message matching (i.e. ensuring their messaging is consistent, from their ads to their landing pages); but they're also freeing their customers from pain, while positioning their product as a solution in the process.
3. Care and Protection of Loved Ones
Have you ever regretted making a purchase? Of course you have. You're not alone; we're all guilty of it from time to time. Buyer's remorse, as it's known, is very real. Oftentimes, we buy something expensive only to convince ourselves later that we shouldn't have bought it.
But what if your purchase benefited a cause greater than yourself? How would you rationalize it then?
While researching this post, I saw an interesting Facebook carousel ad from Bellroy. Take a look at the ad copy: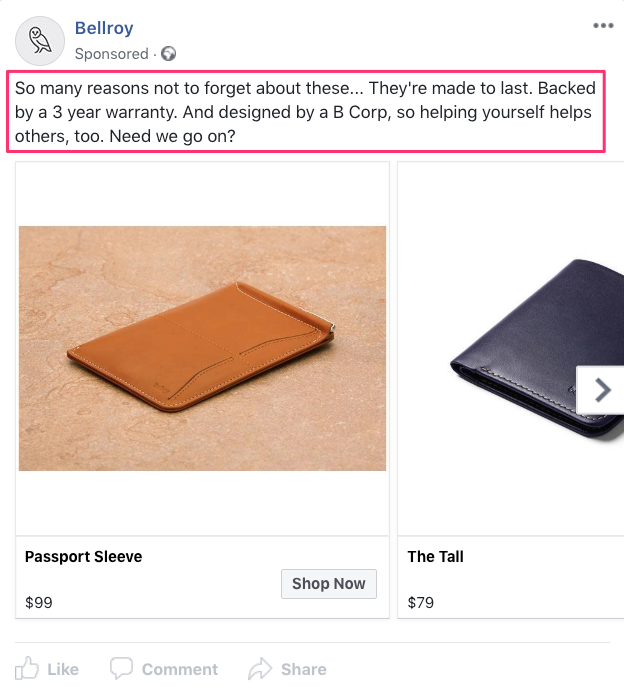 Knowing that caring and protecting loved ones is an innate emotional trigger, Bellroy frames their offer as benefiting others rather than the individual. How? With the sentiment, "Helping yourself helps others, too."
"Need we go on?" they ask.
No. That's as good a reason as any to buy.
Takeaway. Use one or several of the above Life Force 8 angles to inspire marketing angles in your paid advertising. Pro tip: use Facebook's Dynamic Creative to test different angles against one another.
3. The Marketer Magnet Method: How to Rank a Product Page Position #3
Using a tool like Ahrefs, we can see that Bellroy ranks for several high-volume commercial-intent keywords. But the one I want to focus on here is the keyword "slim wallet."
At the time of writing, Bellroy ranks position #3 for that term. But they also have a whopping 396 domains linking to the relevant product page (339 of which are do-follow).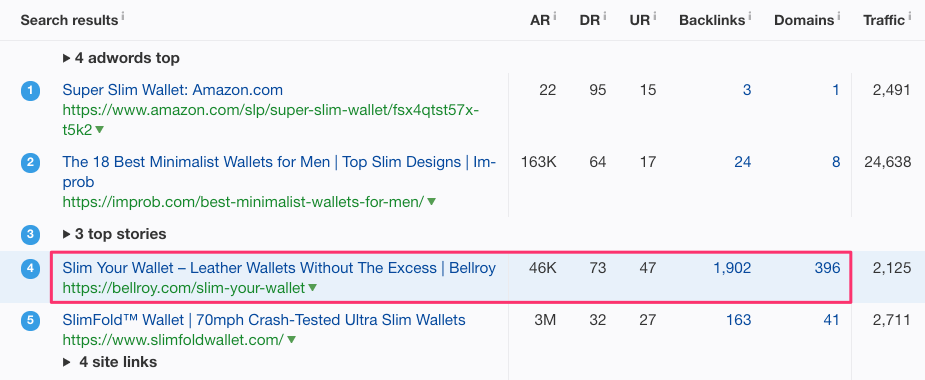 How are they doing it?
Well, one approach, intentional or not, is what I call "The Marketer Magnet Method."
I've written about it before, but it bears repeating because there are NO limits to its usage.
As a reminder, "The Marketer Magnet Method" involves approaching marketing in such an interesting way that marketing blogs can't help but link to you.
(Yes, I'm aware that's exactly what I'm doing now. Pretty meta, huh?)
It might be using a quiz to turn visitors into buyers, like Beardbrand. Or using a thank you page to survey visitors, like Harry's.
But that's only the beginning.
Bellroy has links from authority sites for many aspects of their marketing—including ones you might not have considered.
Take their above-the-fold content, for instance.
Unlike their competitors, who highlight their products' benefits through images, Bellroy goes a step further and shows their products' value using an interactive slider.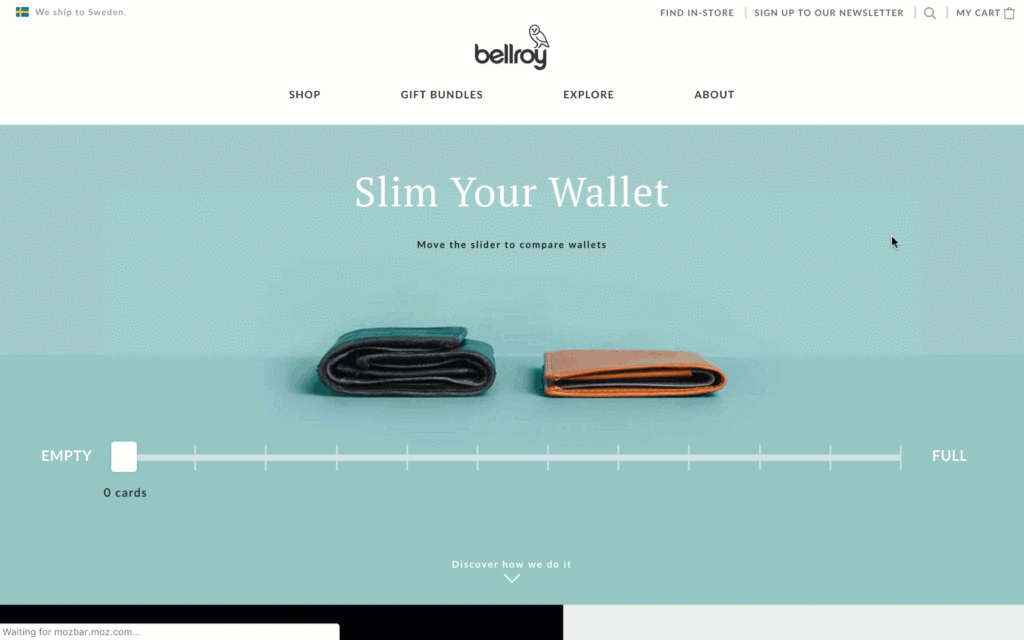 Many marketing blogs have praised Bellroy for it, including giants like HubSpot.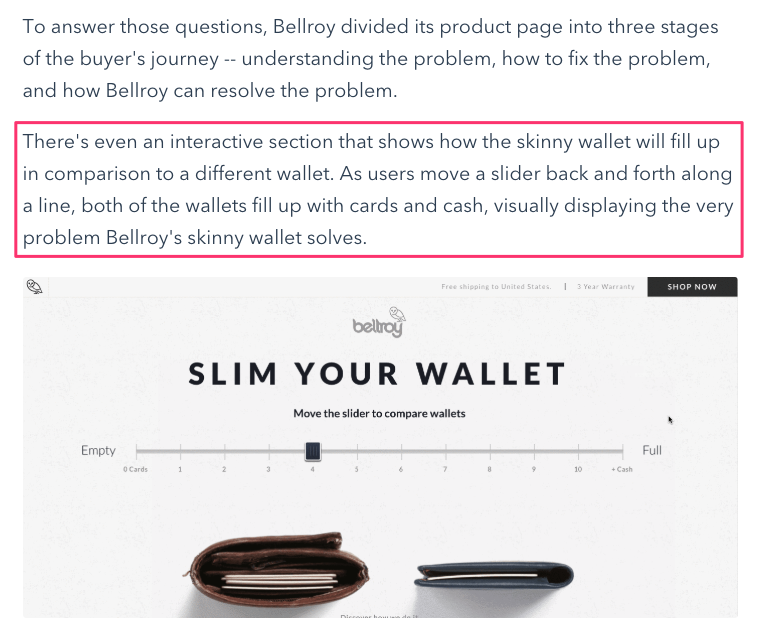 But it doesn't stop there.
Whether it's how they're using animation in their explainer videos (Source: Smashing Magazine)…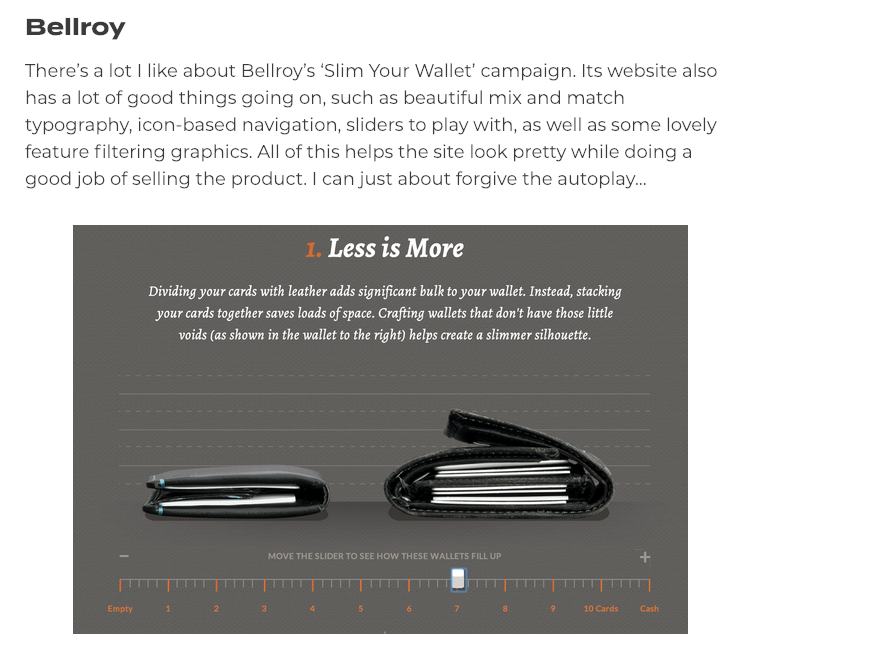 …how they're being innovative with the user experience (Source: eConsultancy)…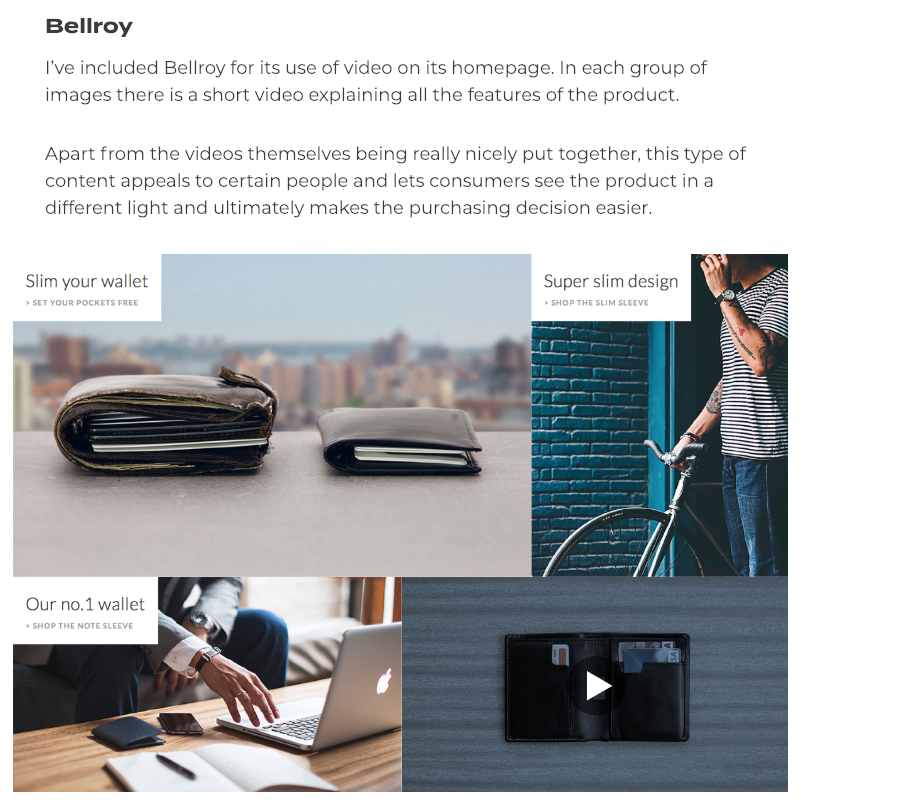 …or even how they're using scrolling on their site (Hongkiat)…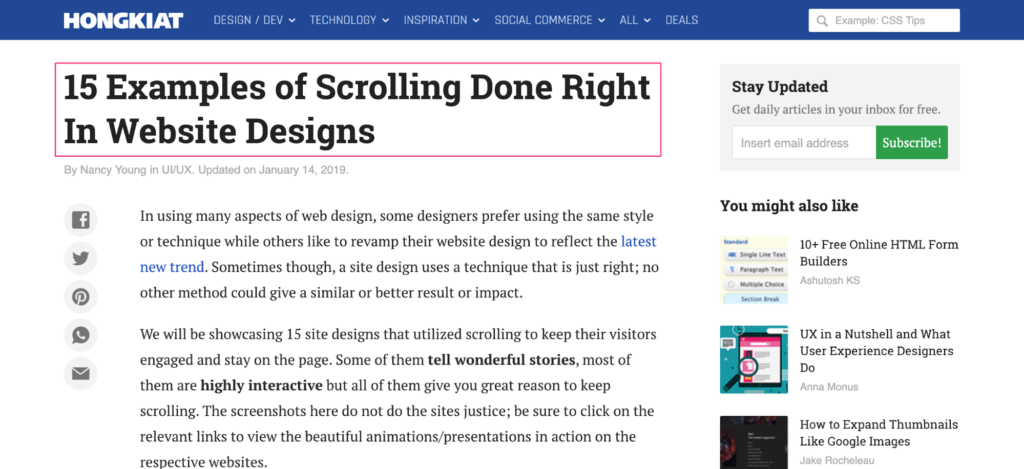 Bellroy has earned their fair share of backlinks for marketing that is so original, marketers can't help but write about it.
Takeaway. Take a look at your marketing. What are you doing that's original or uncommon in your industry? We grew tired of seeing GIFs in marketing emails, so we created our own. Marketers took notice, and we got a few links for doing so. Don't get discouraged if you're a small business; standing out is often easier than you think.
4. How to Market to the Affluent (Hint: It Doesn't Involve More Ad Spends)
It's always interesting to see how big brands use their email footers.
It's prime email real estate after all, and it shouldn't be wasted (though if often is.)
While writing this post, Bellroy's email footer caught my attention because they're doing something I haven't seen before.
Take a recent promotional email I received. In it, Bellroy had many calls-to-action (CTAs). But there was one that caught my attention more than any other.

When I clicked the link, Bellroy redirected me to a dedicated landing page, promoting "Gifts for Staff and Clients":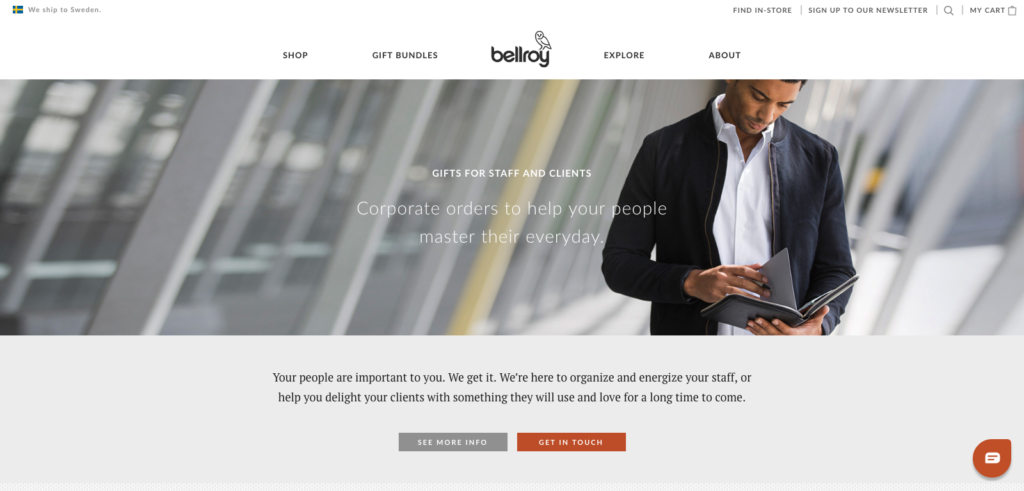 On it, their copy says,

It's clever, for two reasons:
It plays on another marketing angle: social approval. If you think about it, Bellroy isn't selling to you. They're not appealing to how their products will benefit you personally. Instead, they're appealing to how their products will benefit those around you—and imply what that will mean for you.
Corporate gifting is a clever upsell for their buyer persona. As mentioned above, Bellroy market to business executives in their paid advertising. And corporate gifting—including monograms or embossed logos, initials or custom messages—is an easy (yet highly lucrative) upsell for that market segment.
After enquiring to find out more, I got a confirmation email…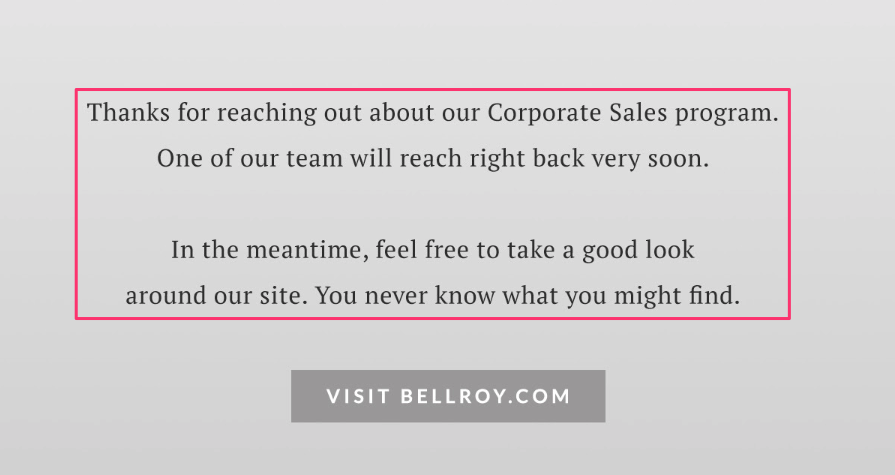 …followed by an email from a sales representative a day later: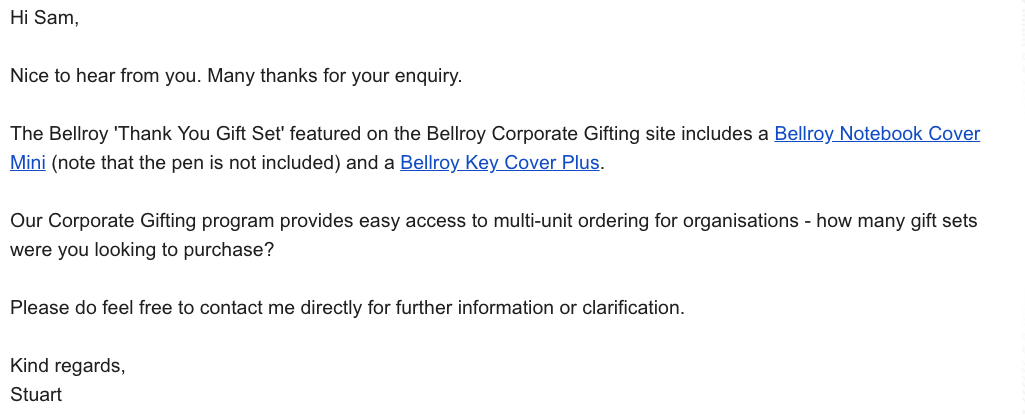 While it's hard to know why Bellroy offer corporate gifting through email only, it's likely that it's more personalized and easier to match an offer to the buyer's needs.
It's also easy to follow up on, which, judging from the prompt I got when I didn't reply, is a big part of their sales process.

Interestingly, when I did reply, I learned more about what they offer. And as you can see from the excerpt below, there's a lot of opportunity for Bellroy to upsell to their corporate customers.

Takeaway. Granted, corporate gifting isn't for everyone. But if a segment of your target market is business executives, it's a great way to scale your business.
5. Translate Your Site to Expand Your Reach
Like any fast-growing e-tailer, Bellroy knows which countries are driving the most traffic to their site.
In fact, by using a tool like SimilarWeb, we can see that the majority of Bellroy's traffic comes from the United States, the United Kingdom, and their native Australia.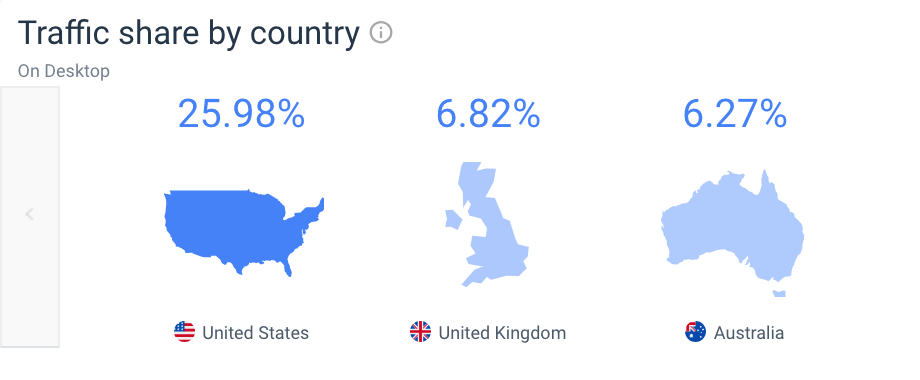 So, it makes sense that Bellroy advertises to those countries' users in English. After all, English is the mother tongue for each of those countries.
But what about countries like Germany—and even certain regions in Canada—where English isn't the first language?
If we take a closer look at Bellroy's marketing, we can see that they're growing their market share in other countries by translating their ads—and their site copy—into each country's first language.
Take Germany, for example. In the past 30 days, Bellroy has seen a 104.8% increase in traffic.
So, it makes perfect sense to have German ads…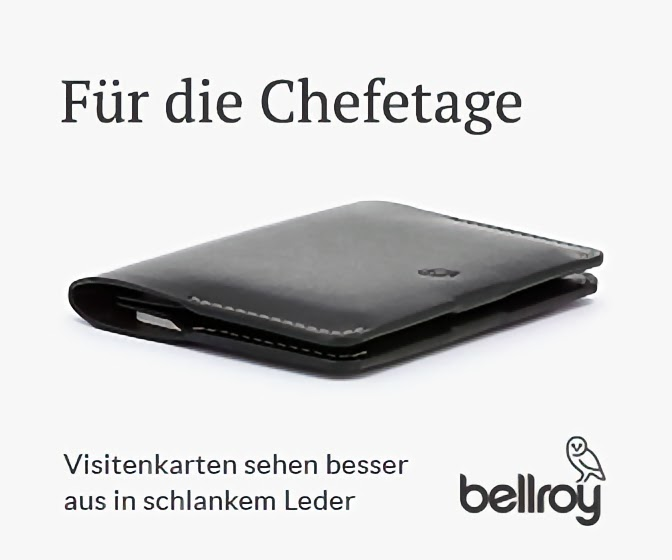 …and landing page copy.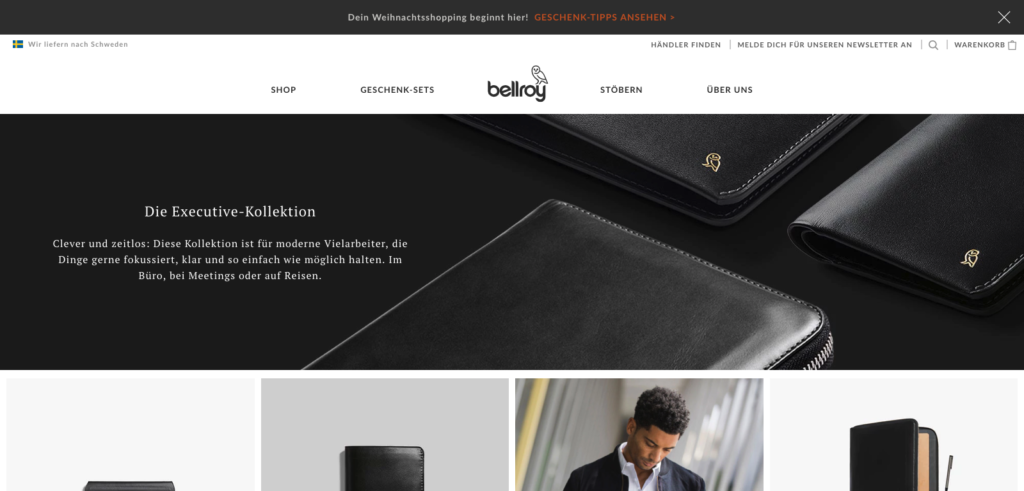 Translating ad and landing page copy into a target market's language personalizes your marketing—and it's a great way to welcome new website visitors.
Takeaway. Log into Google Analytics and click, "Audience > Overview > Country" to identify your audience by country. Then, consider translating your ad copy into the mother tongue of one or more of those target countries.
6. Recruit Partners to Grow Your Customer Base
Whether it's co-creating an offer or promoting another company's products or services, strategic partnerships are a great way to tap into new markets.
One way Bellroy has grown their reach in recent years is by partnering with brands in similar verticals—particularly those with a wider reach than Bellroy.
Take online retailer Huckberry, for instance.
They loved Bellroy's Hide & Seek wallet so much that they asked Bellroy to make them one of their own.
And unsurprisingly, due to its limited availability, it flew off the digital shelves. (Note the dual branding on the wallet).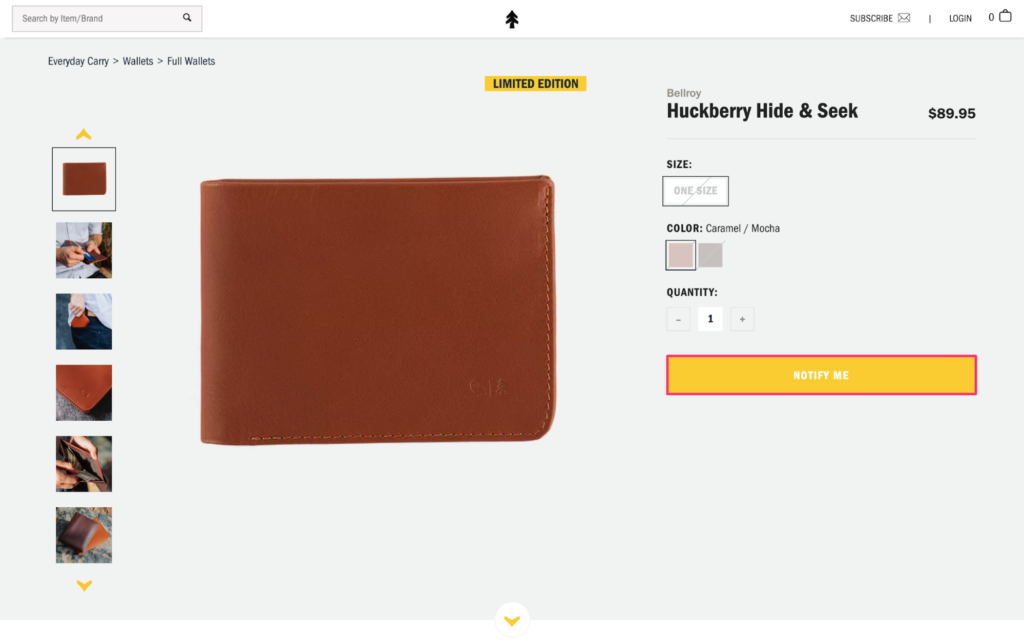 Huckberry's collaboration with Bellroy was so successful that they now sell Bellroy products on their site, permanently.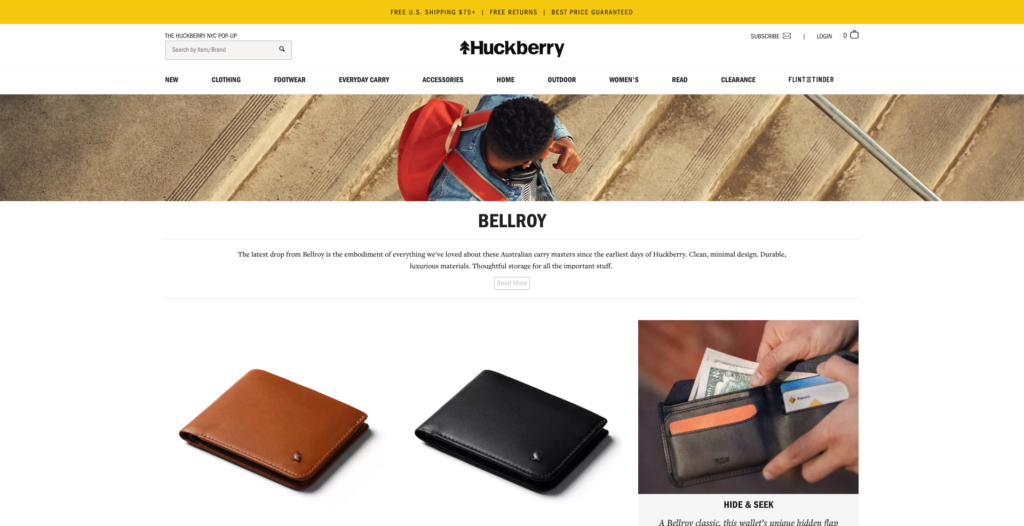 What started as a one-time collaboration became a long-term partnership benefiting both brands.
More recently, Bellroy partnered with Google to develop a sleeve for Google's Pixelbook.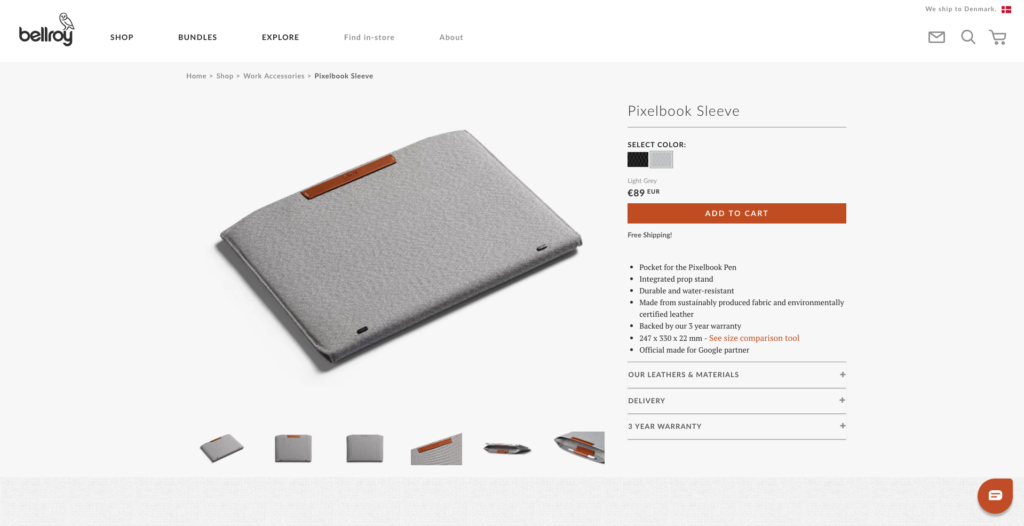 The best part? Not only was it good social proof for Bellroy, they also got a TON of free press from several authority review blogs.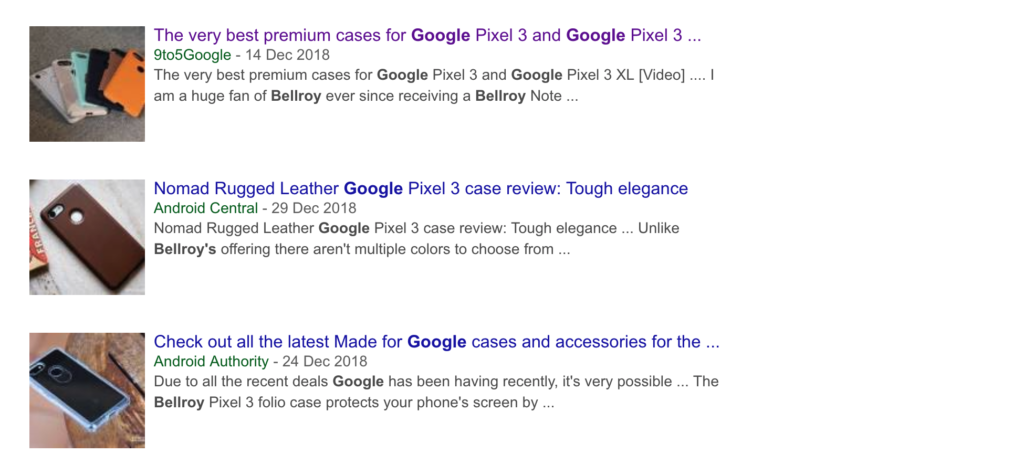 Even better, they got a nice do-follow link from the Google Store.

Granted, not everyone will land the chance to partner with a giant like Google. But it does show the power of partnering in today's uber-competitive marketplace.
Action item. Partnering with other global brands has obvious payoffs—reaching new marketers, free publicity, etc. But there are other benefits, like getting links from authority domains, which are often overlooked. If you have a custom-made product, consider partnering with brands in similar verticals to reach new customers.
7. PAS + BAB = More Conversions
As we've seen, Bellroy are the masters of visual marketing. But that doesn't mean they neglect compelling copy to position their products as the best on the market. On closer inspection, Bellroy actually use two proven copywriting formulas in much of their marketing:
PAS; and
BAB
Let's look at each in more detail.
1. The PAS Formula
Problem. Agitation. Solution.
Once called "the most reliable sales formula ever invented," by copywriting legend Dan Kennedy, Problem, Agitation, Solution (or PAS) involves:
Defining a prospect's problem and eliciting agreement to inject emotion;
Agitating the reader's emotional responses to that problem; and
Unveiling the solution, which is your products or services and their accompanying benefits.
Bellroy does a wonderful job of using the PAS formula, but my favorite example is in their homepage copy.
Beneath the fold, they position their product in three succinct sentences:
First, they introduce their prospect's problem:
You can get weighed down by baggage, bulk, stuff.
Then they agitate it, explaining what having that problem means:
It can slow you down and narrow your view.
Finally, they position their products as the solution to that problem:
Bellroy products are designed to make your life easier, smarter and more seamless.
When you look at a killer value proposition like the above in terms of the building blocks it's made from, it's easy to see why it works—and you can then construct one of your own.
2. The BAB Formula
If you're a seasoned copywriter, it's likely you're familiar with the Before, After, Bridge (BAB) formula.
If not, the BAB formula involves:
Conveying an everyday problem that your prospect encounters;
Introducing a solution; and
Bridging the before and after with your products or services.
What's interesting about Bellroy is that rather than using the BAB formula in their copy, they use it in their design assets. Most notably, it's in their Instagram posts and their Adwords creative.
Let's take a quick look.
i. Instagram
Many of Bellroy's Instagram posts emphasize the before and after of using their products. From durability…
…to functionality…
…each image tells a story.
You're on the left (before), but after seeing the image, you want to be on the right (after). In their imagery, Bellroy imply, "Our product will bridge the gap between when you are now and where you want to go. We'll help you do that."
ii. Google Adwords
Bellroy employs a similar approach in their Google Adwords creative.
For instance, in the below ad, they cleverly invite you to go from a bulky "Burger" wallet "to a Bellroy." (Note the cross and checkmark.)

The genius in marketing like this in particular, lies in lampooning the before to such an extent that the reader almost feels embarrassed to be associated with it. They're then more likely to want to do something about it.
Takeaway. Use copywriting formulas like PAS and BAB to simplify your value proposition and position your product in a way that's easy for prospects to relate to.
Conclusion
So, there we have it: seven of Bellroy's best marketing strategies. Here they are once more:
Strategy #1. Model This Black Friday Marketing Strategy for Your Next Holiday Campaign
Strategy #2. Use "The Life Force 8" to Maximize Ad Conversions
Strategy #3. The Marketer Magnet Method: How to Rank a Product Page Position #3
Strategy #4. How to Market to the Affluent (Hint: It Doesn't Involve More Ad Spends)
Strategy #5. Translate Your Site to Expand Your Reach
Strategy #6. Recruit Partners to Grow Your Customer Base
Strategy #7. PAS + BAB = More Conversions