Human beings are inherently curious by nature. We suffer from a primal urge to know what lies ahead, beneath, over, under, or inside everything we can see.
The same principle applies to emails sent to us as well.
However, with the number of promotional emails we're getting every day, we became experts at weeding out the "unwanted" emails from the ones that really matter.
As a marketer, your job is to create compelling email subject lines that pique subscribers' interest and appeal to their inherent curiosity. With the right techniques, you can master the art in no time.
To help you with that, I've put together an actionable guide to crafting highly effective curiosity subject lines (including seven brilliant examples).
Let's get started.
Top 7 Curiosity Subject Lines
1. This is what your neighbor is doing this weekend 🤫 (Swiggy)
The food delivery service provider, Swiggy, is well-known for its quirky sense of humor and a fun brand personality.
When it comes to promoting their brand, they seldom shy away from showing off their fun side. They consistently churn out unique, interesting, and cleverly crafted messages that easily qualify as some of the best examples of email marketing today.
This email subject line, in particular, immediately catches your attention and sparks curiosity right off the bat. (Because who isn't a teeny-tiny bit interested in the lives of others, right?)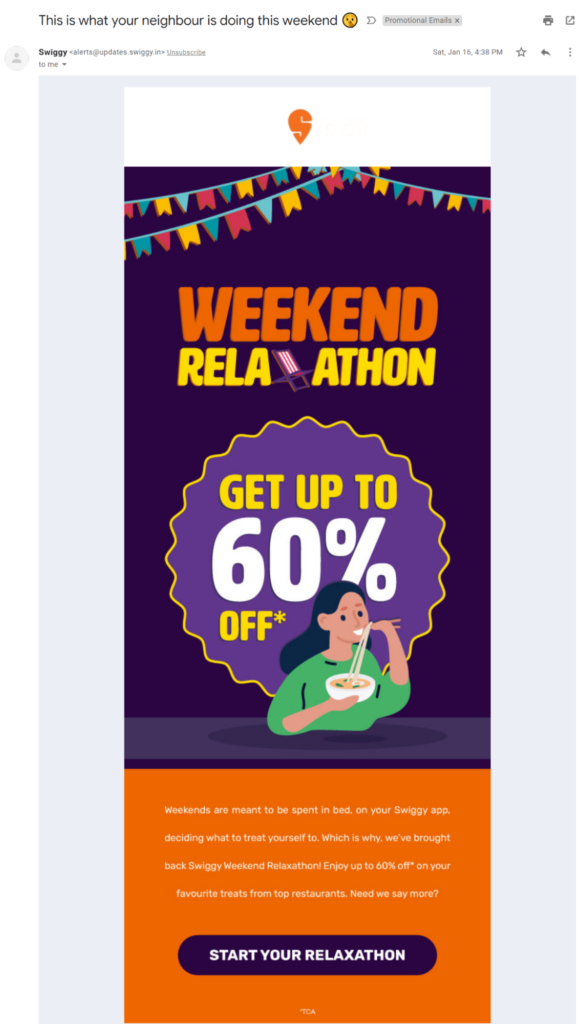 Swiggy appeals to your innate curiosity and, despite your better judgment, makes you want to find out what your neighbors might be up to.
What makes this curiosity subject line so effective is that it presents an information gap—the gap between what we know and what we don't. It's this gap that drives readers to open the email and read what's inside.
However, simply presenting an information gap isn't enough. The other essential quality of curiosity subject lines is that you must deliver on your promise to bridge this gap in the body of the email. Swiggy checks this box as well.
They give you the much-needed closure by letting you know that your neighbors might be busy ordering food from Swiggy all weekend long—thanks to their special weekend offers. They also make it worth your while by offering a 60 percent discount on food orders in the email.
Agreed, the information in the email isn't earth-shattering. However, the strategy is in line with their quirky brand personality. So, you won't get offended when you realize they were just trying to get you to learn about their offers in a slightly bizarre way.
2. Don't Open 'Til After Dessert (Rifle Paper Co.)
How many times have you gone ahead and done something after being specifically advised against it? I've had my fair share of those (mostly with not-so-great outcomes) and chances are, so have you.
When you ask someone to refrain from doing something, it often piques their interest and pops the "what if" question in their head.
Rifle Paper Co. uses this simple strategy to spark curiosity in the minds of its readers with the subject line "Don't Open 'Til After Dessert".
It's effective because it immediately makes people want to find out why. Why shouldn't they open the email? Why wait until dessert? Unable to contain their curiosity, most readers would immediately want to open the email and read what's inside.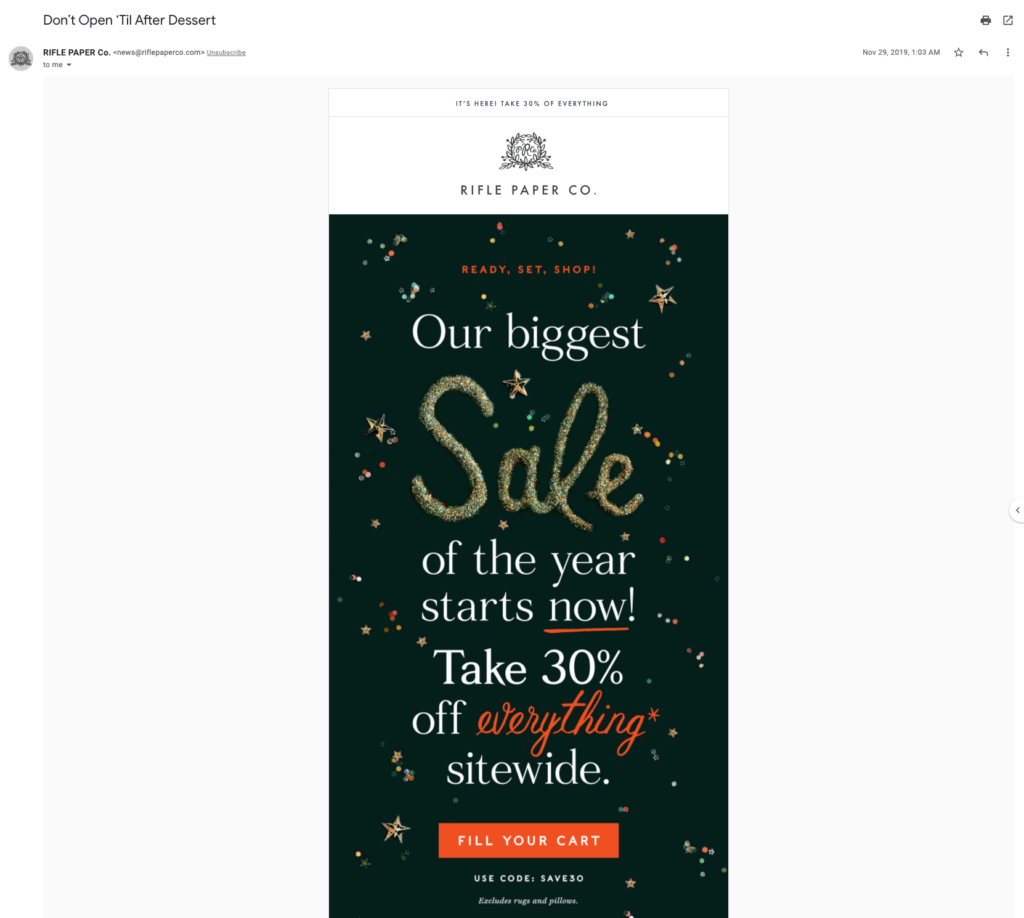 This curiosity subject line, too, presents an information gap. It also includes a certain level of intrigue which makes it so effective. When using this strategy, make sure that your email content provides closure and includes something worthy of your subject line.
3. Deal enemy #1 (Gong)
This curiosity subject line comes from the revenue intelligence solution provider Gong.
Gong's platform provides sales teams with data-driven insights into their customer interactions and deals so that they can identify potential threats and resolve them.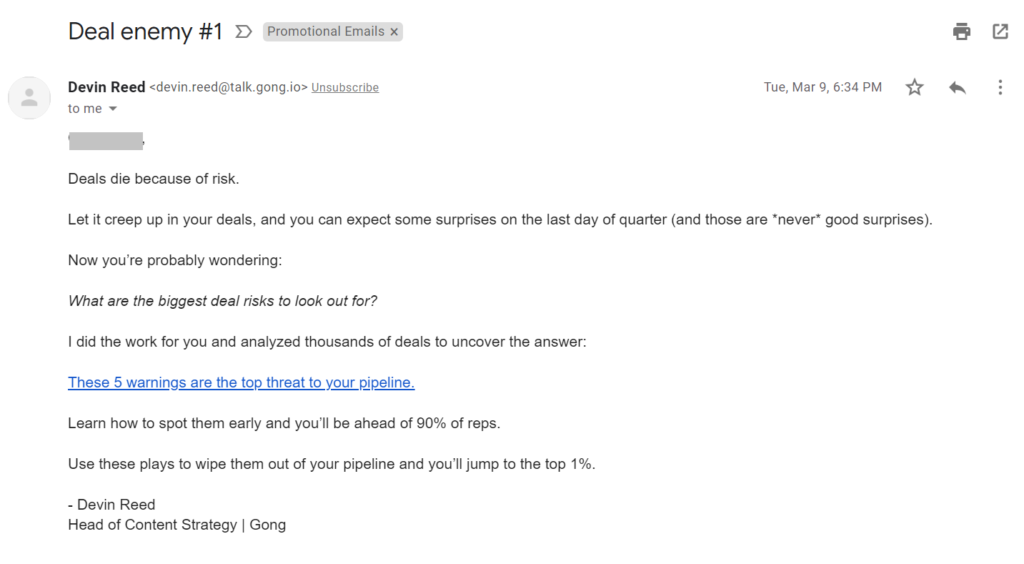 So, what makes this particular subject line so effective at sparking curiosity?
A salesperson reading this would naturally be inclined to think: "What is the #1 deal enemy?" "Have I been making this mistake in my sales strategy?"
Naturally, the subject line piques their interest and makes them want to open the email and learn more.
Gong not only presents an information gap here but also provides closure in the email body by sharing how to spot the top five threats to your sales pipeline.
Also, notice that it doesn't give away the secret in the subject line. Curiosity subject lines are meant to be a teaser. Giving away the best part in them would be counter-intuitive as it won't make your readers want to open your email.
4. Black Friday Secrets Revealed! (Bath & Body Works)
This email subject line from Bath & Body Works introduces us to yet another characteristic of curiosity subject lines: power words.
Power words are persuasive phrases that evoke emotions such as trust, fear, or curiosity in the minds of readers and trigger their imagination.
The right power words can add another layer of curiosity to your email subject lines. Some common examples of curiosity power words are "spoiler," "be the first," "eye-opening," "privy," "secret," "hidden," and so on.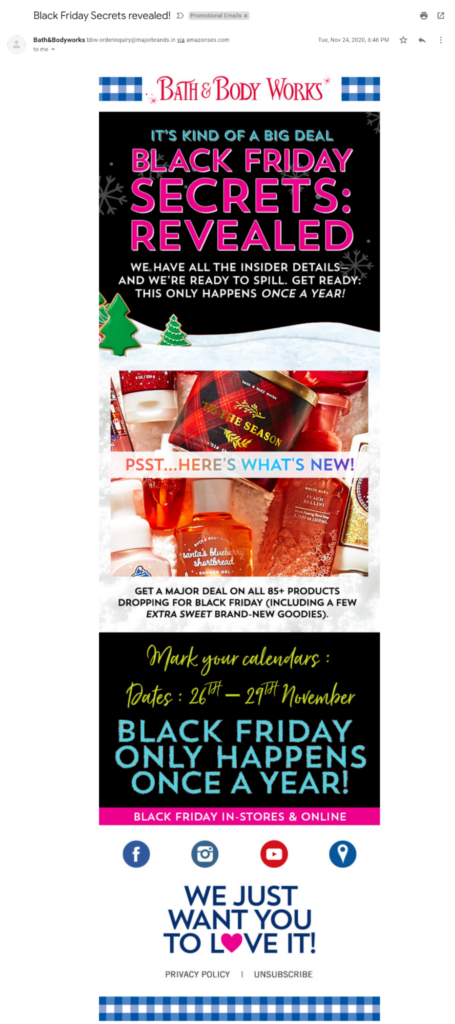 In this particular example, the power word "secret" adds intrigue to the subject line. It automatically grabs the reader's attention and piques their interest in learning what these "secrets" might be.
The email continues to build the suspense and finally closes the information gap by sharing the details of an exclusive sale that happens only once a year.
5. We've been waiting for MONTHS to announce this … (Carb Manager)
This particular email subject line from Carb Manager is effective for at least three reasons:
First, it hints at revealing new information that the reader doesn't know yet.
Second, it builds the suspense and piques your curiosity by letting you know that this is something that they've been planning for a long time now.
Finally, it uses a cliffhanger that makes you want to find out more.

Like all great curiosity subject lines, it doesn't give away all the information. However, it gives you enough of a teaser that raises a number of questions in your mind. What have they been working on for so long? Why did it take so long?
This subject line not only excites the company's subscribers but also encourages them to open the email and learn more.
Carb Manager follows through on its promise and delivers the information in the email body. The email announces their first-ever keto cookbook and includes some exciting pre-order bonuses for their readers. Once again, this curiosity subject line showcases the clever use of an information gap and closure in the email content.
6. Does your ghee come from happy cows? 🐮 Find out here (bigbasket)
Sometimes a seemingly weird question in the subject line can quickly evoke curiosity in the reader's mind.
This email subject line from the grocery delivery service, bigbasket, is a perfect example of this strategy.
The company's subject line poses a simple question that you may have never wondered about: Does your ghee (a type of clarified butter) really come from happy cows? More importantly, what makes cows happy?
Now that bigbasket successfully piqued your interest, you'll be keen to open the email and learn more. Once you do, you'll see that the company breaks down exactly why its ghee tastes different than competitors'.

The email is well-crafted and gives you a behind-the-scenes look at how their ghee is made completely organically from farm to processing, answering the question in the subject line.
With this email, bigbasket wins its customers' trust and promotes its products. However, you wouldn't have cared to read through it all had it not been for the email's bizarre subject line.
7. We don't normally do this. (CoSchedule)
My final curiosity subject line example comes from the marketing solutions provider CoSchedule.
After reading this subject line, an obvious question pops in the reader's mind: What is CoSchedule talking about?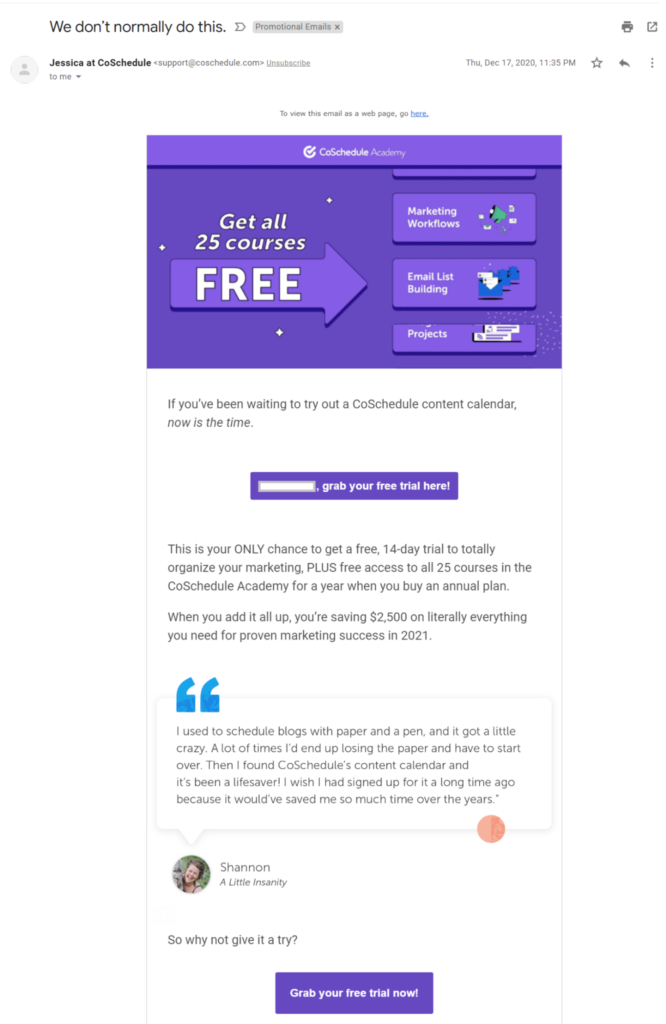 Naturally, you're inclined to open the email and find out more. As with every effective curiosity subject line, this one presents an information gap and provides the much-needed closure in its body.
In the body copy, the email offers a 14-day free trial of CoSchedule's content calendar and free access to their courses for a year when you buy their annual plan.
The subject line does a great job at sparking curiosity with a short teaser that doesn't ruin a good surprise. However, it definitely piques your interest and makes you want to find out what exactly they're talking about.
Finally, the fact that this is something CoSchedule doesn't normally do adds a layer of intrigue. The fear of missing out (FOMO) on knowing what's going on makes you want in on the action even more.
Final Thoughts
When done right, curiosity subject lines can help you increase your email open rates and engagement. To leverage this type of subject line, make sure to follow the best practices that the above examples demonstrate so well.
Always remember to incorporate an information gap in them that's relevant to your audience and provide closure in the email body. You certainly don't want to use your subject lines as clickbait to trick readers into opening your emails and not deliver on your promise.
Use curiosity power words effectively and provide just enough information in your subject lines that leaves your readers hungry for more.