While the world is going through all sorts of crises, you might be one of those people thinking, "Summer is canceled." As you'll see today, some brands would highly disagree with you.
Just like in any other season, the key to writing engaging summer emails is to be relevant to your subscribers, while subtly incorporating product marketing into your emails.
Despite a lack of ecommerce holidays during the summer, there are plenty of opportunities to reach out to your customers.
Whether you're looking for effective ways to promote a seasonal sale or new arrivals from your summer collection, these nine summer email examples sent by exceptional e-commerce brands will inspire you.
9 Summer Email Examples to Inspire Your Own
1. Joybird
When it comes to writing seasonal emails, there's no one-size-fits-all formula. Summer means one thing for an outerwear retailer and something else for an inflatable pool distributor.
If summer is canceled due to a worldwide virus outbreak, on the other hand, it means something else completely. If you're running a furniture store, however, a canceled summer might even work to your advantage. Joybird has a great example of that.
The furniture and decor e-tailer recently sent this email with the subject line "Prep for the Perfect Staycation":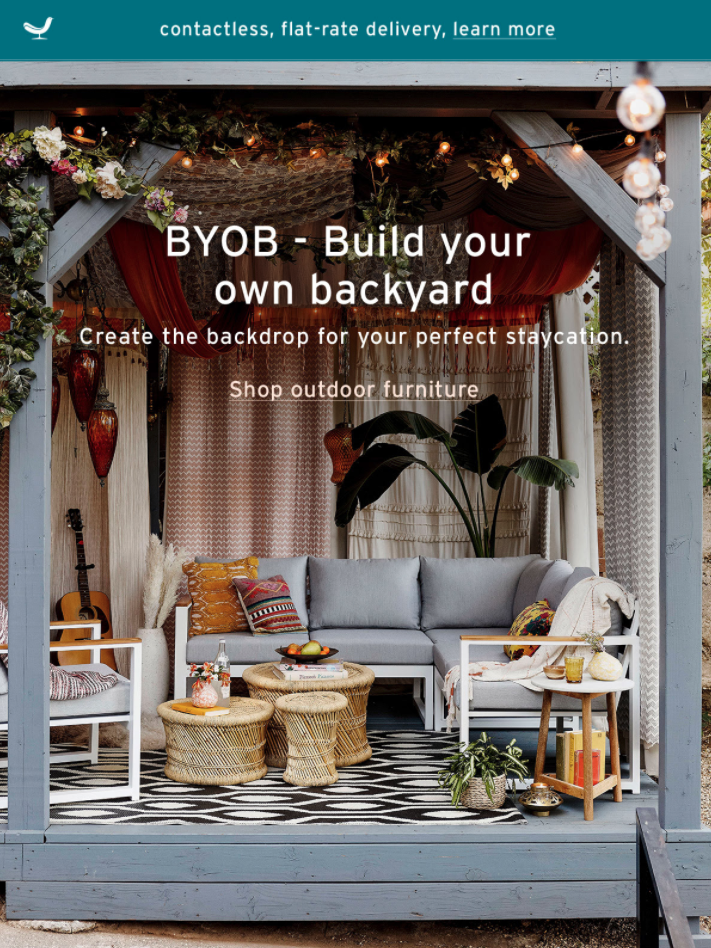 In it, Joybird cleverly focuses on the concept of staycation (a vacation spent close to home) to promote its outdoor furniture collection. For that purpose, Joybird invites you to "build your own backyard" for the perfect staycation, unsurprisingly, with its products.
Next, the company promotes its summer sale and recommends a few products you can get started with: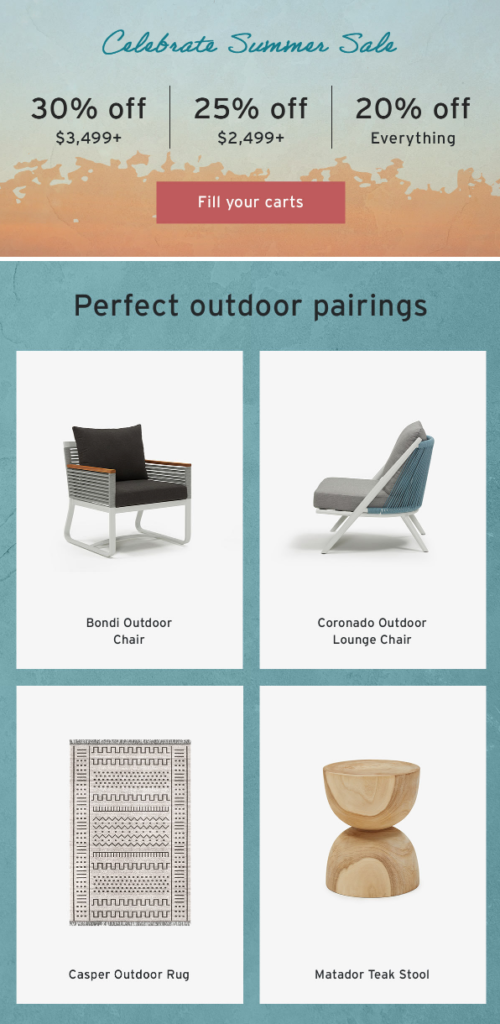 Finally, they invite you to join their giveaway to win store credit: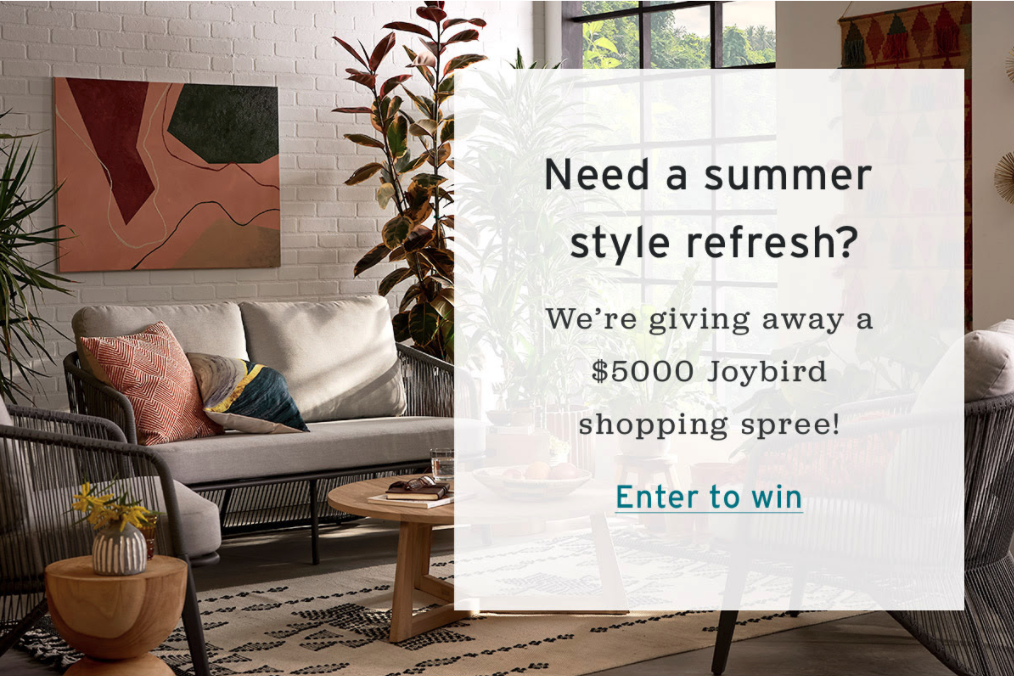 While doing this, Joybird consistently uses a summer theme without sounding unrealistic about your possible summer plans.
In short, the company smartly uses the "canceled summer" angle without letting you down or patronizing you about how you should spend your summer. Instead, they suggest a cozy alternative to traveling for a typical summer holiday: staying at home while enjoying your surroundings.
Want to make a workflow like this?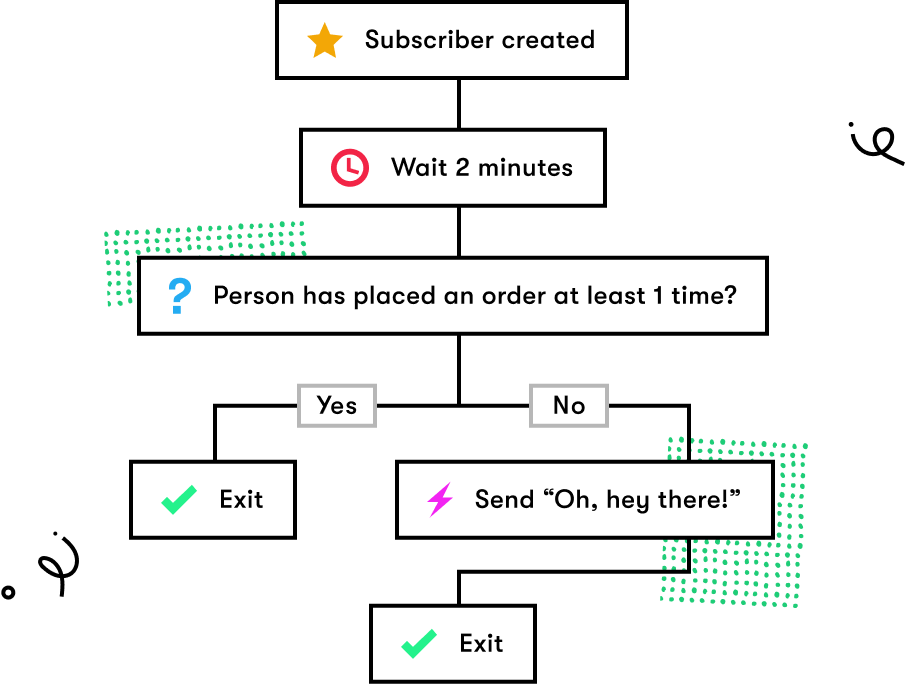 Hit the ground running with our pre-built workflows.
2. L'Occitane
It's not only garden furniture resellers that can leverage the staycation angle. If your products can help customers feel better this season in any way, use it to your advantage in your summer emails.
Similar to Joybird, L'Occitane is a brand that takes the staycation approach, but unlike the furniture brand, L'Occitane focuses on self-care.
Check out this email L'Occitane recently sent with the subject line "We Mapped Out Your Staycay Itinerary":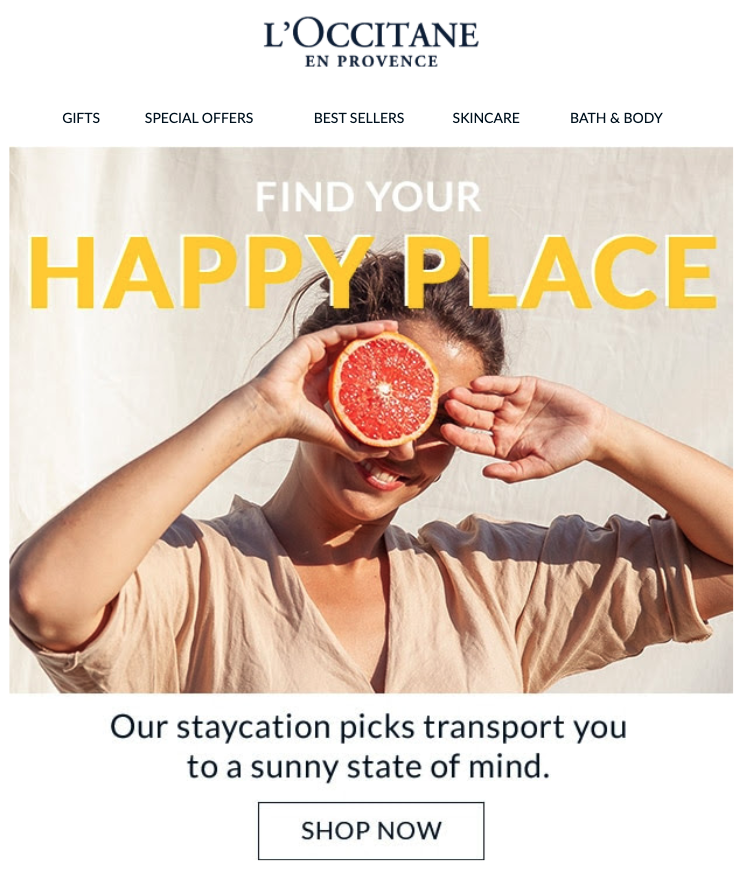 With the headline "Find Your Happy Place," L'Occitane almost claims to bring the vacation to you, even if you can't go on one. Rather than focusing on how the summer is "canceled," they invite you to make the most out of your staycation instead.
In the remainder of the email, L'Occitane gives you the perfect self-care recipe, unsurprisingly, with its products: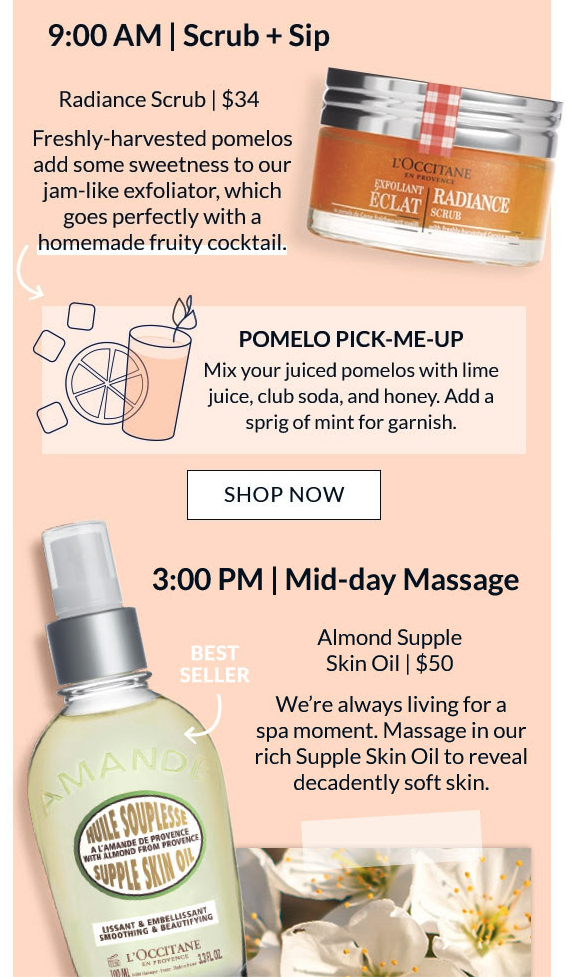 While doing so, L'Occitane not only features its relevant products but also explains in context—when and how you can use them to get the summer vibe going at home. This way, they can incorporate product marketing into their emails without sounding too salesy.
3. ASOS
While some brands cancel the summer, others heavily object to that approach. ASOS falls in the latter category, and you can tell from the subject line they use: "You this summer: 🙆‍♂‍🕺🏄‍♂‍⛹‍😎".
Since the idea of a typical summer, as pictured by ASOS' emojis, sounds like a dream, it makes you open the email immediately. In the email itself, ASOS continues to reject that the summer is canceled: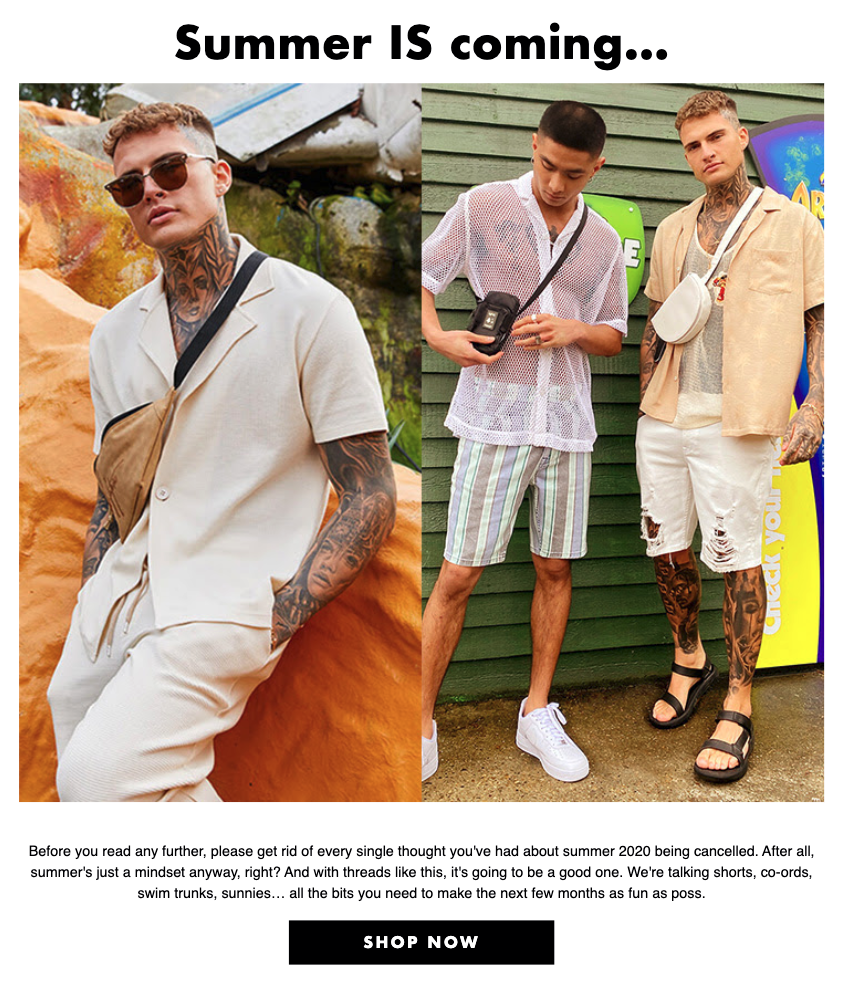 ASOS begins the email by asking you to get rid of your preconceptions about the summer. Next, they explain how summer is "just a mindset," which you can experience through summer clothes and accessories.
Finally, ASOS recommends products from its summer collection that can help you with that, but they do it in a unique way: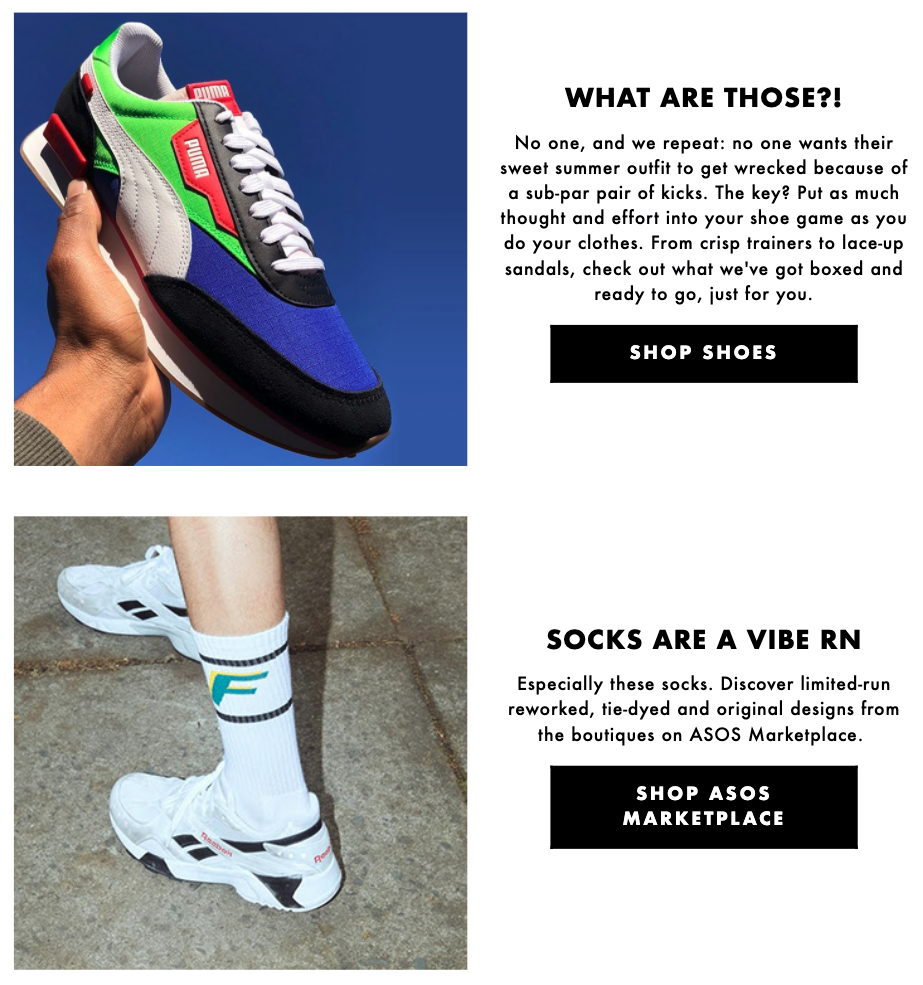 Rather than simply featuring product photos, they explain why you should click through the products, and give you a compelling reason to do so.
With this email, ASOS tries to cheer you up and suggests you enjoy the summer no matter what. And the best way to do that is, unsurprisingly, create the summer feel with their products.
This approach works for ASOS (and most apparel brands) since they must keep the summer going to promote their summer collection.
4. Tarte Cosmetics
While ASOS takes a subtler approach in their objection, Tarte goes all-in with its summer email that carries the subject line "Summer's not cancelled!"
This is what the email looks like: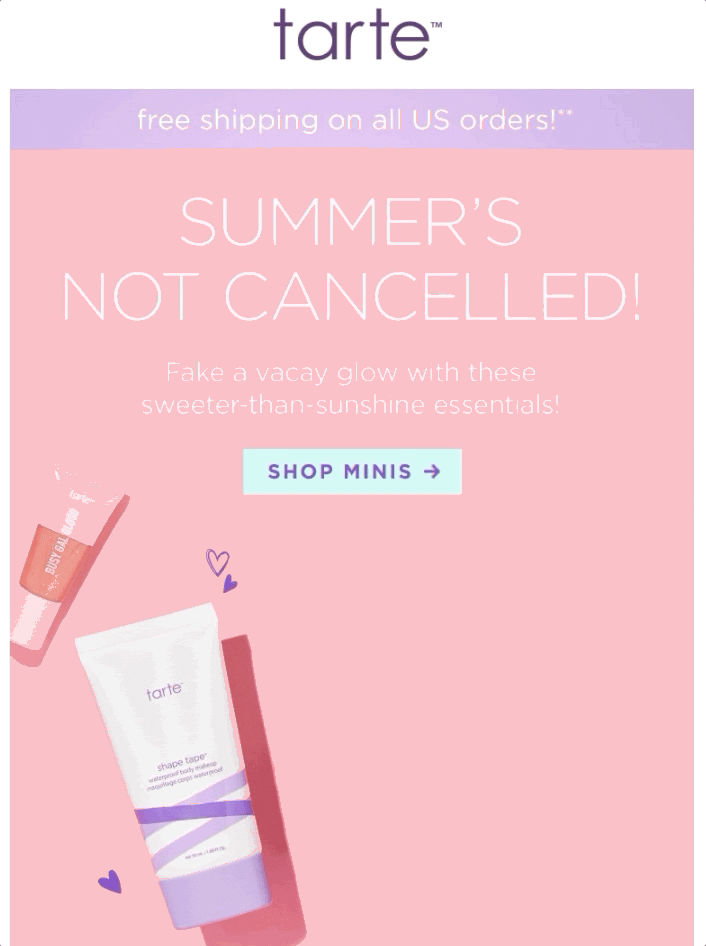 Even if you can't go on a beach vacation this summer, Tarte promises you the vacay glow with its products. While doing that, the company cleverly piques your curiosity by challenging your views about the summer and promotes its seasonally-relevant products to back up its argument.
More interestingly, in this email, Tarte is actually promoting its travel-size products. This way, the company can both target its subscribers who'll go on a vacation and those who won't.
Finally, at the bottom of the email, Tarte promotes its loyalty program called "teamtarte" with a twist:
Instead of asking you to join its rewards club for no apparent reason, they incentivize new signups with the promise of a giveaway. It's a strategy you can easily replicate to drive more members to your loyalty program, regardless of the season.
5. Brooklinen
While fashion and beauty brands often have clear lines between their seasonal collections, the distinction isn't always as sharp for other industries.
However, if some of your products are a better fit for this season, make sure to promote them in your emails. At least, that's what Brooklinen does in this email, sent with the subject line "our stuff is the COOLEST":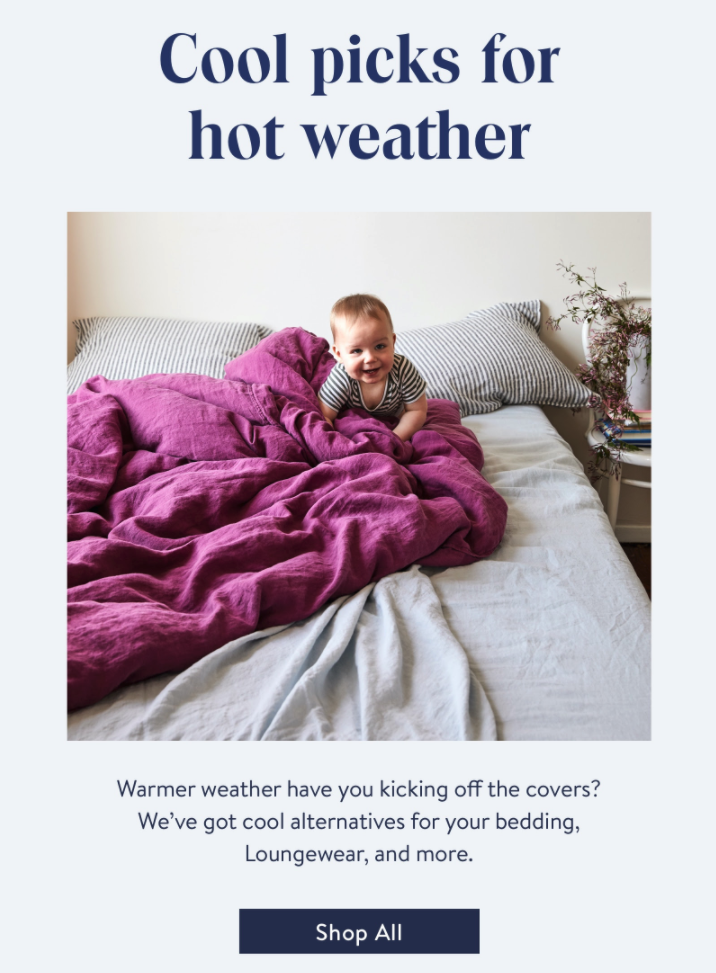 In this email, the company promotes its products that'll keep you cool in the warm weather, from its bedding to loungewear. And throughout the email, Brooklinen uses sensory words to recreate a feel of cool and breeziness in hot weather: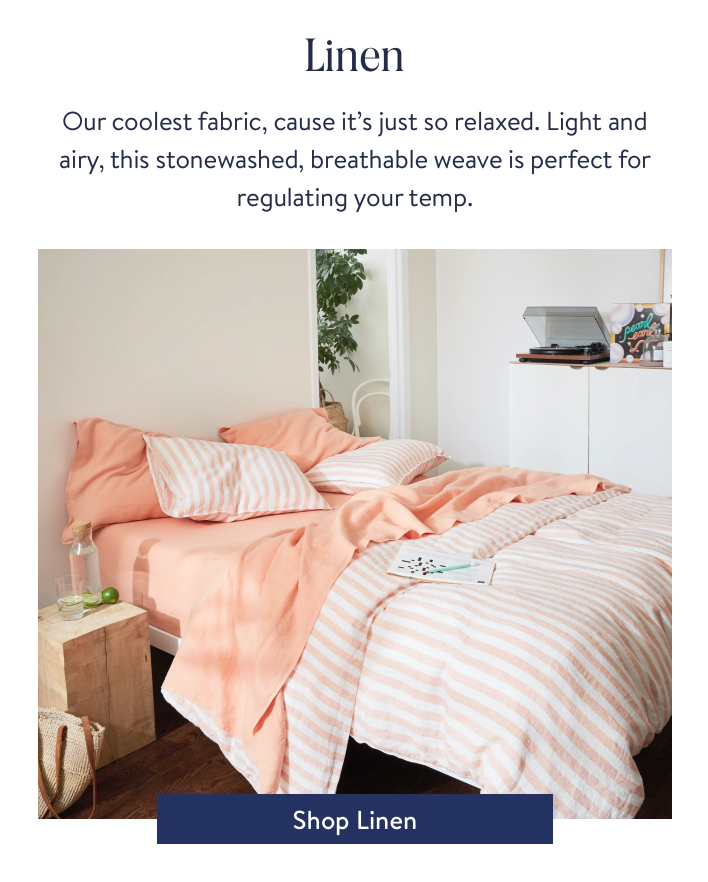 Brooklinen is a great example of leveraging summer even if your products aren't the first items to come to mind this season.
6. Prose
What if your products don't have anything to do with the summer? Then, follow Prose's path and invent a connection.
Prose, the custom haircare company, do that with this email that carries the subject line: "Summer means two things."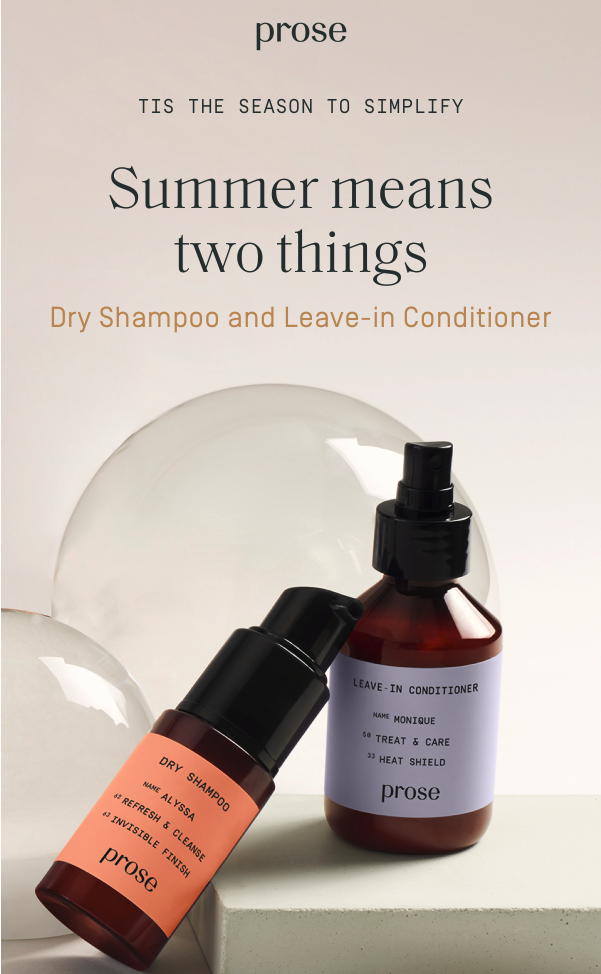 First of all, its curiosity-evoking subject line makes you wonder what summer can mean from a hair care company's standpoint. When you open the email, you learn that summer means "dry shampoo and leave-in conditioner."
Prose's approach to the summer is rather chilled. In its email copy, the company uses words such as "simplify," "absolute breeze," and "take it easier" to keep the relaxed summer vibe going.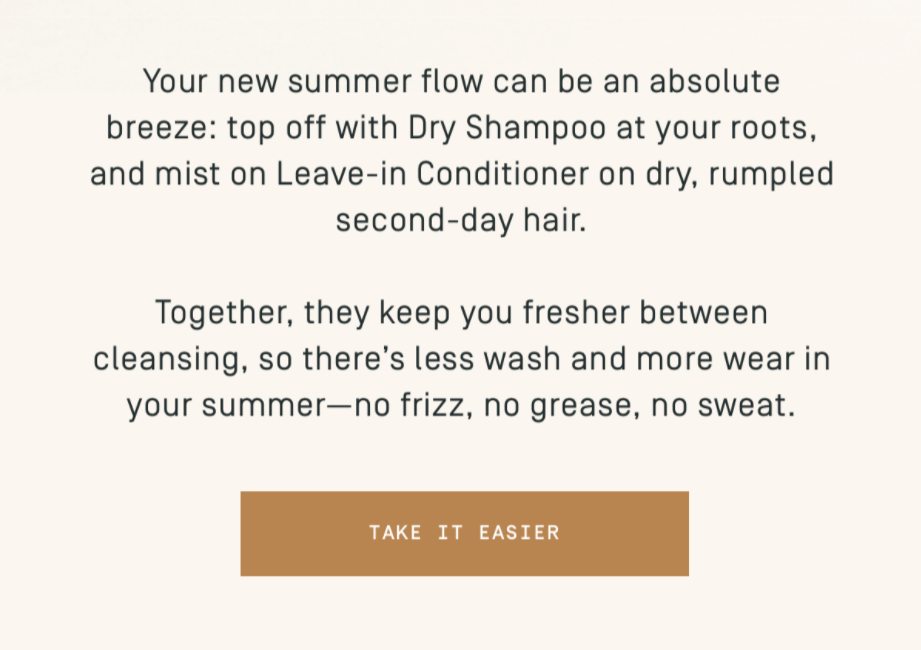 As is the case with other companies, the recipe for keeping a nice and breezy vibe this summer is using Prose's products.
Prose concludes the email with a quote from one of its specialists: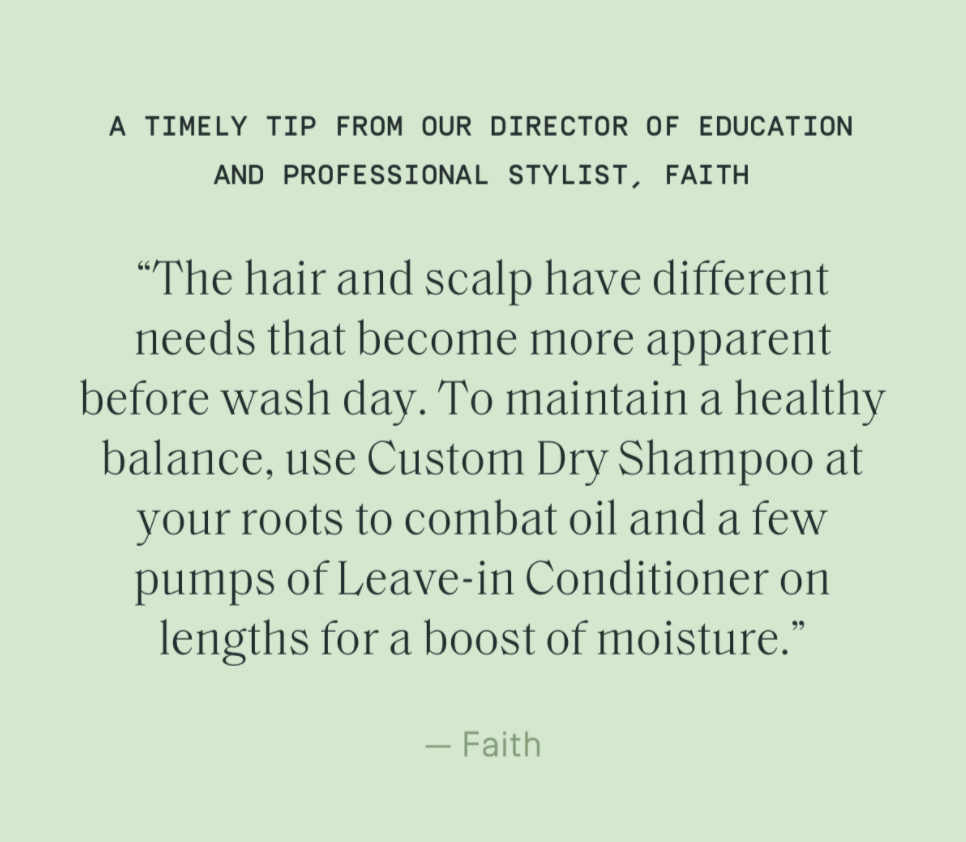 This way, Prose persuades you with an expert opinion on why you need its products. Plus, it shows the company's expertise and adds a stamp of social proof to the email.
7. Forever 21
While evoking curiosity with a statement like Prose's is one way to get your summer emails opened, asking questions is a more direct way of doing that.
It's the path Forever 21 chooses, with a subject line that reads, "Which one of these looks are you?" By asking a curiosity-triggering question, directed at you, Forever 21 makes you open its email without much thinking.
In it, you find a summer outfit guide Forever 21 created in collaboration with an influencer (read: social proof).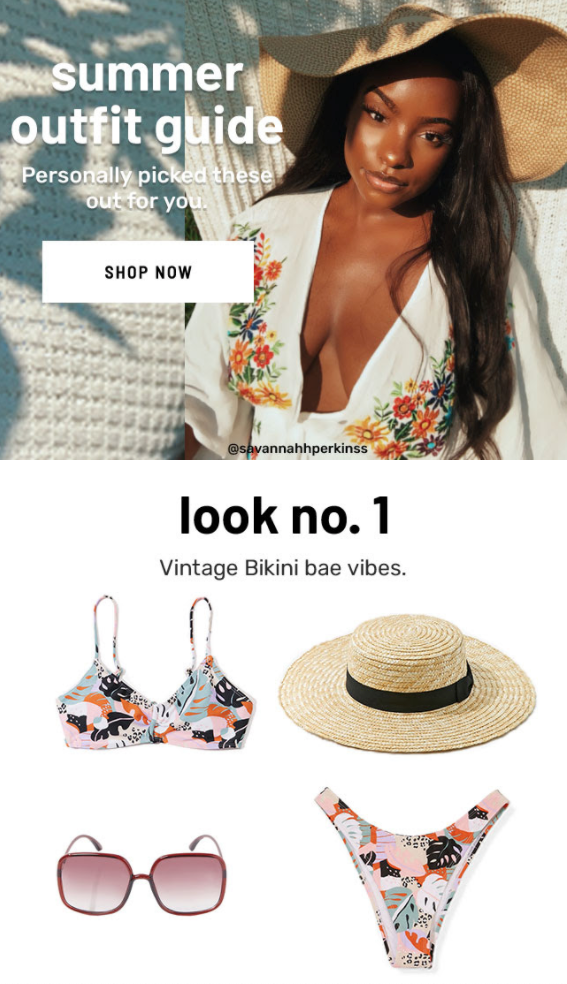 Throughout the email, Forever 21 features different looks you can copy this summer based on how you self-identify: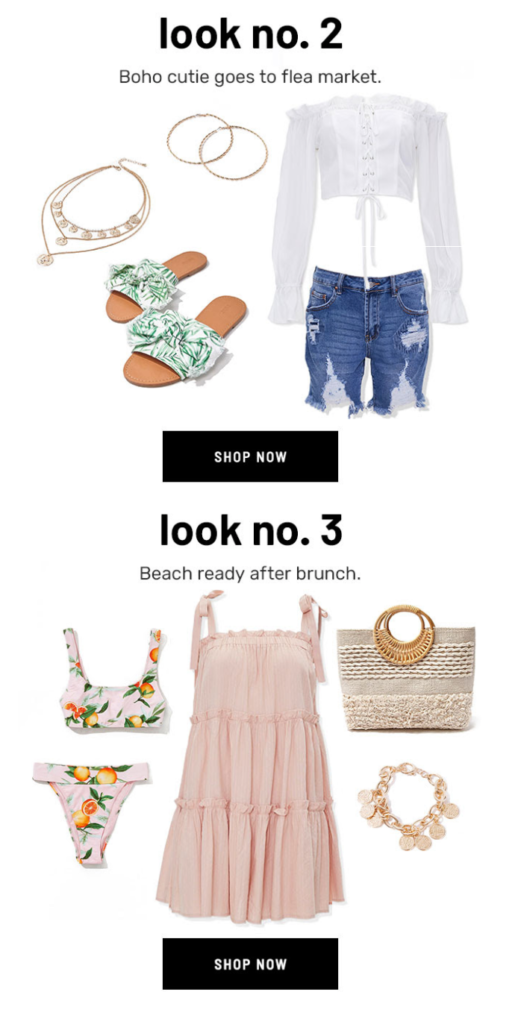 Forever 21's summer email acts as a helpful guide you can use to learn what's trending this season, and how you can combine them. And if you want to recreate any of these looks, all you need to do is click through the email and visit Forever 21's product pages.
By creating similar summer guides for your brand, you can both educate your subscribers and help them find the products they're looking for based on their style, personality, or preferences.
8. Skandinavisk
A common type of email that most e-tailers send this season is those promoting a summer sale. While season changes are good excuses for hosting periodic sales, Skandinavisk finds an even better reason to do so.
As physical stores in many countries recently started to reopen their doors, Skandinavisk got a valid reason to run a clearance sale and get rid of its excess inventory.
Take a look at this email they sent with the subject line "Countdown to save up to 30%":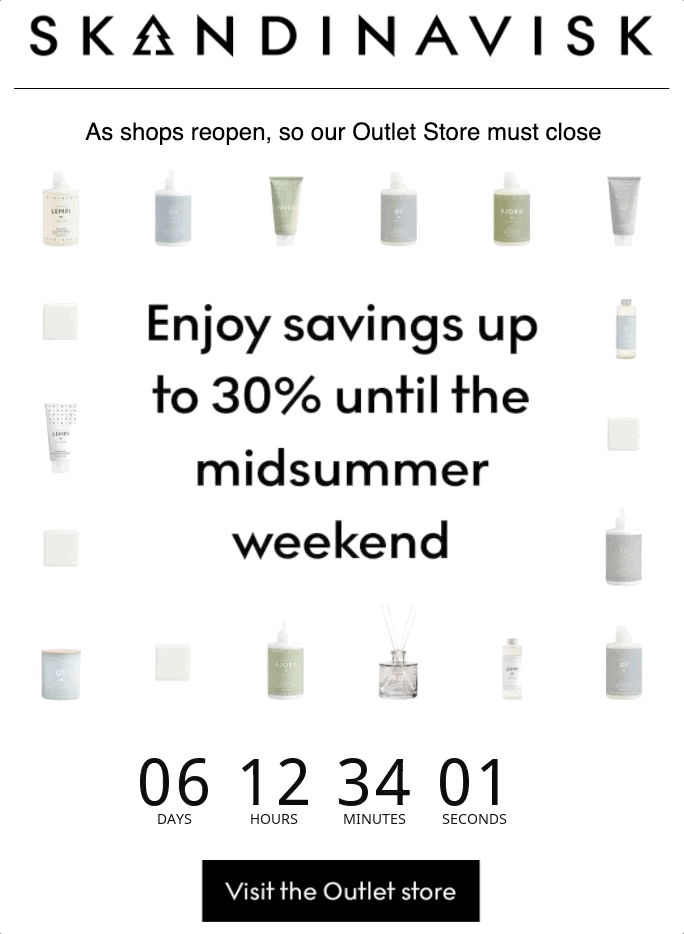 In the email, Skandinavisk gives you a logical reason as to why they're hosting a clearance sale: "As shops reopen, so our Outlet Store must close."
Moreover, the company limits the offer by setting a deadline until the midsummer weekend, which plays well with the summer concept. Thanks to the countdown timer, Skandinavisk drives urgency and highlights the scarcity of its products.
Smartly enough, Skandinavisk doesn't simply send the email there. Instead, they feature a few of their bestsellers in the email, so you can easily start shopping from there: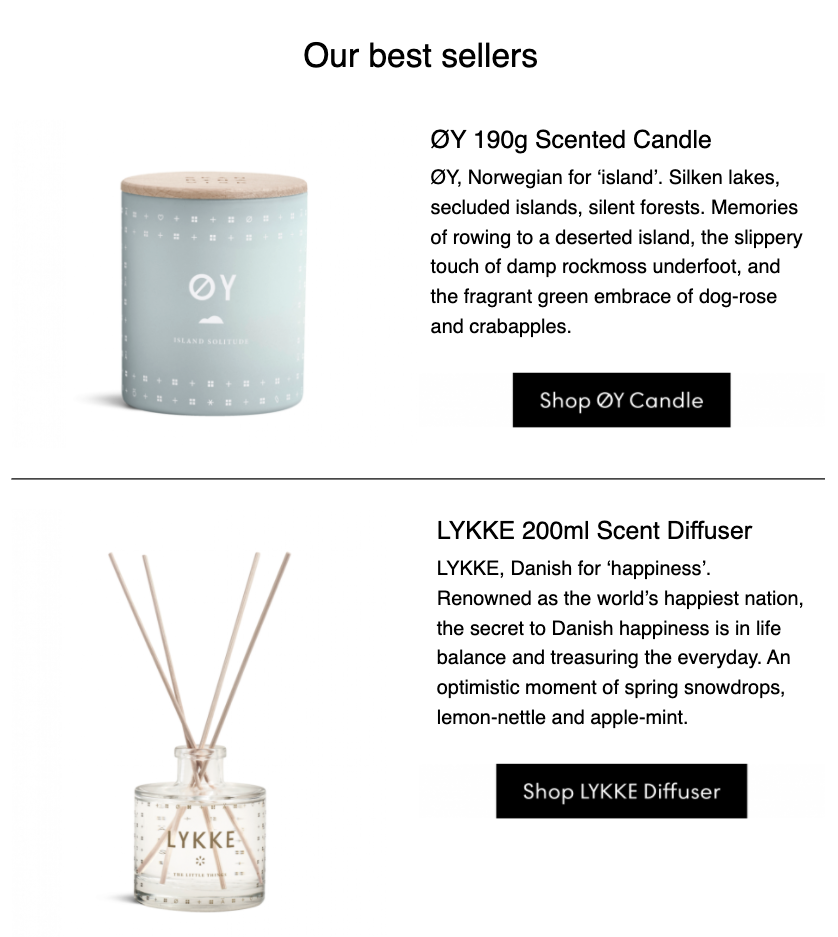 Whenever you're running a sale, consider recommending some of your most popular products to give subscribers a sense of direction.
9. Lush
As you've seen repeatedly in this post, there are many different ways to use social proof in your emails, in and out of the summer season. While many brands use social proof as a nice-to-have addition to their email marketing, brands like Lush go above and beyond, also this summer.
Sent with the subject line "It's getting hot in here," Lush's summer email is built entirely on social proof: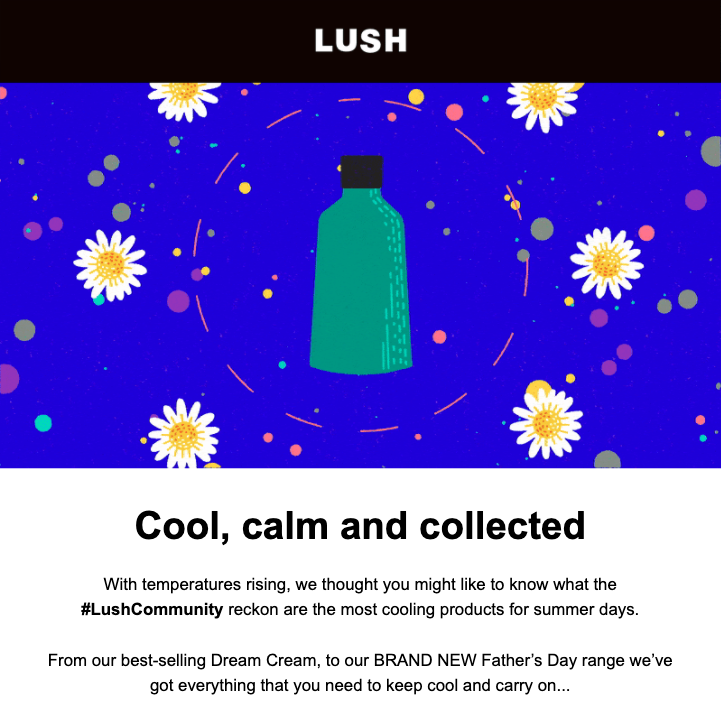 Instead of curating their picks for the summer, the company puts together a list of products that are favorites of the Lush Community. And that's not just a random list of bestsellers, but their products that are cooling for the warm days ahead.
While doing that, Lush features selected customer testimonials next to the products, which adds further social proof to the email: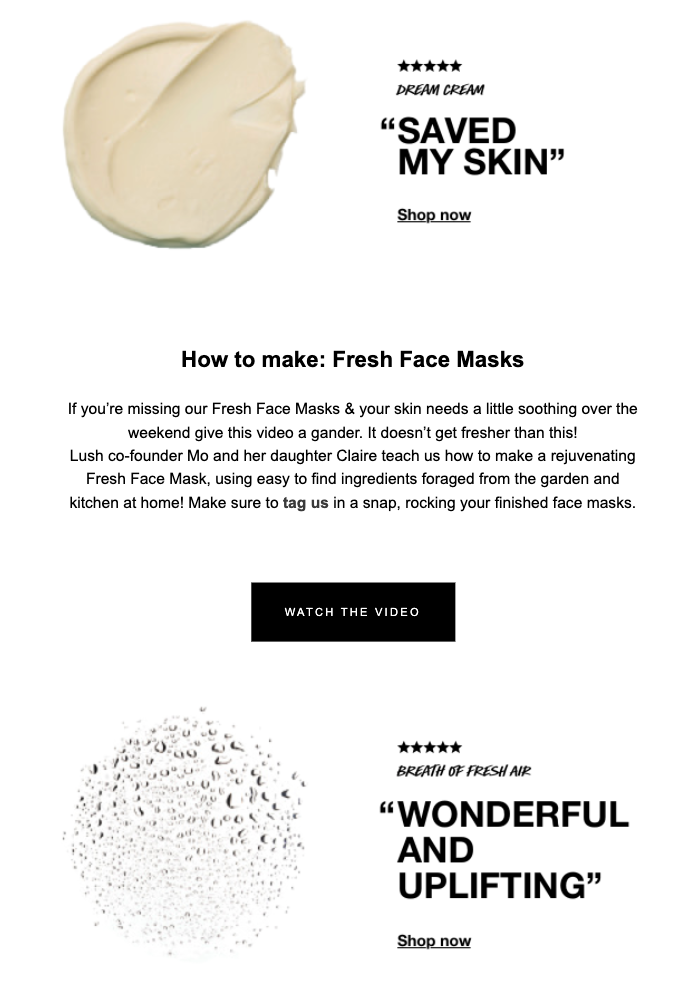 Through the use of five stars and positive quotes, Lush successfully communicates the popularity of its products and builds trust. Lush's social proof email is one that you can easily replicate, regardless of the season.
Conclusion
Sending good summer emails isn't only about colorful designs and sunny images. It's rather about how your products can help customers get through the summer the best way possible—whether they're planning an exciting holiday or a peaceful staycation.
Pick the angle that fits your brand and audience the best and take inspiration from top e-commerce brands. Although this summer is a tough one for both consumers and brands, there's still a lot you can do to help your customers.